What's new ?
The EUR didn't stand its gain after ECB meeting last Thursday, after Christine Lagarde ECB's chief emphasis on growth instead of inflation, the EUR quickly drop and bottom break 1.07. From the USD side, J. Bullard, one of the hawkish FED member said that hiking more than 50bps is not the base scenario but he leaves the door open for such a move, recalling the last time it was done in 1994, that set up one of the best U.S growth period in history from 1995 to 2000.
USD/HKD headed to the lower band
USD/HKD is heading toward the lower trading band (7.85) and will soon force HKMA (Hong Kong Monetary Authority) to intervene to buy HKD and defend the pegged currency pair. This action will drain HKD out of the system and mechanically push interest rates higher.
Higher rates might hurt the city economic growth recovery, already hardly hit by 2 years of Covid and weak growth. Indeed indebted people will face higher monthly repayments that will impact consumption and future growth.
USD/HKD: lower band in sight, JPY is sinking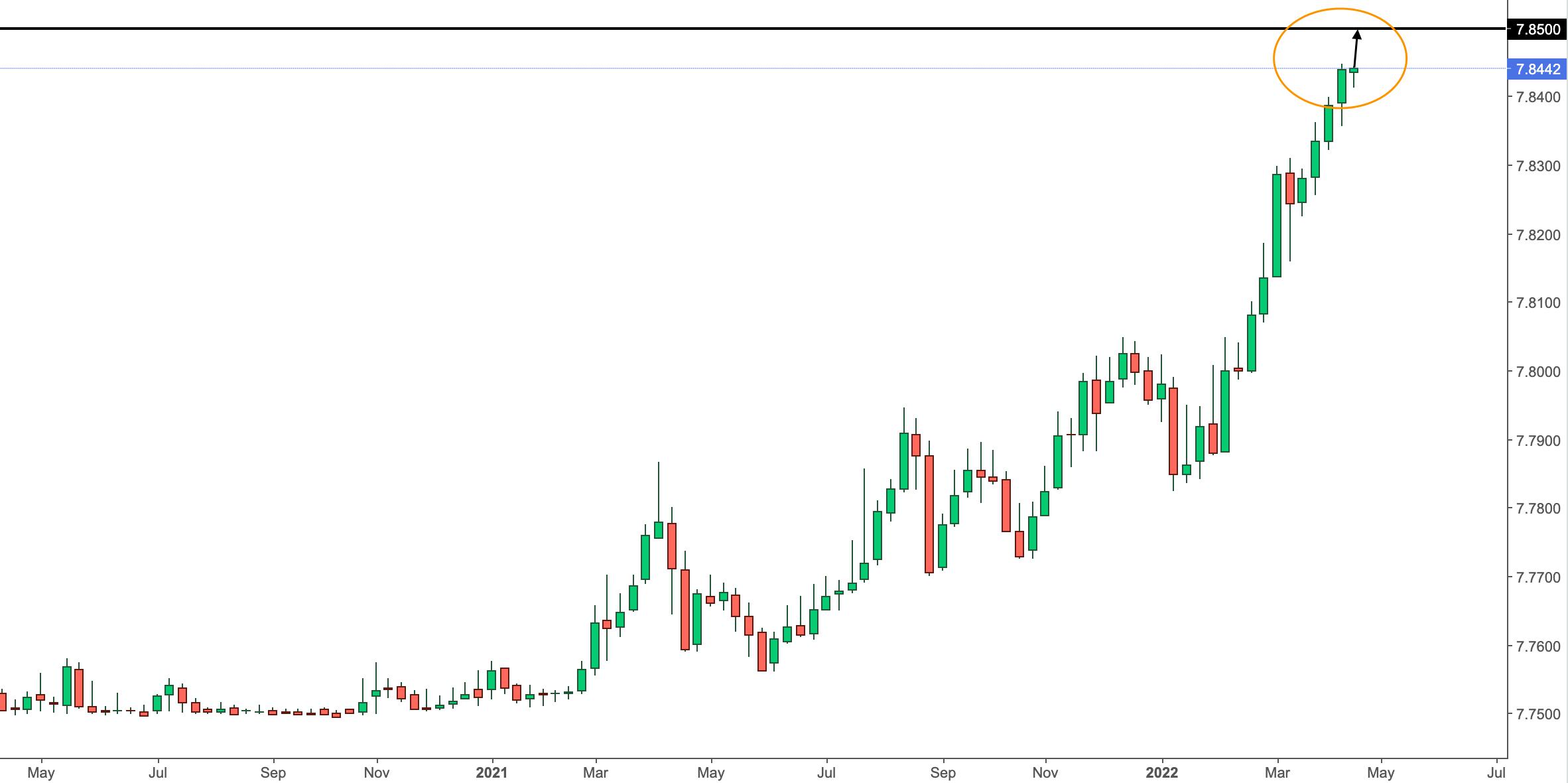 USD/JPY reached a 22-years low, forcing Japan Finance Minister, Shunichi Suzuki, to verbally step up again: "There are positive aspect to it, but given the current economic climate, strong negative aspect exist". The good aspect is linked to the export-oriented Japanese economy, i.e, a weaker JPY give more competitiveness to Japan exporters firms. The bad aspect is linked to the raising import cost also driven by the weaker JPY. Suzuki said earlier that the markets are to decide about exchange rates, a comment that suggest BOJ won't step up to buy JPY in the market to support its currency.
More mandatory conversion FX conversion
Turkey added services sector that must exchanged with central bank in an effort to cushion foreign reserve and support TRY. Banks must henceforth to convert 40% of their foreign currency earned by Turkish companies from providing services. Previously only exports earning was subject to the rule, we also note that the percentage was raised to 40% from 25%.
What's in the pipe?
Earnings include American Express, China Telecom, IBM, Johnson & Johnson, Netflix, Tesla
Chicago Fed President Charles Evans to speak, Tuesday
EIA crude oil inventory report, Wednesday
China loan prime rates, Wednesday
Federal Reserve Beige Book, Wednesday
French presidential election debate, Wednesday
San Francisco Fed President Mary Daly, Chicago Fed President Charles Evans, due to speak, Wednesday
Euro zone CPI, U.S. initial jobless claims, Thursday
Fed Chair Jerome Powell, ECB President Christine Lagarde discuss global economy at IMF event, Thursday
Manufacturing PMIs: Euro zone, France, Germany, U.K, Friday
Bank of England's Andrew Bailey to speak, Friday
FX rates
USD/JPY @ 128.25 - bullish trend
RSI: Overbought
Williams %R: Overbought
Top break oblique resistance: 127.44
EUR/USD @ 1.0779 - Bearish trend
GBP/USD @ 1.3009 - Bearish trend
AUD/USD @ 0.7379
USD/CNH @ 6.3832