What is Ecommerce Shipping?
Ecommerce shipping is the entire process of receiving, handling, and sending orders placed by customers on an ecommerce site.
Ecommerce is a big business. In 2022, the ecommerce economy in the United States was worth $904.9 billion while China's was worth $1.15 trillion. If you want to get a piece of that pie, you'll need to start an online store and find out how to ship products to customers. Turns out, ecommerce shipping isn't as simple as you might think.
There are many things a business needs to consider to arrive at a strategy that keeps customers happy and the business profitable, including:
Shipping methods and shipping rates
Choosing and sourcing packaging
Knowing the weight of your products and packaging materials
Fulfillment/handling costs
Overhead costs 
Thankfully, we're breaking each of these down and then some to help you get started in seven steps.
Step 1: Understand the Ecommerce Shipping Process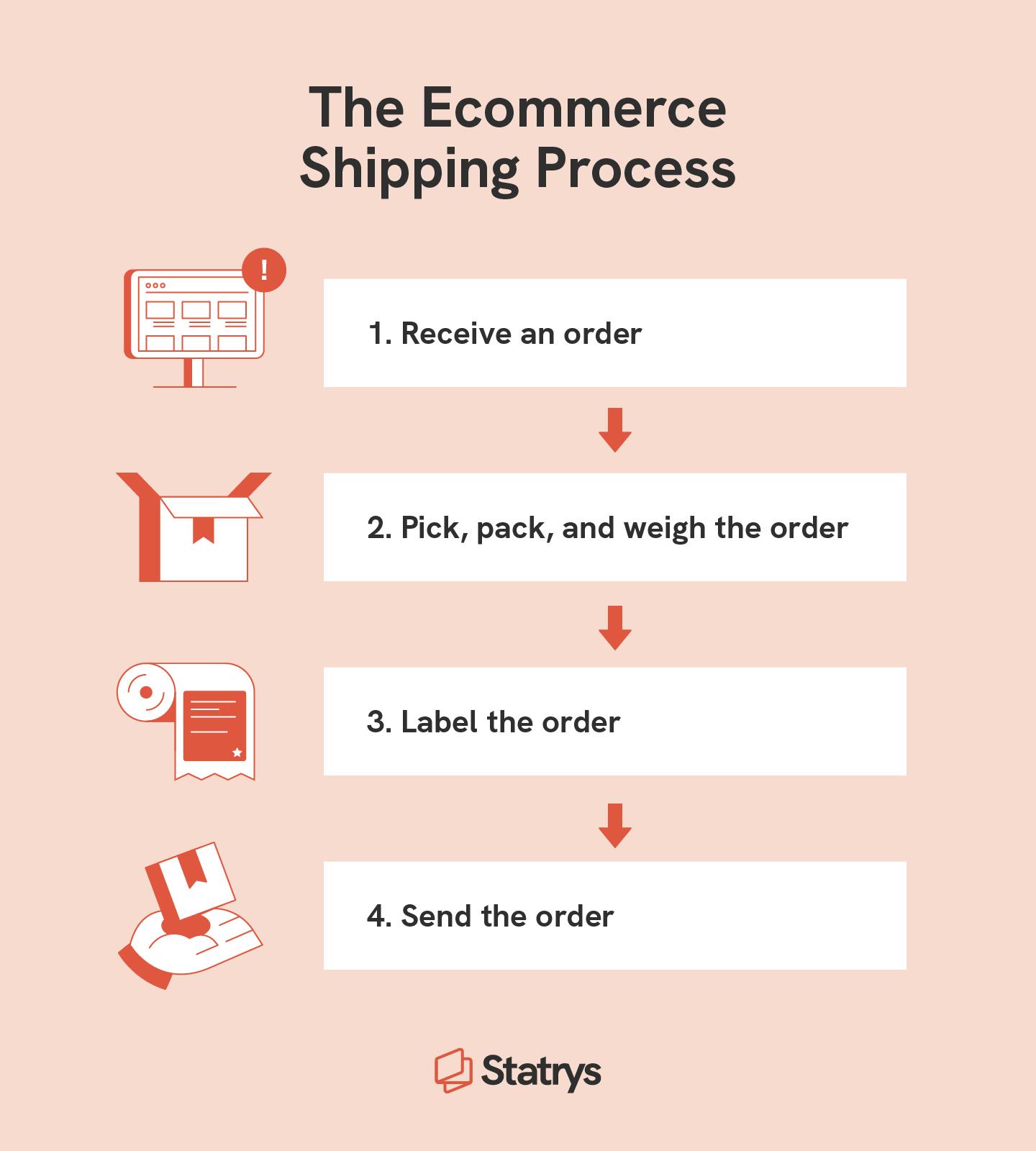 Putting an item into a package and sending it might seem like the extent of any kind of shipping, even ecommerce shipping, but there is a lot more to the process than you might think. Let's break it down into a few steps to make it easier to digest:
You receive an order from one of your sales channels.
You then pick, pack, and weigh the order.
You label the package with the customer's address and attach postage.
You drop the package off with the carrier or the carrier picks it up from your location.
Seems pretty straightforward, right? Next, we'll go into more detail for each of these steps so you can see how important and how connected they are.
Step 2: Choose Your Shipping Strategy
Choosing your shipping strategy is the second part of your shipping process. This is when you'll make some important decisions about where you'll be shipping from and what shipping options you'll offer your customers.
When you're weighing your options, you'll need to carefully consider:
Your overhead, including warehousing and labor costs
What your competitors offer
Your margins, including your packaging, shipping, marketing, and website costs
Let's take a look at some of the options.
Ship From Your Location
Shipping from your store or warehouse probably seems like the easiest and most straightforward method of shipping for ecommerce. It works like this: 
An order comes in. 
You put the items in appropriate packaging. 
You print a label.
The carrier picks up the package and delivers it.
While it is simple in theory, the practice can be quite different. If your store receives a large volume of orders, you may find that packing and shipping orders take up a huge percentage of your time. Some store owners can't handle fulfillment on their own, so they need to hire employees.
If you're buying packaging supplies on your own, even if you are ordering fairly large quantities, you may be paying more than you would if you were working with a dropshipping or third-party logistics company that can order in much larger quantities.
| | |
| --- | --- |
| Pros | Cons |
| Control the quality of the packaging | Can be very time-consuming |
| Ship orders on a schedule that works for you | Can be expensive |
| You choose carriers | Can require a lot of warehouse space |
| You set shipping speeds | Can require extra employees |
Use a Dropshipping Company
What is ecommerce dropshipping? It's when you sell products in your online store that a manufacturer or supplier ships to your customers on your behalf. Dropshipping lets you provide your customers with many options without requiring you to have a physical storefront or warehouse. Companies like ShipBob and CJDropshipping are dropshipping companies that can help you ship (and even source) products.
Dropshipping is generally slower than most other shipping options, especially if your suppliers are in a different country from your customers. You may not have as much say in how items are packaged and shipped, either.
| | |
| --- | --- |
| Pros | Cons |
| You won't need warehouse space | Orders may not ship as quickly as they would if you shipped them |
| You don't have to hire employees to pick, pack, and ship orders | Can take longer for orders to arrive (especially if your dropshipping partner is in another country) |
| Provide customers with many products from a variety of suppliers | Pay handling fees on every order in addition to shipping costs |
Use a Third-Party Logistics Company
A third-party logistics company is similar to a dropshipping company, except they aren't suppliers or manufacturers. This means that you buy your products from one company and have them shipped to a third-party logistics warehouse. They will unpack and store your products and then ship them as orders come in. If you sell through Amazon, you may still need to ship them yourself or have them shipped by a third-party company.
While the expertise and discounts on shipping supplies and carrier fees can be great, you could end up paying a lot of money for someone else to receive, store, and ship your products.
| | |
| --- | --- |
| Pros | Cons |
| You don't have to hire a team to ship orders | Quality control might not be the best |
| Professional shippers handle your orders | Can be expensive |
| Materials and shipping fees may be lower than you would get on your own | Adds an extra step between you and your customers |
Expedited Shipping
Offering expedited shipping sounds like an easy call to make: Customers like getting their items sooner, and if they are paying for that privilege, what could go wrong? But what exactly is expedited shipping? Any shipping option that is faster than the default your company offers. This commonly means 2-day, next-day, or same-day shipping.
The average cost of expedited shipping depends on many factors, including the location of your business, the location of your customers, and what carriers you use to ship. For example, expedited shipping with the USPS can cost, at minimum, $22 to $27. Both UPS and FedEx 2-day shipping rates start at $19.
Depending on the price of faster shipping, many people will abandon a cart and search elsewhere. One study found that almost 25% of people wouldn't pay more than $5 for shipping. Expedited shipping also creates other obstacles, including:
Carrier delays that you have no control over
Unrealistic customer expectations
Some areas may fall outside of the stated arrival times
You could try to overcome some of these problems by offering fast shipping on orders over a certain amount, or you could increase product prices to cover shipping costs.
Pros
Cons
Customers like fast delivery
Can be expensive
Customers can choose to pay for it
Isn't available in all areas
Customers are less likely to abandon carts with expedited shipping
2-Day Shipping
Amazon and other gigantic online retailers have made two-day shipping the new standard for online business shipping. But these companies have real buying power, which means lower shipping rates when they use FedEx, UPS, or government-operated shipping companies as well as the benefits of having their own delivery services. 
They also have warehouses full of workers picking and packing orders around the clock. For smaller ecommerce companies, getting an order ready to be sent on the same day may be difficult enough. 
But even with all of that buying power and a large number of employees, there are no guarantees that packages are going to arrive within that time frame. Over the last few years, more and more people have noticed that even Amazon can't meet those deadlines consistently across the United States. And they have their own network of warehouses and fleet of delivery vehicles. 
For small businesses, it can be cost-prohibitive to offer free two-day shipping without increasing product prices or setting order minimums. It can also mean making a commitment that you can't keep if your shipping team is small or if you're shipping your products through Amazon or another third-party logistics company.
Pros
Cons
Fast
Can be expensive
Customers are less likely to abandon carts with expedited shipping options
Isn't available in all areas
Usually isn't guaranteed by carriers
Overnight Shipping
Overnight shipping has the same potential issues as expedited and two-day shipping and then some. Most carriers limit overnight shipping to a few areas and their contracts provide many conditions that spell out why a package may not arrive on time. 
As the owner of an ecommerce store, you'll need to decide if you have the resources to package and ship orders in order to make overnight shipping worthwhile.
Pros
Cons
Very fast
Even more expensive than 2-day shipping
Customers are less likely to abandon carts with expedited shipping
May not be available in all areas
Usually isn't guaranteed by carriers
Same-Day Delivery
Same-day delivery is the most expensive shipping option and is usually reserved for areas where a business operates. Depending on where you live, you may have to find smaller businesses or courier companies to handle these deliveries. The prices that larger retailers charge range from around $7 to $25 per delivery, with some companies charging as much as $69 for a single delivery. And they have the benefit of having their own logistics systems or they have contracts with couriers or delivery apps like InstaCart.
If you own a brick-and-mortar store, you might be able to offer delivery services to customers in your immediate area, but it could require extra work for you or another person on your team.
| | |
| --- | --- |
| Pros | Cons |
| Extremely fast | Likely the most expensive shipping option |
| Customers are less likely to abandon carts with expedited shipping | Isn't available in all areas |
| Great for cities close to distribution hubs | Usually isn't guaranteed by carriers |
International Shipping
International shipping can be as easy as domestic shipping or it can be so tough to navigate that it may not be worth the trouble. It all depends on where your business is, what companies ship from your location to your customers' locations, and what kinds of costs are involved.
For domestic shipments, many carriers build any tariffs and taxes into the cost of their services. But if you are sending items to another country, all of that could change. For example, if you are based in the United States and a shopper in Germany purchases something from your online store, you may be responsible for paying VAT taxes, customs duties, and other fees. There is usually more paperwork required to send things to other countries, too. 
Even with these downsides, there is a massive benefit to shipping internationally: You increase your potential customer base dramatically. Even opening up shipping to a handful of other countries could be a windfall you'd never experience selling only in your home country.
Pros
Cons
Sell your products worldwide
Can be expensive
Increase brand recognition
Can take a long time for packages to arrive
Requires extra paperwork
May require paying tariffs and taxes
Limited carrier options
Eco-Friendly Shipping
As we become aware of the impact we have on the environment, many people look for ways to reduce their environmental footprint. One small change individuals can make is choosing eco-friendly shipping options. This can mean:
Shopping with companies that only sell eco-friendly products
Spending money with companies that ship using recycled and/or recyclable materials
Choosing shipping options that prioritize more efficient routes and more efficient vehicles
For your company, this can be a big part of the way you market and brand yourself, or it can be a choice you provide to people who want the option.
| | |
| --- | --- |
| Pros | Cons |
| Reduces the amount of waste your company creates | Can be expensive |
| Many shoppers appreciate this option | Might be slower than other shipping options |
Hybrid Shipping Services
Hybrid shipping services are when multiple carriers work to deliver your products to a customer. For example, the UPS Mail Innovations program uses the UPS logistics system to move packages from one location to another, and then transfers the packages to a local U.S. post office for delivery by their mail carriers.
These kinds of services are usually less expensive than having a single carrier handle a product from start to finish, but they can take longer and present more opportunities for damage or loss.
| | |
| --- | --- |
| Pros | Cons |
| More affordable than other options | Slower than other options |
| | More chances for packages to get damaged or lost |
Freight Shipping
If you sell large or very heavy items, freight shipping may be your only choice for delivery. Freight companies have highly variable rates based on size, weight, and the starting and ending destinations.
| | |
| --- | --- |
| Pros | Cons |
| May be the only way to ship very heavy or large items | Can be expensive |
As you're considering these options, check with carriers to learn more about their rates and restrictions. After you've decided which strategy (or combination of strategies) makes the most sense for your business, it's time to decide on shipping rates.
Step 3: Pick Your Shipping Rates and Carriers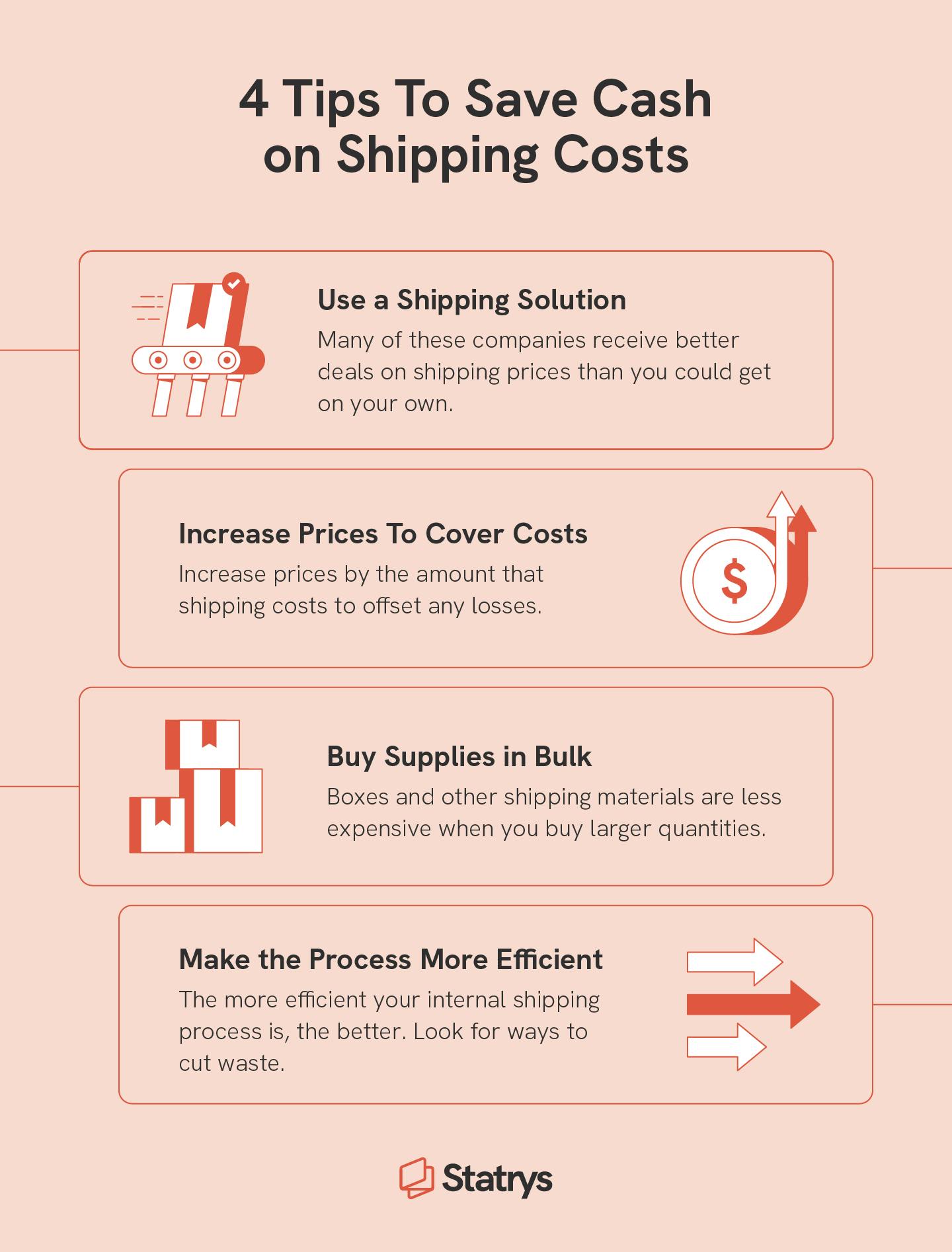 Ecommerce shipping rates are one of the most important parts of the shipping process, but they can be difficult to get a handle on. Since October 2022, both FedEx and UPS have raised their rates by an average of 6.9%. As more and more people order online, the demand for these services has skyrocketed and carriers have raised their prices.
Whether you choose to ship with a government-run shipping service like the United States Postal Service or the U.K.'s Royal Mail or you want to use a private firm like DHL, UPS, or FedEx, you'll have a lot of the same details to sort out. Insurance and tracking are available from nearly all of these services, but the costs vary depending on the weight and size of the package as well as where a package is shipped from, and its destination.
To make things easier for business owners, many of these carriers have created shipping rate calculators to provide real-time shipping costs. Below, you'll find links to some of these calculators. 
| | | |
| --- | --- | --- |
| Shipping Rates | Description | How To Pay For It |
| Free Shipping | The business pays all shipping costs, no matter what they are. | Increase prices or make it a perk for repeat customers. |
| Flat-Rate Shipping | The customer pays one amount for shipping of all items in an order. | Use flat-rate shipping packages with carriers. |
| Real-Time Rates | The customer pays the real-time price for shipping. | Let customers pay for it. |
| Table Rates | The customer pays an amount based on their proximity to the warehouse or different flat rates based on order total or weight. | Raise prices or offer lower shipping costs for higher order totals. |
Step 4: Find and Source Your Packaging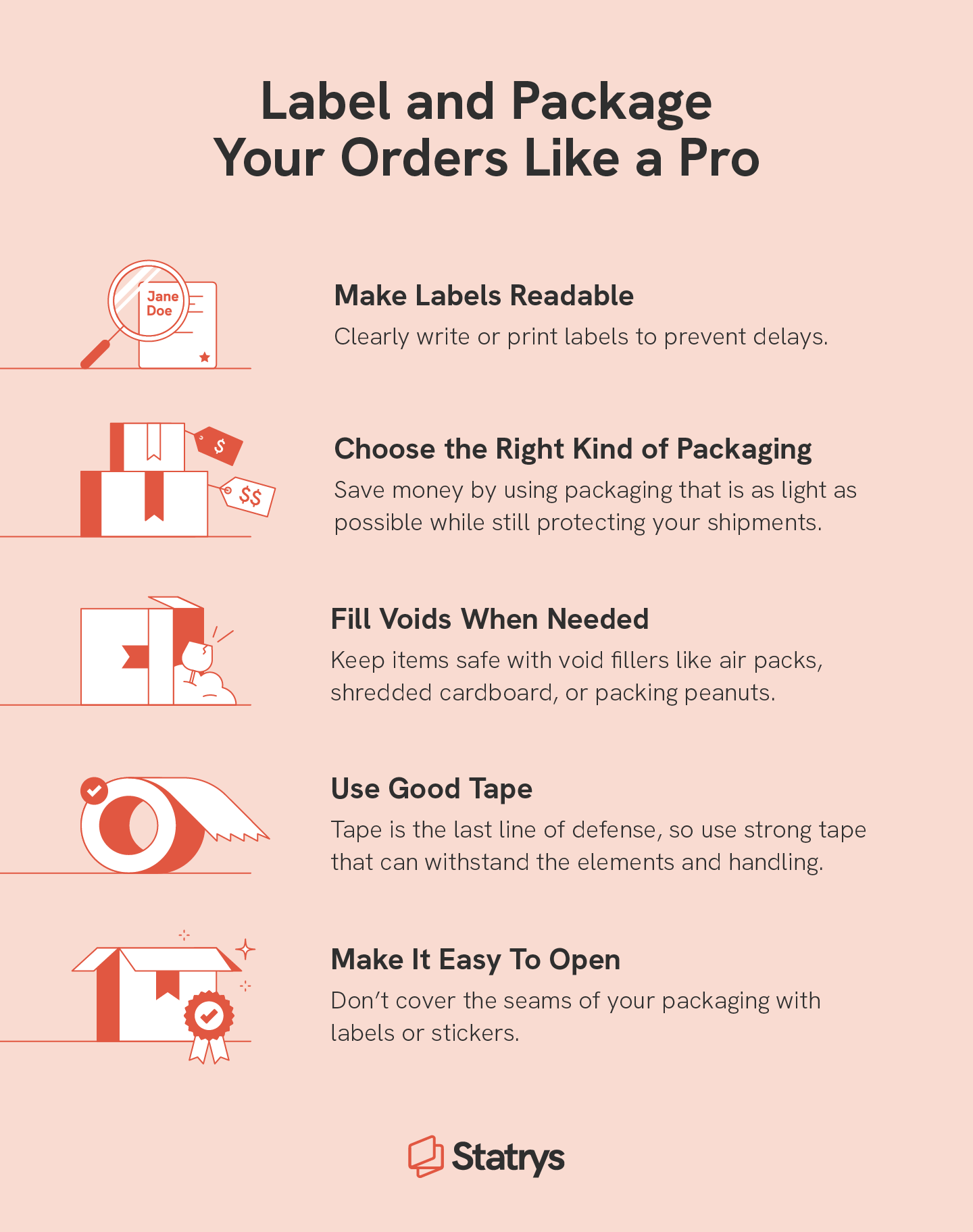 The packaging you choose can say a lot more about your business than you might think. Here's an example: You order an article of clothing from an upscale boutique that specializes in bespoke items you can't get anywhere else. A few days later, a plain brown box arrives with the item tossed inside. Doesn't make a great impression, does it? 
Now picture ordering that same item and it shows up on your doorstep in a custom-printed box that features the company's name. You open it and find a smaller paperboard box nestled on a bed of colored cardboard shreds. Inside that box is your order, wrapped with a piece of ribbon.
Not every item needs that kind of treatment, but you can see how the experience is completely different between those scenarios. If you are working on building a brand that's exclusive, curated, and goes the extra mile, custom packaging is a must. 
Choosing your shipping materials is about more than a presentation, though. All materials will impact your margins. Here are some of the packaging costs you have to consider:
Packaging types impact the weight and size of your shipments
Custom packaging costs more
Buying in bulk can save you money but requires more space
Void fill can increase shipping costs
Take your time and evaluate a few options to see which is going to be right for you. And remember: You can always make changes, so don't be afraid of going for the least expensive options and then trying new ideas as time and money permits.
Types of Packaging
Why and When to Use
Pros
Cons
Boxes
Available in many sizes, materials, and shapes

Use when you need to protect items
• Sturdy
• Easy to brand
• Recyclable
• Can be expensive
• Higher shipping costs
• Take up a lot of room
Poly mailers
Available in many sizes and shapes

Use for items like clothing
• Easy to brand
• Inexpensive to ship
• Take up less room than boxes
• May not be recyclable
• Not suitable for large, heavy objects
Other packaging
Crates for large and heavy objects

Padded mailers for media like DVDs

Foil mailers for food products
• Designed specifically for certain items
• Keep items safe during shipping
• May be recyclable
• Can be expensive
• Crates may need to be custom-made
• Can take up a lot of room
Labeling packages are a little more straightforward than packaging materials, but it can still be complicated. If you send only a few orders at a time, you can prepare labels by hand. If you want to save time, print labels from your computer or use a label printer. 
It's also important to understand any laws or regulations regarding the shipment of liquids and products that contain certain materials or items (like batteries). While it's usually OK to ship those items, you may need special documentation or you might have to add labels to these packages to ensure they're handled correctly by the carrier.
If you decide to use a shipping solution, check with them to see if they offer discounts on packaging, label printers, or anything else that could make preparing your orders easier.
Step 5: Simplify Your Ecommerce Order Management
Your order management system is the heart of your ecommerce business — without one, everything stops working. Ideally, your order management system should be able to:
Receive orders from any channels you sell from.
See and make changes to any order.
Provide your shipping department with everything they need to pick up an order.
Send order information to your ecommerce shipping software (or have an app that integrates them) for accurate labeling and postage.
Provide customers with order updates, including shipping notifications.
Make accepting, processing, and handling returns and exchanges easy.
Most ecommerce platforms offer order management as part of the platform as well as integrations with apps from third-party logistics, dropshipping, and shipping companies. To ensure compatibility, start by learning more about what your ecommerce store offers in terms of integrations and work your way out to logistics and shipping. 
It's also important to note that order management is not a process that moves in a single direction. While ecommerce delivery to customers is a vital part of the chain, you also need to be able to manage shipments coming from your suppliers as well as returns and exchanges.
Step 6: Pick an Ecommerce Shipping Solution [9 Options To Choose From]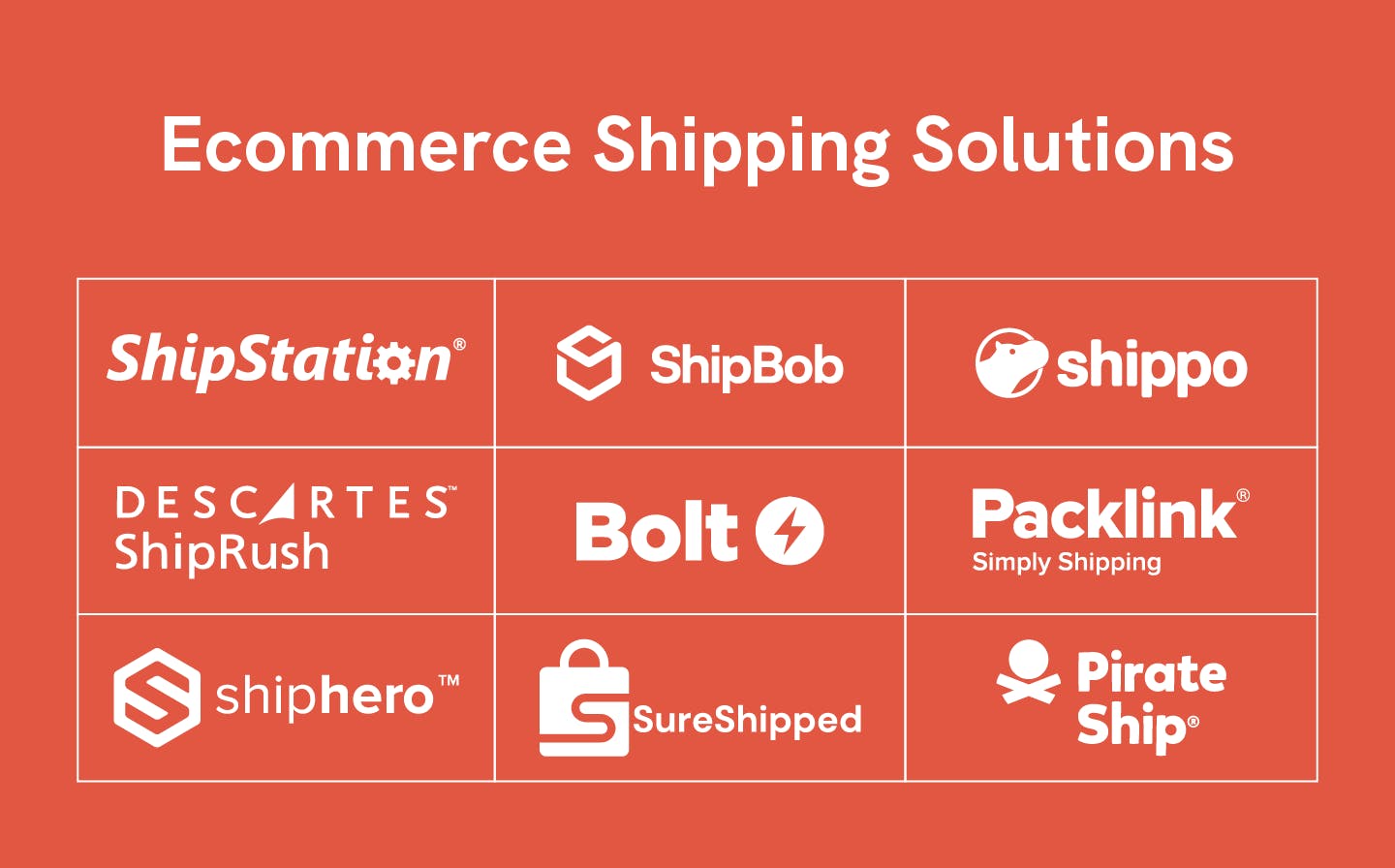 Ecommerce shipping solutions are designed to provide business owners with a faster, easier, and more affordable way of managing their shipments. Many of these systems integrate with popular inventory management platforms to make weighing and labeling packages simpler. 
Below, you'll find a list of some of the most popular shipping solutions for ecommerce, including multi-carrier shipping systems, fulfillment providers, and logistics solutions, in no particular order.
Ecommerce Shipping Solutions
Provider
Type of Service
Cost
ShipStation
Multi-carrier shipping solution
$9.99+ per month (free trial available)
ShipBob
Third-party logistics and order fulfillment service
Custom pricing based on needs
Shippo
Multi-carrier shipping solution
$10 per month (free plans available)
ShipRush
Multi-carrier shipping solution
$29.95+ per month (free plans available)
Bolt Fulfilment
Logistics and order management in Canada and the United States
Custom pricing based on needs
Packlink Pro
Shipping rate comparison tool, order management system
Free accounts available
ShipHero
Warehouse management software, order fulfillment services, and shipping
$1,995+ per month for software access
Sureshipped
Third-party logistics and order fulfillment service
Custom pricing based on needs
Pirate Ship
Order management software and multi-carrier shipping solution
Free
Once you know what your shipping strategy is, compare it to these services to see which option best aligns with your needs.
Step 7: Follow Ecommerce Shipping Best Practices
There's no one right way to send a package to a customer, but these best practices are a good starting point for anyone who wants their packages to arrive on time and in good shape.
Set your goals and your strategy early. Your shipping goals and strategy should include how quickly you want orders to get out the door as well as shipping speeds and packaging materials. Setting these goals early will help you stay on track and save money.
Remember to keep your margins in mind. Your shipping choices can impact your margins in a big way. Take the time to fully understand the impact of packaging material choices, handling costs, and shipping fees to keep your business in the black.
Make shipping options clear to your customers. It's important to be transparent with your customers about shipping costs. If you charge for shipping, do what you can to keep those costs low or provide ways for them to save, like paying for a loyalty program that gives them discounted shipping. 
Take responsibility for any shipping problems. Set policies for how common shipping problems will be handled with your team so you can work on fixing them when they arise. Some common problems include delayed, damaged, or lost orders.
Whether you're selling from your own website or an online marketplace like Amazon, ecommerce shipping is going to be a vital part of your business. Take the time to thoroughly analyze the ecommerce tools available to you in order to choose the systems that work best together. You'll be better able to grow your business if the pieces of your business are integrated and running smoothly.
FAQs
What shipping app should my business use?
That depends on a number of factors, including: • Where your business is located and where you will be shipping from • Where your customers live • What you are selling It's a good idea to check out several options before making your decision. Look at their prices and features and choose the one that will make shipping as smooth as possible for your company.
Which shipping company is best for ecommerce?
Which carrier is cheapest for small packages?
Which carrier is cheapest for large packages?