With more than 5.16 billion people using the internet worldwide, the opportunity for companies to make money by selling their goods online has never been bigger. But to successfully have your ecommerce business stand out from the crowd, you don't only need to know how to sell to people online — you need to know how and where people are spending their money online. We've rounded up more than 70 ecommerce statistics to make sure your ecommerce strategies are in line with how people are buying to help your business grow. This includes:
Let's dive into the exciting world of ecommerce!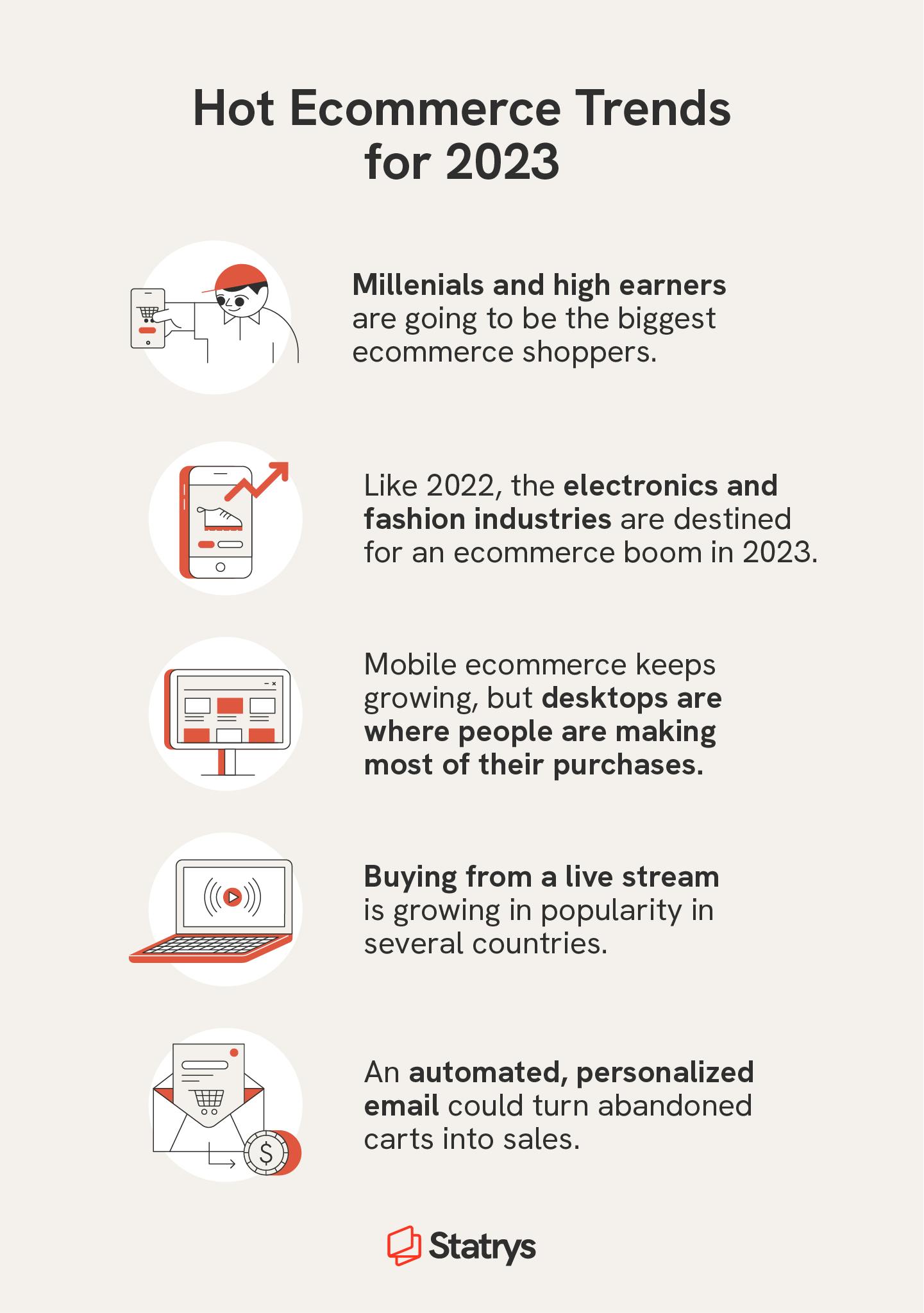 Must-Know Ecommerce Growth Statistics
To stay ahead of increasingly global competition, you need to know just how big ecommerce has become. Spoiler: Millennials are adding items to their online shopping carts at higher rates than any other generation. 
1. In 2022, ecommerce sales in the United States reached $1.09 trillion. (Comscore)
2. Worldwide ecommerce sales are forecasted to reach $6.3 trillion by the end of 2023. (Insider Intelligence)
3. Almost 80% of people shopped online at least once each month in 2022 and nearly half at least once every two weeks. (IPC)
4. People who earn a lot, as well as millennial shoppers, are spending more than people with lower income levels and in different generations. (McKinsey & Company)
5. In March 2023, Wal-Mart was the world's most-visited retail site, with 958,190,595 visits. (Semrush)
6. The average spend per ecommerce shopper in 2022 was $2,310. (Tidio)
7. The most common source of information (30.6%) on new products, services, and brands comes from search engines. (Data Reportal)
8. There are as many as 24 million ecommerce stores online. (Digital in the Round)
9. Millennials are the generation most likely to shop online. (eMarketer)
But how are people buying things online and what kind of reviews are most likely to translate to a purchase?
Statistics About Online Shopping
Online shopping habits have changed a lot over the years. What used to be something people only did occasionally is now commonplace. Fashion and electronics businesses in particular are primed for a great 2023! 
10. The explosive growth of online shopping is slowing as the pandemic eases. Experts forecast only a 10% growth in online sales this year. (Insider Intelligence)
11. Almost 60% of people shopping online will search for products in international stores. (PayPal)
12. 76% of people visited shopping sites in the last month. (DataReportal)
13. People spent most in the electronics ($860 billion) and fashion ($871 billion) categories in 2022. (Statista, Statista)
14. Digital and mobile wallets were the most common ways people paid for consumer goods in 2022. (PPro)
15. High prices (50%) and a lack of free shipping (34%) were responsible for the majority of incomplete orders. (Digital Commerce 360)
16. People like hybrid shopping — companies that offered "buy online, pick up in store" shopping saw a 27% jump in revenue from digital sources. (Salesforce)
17. You don't have to be perfect — studies show that people are more likely to purchase something when the review is between 4.2% and 4.5%. (PowerReviews)
18. 69% of customers want personalization as long as brands are only using information that the customer personally provided. (Segment)
While the entire world is shopping online, not everyone is shopping in the same way. Understanding trends around the world can increase your company's chances of getting a foothold in new markets.
Global Ecommerce Statistics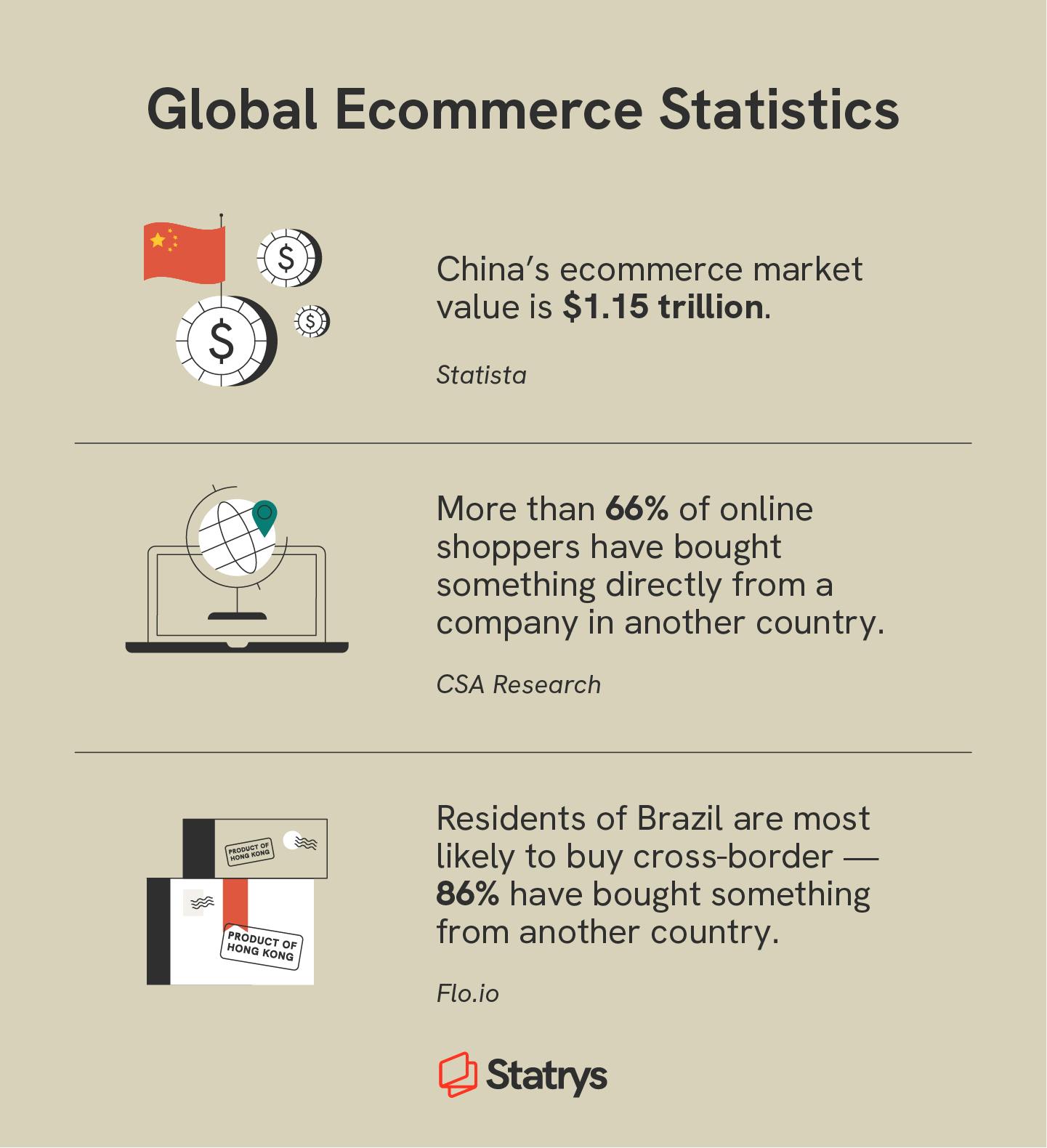 The rise of cross-border ecommerce doesn't appear to be slowing down, especially as the buying power of some areas continues to grow. If you're a business owner, it may be a good idea to examine what your competitors are doing to compete globally, and then decide how you want to try to attract customers from around the world.
19. China is the largest market for ecommerce, with a market value of $1.15 trillion. (Statista)
20. More than two-thirds of shoppers worldwide have bought something from another country. (Flo.io)
21. Only 39% of shoppers in China have made a cross-border ecommerce purchase. (J.P. Morgan)
22. 65% of online shoppers want to see content in their native language when they're buying. (CSA Research)
23. 85% of businesses say they offer personalized marketing and communication, but 40% of customers say they don't see that personalization. (Segment)
24. Don't go too far: People are more than three times as likely to avoid brands that offer over-personalization compared to those that don't personalize anything. (Gartner)
25. 86% of online shoppers in Brazil have purchased something from a different country. (Flo.io)
26. More than 75% of shoppers in Hong Kong have purchased something from a different country. (J.P. Morgan)
27. People from countries all over the world trust American brands; shoppers in Mexico (50%), South Korea (47%), and Japan (29%) said that the last purchase they made across borders came from the United States. (PPro)
28. 64% of the worldwide population uses the internet, but the adoption rate isn't the same everywhere. Adoption rates can impact the efficacy of digital ecommerce marketing — 99% of people in Ireland use the Internet, 93.1% of people in Hong Kong use it, but only 32.7% of people in Kenya are Internet users. (Data Reportal)
The different ways people are making purchases online is more than just the kinds of marketing they're exposed to — where they're browsing plays into these decisions, too.
Mobile Ecommerce Statistics
As people buy and use more mobile devices like smartphones and tablets, they're also finding ways to spend money while using them. If your ecommerce store isn't already optimized for mobile, you might be surprised to learn that it might not be as big of a problem as you thought due to lower mobile conversion rates.    
29. By the end of 2022, nearly 40% of all digital spending was done on a mobile device. (Comscore)
30. People use their smartphones 87.2% of the time when making a mobile purchase. (Insider Intelligence)
31. Only a small percentage of people think that shopping online with apps (22%) or mobile browsers (12%) is convenient. (Dynamic Yield)
32. In early 2021, the time spent on shopping apps increased 48% year over year. (App Annie) 
33. In the fourth quarter of 2022, 95% of mobile carts were abandoned. (Statista)
34. 76% of Americans have bought something using their smartphone. (Pew Research Center)
35. By 2025, Mcommerce (mobile ecommerce) sales are projected to reach $710 billion. (Insider Intelligence)
36. Mcommerce has a 2% conversion rate compared to the 3% conversion rate of purchases completed on a desktop. (GrowCode)
37. More than two-thirds of shoppers said that text and links on mobile devices that are too small to click on are a barrier to conversion. (Dynamic Yield)
38. People spend 1.6 times more time in digital-native shopping apps compared to apps for brick-and-mortar stores. (Liftoff)
With the amount of time we spend on social media, it makes sense to sell on these platforms. But what are some of the unique hurdles and opportunities available in this sphere?
Social Media Ecommerce Statistics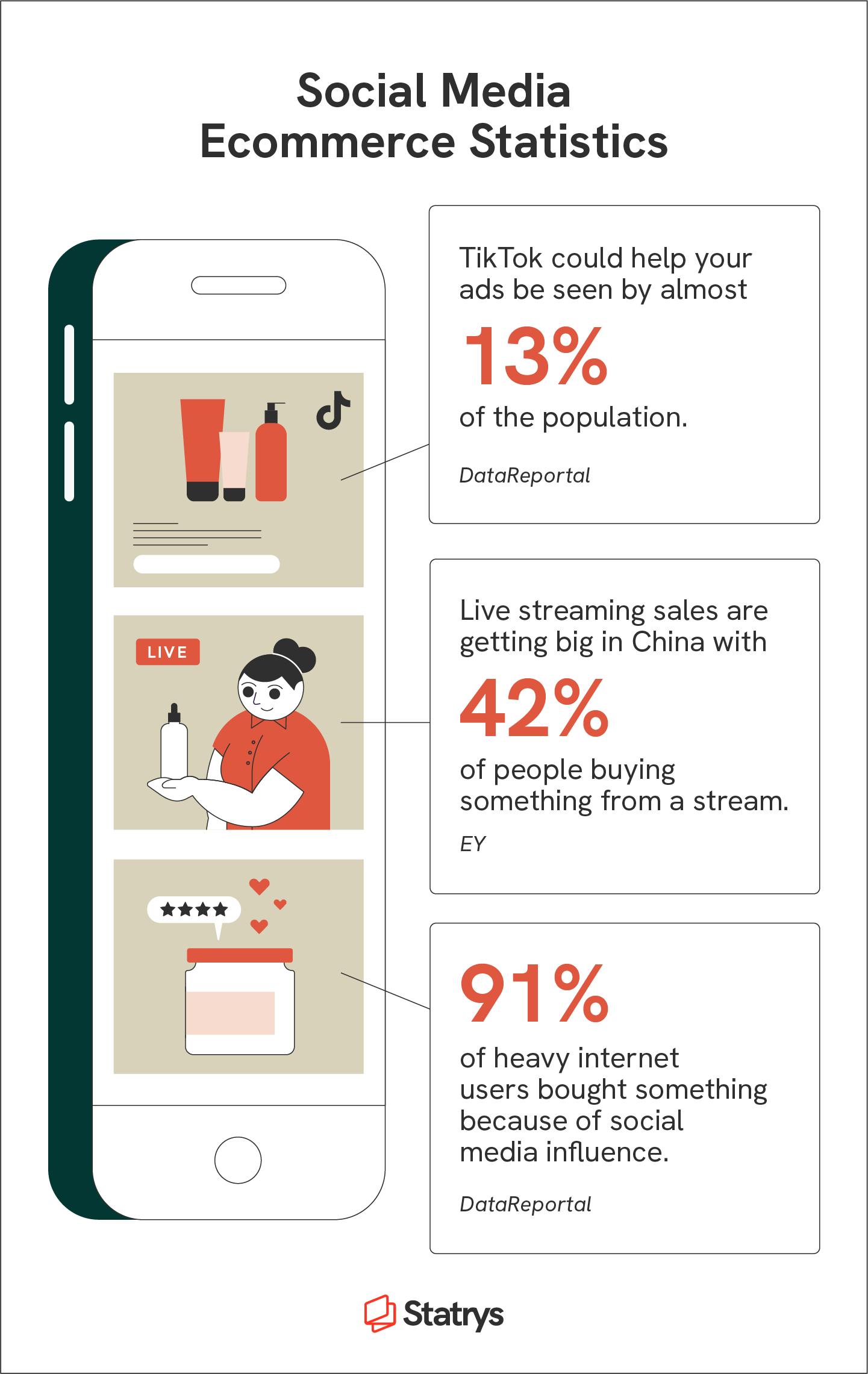 While live streaming sales are gathering steam in Hong Kong and other countries in Asia, many others around the world are looking to influencers for help finding what they need. That means you'll have to decide whether or not affiliate or influencer marketing, along with other types of social media ecommerce sales, are going to be an important part of your business model.
39. Last year, global social commerce sales reached $992 billion. (Research and Markets)
40. More than a quarter of the global population uses social media to find products that they want to buy. (DataReportal)
41. 42% of Chinese consumers have bought something through a live stream. (EY)
42. 40% of American shoppers have bought something they saw on social media. (Mint)
43. 74.7% of people use social media to learn more about a product or brand. (DataReportal)
44. 91% of people who are heavy internet users buy items because of the influence of social media. (DataReportal)
45. 83% of survey respondents use social media as a digital medium for their marketing plan. (Statista)
46. Beauty brands rely heavily on social media influencers to help market their products — 60% of these brands are paying influencers for 47. marketing. (Intellifluence)
47. In the first quarter of 2021, Facebook Marketplace had more than 1 billion monthly global users. (Statista)
48. People ages 16-24 are most likely to follow influencers on social media. (GWI)
49. TikTok ads have the potential to reach more than 13% of the entire population over the age of 18. (DataReportal)
50. The average CTR (click-through rate) for an ad on social media is only 1.4%. (Skai)
Social media tends to shift and change a lot, but what about the form of digital communication that has been around since the very early stages of the Internet?
Email Ecommerce Statistics
Using email to improve sales is a time-tested strategy that appears to keep working, even as more and more people find other sources of information on products. To make your emails more likely to convert, start by understanding your customers. When you know who they are and why they've come to you, you'll be better equipped to send them emails that provide valuable information to inform their buying decisions.
51. Nearly 4 billion people use email. (The Radicati Group)
52. 50% of marketers use email to market their products. (HubSpot)
53. 23% of monthly internet users read an email from a brand. (GWI)
54. Email support can drive sales: 40% of people said that after emailing customer support they were more likely to make a purchase. (Digital Commerce 360)
55. 65% of consumers would become a brand's long-term client if they had a consistently pleasant experience throughout the entire engagement, including the emails a company sends. (Treasure Data)
56. Email marketing can have an ROI of $36 to $1. (Litmus)
57. 39% of the time, email was the most successful medium for encouraging people to click on an advertisement and possibly make a purchase. (Digital Commerce 360)
58. Being prepared for economic uncertainty can pay off — 44% of digital marketers who built contingency plans that included email, social media marketing, and SEO increased their profits at a rate higher than anticipated. (Gartner) 
59. Segmenting your email list could lead to a 63% higher click rate than emails that aren't segmented. (Mailchimp)
Even if you've covered all the ways people like to shop, it might not be enough for them to buy something right now. But there are ways to keep abandoned carts from piling up.
Abandoned Cart Statistics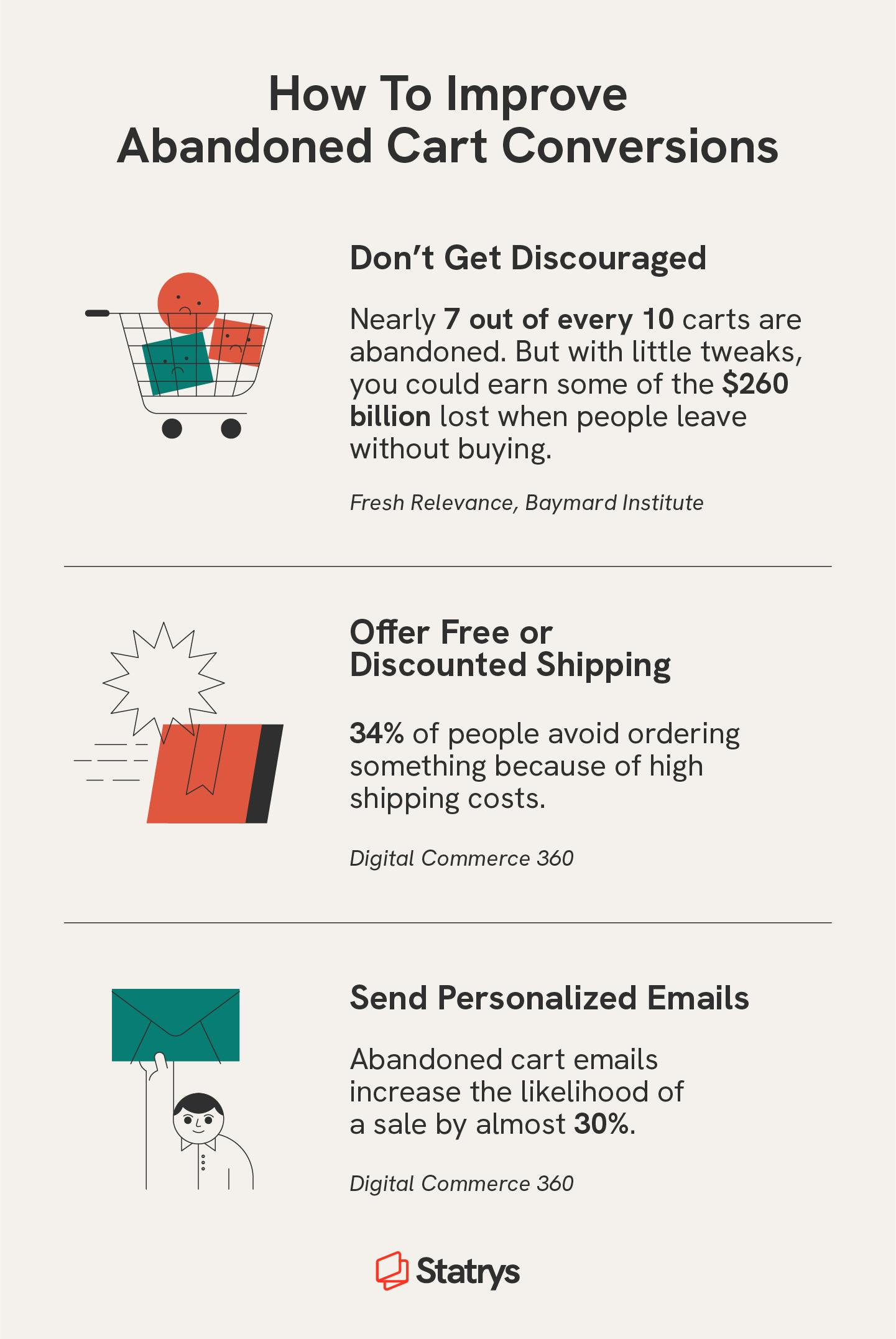 The abandoned cart is the bane of any ecommerce store owner's existence. Ecommerce stats show that a large percentage of carts are abandoned before a customer buys something. But by streamlining your checkout process and avoiding surprise fees or high shipping costs, you can ensure fewer carts get left behind. 
60. Almost 70% of all online shopping carts are abandoned. (Fresh Relevance)
61. Nearly 25% of shoppers will abandon a cart if they're asked or forced to create an account on the site. (Baymard Institute)
62. 29% of buyers said that an abandoned cart email made them more likely to purchase something from a retailer. (Digital Commerce 360)
63. Cart abandonment reminder emails increase conversions by as much as 11.6%. (Fresh Relevance)
64. 22% of people will abandon items in their cart if they are out of stock. (Digital Commerce 360)
65. Based on ecommerce spending in the EU and the U.S., $260 billion in lost orders can be recovered with better checkout processes. (Baymard Institute)
66. Free shipping greatly impacts 73% of people's purchasing decisions. (AlixPartners) 
Offering free or discounted shipping doesn't do you much good unless you have a great ecommerce store that people can easily browse and buy from. Let's learn more about ecommerce platforms and the impact they have on global ecommerce.
Ecommerce Platform Statistics
There are many platforms vying for a piece of the ecommerce market share that Shopify, as the biggest platform, has cornered. Some of these providers are generalized and can work to bring nearly any store to life, while others are focused on specific industries. To provide your customers with the best online shopping experience, check out all of your options before deciding what kind of store you'll build. 
67. Shopify has the largest individual market share of any ecommerce platform. (BuiltWith)
68. WooCommerce is the world's most popular ecommerce plugin. (W3Techs)
69. Shopify controls more than 32% of the market share for ecommerce platforms in the United States, and powers over 3.7 million live websites worldwide. (BuiltWith)
70. In Europe and the U.K., only 52% of ecommerce platforms can handle omnichannel sales. (Google)
71. Showing customer reviews could translate to more sales, as 97% of people check product reviews before buying something. (PowerReviews)
Now that you've seen the true scope of online shopping thanks to these ecommerce statistics, it's time to consider what you can do to make more sales. The right ecommerce tools can help, and so can advice from other entrepreneurs.  

FAQs
Who uses ecommerce the most?
China has the largest ecommerce market, with the United States in second place.
Why are there so many ecommerce companies in Hong Kong?
What percentage of the population uses ecommerce?