Deciding how you'll accept payments for your ecommerce business can be tough. And when it comes to choosing what's right for you, we're sure Shopify and Square have come to mind.
After all, Shopify is the largest ecommerce platform and it has its own payment processing service called Shopify Payments. Square is a payment processing service that started by providing businesses the ability to accept credit cards with their smartphones. But when you're trying to pick between Shopify vs. Square for your website and payment gateway, you need the facts. That's where this comparison guide comes in — to cover some of the most important parts of Square and Shopify's offerings to help you make an informed decision for your business.
Criteria
Shopify
Square
Fees
❌

Shopify's monthly membership fees can add up even with lower per-transaction rates.

✅

Square offers a free plan and two paid plans that cost between $39 and $79 per month

Processing and payout
❌

3 days

✅

Up to 36 hours; instant payouts available for a 1.75% fee

Chargebacks and disputes
✅

Faster dispute resolution (up to 75 days) but higher chargeback fee ($15 each)

❌

Dispute resolution can be slow (as long as 90 days) but they don't have chargeback fees

Security
✅

PCI-compliant

✅

PCI-compliant

Integration and setup
❌

Only works with Shopify stores

✅

Square works with its own ecommerce websites and can be integrated into other platforms, too

Customer service
✅

24/7 live rep support

❌

24/7 phone support for subscribers of Square Online's Premium plan
| | |
| --- | --- |
| Pros ✅ | Cons ❌ |
| Lower transaction fees compared to other payment processors | Currently available only to businesses on the Shopify ecommerce platform |
| No contracts | Shopify Payments is only available in 23 countries |
| Allows international payments | Fund holds and account holds are relatively common for "high-risk" businesses |
| Can pay out as quickly as 1-3 days | Fewer POS hardware options than some other processors |
| Ecommerce stores can be used in 175 countries | |
Shopify is home to millions of ecommerce stores. As Shopify's platform has grown, the company has added new features that make running an online business easier. One of the most helpful additions to Shopify is its payment processing service called Shopify Payments. 
Stripe powers the Shopify Payments system that's built into Shopify's platform. With this service, ecommerce store owners can start accepting several different methods of payment online and in person. Shopify Payments functions like a PayPal alternative in that it allows customers to save their address and credit card information for use on any Shopify store. Shopify Payments has lower processing fees compared to other processors while still allowing you to accept:
Visa
Mastercard
Amex
Apple Pay
Google Pay
In addition to its own payment processing, Shopify boasts thousands of app integrations for customers to customize their online stores. 
Square Overview 
| | |
| --- | --- |
| Pros ✅ | Cons ❌ |
| Lower fees compared to other payment processors | Limited website options compared to Shopify and other ecommerce platforms |
| No contracts | No foreign currency exchange |
| Lots of hardware POS options for different business types | Currently available in only 8 countries |
| Payouts take less than 36 hours; instant payouts are available for a 1.75% fee | |
| Free website | |
Square started in 2009 as a company that offered fast, free POS and POS hardware to small retailers, but has since grown to include more advanced hardware and software for payment processing online and in person. With Square for small businesses, you can sell your products almost anywhere, even through your social media channels.
A free Square account lets you accept payments and build a free website on a Square domain where you can build an ecommerce store or an online presence for your brick-and-mortar shop. 
With Square, you can accept payment from customers using:
Visa
Mastercard
Amex
Discover
Apple Pay 
Cash App Pay
Google Pay
A Square website has many ecommerce features as well as scheduling capabilities.
Square vs. Shopify Price and Fee Comparison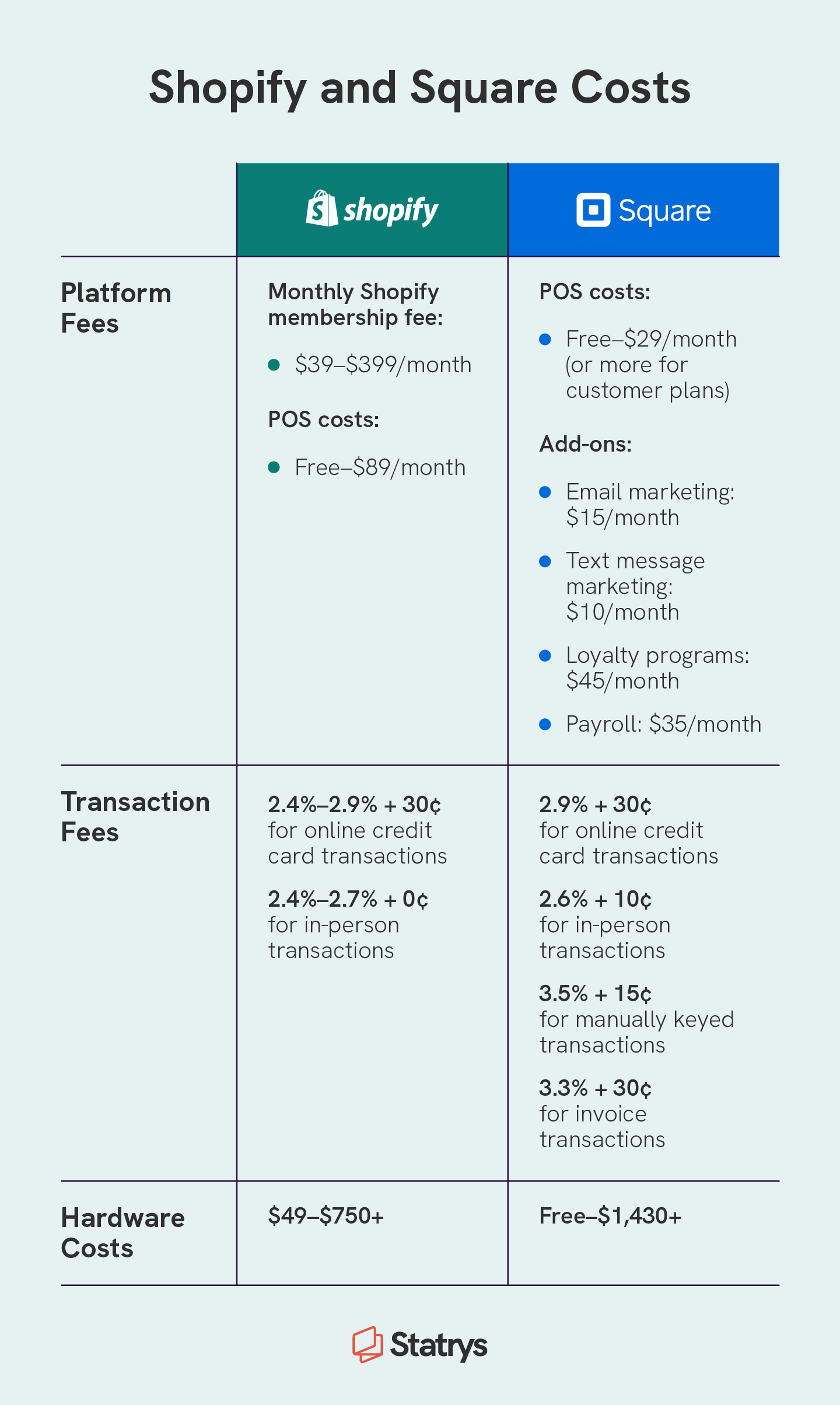 In order to use Shopify's payment processing, you have to use its ecommerce platform, and the platform requires users to pay a monthly fee. The three Shopify plans — Basic, Shopify" and Advanced — cost between $39 and $399 per month. When you pay for the more expensive plan, you receive lower rates, more user accounts, and more store features.
Square doesn't require you to pay a fee to use its platform, but it does charge for additional features that would either be included with Shopify or available through apps on Shopify. These include email marketing, SMS (text message) marketing, loyalty programs, and payroll.
In addition to these monthly account fees, you will also need to pay transaction fees and other assorted fees.
Shopify
Square
2.4%-2.9% + 30¢ (online credit card rates)


2.4%-2.7% + 0¢ (in-person credit/debit card rates)

2.6% + 10¢ (in-person transactions)
2.5% + 10¢ (Retail Plus plan)
2.9% + 30¢ (online transactions)


3.5% + 15¢ (manually keyed transactions or invoices with a card on file)
Adding payment methods to your website means you'll have to pay fees in order to accept payment. Shopify Payments' transaction fees decrease as you choose the higher-cost Shopify plans. For instance:
2.4%-2.9% + 30¢ (online credit card rates)
2.4%-2.7% + 0¢ (in-person credit/debit card rates)
Square has transaction fees that are similar to Shopify. They include:
2.6% + 10¢ (in-person transactions) 
2.5% + 10¢ (Retail Plus plan)
2.9% + 30¢ (online transactions) 
3.5% + 15¢ (transactions that are keyed manually or invoice payments with a card on file)
Square may be able to offer you a discount if you process $250,000 of transactions per year with their system. 
Foreign Currency Exchange Fees
Shopify
Square

1.5% in the U.S.




2% in all other countries

Square does not allow currency exchanges — you can accept credit card payments from overseas customers but they have to pay in the currency of the country where the store is located.
With Shopify Payments, you get low foreign currency exchange fees:
1.5% in the U.S.
2% in all other countries
Unlike Shopify, there is no foreign currency exchange available on Square. You can accept credit cards from customers in other countries, but they have to pay in the currency of the country where your store is located. 
Other Fees
Shopify
Square

Paid templates




Extra cost for certain apps

Email marketing: $15 per month




Text message marketing: $10 per month




Rewards/loyalty programs: $45 per month




Payroll: $35 per month
If you have a Shopify store, you will have to pay extra to add apps to your site in order to integrate them with other programs or change the experience on the front end for your users.
Square does not include certain marketing features with its websites for free. Some of these additional monthly charges include:
Email marketing: $15 per month
Text message marketing: $10 per month
Rewards/loyalty programs: $45 per month
Payroll: $35 per month
You are not forced to pay these fees, though. If you don't want these features, you don't have to pay for them.
Processing and Payout
Shopify's payout and processing speeds are quick and in line with other payment providers. Your customers will have a fast checkout experience using the payment method of their choice. If they decide to create a Shop Pay account, they'll be able to further streamline checkout with their payment method and shipping address pre-populated. A fast checkout can help improve conversions, so it's important to do whatever you can to speed up that process.
As a business owner, you'll receive your payouts quickly, too. Most payments processed through Shopify Payments are deposited into your account in three days or less. 
Square's payout and processing fees are comparable to Shopify's. When your customers check out, they'll be able to pay quickly using a number of different payment options. You'll receive the payout from customer purchases quicker than you would with Shopify — Square's standard payout is within 36 hours, but most payouts arrive in one to two days. They also provide instant payouts for a 1.75% fee. 
Chargebacks and Disputes
The dispute process through Shopify Payments can take some time. You and the customer making the dispute will need to submit documentation to Shopify. Shopify will then examine the dispute and make a decision and that process can take as long as 60 to 75 days. Should they rule in favor of the customer, Shopify will refund their money. Whether or not the dispute is resolved in favor of the business, the store owner will have to pay a $15 fee (but the fee can be refunded if the store wins the dispute). If your store is faced with too many disputes, Shopify can even shut it down.
If there's a dispute when a company uses Square, it can take up to 90 days to resolve. You're allowed to submit any information that could speed up the process within seven days of the dispute being initiated. Square will then work with the issuing financial institution to make a determination. 
Shopify vs. Square POS Hardware Comparison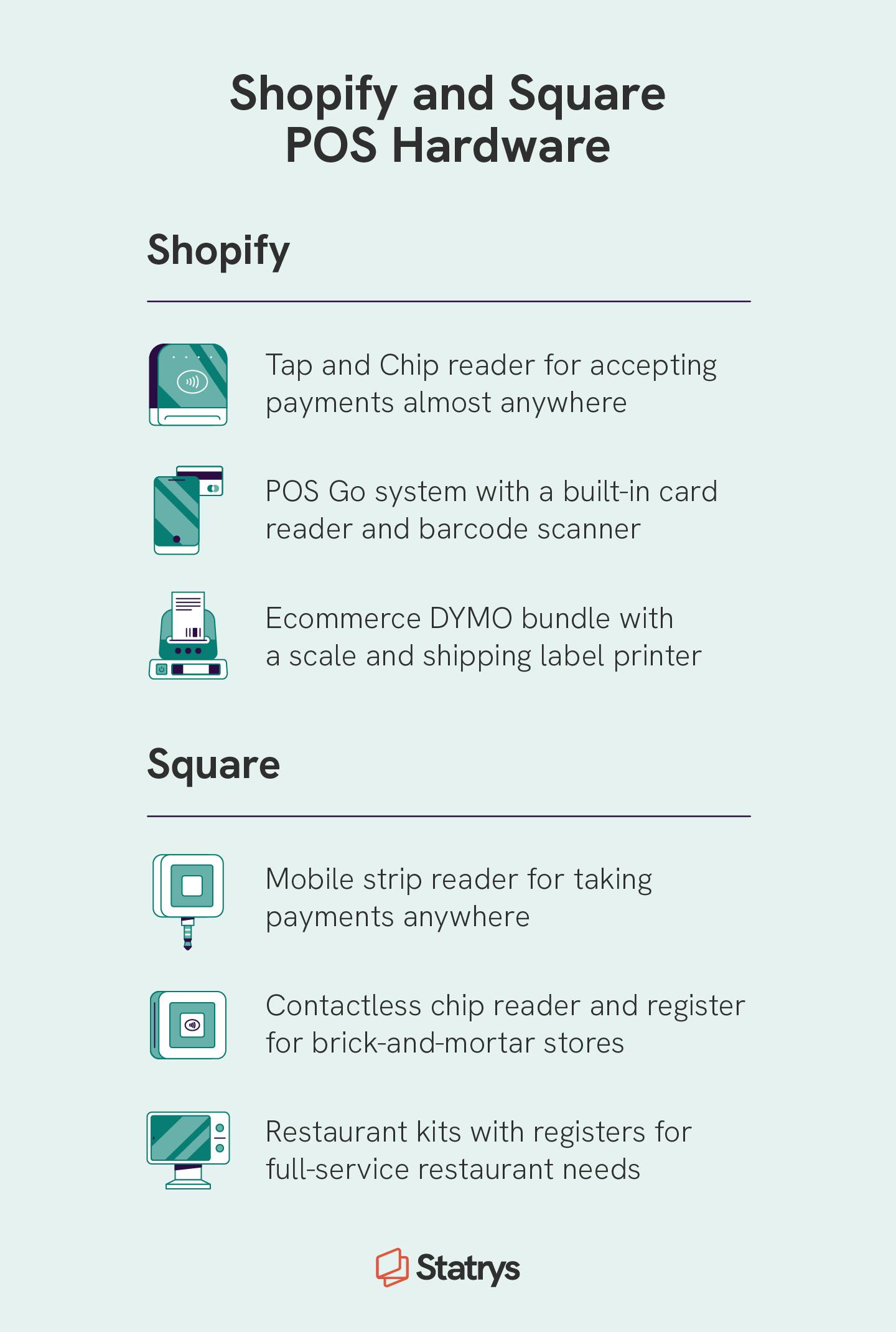 In addition to having an online payment gateway, there may come a time when your business requires hardware so you're able to sell to people at a store, convention, or market. Both Shopify and Square have hardware options for entrepreneurs and business owners.  
Because Shopify Payments is relatively new compared to Square, it has a smaller selection of POS hardware options. If you're just getting started with sales at a brick-and-mortar establishment or you don't currently have hardware that helps you manage your inventory, Shopify's options may be a great fit. Their hardware will integrate easily with Shopify's platform and can help you manage multiple order streams.
The Shopify POS Go system is a handheld device that combines a card reader and barcode scanner. It connects to the Shopify inventory management system so you can keep accurate counts and track revenue in real time. 
However, if you already have a POS and inventory management system, Shopify's hardware might not be the right choice for you. The hardware may not work with other systems and it may not be robust enough if you are dealing with high order volume. 
In the Square vs. Shopify debate, Square has more hardware options for businesses. From magstripe readers that plug into a smartphone to full retail packages, there is a piece of Square hardware for almost any type of company. 
For example, their magstripe reader is great for sellers doing business on the go or for smaller retail operations. Their restaurant hardware bundles provide everything a restaurant needs to keep the kitchen and the front of the house running smoothly.
These POS systems integrate with Square's inventory management system as well as other systems so you can keep track of your inventory and revenue. Square also has systems that make scheduling appointments fast and easy. 
Shopify
Square
Hardware Options

∙ BT card reader or Tap & Chip card reader




∙

Shopify POS Go




∙ Retail Kit (includes a Shopify Tap & Chip card reader, a Shopify Dock for the Tap & Chip Reader, a Shopify Retail Stand for iPad, and a Shopify Mounting Kit

∙ Square magstripe reader




∙

Square Reader contactless and chip card reader




∙

Square Stand iPad POS or Square Stand Mount




∙

Square Terminal mobile card reader with built-in printer




∙

Square Register two-screen system




∙

Bundles of stands, cash drawers, printers, and card readers

Hardware Costs

∙ $49 for Chipper 2X BT card reader or Tap & Chip card reader




∙

$219 for Retail Kit




∙

$399 for Shopify POS Go mobile device

∙ $0 for the Square magstripe-only reader ($10 for additional readers)


∙ $49 for contactless and chip Square Readers




∙

$149 for iPad POSSquare Stand or Square Stand Mount




∙

$299 for Square Terminal card reader with the printer




∙

$799 for Square Register two-screen system




∙

$659-$1,479 for different bundles that include cash drawers, stands, card readers, and printers
The hardware from either company may not work with the other's software, so make sure you evaluate your specific needs before making your decision. 
Shopify vs. Square Website Features Comparison
Shopify
Square
Site Features
∙ Customer account


∙ Blogging

∙ Customer accounts




∙ Scheduling




Blogging

Ecommerce Features

∙ Product pages




∙ Nearly unlimited number of products




∙ Email marketing included

∙ Product pages




∙ No limit on number of products




∙ Local delivery and in-store pickup options




∙ Email marketing available for added cost

Integrations

∙ Thousands of integrations

∙ Several hundred integrations
Shopify offers one of the most powerful and flexible ecommerce platforms on the planet. When you want to create an online store that matches your existing branding or you're starting from the ground up, it can give you almost everything you could ever dream of. Learning how to build an ecommerce website isn't always easy, but Shopify has many simplified features that can help you get your store running pretty quickly.
Third-party apps: If a specific functionality isn't native to Shopify, there are thousands of third-party plug-ins that integrate with Shopify to change the experience for the customer or for your company. Be warned, though — the cost of these plug-ins can quickly add up.
Updates: Your Shopify site can be either very simple or rather time-consuming depending on the way that your shop is set up. If you've chosen one of the free or paid templates to build your site, adding a new product or updating a page can be straightforward and easy. When you have additional plug-ins on your site, it can impact how easily you can make changes. 
Blogging: Shopify stores have a blog you can use to announce new products or share information with your customers. You can also build email marketing campaigns inside Shopify. SMS marketing can be added with plug-ins. 
Ecommerce features: One of the biggest Shopify advantages is the ecommerce features on a Shopify site. Shopify lets you list 50,000 products plus an additional 1,000 products per day. If you are on a Plus plan, there is no limit. Customers can also create accounts on your Shopify store, which lets them save addresses and payment methods while tracking their orders in a branded environment. 
Integrations: Shopify also allows connections between the other systems you're using every day. These integrations help improve sales and customer satisfaction as well as inventory control, shipping, and almost any other part of your business. 
Shopify Websites
Pros ✅
Cons ❌

Dozens of templates to choose from

Can take a lot of time to set up

You can customize many of the elements on your site

Most templates cost money

Integrates with other systems

Other apps can be expensive
When comparing a Square online store vs. Shopify, Square's ecommerce websites are quite powerful if you are just getting your online store off the ground. Square's websites are free when you sign up for an account. Here are a few things to know if you're considering Square for your ecommerce website:
Easy to get started: Square's website builder prides itself on being fast and easy to use. There are fewer templates compared to Shopify but you can customize them with your brand's colors, images, and copy. When you want to get your site online fast, it's hard to beat Square.
Limited free marketing capabilities: One area where Square is the less desirable choice is when it comes to some of its marketing capabilities. It has email and SMS marketing but each one requires a separate monthly fee to use. The same is true for rewards/loyalty programs and payroll functionality. The cost of building a site on Square is technically free, but with these add-ons it can become more expensive than a Basic Shopify plan.  
Ecommerce options: When researching Square vs. Shopify for ecommerce, you've probably read a lot about how much Shopify offers to ecommerce store owners. But the ecommerce options on a Square site shouldn't be dismissed. You can add products and photos to listings and offer shipping options (including local delivery or in-store pickup from multiple locations) with a Square ecommerce store. 
Industry-specific POS: Square's industry-specific POS systems mean that while they have fewer integrations (a few hundred compared to Shopify's thousands), there is less need for those apps because Square's systems are doing the work business owners need.  
Shopify Websites
Pros ✅
Cons ❌

Builder does a lot of work for you to get your site up and running more quickly

Limited number of options for styling

Good scheduling features

Customization only available with a paid plan

Free

Email and SMS marketing, loyalty program, and payroll add-on fees
If your business is large and mostly online, a Shopify site might make more sense than a Square website. But if you're already using Square as your payment processor and are starting to grow an ecommerce business, Square could be an excellent option for you.
Square vs. Shopify Security Feature Comparison 
The security of customer financial data — as well as your own — is vital to growing and nurturing a healthy, trustful relationship with your customers. With the right security features and following security best practices, you won't have to find out the hard way how safe your bank account is.  
If you're using Shopify, you and your customers will get security features that will protect activity on your site. These include:
Fraud Filter: This is a setting that prevents fraudulent orders from being placed.
PCI compliance: Shopify's platform follows the standards set by the Payment Card Industry Data Security Standard (PCI DSS), which reduces payment data fraud.
SSL certificates: An SSL is a digital certificate that provides an encrypted connection that also verifies the authenticity of your website.
Square's platform provides many of these same security features, including:
PCI compliance: This compliance rating shows that Square works to reduce fraud related to payment data.
SSL certificates: These provide authenticity information about your website and create a secure connection.
OWASP coding recommendations: These standards help make security an integral part of Square's software and hardware.
ISO 27001 certification: This is an auditable security standard that covers the management of sensitive data from third parties.
Secure hardware: Square makes its own hardware, which allows it to have better control over the security of its POS devices.
With either platform, you'll be prepared to protect your customers' information. 
Integration and Setup
Shopify
Square

∙ Thousands of integrations and apps




∙ Shopify Payments is built in

∙ Hundreds of integrations and apps




∙ Built into Square websites




∙ Can be added to websites on other platforms
The easiest part about using Shopify Payments vs. Square is that Shopify Payments is built into the Shopify platform. All you need to do to start accepting payments on your store is to add your account numbers. You can also integrate PayPal to provide your customers with more payment options. 
The Shopify platform also has thousands of apps to help you integrate other software into your ecommerce store or customize the look and functionality of your store.
Square is relatively easy to integrate into a number of ecommerce platforms. If you use Square's free website builder, it is integrated into your site so you won't have to do any extra work to start accepting payments on your store. There are several hundred integrations currently possible with Square. 
Square and Shopify Customer Service Feature Comparison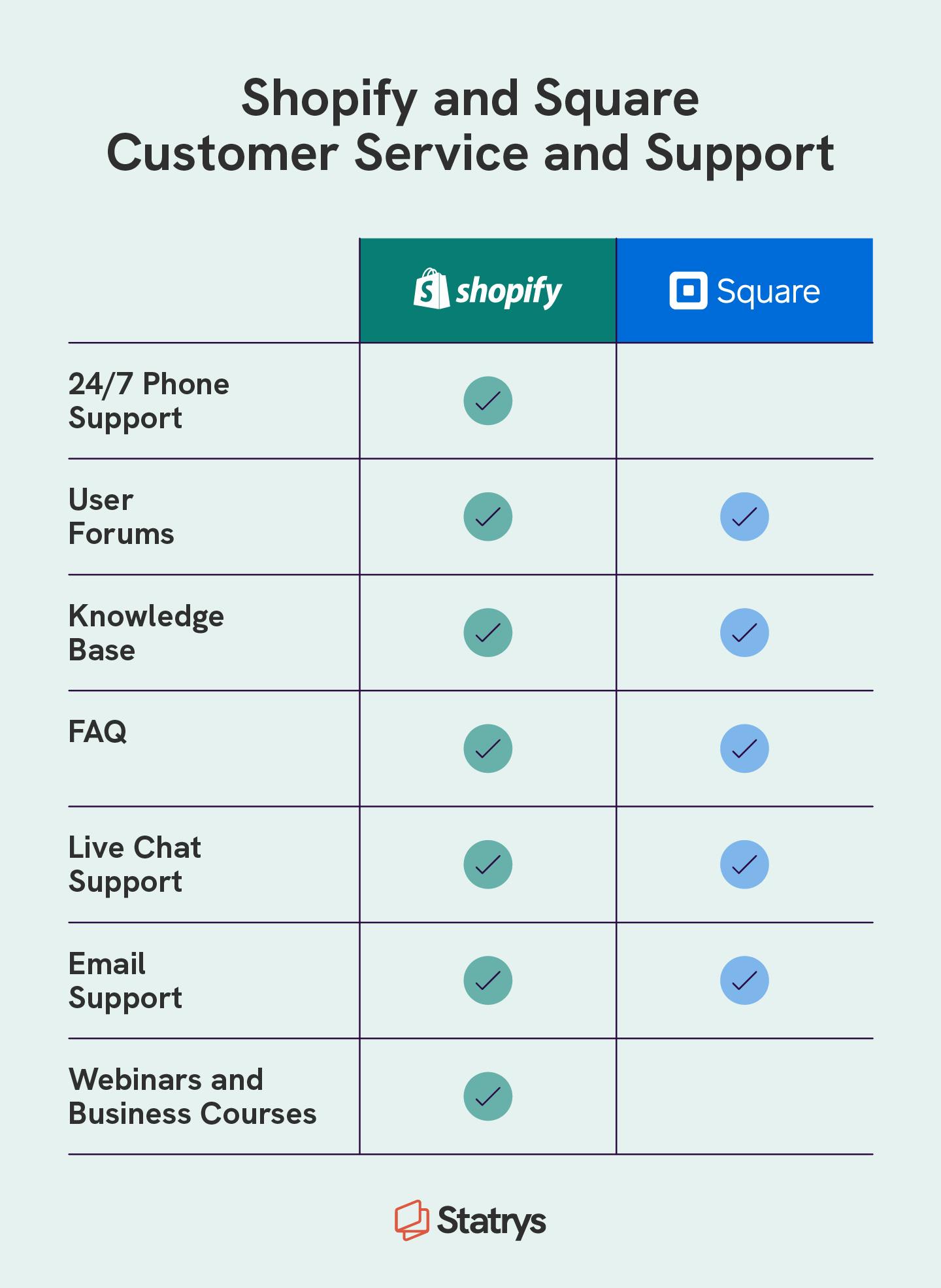 With Shopify, there are several 24/7 customer support options. With an online knowledge base, support from customers and Shopify staff on their forum, and live phone and chat support, there are many ways to get help with your store. Billing help requests are answered by email.
Customer service options with Square include live chat and phone support — though it's not available 24/7 — as well as help on social media channels. They have an online knowledge base, video tutorials, and a seller community that can help you learn more about the platform and solve problems.
With this information, you'll be able to make the right choice for your business when considering Shopify vs. Square. Payment gateways are a huge part of keeping your ecommerce business running, but there are many other ecommerce tools you should look into, whether you're a brand-new company or you're looking to expand your business.
FAQs
Does Square work with Shopify? 
Kind of. Direct Shopify and Square integration isn't available, but you can integrate Square into your Shopify site using a third-party app.
Do you need Square if you have Shopify?
Is Shopify or Square easier to use?
Disclaimer
Some of the links in this article may be affiliate links, which means we may receive a small commission, at no additional cost to you, if you decide to make a purchase through one of our recommended partners. We only recommend products and services we trust and believe will be beneficial to our readers. This helps support our efforts in bringing you valuable content. Thank you for your support!