Picking between ecommerce platforms is not an easy choice. The number of options increases regularly, and trying to sort through and compare feature sets can seem daunting. Squarespace Ecommerce and Shopify are two of the most popular platforms — Squarespace Ecommerce has almost 3 million live sites, and Shopify has more than 4 million sites on its platform. Both companies cater to businesses big and small, but which ecommerce platform is the best choice for your company?
This guide will highlight the similarities and differences between Shopify and Squarespace so you can decide which option is best for your business. We've focused on some of the factors that are most important to people who want to grow their ecommerce business, including:
Criteria
Fees
❌

Shopify fees can add up, especially if you have lots of third-party apps

✅ Squarespace's monthly membership fees are lower than Shopify's
Processing and Payout
✅

3 days

✅

Varies based on provider

Website Features
❌

A limited number of free templates, less native design flexibility, and no native scheduling

✅ More free templates, more robust content and scheduling features, and easier building
Ecommerce Features
✅ Unlimited products, better shipping options, and more robust inventory management and integration
❌ Less robust inventory management and shipping options
Security
✅ PCI-compliant, SSL
✅ PCI-compliant, SSL
Integration and Setup
✅ Thousands of apps and more native integrations
❌ Dozens of native integrations and third-party Extensions
Customer Service
✅ 24/7 live rep support
❌ Live chat support, no phone support
Squarespace Ecommerce Overview
| | |
| --- | --- |
| Pros ✅ | Cons ❌ |
| Lower monthly membership fees than Shopify | Each store can only accept one currency |
| Powerful content management features | Limited POS and inventory management options |
| Appointment and scheduling features | Fewer hardware options than Shopify |
| Many free templates | Limited built-in integrations for other marketplaces |
| Zero (or low) transaction fees for most products | |
| Built-in members-only areas | |
For nearly 20 years, Squarespace has helped businesses and creatives build websites. Squarespace's large number of free (to members) templates and easy drag-and-drop functionality has made it easy for customers to create sites that look good and function well without requiring any background in website design. While it initially started as a CMS (content management system), it later added scheduling and ecommerce features to its platform.
With the addition of ecommerce features, Squarespace partnered with several large payment processors so site owners can accept payments directly on their sites. These include PayPal, Square, Apple Pay, and Stripe, and they are connected using apps. 
Squarespace has integrations that expand site functionality, and it also offers many third-party apps called Extensions. 
| | |
| --- | --- |
| Pros ✅ | Cons ❌ |
| No contracts | Limited number of free templates |
| Exclusive shipping rates and features | Editing templates can be time-consuming |
| Thousands of apps available | Shopify Payments is only available in 23 countries |
| Easy or built-in integrations with other marketplaces | No built-in members areas |
| Accepts more than one currency | No native scheduling or appointment booking |
| More POS hardware options than Squarespace | More expensive membership fees than Squarespace |
| Ecommerce stores can be used in 175 countries | |
Shopify is one of the most popular ecommerce platforms on the planet with millions of ecommerce stores. The company positions itself as a full-service ecommerce solution by offering everything from websites to payment processing to POS systems and hardware. 
With Shopify Payments (the company's own payment provider that is powered by Stripe), ecommerce stores can accept a number of payment methods online and in person. This system is basically a PayPal alternative for Shopify users that lets customers save credit card numbers and addresses for fast checkout on any Shopify store. 
Shopify also has thousands of app integrations for customizing online stores. 
Squarespace Ecommerce vs Shopify Cost Comparison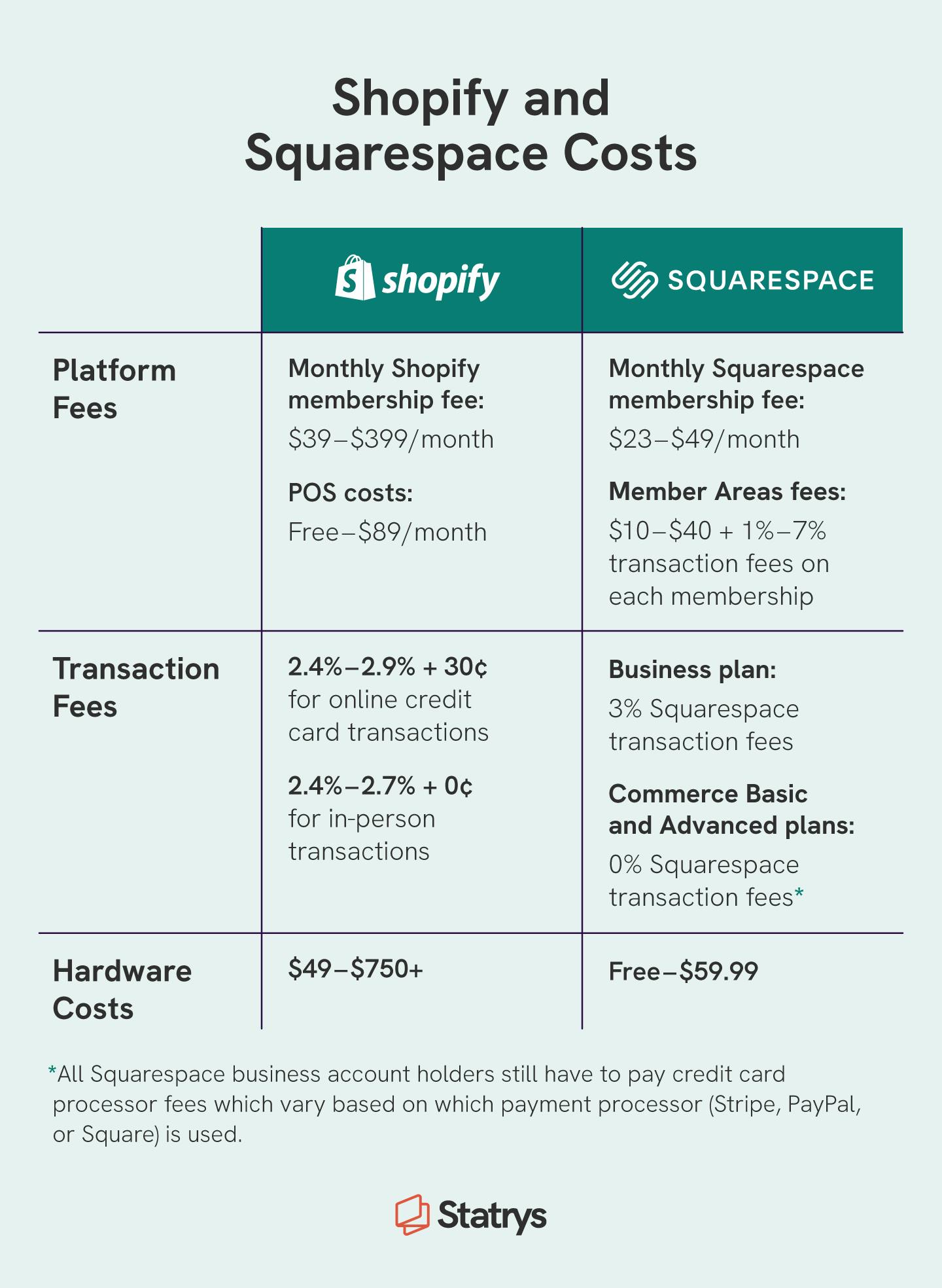 Shopify has three membership options — Basic, Shopify, and Advanced — that cost between $39 and $399 per month. If you subscribe to one of the more expensive plans, you get lower rates, expanded store features, and more user accounts.
Squarespace Ecommerce pricing ranges from $23 to $49 per month. All three business plans — Business, Commerce Basic, and Commerce Advanced — let you build an ecommerce store into your website. The more expensive plans offer additional features, including subscription services, merchandising, and discounting.
In addition to the monthly account charges, each platform has other fees, including transaction fees.
Transaction Fees
| | |
| --- | --- |
| | |
| ● 2.4%-2.9% + 30¢ (online credit card rates) ● 2.4%-2.7% + 0¢ (in-person credit/debit card rates) | ● 3% transaction fees (Business plan) ● 0% transaction fees (Commerce Basic and Commerce Advanced plans) NOTE: ALL Squarespace business account holders still have to pay credit card processor fees, which vary based on the payment processor (Stripe, PayPal, or Square) |
You can add other payment methods if you don't want to use Shopify Payments, but Shopify will charge you transaction fees. Shopify Payments' credit card fees decrease when you pay for higher-cost Shopify plans. 
Squarespace only charges a transaction fee for accounts on the Business plan. The fee is a little higher than Shopify's transaction fees (3%) but Squarespace Commerce packages both have 0% transaction fees. If you're using Squarespace as your ecommerce platform, you'll still have to pay credit card fees to your payment provider — Stripe, PayPal, or Square. These payment gateways are integrated into your site and connected to your bank account. 
Foreign Currency Exchange Fees
Accepting local and international payments isn't impossible with either platform, but you'll pay extra for foreign currency exchange. It may be worth it, though, as having the option to accept other currencies opens up the possibility of expanding your reach into other countries. 
Shopify Payments' foreign exchange fees are 1.5% in the U.S. and 2% in all other countries.
Squarespace can accept a foreign currency if the payment provider you've chosen accepts them (and as long as Squarespace supports it), and the fees vary based on the provider. Your Squarespace store can only accept one kind of currency, so if you need to accept multiple currencies, you may need to choose a different platform. 
Other Fees
When using Shopify's platform, you pay extra fees to integrate apps with your existing software or to change the front-end experience for your customers. Some of these apps are available for a one-time fee, while others are a subscription. 
Squarespace has free integrations and apps, and the platform lets you connect third-party apps to your site without having to pay Squarespace anything extra. However, some of those apps may require a subscription or purchase. 
Squarespace's Member Areas are a special section of your website where members who buy a subscription can get access to special content not available to everyone. Squarespace charges between $10 and $40 per month to create and use Member Areas. It also charges transaction fees ranging from 1% to 7% for each subscription. 
Processing and Payout
When customers check out on a Shopify site that uses Shopify Payments or another integrated processor, their checkout experience will be smooth and quick. Customers can also create an account with Shop Pay for faster purchases on nearly every Shopify site. Because fast checkouts can lead to improved conversions, that speed can make a big difference. 
Most businesses with a Shopify Payments account receive their funds in three days or less. 
Customers can check out quickly on Squarespace sites using the integrated payment processor you've chosen. Because Squarespace's payment processing is handled by third-party providers, the speed of payout varies. Check with your chosen provider to learn what the average payout schedule is. 
Chargebacks and Disputes
If a customer files a dispute or chargeback, Shopify charges the store owner a $15 fee (refunded if the store wins the dispute), and both parties are required to send relevant documentation to the Shopify disputes department. The process of reviewing evidence and ruling in either your favor or the customer's favor can take between 60 and 75 days. Shopify reserves the right to close your online store and cancel your account if you have too many of these disputes. 
Squarespace's payment providers have their own chargeback and dispute resolution guidelines. Squarespace itself does not charge you if a customer disputes a payment or files a chargeback. But because payment processing is handled externally, refunds issued through the providers are not automatically reflected within your Squarespace site. This can lead to problems with inventory.
Shopify vs. Squarespace POS Hardware Comparison
Criteria
Hardware options
● BT card reader or Tap & Chip card reader
● Shopify POS Go
● Retail Kit (includes a Shopify Tap & Chip card reader, a Shopify Dock for the Tap & Chip Reader, a Shopify Retail Stand for iPad, and a Shopify Mounting Kit)
● Square Contactless and Chip Reader
● Square Reader for Magstripe
Hardware costs
● $49 for Chipper 2X BT card reader or Tap & Chip card reader
● $219 for Retail Kit
● $399 for Shopify POS Go mobile device
● $59 for Square Contactless and Chip Reader
● Free for Square Magstripe Reader
If you're doing business in person as well as online, you'll need hardware in order to accept credit cards at your physical location. Squarespace and Shopify both have hardware options to do this, but Shopify has a wider selection of hardware for different types of businesses.  
Though Shopify doesn't have as many hardware options as some other companies, what it does offer could be a good fit if you're just opening a brick-and-mortar location or you need a system that will make tracking inventory between online and in-person sales easier. 
Shopify's POS Go system incorporates a card reader and barcode scanner into a single handheld device. POS Go keeps inventory counts accurate in real-time and even lets you track revenue. 
Squarespace doesn't have its own POS hardware. Instead, you'll need to sign up for a Square account and order a Contactless and Chip Card Reader or Magstripe Reader. Currently, you can't use Square's Register, Terminal, or Stand with Squarespace. If you're only selling in person occasionally or you're a service-based business that needs to be able to take payments at job sites, the Magstripe Reader is a good choice. It plugs into a phone and connects to your bank account through Square.
If having a variety of hardware options is important or you want to integrate hardware with your inventory system, Shopify may be the better choice. 
Shopify vs. Squarespace Website Features Comparison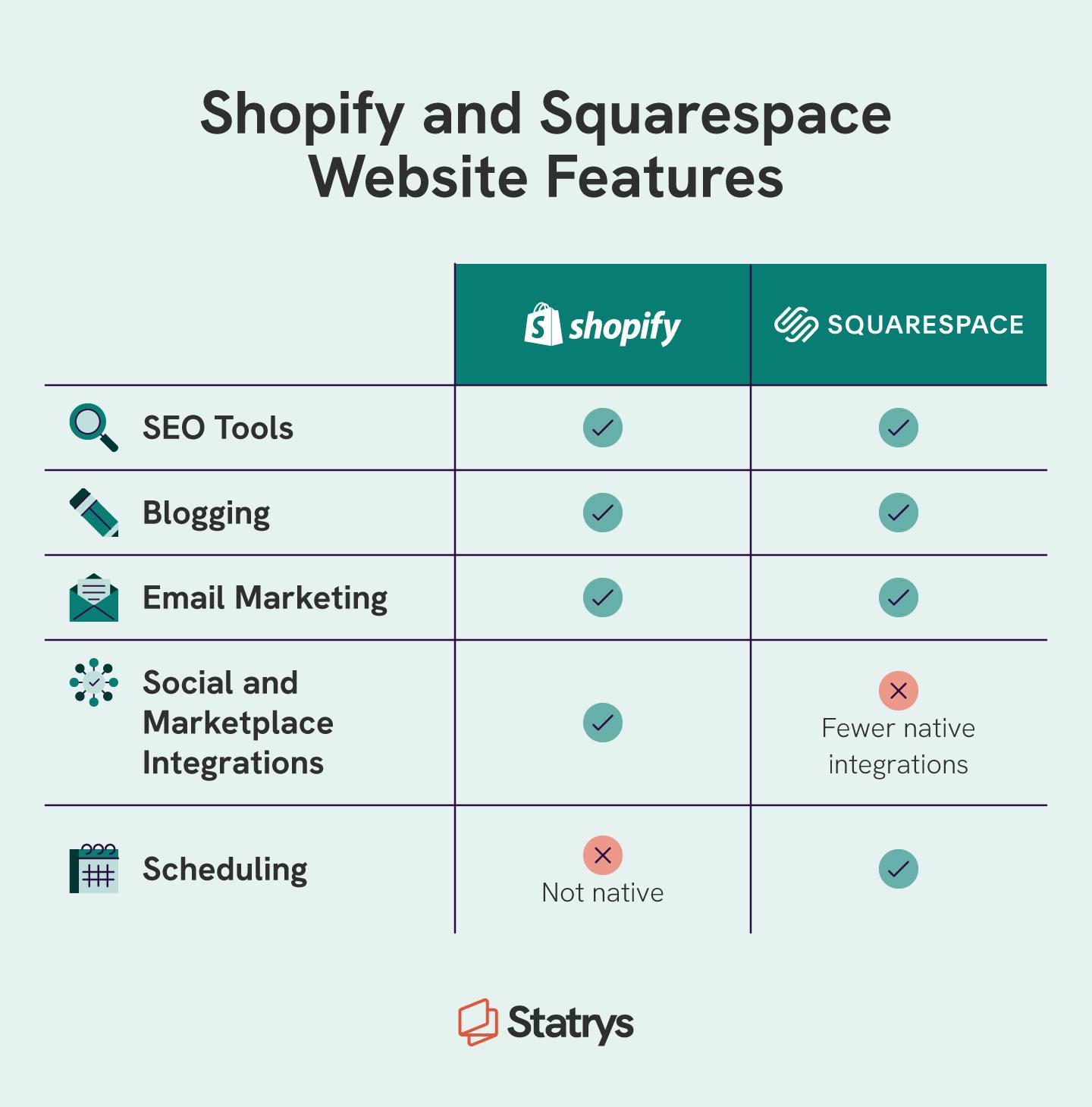 The Shopify platform is fairly flexible and powerful but it isn't the easiest way to create an ecommerce website. Shopify's templates require several apps to be able to change the way the site looks. If you already have existing branding, you may need professional help to get your site to look the way you want. 
Shopify has made strides to improve the basic editing functionality of its sites over the last few years but compared to Squarespace's ecommerce website builder, it's not as fast or as malleable. 
That said, Shopify's ecommerce features are still the gold standard for a reason. You can bulk upload and edit products, connect to dropshipping partners and even clone stores.
Shopify Website Features:
Third-party apps: When Shopify doesn't have a particular native functionality, its app store connects you with thousands of third-party plugins to bridge the gap. These apps can do everything from changing the layout and look of a product page to adding live chat functionality. However, many of these apps aren't free and can quickly increase your monthly bill. 
Updates: Standard Shopify sites and templates are designed to get you selling quickly. Updating product info like photos and descriptions is straightforward, as is basic blogging. But the more plugins you add to your site, the potential for complications increases. 
Blogging and email: Blogging on a Shopify site is a fast and simple method of showing off new products, announcing sales, or sharing other information. The platform also has built-in email marketing functionality.
Ecommerce features: Shopify stands tall over many of its competitors due to its ecommerce features. On some plans, you can add an unlimited number of products with no daily limits. All Shopify sites let customers create an account with your store. The platform connects to social networks and marketplaces to increase the number of ways customers can buy from you, and there are exclusive shipping discounts available through several carriers for all Shopify store owners. 
Integrations: Integrating Shopify into the systems you're already using is another notable feature. Whether you want to connect your CRM, your inventory system, or the programs you use to ship your goods, you can do it with Shopify. 
| | |
| --- | --- |
| Pros ✅ | Cons ❌ |
| Easy to launch a store | Can take a lot of time to customize |
| Customize many of the elements on your site | Most templates cost money |
| List a nearly unlimited number of products | Adding apps can be expensive |
| Connects to other marketplaces and social networks | Blogging is less intuitive than Squarespace |
| Integrates with other systems | |
Because Squarespace started as a simple website builder that catered to creatives, it does an excellent job of making your content look more polished and professional. The later addition of ecommerce features makes it less powerful than Shopify's ecommerce offerings, but it still has many of the features of Shopify and other ecommerce-centric platforms.
Squarespace Website Features:
Third-party apps: Squarespace has many third-party apps, called Extensions, that can be used to change everything from the layout to the functionality of your site. Extensions also let you add dropshipping functionality, connect to online marketplaces like eBay, and even help you get ready to file your business's taxes. 
Updates: The drag-and-drop editor can handle most of your design needs, but if you need more flexibility from Squarespace's templates, in-house plugins called integrations open up many more possibilities. Integrations go beyond design to adding more shipping choices, creating forms, and connecting to Google Analytics.  
Blogging and email: Blogging and other kinds of on-site content is where Squarespace started and that is where it still excels. Build multiple blogs based around products or services and fill each with relevant entries that are tagged for easy searching and indexing. Built-in email marketing offers a lot of the same design- and content-forward features for consistent (and impactful) branding.  
Ecommerce features: You can sell physical and digital products, including memberships and subscriptions. Like Shopify, there are no limits to the number of products you can list. But unlike Shopify's inventory management which allows you to track current and incoming stock, managing stock everywhere on Squarespace means you'll need to add Extensions.
| | |
| --- | --- |
| Pros ✅ | Cons ❌ |
| Lots of free templates | Ecommerce features are less powerful |
| Builder gets your site up and running more quickly | Managing multiple sales streams requires Extensions |
| Powerful scheduling features | Adding Extensions can get expensive |
| Many free integrations built by Squarespace | |
| Lots of third-party Extensions | |
If your business is large and mostly online, a Shopify site might make more sense than a Squarespace website. But if you have a physical store and want to start branching out into ecommerce, a Squarespace site could help you strike a good balance.  
Squarespace vs. Shopify Security Feature Comparison 
Growing trusting relationships with your customers means keeping their data safe. Both Shopify and Squarespace help you put the right foot forward when securing financial and other information.  
If you're using Shopify, both you and your customers will get security features that will protect activity on your site. These include:
Fraud Filter: This setting stops fraudulent orders before they're placed.
PCI compliance: Shopify meets or exceeds the standards set by the Payment Card Industry Data Security Standard (PCI DSS), which are designed to reduce fraud around payment data.
SSL certificates: These digital certificates provide an encrypted connection to your site. They also show web browsers and search engines that your website is authentic.
Squarespace provides you and your customers with these security features: 
DoS protection: Squarespace boasts protection from Denial of Service attacks for a 99.9% uptime. 
PCI compliance: Squarespace's platform meets or exceeds the PCI DSS standards, which prevents payment data fraud by connecting customers directly to payment processors without Squarespace handling any card data.
SSL certificates: SSLs provide encrypted connections to a site and also verify the authenticity of your website with web browsers and search engines.
Both platforms also actively monitor security and work to follow the latest data privacy laws like the GDPR (​​General Data Protection Regulation).
Squarespace and Shopify Customer Service Feature Comparison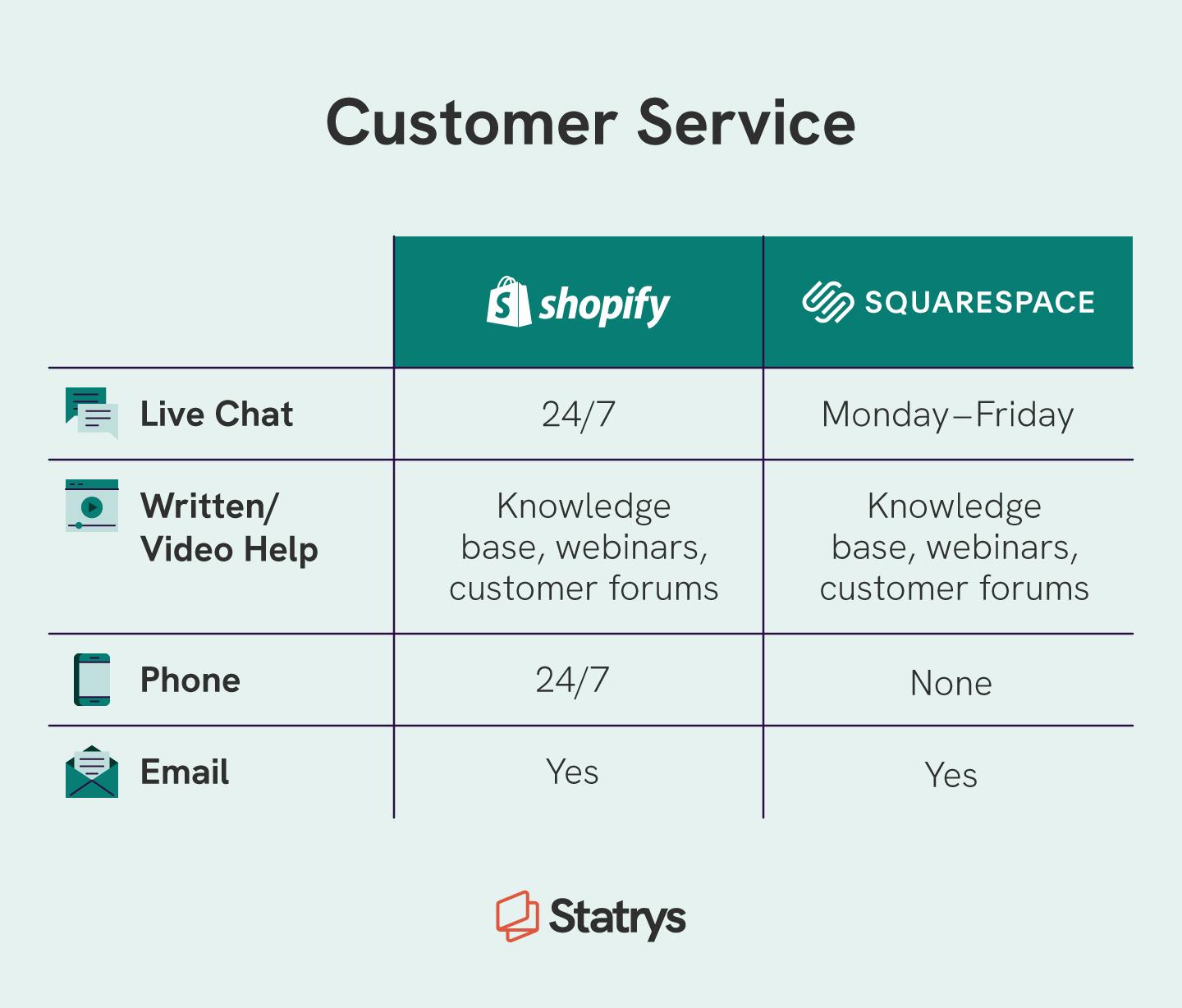 Shopify has several ways to get support 24/7, including live chat and phone options. It also has a full knowledge base, customer forums, and webinars to help you get familiar with the platform. If you need support with billing, all of those requests are handled by email. 
Squarespace's support options are more limited than Shopify's. It doesn't offer support by phone but it does have live chat support Monday through Friday from 4 a.m. to 8 p.m. EST, 24/7 email support, webinars, a knowledge base, and customer forums. 
Now that you have a better idea of the differences between Squarespace Ecommerce vs. Shopify and what it will take to build an ecommerce site on both of these platforms, it's worth considering the other ecommerce tools that are available to you to help boost sales and streamline your online business. If you want to make the biggest possible impact with your products, you can also sell your items on Amazon and other online marketplaces. 
FAQs
Can you use Square with Squarespace?
Yes. Square is one of the payment processors that can be added to your Squarespace site.
What are some alternatives to Shopify and Squarespace?
Is Shopify or Squarespace easier to use?
Is Shopify or Squarespace better for digital products?
Does Shopify have better SEO than Squarespace?