Our Finom Review Score: 3.75/5
User Interface and Experience: 4/5
What is Finom?
Headquartered in Amsterdam, Noord-Holland, The Netherlands, Finom is an online-banking solution for freelancers and SMEs. Finom pools accounting, financial management, invoicing, and banking functions into a single mobile-first platform. 
Finom is only operating in France, Germany, Italy, Poland, The Netherlands, and Belgium, in English or the country's native language. So you'll notice that there are slight differences in the pricing for the different countries, and the availability of certain features also differs. You can access the local websites through finom.co.
Keep in mind the information below is Finom's invoicing solutions' features and pricing only. 
To help you decide whether it makes a good fit for your business, we will include ratings of its pricing, features, user experience, and customer support; however, it is important to note that this score is subjective and can vary depending on the needs of each business. 
Pros and Cons of Finom

What we like about Finom
Finom is compliant with the EU's General Data Protection (GDPR) which means that client data is securely stored
Users can access multiple bank accounts from one dashboard for a simple experience
Finom has a mobile app that allows users to handle invoices on the go

What we dislike about Finom
SWIFT payments for invoices are not supported
Fees can grow too much as the business scales
Finom doesn't support recurring invoices
Pricing
Pricing is a key factor when it comes to choosing the right accounting software for your business.
As mentioned earlier, pricing differs per country and you can access the relevant pricing under Finom's local website for your country at finom.co.
Note: The pricing discussed in this review is from the German offering.
Finom offers a variety of pricing plans designed to fit the needs of small businesses. The pricing structure itself is pretty straightforward at first but can get a little more complicated with extensive use of the solution.
In Germany, the first plan Finom offers is free. It is called "Solo" and, as the name suggests, includes access for 1 user. This plan is perfect for people who want to try the platform out and whose business is in the earlier stages.
The second plan Finom offers is called "Start" and comes at EUR7/month. It includes everything in the previous plan and more. This plan allows for up to 2 users, you now get 2% cashback on your card payments and access to all the features, such as premium support or invoicing API. This affordable plan is great for people who work in a pair or for people whose business is starting to take off and who will make purchases with the business card.
The "Premium" plan, priced at EUR24/month, is a substantial upgrade to the previous plan in terms of users. It allows up to 5 users and a 3% cashback. However, it introduces no new features. This plan is for businesses that expect to issue and use business cards frequently. 
The "Corporate" plan, priced at EUR90/month, includes 10 users, 3% cashback, and all of the features of the previous plans. This plan is for users who will use Finom extensively. 
Below is an overview of the pricing plan offered in Germany.
| | | | | |
| --- | --- | --- | --- | --- |
| | Solo | Start | Premium | Corporate |
| Price | Free | EUR7/month | EUR24/month | EUR90/month |
| Bank Account Connections | Unlimited | Unlimited | Unlimited | Unlimited |
| User Team Size | 1 User | 2 Users | 5 Users | 10 Users |
| Cashback | 0% | 2% | 3% | 3% |
These are the different plans Finom offers and their surface-level explanation. 
Next, we will explain why the pricing can get a little more complicated with extensive use of the solution. 
Every plan comes with great flexibility. The difference in these plans is the price for this flexibility. For example, under every plan, it is possible to pay extra for additional users.
The additional user monthly fee is EUR4, EUR2, EUR1, and EUR1 for the "Solo", "Start", "Premium", and "Corporate" plans, respectively. Similarly, under different plans, you are allowed a certain amount of free ATM withdrawals before you start being charged. This principle applies to foreign currency payments, extra wallets, extra cards, extra SEPA transfers, and more. For a full breakdown of how these fees scale with the usage of associated features, visit their pricing comparison page.
Lastly, Finom also offers an invoicing-only plan, which allows the user greater customization of invoices, which comes at 5€/month.
We score 3.5/5 on pricing. While the pricing comes at different price points, figuring out which one is best for your business can get a little tricky. Additionally, some fees can grow very large, such as the 7% ATM withdrawal fee when you go over EUR10,000. On the flip side, thanks to the flexibility of the plans, there is a solution for everyone. 
Finom Product Features
Invoicing
With Finom, you can create professional invoices with ease, even from your phone.
Creating invoices with Finom is a very fast process thanks to a wide range of features to make invoicing a breeze. One of its most notable features is field auto-completion, which automatically fills in fields on your clients and also items to save you time. You can also import your existing contact list to FInom in case you are switching from a different solution.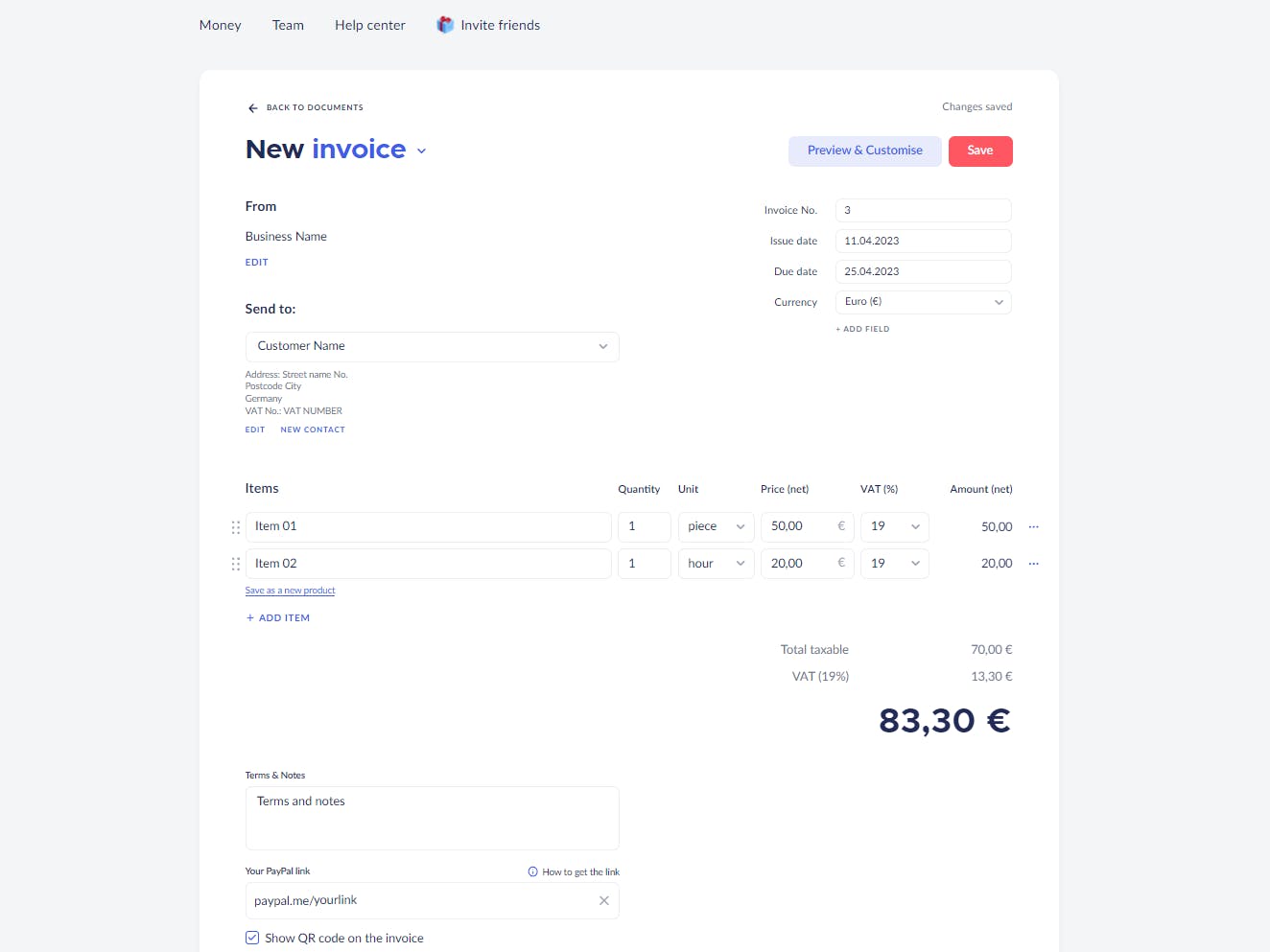 Once your invoices are finalized, you can send them via email, WhatsApp, Telegram, Messenger, or manually. After that, you can keep an overview on the dashboard, allowing you to filter your invoices by status, issue date, due date, team member, contact, outgoing, or incoming. 
To get paid faster on your invoices, you can include a PayPal link in your invoice so your clients can pay with ease. Plus, you can add a "pay now" button to your invoices, which allows your clients to pay directly with their bank account through a secure system powered by Klarna. As of writing this article, the pay now button is free for now, and Finom will notify you in advance if they decide to start charging for it.
If you work with international clients, Finom has you covered with its invoice translation feature, which allows you to translate your invoices into six different languages - English, Italian, German, French, Dutch, and Polish. Finom also supports invoicing in different currencies, making it easier for you to manage your finances across borders. 
Other features include the ability to download as a PDF, print, and create a delivery note. Notably, when you send an invoice with Finom, you can link them to incoming payments.
The platform also includes a variety of features under the paid plans, such as reminders, duplication, and customization. However, if you're looking for recurring invoices, you won't find them on Finom.
Outside of invoicing, Finom also offers Business accounts, cards, multi-banking, expense management, cashback, and a "launch your business" service.
Integrations
Finom integrates with multiple accounting solutions to help you save time. Finom invoicing integrates with Lexoffice, Datev, Sesdesk, Fastbill, and Zuper. Finom also offers integrations through Zapier.
For features, we score 4.5. The strength of Finom's invoicing solution lies in its speed and mobility. Within a minute, you can create an invoice anywhere through your mobile app on the go. The weakness of this solution comes from not being able to create recurring invoices. Depending on the needs of your business, this solution can be the right fit for you, especially if you plan on creating invoices on the go with your mobile app.
User Interface and User Experience
The user interface changes depending on the solutions you have access to. It is possible only to use the Invoicing solution. In this case, the dashboard will display your receivables and payables on the left side and an overview of invoices on the right side. Navigating the platform is very easy. The user can create quotes, invoices and delivery notes under the "New document" button, and creating an invoice is a very straightforward and fast process.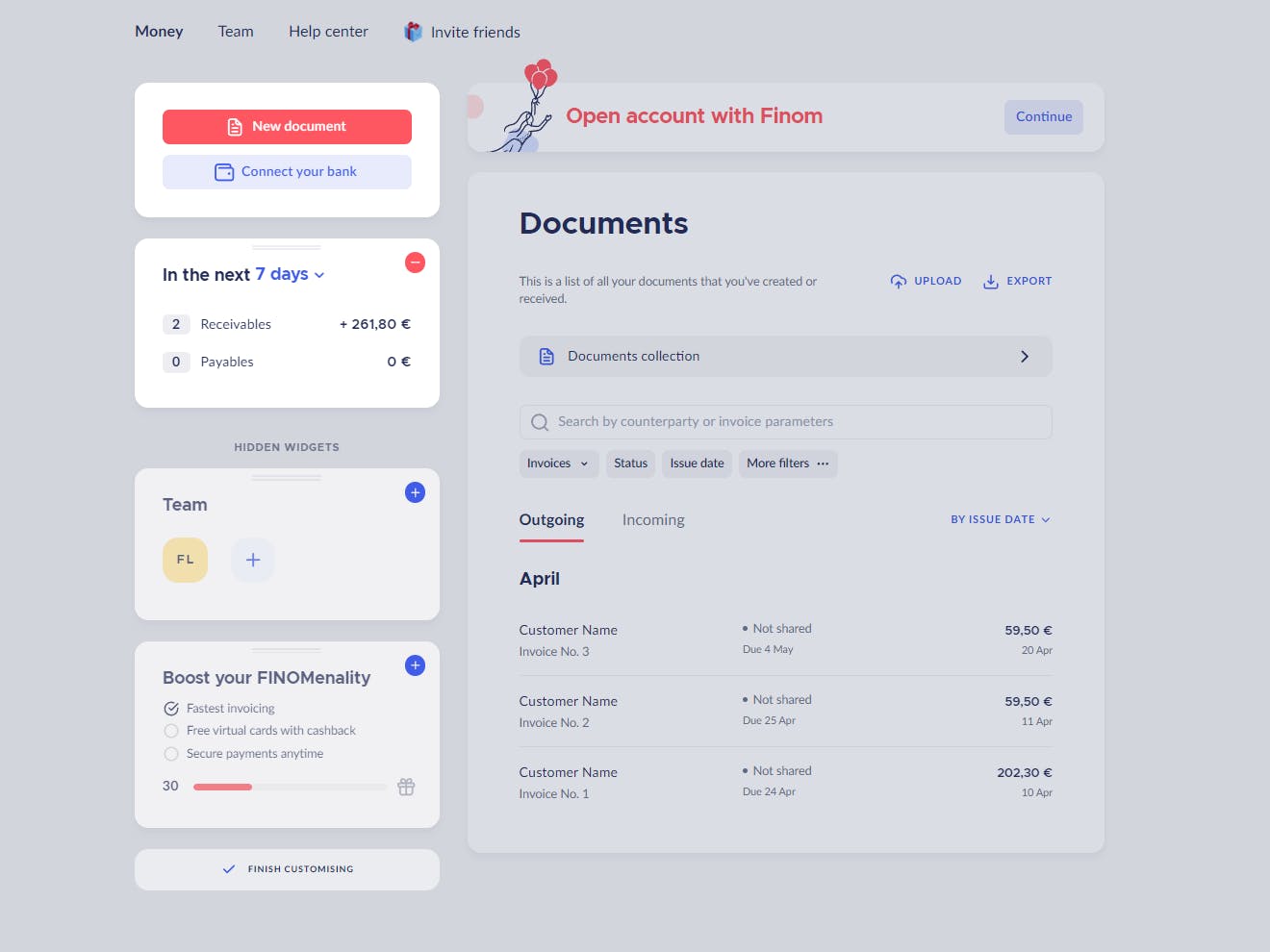 Additionally, the dashboard allows some customization. You can hide certain widgets from the left-hand side of the screen
The invoice creation process is very intuitive. It is set up in two steps. First, the user enters the necessary information into the existing fields. The second step is invoice preview and possible customization if your plan allows it.
Our score for UI & UX is 4/5. The invoicing solution is very minimalistic and fast to navigate. Very quickly, everything becomes clear to the user, and getting an invoice ready for your customer can be done in minutes.
Finom Customer Support
Finom's customer support experience varies depending on whether you are a paying customer or not.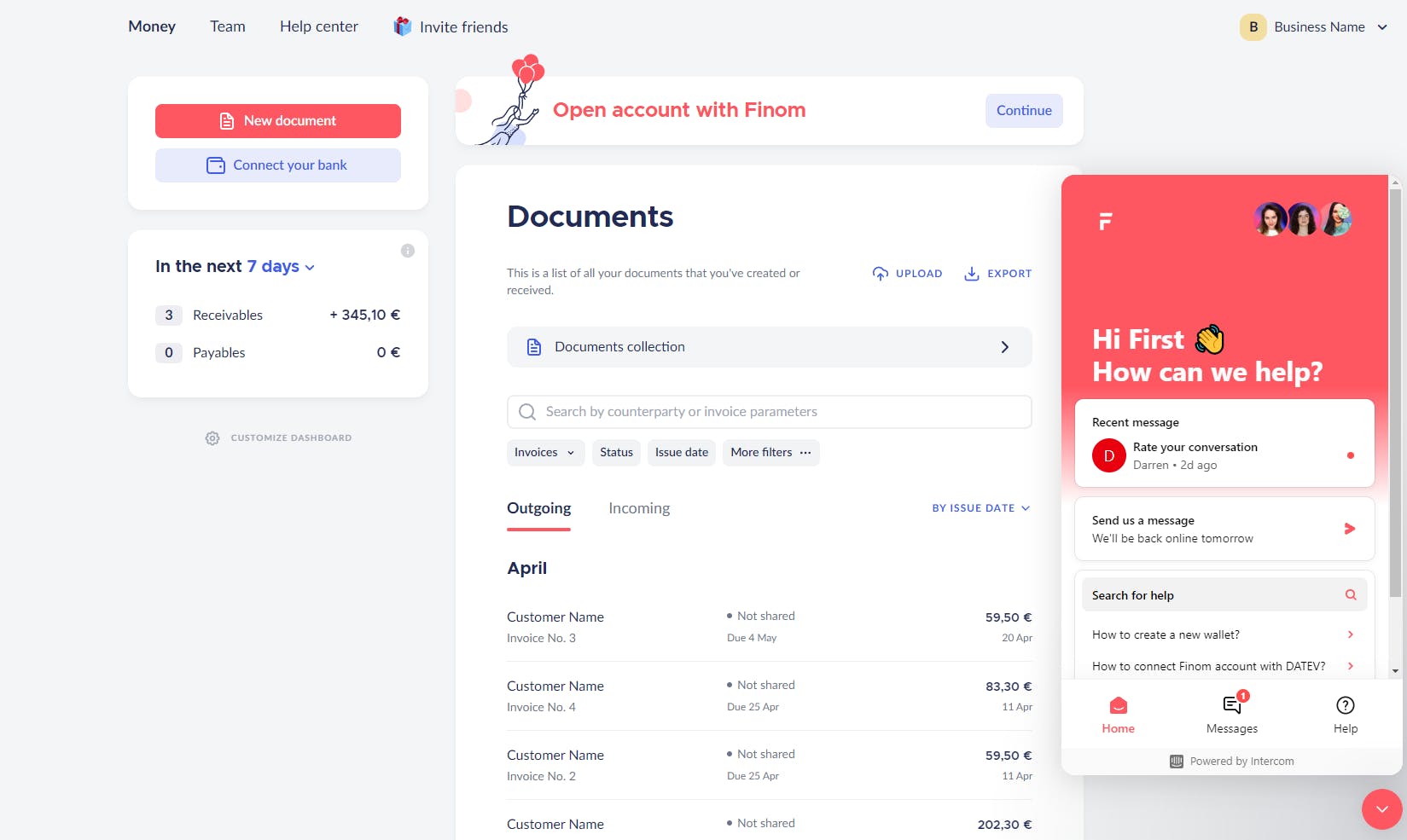 For non-paying customers, Finom offers chat support and email support, FAQs and Help Center. The chat feature is conveniently located on the website and app and allows you to send a question to the support team quickly. However, for non-paying users, Finom claims a response time of fewer than three hours. For more elaborate questions, you can contact email support which should take no longer than eight hours to reply.
The FAQs and Help Center are also placed in the chat window on the website and the app. Inside you can quickly search for answers by typing in keywords and describing your problem as you encounter it while using the solution. 
Customer support improves significantly once you become a paying user. Chat and email support waiting times decrease to 1 minute and 10 minutes, respectively. Thanks to this, the chat feature really becomes a chat allowing you to discuss your issue with a representative in real time. You also gain access to WhatsApp Support, where you can expect an answer within minutes. 
The customer support office hours are 9:00 - 18:00, Mondays to Fridays.
And for support, we score 3.5/5. Customer support is very fast and offers multiple points of access, which is definitely an advantage. On the other hand, if you find yourself unable to solve something outside the support's office hours, for example, during an evening or on the weekend, you will have to wait a bit longer for an answer.
Creating An Account with Finom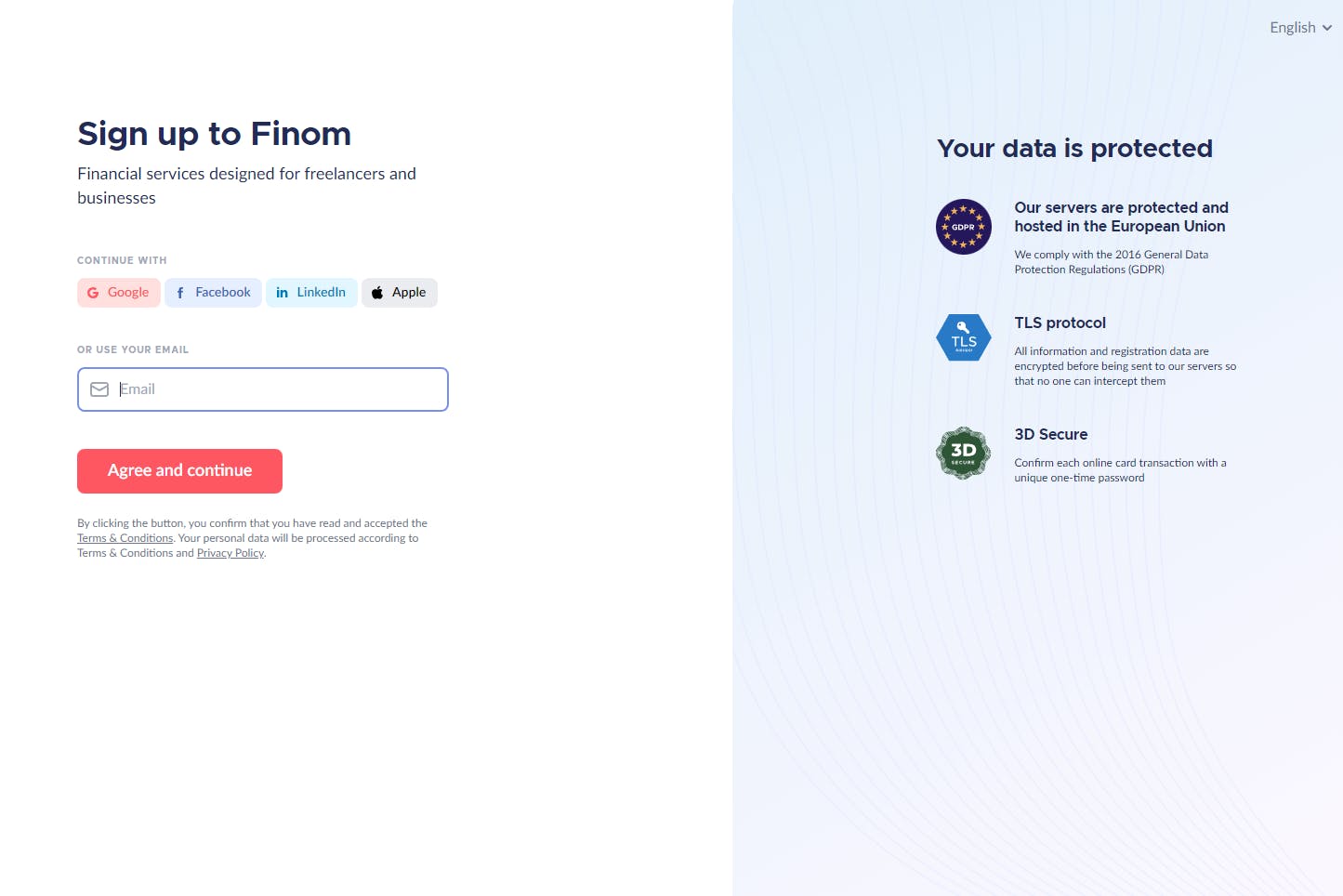 Creating an account with Finom is rather straightforward.
Start by visiting the website and click Sign Up. After clicking on signup on the website, you will have the option to continue with email or Google, Facebook, LinkedIn or Apple account.
Next, you choose where your business is based and indicate your legal entity type. After entering your business name, you will need to verify your phone number. Once your phone number is verified, you will gain access to the invoicing solution. 
To gain access to other parts of Finom's offering, you will need additional setting up. First, you need to confirm information about your business, such as industry and business purpose. After that, you select a plan of your choosing, where you also receive a 30-day free trial of the selected plan. Then you review and accept Finoms conditions and lastly verify your identity. After the verification process, you will have full access to the features of your selected plan.
Final Thoughts: Is Finom Enough for Your Business Needs?
If you are simply looking to create and send invoices, Finom can be a good fit for you, especially if you can profit from the mobile app, which lets you send invoices on the go.
Another thing you will benefit from is the speed at which you can create these invoices. Finom's invoicing solution is also rather cheap, only EUR4.99/month, however, if you do decide to pay, it makes sense to look into the more extensive plans also, as it seems this price point acts more as decoy pricing.
If you are in need of setting up recurring invoicing, you will have to look elsewhere, as Finom does not have this feature.
When To Use An Alternative?
If you've gone through the features of Finom but realize that there are additional features that you need, alternatives such as FreshBooks and Zoho Invoice may be an option.
Let's take a closer look at how they compare with Finom:
Integrations: Though Finom supports integrations with third-party tools, including support for Zapier, FreshBooks and Zoho Invoice have a wider variety of integrations with popular tools for businesses such as Asana, and Zoho Invoice with their own suite of business products.
Customer Support: The level of customer support between the tools varies, and you may want to opt for a tool with reliable support. Freshbooks offers phone support during working hours, while Zoho Invoice provides 24/7 email support whenever you need assistance.
Advanced Features: If you're looking for more comprehensive features in your invoicing tool, FreshBooks and Zoho Invoice do provide more advanced features such as inventory management and project management.
Of course, selecting the right tool will depend on the needs you have as a business and the budget that's allocated for the tool. Considering the different features and pricing plans for the tools will be important in making the right choice for your business.
FAQs
What are Finom customer support office hours?
The customer support office hours are 9:00 - 18:00, Mondays to Fridays.
How to make a Finom Invoicing account?
What are Finom's customer support office hours?