Our Invoice2go Review Score: 3.25/5
User Interface and Experience: 5/5
What is Invoice2go?
Invoice2go is a cloud-based invoicing app. It allows invoicing, time-tracking, expense, and receivables tracking. Thanks to Invoice2go, businesses can do their accounting through the desktop version or the mobile app, managing invoicing and purchase orders on the go. Launched in 2002 by founder Chris Strode, Invoice2go currently has 105 employees and it was recently acquired by Bill.com in 2021. It offers a wide range of accounting services suitable for small businesses.
In this Invoice2go review, we will take a look at the software's features and pricing to help you decide whether it matches your business needs. We will also rate its pricing, user experience, and customer support.
However, it is important to note that this score is subjective and can vary depending on the needs of each business.
💡Want to create your own invoice? Learn how to make an invoice with our step-by-step guide or use our free invoice generation tool.
Pros and Cons of Invoice2go
Pros
Easy to use
Customizable invoices
User-friendly mobile app
User-friendly interface
Cons
Expensive pricing
Limited available integrations
Inaccessible customer support
Limited reports
Let's go into detail and see what Invoice2go has to offer.
Pricing
We will now dive deep into the pricing of the product, as it is a key selection criterion of invoicing software. Readers should note that the price may vary according to the currency used and location.
Invoice2go features a free version, where users can generate unlimited invoices for free on the website. However, if a user wants to access the full accounting package, they need to create an account. 
The account allows users to access a user-friendly mobile app and access all the features presented in the next section. 
While generating invoices on the website is free, Invoice2go does not offer a free account. Users have to pick one of the following plans according to the presented pricing structure:
The starter plan is the Basic Plan. At $5.99 a month, the basic plan has a limit of two invoices. It presents the following features: invoicing, time tracking, estimates, free bank transfers (U.S. only), bank account connection, client support, ratings, and reviews. If your business generates more than two invoices per month, this plan may not be suitable for you.  The plan could satisfy the needs of freelancers that have recurrent loyal clients; however, it seems restrictive for small businesses that need to generate more invoices.
The Professional Plan costs $9.99 a month, and it provides a higher limit on invoices and more integrations. The invoice limit is five invoices, and in addition to the starter plan's features, users can access a small pool of limited integrations with Quickbooks and Xero, and additional advanced reports. However, if your business generates more than five invoices per month, you must upgrade to the unlimited plan.
The Premium Plan offers unlimited invoices and more features at the price of $39.99 a month. In addition to the professional plan's features, this unlimited plan offers the possibility to create recurring invoices and reach support by phone.
| | | | |
| --- | --- | --- | --- |
| | Starter | Professional | Premium |
| Price | USD5.99/month | USD9.99/month | USD39.99/month |
| Invoices | 30/year | 100/year | Unlimited |
| Card Payment Fees | 3.5% | 3% | 2.9% |
Our Score On Pricing: 2/5
The price for the unlimited plan is rather high compared to other solutions and the other plans are really limited for generating invoices. Should your business generate more than five invoices per month, then you would need an upgrade to the premium plan. However, the price of the premium plan is high, coming in at almost $480 a year. This high price might not meet your budget needs and therefore you might prefer other invoicing apps. Other invoicing apps can provide similar services at lower prices
Invoice2go Product Features
Billing and Invoicing
The product presents some basic and intuitive features that make the life of small business owners easier. 
For the basic feature, with Invoice2go, users can create customizable invoice templates with their company logo, fill in their clients' details, add items or service details, and optionally VAT or other taxes. Moreover, pictures or attachments can be attached to the invoice. 
Invoice2go also allows users to create estimates and recurring invoices, receive payments, manage projects, and track expenses. 
Regarding the recurring invoice feature, users can select any invoice from the recently edited invoices and copy any combination of invoice data to a new invoice. Once an invoice is created, the software automatically shares the invoice via email with the client. Before sending, you can access a preview if you wish.
Users based in the US have some more features available, as they can get access to banking services. Users can create an 'Invoice2go Money' banking account secured by Blue Ridge Bank to keep deposits and make next-day transfers.
Finally, with Invoice2go users can easily track overdue invoices, unpaid invoices, and the total tax year sales, and receive online payments through PayPal or Stripe.
One distinct feature that invoie2go offers are automatic payment reminders. With this, users can set the frequency of reminders, which are sent to clients as long as the invoice remains unpaid. Once the payment is settled, reminders are disabled plus the amount is added to the total sales.
In addition to invoicing, users can create estimates, also called proforma, in the same format as invoices to send proposals to prospective clients. Estimates have the same structure as invoices, making the format easy to use. Once a proposal is sent to clients, users can make a request for a deposit, either as a percentage of the total or a fixed amount.
Advanced Features on Plans
The software presents a large set of accounting tools. From the invoices tab, users can access purchase orders, track procurement, time tracking, track billed hours, and credit memos to extend credit to a customer. The software allows users to keep track of all expenses by inserting the amount of the expense, the date, the tax and attaching a copy of the expense bill. Moreover, once the payment gateway is set up, users can track their cashflow. The software allows receiving online payments automatically from Stripe or PayPal according to the providers' standard fees. 
Accounting Solution
The software presents a large set of accounting tools. From the invoices tab, users can access purchase orders, track procurement, time tracking, track billed hours, and credit memos to extend credit to a customer. The software allows users to keep track of all expenses by inserting the amount of the expense, the date, the tax and attaching a copy of the expense bill. Moreover, once the payment gateway is set up, users can track their cashflow. The software allows receiving online payments automatically from Stripe or PayPal according to the providers' standard fees.

Reporting and Business Intelligence
Reports can be accessed from the reports tab. Besides the general dashboard showing annual sales, users can generate reports for the tax sales year on different items and breakdowns. Users can access reports on sales, expenses, payments, aging lists, taxes, and profit and loss. 
While these reports are useful to small businesses, midsize businesses might find the reporting limited as it is not possible to create advanced reports. Thus, if users require an in-depth report to analyze the factors behind the business's success, they will need to integrate Invoice2go with additional software.

Projects and Time Tracking
In addition to invoicing, accounting, and reporting, Invoice2go has a project-tracking feature. The software allows users to create a project tab for a client, insert start/end dates, track billable hours, and bill customers accordingly. Projects are divided into active and complete, and users can update at any time the project by adding estimates or notes.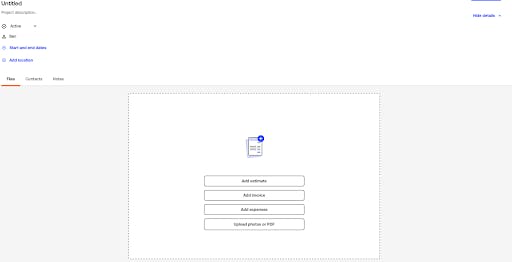 In addition to that, the product allows quick time tracking. Time tracking allows users to start a timer while they work on a project and the software automatically keeps track of billed and unbilled hours.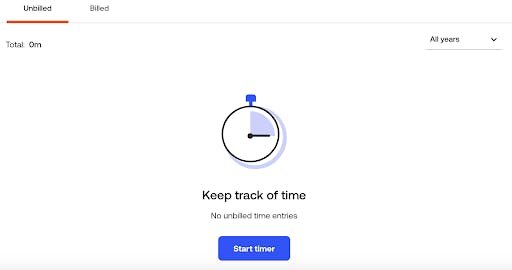 💡 Tip: You can still chase for unpaid invoices without losing clients.
Supported Integrations With Invoice2go
Invoice2go has a limited list of integrations aimed at business owners' lives easier. Users can connect their Invoice2go account with a few third-party software. The main integrations connect invoicing with e-commerce, spreadsheets, or HR management.
However, the main integrations are Quickbooks and Xero and they aim at expanding the pool of accounting tools available to users. Unfortunately, this means that if a business runs its accounting on a different software, it would not be possible to integrate the accounting with Invoice2go. 
On the other hand, it is worth noting that the Invoice2go team is always working on integrating the product with other cloud-based software and other apps. For example, soon it will be possible to connect the account with cloud-based storage such as Google Drive.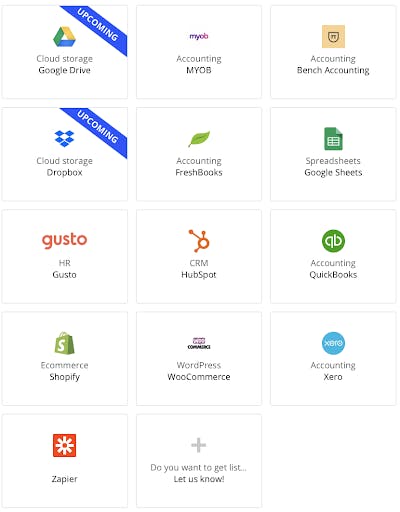 Our Score On Features: 4/5
Overall, Invoice2go has a good portfolio of features built around invoicing and related activities.
The product's key features are invoicing, time management, payables, and receivables monitoring which effectively fulfill the requirements of freelancers and small businesses. However, reporting and integrations seem limited which could indicate that the product does not suit complex or larger businesses.
User Interface and User Experience
The interface and appearance of the product are visually pleasing and user-friendly. Creating and sending invoices (or estimates) is seamless, just like keeping track of accounts and credit. Since Invoice2go is primarily an invoicing software, users who require quick and straightforward invoicing are covered.
In addition, Modifying and viewing reports is s straightforward process and the business intelligence dashboard is clear and simple allowing for quick analysis.
Accessibility is also a strong point as most functions can be accessed from the menu on the right. The only 'hidden' feature is time tracking which has to be accessed from the invoices section.

Our Score On UI & UX: 5/5
The product is user-friendly, easy to use and the graphics are. The menu is straightforward for navigation and the interface is organized and clean.
Invoice2go Customer Support
Customer support is one of the product's weak points. Unless users purchase the most expensive plan, they can only receive support via email.
Call-in support is available Monday to Saturday 24 hours from a US number, but only for premium customers.  The limited customer service offered by the product becomes evident when business owners require fast and specific support, which can only be accessed by purchasing the premium plan and contacting the US office by phone.
Moreover, according to some clients' negative reviews found online, customer support sometimes provides late or unhelpful responses.
Our Score On Customer Support: 2/5
Customer support appears to be a weak point for the product. While phone support is present, it is only available for premium-paying customers. Furthermore, customer support has presented some problems according to some past reviews, which can raise doubt about customer support effectiveness.
Creating An Account With Invoice2go
To create an account, simply visit Invoice2go's website, and click on the button 'Try for free' at the top right corner of the home page. 
Fill in your details: full name, email, and password.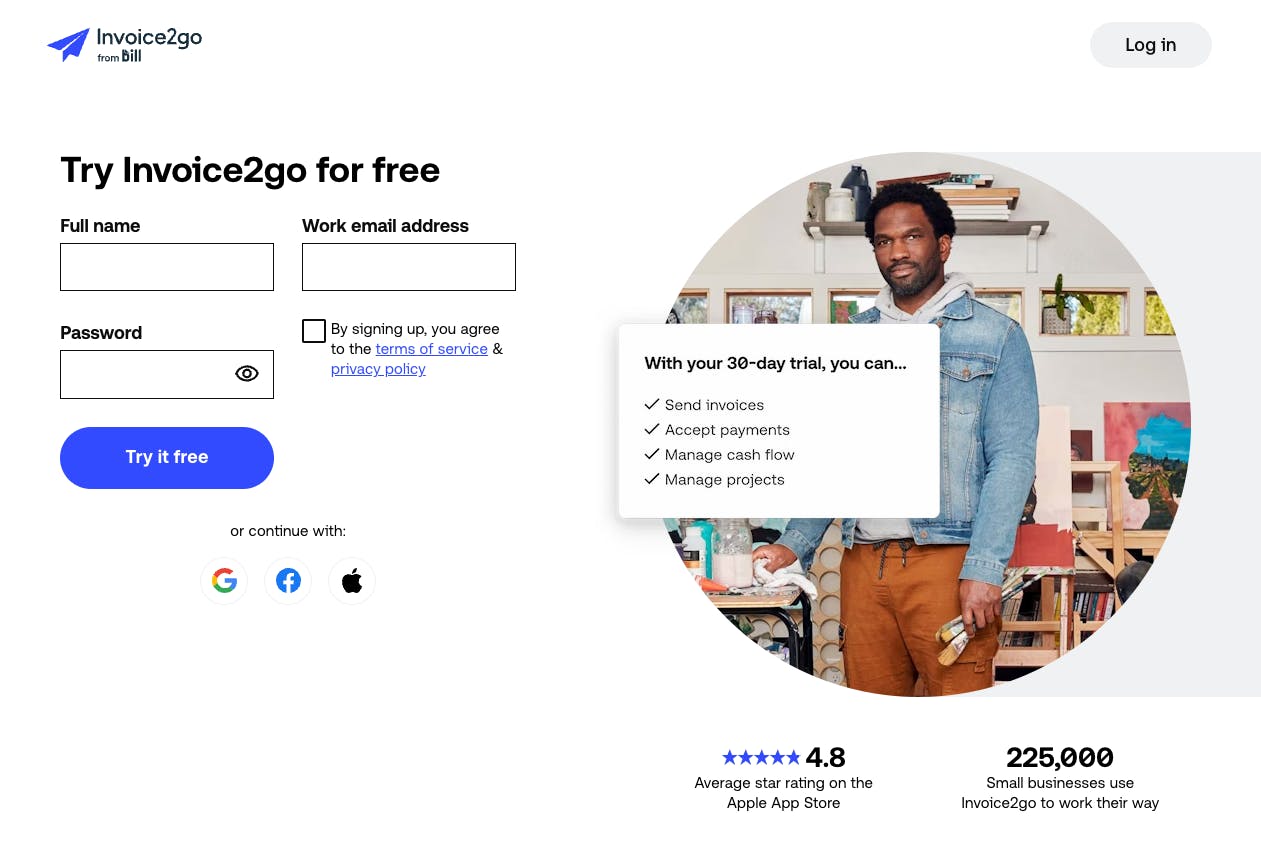 As every account has a paid plan, you will be required to fill in your payment details.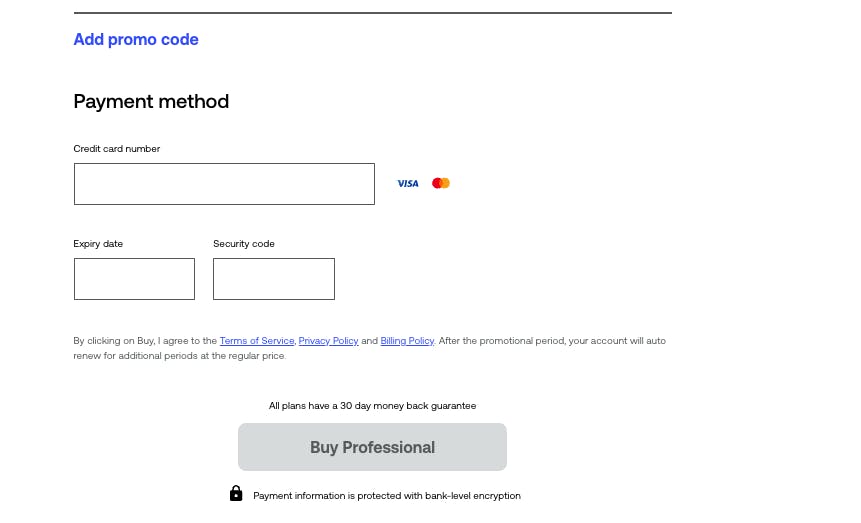 Finally, fill in your registered company name and address, and optionally your phone number and website URL. 
As an optional step, you can already set up a gateway for online payments to allow your clients to pay online. You will be offered a 30-day trial of the 'professional' plan to try out the product.
Final Thoughts: When Should You Use Invoice2go?
In conclusion, Invoice2go presents all the features that freelancers and small businesses might need for invoicing and basic tracking and reporting. It achieves this through a simple interface and a user-friendly experience.
Pricing is the main limitation. The low-priced plans present significant restrictions while the premium plan may appear overpriced when compared to other apps such as Square Invoice and FreshBooks, which offer similar services for less than half the price.
Another area of concern is customer support as we underlined earlier. Only premium users have access to call-in support, and the quality of the support provided can sometimes be questionable.
In contrast, alternative solutions such as FreshBooks provide more responsive customer support. including 24/7 call-in support and at a lower price than Invoice2go.
Businesses based in the US can certainly benefit from additional features such as banking connection, and access to more suitable customer support, which can significantly enhance the quality of their services.
When choosing invoicing software, it's crucial to take into account the impact of geographic location on available features and support options, as well as business needs, which are another critical selection criterion.
While Invoice2go offers straightforward invoicing and seamless payment processing through PayPal and Stripe, like Square Invoices, the accounting package presents restrictions. Businesses that need extensive accounting might prefer more robust accounting solutions such as FreshBooks.
Invoice and cash management are undoubtedly the standout features of Invoice2go.
Therefore for businesses that want to prioritize these two areas, Invoice2go can certainly meet their requirements. However, bear in mind that it'll come at a higher price compared to other solutions available in the market.
When To Use An Alternative?
In case Invoice2go doesn't fit all the requirements you're looking for, you can consider Freshbooks as an alternative option.
Let's take a closer look at how it compares to Invoice2go:
Accounting Features: In comparison, Freshbooks was designed as a more comprehensive accounting tool for businesses and freelancers. In addition to the features provided by Invoice2go, you'll have more comprehensive financial reporting features.
Customer Support: Freshbooks is known to have more receptive customer support. Instead of having to pay the premium to access phone support with Invoice2go, your experience may be improved with Freshbooks if you need to reach support.
Integrations: Freshbooks also provides a wider selection of integrations with other business tools. If you need integrations with tools such as CRM software and payment processors, then you may find Freshbooks more suitable as Invoice2go has limited integration options.
On the whole, whether you choose Invoice2go or any other alternative, the best choice will depend on your needs and the budget allocated. So we encourage you to spend time reviewing the different options in order to go with the tool that best fits your business.
If you found anything missing in this review, feel free to reach out to us.
FAQs
Invoice2go is an invoicing and billing software specially designed for freelancers and small businesses allowing users to make and send invoices along with accompanying features like expense tracking and payment management.
How much does Invoice2go charge to collect card payments?