Our Libeo Review Score: 3.75/5
User Interface and Experience: 4/5
What is Libeo?
Libeo is a French-based startup company providing an invoicing solution to small and medium businesses. Co-founded by Pierre Dutaret, Jeremy Attuil, and Pierre-Antoine Glandier, Libeo aims to help businesses automate the management of their entire purchasing lifecycle, bank reconciliations, and pay invoices. Thanks to its technology and partnership with SEPAmail, Libeo is a one-click cloud-based payment solution platform that doesn't rely on manually typing IBAN information, regarding your supplier invoices for example.
As a European B2B payment solution platform, Libeo targets mostly French startups, small businesses, financial directors, and accountants. Since April 2022, Libeo is also available in the United Kingdom. This solution is compatible with most banks throughout the Eurozone and the UK such as Barclays, NatWest, BNP Paribas, or Crédit Agricole. Regarding the foreign suppliers, you will need to connect (or create if you don't have one) a Wise account, and the currencies supported by Libeo are EUR, USD, and GBP.
In today's overview, we will comment on their features, pricing, user experience, and customer support to help you decide whether this software is best suited for your company or not. Please note that our score and overall rating are subjective and can vary depending on personal preferences.
Pros and Cons of Libeo

What we like about Libeo
Responsive and reliable customer support
Ability to set up automated workflows on the tool
Pay supplier invoices efficiently

What we think is limited about Libeo
Limited support for currencies, only EUR, USD, and GBP.
Only available in French and English
Limited features
Pricing
An important criterion when choosing accounting software for your business is the price. Libeo offers 3 price plans and we can choose to pay per month or per year. 
The first option is called "essentials" which allows you to create simple automatization rules. However, if you need advanced control; it is more interesting to use one of the other two solutions, "expert" or "enterprise".
With the first option "essentials" you can: centralize invoices, pay suppliers, monitor financial flow, and get access to accounting management. 
The second plan called, "expert" includes all the features of the "essentials" plan, plus you have access to advanced integrations, cost accounting, customized automatization rules, team approval processes & priority, and personalized support. 
And the last formula "enterprise" has the same features as the "expert" one, with some more features such as customized support & development and access to the Libeo API.
You can find below a breakdown of Libeo plans:
| | | | |
| --- | --- | --- | --- |
| | Essentials | Expert | Enterprise |
| Price | EUR49/month | EUR99/month | Custom |
| Accountant Access | 1 Accountant | Unlimited | Unlimited |
| User Team Size | 1 User | 2 Users | On Request |
Regarding the price, you can choose between a monthly membership or an annual one.
If you choose a monthly subscription, the "essentials" formula will be EUR59/month and the "expert" formula will be EUR119/month.
Meanwhile, an annual subscription will cost you EUR49/month for the "essentials" formula (a reduction of EUR10month) and EUR99/month for the "expert" one (a reduction of EUR20/month). For the "enterprise" formula, the price will be on demand regarding what your business will need.
Now that we have got a clear understanding of Libeo's pricing, we will see the features that Libeo has to offer.
Libeo's pricing gets a score of 4/5. Libeo is a unified portal with a pricing model that is straightforward and transparent, enabling companies to choose the most appropriate plan without any confusion. Moreover, their pricing system appears to be tailored to cater for the financial capabilities of small and medium-sized enterprises.
Libeo Product Features
Invoice Management
Unlike other cloud solutions, Libeo doesn't generate invoices. Instead, Libeo is a unified portal that can be integrated with almost every invoice generator and accounting tool.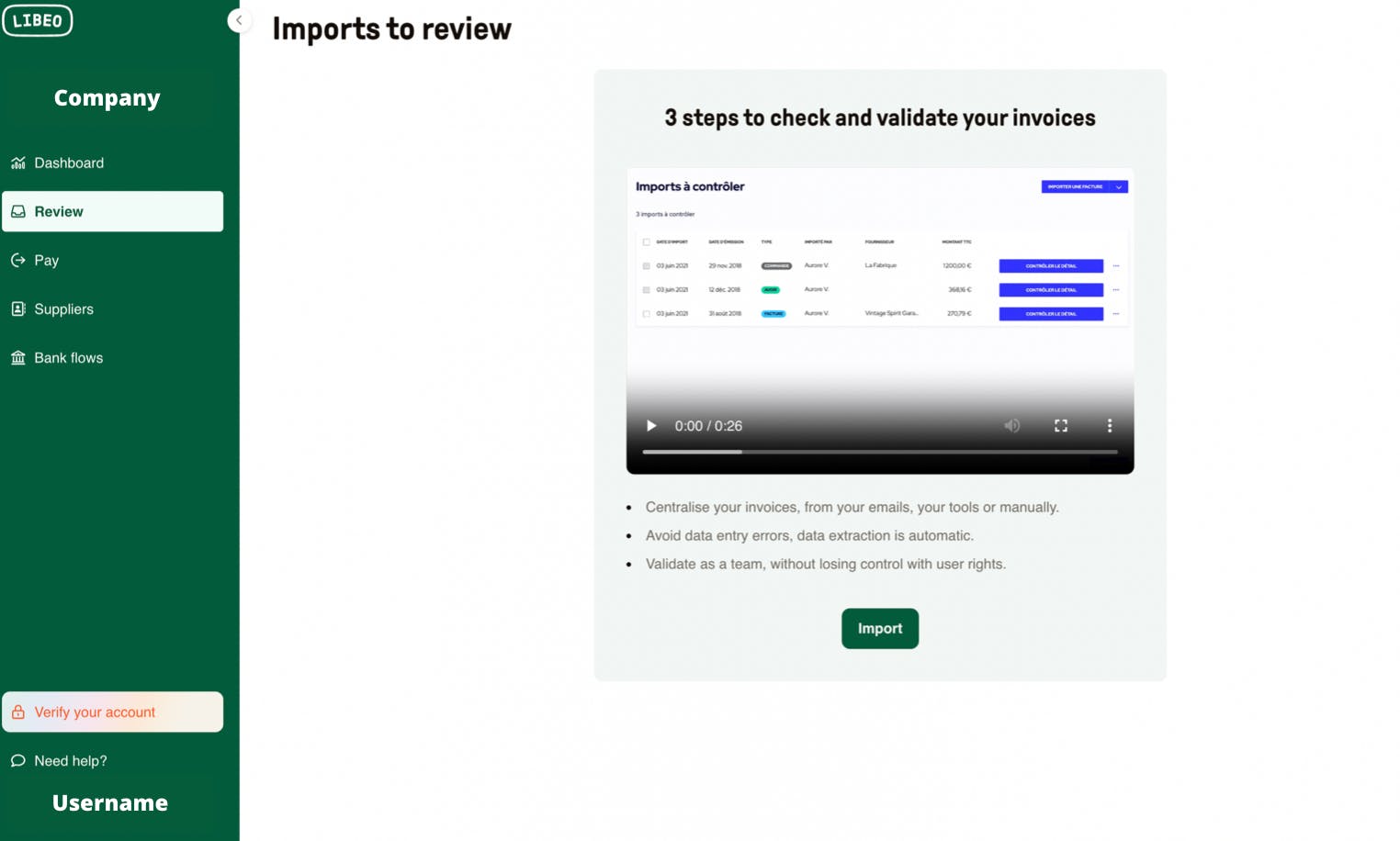 With Libeo, users can import invoices into the platform. By linking your usual accounting tool to Libeo, you can import invoices in one click or Libeo can do it automatically for you thanks to their optical character recognition technology. Users also have the possibility to either send it by email or by taking a picture with their smartphone through the mobile application.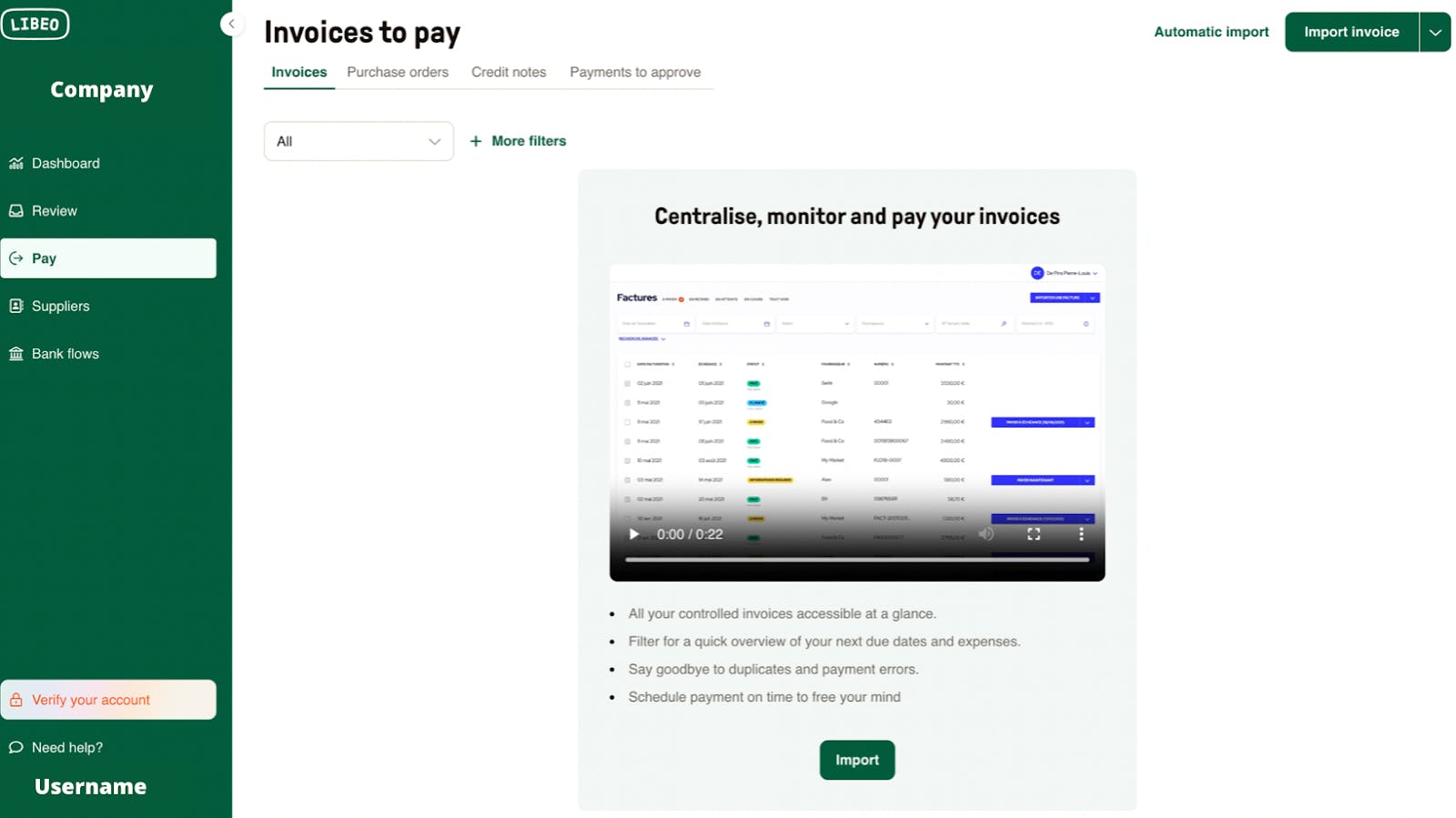 When it comes to invoices management, users can pay supplier invoices in one click without the need to submit their suppliers' IBAN or their banking account. They can also plan bulk payments in one click through a virtual calendar, which is updated in real-time. Depending on your business needs, you also have the possibility to submit different supplier invoices on different dates in one click.
Securing Your Payments
Regarding your transactions submitted on Libeo, they have several features that help you secure your payments. Managers can define user roles and approve who can view or submit payments or even import invoices. Libeo also has an audit trail feature that can monitor your financial flow and alert you if they detect a suspicious payment.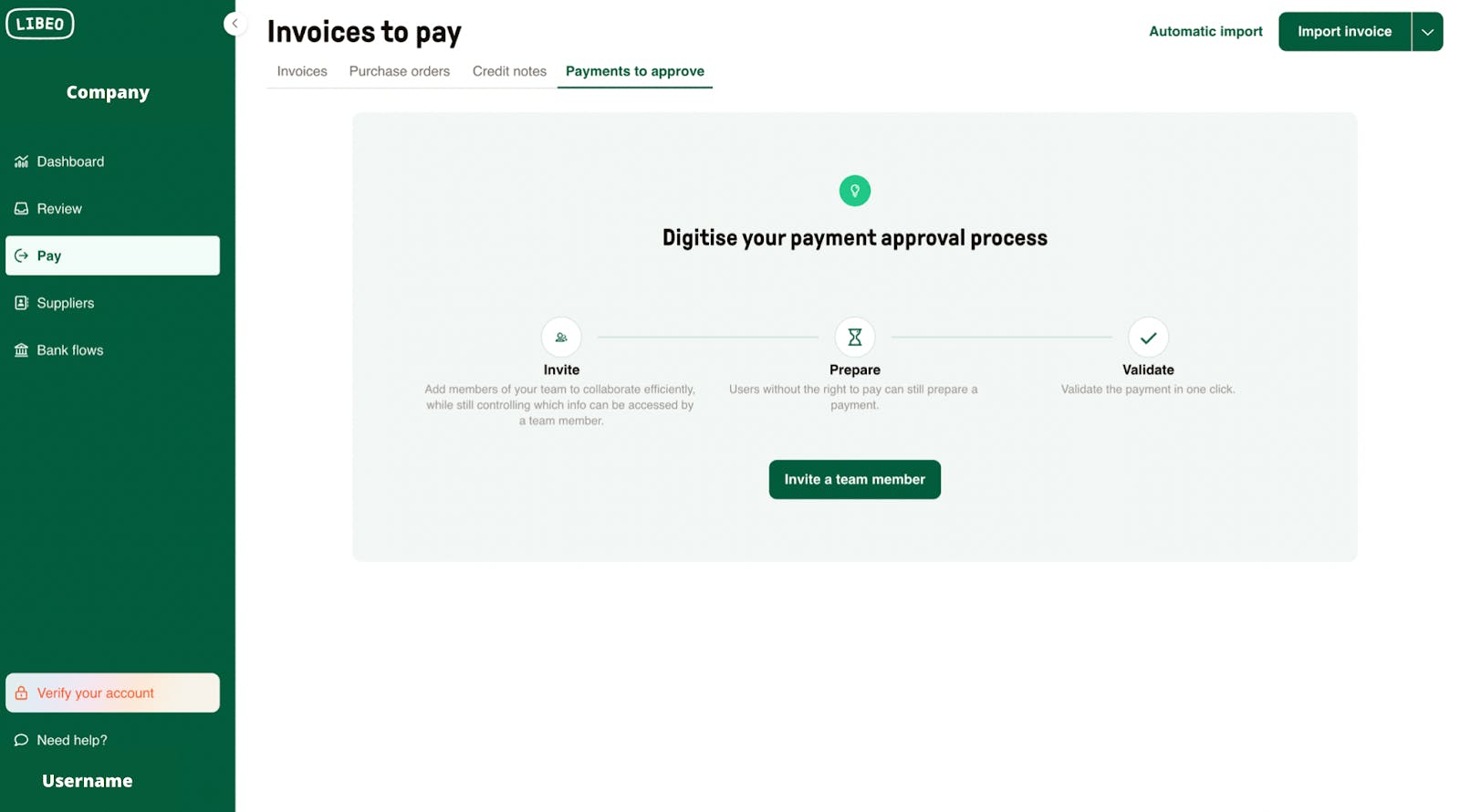 Libeo's main feature is its IBAN verification system. Libeo is part of the SEPAmail DIAMOND (Direct Identity Control for Account Management ON Demand) system, which allows you to pay supplier invoices in one click. When you have to pay an invoice supplier, you can enter their IBAN if you know it. And if you don't, using Libeo's IBANless technology, you only need to submit your supplier's email address (Libeo will then send an email asking for their IBAN). The DIAMOND application will then verify the authenticity of the IBAN, and also if the IBAN matches with your supplier's identity.
Cash Flow Management
Regarding your financial flow management, Libeo can help you set up partial payments and schedule payments by the due date.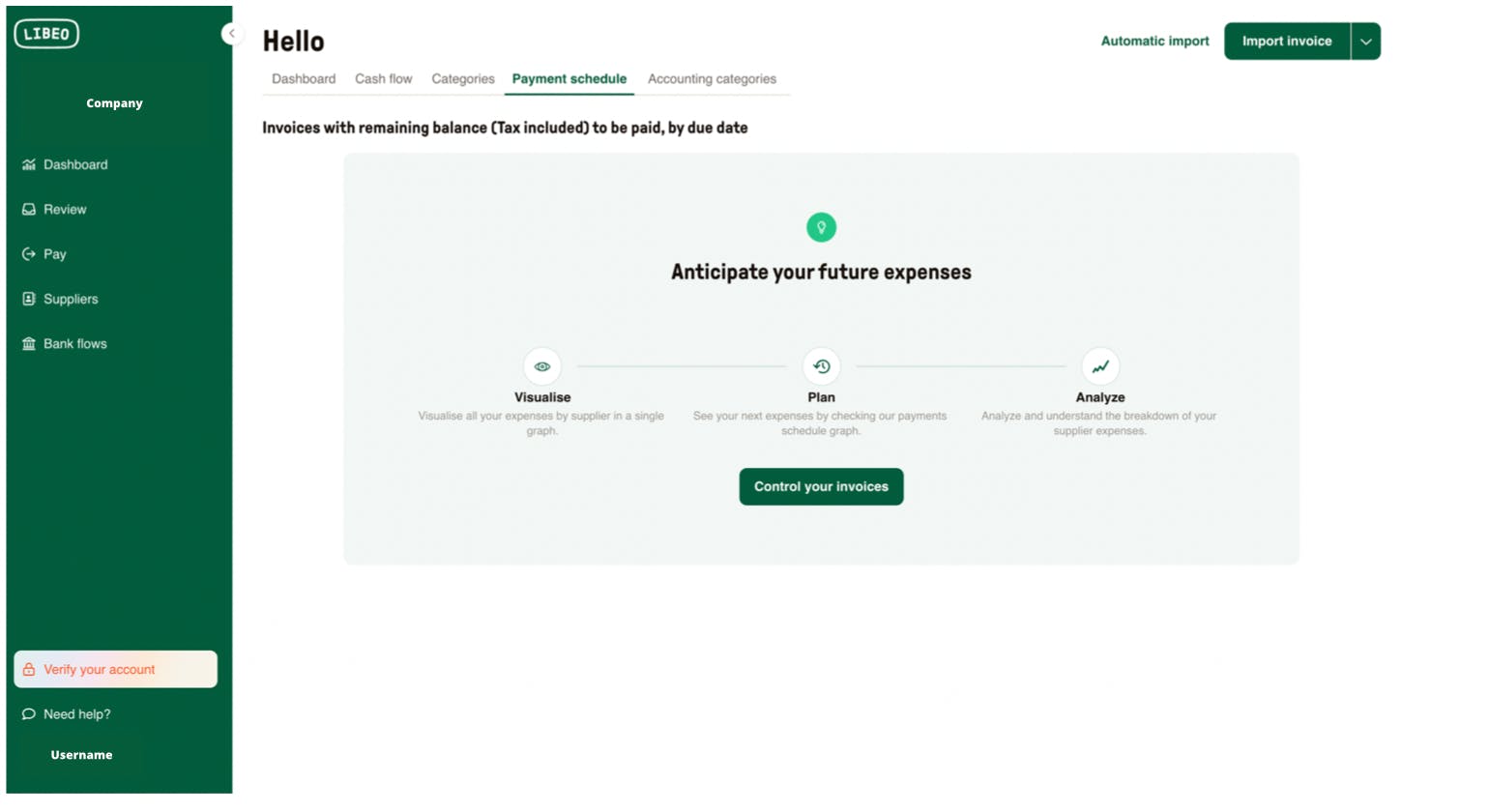 Users also have the possibility to connect Libeo to their bank account to simplify their bank reconciliation. It can match your invoices with your cash flow for easier cash flow monitoring.
With Libeo interactive dashboard, you can have access to data instantly about your suppliers and clients: your average payment term, cash forecast, or even a listing of your main suppliers & clients.
Supported Integrations
Libeo is a highly adaptable tool that has the capability to integrate with various solutions, enabling businesses to enhance their productivity and simplify their workflows. Below you can find a table with an overview of the integrations
| | |
| --- | --- |
| Importing Invoices | Dext, Exco, Invoices Collector, Loop - Invoices, My Unisoft, Mycompanyfiles, StocqueMarket, QuickBooksPayable |
| Collect API Keys | Evoliz, Impulse, Inqm, Vysion, Zapier |
| Payment Gateways | Wise, Yokitup, Meg |
| Exporting Accounting Data | Cegid Expert, Quadrature, ACD, Sage 100, Sage Coala, Sage 5, Agiria, EBP |
| Importing Receipts | Qonto |
Overall, Libeo will not serve as your primary invoice generator tool, but provide additional features to complement your existing invoicing tools.
Features that Libeo Covers
Invoice Centralization (OCR technology, automatic collection from supplier sites...)
Accounts Payable (automation rules, IBANless technology, bulk payments...)
Accounts Receivables (payment methods for customer invoices, payment notifications to customers...)
Cash Flow Management (bank balance monitoring, dashboard)
Accounting Management (bank reconciliation, time period management...)
Team Access and Management (validation workflows, rights management...)
However, the software lacks a real inventory management system and doesn't currently support bank connections in Europe, Africa, Asia, or Central/South America, which could be a dealbreaker for businesses operating in these regions.
For features, we score 3.5/5. Libeo doesn't offer the possibility to create and customize invoices. Instead, this software can be integrated with almost all invoice tools and help you with the management of the entire purchasing lifecycle.
User Interface and Experience
Libeo interface is intuitive and simple for beginners. Everything is efficiently organized into each section.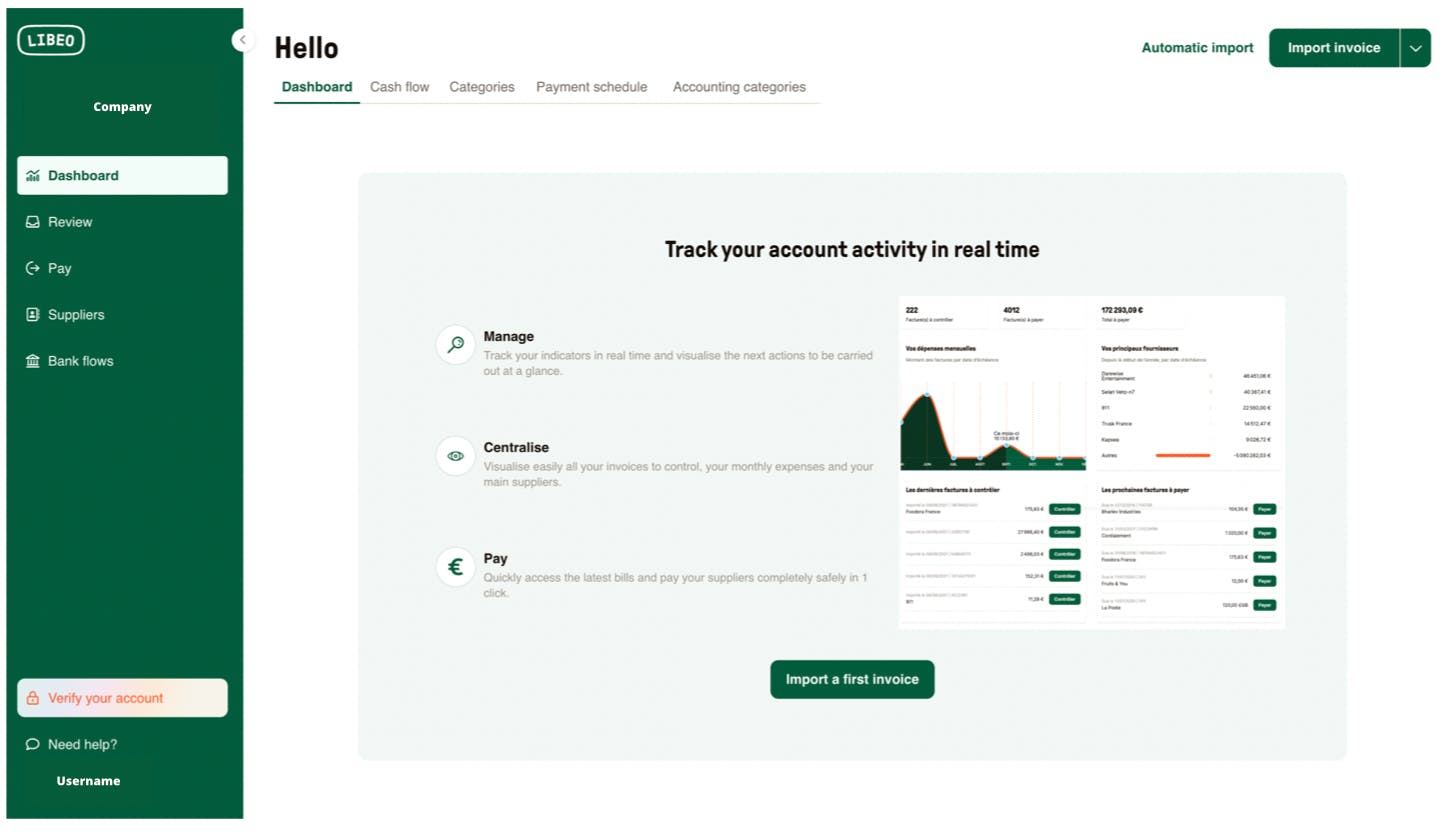 You can find the menu on the left side with :
Accounting dashboard
Invoice validation
Invoice monitoring
Supplier contacts
Bank flows
UI & UX gets a score of 4/5. The interface is simple and user-friendly. For new users, it's easy to navigate and if you do get lost on the platform, you can find videos that will guide you on how to start with the different features.
Libeo's Customer Support
As far as getting help is concerned, the main way is the chatbox located at the bottom right of their website. It is available to everyone, if you need more details about Libeo or if you need help regarding their solution.
Another way to contact support is to send an email to: "hello@libeo.io" and it's also possible to consult the help center for the most frequent questions.
Libeo support gets a score of 4/5. Libeo chatbox is prompt and responsive. The interface of the chatbox is intuitive and simple to use, but the limited accessibility of customer support may pose a challenge, particularly for customers located outside the country.
Creating an Account with Libeo
To use Libeo software, you can go to their website and ask for a demo, the customer support will reach you within 15 minutes to finalize your request. Or you can directly create a Libeo account.
Concerning eligibility, there are no restrictions on the entity type or geographical location for using this solution. For now, Libeo supports only three currencies (EUR, USD, GBP) and it is currently available in France and UK.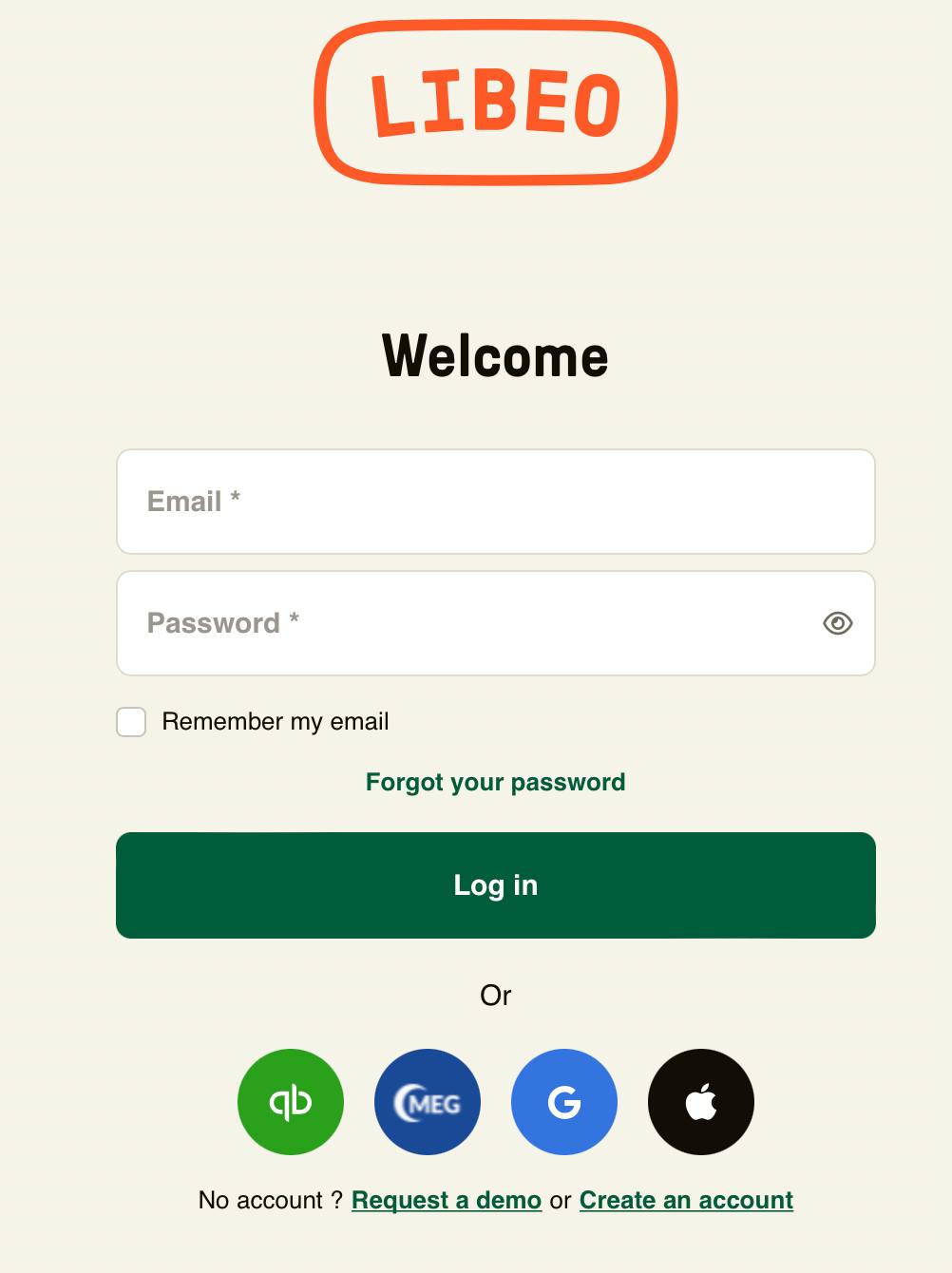 If you already have a Libeo account, you can go to their website and click on the 'login' button, it will lead you to the identification page. If it is your first time, the identification page also allows you to create a Libeo account. You can either connect with a QuickBooks or Apple account, or you can start your signup manually.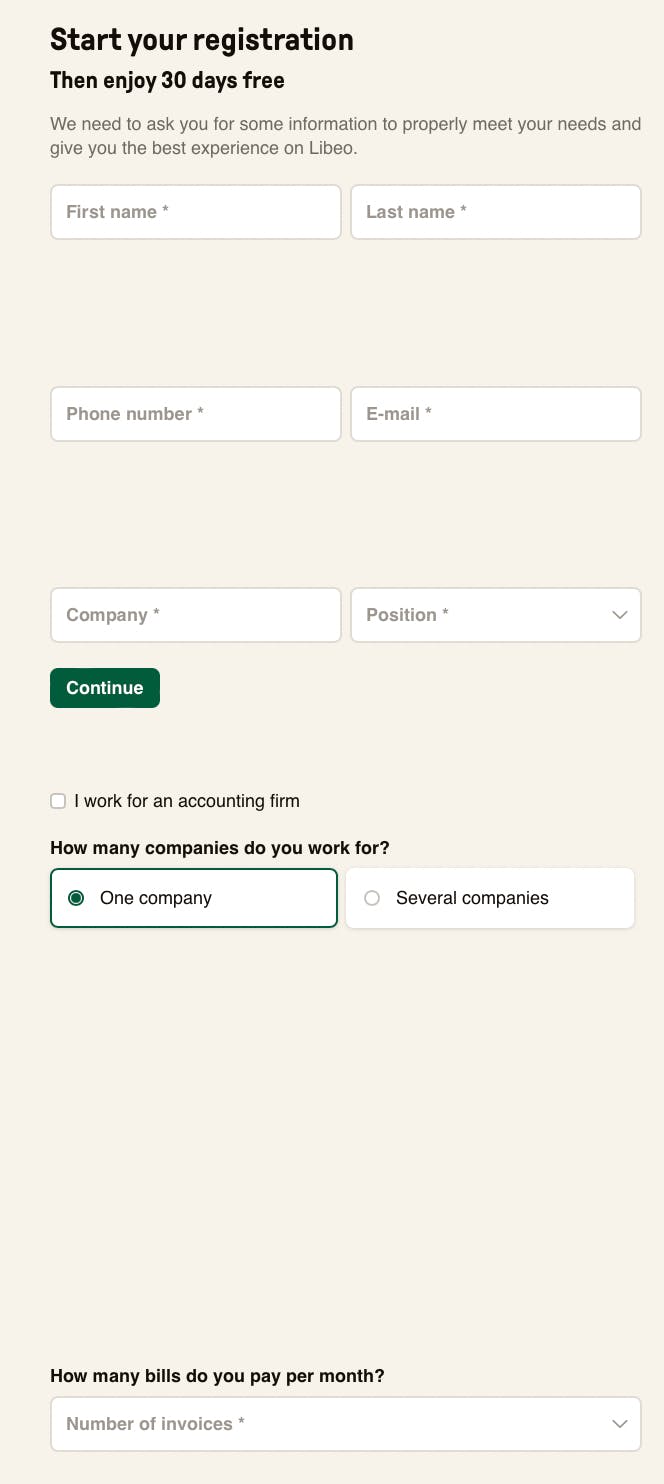 To complete your membership, you will need to register your IBAN information. When the 30 days free trial ends, Libeo will start automatically charging from your bank account each month the amount you owe.
After creating your account and if you want to fully access all the Libeo features (such as the one-click payment without entering IBAN), you need to complete your compliance file: Libeo will ask you for an ID card, proof of residence, and the company registration certificate.
Final Thoughts: Is Libeo Enough for Your Business Needs?
If you are a small company or an accountant, we believe you will benefit the most from Libeo. This software offers possibilities to set up automation rules that can free you from tiresome tasks such as the automation of due date reminders, customer contact information, or even the payment method. By using Libeo, you have the possibility to keep track of the entire purchasing lifecycle through a unified portal, schedule bulk payments and pay invoices in one click.
However, Libeo supports (other than EUR) only USD and GBP for payment in foreign currencies. You will benefit the most from Libeo if you are in France or the United Kingdom, and if your transactions are within Europe.
💡 Tip: Looking for a simple invoice solution? Check out our guide on creating invoices or use Statrys invoicing tool.
When To Use An Alternative?
In case you're not set with Libeo and its included features, there are several other options on the market that you could consider. One option is Zoho Invoice.
Let's take a closer look at how it compares with Libeo:
Features: In case you're looking for a more comprehensive range of features, Zoho Invoice includes expense tracking, time tracking, and project management to add to invoicing - plus integration with other Zoho apps. Libeo on the other hand will focus solely on streamlining the invoicing and payment process.
Pricing: If Libeo's price is something that you find difficult to commit to, Zoho Invoice provides a free plan for a limited amount of invoices to get you started and familiar with the invoicing platform without having to commit to a subscription plan.
Integrations: If your use case includes having to use multiple other business tools, then Zoho Invoice may be a better choice due to the wider range of supported integrations across different types of tools providing you with a more complete business experience. On the other hand, Libeo, since it focuses primarily on invoicing and payments may have limited supported integrations.
Of course, selecting the right tool will depend on the needs you have as a business and the budget that's allocated for the tool. Considering the different features and pricing plans for the tools will be important in making the right choice for your business.
FAQs
Libeo is a French-based company that provides an invoicing platform to help streamline and automate the invoicing and payments process for businesses.
How does Libeo Invoicing work?
Does Libeo have a free plan?