Our Square Invoicing Review Score: 3.5/5
User Interface and Experience: 4/5
What is Square Invoices?
Square Invoices is a versatile invoicing software offered by Square, a leading financial technology company based in San Francisco, California. The company was founded on February 1, 2009, by Jack Dorsey and Jim McKelvey. With over 5,000 employees, Square aims to assist businesses of all sizes in managing their payments and financial operations. However, the invoicing tool can be especially useful to small or medium-sized businesses and freelancers.
Square Invoices boasts impressive statistics, with over 200 million Square Invoices sent and over $45 billion paid globally through the platform. The service is available in the USA, the UK, Ireland, Canada, Australia, and Japan. 
In addition to the Invoicing software, Square provides a comprehensive suite of financial services. Here are some of the key product offerings from Square:
Square Payments: Payment processing solutions for businesses.
Square Capital: Small business loans based on payment history.
Square Cash: Mobile app for peer-to-peer money transfers.
Square Register: Point-of-sale system for transaction and inventory management.
Square Dashboard: Real-time analytics and insights for businesses.
Square Appointments: Simplified appointment scheduling and management.
Square Online Store: Quick setup of ecommerce websites.
Square for Restaurants: Customizable POS systems and order management.
In this Square Invoices review, we will look into the software's features and pricing, offering insights to help you determine whether Square Invoices aligns with your business requirements. Furthermore, we will rate the pricing structure, user experience, and customer support provided by Square.
However, it is important to note that the ratings and scores assigned in this review are subjective and may vary depending on individual businesses' unique needs and preferences.
Pros and Cons of Square Invoices

What We Like About Square Invoices
Phone app
Square ecosystem
Straightforward pricing
Reminders
Accept tips

What We Dislike About Square Invoicing
Availability (only available in the USA, the UK, Ireland, Canada, Australia, and Japan)
It is not focused solely on invoicing
Signup process
Users must use their payment collection to send invoices - processing fees
Pricing
Square Invoices come with a very straightforward and easy-to-understand pricing model. There are only two plans to choose from and slightly differing processing fees among the two.
The first plan one can choose is the "Free" plan. As the name suggests, the user can create and send unlimited invoices completely for free. This is a suitable option for businesses in the early stages. Since this plan is free, it comes with its limitations, and that is why users can upgrade to the "Plus" plan.
The "Plus" plan costs $20 per month and offers more advanced features focusing on saving the users time compared to the free plan.
By sending invoices with Square Invoice, you automatically use Square as your payment processor. This, of course, comes with processing fees which come with a slight difference in invoices paid online. Under the "Free" plan, the fee for an online invoice payment is 3.3% + 30c per invoice. Under the "Plus" plan, it is 2.9% + 30c per invoice.
Free
Plus
Price
Free
$20/month
Key Features
• Unlimited invoicing
• Unlimited users
• Free features;
• More customization;
• Batch invoicing
Processing Fees
• 3..3% +30c per invoice paid online
• 2.6% + 10c per every tapped, dipped, and swiped payment
• 3.5% + 15c per Card on File Payment
• 1% per ACH bank transfer; minimum of $1 per transaction
• 6% + 303c per card payment with after pay
• 3..3% +30c per invoice paid online
• 2.6% + 10c per every tapped, dipped, and swiped payment
• 3.5% + 15c per Card on File payment
• 1% per ACH bank transfer; minimum of $1 per transaction
• 6% + 303c per card payment with afterpay
For pricing, we give a score of 4.5/5. The main motivators for this score are simplicity and the "Free" plan. On the other hand, the "Plus" plan for $20/month, offering customization and quality of life features, can be somewhat steep for a business just starting. However, if your business is growing, it is worth while to consider upgrading, especially because of the lower processing fee, thanks to which you break even by collecting $5000 in monthly online invoice payments.
Square Invoices Product Features
Wave can support your business in the following ways. Invoicing, payment collection, accounting, business account (US only), payroll, reporting, advisors, personal bookkeepers.
Billing and Invoicing
Among other things, Square offers a free unlimited invoicing solution with unlimited users per account.
With Square, you can send professional invoices with your custom logo or custom attachments, such as an image or a PDF, to your clients and create unlimited estimates and contracts. You can create the invoices with either your computer or on the go with your smartphone.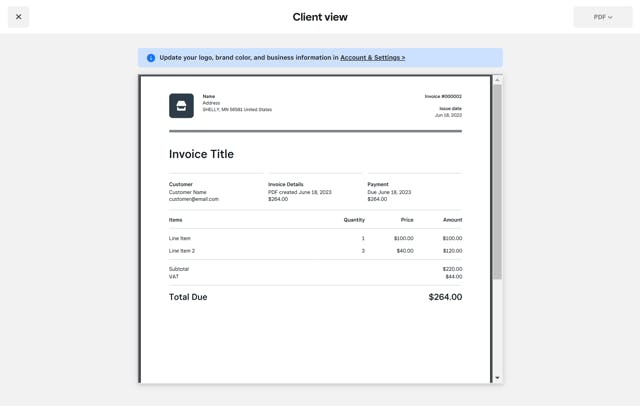 The invoicing solution from Square comes fully equipped with the features one would expect, such as automatic payment reminders, the ability to schedule recurring invoices, duplicating invoices, and more. The invoice creation process is straightforward and easy. Many steps in the creation process are automated through features such as customer profiles, saved line items, tax profiles, and settings templates. Thanks to these features set up beforehand, invoice creation is fast and effortless. Once an invoice is created, you can share it with your customers via text, email, or manually.
Payment processing is also a part of Square's offering. It is also automatically paired with the invoices you create. Creating invoices that do not directly accept online payments through Square is impossible. This feature can help you collect payments faster. The processing fees differ per subscription plan and are displayed in the pricing section. Square Invoices lets you accept credit card payments, debit card payments, apple pay, google pay, ach Payment, or Afterpay.
Notably, Square offers a feature that lets customers include tips with their payments. This feature can be turned on and off on command. Square can also automate your billing by saving card information and auto-billing your customers. The last notable feature is the possibility of sending contracts with signatures. 
All of these features are included in the "Free" plan. Next, we look at the paid "Plus" plan and the features that come with it.
Paid Plan Features
The paid plan comes with additional features not available under the free plan. They are mostly concerned with making your life easier as your business grows.
It includes batch invoicing that allows you to simultaneously send the same invoice to multiple customers. Square Invoice will auto-convert accepted estimates into invoices, multi-package estimates, and milestone-based payment schedules.
Notably, with the paid plan, you can access better invoice customization. You can create the perfect invoice for your business by creating professional-looking invoices with custom invoice layouts, custom invoice fields, contract fields, and field names.
Accounting Solution
Square has no built-in accounting software. Square offers a wide range of third-party software integrations to tackle this shortcoming. You can integrate Square with Freshbooks, Zoho Books, Xero, or Quickbooks online, to name a few. The complete list of Accounting software and Tax integrations can be found on the app marketplace.
Reporting and Business Intelligence
Square also offers its own reporting and business intelligence solution. Due to the lack of built-in accounting, however, the reports are mostly only derived from sales statistics. You can expect to find reports on sales trends, Item sales, Payment methods, Taxes and more. On the other hand, for more comprehensive reporting on the overall health of your business, you will need to look elsewhere.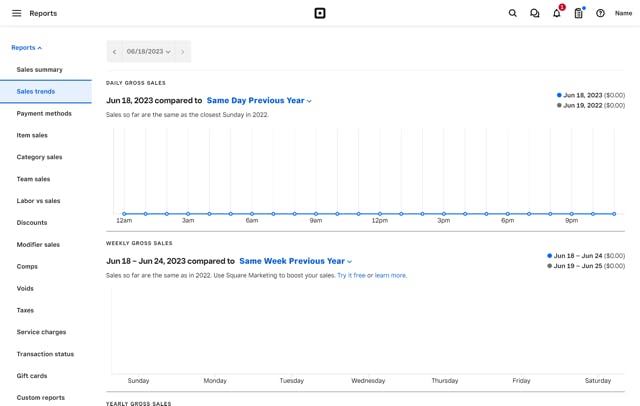 Projects and Time Tracking
Under the paid "Plus" at a $20 monthly fee, the user gains access to project organization and milestone payments. 
Under the project organization feature, users can group documents such as invoices, estimates, or contracts into folders corresponding with different projects. This feature allows for better organization of invoicing for businesses that run several projects at a time. 
The milestone payments then allow you to set up payment schedules and tie them to specific project milestones.
As for time-tracking functionalities, this feature falls under the Square Shift solution. In Square Shifts, you can track your team's time, manage schedules and prepare all you need for payroll. It allows your users to track time by clocking in and out. The applications of this solution are mainly focused on retail and restaurants.
Square Invoices Integrations
Square Invoices integrates with the other solutions Square offers within its ecosystem. On top of offering this ecosystem of solutions that can ease many business processes for you, Square also offers a wide range of integrations with third-party software. There are many categories of integrations ranging from Accounting to Ticketing and Events. To search whether Square offers integrations your business needs, browse the full list at the Square App Marketplace.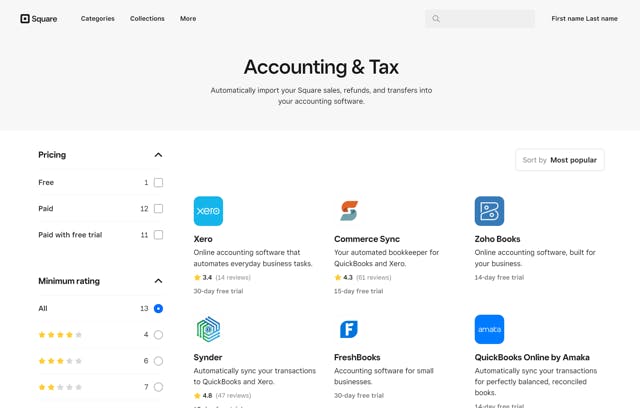 Our score for features is 3.5/5. The main advantage of Square is the low price point at which it delivers a very versatile invoicing solution. The drawback of this solution is the lack of built-in accounting and reporting. For these, you may have to look elsewhere. It should be pointed out that if you are looking solely for an invoicing solution, the score for features can be adjusted to be higher.
User Interface and User Experience
Despite not being made primarily for invoicing, Square creates a good user experience by organizing and grouping specific features. As such, Invoicing has its own section on the platform. The invoicing section has its own overview dashboard to provide the user with quick and relevant information such as the amount outstanding, paid, pending approval, etc. 
Creating invoices is quick and easy thanks to customer profiles, tax profiles, and saved line items which all save the user time in the long run. A lot of the factors that go into an invoice are therefore set up beforehand, and the actual invoice creation process is very quick.
We give a rating of 4/5 for UI & UX. The product offering by Square is neatly organised and easy to understand. The layout and design of the platform blend well. Creating invoices is fast and efficient. Therefore, we score the user interface and experience a 4/5.
Square Invoices Customer Support
Square Invoices offers the following support options. A Knowledge Base, Email support and FAQs/Forum where the seller community learns how other business owners are using Square to run and grow their businesses. 
In addition, the Customer Success team can help assist you with your Square account through Chat or Phone support. The support number is 1-855-700-6000. They are available from Monday to Friday, 6 am to 6 pm, PST.
Our rating for customer support is 2/5 mainly because Square relies on the user referring to the knowledge base and other self-help resources to solve issues you may encounter. Though it can be helpful, more complex queries may not be covered.
Creating An Account with Square Invoices
To create an account with Square Invoices, one must navigate a few required steps. They are mostly concerned with filling out the information about your business. 
Firstly, you indicate if you're an individual/sole proprietor or if you are a business and enter the name you want to be displayed on the receipts. Then you select and indicate the type of business you run. Next is identity verification. The exact requirements vary depending on your location but expect to provide personal information such as name, date of birth, address, etc. As the final step, you need to link your bank account.
In contrast with many competing invoicing solutions, invoices can't be sent unless payment setup is complete. Therefore, unless you do everything required to activate your account, you cannot send your invoice.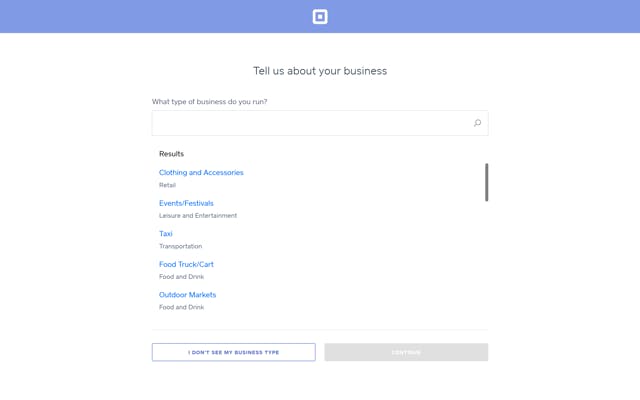 Final Thoughts: Is Square Invoices Enough For Your Business Needs?
Square Invoices is a good invoicing software for business owners who use other Square solutions or businesses that send contracts and estimates frequently. On the other hand, Square is not the best option if you are looking for invoicing software with built-in bookkeeping and robust expense management. 
Square Invoices Alternatives
After discussing what Wave Invoicing offers and finding the factors to consider above relevant to your business, you might be looking for alternative options, including:
Finding the ideal tool for your business can be a challenging task. We recommend that you compare the features of Wave Invoice with other available alternatives in the market. It is important to take the time to prioritize your requirements and consider which tool will best serve your business needs in the long term.
If you discover that Square Invoices has limitations in areas that are important to you, it may be beneficial to explore other options.
While Square Invoices has the fundamental features covered, other invoicing tools like Zoho Invoice and ZipBooks may offer more advanced features such as Client Management, recurring invoices and expense categorization automation, and a wider range of integrations for a more comprehensive business experience.
If you're seeking an invoicing tool with additional business features, you may also want to consider Zoho Invoice, as they offer full-featured accounting software, Client Relationship Systems, and payment options that complement their invoicing features.
Choosing the right tool for your business can be challenging, so we recommend comparing Wave Invoice with other alternatives on the market. Prioritizing your requirements and determining which tool will best serve your long-term business needs is important.
FAQs
Does Square have an invoice product?
Yes, Square Invoices allows users to create and manage invoices. They also provide payment solutions, peer-to-peer money transfers, point-of-sales systems, appointment managing, and more.
Where is Square Invoices available?