Our Wave Invoicing Review Score: 3.75/5
User Interface and Experience: 4/5
What is Wave Invoicing?
Wave Invoices is an all-in-one money management solution headquartered in Toronto, Ontario, Canada. Wave caters to the needs of small business owners such as freelancers, self-employed entrepreneurs, consultants, and contractors.
From invoicing and payments to banking, accounting, payroll management, and advisory services, Wave offers a wide range of functionalities designed to ease financial management for small businesses. Wave Financial Inc. was founded in July 2009 by James Lochrie and Kirk Simpson.
Wave Invoices operates primarily in the United States and Canada. New account sign-ups have been limited to business owners in these countries since November 30, 2020. This localized focus allows Wave to tailor its services to the specific needs and regulations of businesses in the US and Canada.
In this Wave Invoices review, we take a closer look at the software's features and explore its pricing structure, user experience, and customer support. By examining its capabilities, we aim to assist you in determining whether Wave Invoices is right for your business.
Please note that the ratings and scores assigned in this review are subjective and may vary depending on the specific needs and preferences of each business.
Pros and Cons of Wave Invoicing

What we like about Wave Invoicing
Pricing - free unlimited invoicing and free accounting software
Mobile app support for both iOS and Android
Unlimited users who have access

What we dislike about Wave Invoicing
No inventory management is available
Only serves customers in the US and Canada
Customer support can be lacking
Wave does not grow with the business
Pricing
Pricing is an important decision factor for many small businesses. Wave acknowledges this fact in the design of its pricing system. 
Invoicing, accounting, and banking are completely free. The user will encounter fees by using additional services, which will now be described.
Wave charges its users on a pay-per-use basis on its Invoice payment processing. This feature is optional.  Wave allows the user to collect payments directly on the invoices. The cost depends on which method the client uses. For credit cards, it's 2.9% + $0.60 and for bank payments, it's 1% with a $1 minimum
Wave also offers a Payroll feature, which is its other source of income. With the payroll feature, wave streamlines how you pay your employees and contractors. It will run you a monthly base cost of $20 plus an additional $6 per employee. Additionally, If you find yourself in a state where Wave offers the advanced tax service feature, you can let Wave handle your tax forms. If you choose so, it will cost you a base of $40 plus $6 per employee monthly.
Wave also offers bookkeeping support, allowing you to let Wave take care of your books. The pricing scales with the number of transactions your business handles. It starts at $149/month. Additionally, if you decide to do your books on your own but need some help navigating the platform or improving your accountancy skills, Wave has you covered with its coaching service. You can book a 1-hour or a two 1-hour consultation package which will cost you $223 and $379, respectively.
Features
Fees
Invoicing, Accounting, Banking
Free
Payment Processing on Invoices
Pay per use:

•

Credit cards- 2.9% + USD0.60


• Amex - 3.4% + USD0.60
• Bank payment - 1% (USD1 minimum)
Payroll
Monthly Fee:

• Canada: CAD25 monthly base fee + CAD6 per active employee + CAD6 per independent contractor paid

• US: USD40 monthly base fee, + USD6 per active employee + USD6 per independent contractor paid
Advisors
Bookkeeping support - USD149 and up per month if the annual contract
We give pricing a score of 4.5. The Invoicing, Accounting, and Banking features are free, which is welcomed by small and medium-sized businesses. The only drawback is that if you make use of the paid advanced features, the difference between the free and paid pricing is quite steep, and the fees can become costly as your business grows. Despite this, the features offer great value.
Wave Invoicing Product Features
Wave can support your business in the following ways. Invoicing, payment collection, accounting, business account (US only), payroll, reporting, advisors, personal bookkeepers.
Billing and Invoicing
With Wave Invoicing, businesses can create unlimited invoices for free. With Wave Invoice, your business can create and send customized, professional-looking invoices to your clients. Customization allows you to upload your logo and choose from the three available invoice templates. Once ready, invoices can be shared through email or manually with a link or exported and sent as PDF.
Waves offering is competitive and offers all of the core features you can be looking for. You can create invoices as well as estimates and track which payments were completed and which are overdue. The invoice creation process is made easy through saved line items and customer profiles. In case a customer is overdue on their payment, you can send and schedule reminders. Wave also allows the creation of recurring invoices, invoice and estimates duplication, and a neat dashboard to keep track of everything and filter according to your need.
A notable feature is the ability to generate customer statements, which create a statement merging together all the outstanding invoices for that particular customer.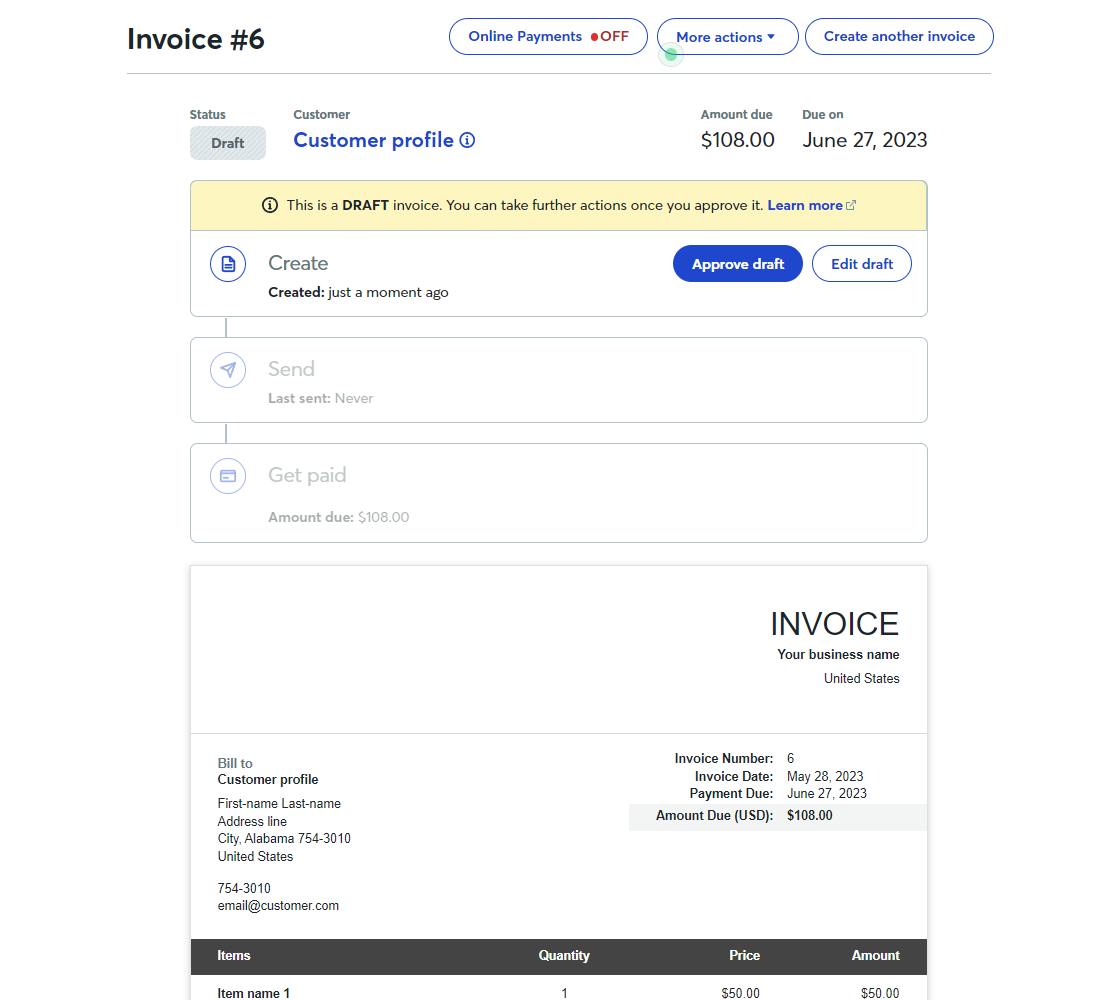 To help with collecting payments, Wave Invoice offers its own payment collection feature. This feature allows your business to be paid directly on the invoice, even with recurring invoices. The payments, as are the payment processing fees, are automatically recorded and bookkept. This feature is not free, however, and costs 2.9% + $0.60 for each use (see Pricing section for more details). Additionally, Wave Invoice also offers the option to accept payments directly from your website
Accounting Solution
Waves accounting solution is fairly comprehensive, and you gain access to all of its functions as a free user.
Income and expense tracking can be done manually, through a bank connection or the invoices and purchases section inside of Wave. The purchasing section acts as a cash flow management tool to record and track the different outgoing expenses you may have for your vendors. Once you record a bill paid in this section, it will also automatically get added to the accounting section of Wave. To manually upload your transactions, you can enter them through the app's interface or a CSV file.  Lastly, Wave also offers a receipt scanning feature that can record transactions from uploads of receipt photos.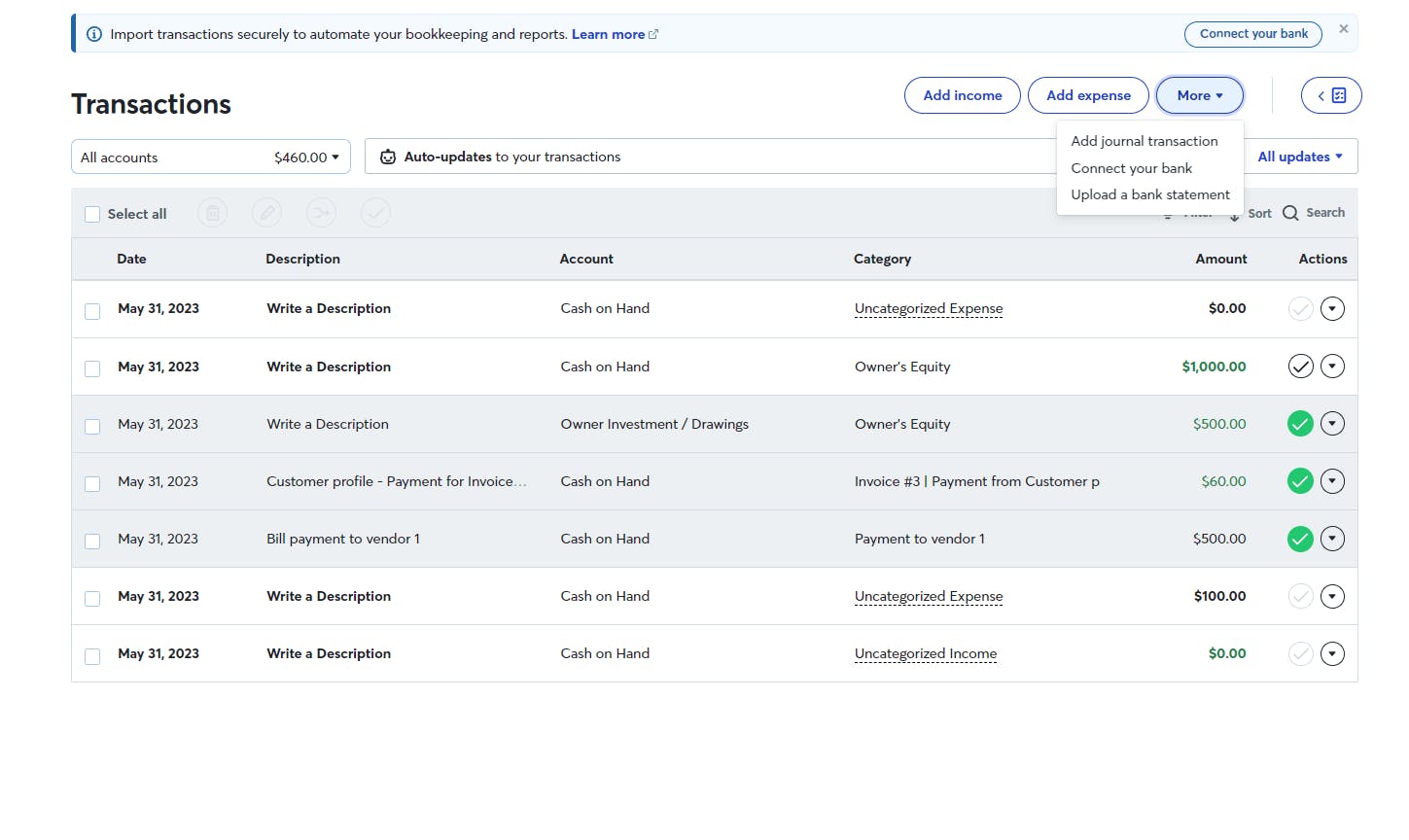 Wave also connects with your bank accounts to source its transaction data. Wave has partnered with Plaid to provide this feature, which is also used by companies such as Venmo, Robinhood and Coinbase. As a result, users can add unlimited bank connections.
Wave also includes a reconciliation tool to automate this process for you. It complies with accounting standards, and you can also calculate the sales tax automatically. Wave can also track 1099 independent contractor payments. 
Wave also has its shortcomings. The inventory management feature is rather basic and does not allow you to track the quantity of products purchased or sold. This can potentially be a dealbreaker for a product-based business. 
Wave also offers a bookkeeping service where your business can be assigned its personal bookkeeper, that will take care of the transaction categorisation and account reconciliation. You have monthly calls with the bookkeeper, and they can also collaborate with your accountant. This feature can be rather pricey for a small business, starting at 149 USD/month for 50 monthly transactions or less.
Wave Payroll
Waves payroll management feature combines payroll for both independent contractors and employees. Wave uses direct deposit to pay your employees. It allows you to create employee profiles and store every information necessary, such as specific policies or tax details. This is a paid feature that will set you back $20 + $6/employee/independent contractor a month. Tax service in select states is also available, costing $40 + $6/employee/independent contractor a month.
Wave creates a breakdown and offers expense tracking of your payroll expenses by employee and expense type for you. Under the timesheets section of the feature, you can manage hours to be paid to your employees. You can manage worked, holiday, and vacation hours in this section.
You can view payroll tax and liabilities, which Wave calculates for you automatically. Additionally, Wave will also generate employee forms and tax forms for you to review and approve.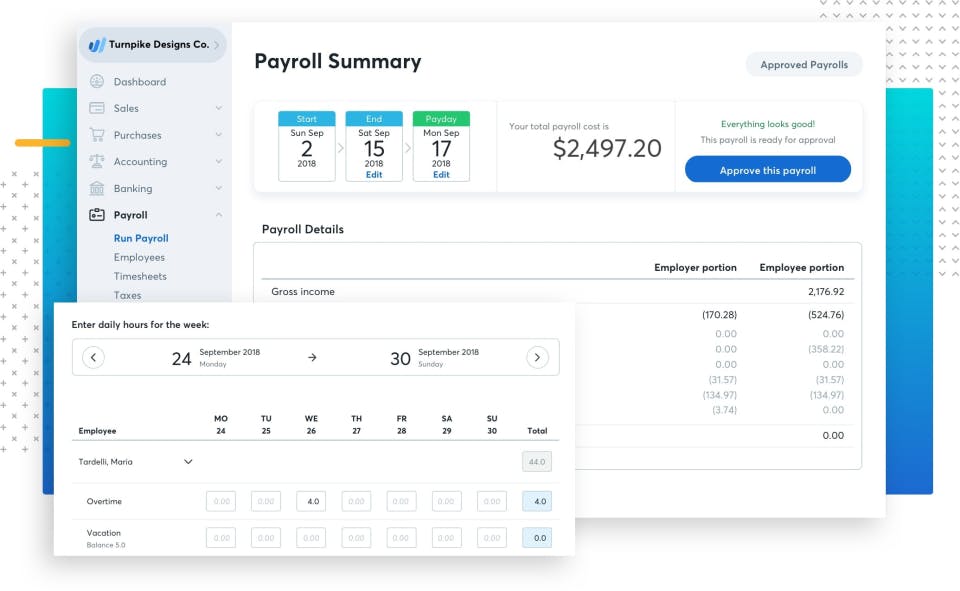 For the tax service states (see the list here), Wave will automatically transfer tax payments and file the paperwork with your tax office as well as the IRS for you. This service excludes 1099 filings, although you can still generate the 1099 reports.
Reporting and Business Intelligence
Wave can generate reports such as financial statements, tax reports, payroll management reports, customer and vendor reports, and more. Every report is exportable as a CSV or PDF file.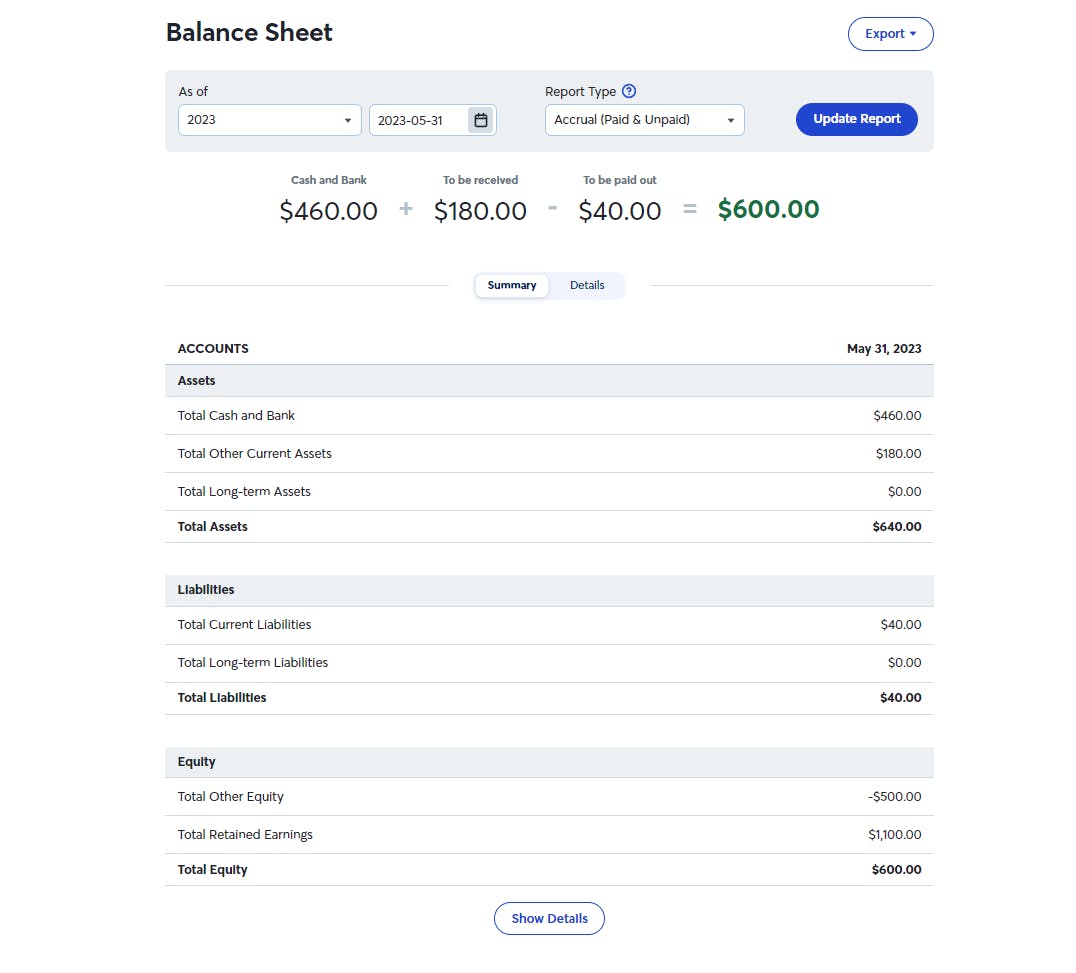 In terms of the number of reports that Wave can generate, it can fall behind the competition. The reports are not too customizable either, the user can choose the timeframe and accrual or cash accounting when generating the report. 
On the other hand, a nice touch is an ability to generate a report summary or a detailed report with every account displayed, as well as the ability to generate reports on Sales tax and Form 1099-K, given that this feature is free.
Wave Money
With limited availability, currently only for single-owner businesses in the US, Wave offers a business checking account with companion physical and virtual debit cards called Wave Money. It is currently only accessible through the mobile app. The benefit of this business account is the built-in bookkeeping integration that connects to other features from Wave.
Wave Integrations
Wave offers integration with Google Sheets, BlueCamroo, and Zapier. This can increase the functionality of the solution and increase efficiency.
A functionality that Wave does not have built-in is time tracking. To solve this, there is an integration with BlueCamroo. With BlueCamroo, you can track billable client time and then create invoices through Wave.
There are many more integrations for payments, scheduling, CRM, business management, etc., through Zapier.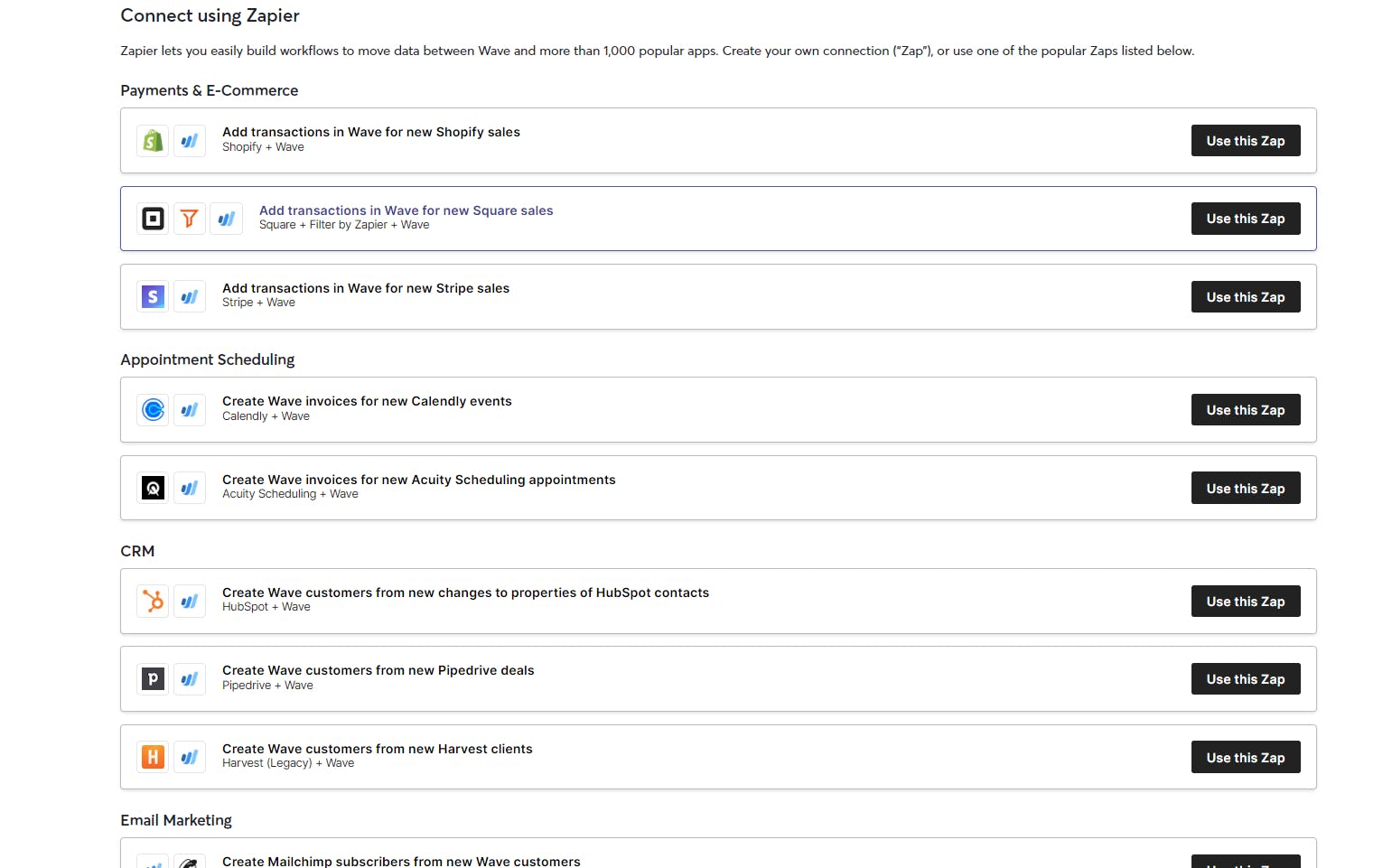 We score 3.5 because Wave offers your small business a free and robust solution to invoicing and keeping track of your expenses. The solution is handy for service-based companies. For businesses that are product-based, the solution might not be the best fit due to the lack of an inventory management system.
User interface and user experience
Using and navigating Wave is easy. The platform is neatly organized, with each feature having its own section accessible through a menu on the left side of the screen. Wave also has an iOS and Android app, allowing you to create invoices on the go.
Most things can be found where one expects them to be, and creating invoices is fast and simple. The platform is intuitive to navigate and straightforward. A notable feature is also the advisor bar, which helps remind the user of certain bookkeeping tasks, such as categorizing transactions. 
The dashboard offers a nice overview of cash flows, PnL, an overview of Payable & Owing, Net Income, and an expense breakdown. There are also calls to action that helps you with finalizing your account setup.
The platform keeps things neat and simple. Navigating it is equally simple. It is user-friendly and presents all information in a clear manner. For this reason, we score Wave a 4/5 for User interface and user experience.
Wave Customer Support
Wave offers multiple ways to reach customer support, and their accessibility will depend on whether you are a fee or paying user.
Under every plan, there is a chatbot in the bottom right corner, which is available for use 24/7. The chatbot can guide the user through simple tasks and navigate the user through the platform. If you are a user of the free plan, you can also seek help in the self-service help center, where many articles are present about questions you might have.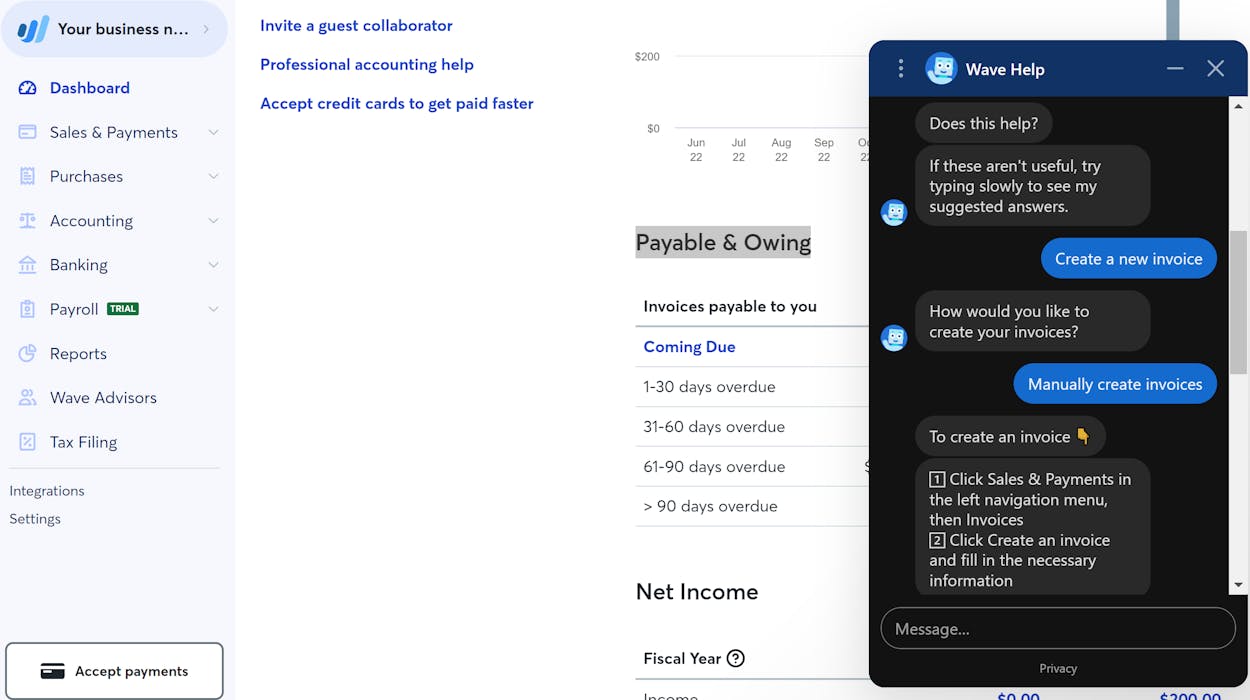 Under the paid plans, on top of the free plan tools, you also get access to a live chat/email with an agent. The agent is available Monday to Friday from 9 am to 4:45 pm EST.
If you require 1:1 help, you can pay for an Accounting Coach, which starts at $229. You'll get a full hour of live coaching, plus 30 days of unlimited email support and the ability to live chat with customer support
For support, we score 3.5. Under the free plan, the user will have to seek help only through the self-service Help centre or the chatbot. Once you start paying for Wave, youll gain access to live chat or email with an agent, but you still won't be able to call them unless you schedule a coaching session that costs $229.
Creating An Account with Wave
To create invoices or use any other part of Wave offering, you will have to first create an account. Account creation is restricted to business owners from the US and Canada. If your business is not in one of these two countries, then you can not create an account with Wave or use any of their solutions.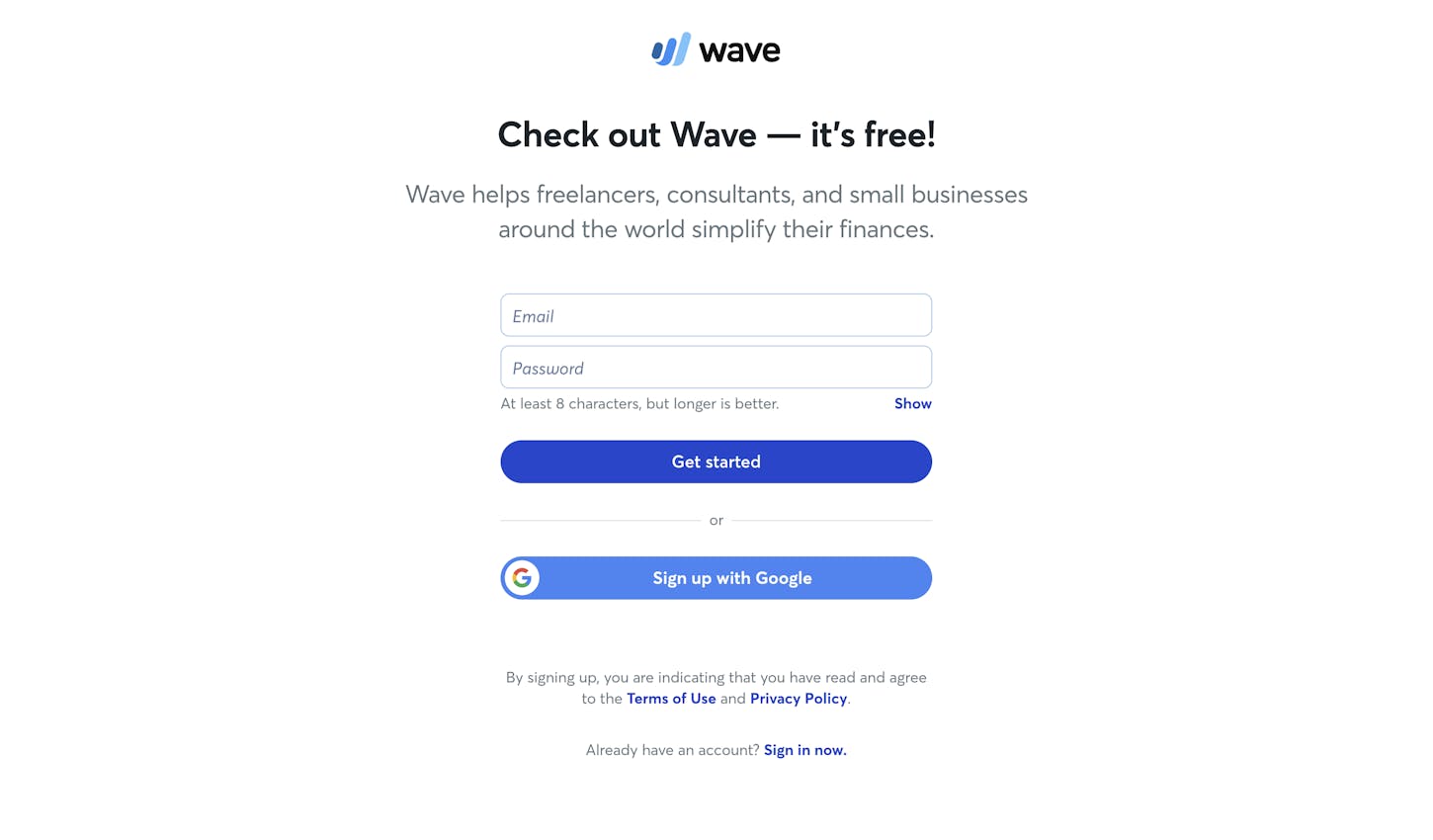 To create an account, one must first enter their email and choose a password. The next step is filling out information about you and your business, such as your first and last name and business name, and selecting what your business does in a drop-down menu. Wave will then ask you to fill in more information about your business, such as:
How long have you been running your business?
What type of legal entity is your business?
Do you have a business bank account?
How do you pay your business expenses?
Once this is done, you will gain access to the platform and can start invoicing.
Final thoughts: is Wave Invoice Enough for Your Business Needs?
Though Wave may provide the essentials to meet your business' invoicing needs, you still might want to consider some factors before deciding to commit with this invoicing tool.
Firstly, consider the size of your business. As mentioned in our review, Wave covers the basics when it comes to invoicing, but you may find this different once your business starts to grow. Freelancers and small-sized businesses will benefit from the invoicing services from Wave, but as soon as your business grows, more advanced features and needs might be needed.
Also, consider the type of invoices you'll need to make. With Wave, you can create simple invoices that appear professional enough, but if your business needs to create invoices that require more specific information such as payment terms and schedules, or needing more customization, Wave's solution might be limited.
And finally, keep in mind that the Wave only creates new accounts for companies in North America. So if your business doesn't fit the criteria, you can look elsewhere.
Wave Invoicing Alternatives
After discussing what Wave Invoicing offers and finding the factors to consider above relevant to your business, you might be looking for alternative options, including:
If you find that Wave has some limitations in aspects you prioritize, we suggest you consider other options.
Advanced Features: As mentioned in our review, the invoicing features of Wave are kept to the essentials. However, suppose you're looking for a more complete business experience from your invoicing tool. In that case, other invoicing tools such as Zoho Invoice and ZipBooks do offer additional features such as Client Management for better tracking and automation for recurring invoices and expense categorization as well a wider array of integrations.
Business Needs: If you're looking for an invoicing tool that has other business tools features to cover more of your needs, Zoho Invoice might be a better option as they have business tools such as full-featured accounting software, Client Relationship Systems, and payment options that complement their invoicing features.
Finding the ideal tool for your business can be a challenging task. We recommend that you compare the features of Wave Invoice with other available alternatives in the market. It is important to take the time to prioritize your requirements and consider which tool will best serve your business needs in the long term.
FAQs
Yes, Wave Invoicing is free to use. You can create, customize, and send invoices to your clients without paying any fees. Though you can subscribe to other features for a fee.
Can I create invoices on Wave?
How much does Wave Invoicing charge for transactions?