Our Zoho Invoice Review Score: 4.25/5
User Interface and Experience: 4/5
What is Zoho Invoice?
Zoho Invoice is an online free invoicing software for small businesses and is one of the many products offered by Zoho. Through the customer portal, it allows users to create and send invoices and estimates, receive payments, time track, and record expenses.
The invoicing product was launched in 2021 by Zoho Corporation, a company founded in 1996 by Sridhar Vembu. Zoho Corporation is a leading Indian software company that today counts almost 12,000 employees in the workforce.
In this Zoho Invoice review, we will take a look at the software's features and pricing to help you decide whether it responds to your invoicing needs. We will also rate its pricing, user experience, and customer support.
However, it is important to note that this score is subjective and can vary depending on the needs of each business. 
Pros and Cons of Zoho Invoice
Pros
User-friendly interface
Free
Easy cash management
Cons
No offline access
Limited features
Only selected integrations
Pricing
Zoho Invoice is an entirely free invoicing software. Users can generate unlimited invoices and track projects and bill clients easily.
On the other hand, if clients want to access a full accounting package, Zoho Invoice has to be integrated with other Zoho apps, such as Zoho Books, which are available on a paid plan. For the sake of this review, we will limit our analysis to Zoho Invoice.
For pricing, we score 5/5. Zoho Invoice allows users to create invoices, and track billable expenses, time, and projects, all for free. It presents all the basic functions that freelancers and small business owners look for in invoicing software. As Zoho invoice is a completely free service that responds to small businesses' needs, we give it the maximum score for pricing.
Zoho Invoice Product Features
Zoho invoice offers the possibility to make and send invoices and estimates, set up payment gateway options to be paid online, time tracking, project billing, and expense tracking.
In addition, the online client portal allows users to record payments, credit notes, manage invoices, send automated payment reminders, and track unpaid invoices. Furthermore, Zoho Invoice allows users to create customizable invoice templates and an email template to align them to the business's branding.
Zoho Invoice also offers a mobile app that allows users to record payments and access information on the go. However, it is not possible to record information offline.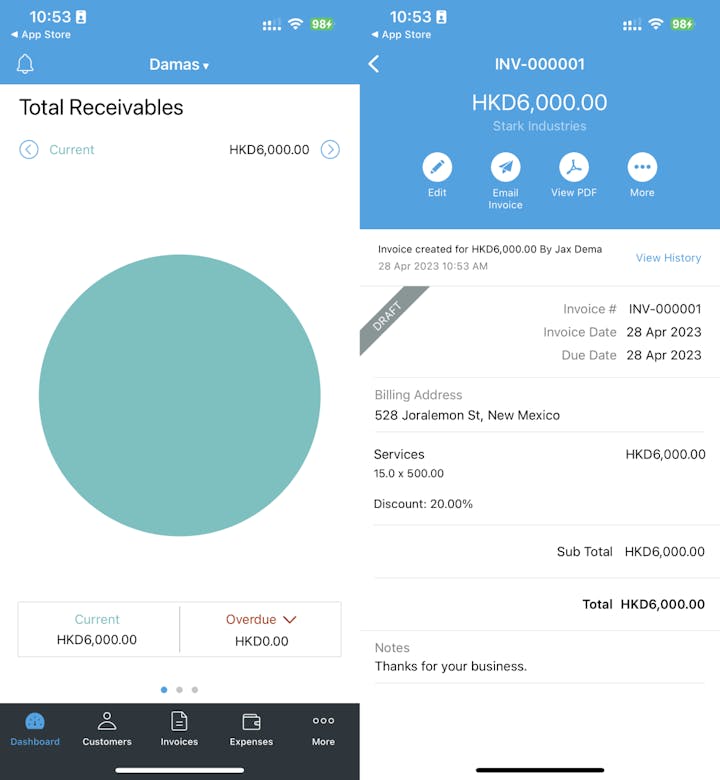 💡 Tip: The Zoho Invoice mobile app is very functional allowing users to create and manage invoices on it.
A clear distinct feature of Zoho invoice is the possibility to link multiple accounts to a single business and to invite different users to collaborate. Users can then access the business's information and divide tasks. Zoho invoice offers the possibility to staff people on projects and assign tasks within a business.
Billing and Invoicing
Creating an invoice with Zoho Invoice is straightforward. Users can create a fully customizable invoice from any of the default invoice templates by doing the following.
First, users need to select whether the invoice is a one-time or recurring invoice. Next, the user has to add the customer name by either creating a new customer or selecting an existing one. Optionally, users can add the salesperson responsible for the sale out of a pre-made list and the subject of the invoice.
Notably, the invoice number can be created either automatically or manually. The invoice date is automatically set at the present day but it can be modified. 
The user can also decide whether the invoice item rate is tax-inclusive or exclusive and charge sales tax. Sales tax rates are customizable according to the location's specifics. The software allows you to save multiple taxes by name and rate, however only one can be applied to each line item. 
Once created, the invoice can be edited, added to the list of recurring invoices, or made void. Payment terms are customizable, and payment reminders can be automatically sent to clients through Slack channels.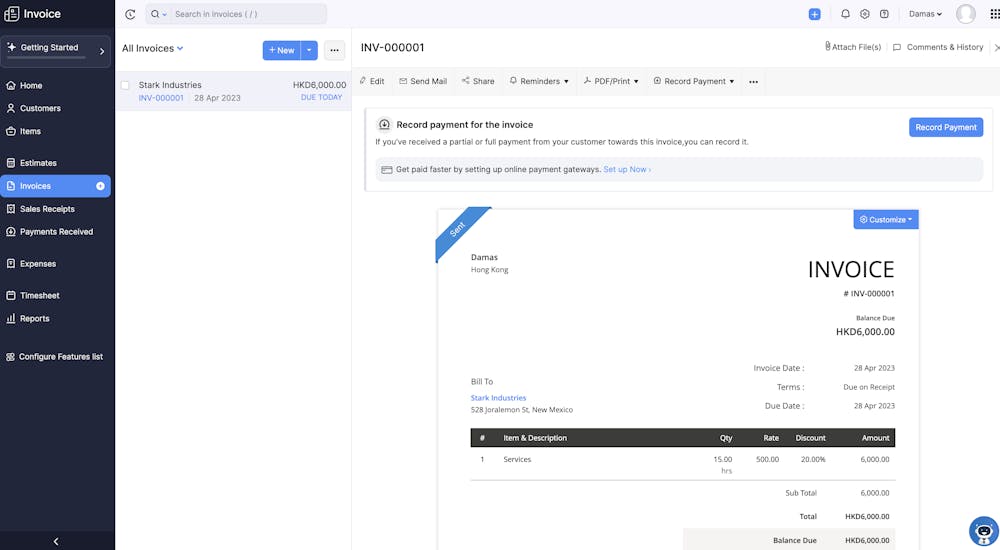 Once the invoice is created, the system allows you to send it via email to the contact of the client or to share it at a later stage via a link or by sharing the pdf.
In addition to that, the invoice can be duplicated by selecting 'clone', which brings you to the standard invoice creation page with all the details already filled out. The invoice can then be edited or sent again.
Accounting Solution
While the invoicing package is pretty complete, the accounting solutions appear rather limited. Zoho invoice was developed to be primarily an invoicing solution, and thus, it is harder to manage the accounting of your business through it.
However, it is possible to track receivables and payables. Invoices are divided into a very detailed breakdown. Invoices can be divided into paid, unpaid, partially paid, overdue, payment initiated, void or overdue. In case users prefer a different view, they can easily customize it in the dropdown menu.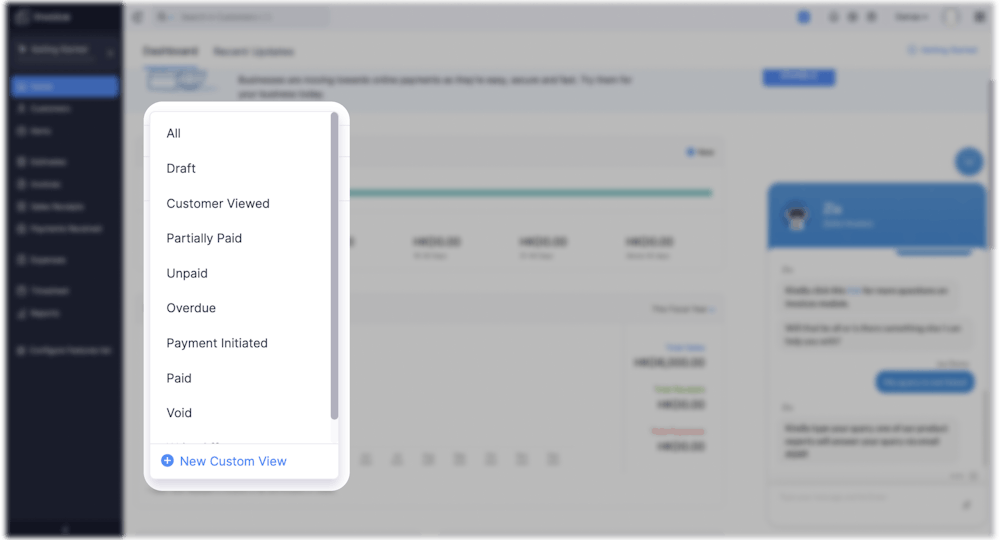 Expenses are tracked on their full journey in Zoho Invoice. The product allows you to record expenses and divide them into non-billable or billable expenses. If the expense is billable, it can be invoiced directly to the client and tracked its payment.
Moreover, the software allows you to pick among ten payment gateway options to be paid online by clients. While the preferred gateway is Stripe, users can also integrate Zoho Invoice with PayPal, Authorize.net, and others.
However, other than these basic features, if users want to have more accounting insights or they have more demanding needs due to a larger or more complex business, they ought to purchase a Zoho Books subscription and a Zoho Expense subscription.
Reporting and Business Intelligence
The software allows users to generate a number of reports. Under the report section, the software allows you to view and filter reports by customer, item, or salesperson and reports about receivables, payments, expenses, taxes, and projects. In addition, it is possible to generate reports on single clients to assess single-client profitability.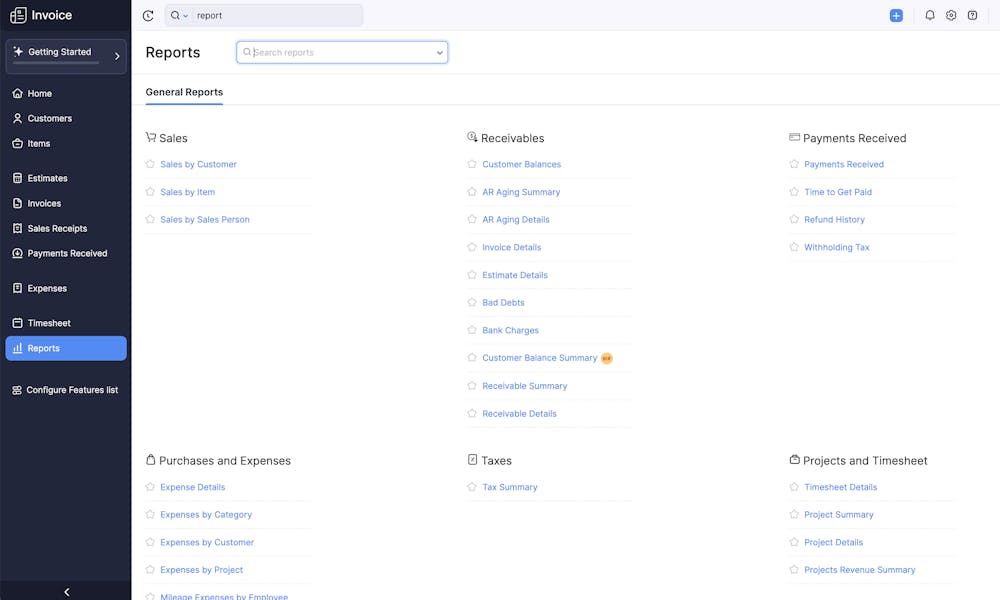 While the reports are easy to generate and understand, they are quite limited. The product does not support advanced analysis or Business Intelligence capabilities.
If users want deeper and more detailed insights, they should purchase Zoho Analytics.
Projects and Time Tracking
Under the timesheet menu, Zoho invoice offers the possibility to manage projects and track time spent on it. Users can manage projects throughout their whole lifecycle, from the customer request to invoicing all performances and closing the project.
Users can be staffed on projects, collaborate and complete different tasks. This allows a business to track the work of multiple employees and log it in a single place.
In addition to that, users can also simply track time and bill clients accordingly. Users can start the timer on the timesheets page and work on the task. Once time is recorded, users can simply assign it to a certain project and select whether it is billable or not. The dashboard also displays how many unbilled hours are outstanding and how many hours were performed on the project.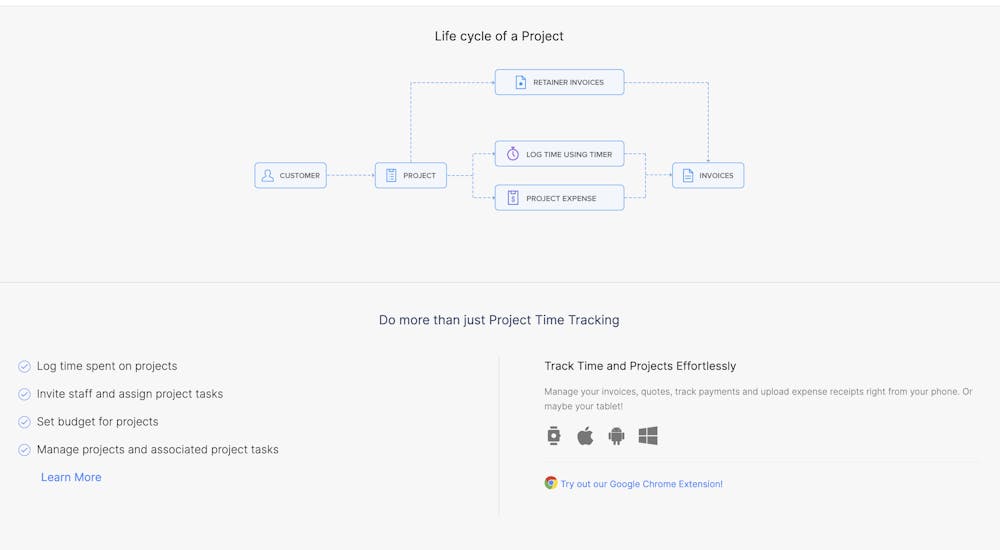 To record a project, users must assign the project to a client, assign staff to it, and select the pricing basis of the project. For example, users can decide whether to bill the client based on a fixed cost or the amount of task hours performed on the project.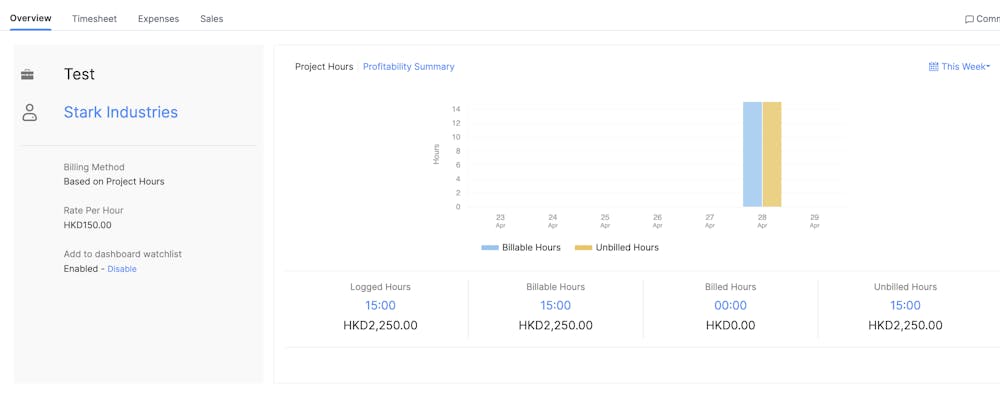 This makes the tracking of projects effortless, and it allows business owners to bill clients quickly and in a flexible way. The high level of customization of projects is a clear strong point of the product. Should users require more advanced features on project management, Zoho Invoice can be connected to a Zoho Projects account.
Supported Integrations With Zoho Invoice
While Zoho Invoice is built primarily as an invoicing software, Zoho Corporation offers a wide range of complementary products that users can access. Customers can connect Zoho Invoice to the previously mentioned Zoho Books, Zoho Expense, Zoho Projects, and Zoho Analytics.
In addition to that, there are other distinctive Zoho apps that can be connected to Zoho Invoice. Among others, users can connect their accounts to Zoho CRM. Zoho CRM allows users to manage their sales, marketing, customer support, and inventory management in one platform. Another solution is Zoho Sign, which allows users to streamline document signing. Another popular integration is Zoho Inventory, which allows users to manage inventory and orders, and integrate shipping.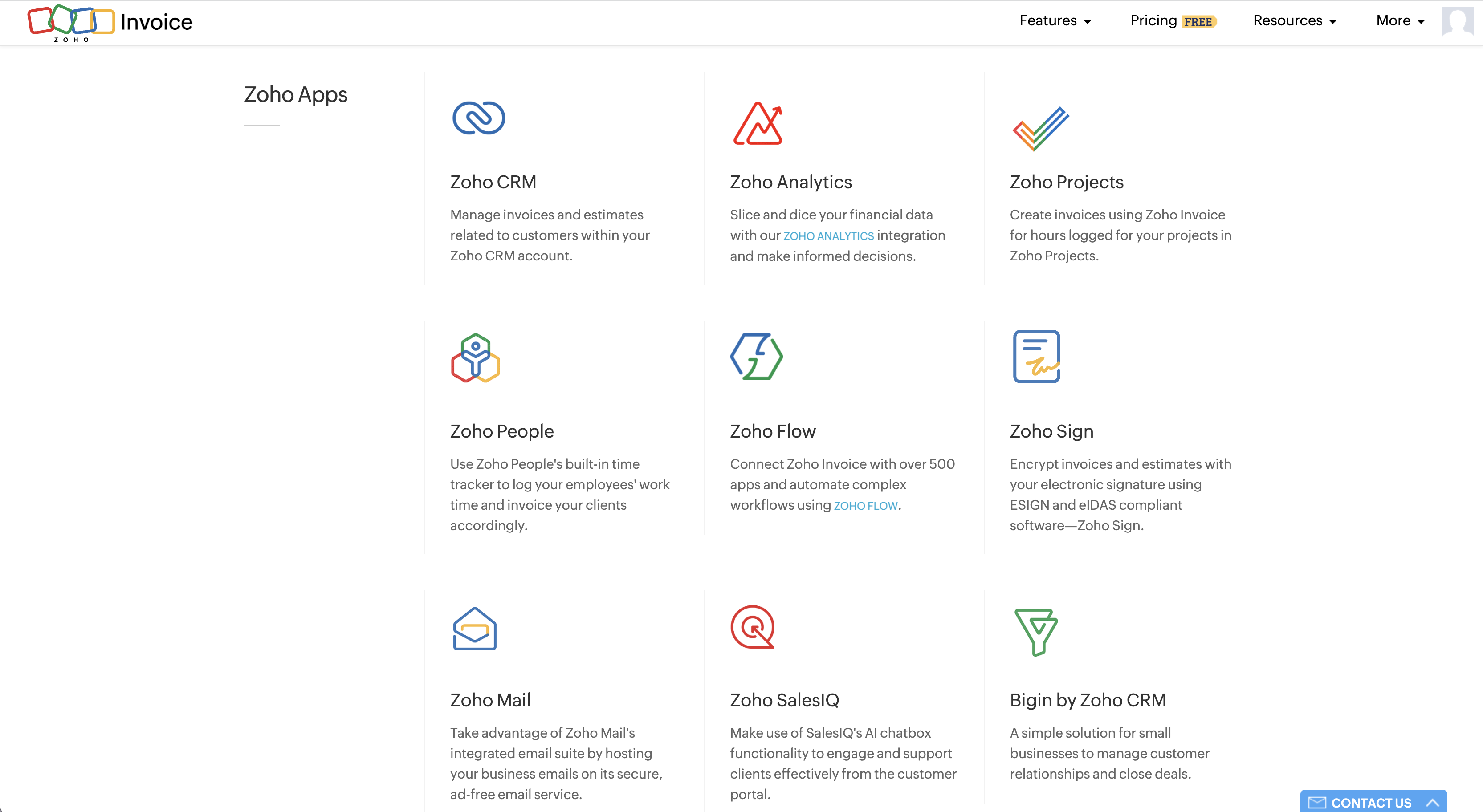 🔎 Insight: Zoho Invoice supports a number of integration, but mostly works best with other Zoho Products.
In addition to the numerous internal solutions, Zoho invoice supports connection to Google services, Outlook 365, Avalara, and Slack.
Overall, Zoho Invoice can be integrated with a large number of solutions. On the other hand, most solutions are within the Zoho network, meaning that users will get full benefits only if they buy complementary solutions and not third-party systems.
For features, we score 4/5. Overall, Zoho Invoice is a complete invoicing software that allows users to perform a number of actions effectively and easily. The features respond to freelancers' and small businesses' needs. However, all features are at a basic level. Should a mid-sized business require more advanced features, there are numerous integrations that allow users to expand the product's capabilities at an additional cost.
User Interface and User Experience
Zoho Invoice's interface is user-friendly and easy to navigate even for those who are less experienced. The Zoho invoice dashboard presents information in a clear and easy way to read. It highlights receivables, unpaid invoices, and total sales.
All functions are accessible from the menu on the right, as shown in the picture, and all functions are straightforward to navigate. The invoicing system is intuitive and all reports are presented in a list divided into categories. The invoice layout is clear and the customizable invoice templates are a valuable feature for businesses to tailor their communication with clients.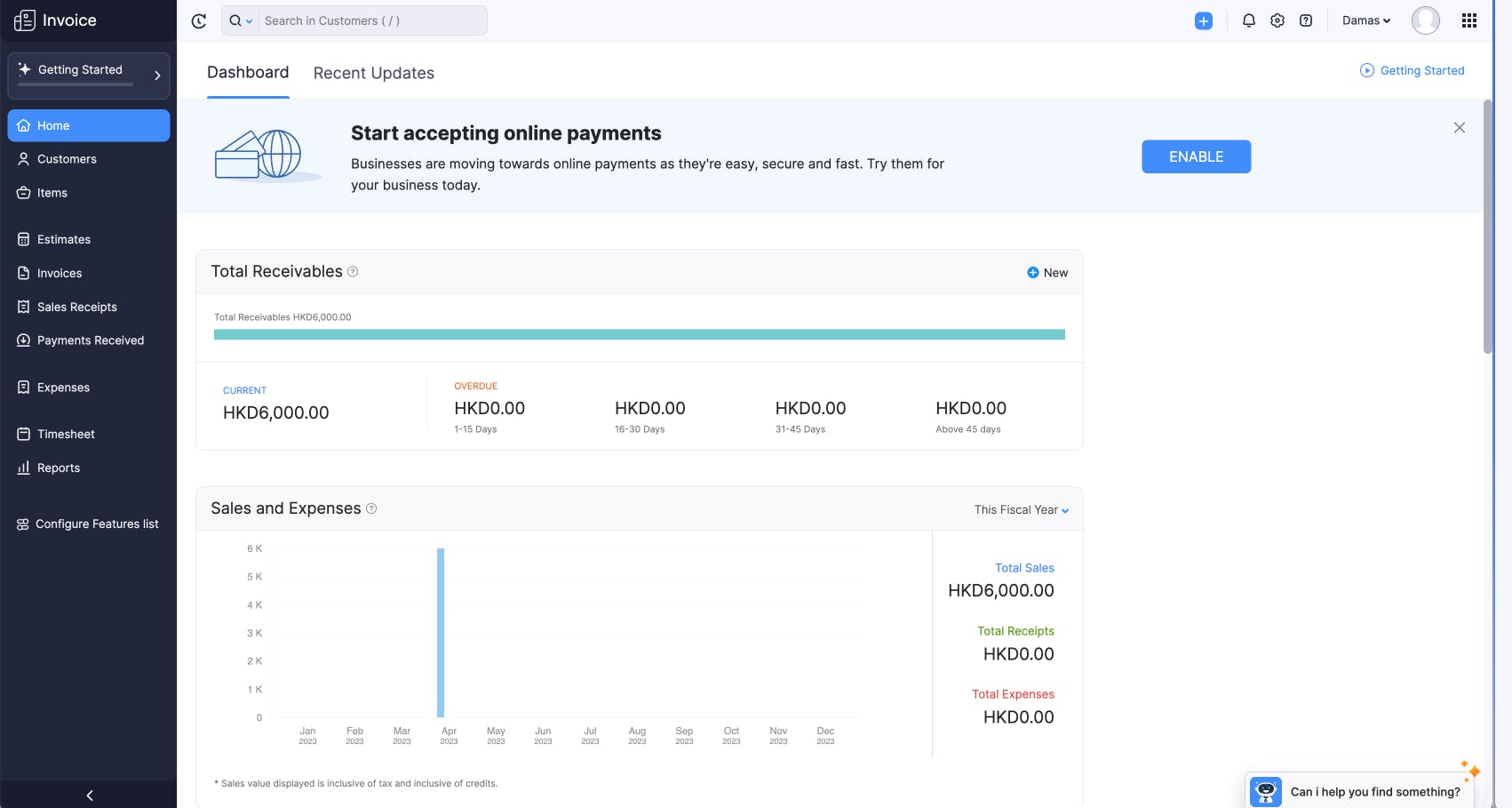 We score 4/5 for UI & UX. The product is user-friendly, it displays all functions in a clear manner with way and all functions that are easy to find and use. The graphics and the presentation of the product are simple and neat.
Zoho Invoice Customer Support
Users have multiple options when it comes to reaching support.
Users can chat anytime with an AI-powered chatbot which provides a set of questions that redirect users to a detailed help page. If users are unable to find what they are looking for in the pre-set questions and help pages, users can type directly in the chat the question and someone from the Zoho Invoice team will get back with an answer.
Even if users do not type their question in the chat but click on 'my query is not listed', someone from the Zoho team will be in touch in a short amount of time. This shows the good response speed of customer support.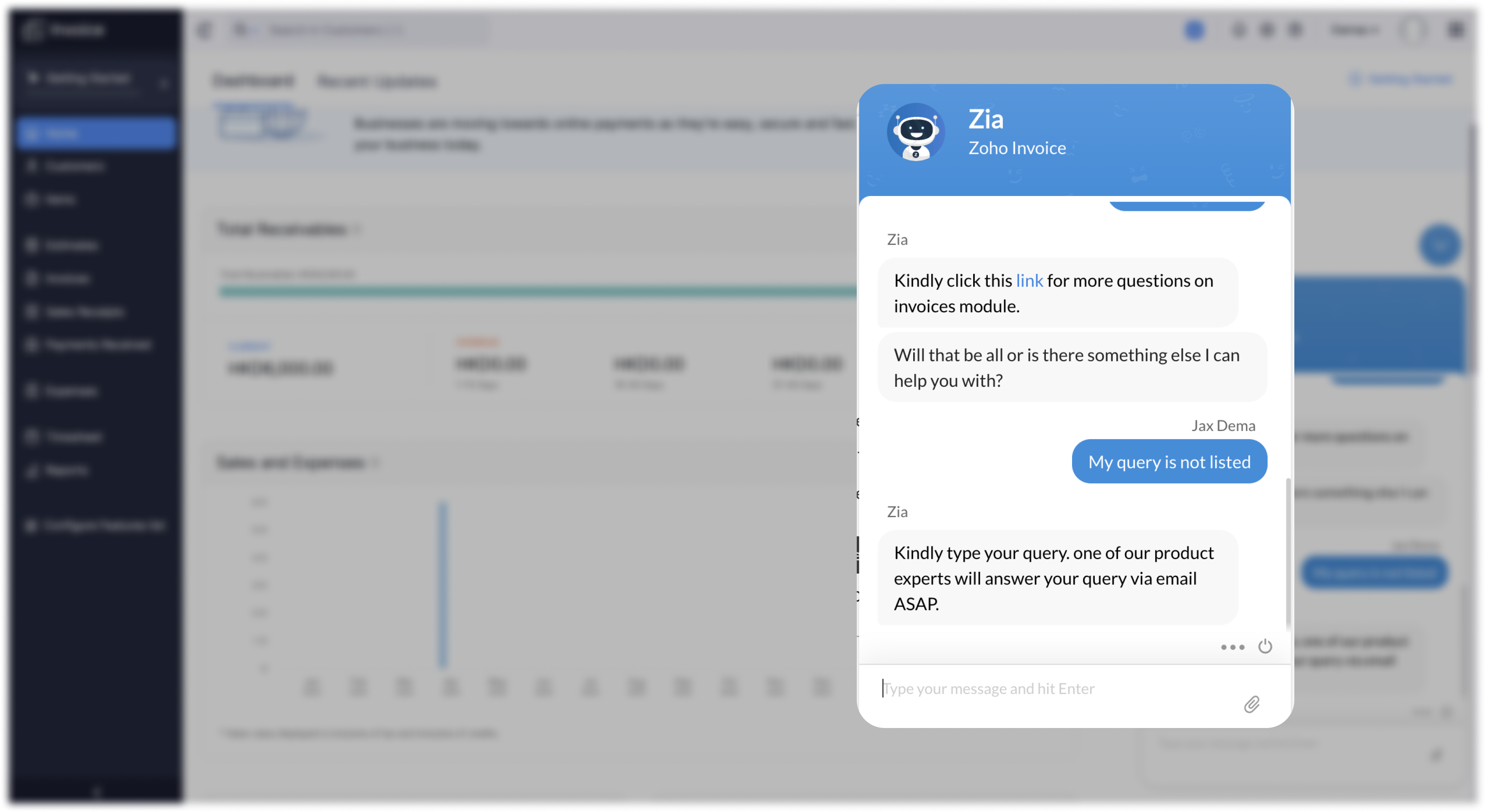 In addition to that, users can call a Zoho office during business hours to receive support over the phone. The phone numbers are presented on the company's website along with more company information. Currently, there are phone numbers for 17 local offices on the website.
Customer support gets a score of 4/5. While previous Zoho Invoice reviews have highlighted fluctuations in response times, it is clear that the support provided to customers is extensive. Zoho Invoice also offers customer support through email, live chat, phone calls, and a knowledge base. Moreover, phone calls are available in different countries during business hours.
Creating An Account With Zoho Invoice
Creating an account with Zoho Invoice is a simple process. Customers have to simply follow these steps: go to the signup page, fill in your personal and company data (full name, email address, password, company name, and location), agree to terms, and confirm the account by accessing the link sent via email.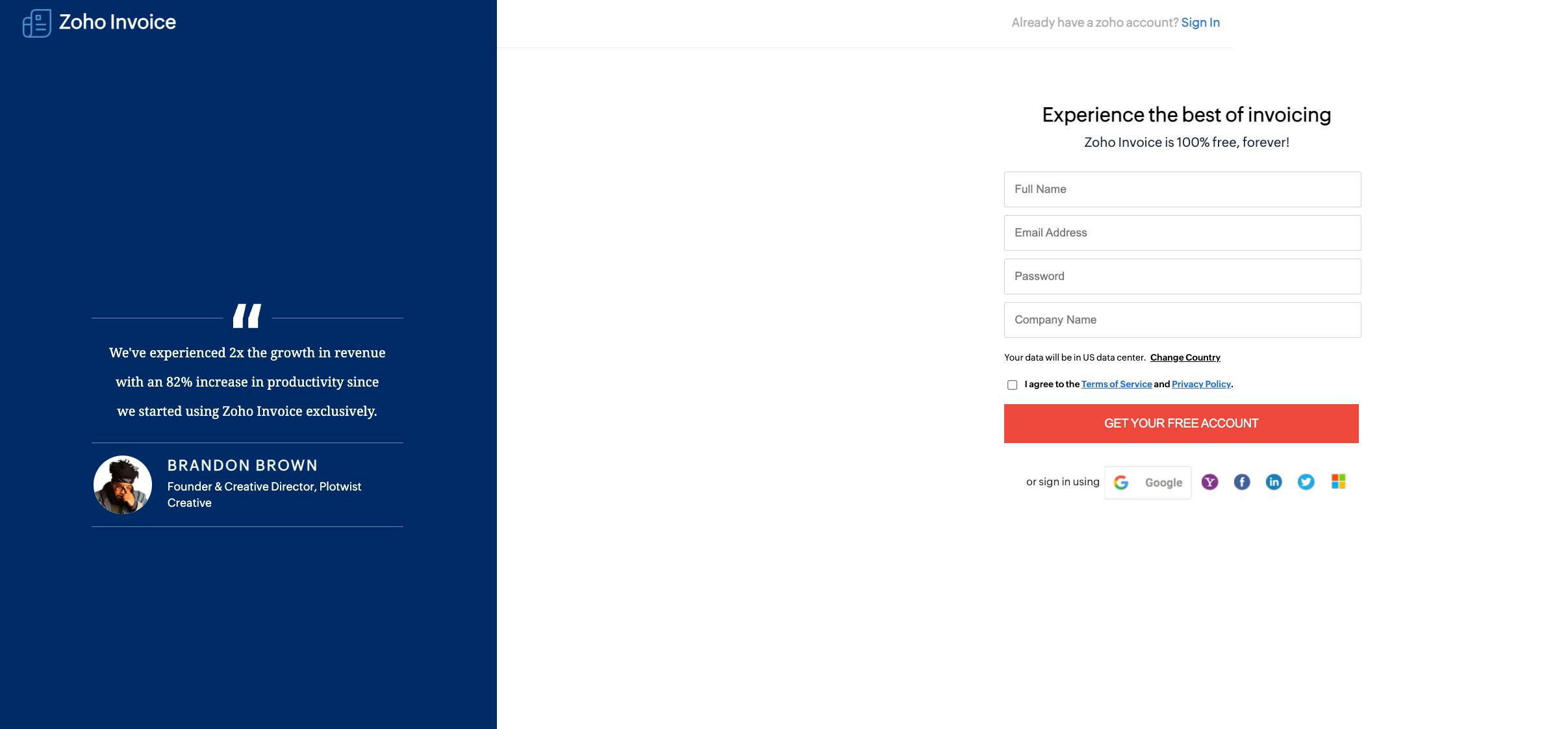 Final Thoughts: When Should You Use Zoho Invoice?
Zoho Invoice is a great invoicing software that responds to small businesses needs for free. It streamlines the invoicing process and makes it easy and quick.
If you are a small business owner, a freelancer, or someone in need of a straightforward invoicing tool, Zoho Invoice can be a solution that caters to your needs. Moreover, should you require more advanced features, you can integrate Zoho Invoice with other Zoho products, such as Zoho CRM. However, keep in mind that purchasing plans on other Zoho apps might make the pricing of the full package more complex.
Perhaps this is the main pain point of Zoho Invoice. While the invoicing features are complete and accessible, the accounting features such as the creation of reports or expense tracking, are elementary, as Zoho provides other products specialized in these areas. Unless users are not fully convinced by Zoho's solutions, they might consider other invoicing software, especially if they are hesitant to buy a range of Zoho services.
Zoho Invoice is a complete invoicing software that allows small business owners and freelancers to manage invoices, expenses, receivables, and projects effectively. Despite being completely free, it offers a complete suite of features. On the other hand, its main integrations are limited to other Zoho apps, and it is difficult to integrate with third-party products, which can be a major weakness.
💡Need an easy way to generate invoices? Check out our guide on how to create invoices or use Statrys Invoicing Software
Zoho VS. Freshbooks VS. Quickbooks
If Zoho Invoice doesn't cover all your needs, you can consider Freshbooks and Quickbooks as an alternative.
Here's how they compare to Zoho Invoice:
Accounting Features: Compared to Zoho Invoice, Freshbooks and Quickbooks provide a more comprehensive accounting solution as part of the package. Though the costs might be higher, you will be equipped with a more complete suite of accounting tools with reporting, expense tracking, and other features.
Integrations: Zoho Invoice works best integrating with the other Zoho products such as the CRM software to expand on its features. However, going with Freshbooks or Quickbooks allows you to have more flexibility in integrating with different software for a more customized experience for your needs.
Customization: Zoho Invoice provides a variety of invoice templates that you can use. But if your business needs a tool that allows you to customize more freely for your brand or design scheme, then Freshbooks might be more suitable for you.
The factors that help you decide which invoicing tool is best for you will depend on your business needs. So we highly recommend that you take the time to review and prioritize the features you need to help you make the right choice.
We also have a review on Zipbooks for you to make a detailed comparison.
If you find anything missing in this review, feel free to reach out to us.
FAQs
Zoho Invoice is a completely free invoicing tool. You will only need to pay for other Zoho products if you want to integrate Zoho Invoice with them.
What is Zoho Invoice for?
Can I create invoices on Zoho?