Today's digital marketing field has grown into a highly competitive one. Because of that, marketers are constantly looking for the best email marketing software to invest in, apart from other marketing efforts, like social media and SMS marketing.
At the same time, users are a little bit more reluctant to interact with email marketing campaigns that are not personalized and tailor-made. This is partly because ads and email blasts have created suspicion when it comes to a product.
As a marketer, this will probably make your efforts a little more difficult if you're not using email marketing tools that offer personalized emails and marketing automation capabilities.
When starting an ecommerce business, it's important to remember that email marketing remains the most cost-effective way to draw attention to your brand and build a meaningful relationship with your audience:
When done right, email marketing can elicit an emotional response and make users think that they're talking to someone who knows them and their habits. Of course, to get a result like that, you need to take data-driven steps. Especially when it comes to understanding your target market, the segments within this market, and the way your prospects interact with your online store and complete purchases.
The best email marketing software platforms can give you all the necessary features to create marketing campaigns that make sense. Simply pick one with tools that can help you individualize your email marketing strategy and cater to each recipient of your email marketing campaigns.
But what is the most popular email marketing platform, and what are the tools that the best email marketing services carry?
Let's see!
 

Best Email Marketing Softwares in 2023

Pricing per Month

Free Trial

✅ User-friendly customization options
✅ Clear reporting and analytics of emails
USD13
to
USD350
✅ (30 days)
✅ All-in-one business platform
✅ Customizable email templates
✅ Analytics reports
USD3
to
USD1035
✅ (30 days)
✅ Different email templates to choose from
✅ Paid newsletter subscriptions
USD10
to
USD54
✅ (30 days)
✅ Suited for ecommerce businesses
✅ Efficient customer support
✅ Easy to set up and use
USD39
to
USD1899
✅ (14 days)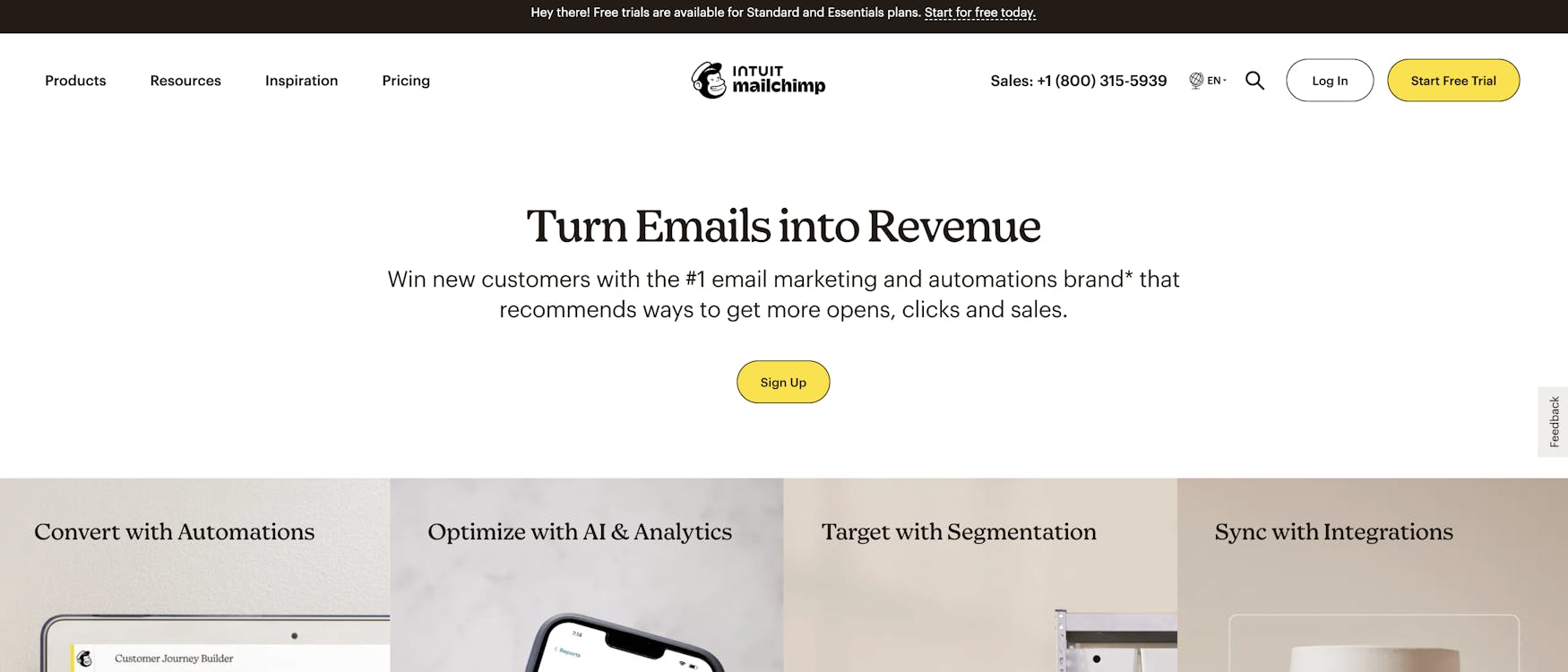 Mailchimp is one of the most popular email marketing tools, mainly because of its CRM capabilities and free plan, but has some downsides that could be a real user headache.
Mailchimp Key Features
Like most email marketing tools, Mailchimp can help you create comprehensive email campaigns with its Drag-and-Drop editor. Its interface uses content blocks and features that are powerful yet not so easy to understand. However, the platform offers an extensive knowledge base. This marketing software platform can boost email marketing efforts for medium-sized businesses in the ecommerce niche through eCommerce automation workflows.
Despite its popularity, Mailchimp can become quite pricey quite fast. Its cost compares to that of Hubspot email marketing software, making it a little too steep for larger ventures.
Mailchimp sports some of the best email marketing software features for its cost. One of the core ones is cross-device testing for your email marketing campaigns. On top of those, Mailchimp offers lead generation features like landing pages with a comprehensive landing page builder, as well as SMS marketing options.
As a result, Mailchimp can be considered to be a very well-rounded marketing automation platform and one of the best email marketing services overall.
Another key Mailchimp email marketing feature is the automation workflows the marketing software provides, which is a core feature of all email marketing tools. Through Mailchimp, you can create multi-step automation workflows that will boost your email marketing through email marketing automation emails like drip campaigns, welcome email series' and onboarding sequences that make sense.
Mailchimp is among the best email marketing software solutions due to its versatile email marketing and marketing automation features and its powerful reporting and analytics that help with data-driven decisions. However, this email marketing tool could get very pricey and complex very fast.
Mailchimp Pricing Plans
Free
Essentials
Standard
Premium
Monthly Fee
Free
Starts at USD13
Starts at USD20
Starts at USD350
Contacts*
500
500
500
500
Monthly Emails
1,000
5,000
6,000
150,000
Users
1 seat
3 seats
5 seats
Unlimited
Features
✅ Limited pre-built templates
✅ Integrations
✅ Limited email support
✅ Basic reporting
✅ Forms and Landing Pages
Everything in the Free plan plus:

✅ More Pre-built templates
✅ 24/7 email and chat support
✅ A/B Testing
✅ Removable branding
✅ Additional features
Everything in the Essential Plan plus:

✅ Enhanced Customer Journeys
✅ Custom-coded templates
✅ Dynamic Content
✅ Campaign Manager
✅ Additional Features
Everything in the Standard Plan plus:

✅ All additional available features
*Note: These prices are for 500 contacts. Prices will increase as you increase your contacts.
Mailchimp Pros and Cons
As with any email marketing platform, Mailchimp comes with a list of pros and cons for your digital marketing and email marketing plans. Let's see what these are.
Mailchimp Pros
This email marketing software comes with a powerful email template editor for your email campaigns, as well as an email templates library.
Mailchimp is one of the most expansive email marketing services, providing new features constantly.
The email marketing platform offers SMS options, which is a huge plus.
Mailchimp Cons
The free plan might be in the forever free category, but it doesn't cover all that much. The paid plans that follow are quite steep, especially for small businesses.
The Mailchimp logo in your email campaigns could lead to branding conflicts, but it's a constant of the free plan.
Small businesses could surely use better access to support in the free plan.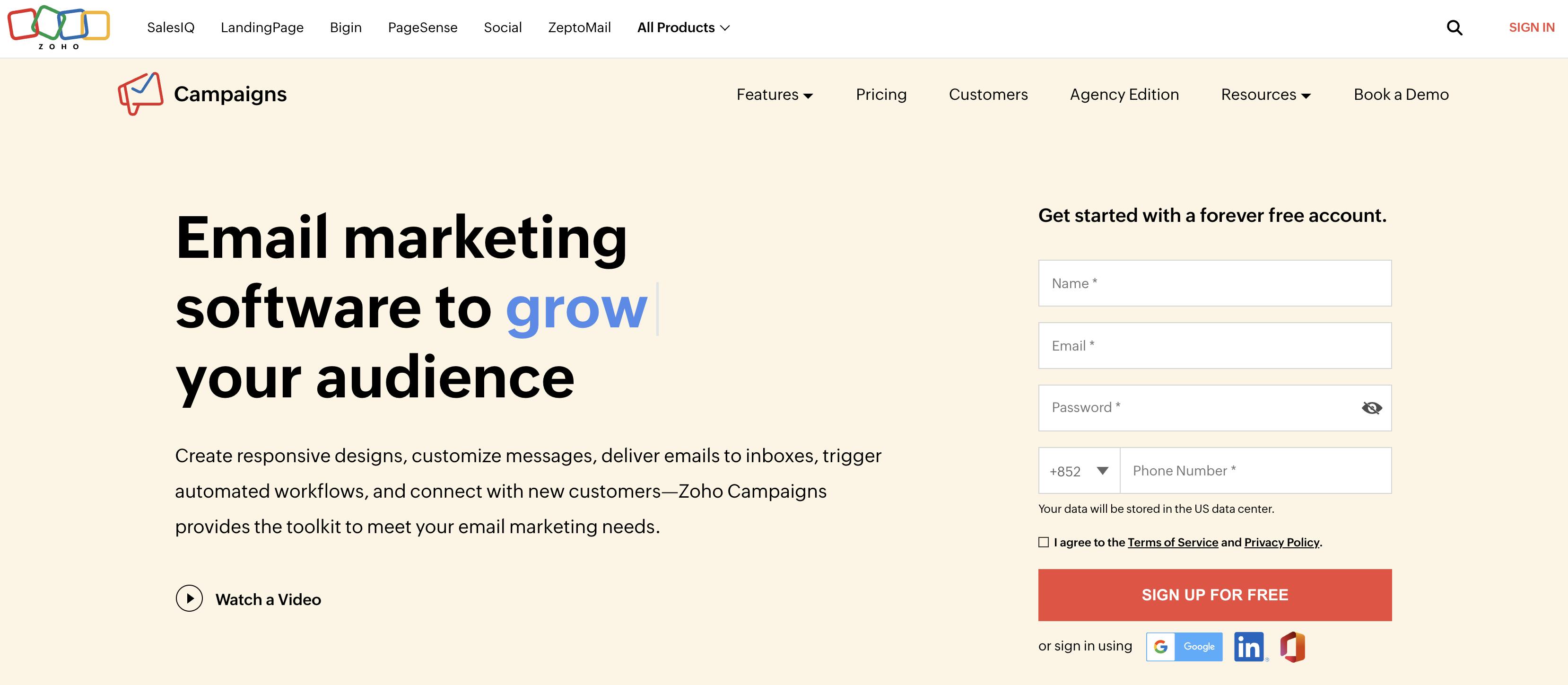 Zoho Campaigns is one of the email marketing tools that are fairly new to the game. It's an affordable email marketing solution with comprehensive marketing software features but lacks the popularity of other email marketing software platforms featured in this list. Let's see why.
Zoho Campaigns Key Features
Zoho Campaigns is an email marketing software platform that is affordable and ideal for users who just need to get started with email marketing. It's a nice solution, especially for small businesses and online stores that are just starting out.
The email marketing platform features a user-friendly interface and drag-and-drop email editor functionality. While the editor is admittedly user-friendly, according to reviews, the designs are a little outdated.
As expected, Zoho Campaigns can sync with the Zoho CRM tool perfectly, making it ideal for users who wouldn't spend time and resources syncing their data. This email marketing tool also offers the option of ready-made subscription forms and automated workflows that boost customer journeys.
Another great feature of this email marketing platform is the fact that it features SMS marketing options that allow your business to contact its audience through more than one digital marketing touchpoint.
Zoho Campaigns also offers lucrative email marketing software features like A/B testing and content marketing tools like dynamic content. Another nifty tool of this email marketing platform is the automated segmentation option and list management tools.
All in all, Zoho Campaigns is fairly close to an all-in-one marketing software option that uses interactive elements like polls and GIFs and a geo-tracking feature that gives back data and helps you make the best decision for your brand at the right time.
Zoho Campaigns Pricing Plans
Forever Free
Standard
Professional
Monthly Fee
Free
Starts at USD3
Starts at USD4.5
Contacts
500
500
500
Monthly Emails
6,000
Unlimited
Unlimited
Users
5 users
10 users
20 users
Features
✅ Signup Forms
✅ Basic Email Templates
✅ Compliance Check
Everything in the Free Plan plus:

✅ Basic Segmentation
✅ Basic Workflows
✅ Advanced Templates

Add-ons:
✅ Dedicated IP
✅ SMS Marketing
Everything in the Standard Plan plus:

✅ Dynamic Content
✅ Advanced Segmentation
✅ Batch Sending
✅ Advanced Workflows
✅ Additional Features

Add-ons:
✅ Dedicated IP
✅ SMS Marketing
*Note: These prices are for 500 contacts. Prices will increase as you increase your contacts.
Zoho Campaigns Pros and Cons
As with all email marketing software platforms, Zoho Campaigns come with some pros and cons.
The Pros
The reporting and analytics feature is powerful and can lead you to data-driven decisions for a successful email marketing campaign.
The integration with Zoho CRM is almost automatic, and it can help you nurture leads and group your contacts better.
It truly is very close to an all-in-one marketing tool, as it allows audience management and campaigns through social media posts.
The Cons
Despite its email marketing capabilities, Zoho Campaigns is a marketing platform that lacks some features and doesn't offer good deliverability options.
Users have reported that the dashboard setup takes more time than they would've hoped.
The email marketing software might be simple, but the onboarding process takes quite some time.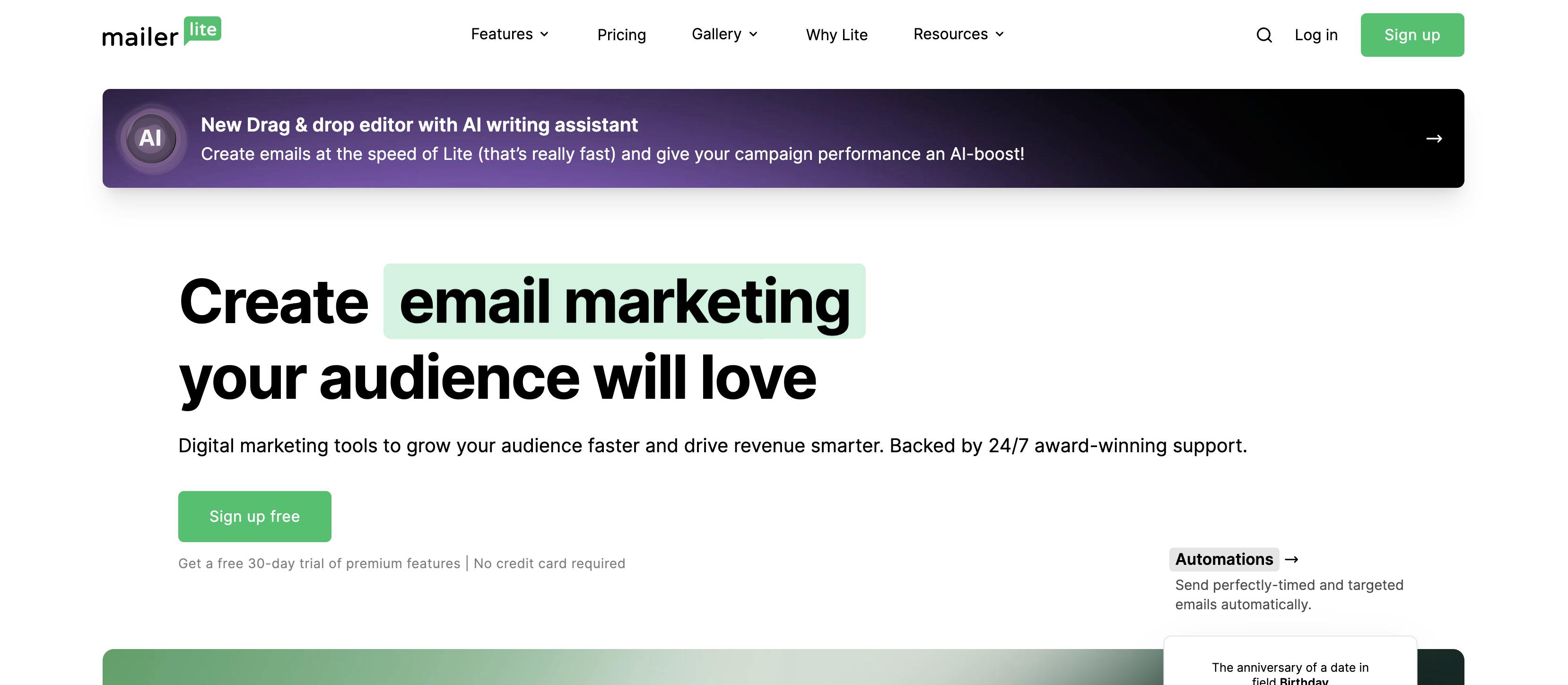 MailerLite is another popular email marketing service and one of the newer email marketing services. MailerLite offers a clean and simple interface and plenty of options when it comes to getting help and support in a language other than English. But what makes MailerLite one of the most popular email marketing software platforms?
MailerLite Key Features
As with every popular email marketing and marketing automation platform, this email marketing software sports an easy-to-use Drag-and-Drop editor with plenty of content options through popular image libraries or your social media posts. The only downside to that - if one could call it that - is the fact that the HTML version of the editor is only available in the Advanced pricing plan.
MailerLite's powerful segmentation options are also quite popular among various marketing features, as it allows you to create smaller bits of your list in your email marketing system and interact with them in a way that will boost your click-through rates. This can be achieved through personalized content or optimized sending times.
Your email campaign performance is a metric that you'll always look into, and MailerLite is one of the email marketing platforms that can guarantee great performance due to its A/B testing options.
Landing pages and subscription forms are among the staples of email marketing platforms, and this email marketing software offers the option for lead generation through these two features. It's especially useful for eCommerce businesses; just create a landing page with an interactive feature that will improve the purchasing process, ask for an email address, and you'll be good to go. This process will improve your open and click-through rates as well.
Lastly, this email marketing service offers a wide variety of beautiful templates that can boost your efforts - provided you're opting for one of the paid plans, that is.
MailerLite Pricing Plans
Free
Growing Business
Advanced
Monthly Fee
Free
USD9
USD19
*Subscribers
Up to 1,000
Up to 1,000
Up to 1,000
Monthly Emails
12,000
Unlimited
Unlimited
Users
1 user
3 users
Unlimited users
Key Features
✅ Drag & Drop Editor
✅ Email Automation Builder
✅ Websites
✅ 10 Landing Pages
✅ Sign-up Forms
Everything in the Free Plan plus:

✅ Selling Digital Products
✅ Unlimited Templates
✅ Dynamic Emails
✅ Auto Resends
✅ Unlimited Websites & Blogs
✅ Unsubscribe Page Builder
Everything in the Growing Business Plan plus:

✅ Facebook Integration
✅ Custom HTML Editor
✅ Advanced Automation
✅ AI Writing Assistant
✅ 15% off Google Workspace
*Note: These prices are for 1,000 subscribers. Prices will increase as you increase your subscribers.
If you find that these plans don't fit your needs, MailerLite has an Enterprise plan for businesses with over 100,000 subscribers and can provide everything the Advanced plan does, plus a dedicated success manager and custom newsletter design, among other things.
MailerLite Pros and Cons
As with any email marketing service, MailerLite comes packed with features but also some pros and cons.
The Pros
MailerLite sports a minimalistic interface and an easy-to-use Drag-and-Drop email editor, making it an efficient choice with a short learning curve.
The Free option offers a lot of the core email marketing tools for limited use, like landing pages and forms that you can optimize for SEO.
Its A/B testing tools are worth a shot, as they can help you boost your email marketing efforts.
The Cons
If you're not the best designer out there, you may find this email marketing service a little difficult to use, as you'll need to create your emails from scratch.
MailerLite offers basic reporting options but nothing too powerful or impressive.
While MailerLite is one of the email marketing services that offer multiple triggers when you set your automation, it doesn't offer complex automation options.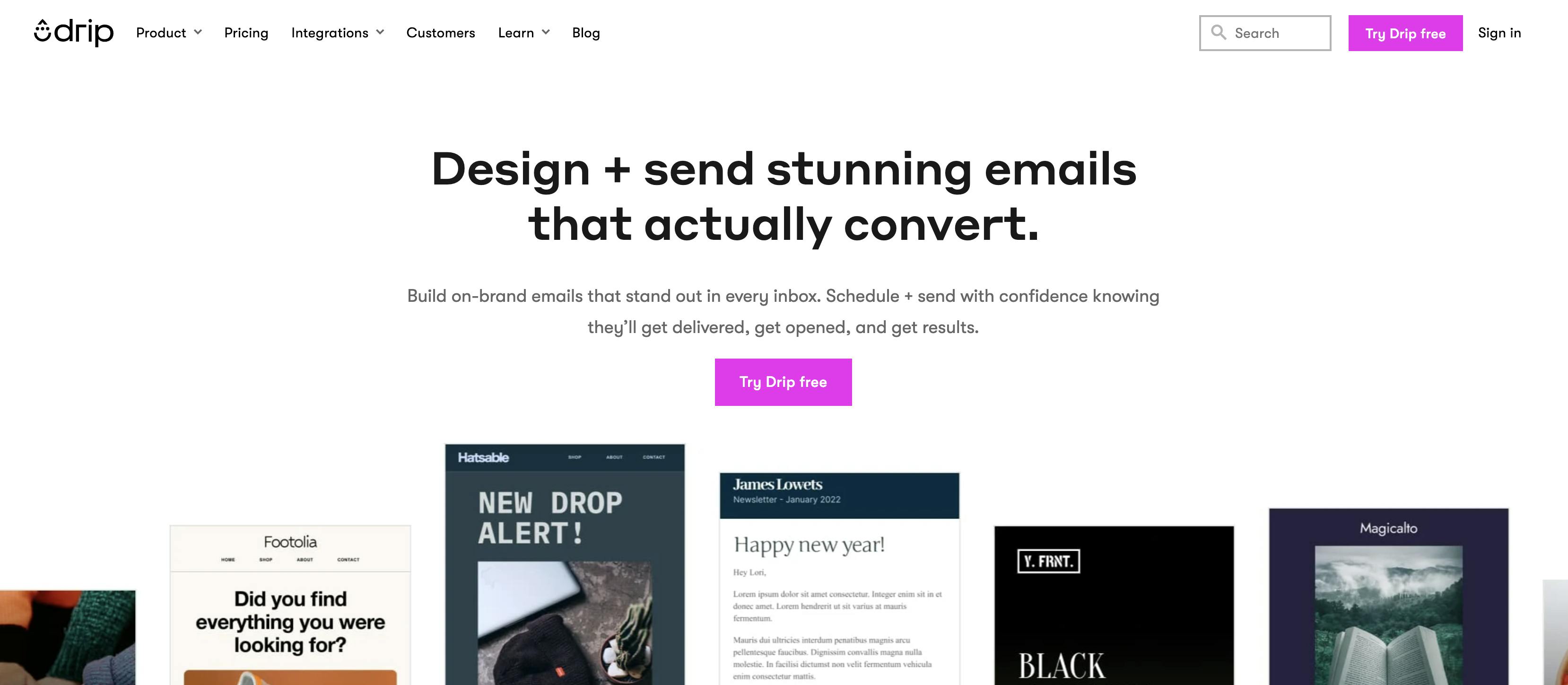 Drip is an eCommerce business favorite. This email marketing service is one of those that promote growth at scale, with a lot of integrations and simple procedures. However, consumers seem to have mixed feelings regarding its effectiveness.
Drip Key Features
The first in our list is one of the core features email marketing tools offer, which is powerful list segmentation. As we know, list segmentation is a staple that can help you throughout your journey. Drip makes segmentation easy to achieve with advanced filtered search and demographics that will help you group up your audience.
Another quite nifty email marketing feature is the dashboard view that sorts users into "Active" and "Inactive". Just set the parameters that work for you and decide whether your objective is to prune your list or reactivate users by engaging them through content.
Drip is one of the email marketing platforms that carry pruning and list-cleaning features to ensure you have a healthy email list through social media platforms as well. You can use your Facebook Custom Audiences data, synchronize it with your list of contacts, and segment users based on their engagement and interaction with your brand. You can use this email marketing best practice before setting up your first automation.
So, as far as automation is concerned, Drip promises a short marketing automation learning curve with workflow templates and fully customizable rules and triggers to set and forget when it comes to sending your email campaigns. This email marketing platform sports a handy automation editor and a comprehensive library of automation recipes.
Email campaign building is also simple and intuitive, with two options to choose from. If your audience favors visual content over anything, the visual builder is for you. If you're well-versed in HTML, you can use the text-based HTML builder for your email campaigns.
Finally, this email marketing software sports an analytics tool to help you make data-driven decisions for your brand by telling you exactly what works and what you'll need to change to make the most out of your next email marketing campaign.
Drip Pricing Plans
There is a free 14-day trial to help you decide whether or not this email marketing tool is for you.
 
1-2,500 People
5,001-6,000 People
6,001+ People
Monthly Fee
USD39
USD99
Above USD100
Contacts
2,500
6,000
6,001+
Monthly Emails
Unlimited
Unlimited
Unlimited
Features
✅ Onsite Campaigns
✅ Email Support
✅ Free Migration
Everything in the previous tier plus:

✅ Included Chat Support
Everything in the previous tier plus:

✅ A dedicated Customer Success Manager (once your range reaches the USD1,299 per month)
Pricing starts becoming a little unclear at the 190,000 contact mark. At this stage, a dedicated customer success manager is added to the list of features. However, the platform prompts users to chat with a representative and get a quote.
Drip Pros and Cons
As with all the best email marketing tools, Drip comes with pros and cons that vary for each person.
The Pros
Drip is one of the best marketing automation platforms in the market. Despite it not being an all-in-one marketing tool like most of the tools in this list, its handy automation builder is a user favorite.
Managing your email lists, pruning contacts and understanding segments is another user favorite, as Drip's state-of-the-art tools make it a breeze.
The platform offers SMS marketing options that help you target your audience on multiple platforms, as well as plenty of integrations.
The Cons
Drip might be one of the email marketing platforms that offer flexible pricing, but it still is a pricier option than its competitors.
Importing contacts might be easy, but the platform supports CSV files alone. Your alternative here is to import your contacts by hand.
There is no landing pages feature, only a Leadpages integration. This could potentially hinder your lead-gen game.
Criteria for Selecting the Best Email Marketing Software
Now that you have a general understanding of how the most popular email marketing and marketing automation platforms work, let's talk about the criteria that will help you pick out the platform that works for you.
Ease of Use
Marketers are forever looking for email marketing software that can help them create and manage their campaigns easily and effectively. The reality is, there's a good mix of software that are simple to use and others that are more complex.
Platforms that will take too long to get used to just won't do. You need an email marketing service that can help you scale your growth through a comprehensive knowledge base, a phone system that will support you every step of the way, and clear and concise demos.
Pricing
How many emails do you need to send monthly? How many contacts would you like to reach ideally within X period of months? Do you need simple email sequences, like a welcome email, or more complicated ones, like transactional emails? Answering these questions will help you pick out an email marketing platform that will boost your growth appropriately.
Perhaps you'll be fine with a provider's free forever option, despite the fact that free forever plans tend to have limited features. Perhaps you'll be more comfortable with a "pay-as-you-grow", or a "Credits" option - which is ideal if you're not sending email campaigns frequently.
Decide if you want your fee to be charged monthly or yearly - some bundles offer limited features and could only be good for the first month or two. Also, check what each bundle includes. It's not unheard of for marketing platforms to not include important tools like SMTP or transactional emails in their lower-tier plans.
Whatever you decide, make sure to test the platform at hand through either their forever-free option or their free trial option. Email marketing remains the most lucrative way to boost your ROI, sure, but this doesn't mean it can't break the bank.
Integrations Options
Some of the best email marketing platforms out there don't carry integrations that could boost performance and shorten the curve a little bit more. And learning a new tool is more than a little time-consuming. Opt for an all-in-one marketing tool that will have CRM integration. Keeping your email list updated is a task that you can automate after all, and to do that, you need seamless integrations that will give you all available data.
When you work in digital marketing, your CRM (Customer Relationship Management Software) is your best friend. Updating lists and sending emails manually is time-consuming, so choosing an email marketing platform that integrates seamlessly with your CRM will provide you with a hassle-free solution for managing valuable content and customer data, as well as provide you with an overview of key metrics (open rates, click-through rates) to see which campaigns are performing the best.
Analytics and Reporting
Powerful reporting and analytics are core features of your email automation software, as they allow you to understand what works for your audience and what needs to be changed.
Look for a platform that allows you to understand your key email marketing metrics:
Your open rate
Your click-through rate
Your bounce rate
Your ROI as a whole
Understanding those metrics will help you create customized, tailor-made campaigns that meet your individual needs.
Features/Functions
Lead Generation Tools
An email marketing and marketing automation platform with built-in lead generation tools is quite important, especially if expanding your audience and having better market reach is one of your goals.
Creating landing pages or subscription forms is paramount when it comes to generating leads online and growing your subscribers' list. Landing pages or subscription forms offer a fantastic opportunity to get new subscribers, segment them, and, in the end, create a list of interested leads.
Segmentation and Personalization Tools
Your audience is a diverse group of individuals. And while the need for your product or service might be the same, the reasons behind this need may be completely different.
To ensure your audience receives valuable content, you will need your email marketing platform to feature segmentation and personalization tools. Such features will allow you to create tailor-made and relevant messages that will resonate with each recipient.
You can segment according to interest, and region, or even use behavioral criteria, like the user's previous purchases or the products they've already viewed.
You can also use dynamic content to create relevant messages that can change depending on the recipient. Of course, to segment, personalize, and use dynamic content efficiently, you will need to use the data your users have shared with you through your signup forms and landing pages.
Email Editor and Templates
The main reason for investing in an email marketing and marketing automation tool would be to create and curate personalized email marketing campaigns.
This means that the platform you're going to choose will need to feature a robust email editor and email templates that will be fully customizable. However, the main thing to look out for will be for the templates to be fully responsive as well.
According to Forbes, "Mobile accounts for 46% of all emails opened by consumers and professionals", meaning that a non-responsive template can cost you more than half of your conversion.
Easy Automation Tools
Automation is another essential component you'll have to look for when picking out the email marketing and marketing automation tool that meets your needs.
Automation sequences use triggers and ensure that marketers can send just the right thing at the right time. And since these emails stem from a user action that activates the trigger, they seem like a natural continuation of the user's interaction with your brand.
In this case, whether we're talking about a sales email or a simple welcome email sequence, users will see something that resonates with them, not an email blast that won't have the desired outcome.
Not to mention how valuable automation sequences are as an ecommerce tool to marketers themselves. After all, automating repetitive tasks can save a lot of time and effort that will be best spent on brainstorming and other marketing actions.
A/B Testing Tools
This is one of the most important aspects of marketing in general. A/B testing, or split testing, allows marketers to understand what works for their brand and what doesn't.
Create two emails that will be almost identical but will differ in one key component. It can be anything from your email subject line to your CTAs, headlines, or anything. After sending your A/B testing email campaign, determine the winning components using your data.
Built-in A/B testing tools can help marketers understand their audience and assist in boosting their conversion rate and ROI down the line.
Customer Support
As mentioned above, customer support is imperative when attempting to shorten the learning curve. Some platforms don't offer customer support for their free plans, and some others, like Constant Contact, offer award-winning support.
Generally speaking, customer support should be an undeniable staple when it comes to picking out email marketing software, as it can boost your efforts and help you solve problems that will be created, especially when you're first starting out.
The Takeaway
When it comes down to determining which email marketing and marketing automation platform is the best for your business, there are many factors to consider. 
However, in the end, only you know what will make your product shine and appeal to your audience. Not to mention the features that matter most, according to your online marketing plan.
FAQs
What are the consider when selecting an email marketing software?
There are a lot of things to consider when selecting email marketing software. Here are the things to look at before choosing one, such as ease of use, pricing, integrations options, analytics and reporting, features and functions and customer support
What are the 4 best email marketing software?
How much does it cost to use an email marketing software?