8 Ecommerce Business Insurance to Consider in 2023
The Harford: Best for overall ecommerce businesses
NEXT: Best for Amazon sellers
Nationwide: Best for brick-and-mortar businesses with an online store
Thimble: Best for craft businesses
Hiscox: Best for a small professional service business
Chubb: Best for business owner's policy
Geico: Best for small business owners with vehicle(s)
biBERK: Best for businesses in need of basic coverage
Whether you're about to start your online store or you've been in business for years, having insurance is crucial for protecting your company. However, with numerous options available, it can be daunting to know where to start.
This article will guide you through all the different types of ecommerce business insurance and its providers and help you select an insurance policy that suits your business needs.
Without further ado, let's get started!
What Is An Ecommerce Business Insurance?
Ecommerce business insurance is designed to protect online businesses from risks and liabilities resulting from property damage, product liability claims, cyberattacks, business interruption, and more.
Who Needs An Ecommerce Businesses Insurance?
In short, if your business is involved in online selling, you need ecommerce business insurance. Whether you sell items on platforms like Amazon and eBay, sell handcraft products, or operate a dropshipping business,  you will benefit from insurance coverage.
This insurance protects against unexpected events that could disrupt operations and cause financial losses.
Note: If you are a seller on Amazon with a Pro Merchant package and your gross sales reach $10,000 per month, Amazon requires you to have small business insurance.
Types of Insurance for Ecommerce Business
For ecommerce businesses, various types of insurance coverage are available to cater to specific needs. Let's take a brief look at the options:
| | | | |
| --- | --- | --- | --- |
| Type | Coverage | Suitable for | Average Price |
| General Liability Insurance | Protection against bodily injury, property damage, and personal and advertising injury claims. | All ecommerce businesses | $42 per month |
| Product liability insurance | Similar to general liability insurance but focus more on design and manufacturing flaws | Ecommerce businesses sell physical products | $42 per month |
| Business property insurance | Protection for physical assets, including inventory, equipment, and office space. | All ecommerce businesses | $67 per month |
| Cybersecurity Insurance | Protection against losses resulting from cyberattacks, data breaches, and other digital threats. | All ecommerce businesses | $145 per month |
| Business Interruption Insurance | Compensation for lost income and ongoing expenses during temporary business interruptions. | All ecommerce businesses | Between $40 and $130 per month |
| Professional Liability Insurance | Coverage for financial losses incurred by clients due to professional services or advice provided. | Ecommerce businesses offering professional services | $61 per month |
| Workers' Compensation Insurance | Coverage for medical expenses and lost wages for work-related injuries or illnesses. | Ecommerce businesses with employees | $70 per month |
| Transit Insurance | Protection for products during transportation, guarding against damage or loss. | Ecommerce businesses shipping products to customers or having a warehouse in a third-party location | $14 per month |
General Liability Insurance
General liability insurance protects your business when someone gets injured on your property or while using your product, regardless of location.
In general, liability insurance coverage includes
Bodily Injury
Any third-party claims of injury because of interacting with your business are covered.
Say a delivery driver gets injured while shipping your products or a customer slips and falls while visiting your store. The policy pays for medical expenses, legal fees, and settlement costs related to the injuries.
Property Damage
Property damage insurance covers your business against any third-party claims due to interacting with your business.
If you accidentally damage a customer's belonging while picking up an online order at your office. No worries, the liability coverage will pay the cost for you.
Personal and Advertising Injury
Any third-party claims of libel, slander, or copyright infringement against your business are covered.
For instance, your article has false statements about your competitor, leading to a lawsuit. In this case, the insurance covers legal fees and other costs for your business.
Price: Depending on risk profile and sales. However, it is estimated to be around $42 per month.
Product Liability Insurance
Product liability insurance covers compensation you may have to pay if someone gets injured by a product you made or sold.
Unlike general liability insurance, this type focuses more on product design and manufacturing flaws. Its coverage includes:
Defects from manufacturing
Design flaws
Failures that occurred from not providing proper instructions, labels, or warnings.
Example scenario of using product liability insurance
Let's say you run an ecommerce business that specializes in selling cosmetic products like sunscreen. Unfortunately, a customer who has been using your product for a week has developed a severe skin allergy and decided to sue your company. This is where product liability insurance comes in, covering medical expenses, legal fees, and any settlement costs associated with the case.
In addition, insurance companies typically provide it as a separate policy or an add-on to your existing general liability insurance. Please verify with your insurance provider on the fine details for up-to-date information.
If your business deals with products that pose a higher liability risk, especially those for children, you may need to buy a separate product liability insurance policy.
Price: Average of $42 per month.
Business Property Insurance
Business property insurance protects the business's physical assets, such as buildings, inventory, tools, and equipment. This type of insurance covers damage caused by:
Severe weather
Accidents
Other hazards
Example scenario of using business property insurance
This insurance policy provides coverage for unexpected events such as theft or damage caused by natural disasters.
It's especially beneficial for home-based businesses as it offers more protection than a typical homeowners policy, which only covers personal items. It's recommended that business owners invest in this type of insurance to safeguard their business property.
Price: Average of $67 per month
Cybersecurity Insurance
Digital security is a concerning issue for every ecommerce business. Cybersecurity insurance is designed to cover financial losses due to:
Hacking
Ransomware attacks
Data breaches
Tips: Read our guide on the 11 selected security services for ecommerce website security to pick the best option that suits your business best.
Example scenario of using cybersecurity insurance
In the event that your website is targeted by hackers who expose your customers' personal information, cybersecurity insurance can cover the expenses related to repairing or rebuilding your business after the incident.
This type of insurance can also help cover legal fees and settlements that may arise from the cyberattack.
Price: Around $145 per month
Business Interruption Insurance
Business interruption insurance covers loss in revenue when you are forced to stop operating a business due to a major natural disaster like flooding or fire. This insurance will reimburse costs and expenses while you recover and rebuild from disasters such as:
Loss profits
Fixed costs
Wages
Taxes
Loan payments
Example scenario of using business interruption insurance
Suppose you own an online clothing store that experiences a sudden fire in the warehouse. The fire causes significant damage to your inventory and forces you to close your business temporarily.
Due to the closure, you are losing out on potential sales and revenue. However, with business interruption insurance, you can receive reimbursement for the lost profits, costs, wages, and other expenses that occurred during the closure.
This helps you focus on getting your business back up and running without the financial burden of the disaster.
Price: Between $40 and $130 per month
Professional Liability Insurance
Professional liability insurance, also known as errors and omissions (E&O) insurance, protects your online business against claims of:
Errors
Negligence
Misconduct
Failure to deliver a product or service on time.
Example scenario of using professional liability insurance
If an interior designer utilizes materials that were not agreed upon, the client may take legal action against the business for not delivering the promised services.
However, having a professional liability insurance policy can safeguard you from any related expenses.
Price: Average of $61 per month
Workers' Compensation Insurance
Workers' compensation insurance provides wage and medical benefits when your employees get injured while working. Typically, the insurance policy helps cover the following:
Medical expenses
Lost wages
Ongoing care
Disability
Example scenario of using workers' compensation insurance
If one of your employees develops a repetitive strain injury due to the nature of their job, you don't need to fret. Your business and employee are both covered by the workers' compensation policy.
However, it's important to note that this policy only applies to employees and not contractors.
Price: Average of $70 per month
Transit Insurance
Transit or inland marine insurance protects your business property during transit or storage at a third-party location. It helps cover damage or loss from:
Theft
Vandalism
Severe weather events
Example scenario of using transit insurance
Imagine you're moving inventory to a warehouse. But unfortunately, due to an accident, your inventory is damaged beyond repair. Luckily, insurance can help cover the costs of replacements.
It's not common for warehouse companies to offer coverage for customers' property. So if your business needs warehouse services, it's important to consider purchasing transit insurance.
Price: $14 per month
Key Factors That Determine Ecommerce Insurance Prices
Several factors influence the cost of ecommerce business insurance, including:
Potential risk
Your business location
Products or services you provide
Number of your employees
Annual business revenue
Your business assets
Previous claims history
Generally, businesses with a higher risk will have to pay more for insurance coverage. 
For instance, a small online electronics retailer with a limited physical presence and customer interactions will have lower insurance costs.
In contrast, a larger retailer with a higher volume of orders, employees, and warehouses will have higher insurance costs to cover their complex operations.
Steps to Take When Choosing Your Ecommerce Insurance

Like any other product, you should take your time and carefully consider which type will suit you and your business best. Follow these steps before making your final decision:
1. Conduct Risk Evaluation
To determine the appropriate coverage for your business, evaluating its specific risks and vulnerabilities is essential. Ask yourself key questions such as:
What type of products or services do you offer?
Are you operating a home-based online business?
What types of accidents, natural disasters, or lawsuits could have a significant financial impact on your business?
Will you be hiring employees or requiring a warehouse?
How much is your inventory worth?
These factors can help you determine the types and levels of coverage your business needs.
2. Choose the Right Insurance Types
After evaluating the risks, selecting insurance policies that align with your business needs and provide maximum protection is essential.
As an online retailer, general liability insurance may cover most business risks. Still, it's worth considering other types of insurance, such as cybersecurity or professional liability insurance, for added risk protections.
3. Choose the Right Time
Obtaining insurance coverage early for your business to protect it from unexpected events and mitigate risks is wise.
Also, getting insurance during important occasions such as relocations, product launches, and the start of a fiscal year is advisable.
4. Get Quotes and Compare
Your best strategy is to get multiple quotes from various sources, such as brokers, online marketplaces, and insurance providers, to compare them and their:
Coverage options
Liability limits
Cost
Customer review and ratings
Customer support
5. Renew and Review
You should review and update your insurance coverage on an annual basis to match any changes in your business, such as growth in products or services or hiring more employees.
Ultimately, this will help to ensure your coverage is tailored to your current needs and operations.
8 Best Ecommerce Business Insurance to Consider in 2023
There is no absolute answer. The right business insurance company is the one that offers you the best coverage at the optimal price. Yet, we've done all the research for you!
Here are the eight best ecommerce business insurance options for 2023.
The Hartford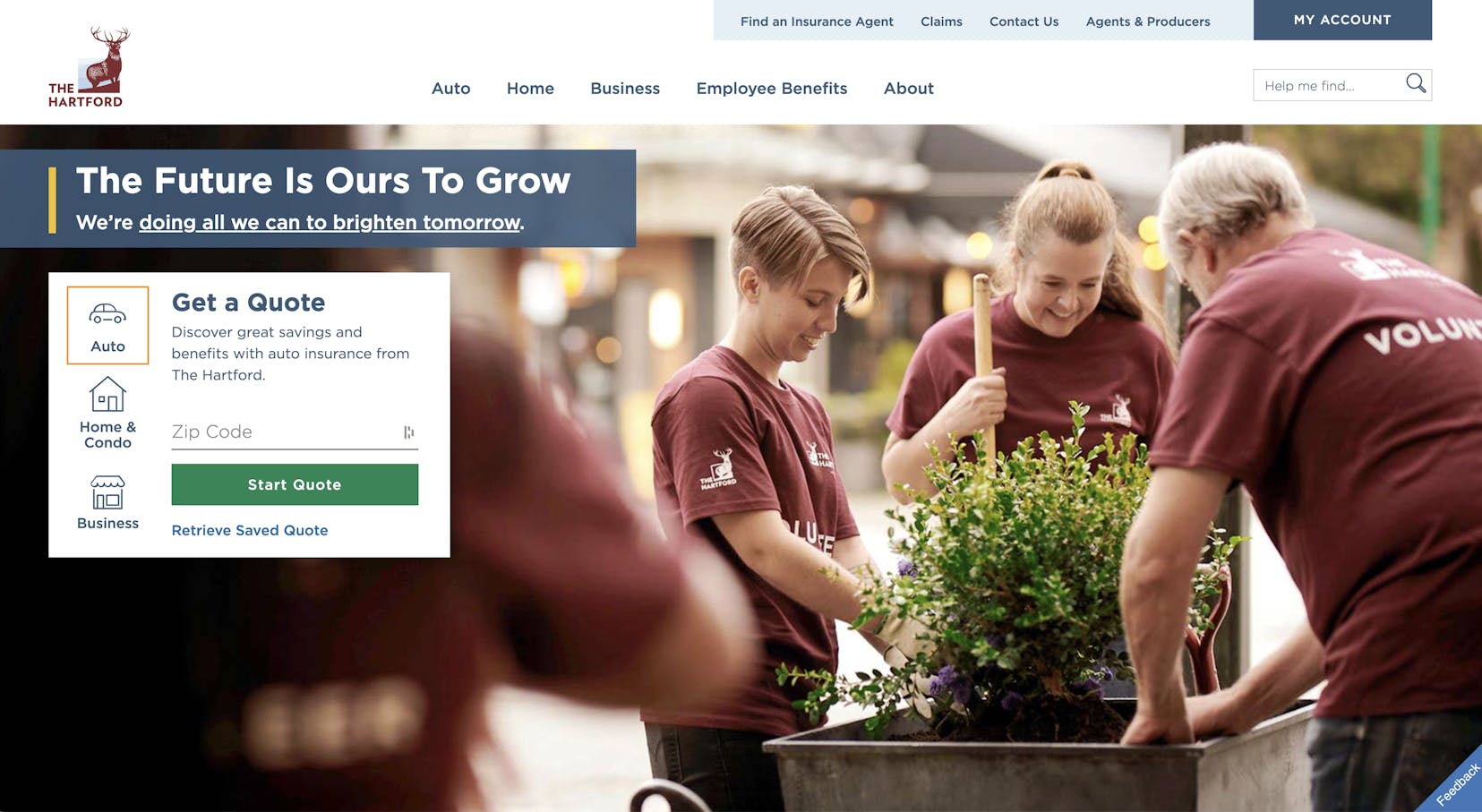 Best for overall ecommerce businesses
The Hartford is a highly experienced insurance provider and has been recognized by Ethisphere as one of the World's Most Ethical Companies 14 times.
It provides a wide range of coverage options and flexible limits to suit businesses of all sizes. In addition, you can find valuable resources regarding cyber risks for online businesses via The Hartford Cyber Center.
In-house claims are handled directly by The Hartford. In addition, you can manage your claims, policy documents, and management and other related matters through their online portal.
🔎 Note: Customers may have to call to purchase the policy.
NEXT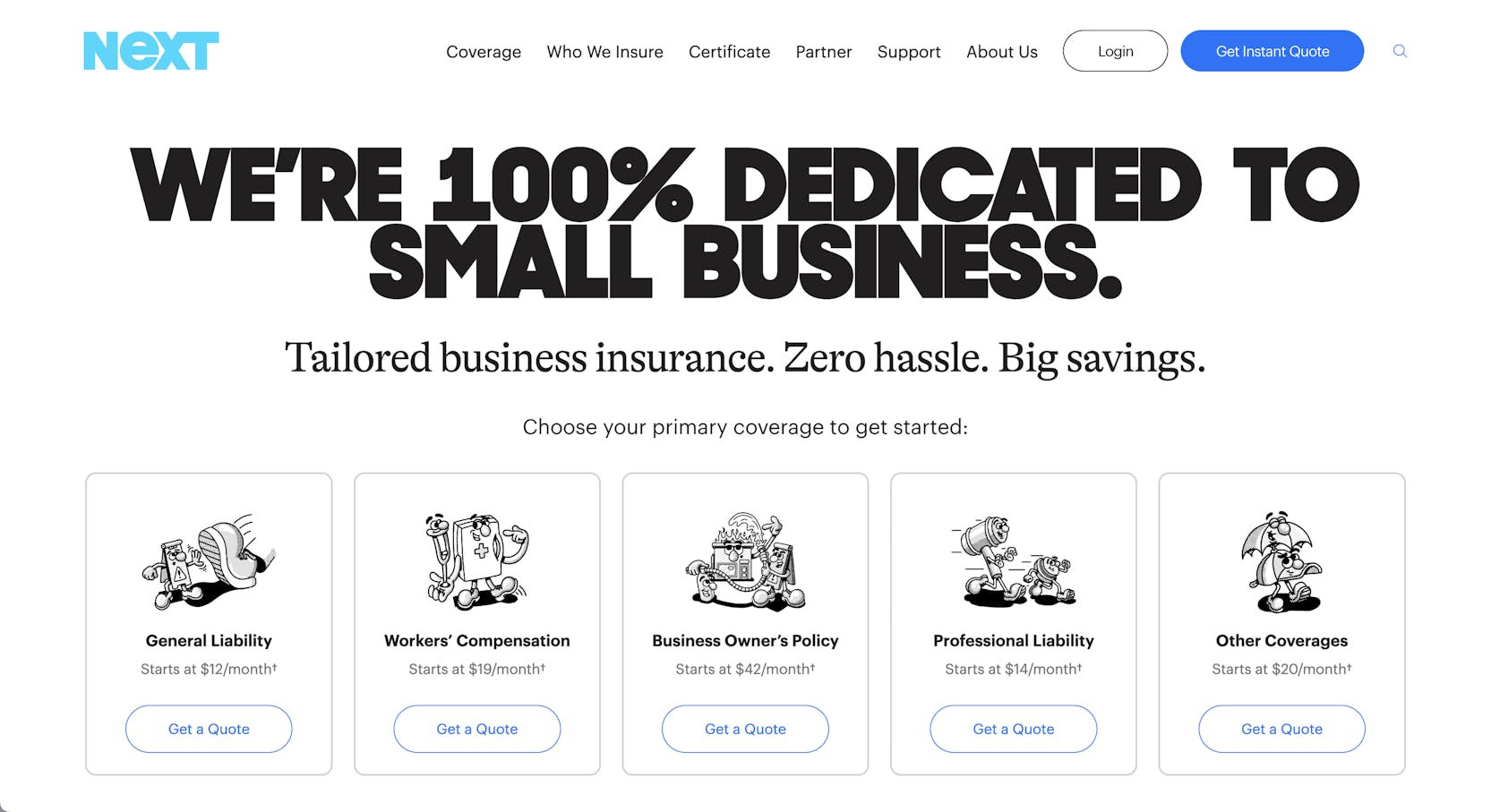 Best for Amazon sellers
NEXT Insurance provides various and affordable small business insurance policies for more than 1,300 types of businesses and self-employed workers.
For ecommerce businesses, NEXT offers 3 packages: Basic, Pro, and Pro Plus.
Suppose you're a vendor on Amazon. You should purchase the Pro package or higher, as it meets all of Amazon's requirements.
Applying for coverage through NEXT is also quick and easy - completing the online application only takes 10 minutes or less. Plus, you'll receive your policy documents via email within one business day of purchase.
Moreover, with NEXT's user-friendly app, you'll have access to your policy and their services 24/7, ensuring your business is always protected.
🔎 Tips: When you bundle two or more of NEXT's policies, you can receive a 10% discount.
Nationwide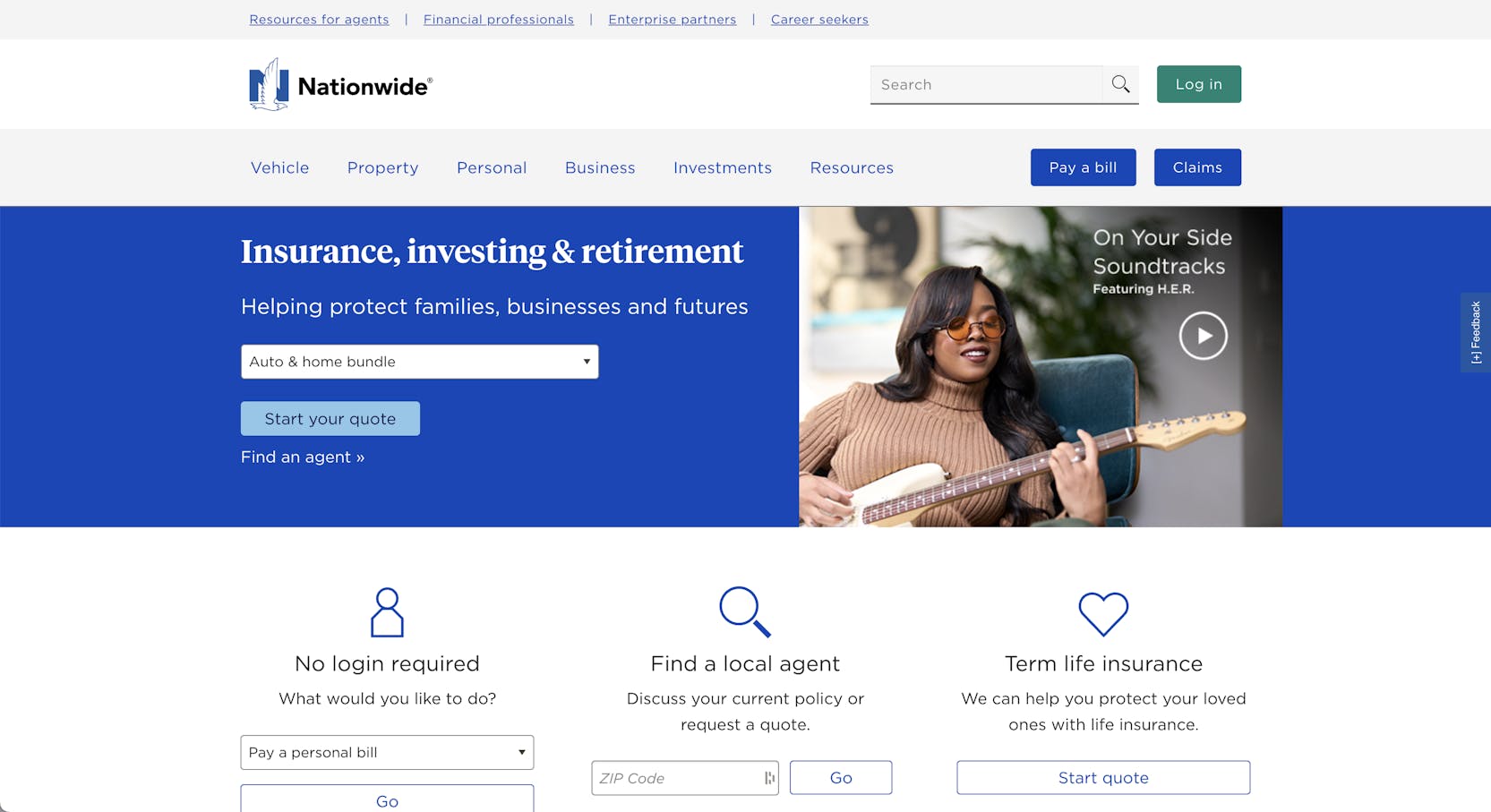 Best for brick-and-mortar businesses with an online store
Nationwide Insurance has provided small business insurance since 1926 and has helped over 500,000 small businesses across the country.
For retail businesses, they offer a business owners policy (BOP) with multiple endorsements, including coverage for computer equipment worth $10,000 and protection for brands and labels, allowing the sale of salvaged branded items. The policy also covers larger buildings up to 25,000 square feet with a total insurable value of $20 million.
In addition to insurance, Nationwide offers small business owners tips and resources through their Business Solutions Center. When you sign up for their service, you can access an online portal to manage policy documents at your convenience.
🔎 Note: You may get a quote online, but you have to buy the policies through agents.
Thimble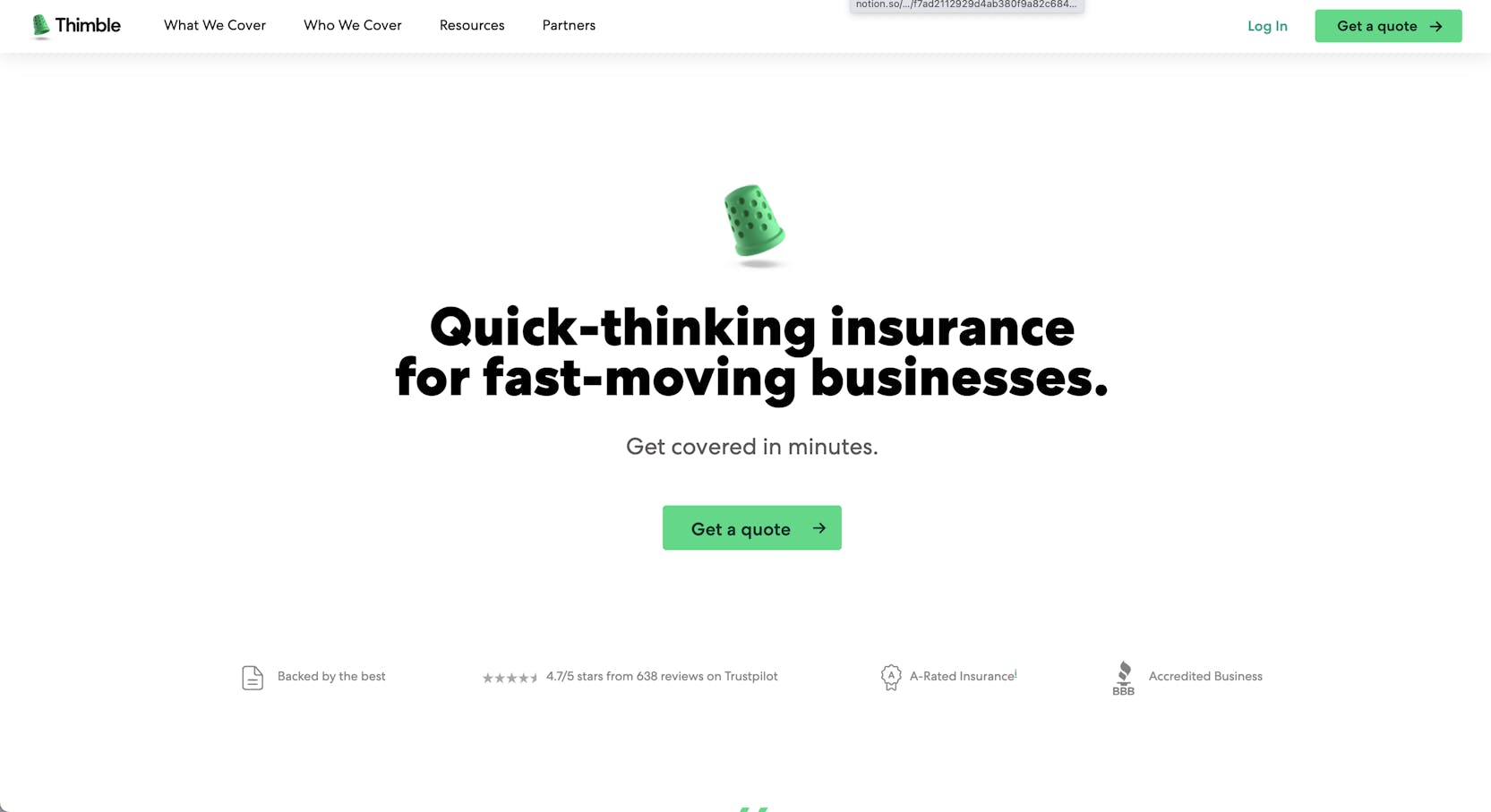 Best for craft businesses
Thimble is a very convenient ecommerce insurance provider with custom policies. If you're planning to open or expand your business that touches the world of handmade and craft products, Thimble is a good option.
Thimble offers specialized insurance for craft businesses such as candle-makers, jewelry-makers, and leatherworkers. Plus, you can choose coverage by the event, month, or even hours, which is perfect for spreading brand awareness at craft fairs.
Moreover, you can easily quote and purchase coverage online. Once you complete the process, they will send a Certificate of Insurance (COI) within a minute.
With their website and app, you can manage your policies at your convenience and also gain access to customer service 24/7.
Hiscox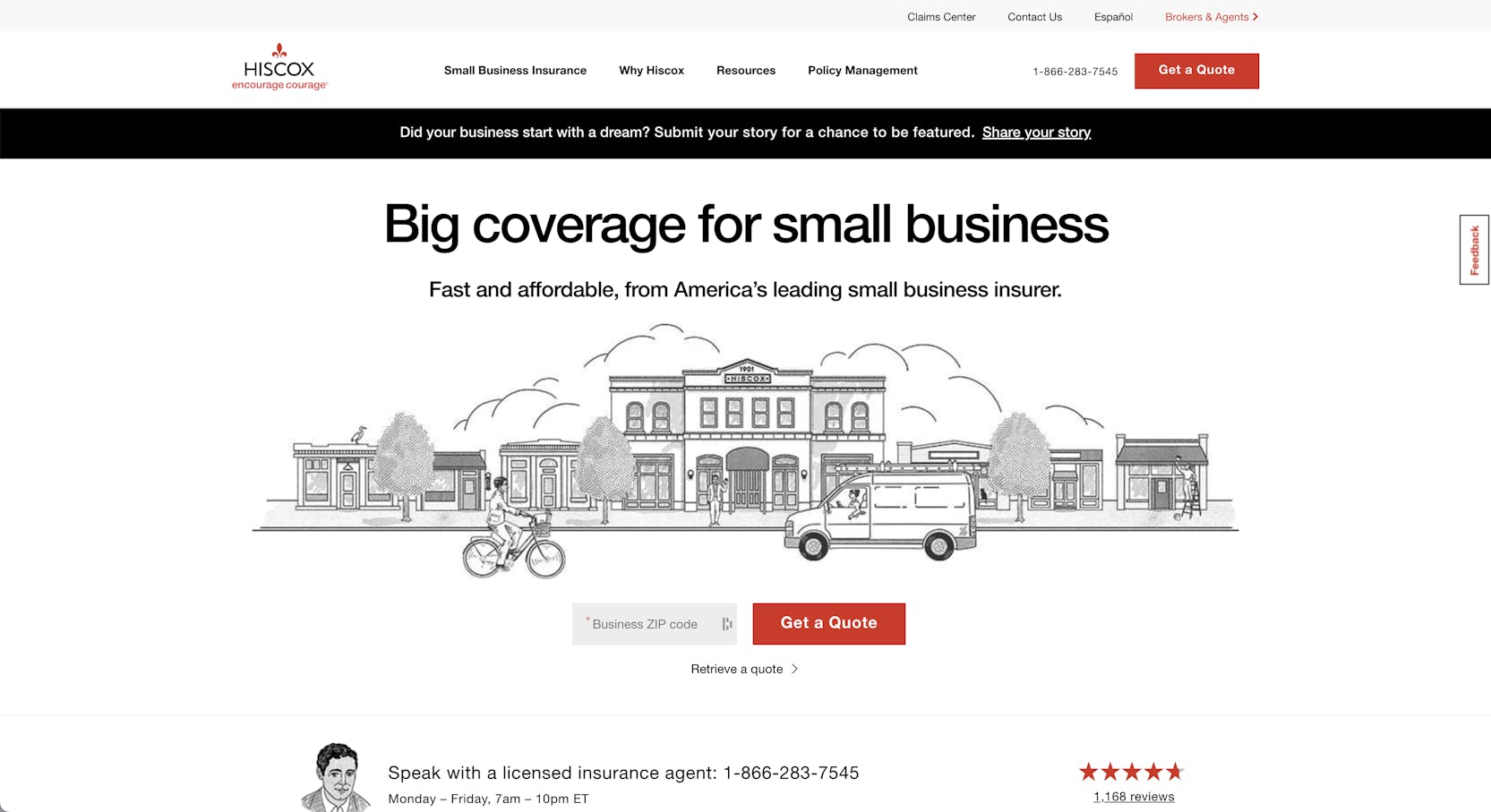 Best for a small professional service business
Hiscox is a leading small business insurer. It has supported and helped small business owners to grow since 1901.
Hiscox has developed policies specialized in many professions, such as accountants, consultants, and therapists. These policies come with a potential discount, limits more in line with your revenue and property, and a cyber liability insurance program with numerous cybersecurity resources.
You can easily get a quote, buy insurance and file a claim directly through the website. Plus, if you change your mind, Hiscox offers a 14-day money-back guarantee for a refund.
🔎 Note: Hiscox is available in all states except for Alaska.
Chubb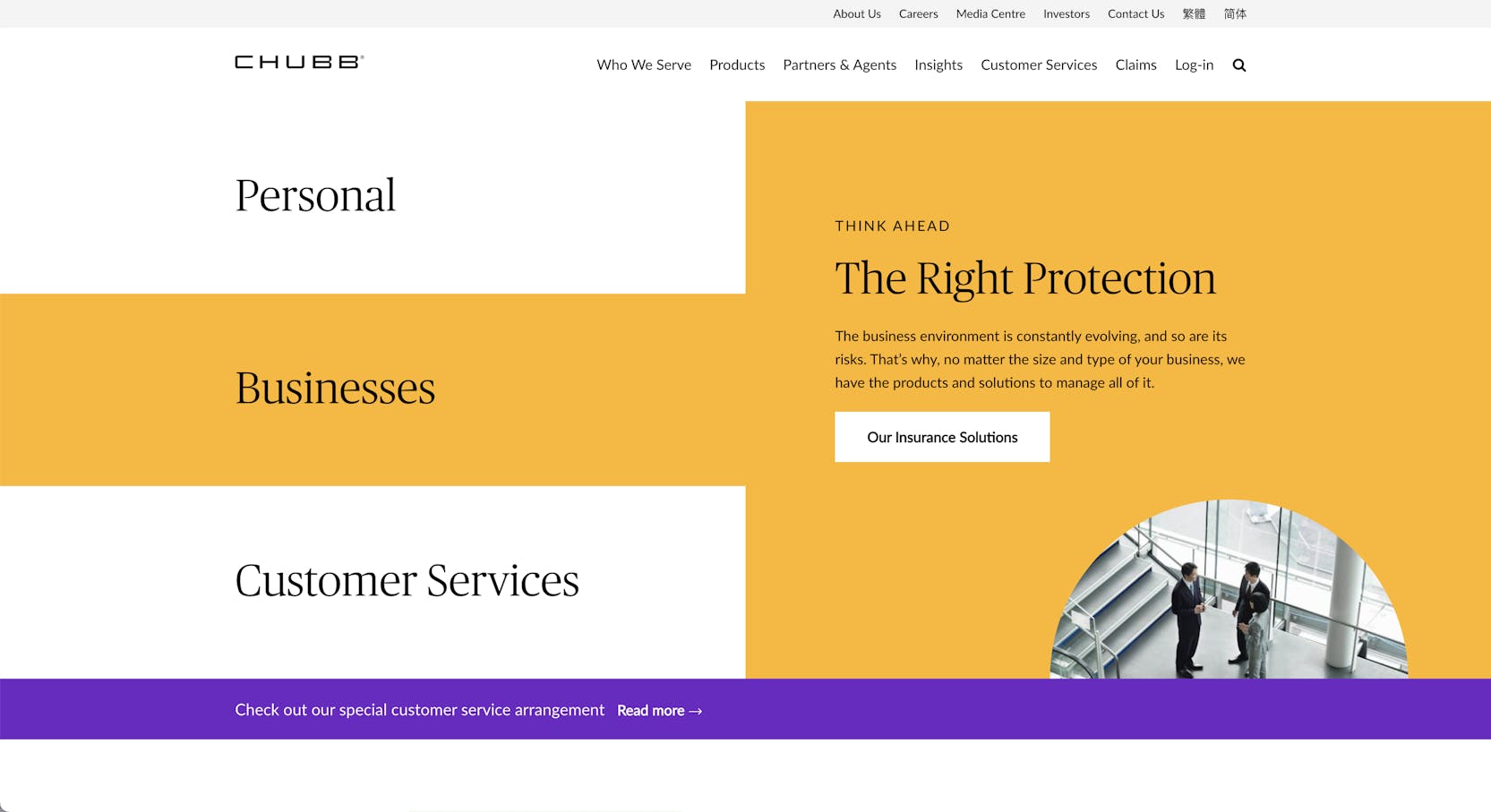 Best for business owner's policy
Chubb provides insurance services for businesses that earn $1 million or less in annual revenue. With automated coverage assistance, you can buy insurance services that best fit your needs through their website.
They offer a business owner policy (BOP) that includes general liability insurance, commercial property insurance, business interruption insurance, and extra expense coverage. This may be a great option for ecommerce businesses with store inventory as it can help recover from damage caused by accidents or disasters.
Also, policyholders can file a claim online or by phone 24/7, similar to other companies.
You still can work with Chubb even when your insurance needs are more complex, or your annual revenue exceeds $1 million. But you'll have to contact an agent near you instead of shopping online.
🔎 Note: Customer service center supports you only if you purchase the policy with Chubb directly, not through the agent.
Geico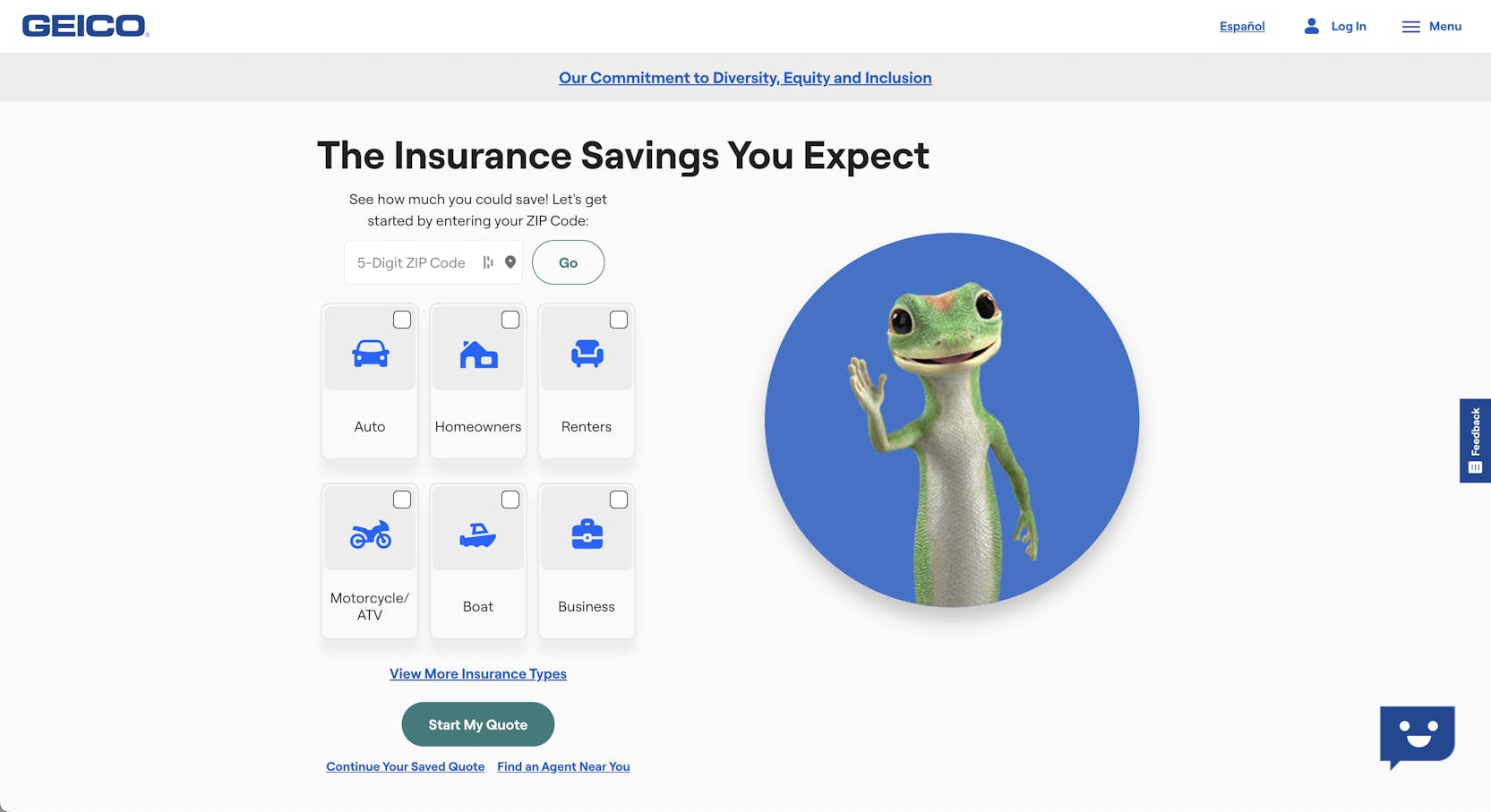 Best for small business owners with a single work vehicle or a fleet of them
Geico has been in the auto insurance game for over 70 years and provides several insurance policies for business owners. As they've known for auto insurance policies, Geico's business auto insurance is a good solution if you have vehicles used for business purposes.
Geico's coverage extends to cars, vans, pickup trucks, food trucks, box trucks, and service utility trucks. However, currently, they do not cover semi-trucks and tractor-trailers.
You can get a quote, buy insurance, manage your policies, file a claim, and track its progress online.
It is important to note that Geico only underwrites and sells business auto insurance. Other business insurance policies are provided by either Hiscox or a network of third-party insurers. Therefore, if a partner company issues your insurance policy, you cannot file a claim directly with Geico.
biBERK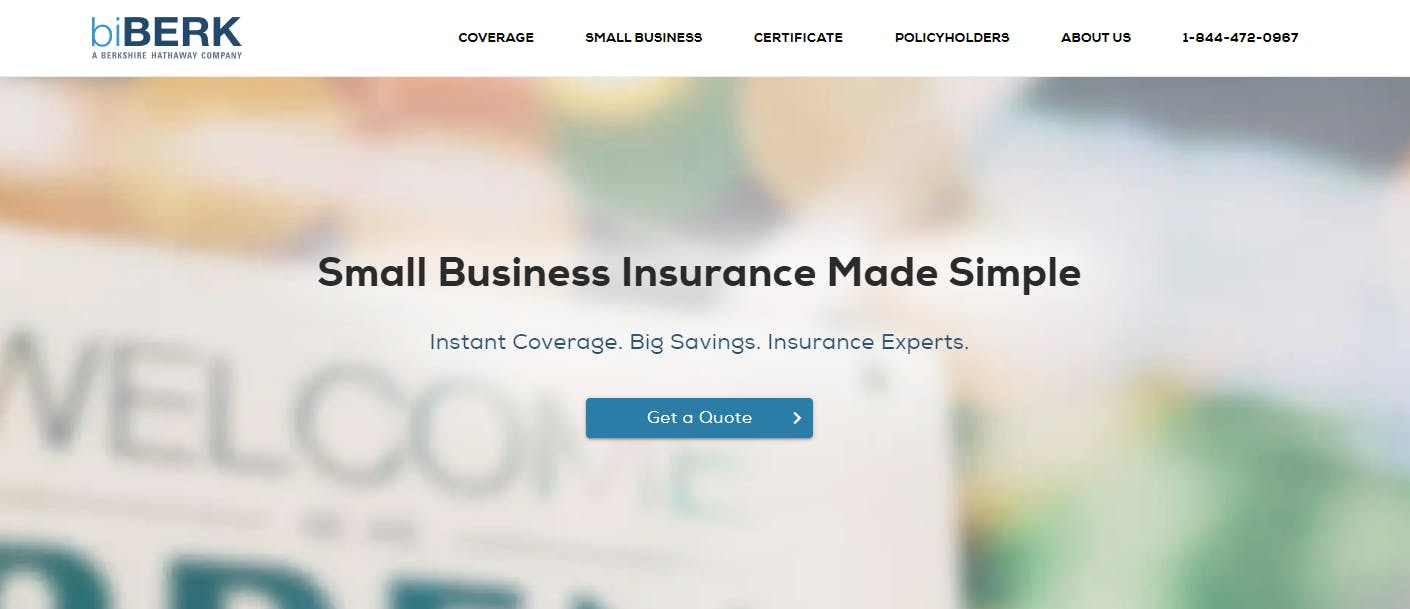 Best for businesses in need of basic coverage
biBERK is a division of Berkshire Hathaway, a well-known financial company. They offer comprehensive business insurance services. Whether you're looking for property damage protection, liability coverage, or product liability insurance, biBERK can provide the solution you need.
However, if your business requires specialized coverage like transit insurance. biBERK may not have policies for you.
In addition, if you would like to bundle multiple policies from one provider, you may find it challenging to do so, as not all types of insurance are available in all states.
With a focus on the online experience, you can obtain a quote, buy insurance, download a Certificate of Insurance (COI), and file a claim on biBERK's website. Still, agents are available to assist you if you need personalized help.
Final Thoughts
As a business owner, it's essential to identify and mitigate the risks that come with running a business. Although some risks are inevitable, you can work through them on a daily basis.
One way to manage unforeseen risks is to have ecommerce business insurance. This can take worries off your plate as you grow your business.
Knowing that you and your business are protected by insurance can help you focus on the business strategies to survive and thrive in today's competitive market.
FAQs
Do dropshipping businesses need ecommerce insurance?
Yes, dropshipping owners need ecommerce business insurance, as their business involves an online presence.
What insurance do I need for ecommerce business?
Is there a legal requirement for ecommerce business insurance?