There are several marketplaces that focus on buying and selling ecommerce websites. These marketplaces provide a platform for buyers and sellers to connect and make deals for either purchasing or selling ecommerce websites.
Ecommerce websites come in different types like affiliate marketing, dropshipping and more. It's worth spending some time finding the right type of website that suits your interests, skills and budget.
Finding the right ecommerce websites to buy from is easier said than done. There's always the risk of getting finessed by fraudsters or spending a fortune due to a flawed business valuation. 
You can, however, minimize the risks by restricting yourself to credible business selling platforms. This article will list 9 of the best ecommerce marketplaces to buy ecommerce websites from genuine sellers at the right market price.
💡 Thinking of starting an online business? Here are 10 Things to Consider Before Starting an Ecommerce Business.
What to consider before buying an ecommerce website
Before we get into the best places to buy ecommerce websites, let us first cover what you have to keep in mind before buying one. Once you have these into consideration, you can have the confidence that you choose a business or website that is suitable for you.
Your interests: Find a business in an industry that excites you. At least then, you'll relate to the products, operations, and services – which should ultimately help you with the due diligence and transition processes.  
Your expertise: Every business has a weakness. And in the category of brands that are aligned with your interests, try to find the ones experiencing a shortfall in your area of expertise. If you're a skilled influencer, for example, go for ecommerce websites that have been struggling on social media. Such inadequacies provide a great launchpad for driving post-sale growth. 
Seller's notes: On the marketplace page of each of the web businesses, you'll find sellers' notes that provide brief insights into the listed ecommerce site. Pay very close attention to every single detail here. Try and contact the seller for more clarifications on the finer details – plus any potential red flags – that have been left out of the notes. 
Expected payback period: The payback period is the number of years it'll take to recoup your investment. You can calculate it by dividing the asking price for each listed business by the corresponding annual profit. What you get is an indicator of the potential value of the investment. 
Without further ado, let us get into the 9 best marketplaces for you to buy websites from!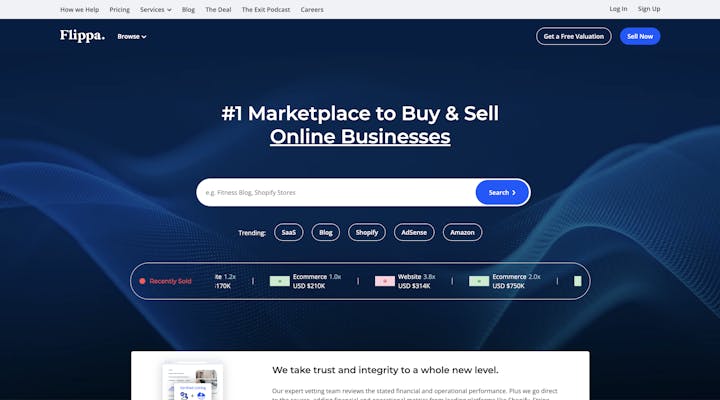 Founded in 2009, Flippa is a leading marketplace for buying and selling web businesses and digital assets. The assets you'll find here include ecommerce stores, social media accounts, mobile apps, SaaS brands, blogs, and online businesses. 
So far, Flippa has helped over 3 million users buy and sell more than 300,000 assets – most of which are ecommerce websites. 
The platform now lists ecommerce sites that cost anything from $1,000 to $1 million and above. Some of the ecommerce websites for sale include:
✅ Amazon FBA stores.
✅ Affiliate sites
✅ Shopify stores
✅ Dropshipping websites 
✅ SaaS web businesses
✅ Regular online stores
As a business buyer, you can filter Flippa's public or private listings by business model, industry, website traffic, monthly profit, asking price, age, revenue streams, and even seller location. 
Flippa's team of experts will grant you due diligence reports that offer detailed insights into the ecommerce websites you intend to acquire. You will be able to review their unique selling points, product information, revenue, and traffic data. 
You'll also have a team of legal experts assisting you with all the legal processes. They are the ones who guide both buyers and sellers through purchase agreements, payment processing, and asset transfers. 
Alternatively, you could also connect with business brokers and financiers on the same Flippa marketplace. 

Pros of Flippa
Wide range of ecommerce stores and digital assets. 
Offers professional assistance in acquisition. 
Generates due diligence reports. 
User-friendly
Features options at every price range.

Cons of Flippa
Doesn't adequately screen sellers.
You must sign up to view business information. 
Business details are withheld across private listings.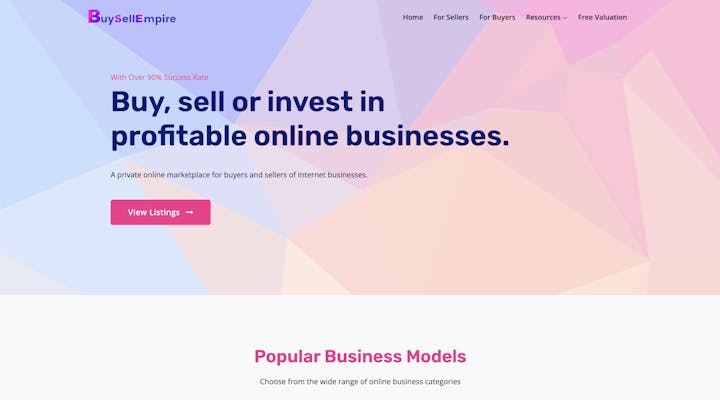 The BuySellEmpire marketplace connects you to high-quality ecommerce businesses. 
The options here are not as many as Flippa's because the marketplace focuses on profitable online businesses that have been: 
✅ Generating revenue and traffic for at least 12 months. 
✅ Making a monthly revenue of $1,500 and above. 
✅ Posting their content in English. 
In terms of pricing, the ecommerce websites for sale range from $20,000 to over $7 million. They include affiliate sites, SaaS companies, Amazon Associates publishers, and Shopify stores.
They've been traded by more than 50,000 sellers, buyers, and investors – with BuySellEmpire quoting a sale success rate of over 90%. 
Buyers, in particular, should have an easy time in this ecommerce sale marketplace. You'll get a range of filtering tools, as well as end-to-end professional assistance.
You can review your ecommerce store options by business valuation, workload, income, revenue, current status, and company description. 
Then if you ever decide to pursue any of them, the team at BuySellEmpire will help you from the point of initial contact, through the sale negotiations and due diligence, to post-acquisition training. 

Pros of BuySellEmpire
High-quality web businesses. 
5+ types of eCommerce businesses. 
Post-acquisition training. 
Lists small to medium-sized businesses.

Cons of BuySellEmpire
A limited number of ecommerce websites for sale. 
English-based businesses only. 
Limited filtering capabilities.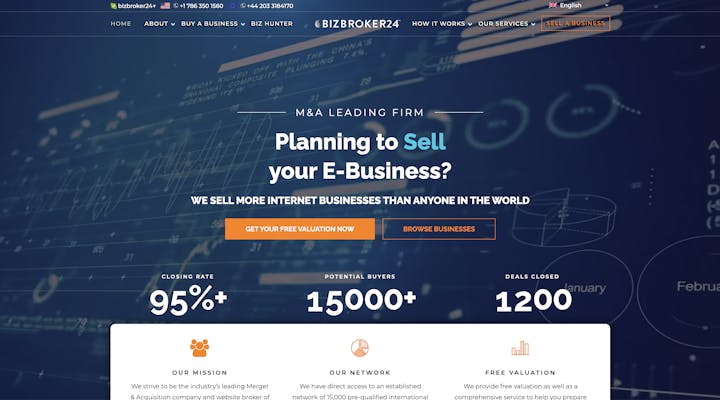 BizBroker is another marketplace that has been in business since 2009. 
The platform has positioned itself as a global merger and acquisition company that specializes in ecommerce businesses. 
The value of all its listed ecommerce websites for sale reportedly surpasses $100 million – while partners are now distributed across the Middle East, Australia, Asia, Europe, and the US. 
Every single ecommerce store featured here has is a value of between $15,000 and $20 million. That puts BizBroker ahead of the BuySellEmpire marketplace. 
BizBroker24 additionally offers to help you with the entire sales process. You'll be working closely with insurance, real estate, banking, legal, and acquisition experts. They're the ones to advise you on due diligence, valuation analysis, and sale financing. 

Pros of Bizbroker24
Supports mergers and acquisitions.
Business brokerage services. 
Physical presence in over 10 countries. 
5+ types of web businesses on sale.

Cons of Bizbroker24
Very limited range of ecommerce websites for sale. 
All business buyers are pre-screened.
Slow response times. 
High barrier to entry
Website difficult to use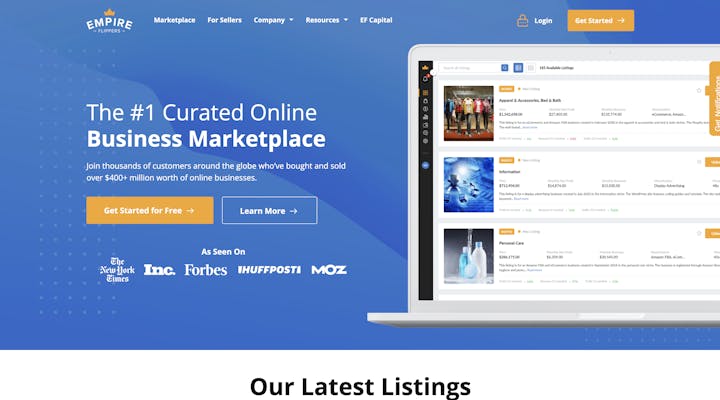 Empire Flippers is a curated online business marketplace that has processed web business sales amounting to $400+ million.
The type of online business models that you can buy here includes display advertising, dropshipping, ecommerce, affiliate marketing, SaaS, as well as ecommerce business on Amazon Associates, Amazon FBA, etc. 
Every single web business that you see listed has been duly vetted by the platform. Empire Flippers analyzes essential business acquisition criteria such as revenue and traffic data, business expenses, customer base demographics, and company legitimacy. 
Among the requirements is a monthly net profit of at least $2,000 over a period of 12 months. The web businesses that qualify then go on to sell for about $50,000 to $15 million. 
Each listing provides a description of the ecommerce store, company history, work and skills required, market risks and opportunities, plus site traffic. 
You can then unlock the listings to conduct due diligence, before proceeding to the payment stage. And once that sails through, the ownership of the digital assets will be transferred to you.

Pros of Empire Flippers
9+ types of online businesses for sale. 
Rigorous vetting of businesses. 
Profitable businesses only. 
Businesses valued at up to $15 million.
Detailed seller's notes. 
Easy to use.

Cons of Empire Flippers
Sign up to access all the seller's notes. 
Rarely features options valued at less than $100k. 
Lots of competition from high capital investors.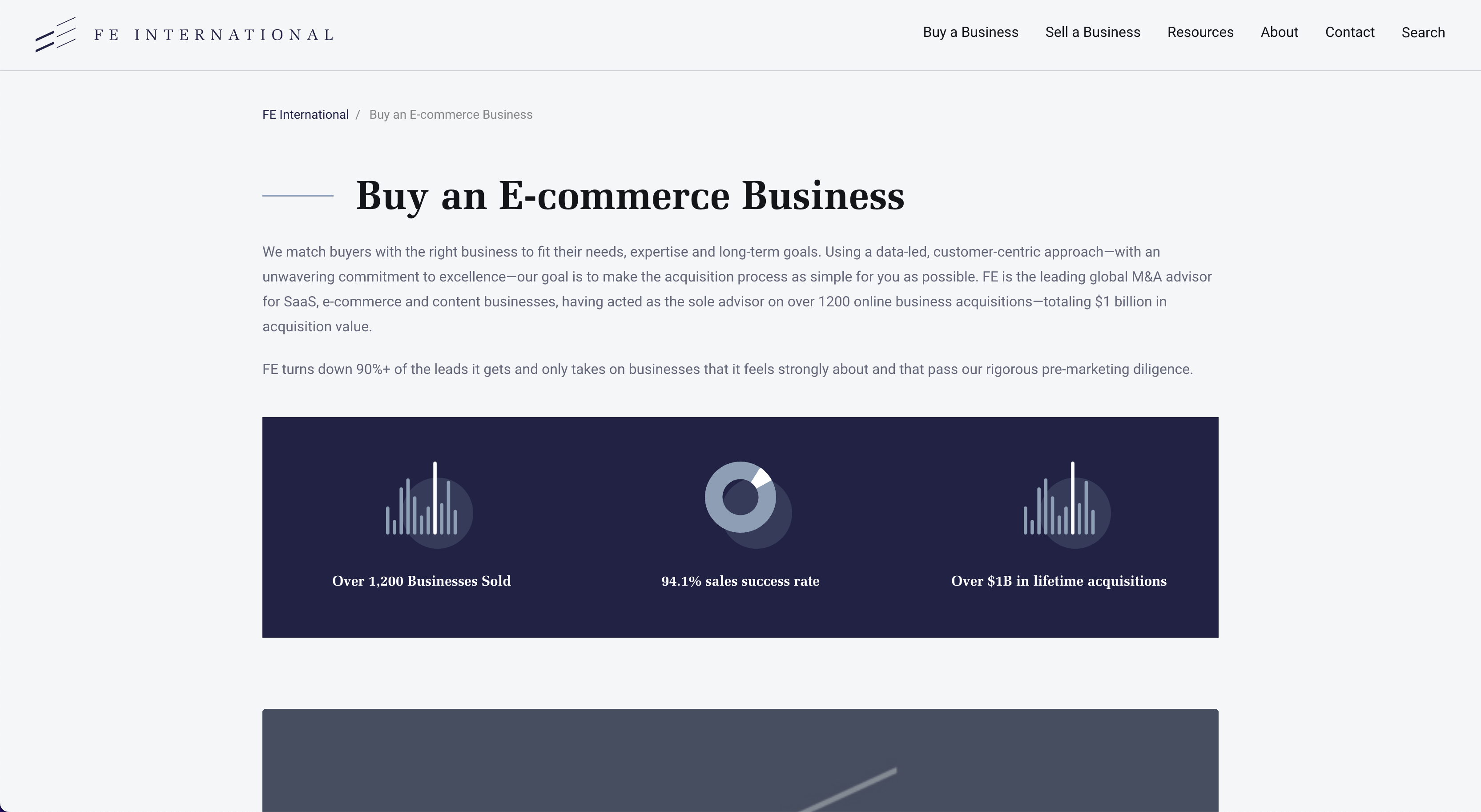 FE International is a globally renowned merger-and-acquisitions advisor for ecommerce, SaaS, and content-based online businesses.
It has orchestrated acquisitions of over 1,200 businesses since 2010, pushing the total value beyond $1 billion. That, according to the company, translates to a success rate of 94.1% – making it one of the most dependable M&A firms in the US. 
FE International has achieved all that thanks to its rigorous vetting process. Acquisition accounting professionals usually scrutinize financial performance, website traffic, market trends, growth opportunities, business operations, and continuing obligations, among other attributes. 
In the end, more than 90% of the prospects are dropped, and only a handful manage to pass and get listed on the FE International marketplace. 
The ecommerce businesses that we sampled are valued at $24,000 to $14 million, and they're spread out across multiple industry categories. 
Their listing pages, however, don't provide much. Just a brief description of the business and its primary benefits. 
But, you can always request more information from FE International. The company offers end-to-end assistance through the entire purchase process – including legal structuring, acquisition accounting, due diligence, strategic negotiations, valuation analysis, and post-sale considerations.  

Pros of FE International
Ecommerce, SaaS, and content-based online businesses
Rigorous vetting of businesses. 
End-to-end professional assistance. 
Business brokerage. 
Post-sales assistance.

Cons of FE International
Limited seller's notes. 
No custom asset purchase agreement.
Buyer fees.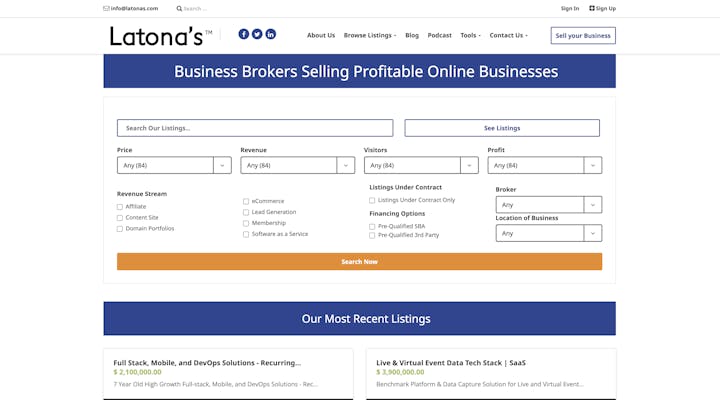 After switching from domain brokerage in 2008, Latona's has grown to become a well-respected mergers and acquisitions brokerage firm. It now boasts a large marketplace of digital assets with positive cash flow. 
This platform features SaaS businesses, membership sites, lead generation tools, domain portfolios, content websites, and ecommerce stores for sale. 
These ecommerce assets are not your regular profitable online businesses. Latona's only lists web companies that generate an annual net profit of $20,000 to over $1 million. 
Each business should further have at least 12 months of positive trading. The ecommerce model can be a Shopify store, Amazon FBA seller account, digital shopping cart, or online storefront. 
You can also filter the ecommerce websites for sale by choosing the criteria you should value such as annual revenue, location of the business, and website traffic size. Prospective buyers are then required to create user accounts to access more in-depth information. This is when you review even the company's executive summary, prospectuses, and financials. 

Pros of Latonas
6+ types of online businesses.
Supports mergers and acquisitions.
Business brokerage. 
Highly profitable businesses. 
Post-sale support.
Rigorous vetting of businesses.

Cons of Latona's
Detailed company information is only available after registration. 
No small businesses. 
Slow turnaround time. 
Steep learning curve.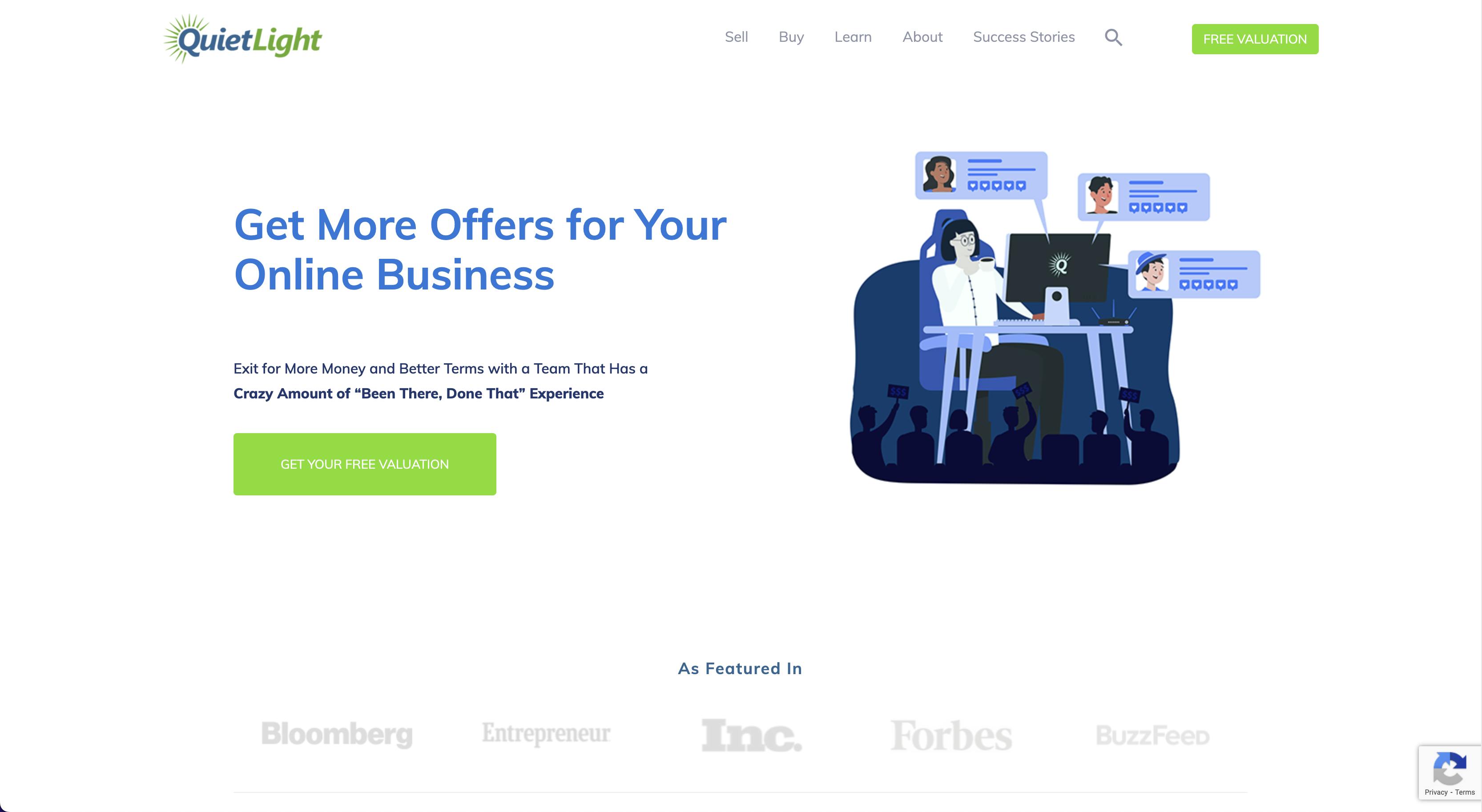 QuietLight is yet another merger and acquisitions firm that doubles up as a marketplace for buying and selling ecommerce sites. 
The platform has been in business since 2006, during which time it has administered the trading of over 600 web companies. These transactions add up to more than $300 million, with the bulk of them involving small businesses. 
QuietLight has now established itself as one the best marketplaces to buy web businesses like content sites, Amazon FBA channels, ecommerce stores, and software-as-a-service companies. 
Much of this success can be attributed to QuietLight hiring entrepreneurs as advisors. Since 2010, business buyers and sellers on the platform have been consulting people with first-hand ecommerce experience. 
You'll be getting assistance from entrepreneurs who've built, sold, and bought successful online businesses.  
According to QuietLight, this strategy is helping the company sell about 85% of listed businesses within 90 days. 

Pros of QuietLight
Supports mergers and acquisitions. 
Advice from experienced entrepreneurs.
4+ types of businesses. 
Small to mid-sized businesses. 
No obligation consultations. 
Vetting of businesses.

Pros of QuietLight
Limited marketplace filters.
Rarely features businesses valued at $100k and below.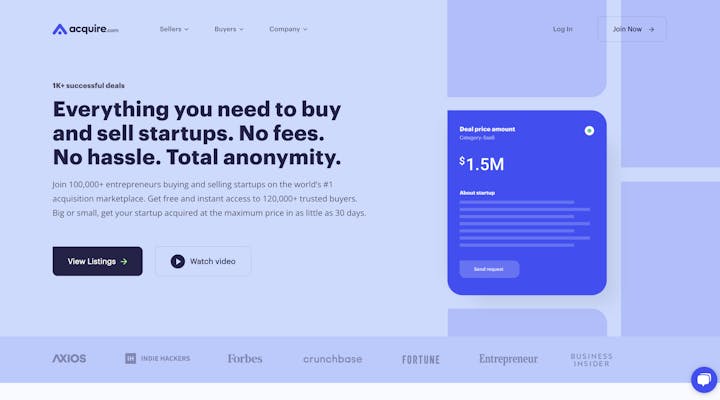 If you're interested in taking over a profitable startup, Acquire.com is the place to shop.
They're a startup acquisition marketplace that links up sellers of young businesses with over 120,000 screened buyers.  
Acquire.com itself takes various precautions to ensure that only profitable startups are listed on its marketplace. Every single business is taken through a rigorous vetting process, in which over 20 KPIs are examined. 
The criteria include metrics like annual recurring revenue (ARR), customer acquisition cost (CAC), and monthly recurring revenue (MRR). 
All in all, most of the ecommerce websites for sale on Acquire.com happen to have an ARR of less than $500,000. And if you'd want to find the safest bargains, you might want to purchase a premium package for $390 or $780 a year. 
Whereas the free option gives you access to public listings of all ecommerce startups, the premium packages expand the company data for vetted startups. You get to view all the finer details and financial metrics excluded from the public listings. 

Pros of Acquire
Startup acquisition marketplace.
Rigorous vetting process.
Private and public listings. 
Reviews ARR and MRR. 
Wide range of businesses on sale. 
Low-budget business options. 
Easy to use. 

Cons of Acquire
Screens buyers.
Focuses on startups alone.
Membership fees for buyers.
Listings are only accessible to registered buyers. 
No end-to-end professional support. 
Doesn't support businesses worth over $100k.
Low due diligence.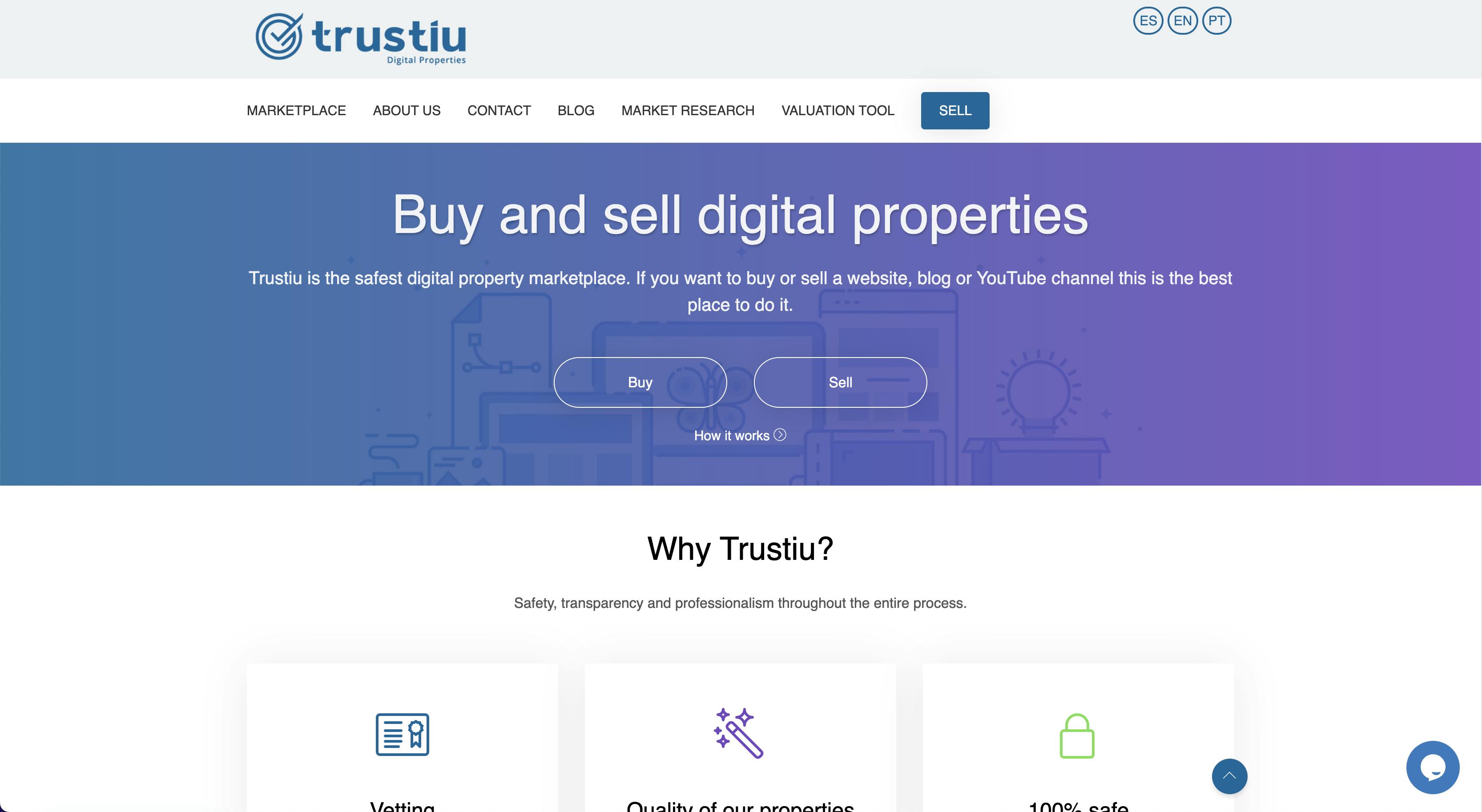 Trustiu is one of the best marketplaces to buy European ecommerce websites. 
While most of the leading global platforms exclusively deal in English sites, Trustiu is open to supporting the trade of web businesses built in other European languages
You get to buy ecommerce websites, affiliate sites, YouTube channels, SaaS assets, and content businesses across multiple language options such as Italian, Spanish, Portuguese, French, German, Dutch, etc. 
Even the pricing itself is Euros instead of dollars. And the rates on ecommerce websites for sales range between 200€ and 2 million€. 
The total value of the sold website properties so far is over 4.7 million€, and all of them were appraised by Trustiu's experts. 
Some of the website attributes they consider during valuation include business technology, age of business, net profit, business expenses, revenue, and monthly traffic. 

Pros of Trustiu
European ecommerce websites.
Non-English online businesses. 
Lists small to mid-sized businesses. 
Well-detailed seller's notes. 
Selling of YouTube channels.
Easy to use. 
A wide array of listings.
Appraises businesses before listing.

Cons of Trustiu
Business pricing is in Euros. 
Limited marketplace filters. 
Newbie in business marketplaces. 
No end-to-end professional support.
It's worth taking your time to evaluate especially as starting an ecommerce business takes time and effort, so don't be hesitant to seek professional advice in doing so.
And with that, we wish you all the best in your search for the best ecommerce website listings. 
FAQs
How do I buy an ecommerce website?
Here are some factors to consider when looking to buy an ecommerce website: 1. Identify the budget you're willing to work with 2. Do some research on the websites on sale. You can look for marketplaces that sell websites. 3. Review the website and its performance, ensuring that it's what you're looking for. 4. Negotiate and claim ownership of the website.
How much does a good ecommerce website cost?
Is it worth it to buy an ecommerce store?