Main differences between Shopify and PayPal
Shopify is a comprehensive ecommerce platform that offers a range of services which include payment processing. It's main purpose is to be an all-in-one solution for online businesses.
PayPal is primarily a payment processing platform that enables businesses to receive payments from their customers and is a good option for businesses looking for reliable payment processing solution.
Choosing the right solution will mainly depend on the type of business and the budget allocated to cover the fees of each offering.
Choosing how you'll accept payments on your ecommerce store is no small decision.
You could be leaving revenue on the table if you aren't offering options that are fast, convenient, and safe. And if you're vetting options, we're certain you've come across Shopify and PayPal.
Shopify is one of the largest platforms for ecommerce and now has its own payment system, Shopify Payments. But PayPal is one of the biggest, most trusted names for paying online. So when it comes to the question of Shopify vs. PayPal, which one should your business choose?
In this guide, we'll cover the most important aspects of Shopify and PayPal so you have the information you need to make your decision.   
Shopify Payments Overview 
Shopify is one of the most popular ecommerce platforms in the world, with millions of stores using it. As Shopify has grown, it's continued to add new features — one of the biggest and most impactful is a PayPal alternative called Shopify Payments. Shopify Payments is most popular in the United States and the other 23 countries where it is available. 
How Shopify Payments Works
Shopify Payments is powered by Stripe and integrated directly into the Shopify platform. It lets ecommerce store owners start accepting credit cards and other methods of payment through their store quickly and with lower fees than other payment processing services. With Shopify Payments, you can accept payments from your customers using: 
Visa
Mastercard
Amex
Apple Pay
Google Pay
| | |
| --- | --- |
| Pros ✅ | Cons ❌ |
| Lower fees compared to other payment processing services | Only available to businesses using Shopify for their ecommerce platform |
| No long contracts for business owners | Currently available in only 23 countries |
| Accepts international payments | Account and fund holds are common for businesses in high-risk categories |
| Pays out the next business day | |
Paypal Overview
PayPal is one of the largest and most popular payment methods in the world. As a "digital wallet," PayPal makes it easy for people to pay for goods and services online by linking their bank accounts and credit cards to an account. PayPal also makes it possible for businesses to accept payment for goods and services. Nearly 430 million people have PayPal accounts in more than 200 countries, and millions of online stores and marketplaces accept PayPal. 
How PayPal Works
PayPal has its own payment processing system that allows businesses big and small to accept payments from consumers that use their "digital wallet." PayPal integrates into a large number of ecommerce platforms around the world for a faster, easier checkout process for shoppers. With PayPal, you'll be able to accept customer payments from:
Visa
Mastercard
American Express
Discover 
JCB
Diners Club
EnRoute
| | |
| --- | --- |
| Pros ✅ | Cons ❌ |
| Millions of buyers use it | Fees may be high for ecommerce store owners |
| Can be integrated into many ecommerce platforms | Account and fund holds are common for businesses, particularly in high-risk categories |
| Accept international payments | |
| No contracts — you only pay when your customers use PayPal to buy something from you | |
Shopify vs PayPal: Which One Is Best?
It's best to look at the factors that are most important to business owners when comparing payment processors. That's why we decided on the following criteria to judge these two ecommerce payment processing providers:
Fees
Processing and payout
Chargebacks and disputes
Security
Integration and setup
Customer service
Where it can be used
Here's a quick overview of how they stack up:
Criteria
Shopify
Paypal

Fees

❌

Shopify Payments has lower per-transaction rates (2.4%-2.9% + 0¢-30¢) but the monthly membership costs ($39-$399) can be significant

✅ PayPal's per-transaction fees (2.29%-5.4% + 9¢-30¢) may be higher (these can be discounted based on sales numbers) but there are no monthly membership costs

Processing and Payout

✅

3 days

❌

5-7 days

Chargeback and Disputes

✅

Faster dispute resolution (up to 60 days) and lower chargeback fee ($15 each)

❌ 75-day dispute resolution process and $20 chargeback fees

Security

✅ PCI-compliant
✅ PCI-compliant

Integration and Set up

❌ Only works with Shopify stores
✅ Works on many platforms, including Shopify

Customer service

✅ 24/7 live rep support
❌ 24/7 support (not live)

Where it can be used

❌ 23 countries
✅ More than 200 countries
Let's dive in.
Costs and Fees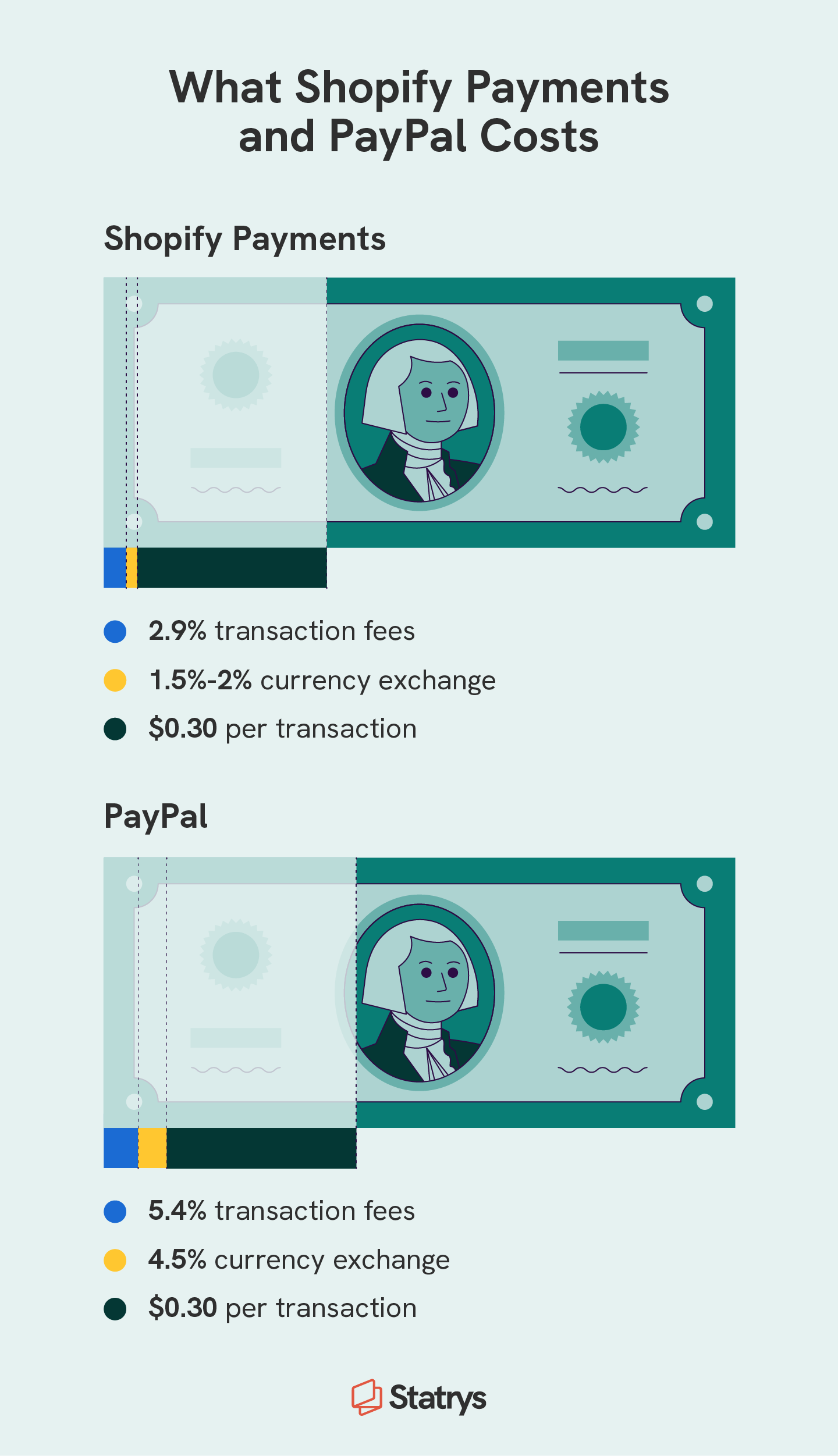 Shopify Payments fees are similar in type to most other payment processors, and they include:
Transaction processing fees: 2.4%-2.9% + 30¢ USD for online credit card transactions and 2.4%-2.7% + 0¢ USD for in-person credit/debit card transactions
Foreign currency exchange fees: 1.5% in the U.S. and 2% in all other countries
Shopify requires businesses to pay a monthly fee in order to use its services. There are three tiers — Basic, Shopify, and Advanced — that cost between $39 and $399 per month. The more expensive accounts provide lower rates and more user accounts.
PayPal collects industry-standard fees like most other payment processors, including:
Transaction processing fees: 5.4% + 30¢ USD for online credit card transactions and 2.29%-3.49% + 9¢ USD for in-person credit/debit card transactions
Foreign currency exchange fees: 4.5%
PayPal transaction fees are, by default, higher than the fees Shopify Payments charges. PayPal is free to sign up for and integrate into your ecommerce platform. There are no monthly fees and you only pay when transactions are processed. You can also receive lower rates if your sales exceed a certain threshold.
Criteria
Shopify
Paypal

Monthly fees

$39-$399 per month

None
Transaction fees

2.4%-2.9% + 30¢ USD online credit card rates

2.4%-2.7% + 0¢ USD in-person credit/debit card rate

5.4% + 30¢ USD online credit card rates

2.29%-3.49% + 9¢ USD in-person credit/debit card rates

Service charges

None
None

Currency exchange fees

1.5% in the U.S.
2% in all other countries
4.5%

Discounts

Lower rates for Shopify and Advanced plans
Available for sellers with sales of more than $3,000 USD per month
Processing and Payout
For Shopify payouts, you can expect to see the money deposited into your account within three days. Shopify payment processing and payouts are relatively quick and fall in line with what would be expected for a modern payment provider. 
For your customers, they'll experience almost instantaneous payment speeds if they're logged in through Shopify Pay, which is Shopify's customer-facing payment portal. If they don't have an account and want to check out using a card or PayPal, they'll need to enter that information (or sign in to PayPal) before the sale is completed.
You'll receive a PayPal payout within five to seven days. The processing and payout speeds for PayPal are generally fast, which you'd expect with one of the largest payment processors in the world. 
Your customers will be able to make payments or purchase goods from your website almost instantly if they're using PayPal Express Checkout. If they have to log in to PayPal and select which payment method they'd like to use, it will take a little longer, but not so long that they're likely to forgo buying from you.
Chargebacks and Disputes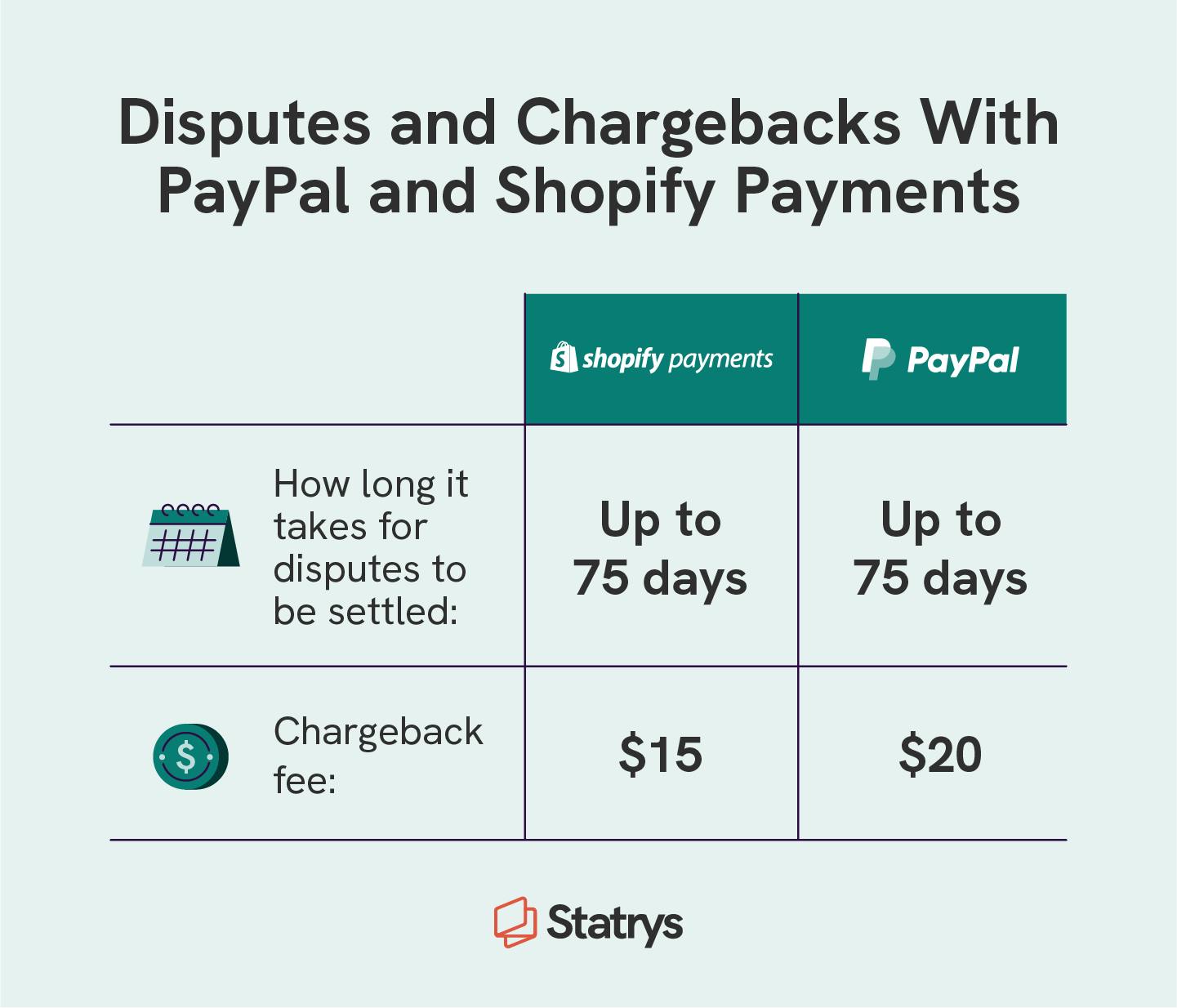 Shopify Payments can take up to 75 days for disputes to be resolved, and all disputes, regardless of fault, will cost the store owner $15.  In the event of a dispute, Shopify will request documentation or evidence of the issue from the business and the customer. If they believe the customer, they'll refund the money to them. If the store wins the dispute, Shopify will refund the chargeback fee. Shopify reserves the right to prevent you from using their platform if there are too many disputes. 
Meanwhile, PayPal disputes can take up to 75 days and can cost the store owner $20 if there was a chargeback. PayPal handles payment disputes and chargebacks by giving both the customer and the store 10 days to provide documentation about the incident. While PayPal makes its decision, those funds are frozen in your account.
❗Caution: If your PayPal business account is frequently receiving chargebacks, PayPal may lock your account. 
Security
Shopify Payments has great security features for both your business and your customers, including:
Fraud Filter: This is a setting built into Shopify that works to prevent fraudulent orders from ever making it to your inbox.
PCI-compliant: Shopify's stores follow the security standards set by the Payment Card Industry Data Security Standard (PCI DSS). This standard is designed to help reduce fraud related to payment data.
SSL certificates: These digital certificates provide an encrypted connection while simultaneously verifying the identity of a website.
PayPal is another safe and secure option for accepting payments on your website. To ensure the safety and security of your information and your customers' information, PayPal provides:
PCI-compliant protection: PayPal's standards align with the standards established by the PCI DSS.
Seller Protection: These features are designed to protect sellers in the event of chargebacks, fraud, or other disputes.
Integration and Setup
Shopify Payments is integrated into every Shopify ecommerce store and only Shopify stores, so all you have to do is fill in your account numbers to start accepting payments on your Shopify store. You can even integrate PayPal as another method for customers to pay for their purchases. Setting up Shopify Payments is as easy as connecting your accounts.
For most ecommerce platforms, integrating and setting up PayPal is very easy. Many of these platforms have PayPal built-in or it can be added using an app. Some examples include:
Shopify
Big Cartel
Wix
WooCommerce
Squarespace
OpenCart
Etsy
eBay
Depop
Customer Service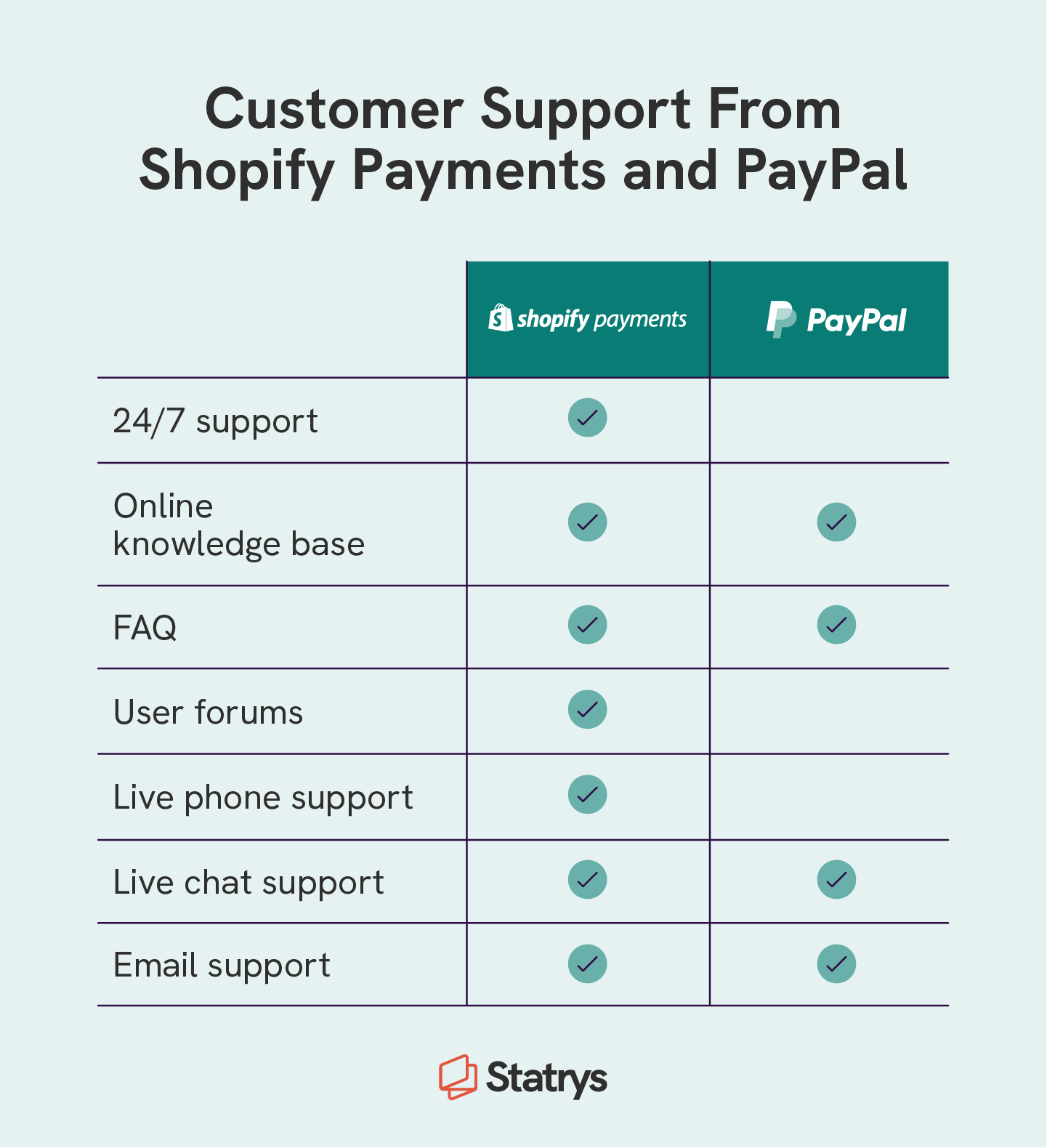 Shopify offers 24/7 customer support in a variety of ways. From its online knowledge base and forum support to live phone and chat, you can get help with your store and account anytime. If you need help with billing, the billing department will respond to your questions by email. 
PayPal also has a knowledge base, email support, chat, and a forum and FAQ section for support. PayPal does not offer 24/7 phone support. The resources for learning how to use its service are limited to documentation.
How To Add PayPal to Shopify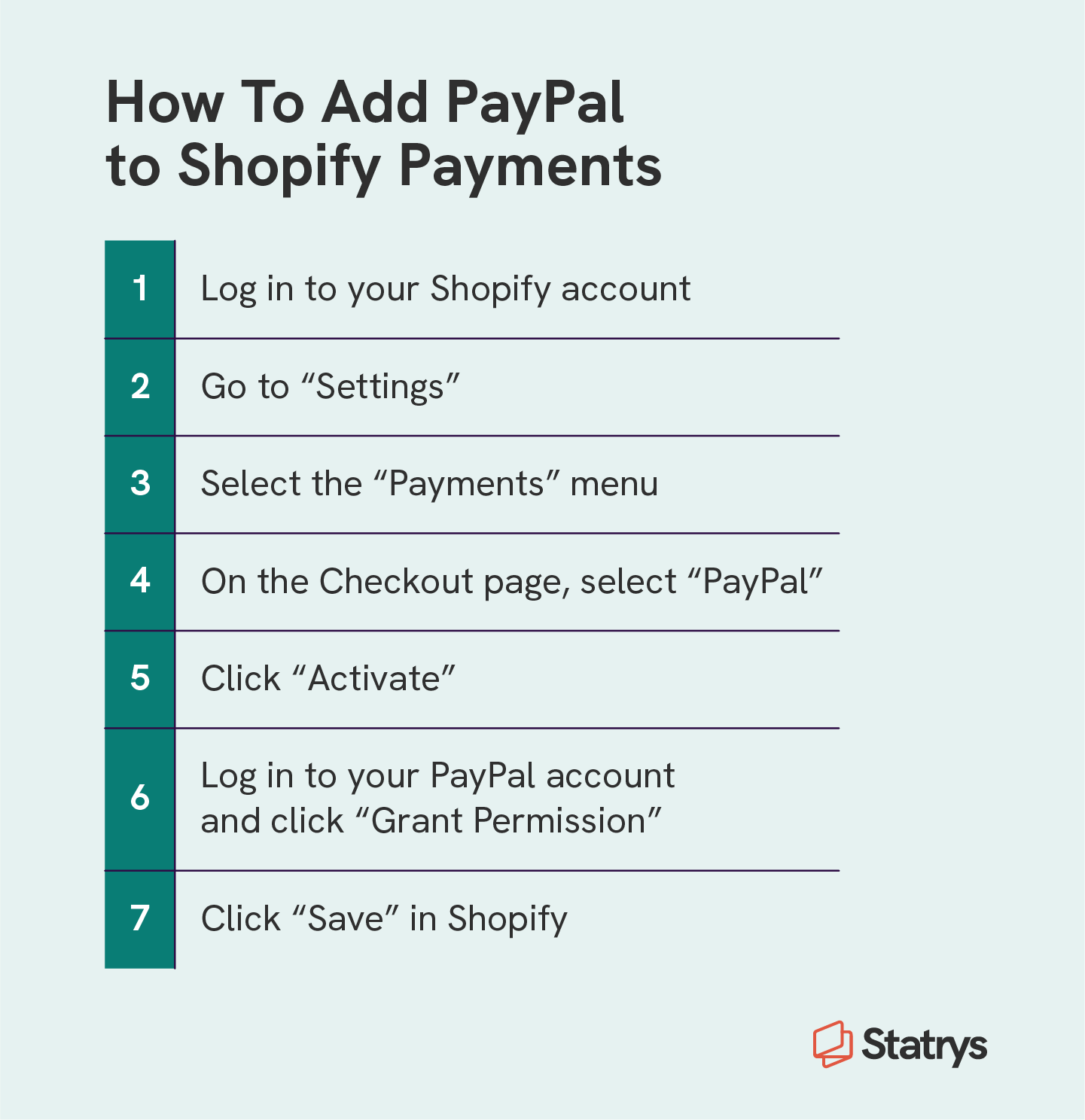 If you decide to use Shopify as your ecommerce platform, you don't have to forgo offering PayPal as a payment option. Here are a few good reasons to add it to your Shopify store:
Customers expect it: As one of the most popular digital wallets in the world, it may be easier for many customers to simply pay with PayPal than it would be to use Shopify Payments.
Some customers may only have PayPal: PayPal's large user base includes many people who only use it to make purchases online because they trust it. 
An additional payment channel can be beneficial if other methods fail: While it isn't likely that Shopify Payments will stop working, a customer may have difficulties adding a card to Shopify Payments or they may not want to take the time to enter their information into another system. PayPal integration removes these barriers to purchase.
Setting up PayPal with your Shopify store is fairly straightforward. First, make sure your Shopify and PayPal accounts use the same email address. Then follow these instructions:
Log in to your Shopify account
Navigate to "Settings" 
Click on the "Payments" menu
Select "PayPal" on the Checkout page
Click "Activate"
Log in to PayPal and click "Grant Permission"
Click "Save" in Shopify
Now that you've got the information to decide between Shopify vs. PayPal when you're choosing a payment provider for your online store, it's a good idea to take a deeper look at some of the other costs you'll run into when you open an ecommerce store. The right tools can help you overcome almost any hurdle you might run into as you begin to grow your business.
FAQs
What are the Shopify payment providers?
The payment methods customers can use on Shopify Payments are: • Visa • Mastercard • Amex • Apple Pay • Google Pay PayPal can also be added as an alternative payment method but is not a part of Shopify Payments.
Is Shopify as safe as PayPal?
Is PayPal good for small businesses?