5 Best Payment Gateways for Small Businesses in 2023
1. PayPal: Best payment gateway for international payments
2. Stripe: Most customizable payment gateway
3. Square: Best all-in-one payment gateways for online and in-store transactions
4. Authorize.net: Most secure payment gateway
5. Braintree: Best payment gateway with dedicated merchant accounts
The most important component of an ecommerce business is not the product – it's the payment processing system. 
While you can build an online business out of a bad product, it's impossible to conduct any business without a reliable payment processing framework. The fact that you can accept payments online is, in truth. What ultimately qualifies your business as an ecommerce store. 
At the front end of this payment processing is the payment gateway provider. You can consider it the middleman between your online store and customer card payments.
That means that your ability to conduct online transactions comes down to the capabilities of your payment gateway solution. 
In that case, you might want to join us as we unpack the 5 best payment gateways for small businesses. This guide outlines their core features, payment methods, supported countries, and charges – including transaction fees, monthly fees, chargeback fees, and setup fees. 
But first, let's ensure we're on the same page about how payment gateways work. 
What is a Payment Gateway?
A payment gateway is a service that facilitates transactions by securely collecting and transmitting a customer's payment data to your merchant account.
Payment gateways for in-person payments are built into point-of-sale systems, whereas online payment gateways integrate with ecommerce checkouts. 
Both types of solutions are sourced directly from third-party payment gateway providers. Businesses then use them to accept credit card payments, debit card payments, and digital mobile payments like Apple Pay, Google Pay, Amazon Pay, Venmo, etc. 
One thing you'll notice about some of the best payment gateway providers is they happen to double up as payment processors. This setup lets you securely authenticate your customer's card details and process credit card payments from one solution. 
Lastly, you can find credit card processing reviews online to see how each payment processor compares so you can choose the right one for your small business.
🔎 Want to learn more? Read our comprehensive guide on the different types of payment gateway and how it works
5 Best Payment Gateways for Small Businesses in 2023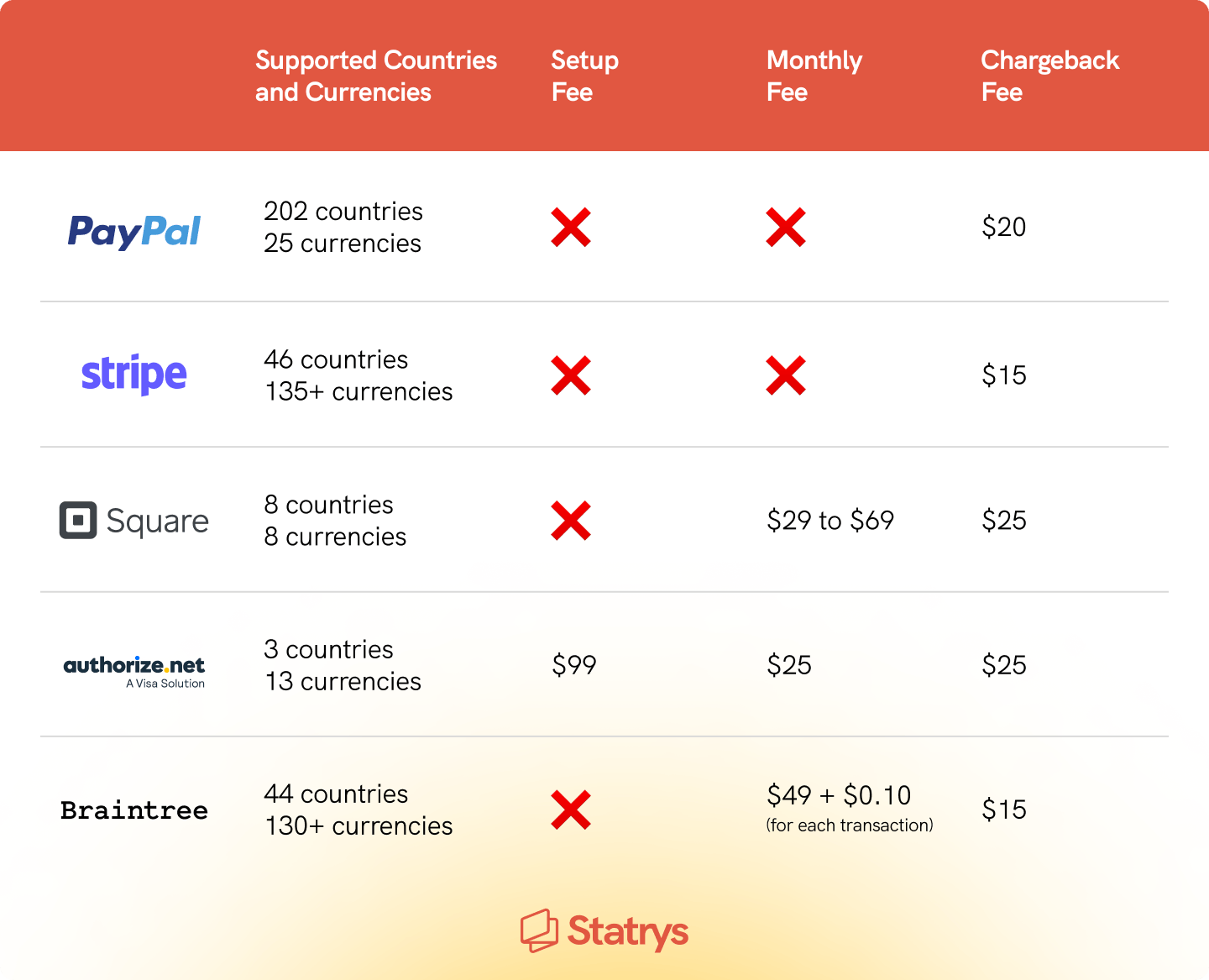 1. PayPal - Best payment gateway for International payments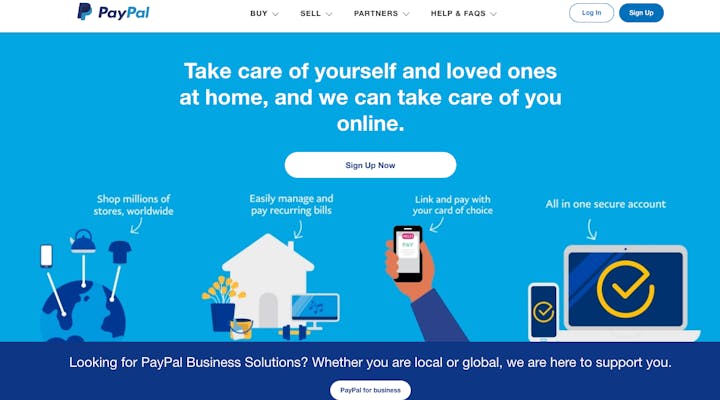 PayPal is the best option if your business is selling beyond borders. Processing international payments shouldn't be a problem, as the service supports 202 countries and 25 currencies.
This has even seen it attract over 325 million account holders, most of whom can pay businesses directly from their PayPal balance. 
So extensive has PayPal grown that it now allows merchants to leverage it as a payment gateway, a payment processor, or both. 
Out of the three, small businesses overwhelmingly prefer the payment gateway-payment processor combo, which comes in the form of a PayPal Business merchant account. It can accept credit and debit card payments – but only after customers have been redirected to PayPal's website. 
If you prefer to keep the transactions onsite, you'd be better off with PayPal Payments Pro or PayPal Payments Advanced.
The former is an API-based solution that can be embedded with popular ecommerce platforms, while the latter processes payments via a PayPal-hosted page. 
Payflow Pro, on the other hand, would give you PayPal's payment gateway features without the accompanying payment processing capabilities. This is what you choose when you want to integrate PayPal with a different payment processor. 
Whichever you choose, you should be able to accept international payments from all the major credit and debit card providers. Your customers can also pay via Venmo, Apple Pay, and their PayPal accounts. 
💡 Keep in mind that PayPal has various types of limits on online transactions. And if you ever exceed them, your merchant account might be temporarily or permanently frozen. 
PayPal payment gateway features
Online invoicing
Credit card reader
Virtual terminal
Barcode scanning
Express checkout
Inventory tracking
Mobile card reader
PCI compliance
PayPal payment methods
Credit Cards
Debit Cards
Venmo
Apple Pay
PayPal
Transaction fees charged by PayPal payment gateway
E-check fees: 3.49% up to $300.
Dispute fees: $15 for standard transactions and $30 for high-volume payments.
Chargeback fees: $20.
Card processing fees: 3.5% + $0.15 for card-not-present transactions, 2.7% for in-person swipes, 2.9% + $0.30 for US transactions
Pros and Cons of PayPal payment gateway
| PayPal Business Pros | PayPal Business Cons |
| --- | --- |
| Online checkout integration | Funds may be frozen unpredictably |
| Multiple payment options (including Venmo and buy now, pay later) | Limited POS features and benefits |
| Trusted platform by consumers as one of the best payment processor | Payment processing may be costly for small transactions |
| Transparent fees in 25 currencies | Not recommended for high-risk or high-volume businesses |
| Available in 202 countries | |
2. Stripe - Most customisable payment gateway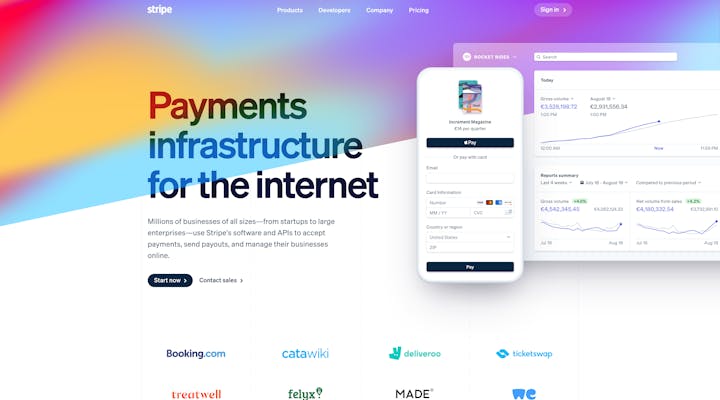 Stripe is another multifaceted business solution that boasts payment gateway and payment processing solutions. But, it's not as extensive as PayPal – while you can accept digital payments from anywhere in the world, merchant accounts are only available in 46 countries. 
Stripe makes up for that by making its payment processing platform much more flexible and upscalable. It gives developers the tools to customize their onsite payment gateway integrations deeply.
That means you should be able to create a seamless self-hosted payment experience. 
If you don't have the requisite web development expertise, your custom build can be set up using any prebuilt checkout pages that come with Stripe Checkout. Then for businesses that prefer not to host the payment processing system on their domains, Stripe can be utilized as a third-party-hosted solution. 
Another thing that attracts small businesses to Stripe is its customer-centric user experience. You can minimize cart abandonment with real-time card verification, one-click payment, card brand identification, address autocomplete, and third-party autofill features. 
The payment methods accepted here are credit cards, debit cards, bank transfers, checks, bank redirects, cash-based vouchers, and digital wallets like Apple Pay, Google Pay, Microsoft Pay, AliPay, and WeChat Pay.
All these funds can be processed in over 135 currencies, and the accompanying transaction fees are usually almost half as cheap as PayPal's. 
Stripe payment gateway features
AES-256 encryption
Mobile-friendly customer interface
Multi-currency payouts
Collaboration notes
Multiple payment options
Embeddable checkout
Customizable UI toolkit
PCI Service Provider Level 1 compliance
Stripe payment methods
Credit Cards
Debit Cards
Bank/Wire Transfers
Digital Wallets
Cash-based vouchers
Transaction fees charged by Stripe
Chargeback fee: $15.
ACH: 0.8% up to $5.
Touchless: 2.9% + $0.30 
Manually keyed transactions.: 3.4% + $0.30.
Card-present: 2.7% + $0.05.
Chargeback fee: $15
Pros and Cons of Stripe Payment Gateway
| Stripe Pros | Stripe Cons |
| --- | --- |
| Simple and clear pricing | Invoicing and recurring billing incur extra fees |
| Flexible payment options | The first fund transfer may take 7-14 days |
| User-friendly design | Advanced features require developer implementation |
| Multi-currency support available | Limited functionality applies to certain businesses |
| Advanced anti-fraud measures | |
As a vertical SaaS company, we have found Stripe to be the most flexible to integrate with and provide the most seamless user experience for our customers.
3. Square - Best all-in-one payment gateways for online and in-store transactions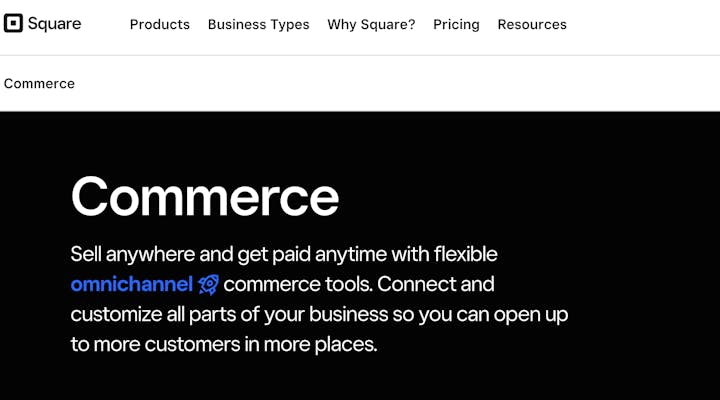 If you're looking to process omnichannel payments in your small business venture, then you'll need an all-rounded solution like Square.
While we've described it as a payment gateway, Square is more of a payment aggregator. That means it condenses multiple merchant payment services into a single, centralized merchant account.
Your Square account can process not just online payments, but also in-store and in-person transactions. What's more, you can stretch the system to serve your business as a mobile payment gateway, virtual terminal, QR payment processor, and POS system.
The channel that handles ecommerce payments is called Square Online Checkout. You can have it generate payment buttons or links, and then embed them into your web pages, blogs, emails, and social media profiles. Once customers click on them, they'll be immediately redirected to your checkout page.
All this time, your in-store payments can proceed in the corresponding Square POS app. This is what you install in your brick-and-mortar store's iPad to convert it into a payment terminal. Square even provides additional facilitation in the form of POS peripheral hardware such as card readers, cash drawers, and receipt printers.
All that works in tandem with the mobile version of the Square POS app, which is built to take care of in-person payments. You can connect it wirelessly to Square's mobile card reader and then use your Android or iOS device as a portable POS system.
Small business owners can also process credit card transactions via their web browsers. This is courtesy of the Square Virtual Terminal, a PC solution developed for businesses that only need POS capabilities occasionally.
All in all, your omnichannel Square system should be able to take credit and debit card payments, gift cards, ACH transfers, mobile wallet payments, checks, cash, plus QR codes.
Square payment gateway features
Card Acceptance
EMV support
Fraud prevention
Custom checkout
Sales tracking
Multi-location support
Free POS software
API Access
Square payment methods
Credit Cards
Debit Cards
Gift Cards
ACH transfers
Digital wallets
Checks
Transaction fees charged by Square
Manually keyed transactions or card-on-file invoices: 3.5% + $0.15.
Online transactions: 2.9% plus + $0.30.
In-person payments: 2.6% + $0.10.
Chargeback fee: $25
Monthly fees: $29 - $69
Pros and Cons of Square Payment Gateway
| Square Pros | Square Cons |
| --- | --- |
| Transparent pricing structure | Expensive chargeback fees may apply |
| Versatile hardware options | High-risk industries may not be supported |
| Support for diverse payment methods | No offline payment processing |
| Advanced fraud prevention measures | Limited integration with third-party services |
| Customizable analytics and reporting | |
4. Authorize.net: Most secure payment gateway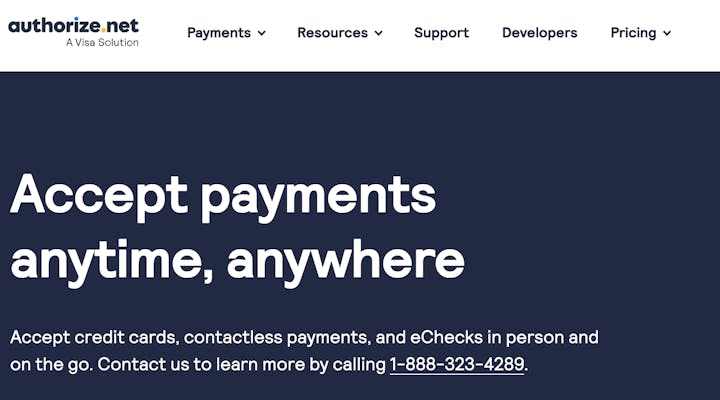 Owned and maintained by Visa, Authorize.net is a payment gateway that handles online, e-check, mobile, recurring, in-person, and virtual POS payments. It's not as widely available as the parent company, though – only businesses in the US, Australia, and Canada can operate merchant accounts. 
If you're lucky enough to fall under any of these jurisdictions, Authorize.net would be particularly ideal for high-risk international ventures. It's the best payment gateway for small businesses dealing in stuff like gambling, finance services, and broadcasting. 
The reason is, Authorize.net comes reinforced with layers of extra security and privacy protection. Not only is it PCI compliant, but it also boasts an advanced fraud detection suite that can be handy in preventing chargebacks and fraudulent transactions. 
With this built-in security suite, you get to configure up to 13 fraud filters for added protection. The payment processing system will then automatically lock out any transaction attempts that fail to meet your minimum safety thresholds. 
You could, for instance, set transaction filters and have the system flag all the suspiciously irregular payment amounts. IP filters, on the other hand, can block off traffic from high-risk IP addresses, regions, and servers. Then shipping filters are meant to minimize risks by verifying customers' shipping addresses through enhanced AVS handling. 
This robust firewall covers not just online debit and credit card transactions, but also e-checks, PayPal remittances, as well as digital wallet payments via Apple Pay. 
While you're at it, Authorize.net will charge you a monthly recurring fee above your payment processing charges. 
Authorize.net payment gateway features
Popular and easy to integrate
PCI compliance
Advanced fraud detection Suite
Robust payment toolkit
Customer information manager
Mail/phone payment
Recurring billing
Authorize.net payment methods
Debit Cards
Credit Cards
E-Checks
PayPal
Apple Pay
Authorize.net transaction fees for merchant accounts
E-check processing fee: 0.75% per transaction.
International payments fee: 1.5% per transaction.
Payment gateway transaction fee: $0.10 per transaction + a $0.10 daily batch fee.
All-in-one transaction fee: 2.9% + $0.30
Chargeback fee: $25.
Setup fee: $99
Pros and cons of Authorize.net payment gateway
| Authorize.net Pros | Authorize.net Cons |
| --- | --- |
| Accepts various payment methods | Fees are higher than competitors |
| Enables manual payments via virtual terminal | Funds take time to transfer |
| Implements advanced fraud prevention and detection | Monthly gateway fee required |
| Supports recurring billing | Setup process is complex |
| Robust analytics and reporting tools | |
5. Braintree: Best payment gateway with dedicated merchant accounts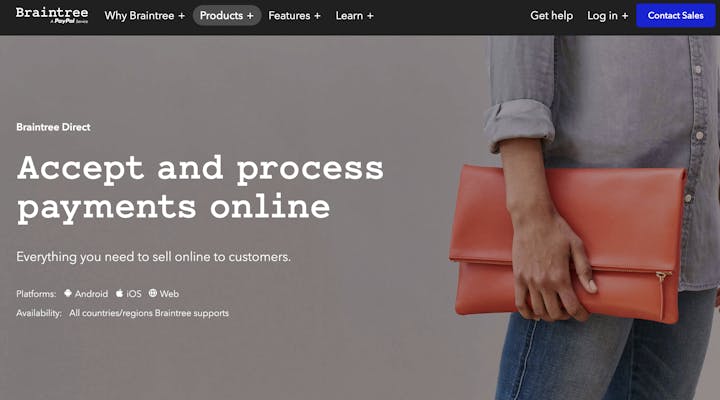 The fifth best payment gateway for small businesses is Braintree, a solution that runs on the same infrastructure as PayPal. So intertwined are the two services that you'll need a PayPal Business account to use Braintree in your store. 
They don't offer similar features, though. PayPal is structured as a payment aggregator of sorts, whereas Braintree is a payment gateway that provides dedicated merchant accounts within a customizable, developer-friendly environment. 
This should give you more custom control over your payment processing operations. But, you'll need some coding expertise to tweak the finer details. 
Braintree also minimizes the risk of incurring limitations on your business account. And that's because you'll be getting a dedicated merchant account, complete with the control privileges of a fully-fledged business bank account. 
As for the payment methods, your account here will be more flexible than its PayPal equivalent. Braintree accepts all major debit cards and credit cards, Venmo, PayPal, and ACH bank deposits, plus digital wallets like Apple Pay, Google Pay, Samsung Pay, etc. 
You can access these benefits from any of the 44 countries supported by the payment processing system. Customers, on the other hand, can process their online in person transactions in over 130 currencies. 
Braintree payment gateway features
Supports 130 currencies
Easy data migration
Dynamic control panel
Drop-in UI
Advanced fraud protection
Customized checkout workflow
Easy repeat billing
Encryption
Guaranteed uptime
Braintree payment methods
Credit Cards
Debit Cards
Venmo
Apple Pay
Google Pay
PayPal
Braintree transaction fees
Chargebacks: $15.
Monthly fee: $49 + $0.10 for each transaction.
ACH payment processing fee: 0.75% up to $5.
Venmo transaction processing fee: 3.49% + $0.49.
Card payment processing fee: 2.59% + $0.49
Pros and cons of Braintree payment gateway
| Braintree Pros | Braintree Cons |
| --- | --- |
| Competitive and transparent pricing structure | Not ideal for physical retail locations. |
| No monthly or minimum transaction fees, or PCI compliance fees | Requires web development skills to set up |
| Supports PayPal, Venmo, credit, and debit cards | Gateway-only option is expensive |
| Offers individual merchant accounts for customers | Time-consuming setup process |
| No early termination or contract fees | |
Criteria for Selecting the Best Payment Gateways
For clarity into how we arrived at these five solutions as the best payment gateways, here's a breakdown of the core consideration factors.
1. Ease of Use
This refers to the overall user experience when setting up, configuring, managing, and operating your payment gateway.
A small business would need a plug-and-play solution that can be installed in minutes, customized visually, managed from their website dashboard, upscaled in a single click, and configured without technical expertise.
You might also want to prioritize self-hosted payment gateways for fast and continuous checkout. Third-party checkouts would otherwise elongate the process for shoppers, thereby increasing the risk of cart abandonment.
🔎 According to Statista, it shows that a long and complex checkout is the fifth biggest driver of shopping cart abandonment.
2. Security
At the very least, your payment process should be level-1 PCI DSS compliant. The Payment Card Industry, Data Security Standard, is a set of technical requirements to safeguard card transactions from fraud and theft.
Another critical security feature is end-to-end data encryption. The best payment gateways have engineered their systems to mask all the data transmissions with 256-bit-plus ciphers, making brute force cracking virtually impossible.
Tokenization would also help in protecting your customer's credit card details. This is where payment gateways use encryption, secret keys, and hashing techniques to convert sensitive data into security tokens. The tokens are then sent to card networks, merchant service providers, and banks through the Internet.
Other provisions to look for include 3D Secure 2.0 authentication protocol, Security Socket Layer (SSL) certificates, Transport Layer Security (TLS) certificates, and Address Verification Service (AVS).
🔎 Association for Financial Professionals (AFP) states that 71% of organizations are experiencing payment fraud attacks; hence you cannot afford to take chances with the security of your in-store and online payment gateways.
3. Pricing
To find the most cost-effective payment solutions for your business, we'd recommend basing the pricing analysis on the volume and value of your projected transactions.
Try to work out the total annual bill that you incur from each service in the form of setup fees, monthly fees, payment processing fees, chargeback fees, etc.
As the value of transactions increases, it becomes cheaper to work with subscription-based payment gateways that bundle their monthly fees with low transaction fees.
As for businesses at the other end of the value spectrum, higher transaction fees would be fine if they came with zero monthly fees.
4. Compatibility with popular ecommerce platforms
Many leading payment processors have already developed integrable extensions for all the major ecommerce platforms.
In particular, the app marketplaces for WooCommerce, Shopify, Wix, Squarespace, and Magento feature an overwhelming range of options – including installable versions of PayPal, Stripe, Square, Authorize.net, and Braintree.
💡Learn more about the best payment gateways and payment methods for ecommerce with our detailed guide.
To examine their compatibility, we'd advise you to set up a clone of your website in a staging environment.
That'll give you a safe base to test out each of the selected payment gateway solutions.
Wrapping Up
It would be wise to start with an exhaustive needs analysis to sort out the payment gateways. 
If international is where you plan to take your businesses, for instance, we'd recommend a widely available and globally trusted solution such as PayPal. 
But, if the same business is projecting a consistent stream of high-value transactions, Stripe would be more appropriate since its transaction fees are almost 50% cheaper. 
Square, on the other hand, would suit a small business that sells online, in-store, on the go, and maybe in pop-up shops from time to time during events. 
With Authorize.net, you get a super secure payment fortress to shield your ecommerce site from payment fraud attacks.
It's the type of payment gateway you'd want for high-risk business ventures that rank at the top of the digital fraud index. We're talking about online gaming, sports betting, financial services, adult entertainment, firearms, airline booking, jewelry, and pharmaceuticals. 
As for online drop shippers and fashion stores, they'd appreciate something like Braintree. The built-in dedicated merchant account makes this payment gateway ideal for managing significantly higher returns and chargeback risks.  
FAQs
What is a payment gateway?
A payment gateway is a service that facilitates transactions by securely collecting and transmitting a customer's payment data to your merchant account.
Which payment method is best for small businesses?
What are the different types of payment gateways for small businesses?