Dropshipping is when an individual or business sells products on their website that they do not have in stock. After an order is received, it is forwarded to another company which ships the products straight to the customer. That company can be based locally or internationally. This business model makes a profit from the difference between what the customer pays and what they pay to the supplier.
Dropshipping is a retail model in which the dropshipper doesn't stock goods or handle the delivery process.
In a dropshipping business, the retailer forwards customer orders to a third-party supplier, who is responsible for packaging and shipping the products directly to the customer.
How Does Dropshipping Work?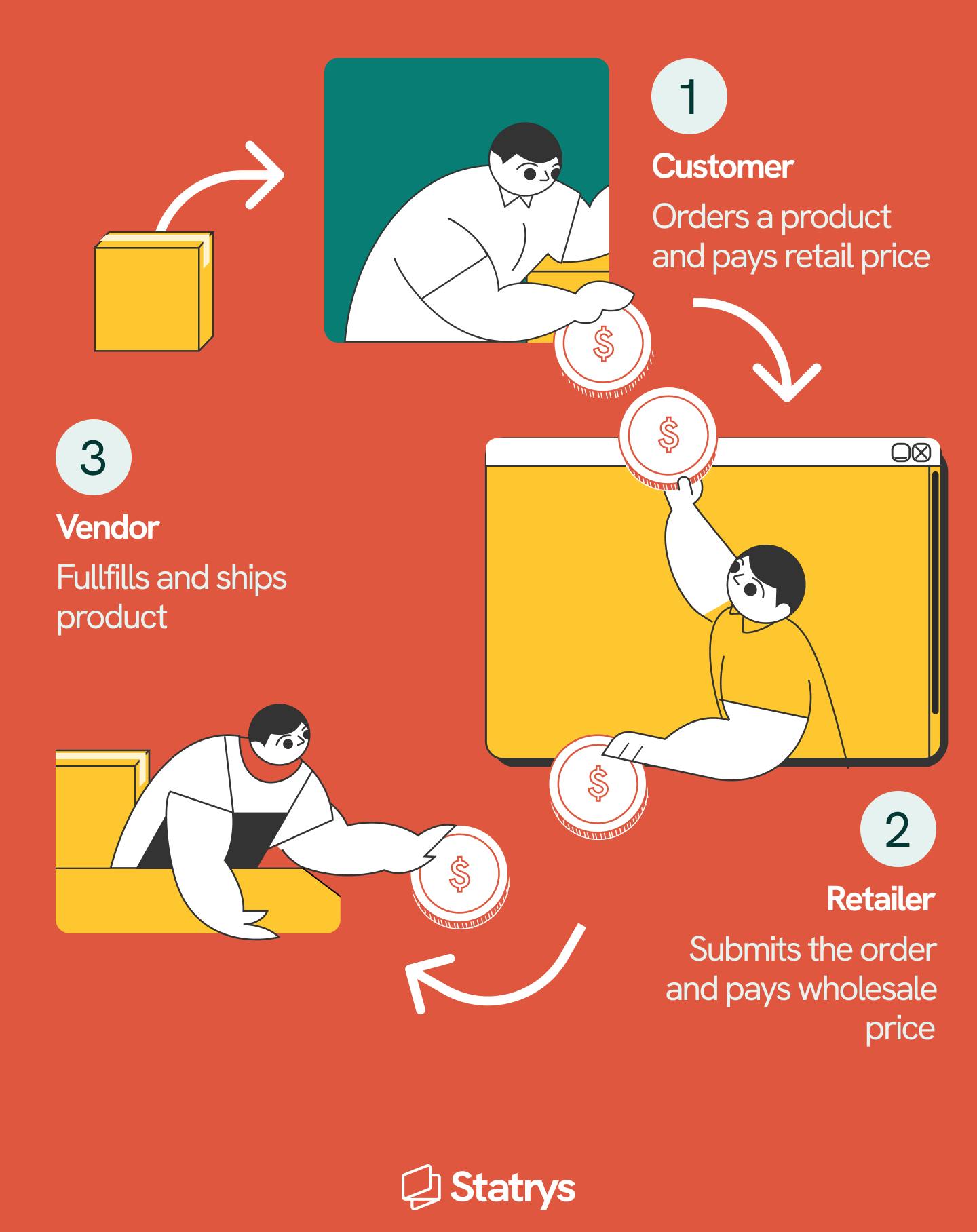 A person using the dropshipping business model to launch an online clothes store might be an example of dropshipping in action. This is how it would proceed:
The owner of the boutique store (dropshipper) chooses a wholesaler (third-party supplier) who focuses on the kind of apparel they wish to offer in their shop.
The apparel products are listed on the dropshipper's website, along with descriptions and pictures of the merchandise.
A buyer orders a specific item of clothes on the dropshipper's website.
The boutique store owner pays a reduced price to the wholesaler for the item in exchange for the customer's shipping details.
Using the boutique owner's branding on the packaging, the wholesaler packages and distributes the apparel item straight to the buyer.
Profits for the dropshipper come from the difference between the retail price for the clothing item and the wholesaler's discount.
A business model like dropshipping enables dropshippers to open an online store without needing to invest in products at first.
Dropshipping Business Model: Is it for you?
Because dropshipping has low initial costs and requires no inventory investment, launching an online business may be a profitable and risk-free option.
It is anticipated that the worldwide dropshipping industry will grow from $149.4 billion in 2019 to $557.9 billion by 2025.  Dropshipping is a very competitive business. Therefore, it's crucial to remember that profit margins might be quite slim.
In light of these elements, dropshipping may be a successful business strategy for those prepared to put in the time and effort necessary to establish a solid brand.
What is a Dropshipper?
A dropshipper is a person or business that finds inventory and handles fulfillment logistics through a supplier instead of storing and shipping the products.
The dropshipping model depends on a third-party supplier who stores inventory and fills orders. So, a dropshipping business can be run well by a group of employees or even a single business owner.
Dropshippers can focus on marketing, customer service, and growing their businesses, while a reliable supplier takes care of warehousing and shipping. This method not only makes logistics easier but also lowers the initial investment and overhead costs that are usually part of running a traditional store.
Is Dropshipping Worth It?
With dropshipping, you can start small, invest less than traditional online businesses, and take low risks. But is dropshipping worth it?
In this section, we'll weigh out the pros and cons of dropshipping and let you decide if it's the right business model for you.
Pros of Dropshipping
Dropshipping has seen recent popularity in the last few years and continues to be a successful approach in helping people build an income stream that doesn't require having a physical store.
With dropshipping, there are benefits and risks involved. So, why use dropshipping as a business model? 
Minimal risks involved
In dropshipping, an owner doesn't have to invest in a product but only has to purchase it after they've received an order and payment from a customer. This mitigates the risks of investing a huge cache of stock upfront.
Low startup costs
If your focus is high on profit from the dropshipping business, it may not be as you expect. Though it has a low startup cost and other benefits, almost 95% of the dropshipping business model has the same structure. Compared with retailers, you may not spend most of your budget on the products, but you often pay other fees such as delivery, third-party supplier management, product fulfillment, and more.
Wide range of products
With dropshipping, there is a wide range of products available to sell, allowing for greater flexibility and potential for niche market success. There are also ways in which you can customize the products chosen to fit with your dropshipping store, known as "branded dropshipping."
Flexibility of stock and store location
Because you haven't purchased stock, it's much easier to read and follow trends in your sales. You aren't beholden to one thing and can easily discontinue selling a product or add a new one as you read what your market demands.
As an online retailer, you can run your business anywhere with an internet connection. From home or a coffee shop. You aren't anchored to one place.
Cons of Dropshipping
Competition
Because dropshipping is such an attractive prospect, the market can be flooded with other stores selling the same things, or at least in the same niche. Some work may involve getting yourself seen and building a reputation.
Supplier Error
All suppliers will make mistakes sometimes, and you will have to be the one to apologize and smooth things over with disappointed customers. Be sure to vet your suppliers well so you don't have irate customers.
Challenges with quality control and product returns
As dropshipping firms depend on outside suppliers to fill orders, maintaining quality control may be difficult. The complexity and time required to manage product returns can also negatively affect the customer experience and the company's reputation.
Lower profit margins
With additional fees and costs within the dropshipping model, lower profit margins are frequently a problem for dropshippers. For instance, an online retailer may have fewer overhead expenses than a retailer, but the inability to manage price and delivery may result in lower profit margins overall.
How to find Dropshipping Suppliers?
Choosing the best suppliers is essential to do your dropshipping right.
You depend on your third-party supplier as a vendor for prompt shipment, high-quality products, and legal compliance.
Consider the following to make sure you work with the top dropshipping suppliers:
Product Quality and Shipping
You need to verify that the products are as advertised and that their shipping meets your criteria. Knowing this would allow you to thoroughly understand how your chosen products are manufactured and the logistics process.
Business Practices
In addition to the product quality, you should look at the supplier's business practices. You might begin by asking yourself these questions:
How do they manage product returns or damage?
How long does it take them to complete an order?
How is the company's customer service? Can you verify it on your own?
Do they provide order insurance or any product protection?
Are there any product testimonials or references?
Have you reviewed the contract for their dropshipping arrangement?
Choosing the right dropshipping suppliers can be crucial for your business, impacting customer satisfaction and revenue growth.
By partnering with reliable vendors, you'll establish a solid foundation for your venture, ensuring long-term success and a robust reputation for your dropshipping business.
👨🏻‍💻 Expert tip: Check out how you can start an online store on Amazon and use the world's largest online marketplace for your dropshipping business.
Dropshipping Tips in 2023
Although dropshipping may be highly competitive, you can build an effective and long-lasting business with the appropriate techniques and strategies.
Here are some fundamental tips and procedures to consider before launching a dropshipping business in 2023.
Find a profitable niche: Look for a product with a good combination of high demand and low competition. This will enable you to stand out in a congested marketplace and build a strong following of prospects.
Choose reliable vendors: Conduct thorough research to identify trusted suppliers that can provide high-quality goods in a timely manner. Create enduring connections with them to guarantee superior quality of service.
Develop an outstanding website: Invest in a good website that is easy to use and efficiently displays your items. To increase conversion rates, provide visitors with a frictionless buying experience.
Deliver excellent customer service: Focus on providing helpful customer communication. To create a devoted consumer base, the key focus is to be responsive and address any problems or concerns.
Use SEO strategies: This will aid in increasing your website's visibility and rankings on search engines. When you optimize for search engines, your website's organic traffic will grow and gain more credibility. Consequently, your revenues will rise.
Manage finances carefully: Keep a tight check on your costs and profit margins. Work collaboratively with suppliers and use payment applications to ensure effective and affordable operations. In doing so, you can optimize your earnings and stay out of debt.
Whether you're a seasoned entrepreneur or new to the world of ecommerce, these tips will help you confidently launch and grow your dropshipping business.
Final thoughts
The truth about dropshipping is that it can be an incredibly successful and low-risk approach to building an online business, but it takes careful planning, management, and execution. It is challenging, but it offers several advantages. At the same time, it also comes with drawbacks. Nevertheless, certain approaches may be necessary to ensure your dropshipping success.
Dropshipping may be a terrific business strategy for those who are prepared to put in the time and effort necessary to succeed. It provides a flexible, low-risk means of starting a business online, but it is not a get-rich-quick scam. Stay focused, have a solid plan in place, and you could build a thriving dropshipping business that keeps the cash flowing for years.
FAQs
Dropshipping is a retail model in which the retailer doesn't stock goods, but rather forwards orders to a third-party supplier, who then handles the delivery process and delivers the final product to the customer.
Is dropshipping profitable?