Steps to Build an Ecommerce Website
Step 1: Choose a website builder
Step 2: Get an ecommerce hosting solution
Step 3: Purchase a domain name
Step 4: Pick and customize a website theme
Step 5: Define your ecommerce website structure
Step 6: Add your products
Step 7: Set up payment solutions
Building an ecommerce website is no longer optional – it's now a necessity for every entrepreneur who'd want to maximize their business potential. 
In the U.S., for instance, 74% of consumers now prefer online shopping over buying from a brick-and-mortar store. And in a separate survey that tracked the shopping channels jointly, it was established that 64% of all buyers' journeys begin from the web. That's confirmation that a strong online presence will drive even your in-store sales. 
Through this guide, you should be able to get yours up and running without using any coding skills, technical assistance, or costly infrastructure. Here's how to build an ecommerce website in 8 basic steps.
Step 1: Choose a Website Builder
For starters, you'll need an ecommerce platform which will form the foundation of your ecommerce website. 
The platforms themselves come in the form of end-to-end software-as-a-service solutions, complete with pre-configured provisions for powering the front-end and back-end functions of your online store. 
On the market, you'll find a wide range of options, each with its own unique architecture, pricing, and capabilities. To select the best one for your ecommerce store, we'd advise you to prioritize the following: 
Website Builder: Look out for an ecommerce platform that allows you to build a full-fledged online store without touching a line of code. You need an intuitive, easy-to-use site builder that designs visually on a responsive WYSIWYG editor. 
Site Themes and User Experience: Now that 73% of consumers consider user experience when making purchase decisions, a well-designed front-end will help you maximize conversions. Your platform should be accompanied by a series of elegant, customizable website templates that have been optimized for both desktop and mobile devices. Keep in mind that mobile alone accounts for 56% of ecommerce sales. 
Performance and scalability: For the highest possible conversion rates, pages in your ecommerce website should load in 2 seconds or less. This is only possible with an ecommerce platform that offers advanced performance features such as resource auto-scaling, caching, CDN, render blocking, image optimization, GZip compression, plus CSS and JS minification. Each additional second in load time would otherwise reduce your conversion rates by 4.42%. 
Product management system: To sell online, you need a powerful inventory management system that supports bulk product uploads, product images, dynamic product filters, multiple shipping solutions, product comparisons, wish lists, etc. 
Content management system: You'd want a built-in content management system that allows you to easily create, publish, and edit multimedia content. Then since organic traffic drives 38% of all ecommerce sales, the CMS system ought to have an SEO-friendly architecture. 
Integrations: You should be able to expand your ecommerce functionalities through app integrations. The best online store platforms offer a wide range of extensions for email marketing, payment gateways, CRM, conversion optimization, analytics, shipping, order fulfillment, ERP, etc. 
These feature considerations will ultimately lead you to ecommerce platforms such as:
Shopify
Wix
SquareSpace
BigCartel
Step 2: Get An Ecommerce Hosting Solution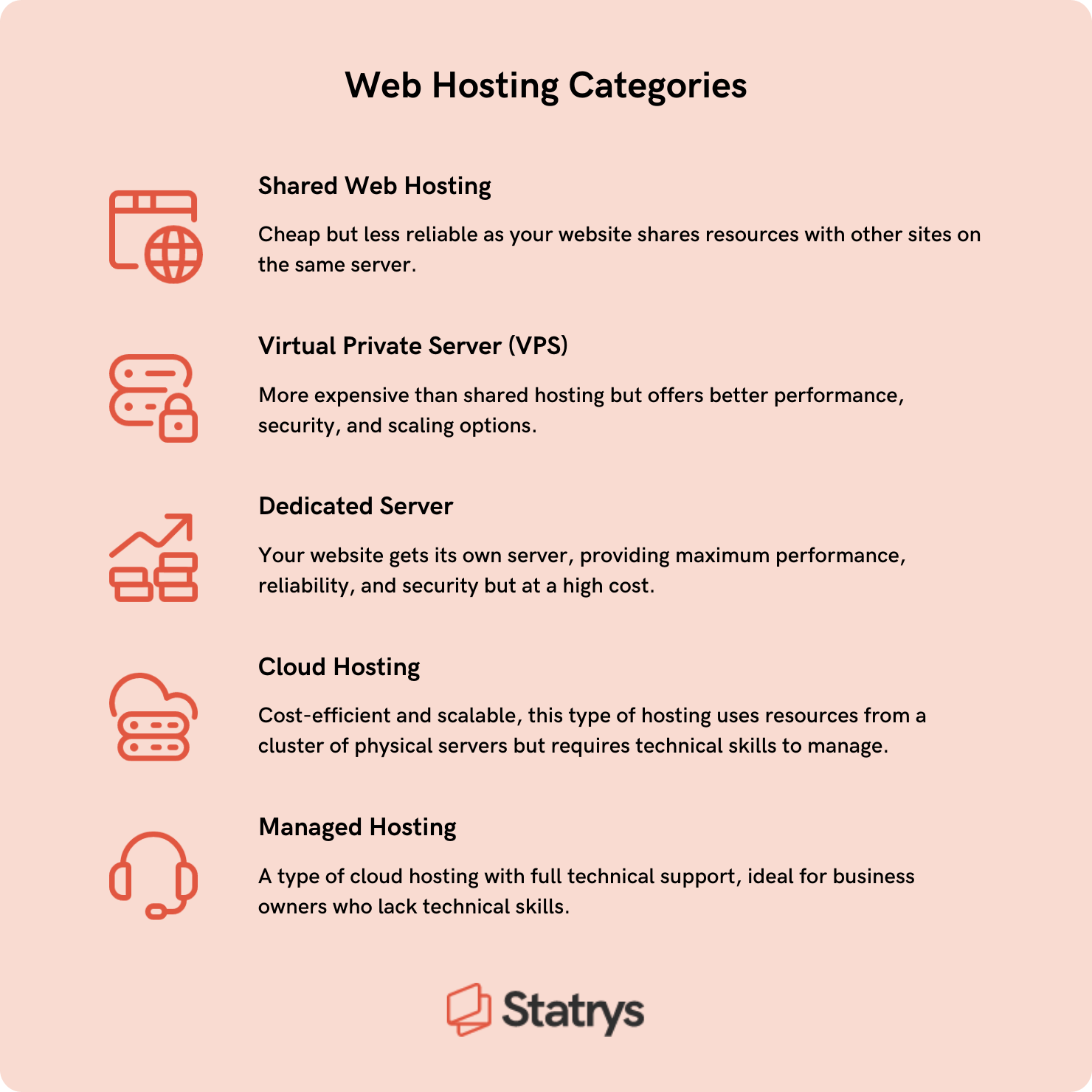 The ecommerce platforms that we mentioned above are full-stack ecommerce platforms. That means they take care of web hosting, in addition to powering online stores.
This is a privilege you won't get from on-premise solutions such as WooCommerce and Magento. Both are open-source software that can only be deployed on third-party infrastructure.
The infrastructure, in this case, is web servers from ecommerce hosting solutions. And, in particular, you might want to try out renowned hosting providers such as Bluehost, GoDaddy, SiteGround, A2 Hosting, or DreamHost. 
All five of them offer server allocations in the following web hosting categories: 
Shared web hosting: This is the cheapest option, but the worst in terms of performance and reliability. Your ecommerce website is placed on the same server space with several other sites, which means that they all end up sharing system resources – like CPU, bandwidth, and RAM. 
Virtual private server (VPS): If you choose to purchase VPS hosting, your ecommerce website will be held on a shared machine but in its own separate partition – complete with isolated resources. The result is increased performance, better traffic handling, fewer security risks, dynamic scaling, and faster loading speeds. But, it's not cheap. 
Dedicated server: Dedicated hosting means your ecommerce site gets an entire machine to itself. You get to enjoy peak performance, ultimate reliability, robust security tools, extended bandwidth, and custom scaling without any interruptions. The pricing, however, is only economical for large enterprise sites with super high resource demands. 
Cloud hosting: Whereas VPS hosting offers isolated resources from a single shared machine, cloud hosting sets up a virtualized environment that relies on resources pulled from a cluster of physical servers. This multi-server architecture is a cost-efficient way of achieving optimal scalability, high availability, and supercharged performance. The only problem is, you'll need technical skills to manage the whole deployment. 
Managed hosting: This is a form of cloud hosting service that comes with full technical support. Once you get your ecommerce website up and running, the web host will proceed to take care of the server configurations, platform updates, system security, etc. That favorable combination makes managed hosting the best ecommerce hosting option for business owners who lack technical skills.
Step 3: Purchase a Domain Name
A domain name is the web address that visitors will use to identify and access your ecommerce store. This is what will point their browsers toward your site. 
To reserve it, you should find a domain registrar that is duly accredited by the Internet Corporation for Assigned Names and Numbers (ICANN). Examples include Domain.com, Namecheap, Hover, and Google Domains. 
You could, otherwise, register the domain name with your web host. Ecommerce hosting solutions like GoDaddy, Bluehost, and Dreamhost happen to double up as domain registrars. The same provision is available on all-inclusive ecommerce platforms such as Shopify, Wix, and BigCommerce.
Other features to look out for from the best domain registrars include a free SSL certificate, along with free WHOIS privacy protection.
Whichever registrar you ultimately choose, ensure that you've exhaustively brainstormed domain name ideas before proceeding. You need a short, creative, and memorable domain name that reflects your business. 
But, don't go for a generic one – instead, try to find a brandable name without infringing any copyrights or trademarks. 
For relevant suggestions, you could try running your brainstormed ideas through free domain name generators like DomainWheel. You just need to enter a keyword or phrase, and its AI engine will provide contextual suggestions of the available domain names across different TLDs. 
Top Level Domains (TLDs) are the suffix extensions that come right after the domain name. They reveal more details about the purpose, owner, and geographical focus area of the ecommerce website. 
Some of the TLDs that you could have on your online store's URL are: 
.com: Stands for "commercial".
.net: Stands for "network". 
.store
.online
.co: Stands for "company".
.us: Ideal for US-based ecommerce businesses.
.biz: Stands for "business". 
.eu: Suitable for Europe-based online stores. 
.shop
Feel free to play around with different domain name-TLD combinations for your ecommerce store. When trying out different TLDs, you may possibly find a unique domain name that will work best with your brand.
💡Recommendation: When you find the best fitting TLD, you can proceed with either a 1-year or 10-year domain registration. 
Step 4: Pick And Customize a Website Theme
This is the stage where you get to build an ecommerce website front-end. And to save you the trouble of creating everything from scratch, the best ecommerce platforms provide a host of customizable website themes and templates. 
A website theme is a pre-built site that serves as a design blueprint for new websites. Instead of starting with a blank canvas, you get to work your way up from a ready-made website prototype. 
You just need to pick one that fits your business plan, tweak some minor appearance settings to match your brand, add content, and then publish the entire composition as your ecommerce website. 
The process is particularly seamless on ecommerce platforms like Shopify, Wix, and SquareSpace. They all come with an array of professional website themes that you can edit visually on their accompanying drag-and-drop website builders. 
Wix, for instance, boasts a collection of over 800 free templates, 130 of which are reserved for online stores across different ecommerce industries. You'll find nearly the same volume of ecommerce-oriented options in Squarespace's template library, all of which are free to use.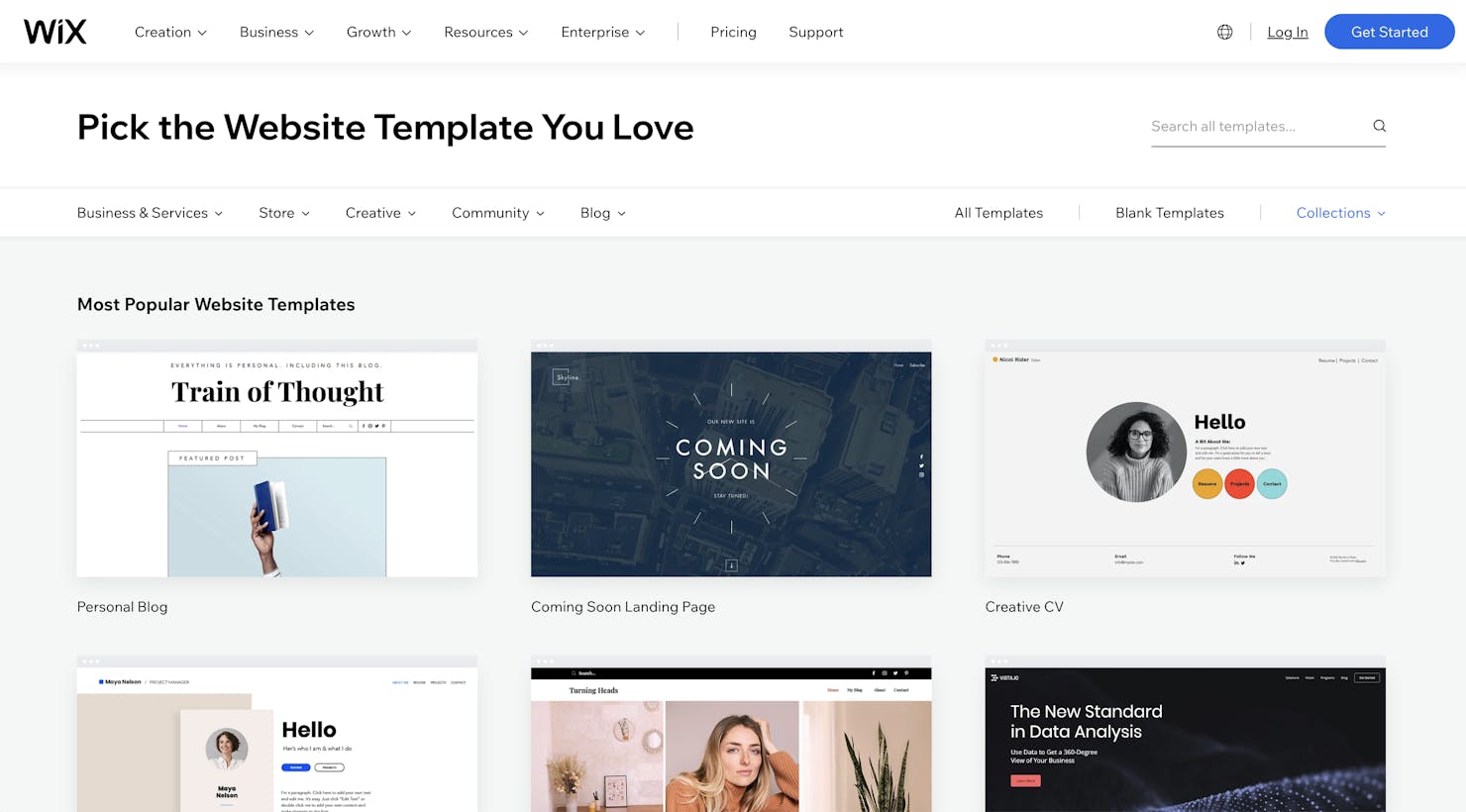 Shopify, on the other hand, features a total of 125 online store themes. Only 11 of them are free, while the rest are premium themes that cost $150 - $350. Nevertheless, the designs here are superior to both Wix's and Squarespace's in terms of depth, elegance, and functionality.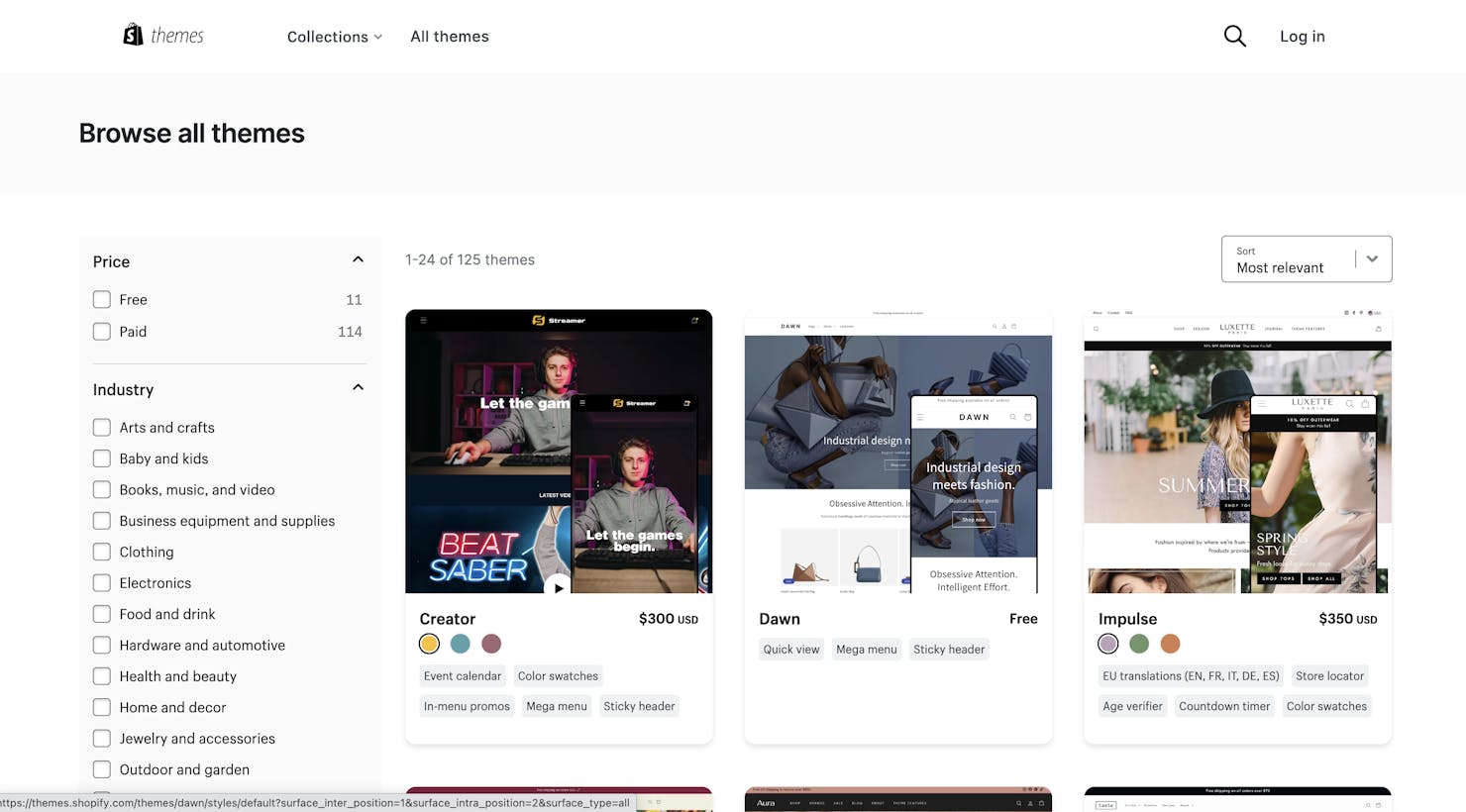 If you however want unrestricted customization capabilities, the best ecommerce platform would be WooCommerce. The theme options in its library and the WordPress repository add up to thousands, most of which are free. With the right coding skills, you should be able to edit them extensively from the underlying source code.
Step 5: Define Your Ecommerce Website Structure
49% of shoppers today are using Google to discover or find new products. And to reach those customers, one of the things you'll need in your ecommerce store is a well-organized URL structure. This is how you make it easy for Google's bots to crawl through your ecommerce website, read your web pages, and understand the business model plus its products.
You could, for example, arrange your URLs in a hierarchical structure. Your landing pages could link directly to product categories, which would then lead to their respective sub-categories, and so forth. 
Case in point – imagine running an online store that deals in men's and women's clothing. If you applied the hierarchical URL structure, the homepage would channel visitors to either of these two category pages: 
www.onlinestore.com/category/men
www.onlinestore/category/women
Then in the men's section, you could have subcategories like:
www.onlinestore.com/category/men/formal
www.onlinestore.com/category/men/casual 
The subcategory level would ultimately usher shoppers into the corresponding product options, followed by the product pages.
Google additionally advises business owners to pay attention to the characters in their URL paths. Every page in your online store should have a short web address that contains descriptive keywords in the URL path. 
For example, instead of this…
You should describe the product itself with relevant keywords like…
/product/brown-leather-moccasin-shoes-for-men
At least then, Google's crawlers will index your product page within the appropriate SERPs. 
And if you happen to have multiple variants of the same product, Google would appreciate it if you picked just one of the variants to be showcased in the search results. It won't support any more than that. 
To proceed, just set your selected primary variant as the canonical URL. Google will then fetch that snippet plus the accompanying product details for placement in the SERPs. 
Step 6: Add Your Products
As you start adding individual products, be mindful of SEO and the marketing strategies that'll follow when you start selling online. 
The best place to start is with thorough SEO research. Only then do you get to confirm, among other things, the best keywords for capturing your target market, such as optimizing your on-page SEO attributes. These attributes include the product title, meta descriptions and content headers.
We also recommend leveraging the likes of SEMrush, Ahrefs, Moz, or SpyFu to help with keyword research, competitor research, market analysis, and content optimization. These tools will allow you to build a good foundation for your website and help you avoid potential SEO issues later on which can be costly to fix.
Then if you hope to have your products featured by Google as rich snippets, you might want to insert product schema markup into the pages, such as Product schema, FAQs and BreadcrumbList. 
You don't need any coding skills for that. Just install a relevant product schema extension into, say, your WordPress website and then use visual tools to define your structured data. Remember to embed even the product reviews, shipping details, ratings, pricing, etc. 
Another element you shouldn't take for granted is the product image. This is the first thing that 75% of online shoppers reportedly look at when trying to make purchasing decisions. 
They want to see the products showcased from multiple angles in high-quality images. So, it would be a good idea to hire professional photographers and models for the job. 
💡Expert Tip: Use Google's documentation to help you learn about best practices for ecommerce websites in Google Search.
Step 7: Set Up Payment Solutions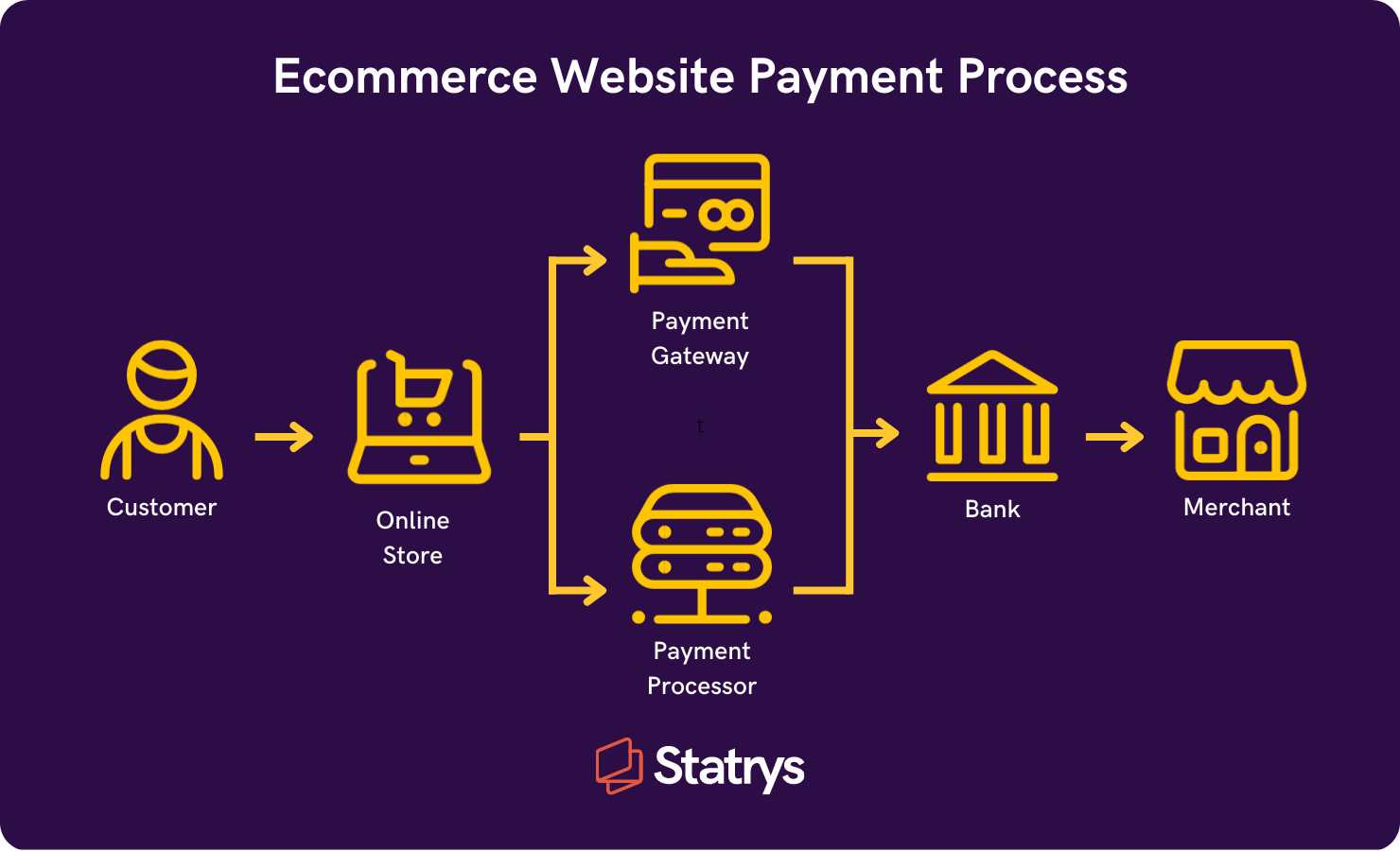 Your online business is not officially an ecommerce store until it can accept credit card payments and process digital transactions. For that to happen, you'll need two payment solutions:
Payment gateway
Payment processor
You can think of a payment gateway as a virtual point-of-sale card reader. Its job is to accept credit cards from customers, verify the card details, and then submit the information to your payment processor. 
The payment processor, on the other hand, is a merchant service that processes transactions. Once it picks up the card details from your payment gateway, they're relayed to the customer's bank for authorization. Then if everything checks out, the funds are remitted through the payment network to your account. 
The two services don't have to be separate, though. Some payment processors happen to double up as payment gateways. That means that they not only accept and validate cards but also act as an intermediary between customers' banks and merchant accounts. 
Examples include Stripe, PayPal, and Square which are featured in our compilation of the best payment gateways for ecommerce websites. 
To pick out the ideal one for your online store, we'd advise you to consider these factors: 
Compatibility: A quick search through your ecommerce platform's integrations repository will reveal the payment gateway services that are compatible with your online store. And since 17% of cart abandonments are due to complex checkout processes, you might want to prioritize the payment solutions with one-page checkouts. 
Region of operation: Check and confirm the countries supported by each of your selected payment gateways. You need a service whose merchant accounts are open to businesses registered in your country. Plus, it should be accepting payments from all the areas you'll be targeting. 
Payment methods: Insufficient payment methods drives 9% of cart abandonments. So, try surveying your target audience for insights into their preferred payment methods, and then pick out the payment gateways that offer the options. Mobile wallets are the most preferred globally, accounting for 49% of ecommerce transactions. Credit cards come in second at 21%, followed by debit cards at 13%, while bank transfer facilitates 7%. 
Step 8: Track Your KPIs
When the ecommerce site finally takes shape, you can begin setting up the foundation for business growth. Ecommerce analytics tools, in particular, are great additions as they'll be tracking Key Performance Indicators (KPIs) – from which you'll get valuable insights for informing your business decisions. 
Some of the most basic ecommerce metrics to consider are:
Traffic volume: The number of unique visitors accessing your website in a month. 
Bounce rate: The percentage of website visitors who leave after viewing only one web page. So far, 47% is the average for ecommerce sites. Mobile devices lead with a 51% bounce rate, followed by tablet users with 45%, while desktop traffic bounces at the rate of 43%. 
Conversion rate: The percentage of website visitors who end up making a purchase. On average, online stores are recording a conversion rate of about 2.9%. 
The number of orders: The number of items bought over a specific period. About 28% of online shoppers end up buying more than one item per purchase. 
Net profit: The gross revenue minus the total expenses incurred by your online business. Online retail stores are generating an average net profit margin of 8.89%. 
Cart abandonment rate: The percentage of shopping carts that did not complete checkout. The average for ecommerce sites is a whopping 69.99%. 
To track the KPIs, you could start by activating built-in analytics tools in your ecommerce platform. 
Shopify users, for instance, should be able to use Shopify Analytics to monitor online store sessions, average order value, conversion rate, return customer rate, etc.  
WooCommerce Analytics does the same on WordPress. Once you set it up, you'll be getting reports on stock levels, taxes, coupons, revenue, orders, etc. 
Otherwise, to keep tabs on the traffic gained from paid advertising and search engine optimization efforts, you could add Google Analytics to your website and also register an account on Google Search Console then connect it to your ecommerce website. 
Wrapping Up
And that's all it takes to build an ecommerce website. 
You can give the project about 100 hours or so, most of which will be spent on setting up product pages and optimizing their content for SEO. Another thing that might take up a significant chunk of your time is website testing.
As for the costs, you can go ahead and check out our article on The Full Cost of Building an Ecommerce Website. It provides guidelines on how much you should set aside for each stage of the project. 
If you want a cheaper alternative, the best would be a storefront on any of the popular online marketplaces. You could, for instance, create an online dropshipping business on Amazon for less than $50 a month. 
Otherwise, if you happen to be a high-capital investor, you could save yourself all that trouble by acquiring an established business instead. Here are the best ecommerce business marketplaces for existing WordPress sites, Shopify stores, Amazon storefronts, and so forth. 
FAQs
What platform should I use to build an Ecommerce Website?
it will depend on the needs of your business, but you can look for a platform that provides an intuitive building experience with features such as inventory management, performance optimization, and app integrations. Some examples are Shopify, Wix, SquareSpace, and BigCartel.
How much does it cost to build an Ecommerce Website?
How long will it take to build an Ecommerce Website?
What is the easiest way to build an Ecommerce Website?