Payment gateways facilitate the secure transfer of payment data between the merchant's website and the acquiring bank or payment processor.
Payment processors are responsible for processing payments and ensuring that funds are transferred between accounts.
Payment providers face extensive regulatory requirements. Nonprofit payment processors such as Funraise Payments are powered by Stripe and designed for nonprofit organizations.
Payment gateways ensure secure and convenient online payments between consumers and e-commerce businesses.
If you're an online merchant, then it is important to know how online payments flow from customers to your bank account.
It can help you make decisions about your online business to ensure it is as efficient as possible.
Choosing the right payment gateway for your customers can minimize payment processing risks, maximize convenience, and ultimately increase sales because customers will trust making purchases on your website.
There are many options available to business owners looking for a payment gateway in Hong Kong. In this ultimate guide, we will explore everything you need to know about payment gateways
What is a Payment Gateway?
A payment gateway is an online payment solution that acts as a bridge between ecommerce websites and payment processors by transferring sensitive information such as credit card details
It is a technology that acts as a merchant service that processes card payments for ecommerce websites. Think of it as a metaphorical cash register in an electronic transaction.
To understand how a gateway work, let's look at the different players in online payments:
The merchant: also referred to as the seller, is an online business selling a product or service to customers.
The customer: also known as the cardholder or buyer, wants to purchase products or services that merchants are selling online. Customers initiate the transaction.
The issuing bank: this is the customer's bank, the same one that issues the customer's credit or debit card, on behalf of different card schemes (Visa or Mastercard).
The acquiring bank: also referred to as the acquirer, is the financial institution that holds the merchant's bank account. In the transaction process, the acquirer transfers the merchant's transactions to the issuing bank to get payment.
Payment gateways validate a customer's card details securely and ensure that enough funds are present in the customer's account before eventually ensuring that the merchant gets paid.
They act as an interface between the merchant's e-commerce website and the acquirer.
There are a number of online payment systems available;  some popular ones include PayPal, Stripe, and Square.
How Does a Payment Gateway Work?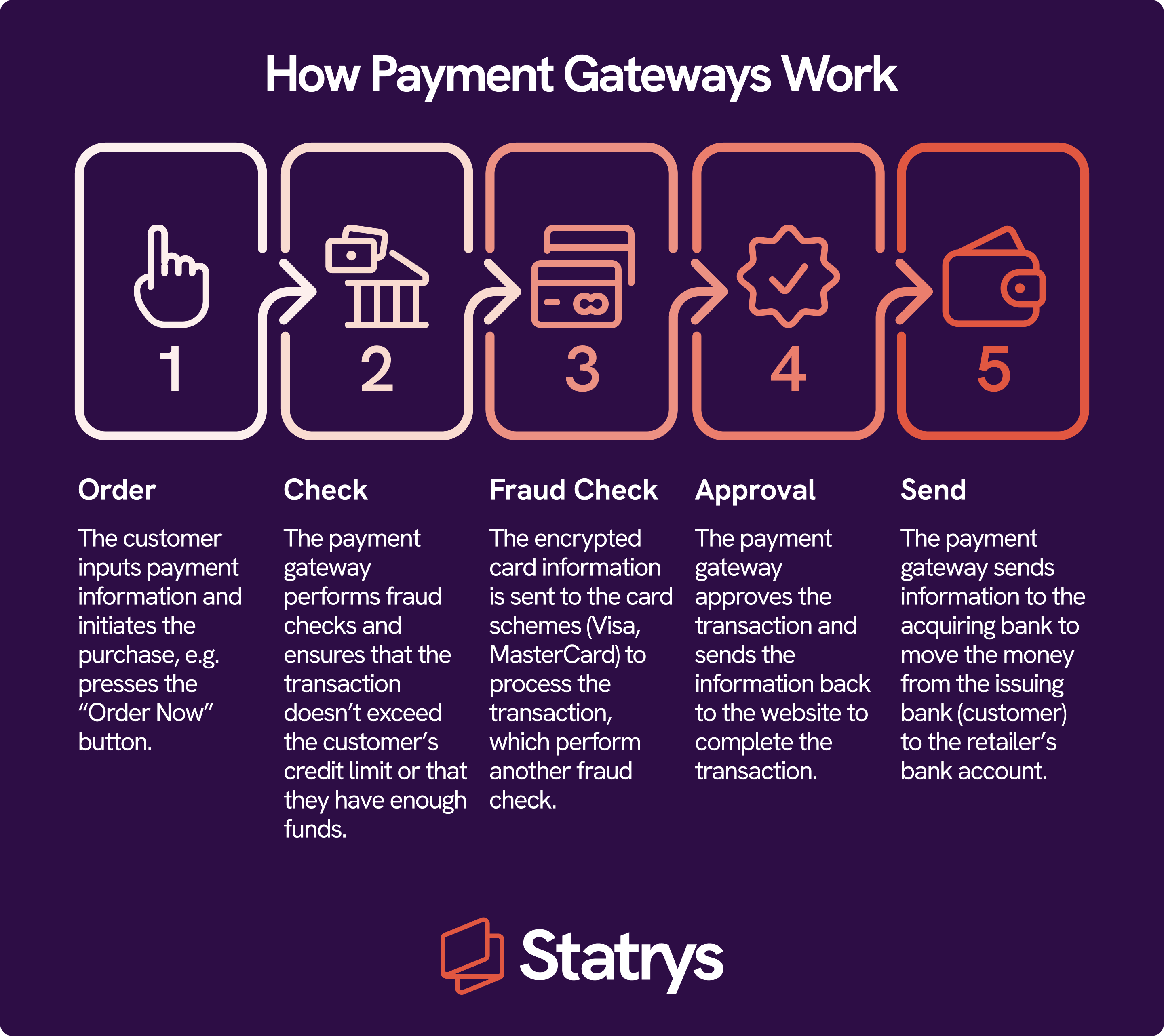 One thing they have in common is they follow the same process to make sure the right amount of money is sent from the customer to the merchant:
Order: Once the customer submits payment for the product or service on the merchant's website, the payment gateway begins the transaction by encrypting data sent from the buyer to the merchant. The gateway encrypts the customer's private information and sensitive card details to guarantee that the data is passed safely from the customer to the acquiring bank, through the merchant.
Request: The authorization request happens next when a payment processor (more on that below) receives approval from the payment card company, or from a bank. Once approved, the transaction of funds can proceed.
Fraud Check: Encrypted card information will be sent to the card schemes
Approval: The payment gateway will approve the transaction and sends the information to complete the payment
Send: After the payment gateway receives authorization, it signals to the website to proceed with the transaction.
Payment Gateways vs Payment Processors: The Differences
There are some significant distinctions between payment gateways and payment processors.
A payment processor analyses and transfers transaction data. This includes relevant information like the customer's credit or debit card number that links to their bank account.
Think of a payment processor as just one step in the online purchase process. If we go back to our metaphor of the cash register, the payment processor is when the customer swipes their debit or credit card to transfer their bank information to the acquiring bank through the merchant's card machine.
So, what the payment processor does is part of the overall process that the payment gateway completes. A payment gateway includes what the payment processor does and is responsible for authorizing the transfer of money between the customer and the merchant.
| | |
| --- | --- |
| PAYMENT GATEWAY | PAYMENT PROCESSOR |
| Acts as a bridge between ecommerce websites and payment processors | Analyses and transfers transaction data |
| Mainly used for ecommerce transactions but can be used for POS payments or software integration | Mandatory for all card-based transactions |
Different Types of Payment Gateways
Payment gateways are an important aspect of online payment processing, and there are many different types to select from.
Well, in reality, the way they come in is detailed by how they're both implemented into your website or digital presence, as well as how the gateway makes the payment to your final account.
1. Redirect Payment Gateways
Redirects offer the customer an option to be redirected to a secure payment page to complete their purchase. The payment gateway, in this case, is not integrated into the merchant's website. One of the most popular redirects used online is the PayPal payment gateway.
The gateway will redirect the customer to a PayPal payment page to complete their transaction. This includes both processing their banking data and paying for the purchase.
Redirect gateways are convenient for small and medium online business owners who can simply incorporate the security and ease of a major online payment platform like PayPal. However, this gives them less control over purchases made on their website and slows down the checkout process for their customers by adding another step.
2. Checkout Done On-Site and Payment Made Off-Site
In this scenario, the customer will proceed with the front-end checkout through the merchant website, but the payment processing occurs through an online payment system's backend. Stripe is a common online payment solution that follows this process.
They make sure that the customer's credit or debit card information is collected securely and directly on their website so that the merchant's website is never gathering sensitive payment data. When this type of online payment system is used, the merchant should integrate SSL protocol into their website as an added security measure.  
This protocol guarantees the connection between their site and the payment gateway is always encrypted.  
It also ensures that data is protected at all times, so hackers are not able to steal the customer's sensitive bank information.
Like redirects, this type of online payment solution offers a convenient and simple solution for online business owners.
But it also takes away some control from the merchant.
They can't monitor or control the entire experience through the gateway that their customers go through. Merchants will just have to trust the quality of the payment gateway's process.
3. On-Site Payments
Large businesses prefer on-site payments to their own servers.
This online payment solution offers the merchant more control but also increases their level of responsibility.
In this case, the merchant must handle every variable in the online purchasing experience.
Anything the merchant can do to improve the purchasing process and experience can significantly impact that percentage.
If the merchant is processing on-site payments, it is their responsibility to ensure the customers' experience is smooth and convenient so they will go through with purchases.
💡Did You Know: According to a report done by SaleCycle in 2018, the average cart abandonment rate was 75%.
Things to Consider when Choosing a Payment Gateway to Work with
Not all online payment systems work the same way.
They may all follow a similar payment processing infrastructure, but they have specific limitations, making some gateways better for your business than others.
Before choosing one to work with, consider what services they offer and whether they are what your customers need to use.
1. Not all payment gateways accept all types of cards
Many online payment platforms advertise that they have a universal gateway.
But when you take a closer look, you will find that some are not able to accept payments from particular card issuers and processing portals.
Online payment platforms will always advertise that they can accept payments from specific regions. 
On the other hand, they do not mention which regions they do not accept payments from.
Always do some research on this before signing up for a specific online payment processing provider.
2. Not all payment gateways offer a payment option for international shoppers
If you are looking to expand your business internationally, you need to ensure that the gateway you work with can handle that.
If you want to capture the Chinese market you need to find a payment gateway that offers Alipay as a payment option.
💡Example: in China Alipay is a popular payment option compared to what customers are using in Europe.
3. Ensure there are no security limitations or flaws
One of the main reasons why customers abandon their carts on a website is because they worry about the security of the payment gateway.
When choosing an online payment platform, think about the following:
Encryption: check what type of encryption the gateway uses to ensure there are no data breaches when your customers purchase goods or services from your website. They need to have at least TLS encryption to process your customers' sensitive data.
Malware: check how the payment provider fights malware before using it. Malware is a big threat to online payment processors. It can read users' passwords and infiltrate their accounts to get access to their sensitive card data.
To be completely sure that the online payment solution you want to work with is secure, verify that they function according to Payment Card Industry Data Security Standard (PCI DSS) standards.
Gateways that maintain PCI compliance follow strict standards to provide high-security provisions.
These standards are put in place to protect your customers' private data and payment information and give you peace of mind over the safety of using a particular gateway for your business.
Choosing an unreliable or unsafe online payment platform can result in your customers abandoning their carts on your website and choosing to shop on other competing websites.
4. Payment processing fees can get expensive
Payment gateways are not free!
Different ones have different processing fees and costs. As a general rule, it is more important to guarantee the safety of your customers' transactions than to save costs on processing fees. Ecommerce fraud can become costly if it repeatedly happens to customers putting orders through your website.
If one online payment platform has lower processing fees but you end up spending more on additional security measures, then you may be better off investing in a more expensive one.
💡Example: PayPal's and Stripe's processing fees are currently 2.9%, with an additional $0.30 per transaction whereas Apple Pay's processing fees are 3%, and they don't charge any additional fees on top of that.
Make payments easier for your customers and yourself
A multi-currency gateway is a vital tool that may dramatically improve the checkout experience for your e-commerce firm.
By providing numerous payment alternatives, you boost the likelihood of customers completing their purchases, lowering cart abandonment rates.
Utilizing many online payment systems on one website may appear to be a smart idea, but it might cause your website to slow down, making it more difficult for clients to check out.
This might lead to a higher risk of customers abandoning their carts.
Customers may pick how they wish to pay with a multi-currency payment gateway, delivering a quick and enjoyable checkout experience.
Giving them the option ensures that they have an efficient and pleasant check-out experience on your website.
In the long run, using a convenient multi-currency online payment system can increase your bottom line.
It keeps things simple for yourself by not managing or paying fees for several gateways, or having to find alternative ways to make international payments.
Depending on where they are based, there may not be an online payment system that caters to them.  
📖Want to learn more? Check out our payment gateways and payment methods guide for ecommerce businesses.
Future of Payment Gateways
Payment gateways' future looks bright as technology advances and more businesses move online.
Mobile payments, the use of blockchain technology for safe and efficient transactions, and the integration of artificial intelligence (AI) and machine learning to improve fraud detection and prevention are some of the industry's developing trends.
Furthermore, more businesses are embracing omnichannel payments, which allow customers to pay in a variety of ways across several channels, such as in-store, online, and mobile.
Biometric authentication, such as facial recognition and fingerprint scanning, is also becoming increasingly popular, making payments faster, more convenient, and more secure.
💡 Tip: Payment gateways are continually evolving in order to suit the needs of both businesses and customers, and we may anticipate even more inventive solutions in the future.
No conversion or exchange fees
Accepting payments in multiple currencies means that your customers do not need to worry about conversion rates applied to their purchase total.
Sometimes the conversion can be unfavourable to them and make the purchase more expensive. 
If customers feel that they are losing money after the conversion is applied, they are likely to abandon their basket on your website.
To be able to accept payment in several currencies, you need a business account that can handle holding several currencies.
With Statrys, you can link your business account to your payment gateway account.
We offer several options including linking via PayPal and Stripe.  Our service is 100% online so you can access your account at any time and from anywhere.
FAQs
What to consider when choosing a payment gateway?
There are different factors to consider when choosing a payment gateway such types of cards allowed, security, protection, high costs and fees, multiple currency support etc.
What are the steps of payment gateway?
Can I make my own payment gateway?
How do I create a simple payment gateway?