In 2021, ecommerce comprised 30% of the UK's total retail market, with revenue projected to reach $194.1 billion by 2027.
If you're considering joining the booming UK ecommerce market, you need to have payment gateways that cater to UK online transactions in place. 
That said, the ideal gateways should accept the UK's popular online payment methods, including credit and debit cards – with Visa, Mastercard®, and Amex topping the card chart – and PayPal.
But with so many options, which payment gateway is best for your online business? This article rounds up the list of the top 5 payment gateways in the UK, comparing their features, fees, and pros & cons, along with tips on how to choose the right one. 
Let's get into it.
What Is a Payment Gateway? 
A payment gateway is an interface that collects, encrypts, and authenticates customers' payment information.
To break it down, when customers enter their payment details – such as card information – to make a purchase, the gateway verifies that data and proceeds to the payment processor and then to the business owner's account upon approval. If there is a discrepancy, the funds stay with the customers. 
It acts as an intermediary that protects both parties during the financial exchange.
📖 Tip: Explore our payment gateway guide for an overview of their functions, types, and processes.
Best Feature
Notable Accepted Payment Methods
Fees

A suite of complementary financial products




Segregated currency accounts




Competitive fees

Cards - Visa, Mastercard®

Digital wallets - Apple Pay, Google Pay

Revolut Pay

Tap to Pay on iPhone

QR code

1%-2.8% plus 20p

Global reach

Cards - Visa, MasterCard®

PayPal balance

QR code

1.2% - 2.9% plus fixed fees

A range of payment method choices




24/7/365 customer service

Cards - Visa, Mastercard®, Amex, Discover, and Diners

Digital wallets - Apple Pay, Google Pay

Pay By Link

Virtual Terminal

1.3% plus 20p

Or 1.5% plus a monthly fee of GBP 19.95

Flexible plans to choose from




A niche focus in airlines, hospitality, restaurants, transportation, and retail sectors.

Cards - All major cards

PayPal Pay By Link

0.99% plus GBP 25 monthly fee




Or 1.99% plus fixed fees

Numerous payment options and extensions

Cards - Visa, Mastercard®, Amex, JCB, Discover, Diners, Maestro, UnionPay

Digital wallet - Apple Pay, Google Pay and more

International cards

Buy Now Pay Later - Afterpay

Local payment methods

- SEPA payments and more

1% or 1.25 - 3.25% plus 20p




An additional 2% if required conversion
Note: All information provided below is dated 21 September 2023  and may have been updated since. Please check each payment gateway's website for the latest information.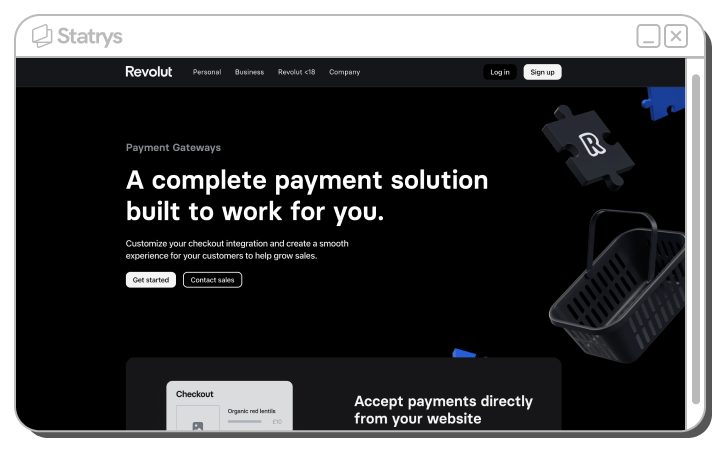 Revolut is a Lithuania-licensed Neobank regulated within the European Union, with a headquarters in London. 
It provides various financial products and services designed to help customers spend, save, invest, borrow, and manage their money, all in a single app, catering to personal and business use.
One of Revolut's business services is the Revolut payment gateway, which allows business owners to create a smooth checkout experience for customers. 
Revolut Top Features
Accept payments in 25+ currencies into segregated currency accounts
Accept, settle, and track payments in one dashboard
Payment links feature
Next-day settlement
API, widgets, and plugins designed for merchants
Integration with Bigcommerce, Woocommerce, Magento, Opencart, and PrestaShop 
PCI DSS compliance 
Revolut Accepted Payment Methods
Credit and debit cards - Visa, Mastercard®, UK consumer cards, international cards
Digital wallets - Apple Pay, Google Pay
Revolut Pay - Customers can pay directly from their Revolut account or any cards. All approved Revolut Merchant accounts can enjoy this benefit. 
Tap to Pay on your iPhone. 
QR code 
Revolut Key Usage Fees
Payment Method
Amount

UK consumer cards

1% + 20p

International and commercial cards

2.8% + 20p

Revolut Pay

1% + 20p

Easy bank transfer

1% + 20p

(fee cap GBP 1 per transaction)

A diverse suite of associated financial products and services
Competitive fees 

Supports fewer countries compared to competitors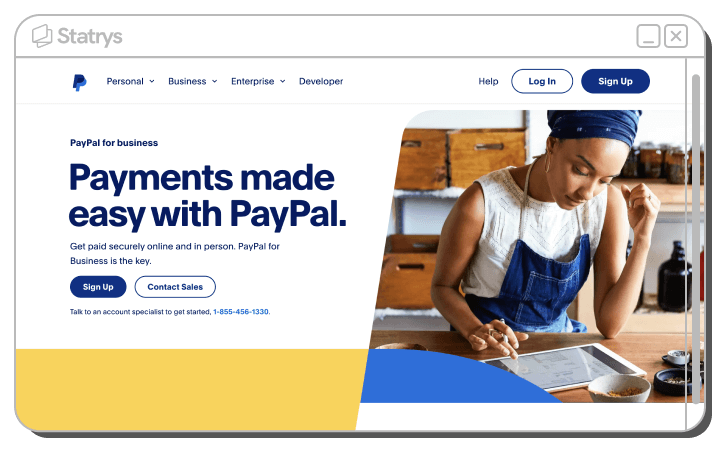 PayPal is a well-trusted online payment system used by more than 200 million active users worldwide. 
Many use PayPal as a digital wallet for online shopping or to send and receive money among personal contacts. However, PayPal also offers services beyond personal use, which is called "PayPal for Business."
PayPal for Business is designed for both small businesses and enterprises. It helps businesses accept payments, as well as provides extra value-added merchant services like risk management, shipping labels, and working capital. 
PayPal Top Features  
Over 100 million customers worldwide
Accept payment online, in-person, by QR code, by phone, and by email
Collect payment via social media and chat
Recurring payment and subscription feature
Simplify payouts, with PayPal handling currency conversions (fees may apply according to user agreement)
"Pay in 3" installment payment feature (subject to approval and for UK residents only) 
Point-of-sales card reader applicable
PayPal Buyer and Seller Protection
PCI DSS compliance 
PayPal Accepted Payment Methods
Credit and debit cards - Visa and MasterCard®
PayPal balance
QR code 
PayPal Key Usage Fees
Payment Method
Amount

Card transactions from users without a PayPal account (

conditions applied

)

1.2% +

fixed fees

based on currency

(GBP 0.30 for UK pounds)

QR code transactions with amounts equal to or below GBP 10.00

2% +

fixed fees

based on currency

(GBP 0.10 for UK pounds)

QR code transactions with amounts above GBP 10.01

1.5% +

fixed fees

based on currency

(GBP 0.30 for UK pounds)

Other commercial transactions

2.9% +

fixed fees

based on currency

International transaction: EEA

an additional 1.29%

International transaction: other markets

an additional 1.99%

Global reach, with large market and currencies 
Seamless integration with PayPal payment option, which is the second most popular payment method in the UK.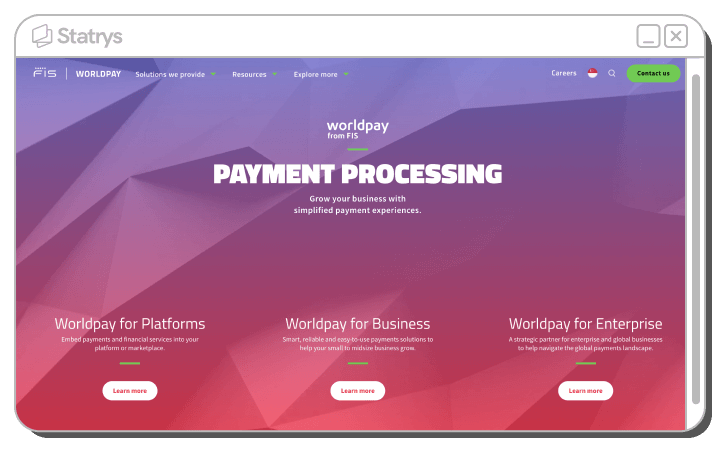 Worldpay, now known as "Worldpay from FIS," following its acquisition by the Fortune 500 company FIS, is a global payment provider with over 30 years of experience prioritising simplicity and customer-centricity.
Worldpay's solutions cater to platforms, businesses, and enterprises. It has facilitated over 130 million transactions for more than a million merchants across the globe. 
Although operated worldwide, it specialises in being a payment gateway provider in the United Kingdom.
Worldpay also provides dedicated support for UK territory.
Worldpay Top Features
126 currencies
Next-day business settlement
Dashboard to manage settlements
Insights into customer spending patterns 
Access to various business tools
"Worldpay Ecommerce" design for online checkout experience 
Hosted payment page 
Point-of-sale card machines
"Worldpay Rewards," offering discounts feature at various UK retailers, both in physical stores and online.
24/7/365 contact centre customer service 
PCI DSS compliance 
Worldpay Accepted Payment Methods
Worldpay accepts over 300 payment methods. However, note that you may want to contact Worldpay for more details regarding the options. 
Credit and debit cards - Visa, Mastercard®, American Express, Discover, and Diners
Digital Wallets - Apple Pay, Google Pay 
Built-in Pay By Link 
Virtual Terminal 
Worldpay Key Usage Fees
Worldpay primarily offers tailored pricing plans depending on business needs. However, you can refer to the standard pricing listed below as a reference.
Fee Type
Amount
Worldpay Payment Gateway

Visa and Mastercard® transactions

1.5%

Online Gateway Fee

GBP 19.95 per month

Upfront fee

Worldpay Ecommerce

Visa and Mastercard® transactions

1.3% + 20p

Set up fee

A range of payment method options
Highly available customer support

Limited details on payment methods
Although they provide some information on standard pricing, the full details are quote-only.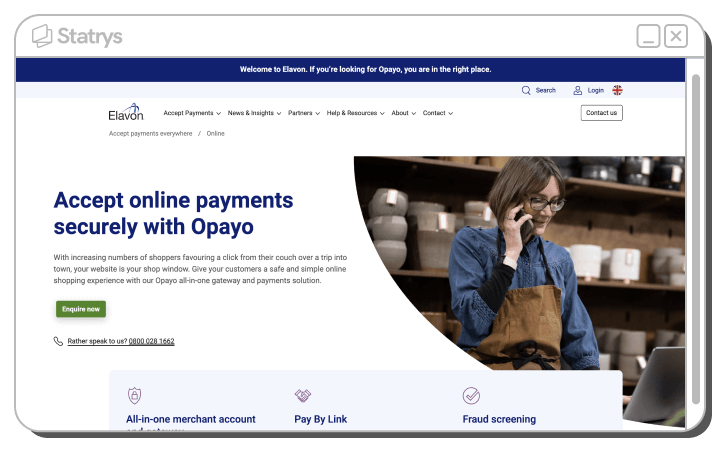 Opayo, formerly Sage Pay, is a payment solution provider owned by the financial services firm "Elavon," a subsidiary of US Bancorp. It is in the UK, other European countries, and North America.
Opayo is experienced in serving the airlines, hospitality, restaurants, transport, and retail sectors. They operate in 36 countries, serving over 2 million customers and processing 6.6 billion transactions.
Opayo Top Features
Support 100+currencies 
Accept payment online, over the phone, or in person
Payment links feature
Hosted payment page
Tailored payments process
Recurring payment feature
Support multi-currency conversion
Integration with top ecommerce platforms, including Shopify, Woocommerce, Magento, Salesforce, and more
Virtual terminal available
APIs
24/7 telephone support
PCI DSS compliance 
Opayo Accepted Payment Methods
Cards - All major cards
PayPal
Pay By Link 
Opayo Key Usage Fees
Fee Type
Amount
Fixed Plan

Monthly fees

GBP 25

Transaction fee (Subject to card turnover)

From 0.99%

Joining fee

Pay-as-you-go Plan

Monthly fees

Transaction fee (Subject to card turnover)

From 1.99%

Gateway click-fee

GBP 0.12

One-off joining fee

GBP 99
💡 Tip: Please refer to the Opayo Pricing Plan page for full details
Opayo Pros and Cons 

Offer both fixed and pay-as-you-go plan, which caters to different business models
Specialise in airlines, hospitality, restaurants, transport, and retail industry

Limited details on payment methods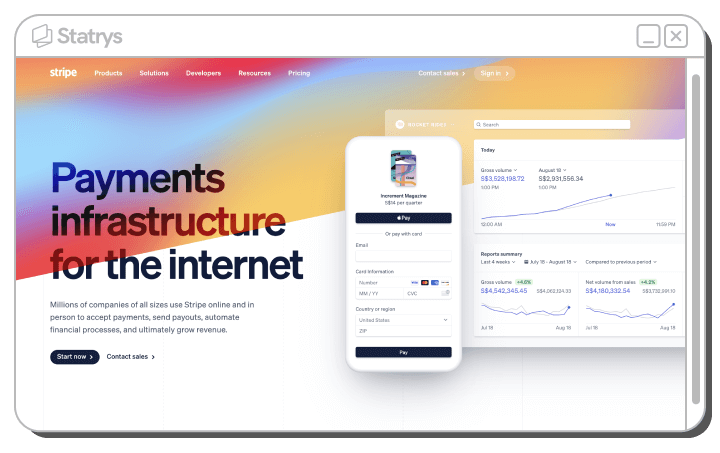 The last one on our list is Stripe, another well-known business choice. It provides integrated payment solutions for online and in-person transactions, subscription services, marketplaces, and more. 
Beyond payments, Stripe also offers services like invoicing, card issuance, and expense management.
Stripe global offices manage hundreds of billions of dollars every year.
Stripe Top Features
Accepting payments digitally and face-to-face globally
Built-in conversion optimisations, with dynamic payment methods and localised messages based on customer location and local currency, plus automatic input field adjustment. No custom logic is needed.
100+ payment methods
One-click checkout with Link
Payment links, which enable merchants to accept payment even without a website 
Access over 450 platforms and extensions to streamline and automate nearly all manual tasks
API and SDK
PCI DSS compliance 
Stripe Accepted Payment Methods
Credit and debit cards - Visa, Mastercard®, American Express, JCB, Discover, Diners, Maestro, UnionPay
Digital wallet - Apple Pay, Google Pay, Alipay, WeChat Pay
International cards
Buy Now Pay Later - Afterpay
Local payment methods - Bancontact, Giroplay, SEPA payments, and more
Stripe Key Usage Fees
Fee Types
Amount

Standard UK cards

1.5% + 20p

EU Card

2.5% + 20p

Link

1.2%+20p

European Economic Area card

2.5% + 20p

+ 2% if currency conversion is required

International cards

3.25% + 20p

+ 2% if currency conversion is required

Local payment methods

1%
Please refer to the Stripe fees page for full details.
Stripe also offers a customizable pricing package for businesses with high transactions. Fill in your information on the Stripe Sales Page to get in touch with the sales support team. 
💡 Tip: Use this Stripe Fee Calculator to estimate the fees you may need to pay when accepting payment with Stripe.
Stripe Pros and Cons 

A vast choice of payment methods and extensions

Some features have limitations. For example, corporate cards are US-invited only. 
"Financial Connection" for streamlined payments and "Treasure" banking API are also not yet offered in the UK. 
What Matters in a Payment Gateway Provider?
To explain how we came up with the recommendation, let's see an overview of the primary things to consider when picking a payment gateway.
Security
Your customers' financial and personal data requires the highest level of security. A breach not only results in operational interruptions but also brings legal complications, financial challenges, and, most critically, loss of trust.
Here are important security considerations for secure payment: 
Solid Encryption - Encryption employs algorithms to convert data into a coded format only authorised parties can decode. 
Authentication - Authentication is the process of confirming the identities of individuals making payments. This can involve methods like passwords, PINs, or advanced biometric solutions.
Proactive fraud prevention - Real-time transaction monitoring and instant alerts to detect and respond to any suspicious activities.
Compliance with PCI DSS - Ensure strict compliance with the Payment Card Industry Data Security Standard (PCI DSS), a comprehensive standard that governs the secure handling of credit card data from major card brands.
Here are some questions you could ask providers to get an idea of their security measures
How do you protect my and my customer's data? 
How do you monitor and prevent fraud and cyberattacks?
How do you handle data breaches? What policies and procedures do you have in place?
💡 Tip: For more information, explore this list of top security to protect your ecommerce website.
A Great UX/UI
Ecommerce faces a significant issue of 70% shopping cart abandonment, partly attributed to the complicated checkout process.
That's why it's important for customers to have an easy and user-friendly payment experience with just a few clicks and no distractions.
Likewise, an administrative panel that allows you to easily manage transactions, refunds, reports, and other features matters to you. 
Here are questions you can ask providers to understand their UX/UI:
Which choices and features are available for modifying the appearance and user experience of the payment page?
Does the payment page work well on different devices, browsers, and screen sizes? 
What's included in the admin dashboard?
💡 Tip: Check out these effective strategies for enhancing conversion rates in the checkout process.
Integration Capability 
Another essential factor to consider is how well a payment gateway works with your existing systems, like your website, online store, CRM, and other ecommerce platforms.
Common integration methods include
API (Application Programming Interface) - API is a set of protocols that enables different software programs to exchange data with your platform. Simply put, a developer can utilise different APIs to simplify their program. These APIs handle user requests, send them to the service provider, and then deliver the service provider's results to the intended user.
SDK (Software Development Kit) - Think of SDK as a toolbox for developers, comprising code libraries and such. Developers can use this toolbox to build apps for specific systems, in this case, to customise how the payment gateway works.
Documentation - Documentation is a guide that explains how to use the payment gateway's tools, like the API and SDK.
Technical Help - If you run into any technical problems, it's crucial that the payment gateway provider has a support team available to assist you in fixing those issues.
Here are some questions you could ask providers to understand how well their products can integrate with your system
Which programming languages, frameworks, and tools do you support for integrating your payment gateway?
How do you handle updates, upgrades, or changes to your payment gateway or its features?
Pricing Model
The most common payment gateway pricing models in the UK are a subscription plan and a pay-as-you-go plan. However, both plans typically come with transaction fees, which are calculated for each and every transaction.
Subscription plans may offer lower transaction fees, but this comes at the cost of having to pay a monthly fee. Conversely, pay-as-you-go models usually don't collect monthly fees, but you might pay more per transaction.
To make the right choice for your business, consider your sales volume, transaction size, and growth expectations. 
As a general rule, subscription plans are better for those with high and consistent sales, while pay-as-you-go suits businesses with low volume or irregular sales.
Factor in other fees as well. This includes setup fees, chargeback fees, refund fees, international payment fees, card processing fees, add-on service fees, and all other possible hidden fees. 
Our suggestion is to request a quote and get in touch with customer support to address any questions you may have. 
Such questions could relate to the breakdown of fees, how fees are applied, whether there are volume discounts or tiered pricing, and how the eligibility criteria work. Ultimately, these fees should not significantly impact your profitability in the long run.
Examples of questions you could ask are:
What services are included in the monthly fees?
Are there setup, cancellation, or early termination fees, and when do they apply?
How are fees handled for international transactions?
Do you charge any fees for your value-added service fees, such as fraud prevention, data security, reporting, analytics, or customer support? 
How will you invoice me for the fees and charges? 
💡 Tip: If you handle a large number of transactions, consider contacting potential service providers to inquire about volume discounts.
Reliable Support 
It's a reality in business that you will run into problems. 
When it comes to payment processing, expect issues like compatibility problems, operational glitches, disputes, refunds, and unexpected fees.
A reliable payment service provider should offer a support team that can promptly address and resolve those issues. They should also have good availability and flexibility in terms of contact channels, such as phone, email, and live chat.
Here are some questions you could ask providers to assess potential problems and inquire about their support, such as 
How do you ensure the reliability and performance of your service? 
What is your uptime guarantee?
What methods of contact are available? 
What is your customer support's average response time?
Conclusion
To sum it up, we've covered the top 5 payment gateway in the UK, including Revolut, PayPal, Worldpay, Opayo, and Stripe.
Apart from considering security, user experience, compatibility, pricing, and customer service, it's crucial to cater to popular UK payment methods like card payments, especially Visa and Mastercard®. 
Whether you prioritise integration capability, pricing flexibility, or reliable support, we hope this article helps you find a solution that suits your needs and gets you ready to position your business to thrive in the UK ecommerce market!