Finding a great business bank account in Hong Kong has never been easier. With so many options to choose from, entrepreneurs are spoiled for choice these days.
For that reason, we decided to compare some of the best accounts available, and today, we're comparing Payoneer and Statrys.
The purpose of this comparison is to inform you about the growing number of good business accounts, what they offer, and how they compare.
Ultimately, the decision is with you, but at least it will be an informed decision and not one that you made hastily.
If you want to make a suggestion or add relevant or missing information, don't hesitate to contact us on the website or via email at support@statrys.com.
Now, let's dive in and see how the two accounts compare.
Accounts & Payments
| | | |
| --- | --- | --- |
| | | |
| Multi-currency Business Account in Hong Kong | | |
| Local Payments in Hong Kong | | |
| Supported Currencies for Local Payments | HKD, AUD, EUR, GBP, IDR, INR, PHP, SGD, THB, TRY, USD, VND | HKD, USD, JPY, AUD, EUR, GBP, SGD, CAD, AED |
| International Payments (SWIFT) | | |
| Supported Currencies for International Payments | HKD, USD, EUR, GBP, CNY, JPY, CHF, AUD, SGD, CAD, NZD | USD, EUR, GBP, CAD, AUD, JPY, SGD, HKD |
Both Payoneer and Statrys offer multi-currency business accounts.
Payoneer is a well-established global payments platform that you can open in many countries.
Statrys offers business accounts for companies registered in Hong Kong, Singapore, and the BVI - three excellent countries for doing business.
If you want to take advantage of Hong Kong's low taxes, first-class business environment, and highly-skilled workforce, Statrys also offers simple Hong Kong company registration with competitive prices.
| | | |
| --- | --- | --- |
| | | |
| Local Collection Accounts | Hong Kong | USD, EUR, GBP, CAD, AUD, JPY, SGD, HKD, AED |
With local collection accounts, you get funds from platforms and marketplaces worldwide via SWIFT or local bank transfers.
Being a global platform, Payoneer offers more local account details so you can collect payments from marketplaces such as eBay, Upwork, and Fiverr.
If that's your main requirement, Payoneer is well suited for that.
| | | |
| --- | --- | --- |
| | | |
| Local Payout | HKD, AUD, EUR, GBP, IDR, INR, PHP, SGD, THB, TRY, USD, VND | USD, EUR, GBP, CAD, AUD, JPY, SGD, HKD, AED* |
* If a recipient has a Payoneer account, you can send them funds directly from your balance for free. If they don't have a Payoneer account, you can transfer money via bank transfer for a 2% fee. Additionally, only a fixed fee will be applied when you use your USD, EUR, or GBP balance (in some cases).
Local payouts are an excellent choice for paying services, freelancers, and contractors in their country with their currency. These aren't processed via SWIFT but via the local payment system of the country where your payee is based.
You can pay other Payoneer customers for free and pay contractors in 200+ countries and territories.
Statrys covers much of the world with local payouts that benefit both your company and the recipient, as there's conveniently no currency conversion involved.
Talking about currency exchange, let's see how these business accounts compare in this regard.
Foreign Exchange Services
| | | |
| --- | --- | --- |
| | | |
| Supported Currencies | USD, GBP, EUR, HKD, SGD, CNY, JPY, CAD, AUD, NZD, and CHF | USD, GBP, EUR, CAD, AUD, JPY, and CNH. Conversion to CZK, PLN, RUB, and VND available for tax payment purposes |
| FX Services | Spot and forward | Spot |
Statrys provides you with exchange rates based on the real-time mid-market rate so you can make an informed decision about when to ride the wave and execute trades. This can help protect your business against currency fluctuations and uncertainty.
In addition, Statrys provides local payout solutions in exotic currencies such as INR, IDR, and TRY to name a few.
Payoneer doesn't offer advanced forex services. You can convert funds between your Payoneer balances for a 0.5% fee.
| | | |
| --- | --- | --- |
| | | |
| Card Program | Mastercard | Mastercard |
| Physical Card | | |
| Virtual Card | | |
| Card Base Currency | HKD | USD, EUR, GBP, CAD |
| Payment Limit | HKD500,000 per card/year | Up to USD200,000 (~HKD1,570,000.00) monthly for eligible clients |
| Cards per Account | Multiple | Multiple |
| Card Mobile Application | | |
| Instant Notification of Spending | | |
| Control over Spending Limits | | |
| Lock/Unlock Card | | |
| Reward Program | | |
Both companies offer Mastercard for their clients.
Payoneer offers a physical or virtual Mastercard that you can use to withdraw cash at ATMs or spend money in stores and online.
If you have more than one currency in your account, you will have to get multiple cards, one for each currency you hold. Cards are available for USD, EUR, GBP, and CAD.
Eligibility is based on a minimum of USD100 (HKD785) in payments to your Payoneer account in the last 6 months.
You can top-up the Payoneer card with automatic top-ups. There's no way to transfer funds manually.
On the other hand, Statrys offers virtual and physical prepaid Mastercards that you can also use for online and in-store payments and ATM withdrawals.
You can also get cards for your team members, and there's no need to get separate cards for different currencies, making cards and accounts user-friendly.
Customer Support
Dedicated Account Manager
Communication Channels
Website, phone, email, WeChat, WhatsApp
Website, live chat, email, phone
Working Hours
9 am to 6 pm Hong Kong time
Monday to Friday (except on HK public holidays)
24/7
Customer service is something that can make or break a business account. If you ever run into issues, you want them to be dealt with quickly and professionally.
Status offers a dedicated account manager, basically a personal banker, that is available to you Monday to Friday, 9 am to 6 pm. There are a dozen or so account managers you can pick from.
You can also get a hold of Statrys' customer service via the website, email, phone, and even WeChat and Whatsapp.
You can get in touch with Payoneer customer service around the clock. However, they don't offer a personalized service.
Accounts & Payments Pricing
Account Opening Fee
No fee*
No fee
Account Monthly Fee
HKD88 (with a dedicated account manager)
None (USD29.95 (HKD235) annual inactivity fee)
Receive Local Payments
Free
USD: 0-1% EUR, GBP, and more: Free
Receive International Payments (SWIFT)
HKD55
Free
Send Local Payments
HKD5 for HKD payments in Hong Kong

HKD25 to HKD50
Local payment to specific countries
Free to other Payoneer accounts

Up to 2%
If involving currency exchange USD/GBP/EUR1.50 (HKD11.50-HKD15)
When paying in USD/GBP/EUR and the currency or country is the same
*Account opening fee may apply for companies not registered in Hong Kong or Singapore, companies with complex shareholding structures, and companies with high-risk business profiles.
Note that if you keep your account open for 12 months without making a transaction in your Payoneer account or on your Payoneer card, you'll be charged a USD29.95 (HKD235) fee.
In general, neither service has an account opening fee. Payoneer also doesn't have a monthly account fee, but they charge an annual inactivity fee of USD29.95 if you go for 12 months without making a transaction in your Payoneer account or card.
Statrys charges HKD88 per month for their business account, which comes with a dedicated account manager.
Foreign Exchange Pricing
| | | |
| --- | --- | --- |
| | | |
| FX Rate | As low as 0.1% (depending on exchange volume) | Fees are charged depending on the transaction |
If you're doing any kind of business, even the most basic one, the chances are you'll be buying at least some goods and services abroad or transferring money in different currencies.
Payoneer's exchange rates are based on wholesale currency market rates acquired at the time of transaction and charge a currency conversion fee on top of that.
Statrys foreign exchange fees go as low as 0.1%, depending on your exchange volume. 
Cards Pricing
Card transaction in a currency different than the card base currency
(for example, when using the card for a transaction in EUR)
FX fee based on Mastercard exchange rate + 1.5%
FX fee based on Mastercard exchange rate + 3.5%
ATM Withdrawal
1.99% (Minimum HKD31)
HKD25/USD3.15/EUR2.5/GBP1.95
Both companies charge a relatively small fee to withdraw funds at an ATM.
When using your Statrys card in a different currency than your base one, you'll pay an FX fee based on the Mastercard exchange rate, plus 1.5%. With Payoneer, it will be 3.5%.
Customer Reviews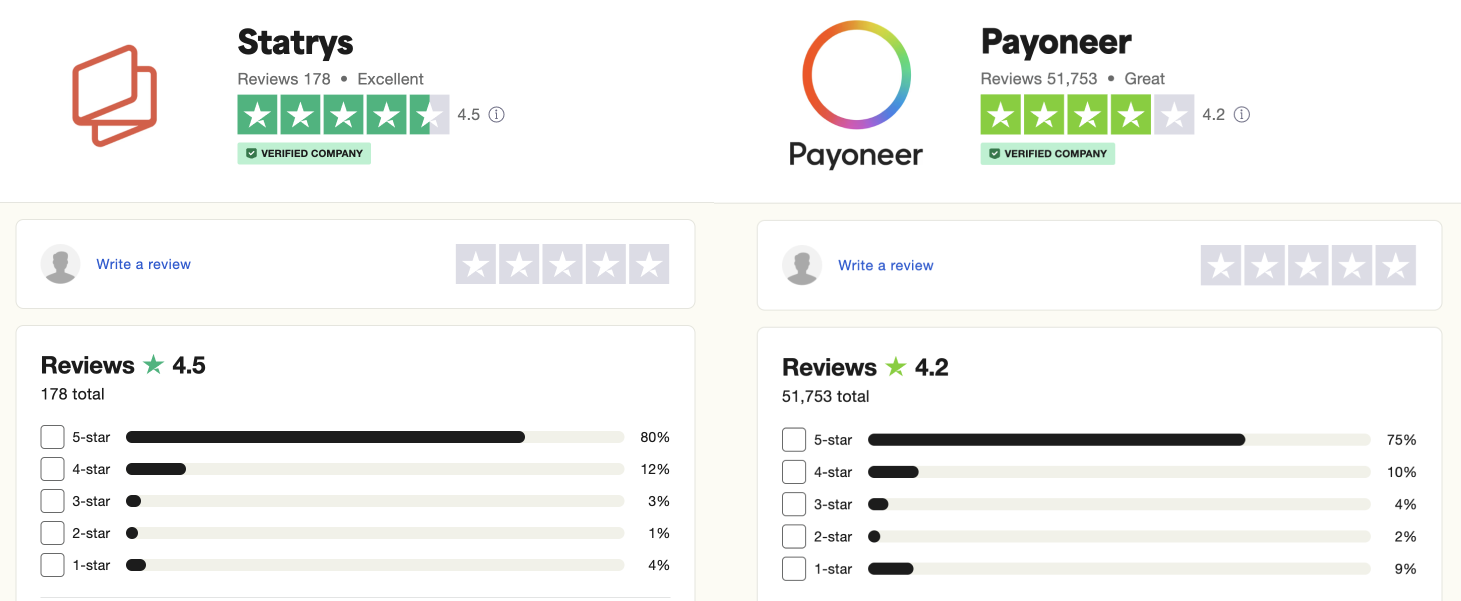 Having good customer reviews is extremely important for any business, and even more so for financial services.
As you can see, both companies have very good scores in this regard.
Final Thoughts
There is no best option in the payments world. It really comes down to what your business does and needs. If your business mainly sells products on online marketplaces and you don't need to make international payments very often, Payoneer is a solid option. If you're a SME receiving and sending payments across borders regularly, Statrys is likely to better cater to your digital solution needs.  
FAQs
Payoneer is a global payment processing company that provides online money transfer, digital payment services, and cross-border payment solutions allowing businesses to make and receive payments locally and internationally.
Can Payoneer be used as a bank?
Disclaimer
This publication is provided for general information purposes only and is not intended to cover every aspect of the topics with which it deals. It is not intended to amount to advice on which you should rely. You must obtain professional or specialist advice before taking, or refraining from, any action on the basis of the content in this publication. The information in this publication does not constitute legal, tax or other professional advice from Statrys Limited or its affiliates. Prior results do not guarantee a similar outcome. We make no representations, warranties or guarantees, whether express or implied, that the content in the publication is accurate, complete or up to date.