A BSB number, otherwise known as Bank State Branch number, is a 6-digit number that distinguishes banks and branches across Australia.
Essentially, it is a bank branch identifier that is used by Australian banks to identify an account's bank branch.
It's used with a bank account number to send money to a recipient.
You may have heard of a SWIFT code that is used for international transfers worldwide.
It is similar to that, only this is used for both local and international transfers to Australia.
The Format of a Bank State Branch Number
The format of a Bank State Branch code is XXY–ZZZ.
The first two digits (XX) indicate the bank or financial institution where the money is being transferred.
The third digit (Y) refers to the state in Australia where the branch is located.
And the last three digits (ZZZ) provide the unique address of the branch.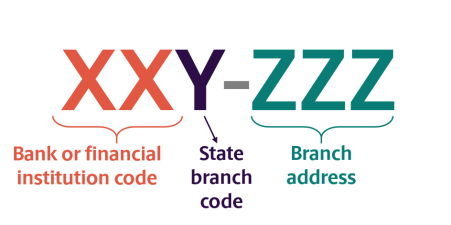 An example of a BSB
Here's an example using this code: 012–081.
01 specifies the bank code for Australia and New Zealand Banking Group Limited.
The following digit, 2, specifies that the branch is found in New South Wales (NSW).
The last three numbers, 081, tell us this is the Shop T Menai Marketplace branch.
How can you find your beneficiary's BSB number?
Now that you understand what a Bank State Branch is, the next step is to understand how to locate a Bank State Branch number.
There are actually several ways to find it which means you will never be stuck in making your payments and transfers.
If you have a bank account in Australia and are searching for your BSB number, you can simply log into your online banking portal to find your branch's Bank State Branch number.
If you are looking to transfer money to a bank account in Australia, navigate to the relevant bank's website, the Bank State Branch number can be found using their branch locator tool.
Find BSB Numbers for some of Australia's top banks below:
The differences between bank account formats in Australia and New Zealand
Whereas in Australia you need both the Bank State Branch number and bank account number to recognize an individual bank account and transfer money to it, in New Zealand BSB numbers are not used.
The difference is that banks in New Zealand set one 16-digit number to enable users to transfer money between accounts, the format of which is as follows: XXXXXX YYYYYYY ZZZ.
The first six digits represent the bank code that identifies the bank and branch (XXXXXX), similar to the BSB number in Australia.
This is followed by seven digits which represent the individual account (YYYYYYY).
The last three digits (ZZZ) specify the kind of account accepting the transfer, this can be checking, business, savings, and so on.

Want to send money to Australia or New Zealand from overseas?
When sending money through your bank or money transferring service it is not uncommon to have hidden transfer fees or high foreign exchange commissions sprung upon you.
We charge a small transfer fee which we make clear to you before you transfer any funds.
We also offer a very competitive currency exchange rate in case your payment to Australia or New Zealand requires you to buy Australian Dollars or New Zealand Dollars.
Now that you have all the information and advice you need surrounding BSB numbers, it's time to start sending money to Australia and New Zealand!
Consider opening an account with Statrys today. You can even manage your account in 11 currencies worldwide!