India's imports from China have increased by nearly 29% over the past five years. [*] The country's trade with China exceeded $100 billion in 2021-22.
China is India's largest trade partner.
In 2022, India imported $89.66 billion worth of goods from China in the first nine months of the year, the highest on record for three quarters in any year. 
In comparison, imports stood at $68.46 billion at the end of Q3 of 2021, which was a record high. [*]
Import from China to India amounted to $87.54 billion in the full year of 2021, according to the United Nations COMTRADE database on international trade. [*]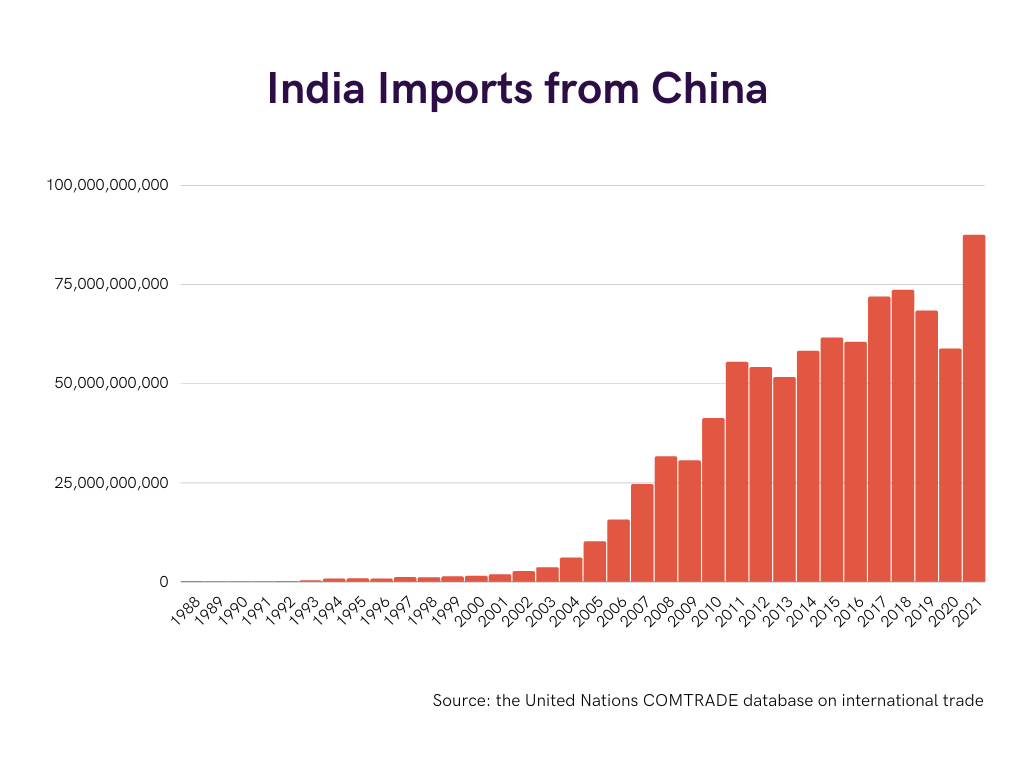 While at the same time, India's average applied import duty rose to 18.3% from 15% in the previous year. [*]
If we look at India's other main trade partners, the United States of America followed China with goods worth $77.02 billion in 2021 [*] and the United Arab Emirates came in third with goods worth $43.07 billion. [*] 
India-China Trade Balance
Traditionally, India imports more from China than it exports, thus, India's trade balance in 2021 stood at negative $65.05 billion. [*]
The reason behind India's extremely high and continuously widening import-export trade deficit is that it imports goods to fill the gap between domestic production and supply as well as consumer and demand preferences for various products.
More specifically, the growth of the trade deficit can be attributed to two factors:
A narrow basket of commodities, mostly primary, that India exports to China
and Market access impediments for most Indian agricultural products and competitive markets, such as pharmaceuticals, IT/ITES, etc. The raw material-based commodities that India exports have been overshadowed by Chinese exports over time.

[*]
Major imports from China to India include consumer electronics, computer hardware, electrical parts, mechanical and electrical machinery, organic chemicals, power-related equipment, telecom, intermediate goods, plastics, and fertilizers, to name a few.
On the other hand, India's biggest exports to China include iron ore, mineral fuels, organic chemicals, cotton, copper, diamonds, natural gems, and other raw-material-based commodities. [*]
Many industries in India, especially the medical industry, are heavily reliant on Chinese products.
For example, India's $42 billion pharmaceutical industry imports about 68% of its active pharmaceutical ingredients (APIs) APIs from China [*]. Imports of medical supplies have also soared in the past years.
If you're interested in learning more about how to source effectively from China to India, check out our blog post on the topic.
Now let's see in detail which products are imported from China.
| | | |
| --- | --- | --- |
| India Imports from China in 2021 | Value | % |
| Electrical, electronic equipment | $26.39B | 30.1% |
| Machinery, nuclear reactors, boilers | $18.80B | 21.5% |
| Organic chemicals | $11.86B | 13.5% |
| Plastics | $4.17B | 4.8% |
| Fertilizers | $2.69B | 3.1% |
| Optical, photo, technical, medical apparatus | $2.43B | 2.8% |
| Vehicle Parts and Vehicles | $1.73B | 2.0% |
| Iron and steel | $1.63B | 1.9% |
Source: the United Nations COMTRADE database on international trade
1. From Electronics to Telecommunication Products
According to the United Nations COMTRADE database on international trade, India imported electronic equipment worth $26.39 billion from China in 2021.
The list of imported electronic equipment includes electronic integrated circuits and micro assemblies, electrical apparatus for line telephony or telegraphy, diodes, transistors, and similar semiconductor devices, transmission apparatus for radiotelephony, TV, cameras, cordless telephones, and parts for television, radio and radar apparatus.
India relies heavily on China for electronic goods, for example, it sources close to 90% of certain mobile phone components from China. [*]
According to the World Trade Center in Mumbai, more than 90% of the electronic goods imported from China were integrated circuits and television sets in 2020. [*]
2. Machinery
Imports of machinery, nuclear reactors, and boilers from China to India totaled $18.8 billion in 2021 and $12.37 billion in 2020, representing an over 50% increase.
The United Nations COMTRADE database on international trade showed that the biggest part of imports included automatic data processing machines, magnetic or optical readers, parts of typewriters and calculating machines, air or vacuum pumps, and air or other gas compressors.
India sources 38% of its machinery imports from China, followed by Germany with a share of 7.97%, and the USA with a share of 6.67%. [*]
3. Organic Chemicals
Organic chemicals also represent an important import category from China to India, with a value of $11.86 billion in 2021.
Such imports include heterocyclic compounds with nitrogen, nucleic acids, antibiotics, saturated acyclic monocarboxylic acids, unsaturated acyclic or cyclic monocarboxylic acids, oxygen-function amino-compounds, polycarboxylic acids, among others.
India's pharma industry, which is ranked third in the world in terms of volume and has been growing at a 9.43% CAGR over the past nine years, uses these chemicals mainly.
Generic drugs, over-the-counter medications, bulk drugs, vaccines, contract research and manufacturing, biosimilars, and biologics are some of the major segments of the Indian pharma industry. The sector supplies over 50% of the global demand for various vaccines, 40% of generic demand in the US, and 25% of all medicine in the UK. [*]
4. Plastics & Toys
Indian plastic imports from China were $4.17 billion in 2021, and represent the fourth largest import category according to the United Nations COMTRADE database on international trade.
In the past, the Chinese industry was benefiting from a monopoly over the Indian toy market. China alone accounted for 70% of India's toy imports. The low price point, variety, and availability of Chinese toys were huge selling points for customers and manufacturers compared to toys produced domestically, creating competition in the market for toys.
India's bottom-heavy population pyramid also means that over a quarter of the population is under the age of 14, indicating a huge toy market, most of which was captured by Chinese toys. The Indian government has been successfully reducing its reliance on Chinese toys and built its own Indian market for toys. [*]
As a consequence, India used to import toy products worth over $600 million from China, with popular items being plastic and electronic toys. In 2021 the figure was only $250.51 million.
5. Fertilizers
India imports fertilizers, such as diammonium phosphate, to boost its chrome yield. Its importance to the country's agricultural industry is unmatched.
Other fertilizers include urea, a type of plant nutrient popular amongst Indian farmers.
According to the United Nations COMTRADE database on international trade, India imported fertilizers worth $2.69 billion in 2021, an increase of 60% compared to the 2020 figure of $1.67 billion.
The supply of Chinese fertilizers in India was deemed essential after the Covid-19 pandemic.
The trade route is also crucial for Indian exports, as China is the primary importer of Indian sulfur.
6. Optical, Photo, Technical, and Medical Apparatus
Optical, photo, technical, and medical apparatus imported from China to India was worth $2.43 billion in 2021, with important product categories including mechano-therapy appliances, massage apparatus, ozone therapy apparatus, instruments and appliances used in medical, surgical, and dental clinics, measuring or checking instruments and machines, and apparatus for the use of X-rays or of Alpha, Beta or Gamma radiations.
India currently imports approximately 80% of its medical devices, with the US, Germany, China, Singapore, and the Netherlands being top exporters of such apparatus to the country. [*]
In 2020, nearly 11% of India's medical devices, products, and tools were imported from China. [*]
7. Vehicle Parts and Vehicles
In 2021 $1.73 billion worth of auto parts and vehicles were imported to India from China according to the United Nations COMTRADE database on international trade.
China continues to be the largest source of automotive parts imports for the Indian automotive industry. [*] These imports include engines and transmission parts, rim products, hubcaps, front and rear spoilers, car lights, rearview mirrors, car sensors, and cable for car accessories among others.
Other popular products on eBay include fuel tanks, saddlebags & panniers, mudguards, seats, helmets, and headlight assemblies.
In the financial year 2022 (FY22), the total value of auto components imported from China grew by 35% year-on-year to $5.46 billion, as per data issued by the Automotive Component Manufacturers Association of India (ACMA). [*]
8. Iron & Steel
India is reported to import iron and steel worth US$ 1.63 billion from China in 2021, according to the United Nations COMTRADE database on international trade.
Chinese steel imports include high-quality and high-grade ferroalloy products, which are primarily used by Indian automobile and engineering goods manufacturers.
Final Words
The import of Chinese goods, products, and raw materials contributes to the local production of many goods in India.
If the production were to stop, it could potentially impact multiple industries and businesses while disrupting the India-China supply chain.
There are many ways to pay for international trade transactions, but there are some terms and conditions that apply to each method.
Here's a quick look at five common payment methods and terms for international trade.
FAQs
How much has the imports from China to India increased to in the last 6 years?
The imports from China to India have increased by 45% over the last six years.
What is the volume between India and China's trade?
Which products are imported from China?
Sources