The Single Euro Payments Area, known as SEPA, is a payment system developed by the European Commission, the European Central Bank, and European banks.
SEPA was created to fully harmonize electronic Euro payments across Europe.
It allows European consumers, businesses, and public administrations to make cross-border payments denominated in Euro, as easily as they would do domestic payments.
The story of SEPA began in 1999 when the banking industry argued that a monetary union should also have a single payments area.
The view was that it would lead to further integration of the EU economies.
However, it was not until 2007 that the European Union passed the Payment Services Directive forming the legal basis for the establishment of the Single Euro Payments Area.
Since then, SEPA has been gradually improved to minimize the cost of SEPA payments, increase fee transparency, and speed transfer.
What is SEPA Payment?
Any SEPA payment must satisfy the following two conditions: it must be a payment denominated in Euro, and it must be a cross-border payment within the SEPA zone, i.e. within the group of countries applying the SEPA payment system.
There are two types of SEPA payments:
Credit transfer – it is a one-time electronic payment between banks located in the SEPA zone. More than 20 billion SEPA credit transfers are executed every year.
Direct debit – it is an automatic recurring payment set up to transfer funds to the same beneficiary according to a predefined frequency. Direct debit is subject to the payee signing and returning a mandate to the beneficiary to which the recurring payment is made. Once in place, the direct debit will ensure that you don't miss a payment, so it is ideal for rent, electricity bills, and other regular payments.
How does a SEPA Payment work?
SEPA utilizes the International Bank Account Number (IBAN) to enable transfers between bank accounts.
If you've heard about SWIFT transfers, it works similarly with the only difference being that SEPA transfers are only for Euro payments within the SEPA zone.
Let's take a look at the example below:
Your German client, banked with Deutsche Bank in Germany, gives instructions to pay EUR15,000 to your bank account with BNP Paribas in France.
Because both banks are based in the EU and the payment is in Euro, the payment can be processed using SEPA.
Scenario 1 – Both banks have a direct commercial relationship
The SEPA message issued by Deutsche Bank will be directly addressed to BNP Paribas and the funds are transferred directly between the two banks as follows:
Deutsche Bank will debit your German client's bank account by EUR15,000.
Deutsche Bank will credit EUR 15,000 to its Nostro account opened with BNP Paribas. The Nostro account is the marker of the direct commercial relationship between the two banks. To put it simply, a Nostro account is an account opened by one bank in the books of another bank for the sole purpose of executing international transactions.
BNP Paribas will debit EUR 15,000 from Deutsche Bank's Nostro Account.
BNP Paribas will credit EUR 15,000 to your bank account, minus any fees charged for the transfer.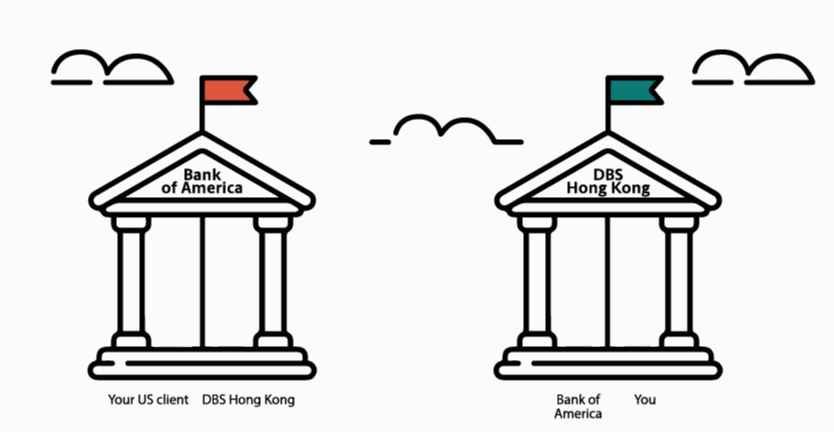 Scenario 2 – Both banks don't have a direct commercial relationship
As the banks don't have a direct commercial relationship, SEPA will determine how to pass the SEPA message to successive banks which all have Nostro accounts with one another.
That's where intermediary banks come into the picture.
Assuming that Société Générale in France plays the role of the intermediary bank in this transaction, this is what would happen:
Deutsche Bank will debit your German client's bank account by EUR 15,000
Deutsche Bank will credit EUR 15,000 to its Nostro account opened with Société Générale
Société Générale will debit EUR 15,000 from Deutsche Bank's Nostro Account
Société Générale will deduct its fee (let's say EUR 5) for facilitating this transaction and credit the balance, ie. EUR 14,995, to their Nostro Account with BNP Paribas.
BNP Paribas will debit EUR 14,995 from Société Générale's Nostro Account
BNP Paribas will credit EUR 14,995 to your bank account, minus any fees charged for the transfer.

What are the differences between SEPA and SWIFT?
| | SEPA | SWIFT |
| --- | --- | --- |
| Currencies used | Euro only | Almost all currencies |
| Where can you transfer to/from | Between SEPA countries only | Almost worldwide |
| How long does the transfer take | SEPA guarantees 48 hours, but it is often quicker | Usually between 3 to 5 days |
| Cost of transfer | Cost of a domestic transfer (i.e. very cheap or free) | Costs can vary, depending on where the money is being sent and how many intermediary banks are involved |
As you can see from above, if you are making a Euro transfer within the SEPA zone, then it makes sense to use SEPA.
If you're making a EUR transfer outside the SEPA zone, then you'll have to use the SWIFT network.
Which countries are in the SEPA zone?
The SEPA zone consists of 36 countries, including all countries where the Euro is not the local currency.
Following Brexit, the United Kingdom is under a transitional period until 31 December 2020.
Here below the list of these 36 countries:
| Country/Territory | IBAN/BIC code |
| --- | --- |
| Andorra | AD |
| Austria | AT |
| Belgium | BE |
| Bulgaria | BG |
| Croatia | HR |
| Cyprus | CY |
| Czech Republic | CZ |
| Denmark | DK |
| Estonia | EE |
| Finland | FI |
| France | FR |
| Germany | DE |
| Greece | GR |
| Hungary | HU |
| Iceland | IS |
| Ireland | IE |
| Italy | IT |
| Latvia | LV |
| Liechtenstein | LI |
| Lithuania | LT |
| Luxembourg | LU |
| Malta | MT |
| Monaco | MC |
| Netherlands | NL |
| Norway | NO |
| Poland | PL |
| Portugal | PT |
| Romania | RO |
| San Marino | SM |
| Slovakia | SK |
| Slovenia | SI |
| Spain | ES |
| Sweden | SE |
| Switzerland | CH |
| United Kingdom | GB |
| Vatican City State | VA |
Which banks participate in SEPA?
Almost all banks in the SEPA area, excluding investment banks, are included in SEPA.
Transfer speed of SEPA Payments
SEPA credit transfers are processed in a maximum of one business day following the payment order.
Having said that, a new payment initiative to enable 24/7/365 credit has been launched in November 2017: the SEPA instant credit transfer.
With the SEPA instant credit transfers, funds are credited to your beneficiaries' account in less than ten seconds.
Currently capped at €15,000, the maximum daily amount will be increased to €100,000 on 1 July 2020.
At the time of this article, only 22 countries have implemented this scheme but it aims to progressively reach the 36 countries and territories.
How much does a SEPA Payment cost?
SEPA guarantees that receiving banks are not allowed to make any deductions of the amount transferred.
Paying banks have the option of charging a transfer fee of their choice for Euro transfers; provided that they apply the same fee for domestic and cross-border transfers.
Countries not using the Euro also have the option to apply this rule.
For example, Sweden and Romania have legislated that Euro transfers shall be charged the same as transfers in their own currency.
SEPA is not the only payment method that could suit your business. Open an Account with Statrys today and find more ways to make payment personal.