HSBC Kong Kong offers a wide variety of products and services for businesses out of the HSBC business banking division. Their products suit businesses at various stages in their growth journey. 
To help you decide if an HSBC business bank account is the best option for managing your banking needs, this review will consider HSBC's business bank account products, the application process, and the fees charged.
We will also look at how HSBC compares to other business account providers on the fees charged for international payments. Keep in mind that this review will focus on the Hong Kong branch's business banking features.
Alternatively, there are options other than traditional banks, like Statrys, that can provide you with a business account to help manage and make international payments.
How to open an account
With HSBC Hong Kong, it is now possible to open an account with their HSBC HK Business Express mobile app. You will need a mobile device to download the app and log on with a verification code. Contact HSBC Hong Kong if you need assistance.
HSBC says applications can take up to 3 working days. With the app, you may no longer need to visit a physical HSBC branch in Hong Kong to process the application, which would be a welcome change.
Simply download the mobile app and follow the instructions to apply for an account.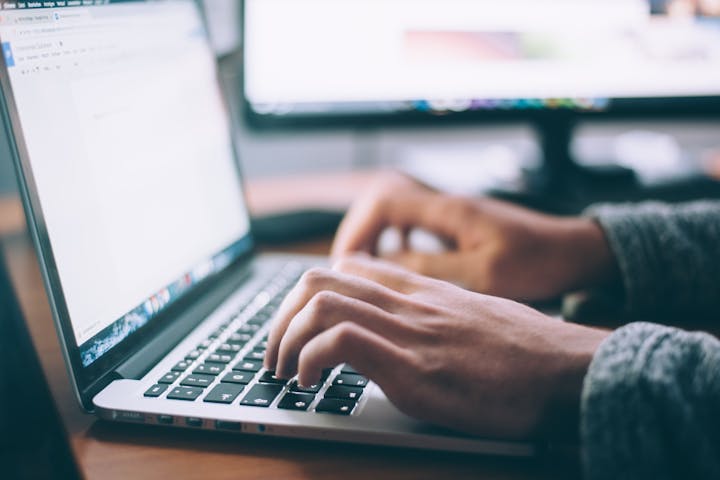 Requirements and eligibility
It's a good idea to check if you are eligible for opening a business bank account through the HSBC mobile app before you start. 
To apply for a business bank account with HSBC's app your company must fulfill ALL of the below requirements:
be a limited company, partnership, or sole proprietorship
be incorporated or registered in Hong Kong
Have business operations in Hong Kong
Not have any corporate directors or shareholders
Have up to 2 individual directors, shareholders, or authorized signatories.
The points above are requirements to apply for an account online. If you don't satisfy at least one criterion, you will need to visit a physical branch to process an application.
Also, HSBC reminds applicants that directors or authorized signatories who do not hold a Hong Kong Identity Card may be invited to join a video conference or face-to-face meeting for identity verification. [*]
You will need to submit additional documents to support your application.[*]
Note that required documents will vary depending on whether your business is a limited company, partnership, or sole proprietorship, and the type of HSBC business account you are applying for. For more details on how to apply for an account and document requirements per entity type, you can refer to this article.
HSBC products in Hong Kong
Types of accounts
HSBC offers three types of business accounts to Hong Kong businesses. They are called Business Integrated Accounts which is an account that combines savings, current deposit, and time deposit accounts under one single account number. Each of the three accounts offers a range of banking solutions for transactions and looking after your company's finances. [*]
Every business account supports receiving and paying with 12 currencies: AUD, CAD, EUR, JPY, NZD, GBP, RMB, SGD, CHF, THB, USD, and HKD. 
You can transact and invest 24/7 via the HSBC internet banking portal or the HSBC mobile banking app. You can also use new collection and payment methods in your business account, such as QR codes and digital wallets, to better manage your business' finances.
Below we'll briefly describe the differences between the 3 options for a Hong Kong business and why you might consider one service over the other.
1. HSBC Sprint Account
The Sprint Account is HSBC's offer to help new startups get up and running, and accelerate their growth. You can access a multi-currency account and payment cards online or through an app. The fees charged are the lowest of the three HSBC business account offerings, and first year fees are waived. The required average account balance of HKD50,000 is also lower than it is for the BusinessVantage account. [*]
2. HSBC Business Direct
The Business Direct Account is for growing SMEs. With this account, you can make same-day remittances to Greater China, which is handy if you have customers there. As with the other two accounts, you get free use of Business Internet Banking and the HSBC Hong Kong Business Express mobile app, and you can receive notifications on WeChat. Similar to the Sprint Account, the required average account balance is HKD50,000. You also get access to a credit facility of up to HKD10,000,000. [*]
3. HSBC BusinessVantage
A BusinessVantage account is for more established SMEs. With lower costs for over-the-counter operations, it suits businesses that have a similar mix of online and over-the-counter transactions. The average account balance required is higher at HKD100,000, and HSBC offers an auto-sweeping service up to HD20,000 to cover overdrafts. Payments from Greater China are recorded in real-time. [*]
Cards
HSBC Hong Kong offers a variety of payment cards which you can apply for, depending on which payment or credit card best suits your needs and finances.
The cards you can apply for are:
HSBC Business Mastercard
HSBC Business Debit Mastercard
RMB Business Card
Corporate Mastercard
HSBC Platinum Purchasing Mastercard
Company ATM Card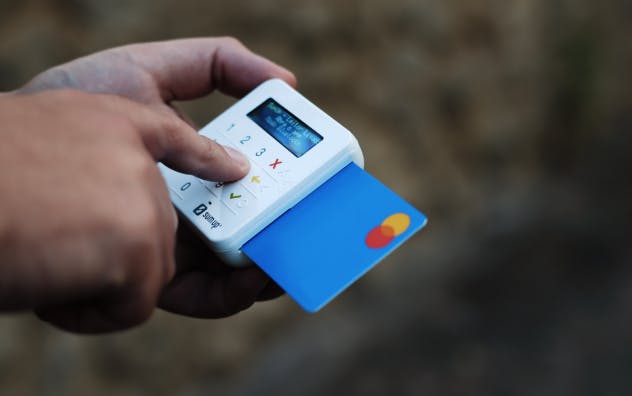 Some of HSBC's cards may include some additional benefits and perks. For more information, you can check out their website. [*]
Fees
As mentioned, costs vary depending on which HSBC HK account you choose for your Hong Kong business. There are some common fees for Hong Kong customers. [*]
Common Fees
| | |
| --- | --- |
| Account application | HKD1,300 |
| Initial deposit required | HKD10,000 |
| Account closure fee | HKD500 |
| Inactive business account for one year | HKD350 |
| Inactive business account for more than two years | HKD450 |
Monthly fees
Here is a quick overview of the monthly fees by business account. Fees are based on the previous three months' average total relationship balance and are charged on the fourth working day of each month. [*]
HSBC Sprint Account
First 12 months
Waived

13th month onwards when account balance is below HKD50,000

HKD200

13th month onwards when account balance is above HKD50,000

Waived

HSBC Direct Account

When account balance is below HKD50,000

HKD200

When account balance is above HKD50,000

Waived

HSBC BusinessVantage Account

When account balance is below HKD100,000

HKD450

When account balance is between HKD100,000 and HKD500,000



HKD200

When account balance is above HKD500,000



Waived
Transaction Fees
For payments involving currency conversion, HSBC Hong Kong will charge customers fees on top of the basic transaction fee.
If your business needs to convert currency regularly, it would be wise to seek advice from HSBC about their rates and fees for foreign exchange services, especially when dealing with international payments.
Receiving Payments
Starts at HKD65, but fees vary depending on several factors such as currencies and banks involved.

Sending Payments

To HSBC Groups in Mainland China

HKD100

To all others

HKD120
Similar to receiving funds, the fees mentioned above are the base fees and will vary depending on different factors.


Counter Transaction Fees
HSBC Sprint Account
HKD10

HSBC Business Direct Account



3 free transactions per month, then HKD10 per transaction

HSBC BusinessVantage Account



Waived
Note that the fees mentioned above are base fees for HSBC Hong Kong. Actual fees will vary depending on different factors. Contact HSBC for advice or head to their website for more information. 
How much should you pay for international transfers?
If you are running an international business from Hong Kong, receiving and making international payments will be a big part of your operations. It's worth taking time to understand the fees involved, so you can get a clear idea of how much you're actually going to pay.
Usually, international transfers incur a standard transfer fee and a commission that's embedded in the exchange rate the bank or the payment provider uses to convert currency.
HSBC HK has its own bank exchange rates for international transfers that have a fee included in them. Customers will also be charged foreign exchange fees and administration transfer fees on top of the fees for making the exchange. For more information, contact HSBC for advice.
For example, the mid-market rate to buy USD is at HKD7.85, but a bank might charge HKD7.83 instead. The difference between the two amounts is the bank's conversion fee.
Fintechs offer a simple alternative
The application process for an account and the different costs involved in making international payments are why fintech, like Statrys, has emerged and become so popular. We offer a simpler way to start making international transfers compared to banks.
With Statrys, for example, exchange rates for currency conversion are always based on the real-time mid-market rate. Statrys' FX fees are as low as 0.1%, and we charge a flat fee of HKD55 for receiving payments and HKD75 for sending them. This would be beneficial, especially when making several international transfers regularly.
Getting in touch with HSBC
When you need help, HSBC has several channels available for its customers to contact them.
For the help and support your business needs, use the HSBC website chat, an automated chatbot during non-working hours, email, a service hotline, or the mobile app chat service. [*]
Statrys prides itself on offering a dedicated account manager for each business and the ability to contact your account manager by email, phone, WhatsApp, WeChat, and Chatbox. Response times are in minutes, not hours or days as is often the case when dealing with financial institutions.
Final note
Anything we missed? Drop us a message and we will do our best to make the review even more comprehensive.
This review is based on information available on the HSBC Hong Kong website as of January 2023.
FAQs
Can I open a HSBC business account online?
You can submit an application through internet banking or through HSBC Business Express mobile app. HSBC may require the director/shareholder for a video conference or face-to-face meeting if they do not hold a Hong Kong Identity Card.
How do I contact HSBC Hong Kong?
How long does it take to open a business bank account?
Is HSBC good for business banking?
Sources
Disclaimer
This publication is provided for general information purposes only and is not intended to cover every aspect of the topics with which it deals. It is not intended to amount to advice on which you should rely. You must obtain professional or specialist advice before taking, or refraining from, any action on the basis of the content in this publication. The information in this publication does not constitute legal, tax or other professional advice from Statrys Limited or its affiliates. Prior results do not guarantee a similar outcome. We make no representations, warranties or guarantees, whether express or implied, that the content in the publication is accurate, complete or up to date.