5 Best Forex Platforms in 2023
If you are considering trying out Forex trading, or are an experienced trader looking for a new and perhaps better broker, you will be faced with a nearly limitless number of options.
Choosing the right platform can be difficult, as extensive research may have to be done. However, we've compiled a list of the top 5 Forex platforms you should look out for in 2023 in this article.
We'll also break down the factors you need to consider before choosing these platforms to trade and some of the things you need to prepare before trading.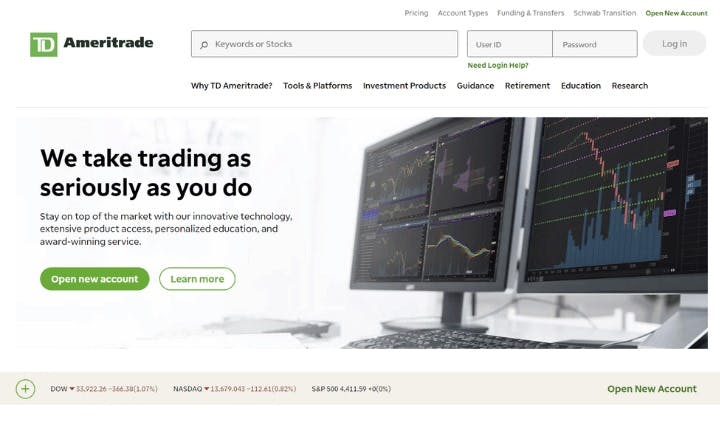 TD Ameritrade is a US-based trading platform catered to provide its trading services to most US residents, whereas for others it is also available for clients, for instance, from Thailand, Singapore, Malaysia, and more.
Features:
The proprietary developed trading platform is known as "Thinkorswim", which offers real-time data industry-leading trading tools and powerful analytics all customizable to you.
Wide variety of features, including access to stocks, bonds, mutual funds, ETFs, options, IPOs, futures, forex, margin, and crypto trading with a great interface design.
Based on their trading platform alone, TD Ameritrade is easy to recommend to US-based traders of all levels of skill.
Advantages: TD Ameritrade offers a wide range of investment options within its robust trading platforms. It also has many educational resources for all traders to follow, as well as useful tools like Research and Analysis Tools.
Disadvantages: The tools can be overwhelming for most beginners who are not equipped or familiar with trading User Interface.
Currency Options: TD Ameritrade provides over 70 currency pairs.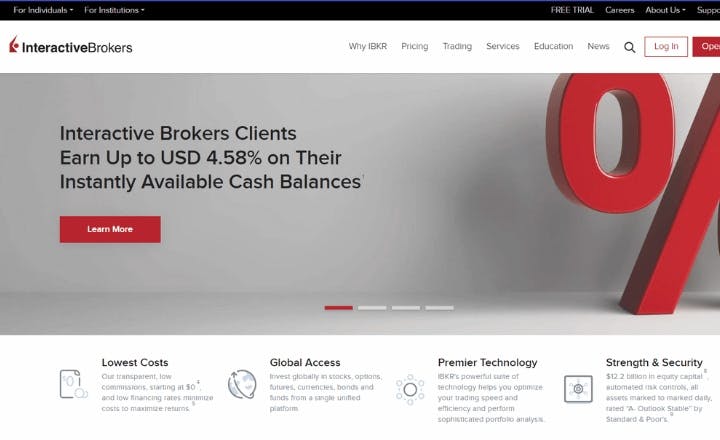 Interactive Brokers provides a very well-rounded experience, best suited for intermediate and advanced traders due to the time and effort required to get familiar with their designated trading software called IKBR.
Features:
Very fitting for traders growing small accounts.
Clients can get access to the stock, bonds, futures ETFs, and metals market, meaning that traders of all kinds can use Interactive Brokers' services for their trades.
Global market access to trade for securities and currencies from a global perspective with over 130 markets in 33 countries and counting.
Advantages: Interactive Brokers is great for traders who seek a low-cost structure with competitive commission fees. While this is the case, this trading platform offers Risk Management Tools that allow traders to manage their risks while trading effectively.
Disadvantages: Key drawbacks include inactive account charges, a limited variety of payment options that do not include PayPal, and finally, no option for a fixed spread account, and they only offer 1:200 leverage, which is relatively lower than other brokers and may make it more difficult to grow smaller accounts.
Currency Options: Interactive Brokers offers over 100 currency pairs.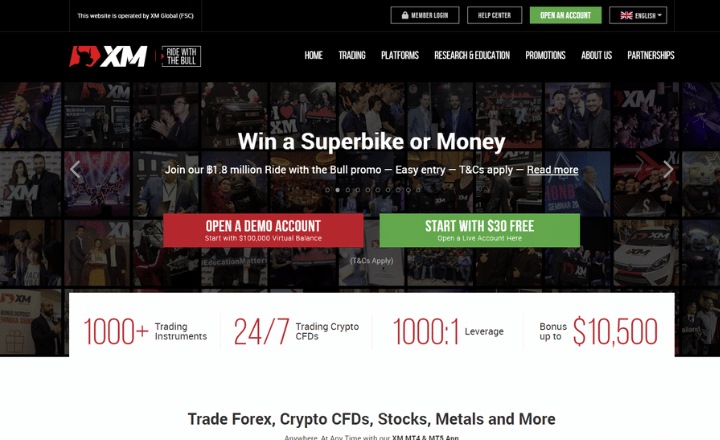 XM is a broker that comes with many benefits for traders with very small accounts, and it is considered one of the platforms that are regulated by well-known authorities in the trading market.
Features:
XM provides new clients with $30 as an account opening bonus, and up to $500 in deposit bonuses (meaning if you deposit $100, you will be credited an extra $50).
Considering that they provide up to 1:888 leverage, no account minimums, low withdrawal fees, and even support for micro-lots (a normal size lot is 100,000 of the traded currency, and a micro lot is 1000 of a currency), you can start trading with less than $1.
XM otherwise, is a very easy broker to recommend to the majority of traders, though specifically, traders with very small accounts are likely best-suited to the broker due to its very high leverage, minimum deposit amounts, account opening promotions as well as smaller lot sizes.
Advantages: If you live in the US, you will not be able to experience the extensive benefits of XM. However, it supports other countries from all over the world. XM trading platform also offers competitive spreads, multiple types of accounts, and more.
Disadvantages: XM has very few downsides, though one notable factor is that the broker does charge inactive account fees.
Currency Options: XM offers over 50 currency pairs.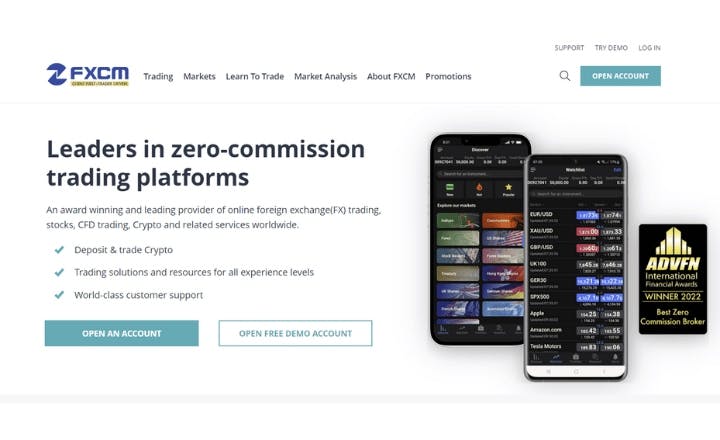 FXCM is another great option in terms of a forex broker and it is one of the trading platforms regulated in the UK by the Financial Conduct Authority (FCA).
Features:
One of the main features that they offer is a

TradingView

promotion, where clients who open an account with FXCM gain access to TradingView Pro (which is usually $14.95 per month) for free.
FXCM offers a dedicated team of support for algorithmic trading, whereas some other platforms do but it may not be as dedicated as FXCM.
Advantages: FXCM lets you leverage the remarkably tight average spreads, such as 1.3 pips for the popular currency pair EUR/USD and 1.8 pips for GBP/USD. You can also experience active trading with FXCM's Active Trader account, where traders can dive into a world of exclusive benefits.
Disadvantages: Popular asset classes like real stocks or ETFs are not part of FXCM's offerings as it exclusively provides CFDs, encompassing forex, indices, commodities, cryptos, and shares.
Currency Options: FXCM offers over 39 currency pairs.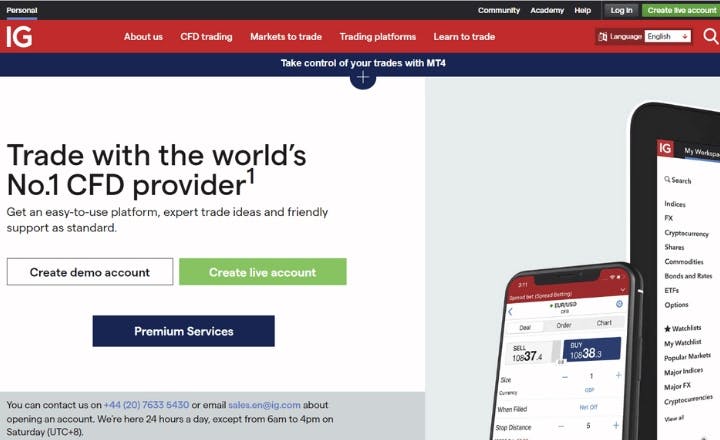 IG was established in 1974 and has offered clients excellent service since.
One of its main benefits is the dedicated platform that IG offers, known as ProRealTime, which is an award-winning web-based and mobile trading platform.
Features:
Unlike TradingView, which can only be used for chart analysis, ProRealTime offers automated trading, the ability to scan markets (to filter the best securities), as well as a vast amount of historical data that can be used in backtesting.
IG's forex fees are also considered to be average to low relative to the other brokers.
Furthermore, there is no minimum for bank transfer deposits, though a considerable $300 minimum for PayPal and credit cards.
Finally, account opening times are slow according to many of IG's clients.
IG has existed for a long time and has done so by providing excellent service to its clients.
It is a great option for anyone who would like to try automated trading (though MetaTrader 4 does offer this as well) and those who are interested in screening and filtering securities.
Advantages: IG trading platform is compatible with most operating systems, such as MacOS and Windows, and it's also one of the most desirable platforms to use for accessing data and tic charting with simple guidelines. There are supports for all types of traders whether you're a beginner or an expert, including resources, research, and guidelines that are updated regularly.
Disadvantages: The web app of the IG platform can be very lagging in terms of performance and real-time data, compared to other platforms. Users have reported some errors within the platform such as slow server responses.
Currency Options: IG offers over 80 currency pairs.
Do I Need a Broker for Forex?
Forex brokers help simplify your trading activities and ensure your forex orders are executed. With a broker, you are able to diversify your risks while also ensuring you are profitable with your assets.
Not only will you find the brokers' assistance useful, but their basic and technical knowledge can help you navigate your chosen Forex platforms.
Here are some of the things you can expect when using a forex broker for trading:
Get leverage for opening trades beyond your deposit amount.
Fundamental and technical analysis using top-notch tools for trading.
Passive trading tools using affiliate programs, PAAM Investing, etc.
Knowing how crucial using forex brokers is, it is worth noting that factors such as regulatory licenses, financial operating capitals, or the operational period of the particular broker are compatible with the platforms you choose.
What to Consider When Choosing a Forex Platform?
Choosing a forex broker tends to be a personal process, specific to each trader. But choosing a platform is something every trader must consider.
Here are some factors to consider when choosing a forex platform for trading.
Transaction Costs
When you make a trade, there is always a fee.
Whether this is separately charged to your trading balance as a "commission" or paid for within the trade itself as what's known as the "spread," depends on the broker.
Different brokers offer different types and sizes of spreads, which should be an important factor to most traders, so you should definitely keep this in mind when selecting a broker.
🪶 Tip: Spread is defined as the difference between the bid and ask price. The higher the spread, the higher the cost you pay as a trader per trade. Spread can change (or vary), this is known as the variable spread. Spreads can also be fixed and thus remain the same.
Broker Fees
Some brokers charge fees when you deposit or withdraw money from your trading account.
You should be aware of this factor before making profits, as most traders believe that charging deposit and withdrawal fees are unfair as brokers are already making money off spreads and commissions.
It may, therefore, be said that good brokers do not charge deposit or withdrawal fees or at the very least, low fees charged.
Location
Different Forex brokers are located in various countries, which have to follow different laws. An example of a trading law that is mostly exclusive to the U.S. is hedging. Hedging is allowed in other areas, however, U.S.-based brokers do not permit said activity.
Another example is countries in regions such as Europe banning the trade of binary options. Governing laws are extensive and require their own research.
They do not tend to affect day-to-day trading, though every trader should be aware of the location of their broker as well as the regulations they must follow.
Bottom Line
To recommend a single broker to be the overall, number one broker in our list can be difficult, as there are a vast amount of brokers that offer a wide variety of features.
Though to help you choose the right broker, you must think about the financial aspect of your trading experience, for instance, how much are you willing to spend on trading.
Consider what style of trading you think you will be using. This can be automated trading, day trading, or long-term trading, as factors such as spread may affect shorter-term traders.
If you are a US resident, think about the platforms that you have access to and which one best suits your needs. At the end of the day, it all comes down to you and your trading preferences.
FAQs
What is the best platform to invest in forex?
The best forex platform to invest in is TD Ameritrade. Although, it is a US only platform, this platform has the best desktop application to for daily trade.
What is the easiest forex platform to trade in 2023?
What are the best forex trading platform for beginners?
Can I trade forex everyday?