If you are not looking for passerine birds but are looking to open a business bank account in the United Kingdom with an alternative to the high street banks then you have come to the right place.
If you've heard of Starling Bank Limited and want to learn more about their business accounts, our in-depth review of their business banking services is a perfect read.
We cover all the questions that matter to determine if a business bank account with Starling, one of the UK challenger banks, fits the needs of your business.
Along with the price, we consider other factors such as who qualifies for an account, how to use it, what kind of support is offered, and basically what kind of online banking experience they offer for businesses.
Choosing the right payment business bank account is indeed key to the success of your company.
What is Starling Bank?
Starling Bank is a UK-based digital challenger bank. It is often perceived as one of the best business banking providers available.
It can offer you a personal account, a joint bank account, and different types of business accounts.
It is a British digital bank and is licensed and regulated bank by the Prudential Regulation Authority and the Financial Conduct Authority. 
Starling has been awarded the Best British Bank at the British Bank Awards for four consecutive years in 2018, 2019, 2020, and 2021. [*]
How to open an account with Starling Bank?
Starling provides personal and joint accounts for UK residents aged 16 and over. [*]
A Starling business account is available for:
Limited Companies (LP)
Limited Liability Companies (LLP)
If they are registered at Companies House, they are eligible to open a Starling business bank account. General partnerships or charities which are not registered as a Limited Company are not yet supported.
Limited Companies and LLPs need all Persons of Significant Control (PSCs) to be UK residents and natural persons (i.e. no corporate shareholders).
All directors with access to the account must be UK residents.
The business must not be a holding company, dissolved, in liquidation, or engage in any activities set out in Starling Bank's terms and conditions.
You must be able to produce evidence of your trading activities so parties can verify that your business does what you say it does. Companies House documents are not accepted to prove the activity of your company.
Your company must meet its standards for AML/KYC, fraud, and credit checks and processes.
You can refer to their website to find out more about the terms and conditions to check which activities/sectors are not supported.
Finally, note that Starling Bank only offers bank accounts and does not offer client money accounts.
How to apply for a Starling account?
The first step to opening an account is to apply online via the official website.
You will need :
A mobile phone (and signal).
Valid photo ID such as a passport or UK driving license.
If you have documents that confirm the nature of your business at hand this will be easier. For example, this could be a trade registration or bank statement which shows your activity.
And 10 minutes of your time to complete the application form.
You can start the application by clicking 'Get Started' on their website' or directly downloading their mobile app available on App Store or Google Play.
From this, you'll need to fill in the information and simply submit your application.
From this, Starling Bank will review your details. Upon submission of the application, there may be some additional steps to satisfy Starling Bank's KYC requirements (Know-Your-Customer). These steps, if any, are not detailed but Starling Bank mentions that accounts are opened within 1 to 8 days. [*]
Starling Bank's Business Products
Below, we set out the current Starling business accounts, as advertised on Starling Bank's website.
Thanks to Starling Bank's app (this is an online-only bank) and its powerful money management tools, Starling provides a current account designed to meet the needs of small businesses.
Note, as these offerings can change from time to time, it is important to check their website for up-to-date information.
Business Current Account
In addition to the personal current accounts, the "Starling Bank Business Current Account" is Starling's core product. It is used for day-to-day operations for LPs, LLPs, and startups.
The main features of this account are:
UK bank transfers (limits applied)
International payments
Free bank ATM fees
Multi directors access
Connect with tools like Xero, QuickBooks...
Users can deposit cash and cheques (with limits applied)
Digital receipts
Spaces - Possibility to move funds in 'spaces' for different purposes and goals
Integration with business tools like Quickbooks, Xero, and FreeAgent
Starling Business marketplace
Instant payment notifications
Automatic expense categorization
Multiple director's account access
Fee-free spending outside of the UK
The account is protected up to £85,000 by the Financial Services Compensation Scheme (FSCS)
The Business Account is customizable with additional modules. [*]
The goal is to create the account that suits you best, by subscribing to the services your business needs. With the Mobile app, you can add as many available modules as you want.
Here is a list of the add-ons:
The Business Toolkit
Starling Bank's Business Toolkit is an additional feature designed for invoicing, bill payments, and expense management. It's free the first month, then £7 per month.
Some of the common features are:
Invoice creation and auto-matching
Bill management
Automatic categorization of expenses, including suggestions for what is tax deductible
Sole trader tax estimation
Making Tax Digital VAT submissions
Bookkeeping to-do list, including prompts to attach receipts or invoices for good record keeping
Multi-currency account feature
With a Starling business account, you can add a EUR account or USD account to boost your GBP account.
This will allow you to hold, store as well as receive and make payments in EUR or USD.
A Euro business account

A US dollar business account

With a monthly fee of £2

With a monthly fee of £5

a 0.4% conversion fee
Send money via SWIFT for a flat £5.50 delivery fee or send payment via a local partner with prices starting from 30p
Instant payment notifications
Spaces to separate your money
One bank card to manage both GBP and EUR accounts
Provide IBAN number
-0.5% interest rate on balances over €50,000
FSCS protection

a 0.4% conversion fee
Make and receive payments via the ACH payment network with no fees Instant payment notifications
Spaces to separate your money
Send up to $25,000 on the same day with ACH
One bank card to manage both GBP and USD accounts
Provide ACH routing number
FSCS protection
They inform on their website that they are working to bring another 21 foreign currencies to this account.
With the account, you'll be able to make exchange rates, with a 0.4% conversion fee added on top.
If you are an existing client, you don't need to download anything new - you can apply in-app in the account menu. [*]
They offers you to try their multi-currency accounts for free for one month.
Sole trader account
To respond to the high number of sole traders in the UK, Starling Bank introduced this account in 2018. It aims to not charge monthly fees for individual entrepreneurs. [*] With this account, users have the possibility to opt for the business toolkit too.
Some of the features are:
Free
Instant payment notifications 
Capture receipts in-app - store them in-app
Automatic expense categorization
Goals feature that will give you the possibility to separate your funds in 'spaces' for different business goals
Deposit cash and cheques - users can deposit cash to their account via the Post Office (there is a 0.7% charge with a minimum of £3) and deposit up to £2,000 in cheques via the app (£1,000 limit per cheque)
Connect to business tools for your business such as Xero and Quickbooks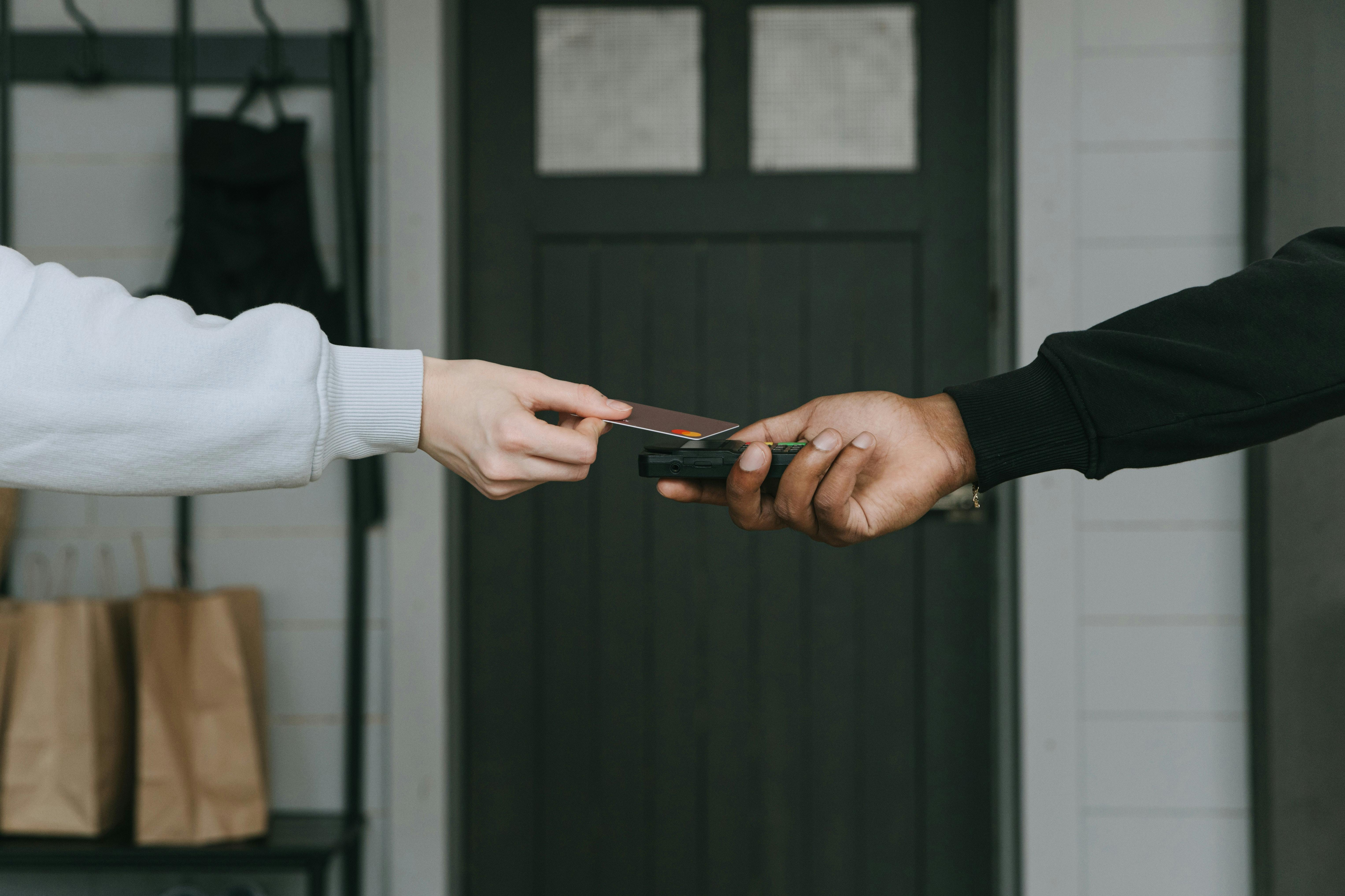 Cards
Starling offers Mastercard cards - branded as the Starling Bank Card - to their clients holding a Business Account if their business is registered in the United Kingdom. [*]
All account holders can order their own debit card, which will be issued in their own name and the company name. Direct debit cards are sent to each person's residential address.
The StarlingCard comes with the typical features associated with the new generation of payment cards (instant notification of spending, control over spending limits, and lock/unlock button).
For seamless spending on your mobile, Starling debit cards can be added to wallets with Apple Pay, Google Pay, Samsung Pay, Fitbit Pay, and Garmin Pay.
Starling Bank cards are available in Virtual and physical formats. [*]
Some of the benefits of a Mastercard debit card with Starling Bank are:
Free UK bank transfers 
International payments
ATM withdrawals - up to 6 withdrawals without fees
Added to wallet Apple, Google, Samsung, and Garmin Pay
Managed scheduled payments
Instant payment notifications
Cash deposits at the Post Office
In-app and Freepost cheque deposits
The Starling Card is a UK pounds card. According to their website, if the card is used for payment in another currency (USD or EURO), the paid amount is settled in UK Pounds in accordance with Starling Bank's foreign exchange conversion rate. [*]
Each card has a limit of £10,000 per day, regardless of the underlying currency you are transacting in.
Foreign Exchange
Starling Bank provides currency exchange services to their clients to satisfy their payment obligations in another currency.
The currency transactions services are available when conversion is made among a list of 21 currencies, as listed below (for example UK Pounds to Swiss Franc):
US Dollar (USD)
Euro (EUR)
Hong Kong Dollar (HKD)
British Pound (GBP)
Bulgarian Lev (BGN)
Canadian Dollar (CAD)
Australian Dollar (AUD)
New Zealand Dollar (NZD)
Turkish Lira (TRY)
Singaporean Dollar (SGD)
Swiss Franc (CHF)
Danish Krone (DKK)
Norwegian Krone (NOK)
Swedish Krone (SEK)
Romania New Leu (RON)
Mexican Peso (MXN)
Hungarian Forint (HUF)
Polish Zloty (PLN)
Czech Koruna (CZK)
South African Rand (ZAR)
Clients of Starling interested in currency exchange have the choice between two options:
Low-Cost Payment Option: It uses Starling's network of partner banks so the timing of receipt cannot be guaranteed (but is usually speedy). Starling cannot guarantee the reference which will accompany the payment and cannot recall it if there is an error - so they do not recommend this option for critical payments such as bills. The cost of this delivery option starts at £0.30 but will vary depending on the currency that you're sending.
SWIFT: payments go through the international SWIFT network, and will always arrive in the customer's own name and with the exact reference specified in-app. These payments normally go straight to the receiving bank and are much easier to track than low-cost payments. The cost of this payment option is £5.50 and this is the same for all currencies.

[*]
Please be aware that these fees are in addition to the 0.4% transfer fee that you will be charged when making an international payment.
Get in touch with Starling bank
If you want to know more about Starling business accounts, you can get in touch with a company representative by submitting a request by email at help@starlingbank.com.
Starling Bank informs on their website that if you're an existing customer, the fastest way to contact someone is via their app:
Log into the app,
tap the menu icon at the top right corner,
tap 'Help'
and then 'Talk to Starling'.
You'll then have these options:
Chat 24/7 - start a live chat session
If it's not urgent, you can send a message - type and send your query and the Starling team will respond as soon as possible.
Final Note
We hope you enjoyed our Starling review and it helped you to compare the business bank accounts from one of the very promising challenger banks with its competitors!
And if anything is missing in this Starling Bank review, do drop us a message and we will do our best to make the review even more comprehensive.
Review based on information available on the Starling Bank website as of October 2022
FAQs
How to open a Starling business account?
You can apply for a business account through their official website. Upload the necessary information such as ID verification and business documents and submit the application. Starling will perform additional checks after your submission.
Is a Starling business account good?
How long does it take to open a Starling business account?