HSBC Hong Kong provides 3 types of multi-currency accounts to businesses registered in Hong Kong, giving access to 12 different currencies: AUD, CAD, EUR, JPY, NZD, GBP, RMB, SGD, CHF, THB, USD, and HKD.
Only businesses incorporated in Hong Kong are eligible for a remote account opening with HSBC Hong Kong.
HSBC is a well-known global bank that offers a wide variety of products and services for businesses of all sizes. In this article, we will focus specifically on their Hong Kong business account service, providing you with a thorough review of the eligibility requirements, application processes, fees, and features. 
At the end of this article, we will also provide an alternative business account option in Hong Kong that you can consider alongside HSBC.
HSBC Hong Kong Pros and Cons

Why HSBC HK may be a good option
Multi-currency account in Hong Kong
Suite of banking services, including loans, investments, and insurance
HSBC Hong Kong operates under strict regulations to ensure robust risk management and compliance, contributing to their financial stability and protection against economic uncertainties.
Tailored for businesses involved in exporting and importing.

Why HSBC HK may not be a good option
Businesses registered outside of Hong Kong are not eligible to open an account remotely.
If you are not eligible to apply online, you must attend an in-person meeting to open an account with HSBC.
Pricing structure is complex and often has handling fees added up.
Requirements for Opening an HSBC Hong Kong Account
The requirements to open an HSBC Hong Kong business account online are straightforward, but you must fulfil all of them. 
Here are the requirements: 
You must be a limited company, partnership, or sole proprietorship
You must be incorporated or registered in Hong Kong
You must have business operations in Hong Kong
You must not have any corporate directors or shareholders
Your business must not have more than 2 individual directors, shareholders, or authorised signatories.
📌 Note: If you do not meet all of the above requirements for the online application, you will need to visit a physical branch to open an account.
In addition, HSBC Hong Kong may request directors or authorised signatories without a Hong Kong Identity Card to verify their identity via a video call or in-person meeting.
After you confirm that you are eligible to open a business account, the next step is to submit your documents to support your application. The required documents may include:
Valid identification document(s)
Memorandum and Articles of Association (M&A)/ Articles of Association
Foreign Account Tax Compliance Act (FATCA) documents
HKD cheque of HKD 10,000 for the initial deposit
It's important to note that the required documentation will vary depending on your company entity and the type of HSBC business account you are applying for. Please refer to the document checklist for detailed information.
How to Apply for an HSBC Hong Kong Business Account
Once you've prepared documentation, visit the registration page or click Apply through a mobile application. The application process can be completed within 15 minutes. 
Here are 7 steps to apply for an HSBC account.
Provide details of your business, entity structure, and contact information.
Upload documents
Enter the SMS verification code
Pay the account application fee.
Register for Business Internet Banking
Activate your Mobile Security Key
Complete the eSign Process.
The time it takes for HSBC to review and approve your application is within 3 business days. However, they may contact you or your connected parties to request additional details or documents when necessary.
HSBC Hong Kong Products
Business Account
HSBC offers three types of business accounts to Hong Kong businesses. They are called Business Integrated Accounts, which is an account that combines savings, current deposit, and time deposit accounts under one single account number. Each of the three accounts offers a range of banking solutions for transactions and looking after your company's finances.
Every business account supports holding, receiving, and paying in 12 currencies, including AUD, CAD, EUR, JPY, NZD, GBP, RMB, SGD, CHF, THB, USD, and HKD. Businesses can instantly receive and send HKD transactions locally via FPS. In addition, with the SWIFT payment network, international payments can be received and sent worldwide.
You can transact and invest 24/7 via the HSBC Internet banking portal or the HSBC mobile banking app. You can also use new collection and payment methods in your multi-currency business account, such as QR codes and digital wallets.
Moreover, we'll briefly describe the differences between the 3 options for an HSBC Hong Kong business account.
1. HSBC Sprint Account
The HSBC Sprint Account is designed to support new startups and accelerate their growth. Businesses can access a multi-currency account and payment cards online or through a mobile application. They can also receive WeChat notifications to stay updated on their account balances, incoming transactions, and more. The fees are the lowest of the 3 HSBC business account offerings, and the first 12 months' fees are waived. In addition, the required average account balance of HKD50,000 is also the lowest among others. 
2. HSBC Business Direct
The Business Direct Account is for growing SMEs. With this account, you can make same-day remittances to Greater China, which benefits businesses with customers in Mainland China and Taiwan. Similarly, clients can use Business Internet Banking and the HSBC Hong Kong Business Express mobile app for free and receive notifications on WeChat. For HSBC Business Direct, the required average account balance is HKD100,000. You also get access to a credit facility of up to HKD10,000,000, which can be utilised for overdraft and documentary credit issuance.
3. HSBC BusinessVantage
The BusinessVantage account is for more established SMEs. With the waived of the initial 50 transactions for over-the-counter fees, it suits businesses that have a similar mix of online and over-the-counter transactions. The average account balance required is higher at HKD500,000. Similar to the Business Direct Account, payments from Greater China are recorded in real-time, and it grants a credit limit reaching up to HKD10,000,000.
HSBC Global Wallet
The HSBC Global Wallet allows businesses to hold, manage, and receive payments like a local in 6 different currencies, which are:
AUD from Australia
CAD from Canada
EUR from countries in the Single Euro Payments Area (SEPA) zone, 
GBP from the United Kingdom
SGD from Singapore
USD from the United States
This product is integrated with the HSBC Integrated Business Account. Therefore, clients can transfer funds from the Global Wallet to their business account with ease, simplifying cross-border transactions.
You should note that the HSBC Global Wallet is not automatically included with your business account. A separate subscription is required to access this payment solution from HSBC.
Cards
HSBC Hong Kong offers 6 types of corporate cards that you can choose from.
Here are the features, fees, and rewards of each of those corporate cards: 
HSBC Business Debit Mastercard®
Purchases and cash withdrawals in 12 major currencies without foreign transaction fees.
Earn 0.5% cash back on qualified purchases.
Control card features via mobile application.
Compatible with Apple and Google Pay
No annual fees.
2. HSBC Business Mastercard®
Up to 56 days without interest for repayments.
Access cash advances at ATMs
Set individual credit limits for each card.
Enjoy $1 RewardCash for every HKD250 spend
Gain travel perks and digital protection.
Track company expenses with detailed card activity reports.
3. RMB Business Card
56 days interest-free repayment.
No extra fees on foreign transactions at UnionPay outlets.
Travel benefits in Hong Kong SAR and mainland China.
Earn $1 RewardCash for every RMB250 spent and get discounts throughout the year.
4. Corporate Mastercard®
Simplify company expense management.
Manage business expenses, including travel/entertainment, effectively.
Special benefits for frequent travellers, such as airport services and travel insurance.
Supports daily data feed to the company's ERP system
5. HSBC Purchasing Mastercard®
Optimize frequent, high-volume B2B transactions.
Pre-set transactions and spending limits for easier purchasing.
Enhance efficiency and control within the company, such as credit and daily spending limits, and block specific merchant categories.
Lower processing costs by consolidating vendor payments into one monthly payment to HSBC.
6. HSBC Virtual Mastercard®
Numberless card: a unique card number will be generated for each payment.
Enhance security with controls for transaction value, frequency, and merchants.
Simplify payment tracking with single or multiple card numbers for different departments, projects, or merchants.
You can refer to HSBC's corporate card page for more information.
Foreign Exchange
HSBC provides businesses with FX services to manage multiple currencies using their online banking platform and mobile app.
Currently, HSBC Hong Kong supports 25 currencies, including HKD, USD, CNH, EUR, GBP, JPY, AUD, CAD, CHF, NZD, SGD, THB, DKK, NOK, SEK, ZAR, AED, PHP, INR, BHD, CZK, KWD, MXN, SAR, and KRW.
Their clients also have the option to make spot trades at real-time exchange rates or pre-set preferred rates and transaction amounts, with a minimum transaction amount of USD4 or equivalent.
Other Services
Businesses can integrate with Xero accounting software and iMGR, HSBC's HR and Payroll software integration. These integrations help businesses improve their operational efficiency by enabling real-time reconciliation and minimising manual effort in payroll and MPF computations. This ensures quicker book closures and a more efficient financial management process.
In addition, HSBC Hong Kong offers solutions for businesses involved in exporting and importing, as well as investment opportunities. 
As a whole, HSBC gives businesses access to comprehensive banking services that can support their growth.
Fees Charged By HSBC Hong Kong
The costs for your HSBC Hong Kong business account depend entirely on the account that you choose. This table provides an overview of some of the costs you can expect for each account. 
Fees
Account opening fee

HKD1,300

Initial deposit required

HKD10,000 or equivalent of USD1,000

Inactive account fee:
Inactive for more than 1 year
(And average account balance below HKD50,000 for the previous 3 months)

HKD350

Inactive for more than 2 years
(And average account balance below HKD50,000 for the previous 3 months)


HKD450

Account closure fee

HKD500
HSBC Sprint Account

Monthly Fees



First 12 months

Waived

From the 13th month onwards, the average account balance of
HKD50,000 or above

Waived

From the 13th month onwards, the average account balance of
Below HKD50,000

HKD200

Account closure fee

HKD500

Other Fees
Counter transaction fee

HKD10 per transaction
HSBC Business Direct

Monthly Fees



With an average balance of
HKD100,000 or above

Waived

With an average balance of
below HKD100,000

HKD200

Counter Transaction Fees
The first 3 transactions

Waived

From the 4th transaction onwards

HKD10 per transaction
HSBC BusinessVantage

Monthly Fees



With an average balance of
HKD500,000 or above

Waived

With an average balance of
between HKD100,000 and HKD499,999

HKD200

With an average balance
below HKD100,000

HKD450
Receiving Payments



Local FPS payments up to HKD or RMB 1 million

Waived

Local RTGS payments

HKD15

International payments

HKD65, but fees vary depending on factors such as currencies conversion.

Sending Payments
Local FPS payments up to HKD or RMB 1 million

HKD5

Local RTGS payments

HKD55

International payments to HSBC Groups in Mainland China (with payment details up to 140 characters)

HKD100

International payments to all others (with payment details up to 140 characters)

HKD125

Each additional telex fee (when payment details exceed 140 characters)

HKD120

Rejected due to insufficient funds

HKD150

Amendment/enquiry/return of a transfer

HKD250 plus any additional

charges imposed by the overseas

bank

Cancellation of transfer (via business banking portal)

HKD250 plus any additional

charges imposed by the overseas

bank

Cancellation of transfer (via HSBC form)

HKD350 plus any additional

charges imposed by the overseas

bank

Confirmation sent to beneficiary banks

HKD200 for each confirmation
Cards



Annual fee (per cardholder)
1. Waived: for Business Debit Mastercard®
2. HKD120 - HKD980

, depending on the type and amount of cardholders.

Physical card replacement fee

HKD50-100

Local ATM withdrawal fees

From HSBC Group's ATM network in HK

No charge

From non-HSBC Group's ATM in HK (Visa/Plus or MasterCard/Cirrus network)

HKD25 per transaction

From non-HSBC Group's ATM in HK (UnionPay network)

HKD15 per transaction

International ATM withdrawal fees

From HSBC Group's ATM network outside HK

HKD20

From Visa/Plus or MasterCard/Cirrus network)

HKD40

From UnionPay network

HKD50
Note that the HSBC's monthly fee is charged on the fourth working day of each month.
It's worth noting that fees are subject to change. You should refer to the fees and charges page for the latest information.
Customer Reviews
To give you a complete picture of HSBC, we checked what customers say about them from Trustpilot. Based on 86 reviews, HSBC Hong Kong received a score of 1.3 out of 5.
It is important to note that this Trustpilot page has not been claimed by HSBC, so there is no one monitoring the reviews or responding to the comments. 
Getting in Touch with HSBC Hong Kong
If you need help, HSBC has several channels available for their customers to contact them. HSBC's business hours are Monday to Friday, 09:00 – 18:00 Hong Kong time.
Here are some of the contact methods:
Visiting any branches
Chatbot
Chatbox in the website or mobile app
Email
Hotline: +852 2748 8288 (Chinese and English language)
Some services are available through the hotline channel 24/7. Please check the details information on the contact page.
Alternative Solution: Statrys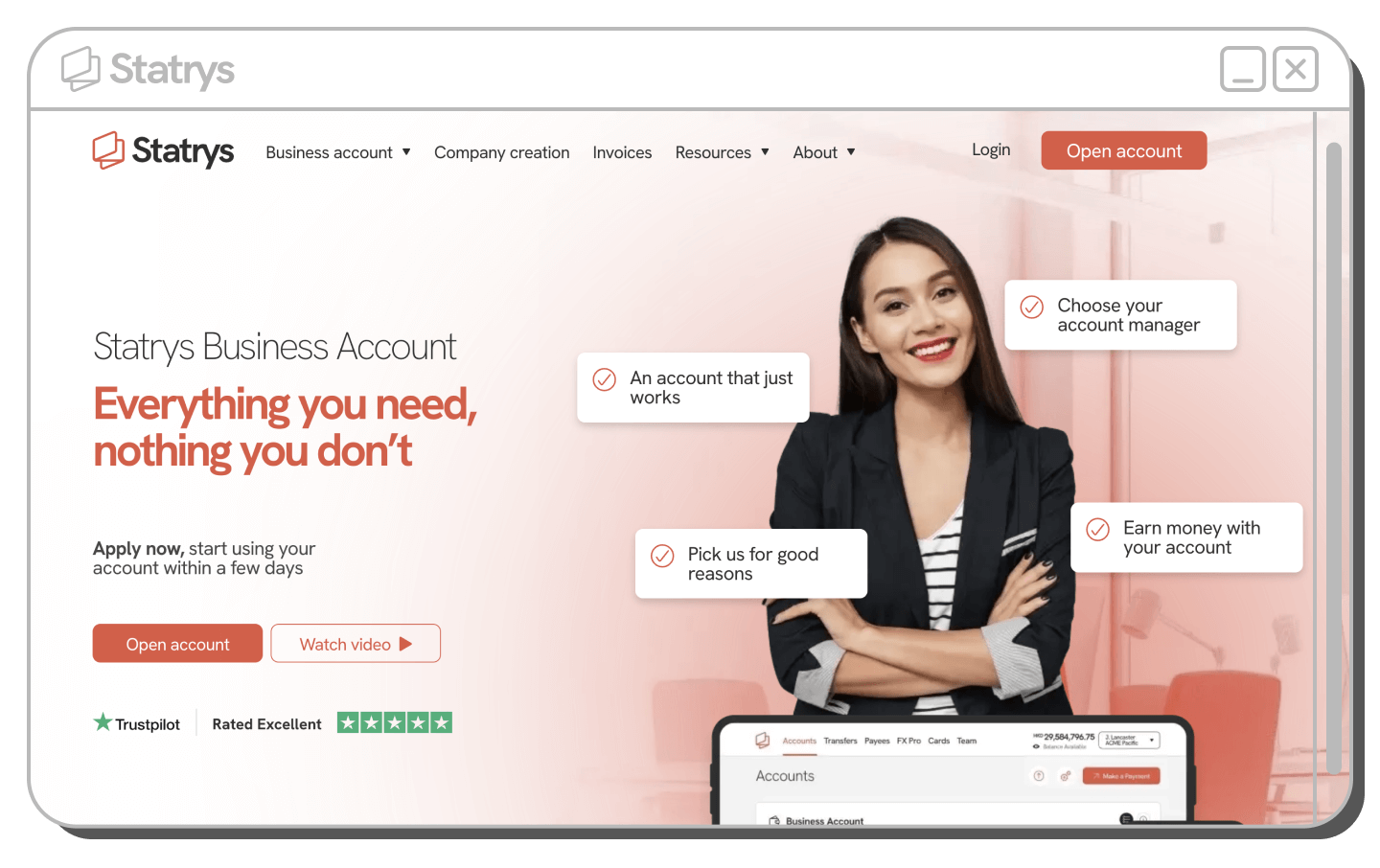 In this section, we will introduce Statrys – a fintech firm founded in 2019 in Hong Kong that also offers financial services tailored to businesses.
What is Statrys?
Statrys is a payment services provider that provides multi-currency business accounts to businesses registered in Hong Kong, Singapore, or the BVI. Statrys is licensed as a Money Service Operator. 
Statrys' uniqueness is its focus on customer support, with over 200 reviews on Trustpilot and an excellent score of 4.6. Their customer support can be reached via many different channels, such as live chat on the website, email, phone, WhatsApp, and even WeChat. 
 Currently, Statrys supports over 4,000 clients on its platform, with 85% of users opening their account in less than 3 business days.
Some of their core services include virtual and physical debit cards, advanced FX services, and local payouts in 17 different currencies. Furthermore, Statrys also provides a company registration service to help entrepreneurs and offshore business owners register a business in Hong Kong.
Lastly, Statrys provides free invoicing software that's available for everyone, and it takes just a few minutes to register. 
Statrys' Fees 
Statrys' pricing structure is straightforward, and all prices can be found on the website. There are no hidden handling fees or commission rates added when transferring funds internationally. While there is a small fee for incoming SWIFT payments, Statrys utilises interbank rates to provide a competitive exchange rate for clients. This helps businesses save more on transaction fees.
Customer Support
Statrys takes customer service seriously by providing a dedicated account manager to every business account holder. They promise to respond to inquiries within 15 minutes during business hours, depending on the time zone. Statrys offers multiple platforms for clients to reach out to, including phone, email, live chat, WhatsApp, and WeChat.
Get Multiple Business Bank Accounts
It is recommended that businesses should have more than one business account because it provides various benefits, such as:
Funds Management: Separating accounts for different purposes can help with financial management and tracking (e.g., sales, expenses, and taxes).
Keep Business Going: It is possible that your account may be frozen due to compliance issues or suspected fraud. To ensure your business can continue to operate, having an additional account can be helpful until the issue is resolved.
Protect Your Assets: Distributing funds across multiple accounts helps in diversifying the risks of fraud or bank failures. This will ensure that your funds are always safe and secure.
However, more accounts mean more fees and require more time to manage. Before opening multiple business accounts, be sure to check fees and requirements carefully.
🔍 Tip: Need more information? We also provide a side-by-side comparison between HSBC Hong Kong and Statrys to help you make an informed decision.
Final Note
As one of the leading international banks, HSBC Hong Kong is a solid option for business owners. From multi-currency business accounts to business cards and other services, HSBC Hong Kong provides banking services to businesses of all sizes.
For businesses operating in Hong Kong, Statrys is a viable alternative that could serve as a primary or secondary business account. Statrys offer a business account that can hold 11 different currencies to support SMEs with their businesses.
If you own a growing business with clients and partners in Hong Kong, check out our business account to see how Statrys can support you with payment.
This review is based on information available on the HSBC Hong Kong website as of 26 October 2023.
Disclaimer

Statrys competes directly with HSBC Hong Kong in the payment industry. However, we're committed to providing an unbiased, thorough review to help you make an informed choice.

Our insights are derived from industry experience and discussions with clients who have also used our competitors' services. While we'd love for you to choose us, what's most important is that you make the decision that's right for you.

If you have any feedback regarding this review, please get in touch with us at marketing@statrys.com.
FAQs
Can I open a HSBC business account online?
You can submit an application through internet banking or the HSBC Business Express mobile app. HSBC may require the director/shareholder for a video conference or face-to-face meeting if they do not hold a Hong Kong Identity Card.
How do I contact HSBC Hong Kong?
How long does it take to open a business bank account?
Is HSBC good for business banking?