ZA Bank is a licensed Hong Kong virtual bank and also a member of the Deposit Protection Scheme, which protects eligible deposits up to HKD 500,000.
With a ZA business bank account, you can quickly receive or make deposits, earn interest, and make local and oversea transfers in 3 currencies: HKD, CNY, and USD.
ZA Bank also provides foreign exchange services and business loans.
ZA Bank is one of Hong Kong's virtual banks that offers personal and business accounts to over 650,000 users in 3 years since the launch of operations in Hong Kong.
As virtual banks gain popularity, it's important to consider if they're the right choice for your business payments. This review aims to assist you in making that decision by providing information on ZA Bank's business account, payment cards, and additional services.
Additionally, we'll compare ZA Bank's offerings to those of Statrys to give you a comprehensive understanding of what's available in the market.
What Is ZA Bank?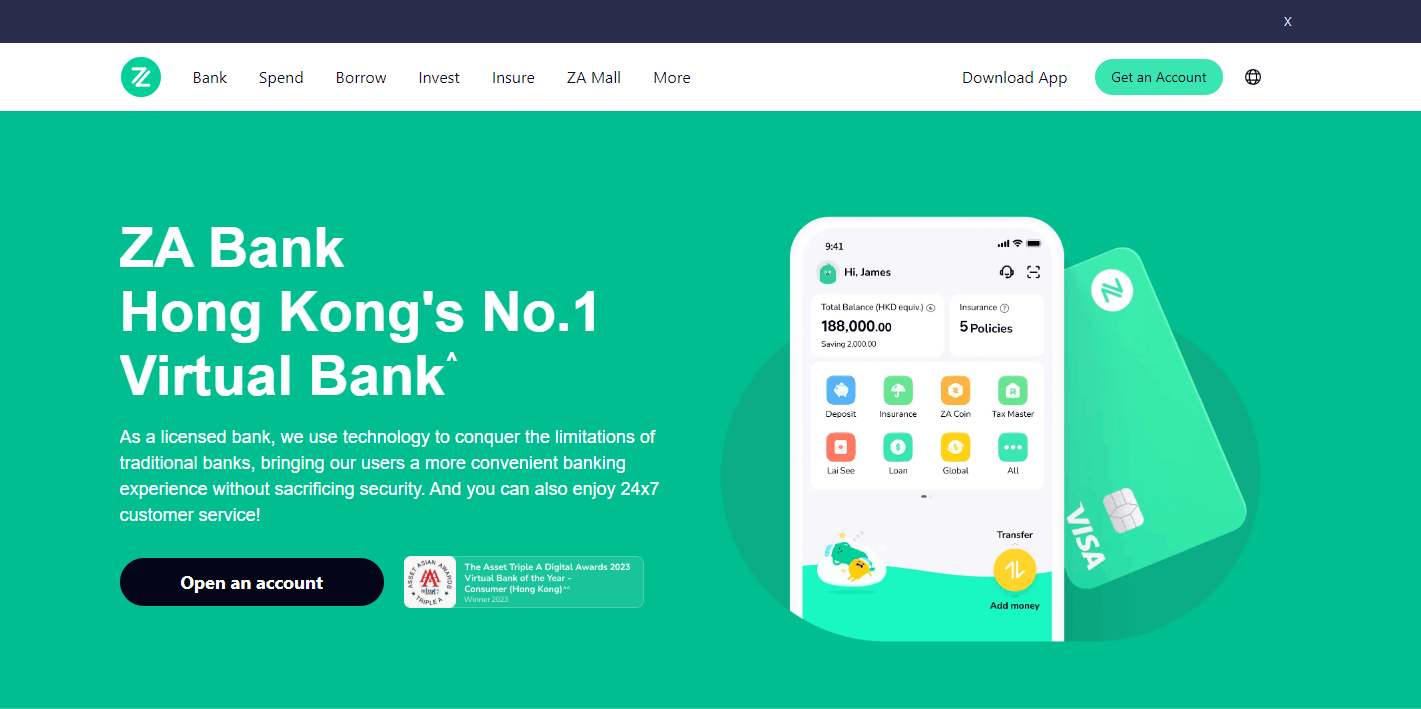 ZA Bank Limited is the first virtual bank in Hong Kong, and it was founded in 2017 by the Chinese company ZhongAn Online P&C Insurance, a venture funded by Alibaba's Jack Ma, Tencent's Pony Ma, and Ping An Insurance's Mingzhe Ma.
ZA Bank was licensed by the Hong Kong Monetary Authority (HKMA) in 2019 and is a member of Hong Kong's Deposit Protection Scheme (DPS).
📌Note: The DPS protects deposits up to HKD 500,000 per person in HKD, CNY, and other foreign currencies, except for deposits with a maturity longer than five years.
On 23 November 2022, ZA Bank announced a partnership with Wise to offer ZA Bank users a low-cost and fast international money transfer service.
The global transfer service offers a mid-market exchange rate with zero FX mark-ups and no hidden fees, allowing ZA users to make fast and affordable international payments with the Wise and ZA Bank platforms from HKD to 14 different currencies and more.
Requirements for Opening a Business Account With ZA Bank
Only businesses incorporated in Hong Kong can open a business account with ZA Bank.
Business Account Eligibility:
Be established or incorporated in Hong Kong
A sole proprietor must be aged 18 or over
Tax residents of Hong Kong only
The required documents depend on the type of your business. In general, you'll need to have at least the following documents on hand:
Form for opening a business account
Copy of an individual's identity documents
Copy of residential address proof
Proof of business, such as a sales contract or invoice
Foreign Account Tax Compliance Act (FATCA) documents
Common Reporting Standard (CRS) documents
ZA Bank provides a detailed list of document requirements on its website for more information.
How To Apply For a ZA Bank Business Account
The initial application process is entirely online.
However, the director or person in charge of the company must be physically present in Hong Kong to meet face-to-face with ZA Bank and sign the contract. This meeting cannot be held online.
Here are the procedures to open a business account with ZA Bank.
Go to the Business Banking Form Download Centre on the website, fill in the Business Account Opening Form, and prepare the required documents according to the document checklist.
Click 'Apply Now' and upload the completed form and relevant documents.
A ZA Bank relationship manager will be in touch to arrange a meeting with you, during which they will collect the required documents.
Around one week after the meeting, your account will be running and ready to use.
So, getting your business account open and functioning may take a few weeks.
💡Tip: Learn how to open a ZA Bank business account with our step-by-step guide.
ZA Bank Products
Let's dive into what ZA Bank has to offer for businesses. It's always best to check their website for the most up-to-date information, but here's what we found during our review.
Business account
ZA Bank offers Hong Kong's businesses a savings account in HKD, CNY, and USD.
Plus, no minimum. You can earn interest on each currency.
The interest rates can be found on the 'Deposit' page under the heading 'Bank.' 
Receiving payments
With a ZA Bank savings account, you can receive or make deposits in HKD, USD, and CNY with:
The Clearing House Automated Transfer System (CHATS)
Faster Payment System (FPS)
📝Note: FPS is generally the cheapest of the platforms, and SWIFT is the most expensive.
Sending Payments
You can use CHATS to transfer funds locally in HKD and CNY. Alternatively, you can use FPS to make a local transfer in USD. International transfers can be made with SWIFT but tend to cost more.
📝Note: The payee's bank may require the account owner's consent to arrange the refund.
Transfer Limits
As of 30 June 2022, there are 3 types of limit transfer.
ZA Bank's same-name account can make unlimited transfers.
Third-party account transfers, including local, oversea, and batch transfers, have a daily limit of HKD10 million.
The payroll service has a daily limit of HKD50 million.
Cards
At the time of review, ZA Bank does not offer bank cards for business clients.
FX Services
ZA Bank's foreign currency exchange service includes:
Supported 3 currencies: HKD, USD, and CNY
No daily limit on the number of transactions.
Instantly processed transactions
24/7 service
No extra charges or handling fees
Other Services
As a bank, ZA Bank offers deposit and loan services to customers with open accounts.
Time Deposits
You can lock savings away in time deposits in HKD, CNY, and USD. The periods range from 7 days to 24 months, with interest rates ranging from 0.2% to 0.65%. 
The minimum deposit amount is HKD1, CNY1, or USD1.
As with most time deposits, an early withdrawal fee is chargeable should you transfer money before the time deposit's maturity. 
Business Loans
Your business can access two different types of business loans from ZA Bank up to a value of HKD18 million:
80% guarantee revolving loan: offered under the SME Financing Guarantee Scheme with a repayment period of up to 7 years
Unsecured revolving loan: with a flexible drawdown date and repayment terms.
📌Note: ZA Bank does not charge an arrangement fee for either loan.
Batch Payment and Payroll
They also offer batch payment and payroll services for business accounts, with daily limits of HKD10 million and HKD50 million, respectively.
Fees Charged by ZA Bank
| | |
| --- | --- |
| Account Opening Fee on the Website | HKD1,200 |
| Account Opening Fee with Relationship Manager | HKD10,000 |
| Additional Account Opening Fee for Companies With Complex Structures | Minimum HKD 10,000 |
| Dormant Account Charge | HKD200 |
| Monthly Fee for Business Account | Waived |
| Paper Statement (On Request) | HKD 150 per request |
Receiving Funds
Amount
HKD/CNY via FPS (non-merchant payments)
Waived
HKD/CNY via FPS (merchant payments)
0.6% of the amount
CHATS
HKD 15
SWIFT
HKD 50
Sending Funds
HKD via FPS (below HKD 1 million)
HKD 1
HKD via FPS (HKD 1 million or above)
HKD 10
CNY via FPS (below CNY 1 million)
CNY 1
CNY via FPS (CNY 1 million or above)
CNY 10
CHATS
HKD 50
SWIFT
HKD 100
The data is based on information available on the ZA Bank website as of July 2023.
ZA Bank vs. Statrys
To give you a broader idea of what's in the Hong Kong business account market, we have compared ZA Bank with Statrys, also headquartered in Hong Kong, on products, pricing, and customer support.
Products
| | | |
| --- | --- | --- |
| | | |
| Multi-currency Business Account in Hong Kong | | |
| Local Payments in Hong Kong | | |
| Supported Currencies for International Payments | HKD, USD, EUR, GBP, CNY, JPY, CHF, AUD, SGD, CAD, NZD | HKD, CNY, USD |
| International Payments (SWIFT) | | |
| Hong Kong Company Registration | | |
| Payment Card | | |
| Xero Integration | | |
A business account supporting multiple currencies will be very beneficial if you're running an international business. With ZA Bank, your account supports 3 major currencies: HKD, USD, and CNY.
At Statrys, you will have access to 11 supported currencies, including AUD, EUR, GBP, SGF, JPY, CHF, NZD, CAD, and the three also provided by ZA Bank.
Statrys provides business owners with a debit payment Mastercard® that can be useful for company expenses. To receive the card, you must be an existing customer of Statrys. Please keep in mind that the payment card has a limit of HKD 500,000 per year.
Statrys offers a live feed of transactions, allowing for better financial management.
While at the moment, ZA Bank does not yet provides bank cards for business accounts.
Moreover, Statrys offers a Xero integration service where users can connect and sync their business accounts to Xero anywhere and anytime.
With Statrys, you can connect any of the 11 currencies available, including payment transactions, and ensure accurate accounting for currency conversion transactions. 
Thus, if your business operates primarily in Hong Kong, ZA Bank can fulfill your business banking needs.
However, if your business operates in multiple countries and requires access to various currencies, Statrys may be your better choice.
🔎Which business account is the best fit for your company? Read our comparison of ZA Bank and Statrys.
Pricing
As mentioned in the fee charged table above, you may be able to cut some costs by using ZA Bank for local transfers, as they go for HKD 1 /CNY 1  for sending funds locally.
But fees can quickly add up if your business regularly makes cross-border payments. Receiving and sending international payments cost you HKD 50 and HKD 100, respectively.
Alternatively, Statrys charges HKD 55 and HKD 75 for the same services. Statrys bases its currency conversion on the mid-market rate. You could cut costs by making international payments with Statrys.
Customer Support
Users can reach out to ZA Bank for help via various methods, which are:
Hotline: +852 3665 3665
Live chat
Email: bank.opinion@za.group
Calling and the live chat feature should provide the fastest response times. ZA Bank makes no mention of a dedicated account manager on their website.
With Statrys, every account holder gets a dedicated account manager who can be reached by phone, email, live chat, WhatsApp, and WeChat. 
Our team will respond to your inquiry within 15 minutes during business hours (depending on the time zone you are in), not hours or days.
Final Note
We do our best to provide all the information we can find and present it succinctly in our reviews to save you time and effort. 
If we missed anything about ZA Bank, please send us a message via email at marketing@statrys.com, and we will endeavor to make this review even more comprehensive.
This review is based on information available on the ZA Bank website as of July 2023.
FAQs
ZA Bank is a Hong Kong-based virtual bank that provides personal and business accounts. They were founded in 2019, and are licensed by the Hong Kong Monetary Authority.
Does ZA Bank offer both personal and business accounts?
Does ZA Bank offer multi-currency business bank account?