You are exploring the opportunity to open an account with Currenxie. Or you have one already, and you are looking for an alternative.In both cases, finding the answers to your questions may be time-consuming.
First thing first, if you are still trying to understand what products are offered by Currenxie, we have you covered in our in-depth Currenxie review.
If you are past this stage, you may want to check if any other offer is available. That's why we have developed a full comparison of Statrys and Currenxie. It's worth reading as we have set out as many details as possible so you can make an informed decision.
The purpose of this comparison is not to come to any definitive conclusion. Determining which option is the best fit for your company will depend on the payment needs of your business.
In a market that lacks transparency, we have used our best efforts to put together a comparison that may help you make your choice. And if anything is missing, please let us know so we can better help other entrepreneurs by adding relevant information. Just contact us on the website or send us an email at support@statrys.com.
Now, let's move to the comparison:
Accounts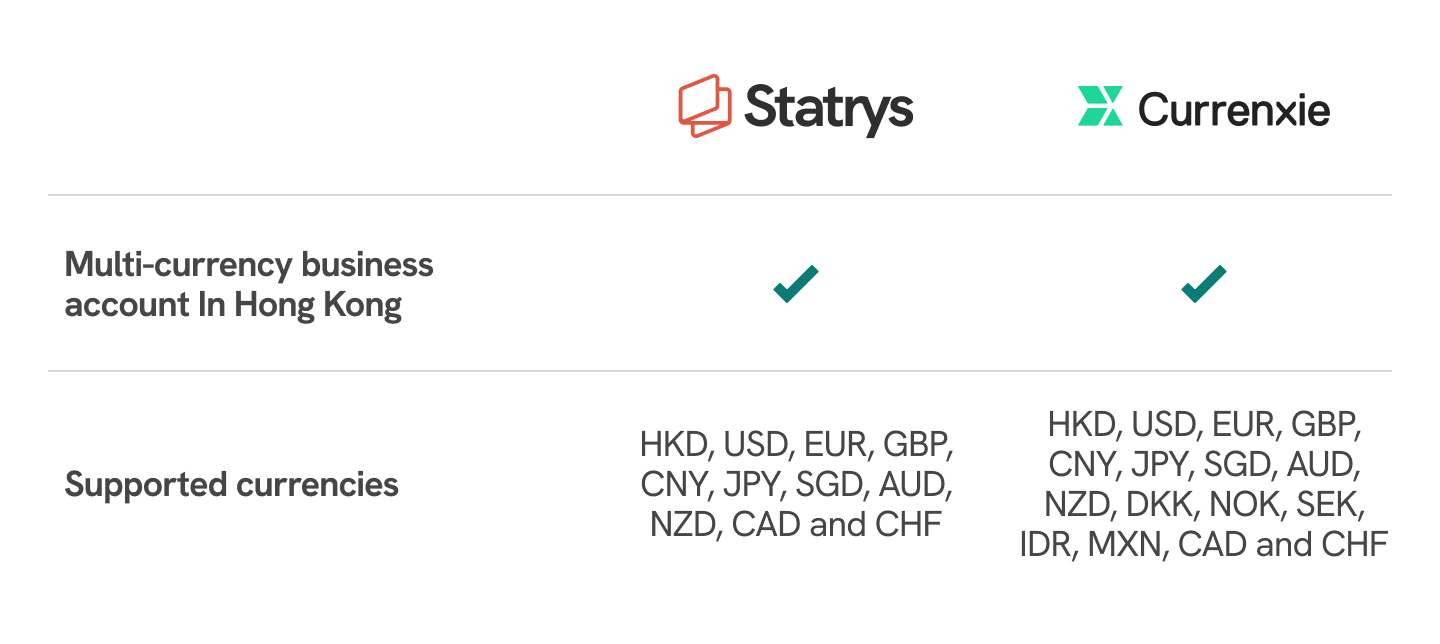 Multi-currency business accounts in Hong Kong can be used to receive and make payments locally in Hong Kong and internationally from/to other countries. Both Statrys and Currenxie business accounts support multiple currencies. This means any payment received in one of those currencies is credited to the business account in the said currency – saving the cost of any foreign exchange conversion.

Local collection account can only be used to receive payments in the national currency from the country where the account in located. Also, payment can only be received from an online marketplace.
For example, a local collection account in Indonesia can only be used to receive payments in Indonesian Rupiah from an Indonesian online marketplace (like Tokopedia, Shopee, etc.)
Foreign Exchange Services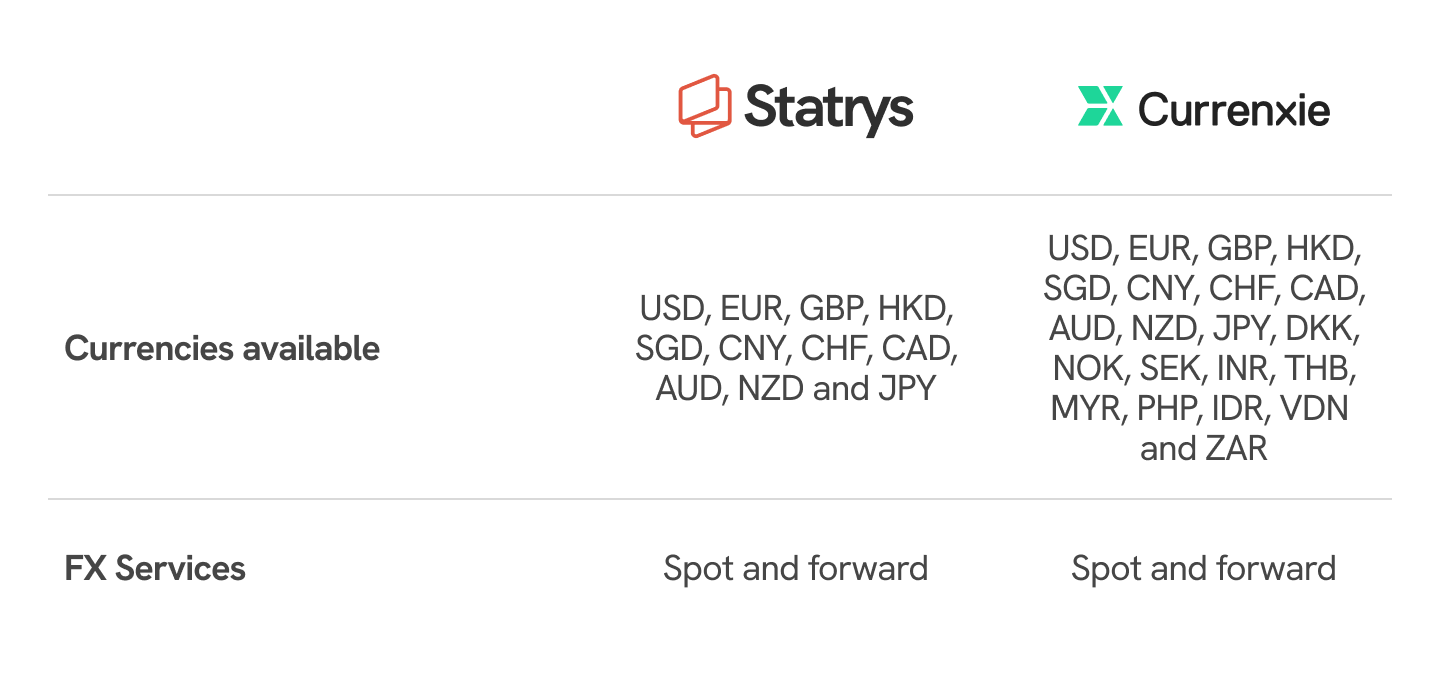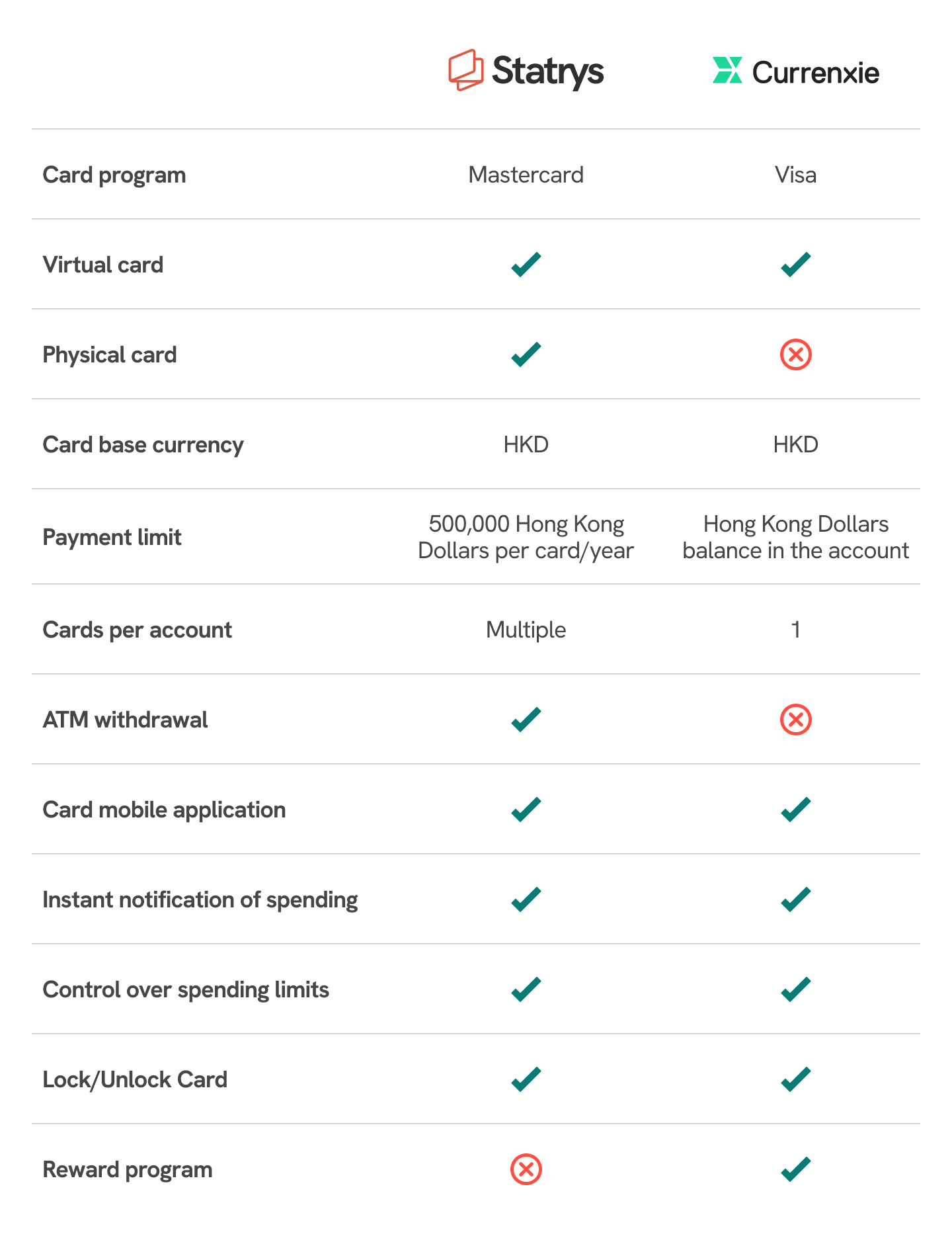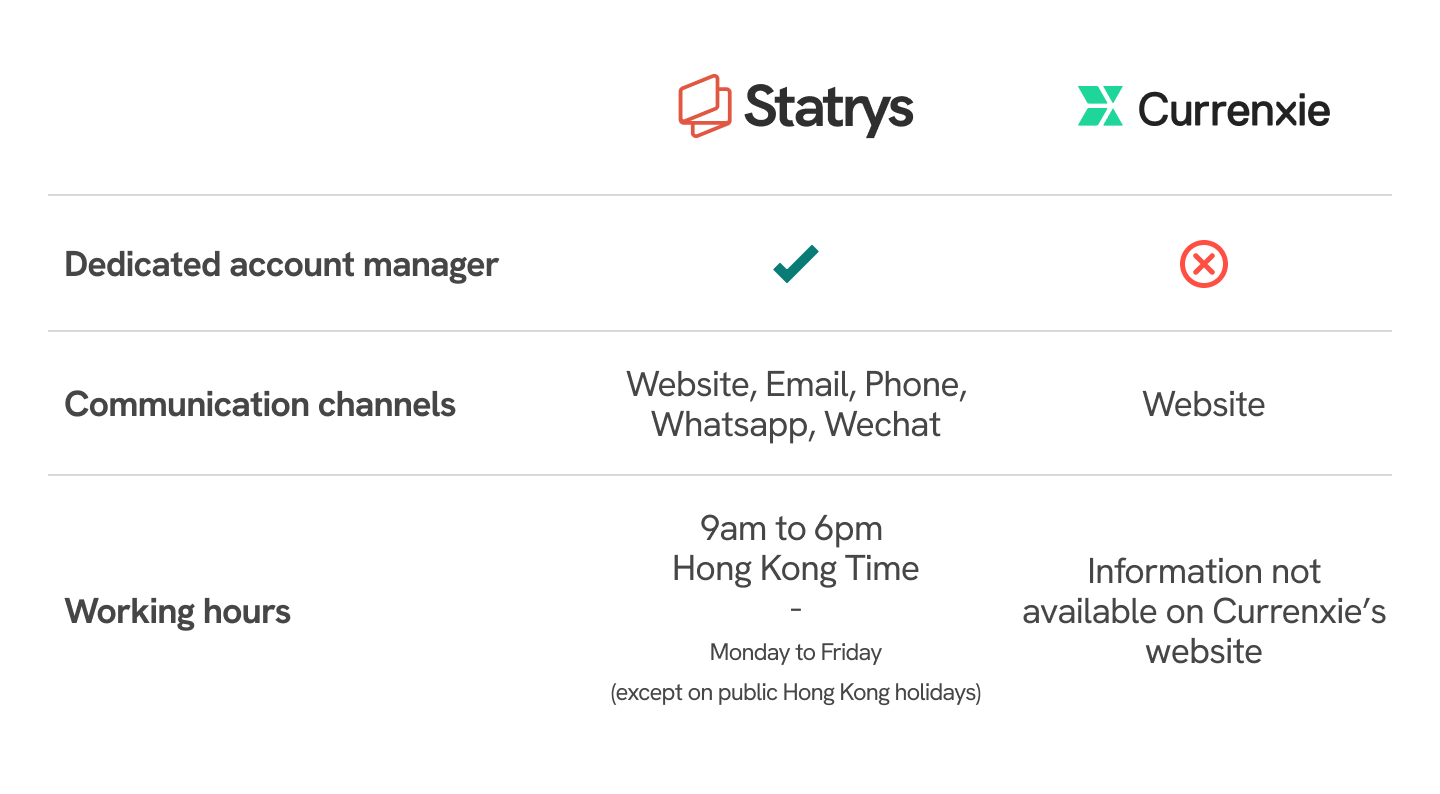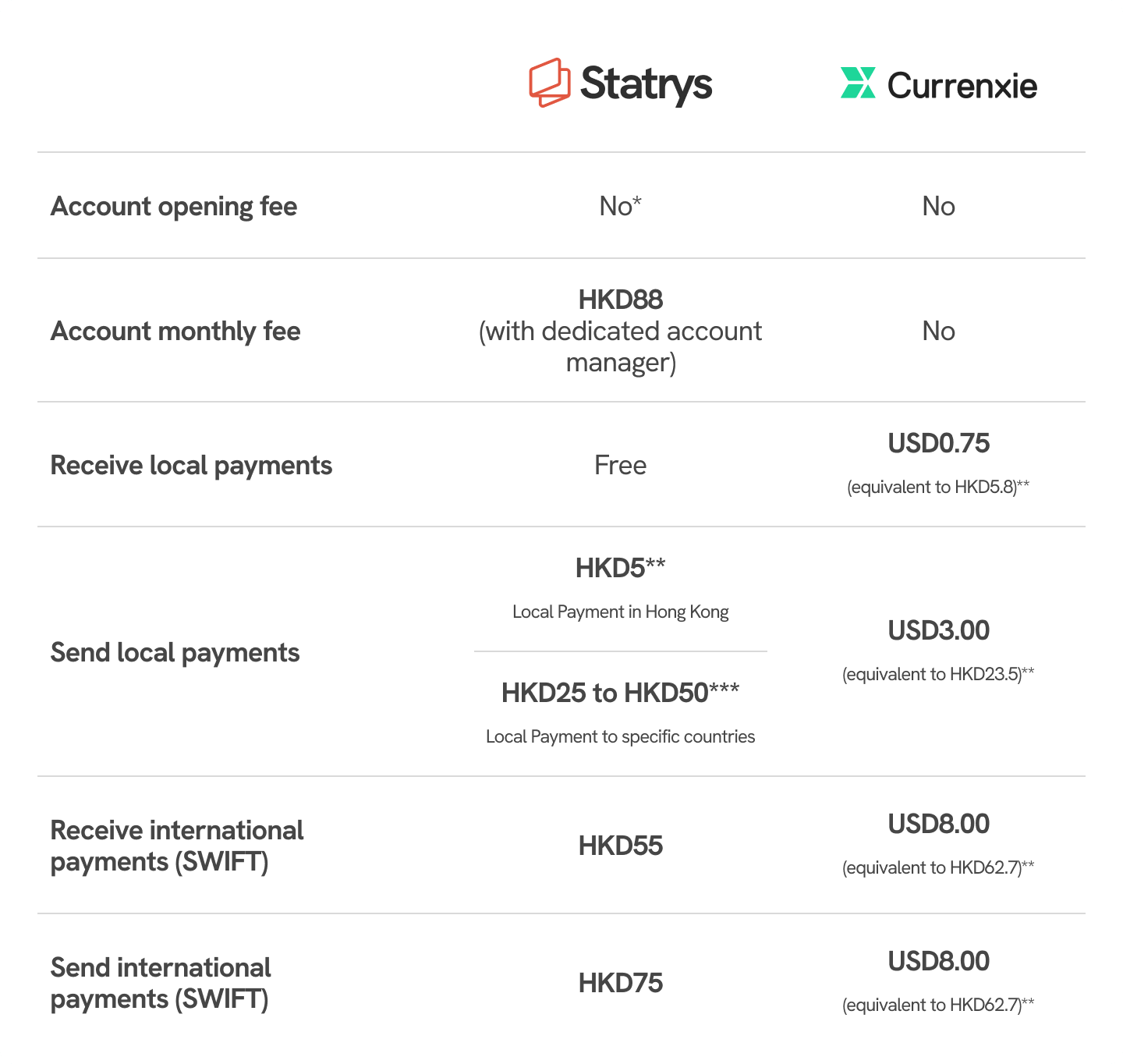 * Account opening fee may apply for companies not registered in Hong Kong or Singapore, companies with complex shareholding structure, and companies with high-risk business profiles.
** Actual cost in HKD will vary from time to time based on the USD/HKD exchange rate.
*** A fee of 25HKD applies for outward local payment exceeding 500,000HKD.
Foreign Exchange Pricing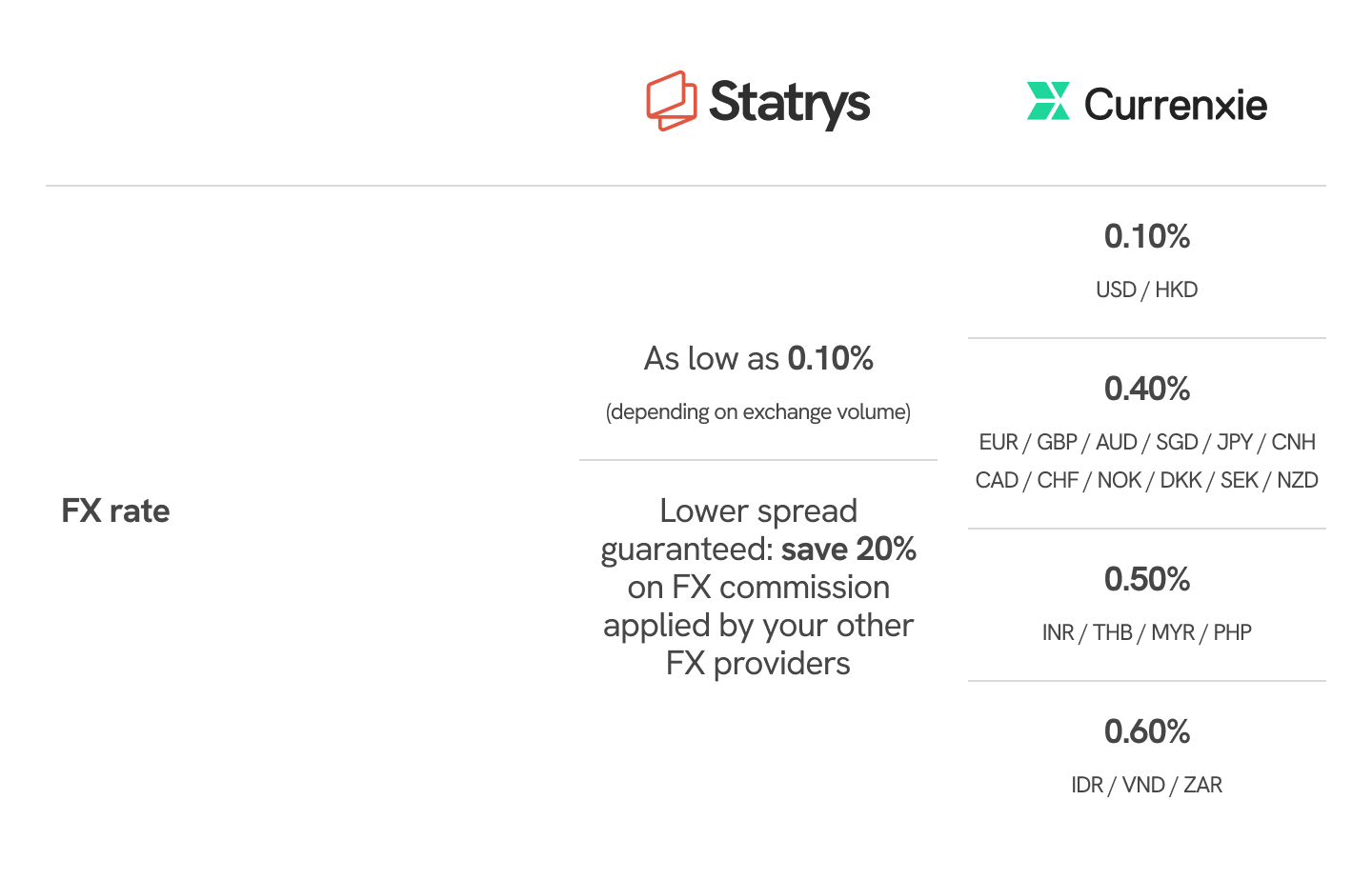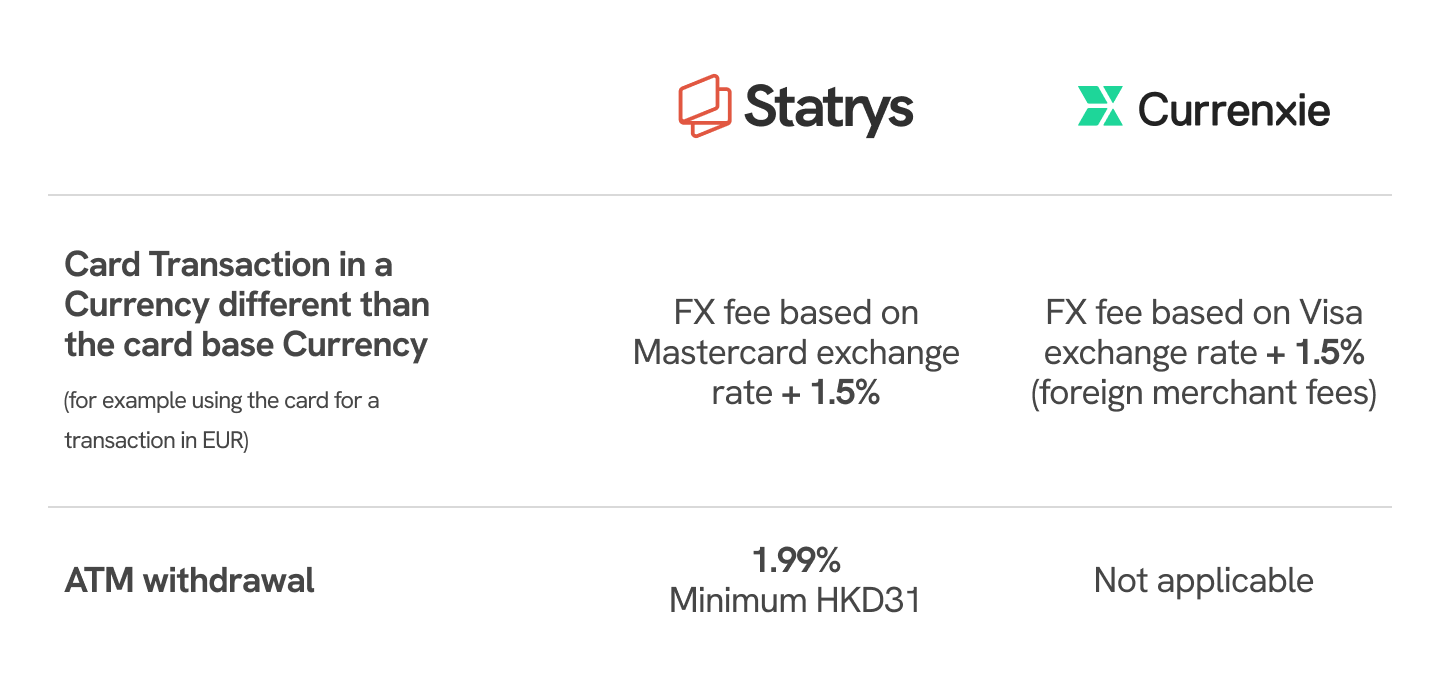 Disclaimer
This publication is provided for general information purposes only and is not intended to cover every aspect of the topics with which it deals. It is not intended to amount to advice on which you should rely. You must obtain professional or specialist advice before taking, or refraining from, any action on the basis of the content in this publication. The information in this publication does not constitute legal, tax or other professional advice from Statrys Limited or its affiliates. Prior results do not guarantee a similar outcome. We make no representations, warranties or guarantees, whether express or implied, that the content in the publication is accurate, complete or up to date.
Currenxie and the Currenxie logo are trademarks of Currenxie Limited, registered in the Hong Kong SAR China and other countries and regions.