Currenxie is not a bank but a Hong Kong-based fintech company holding a Money Service Operator license with the Hong Kong Customs and Excise Department. 
Currenxie provides services such as multi-currency accounts, business cards, and forex services.
Currenxie business account allows clients access to 14 currencies: AUD, CAD, CHF, CNH(CNY), DKK, EUR, GBP, HKD, JPY, NOK, NZD, SEK, SGD, and USD.
Businesses can easily collect funds like a local from 10 different countries by integrating Currenxie with popular marketplaces and payment gateways.
Choosing the right business account is a crucial decision that can significantly impact your business's success. By partnering with the right payment service provider, you can focus on growing your business instead of worrying about payment-related issues, such as high fees, transfer delays, inadequate support, etc.
This review will examine Currenxie, a Hong Kong-based fintech firm specializing in virtual business accounts, currency exchange, and virtual Visa cards. It will also cover Currenxie's eligibility criteria and application procedures to provide you with everything you need to make an informed decision.
As an added insight, we'll also introduce you to Statrys, another noteworthy alternative to consider. Let's explore whether Currenxie is the right fit for your business needs.
Currenxie Pros and Cons
Here, we have summarized the pros and cons of Currenxie for you to consider before opening an account.

Why Currenxie may be a good option
100% online account application
A multi-currency business account with 18 currencies
Local accounts in 10 different countries
Competitive fees
Virtual and physical Visa cards

Why Currenxie may not be a good option
Obtaining multiple payment cards is not possible at the moment.
No EU IBAN
Live chat is a bot, and difficult to reach human support.
Limited questions and answers in help centers. To get an answer, you may need to contact customer support only.
What Is Currenxie?
Currenxie is a Hong Kong-based fintech company that provides virtual business accounts, currency exchange, and Visa cards (both virtual and physical cards).
Currenxie is not a bank, but they have obtained registrations, licenses, and authorizations from the relevant authorities in Hong Kong, Canada, South Africa, Australia, and the UK to provide its services in compliance with regulations.
Eligibility and Requirements to Open an Account With Currenxie
Only registered businesses can open an account with Currenxie – meaning that Currenxie does not provide personal accounts.
Registered businesses include ecommerce sellers, small-and-medium-sized businesses, large enterprises, marketplaces, platforms, sole traders, and freelancers. You may need to contact Currenxie to clarify how your business must be registered.
However, your business must not be related to prohibited business natures and industries.
Businesses from most countries are eligible to apply, except those based in countries subject to international sanctions.
Here is the list of sanctioned countries or jurisdictions.
Afghanistan
Belarus
Bosnia and Herzegovina
Burundi
Central African Republic
Cuba
Democratic People's Republic of Korea (DPRK)
Democratic Republic of Congo
Eritrea
Guinea
Guinea-Bissau
Haiti
Iran (Islamic Republic of)
Iraq
Lebanon
Libya
Mali
Montenegro
Myanmar
Nicaragua
Russian Federation
Somalia
South Sudan
Sudan
Syria Arab Republic
Ukraine (Crimea)
Venezuela (Bolivian Republic of)
Yemen
Zimbabwe
Currenxie also cannot open accounts for businesses registered in high-risk countries. Although businesses with American directors are welcome, the businesses registered in the United States are not eligible for opening accounts with Currenxie at the moment.
Albania
Algeria
American Samoa
Angola
Armenia
Azerbaijan
Bangladesh
Barbados
Benin
Burkina Faso
Cambodia
Cameroon
Chad
Colombia
Comoros
Cote d'Ivoire
Dominican Republic
Ecuador
Egypt
Ethiopia
Georgia
Ghana
Gibraltar
Jamaica
Jordan
Kazakhstan
Kosovo
Kyrgyzstan
Liberia
Moldova (Republic of)
Mongolia
Mozambique
Niger
Nigeria
North Macedonia
Pakistan
Palestine
Panama
Republic of Congo
Rwanda
Senegal
Sierra Leone
St Kitts & Nevis
Tajikistan
Trinidad and Tobago
Turkmenistan
Uganda
Ukraine
Uzbekistan
Vanuatu
Finally, your business shall not engage in any activity that Currenxie deems to fall outside of its internal compliance risk threshold.
How to Apply for an Account?
The first step to opening an account is to apply online via the Currenxie website. The application process typically takes around 15 minutes to complete and involves the following steps:
Enter your email address.
Create a password and agree to the terms and conditions.
Verify your email address.
Provide your personal information.
Enter the 6-digit SMS confirmation code.
Provide your residential address.
Provide your company information.
Create your account.
It is important to note that you need to upload the required documents to complete the application process. These documents include
Upon submission of the application, there may be additional steps to satisfy Currenxie's KYC requirements (Know-Your-Customer). These steps, if any, are not detailed, but Currenxie mentions that accounts are opened within 3 business days.
💡 Note: For Sole Traders, business registration documents are not required, but Currenxie may request other forms of proof of your business nature.
Currenxie Products
Below, we set out the current Currenxie products, as advertised on Currenxie's website.
Note: These offerings can change from time to time. It is important to check their website for up-to-date information.
1. Global Account
The "Global Account" is Currenxie's core product. This term refers to a series of accounts offered by Currenxie, as follows:
1.1 A Multi-Currency Account in Hong Kong
The Multi-Currency Account supports a total of 14 currencies: AUD, CAD, CHF, CNH(CNY), DKK, EUR, GBP, HKD, JPY, NOK, NZD, SEK, SGD, and USD.
Cross-border payments can be received in / sent out of the Multi-Currency Account - however, the payment must be in one of the 14 currencies supported by the account.
Using the Multi-Currency Account to send and receive payments to and from countries subject to international sanctions or classified as high risk is not possible. 
1.2 Local Currency Accounts in 10 Different Countries
Currenxie clients holding a Multi-Currency Account may apply for a Local Currency Account,
Local Currency Accounts are available in the US, EU, UK, Hong Kong, Singapore, Japan, Indonesia, Australia, Canada, and Mexico
A Local Currency Account can only be used to collect payment in the local currency, and payment must be received from online marketplaces or payment gateways.
Funds collected in a Local Currency Account can be withdrawn by the client in their home bank account (including their Multi-Currency Account).
2. Cards
Currenxie offers Visa cards - branded as the Currenxie Card - to clients holding a Global Account if their business is registered in Hong Kong. There are two options available- virtual and physical cards. Also, Currenxie can ship physical cards to most countries via DHL courier.
However, the holder of a Global Account can have one Currenxie Card only. Meaning that it is not yet possible to distribute multiple cards to employees. 
The Currenxie Card comes with the typical features associated with the new generation of payment cards (instant notification of spending, control over spending limits, and lock/unlock button). You can also add your card to Google Pay to use the contactless payment function.
In addition, the user of a Currenxie Card can benefit from exclusive offers negotiated by Visa with several partners, such as Google Workspace, Office 365, WeWork, and Shopify.
On top of these benefits, the user earns unlimited 1% cashback on all transactions. Cashback is added directly onto the card at the end of each month.
The Currenxie Card is a Hong Kong dollar card. Accordingly, if the card is used for payment in another currency (e.g., USD or EURO), the amount paid will be converted into Hong Kong dollars at Visa's foreign exchange conversion rate.
The maximum card spending limit is determined by the HKD balance in the Global Account.
3. Currency Exchange
Currenxie provides currency exchange services to their clients so they may sell a currency available in their Global Account to satisfy their payment obligations in another currency.
The currency exchange services are available when conversion is made among a list of 21 currencies, as listed below (i.e., Hong Kong Dollar to Swiss Franc):
Australian Dollar (AUD)
British Pound (GBP)
Canadian Dollar (CAD)
Danish Krone (DKK)
Euro (EUR)
Hong Kong Dollar (HKD)
Indian Rupiah (INR)
Indonesian Rupiah (IDR)
Japanese Yen (JPY)
Malaysian Ringgit (MYR)
New Zealand Dollar (NZD)
Norwegian Krone (NOK)
Philippine Peso (PHP)
Renminbi (CNH)
Singaporean Dollar (SGD)
South African Rand (ZAR)
Swedish Krona (SEK)
Swiss Franc (CHF)
Thai Baht (THB)
US Dollar (USD)
Vietnamese Dong (VND)
Clients interested in currency exchange have the choice between two options:
Spot conversion – meaning that the currency exchange is settled immediately, and settlement is based on the real-time interbank rate.
Forward contract – meaning that the currency exchange is settled at a later date, and settlement is based on an exchange rate agreed upon in advance.
Fees Charged by Currenxie
Like other fintech companies, Currenxie remunerates its services by charging transaction fees for payments and foreign exchange commissions for currency conversion. 
Please refer to their pricing page and Help Centre to confirm the current prices.
Fees
Account opening fee

Free

Account monthly fee

Free

Payments

Receiving local payments

USD0.75 per transfer

Sending local payments

USD3 per transfer

SWIFT payment (send & receive)

USD8 per transfer

Foreign Exchange

Special rate: USD/HKD

0.10%

Tier 1


For exchanges with any of these currencies: USD, EUR, GBP, HKD, AUD, SGD, JPY, CNH (CNY), CAD, CHF, NOK, DKK, SEK, NZD.

0.40%

Tier 2


For exchanges with any of these currencies: INR, THB, MYR, PHP.

0.50%

Tier 3


For exchanges with any of these currencies: IDR, VND, ZAR

,

MXN.

0.60%

Cards

Create a Virtual Card

Free

Physical card delivery fee

Hong Kong: HKD 50

International: HKD 300

Physical card replacement fee

HKD 50 plus the appropriate delivery fee shown above

ATM withdrawal fee

2.00% of the amount withdrawn or a minimum of HKD 30 (whichever is higher)

International ATM withdrawal fee

2.00% of the amount withdrawn or HKD 50 (whichever is higher)

Overseas transactions

1.50%

Dispute fee

USD 20 per dispute
What Customers Are Saying About Currenxie?
It's crucial to consider the feedback of actual users when evaluating services. We've checked reviews from Trustpilot, and based on 90 reviews, Currenxie has a score of 3.6 out of 5.
Getting in Touch with Currenxie
To know more about Currenxie, you can contact a company representative by submitting the form online.
Currenxie informs on their website that the holder of the Global Account can enjoy personal client support. However, we couldn't find any information about the specific services provided.
Alternative Solution: Statrys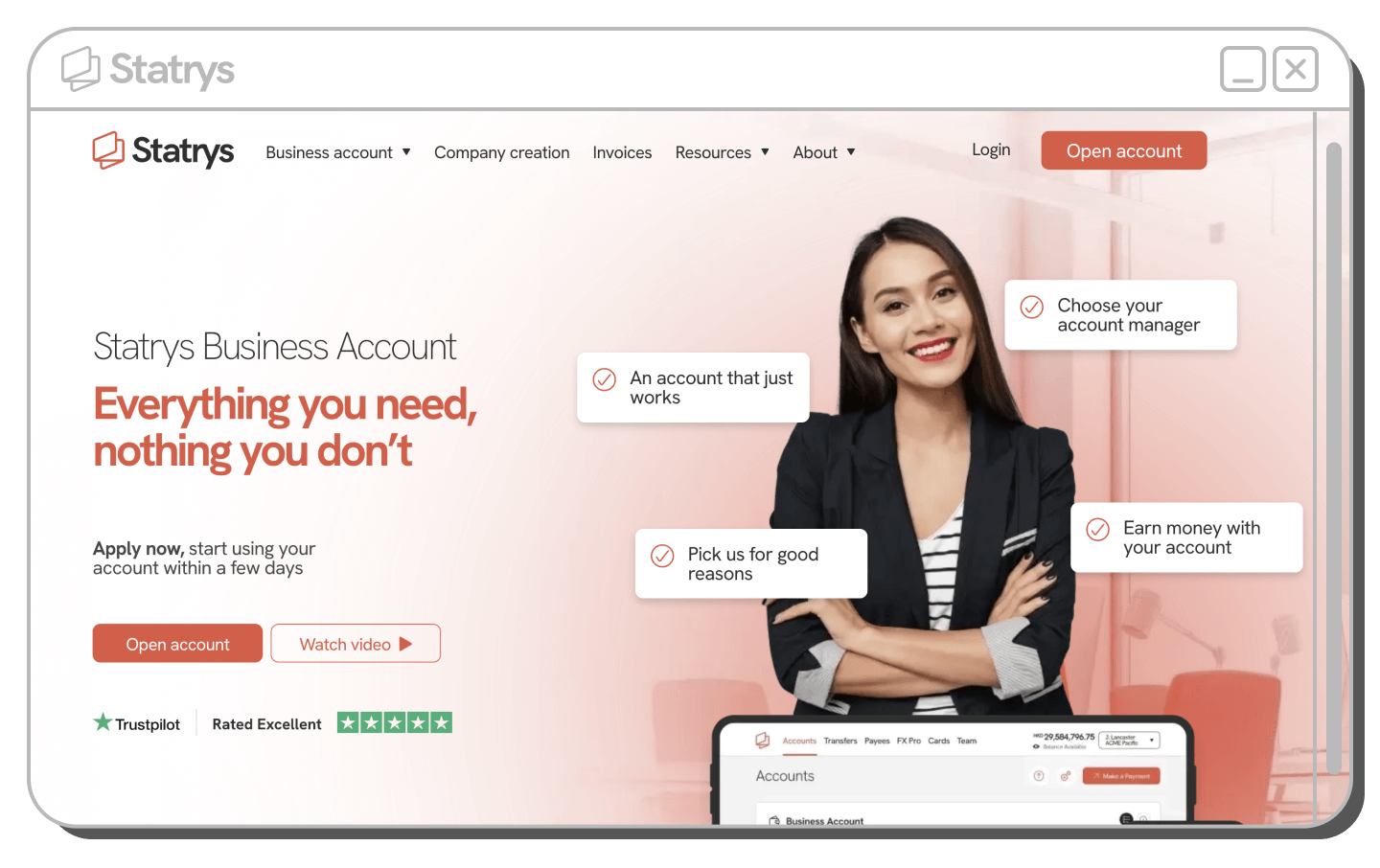 As we conclude this in-depth review of Currenxie, it's essential to consider other options that might better align with your business needs. One such alternative is Statrys, a fintech company that directly competes with Currenxie in the payment industry.
What Sets Statrys Apart?
Statrys offers a more personalized approach to business banking, providing tailored solutions that can adapt to your unique business requirements. While Currenxie specializes in virtual business accounts, currency exchange, and virtual Visa cards, Statrys offers a broader range of services to give you greater flexibility.
Pricing Considerations
When it comes to pricing, Statrys aims to offer competitive rates that can be more cost-effective for certain types of transactions. For instance, Statrys charges a nominal fee for incoming SWIFT payments and a monthly service fee but offers lower foreign exchange fees compared to Currenxie. This could make Statrys a more economical choice for businesses that deal with multiple currencies.
Customer Support
Statrys takes customer support seriously, offering each business account holder a dedicated account manager who can be reached via multiple channels, including phone, email, live chat, WhatsApp, and WeChat. They promise to respond to customer inquiries within 15 minutes during business hours, depending on your time zone.
Get Multiple Business Bank Accounts
Having multiple business bank accounts can offer additional financial security and flexibility. Here are some reasons why:
Funds Allocation: Separate accounts for different purposes like revenue, expenses, and taxes help in better financial management and tracking.
Operational Continuity: If one account gets frozen due to compliance issues or suspected fraud, having another account ensures that your business operations continue without interruption.
Asset Protection: Spreading funds across multiple accounts can protect your assets against fraud or bank failures. However, consider the associated costs like account fees or minimum balance requirements.
Opening multiple accounts may require various documents and procedures, so reviewing these factors is essential before proceeding.
🔍Tip: If you're still unsure, we also offer an in-depth comparison between Currenxie and Statrys to help you choose the right business account based on your needs.
Final Note
Currenxie is a solid option for online businesses. With local accounts in 10 different countries, businesses can seamlessly integrate with popular marketplaces and payment gateway and collect funds from customers like a local.
For businesses operating in Hong Kong and across Asia, Statrys is a viable alternative that could serve as a primary or secondary business account. Statrys offer business accounts that can hold 11 different currencies to support SMEs with their businesses.
If you own a growing business with clients and partners in Asia, check out our business account to see how Statrys can support you with payment.
This review is based on information available on the Currenxie website as of September 2023.
FAQs
Although Currenxie provides business accounts, it is not a bank. Currenxie holds various registrations, licenses, and authorizations with the relevant authorities in Hong Kong, Canada, South Africa, Australia, and the UK to offer their services in accordance with applicable regulations.
Where is Currenxie based?
Does Currenxie offer personal and business accounts?
Disclaimer
This publication is provided for general information purposes only and is not intended to cover every aspect of the topics with which it deals. It is not intended to amount to advice on which you should rely. You must obtain professional or specialist advice before taking, or refraining from, any action on the basis of the content in this publication. The information in this publication does not constitute legal, tax or other professional advice from Statrys Limited or its affiliates. Prior results do not guarantee a similar outcome. We make no representations, warranties or guarantees, whether express or implied, that the content in the publication is accurate, complete or up to date.