Have you been tinkering away on a new idea that you're ready to bring to market but you aren't sure how to find manufacturers? You're not alone. A Harvard Business School professor estimated that more than 30,000 new consumer products launch every year. That means there are plenty of suppliers that can turn your idea into a reality — but that doesn't mean they're all going to be a good fit.
In this guide, you'll learn how to find, evaluate, and partner with a supplier in your country or somewhere else in the world. Whether you need to find a Chinese manufacturer that can handle large orders or you want to work with a domestic factory, you'll know where to start by the time you've finished this article. The process takes some time but it's pretty straightforward:
Start researching manufacturers
Contact manufacturers with questions
Get quotes
Request and evaluate samples
Sign a contract and place an order
Monitor progress and evaluate finished products
1. Start Researching Manufacturers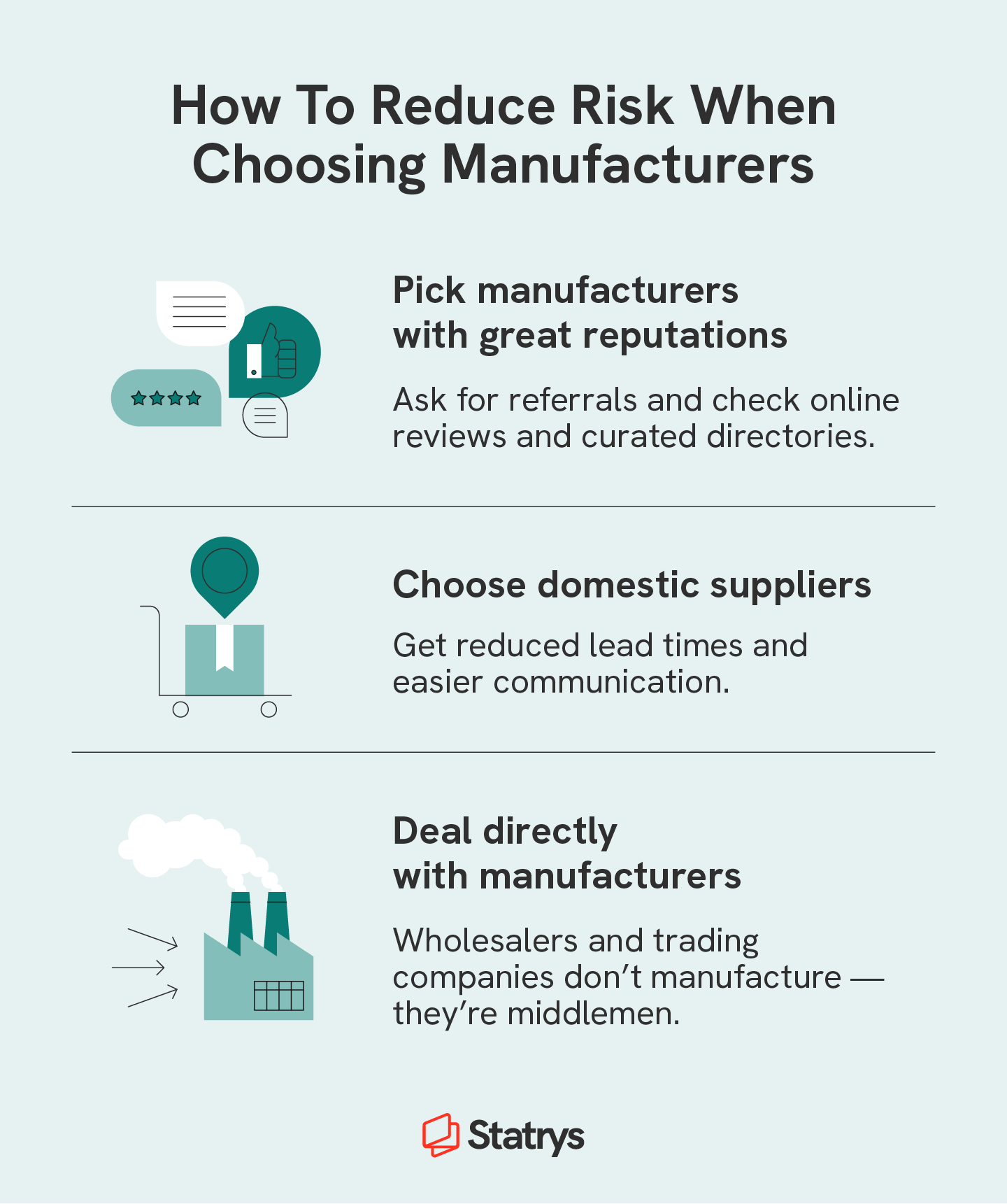 Researching suppliers is the first step in bringing your idea to market. It can be a long and complex process finding the right fit because you'll be trusting them to do everything — from physically manufacturing your products to packaging and shipping them. 
There are several ways to start researching suppliers, including via:
Referrals: Check with people you know to get firsthand information about the suppliers they use (and the ones they avoid). Social networks are full of groups of professionals who share what they know with others in their industry, so make sure to look for these communities for a wide range of opinions. 
Directories: Online supplier directories exist to help people just like you find manufacturers. Some of these databases are curated, meaning the suppliers listed have been vetted for quality, while others are like digital bulletin boards where any company can upload their information. 
NAICS codes: If you're in North America, you can use the North American Industry Classification System to look for companies that manufacture products in your industry. Both the US and Canada have directories to make searching easier.
Resource
Industries Served

Maker's Row

Packaging, home decor, furniture, apparel, and accessories made in the US

GSS

Household goods, consumer electronics, pets, fitness and health, textile and apparel, toys, and automotive

Alibaba

All

Thomasnet

Over 6 million industrial and nonindustrial products in the U.S.

NAICS

(US)

All (in the US)

NAICS

(Canada)

All (in Canada)
However, if you find potential manufacturers, spotting red flags and evaluating risk is another important part of your research. While there's no guarantee that even the most reputable companies will deliver perfect products, reputation is a good indicator of what you'll get. Here are a few tips for evaluating suppliers:
Check resources like the Better Business Bureau (in the US) and online review sites.
Talk to people in the industry to learn about their experiences with different companies.
Make sure the supplier isn't a trading company — trading companies are middlemen, not manufacturers.
Once you have a few manufacturers you think could work, it's time to reach out to learn more. 
2. Contact Manufacturers With Questions 
Your first contact with manufacturers should be as direct as possible to show that you're serious and that you understand how the process works. It's better to send an email than to call, but if you can't figure out who to email, reach out by phone for some guidance.
The questions you should ask will vary depending on your unique needs, but here are a few to get you started.  
Do you take custom orders? Not all manufacturers are willing or able to retool in order to accommodate something outside of their normal work. 
What are your lead times? Lead time is how long it takes to make and ship your order. Depending on the nature of your business, you might need a supplier who can make and deliver products in weeks or you may be fine with a lead time of several months. 
What is your defect policy? If a manufacturer isn't willing to shoulder some of the cost of defective products, you probably don't want to work with them.
How much do you charge for freight? Be prepared for a significant expense here. Shipping large quantities of goods (especially from overseas) is not cheap.
What are your setup fees? Some suppliers charge for the work it takes to set up their equipment in order to manufacture your products. 
Do you grant exclusive rights? If you're in a competitive industry, having exclusive access to a supplier can give you a big edge. You can ask about absolute exclusivity or see if they're willing to discuss regional exclusivity.
Do you have sustainability and ethical practices in place? Working with ethical and sustainable manufacturers isn't just good for the supplier's employees and the environment — it can be a selling point for your products.
Your first email is not the time to share your designs with potential manufacturers. Suppliers should be able to answer most if not all of these introductory questions without needing to know every detail of your items. 
3. Get Quotes 
After you've received responses from prospective suppliers, choose the ones that seem like the best fit and request quotes. During this stage, you may need to share your designs or prototypes with the manufacturer in order to get an accurate quote. But beware — sending designs to suppliers, especially if you have unique and proprietary designs, increases your chances of intellectual property theft, so be very selective about who you share your designs with. If necessary, see if the manufacturer is willing to sign a confidentiality agreement before you send them the designs.
Evaluating quotes is important, so take your time. A few elements to look for include:
Cost per unit: Now that the manufacturer has your design, they should be able to provide you with a fairly accurate per-unit cost. If you want a price break, request a quote on several quantities because prices decrease as the number of units produced increases. 
Minimum order quantity (MOQ): A manufacturer's MOQ will give you an idea of the quantities they're used to dealing with.
Freight costs: Check these fees against the answers the supplier provided during your initial contact. While shipping rates fluctuate, the two figures should be close. 
Setup fees: This is another line item to compare to the first communication. If new tools or processes need to be created to make your product, the setup fee will probably be higher than the original estimate.
Now that you have several quotes, it's time to compare them. You'll need to decide on the balance between cost and quality to ensure you're selling a product your customers will be happy with and also helps you make a profit. Once you've narrowed your options, it's time to see what these manufacturers can do.
4. Request and Evaluate Samples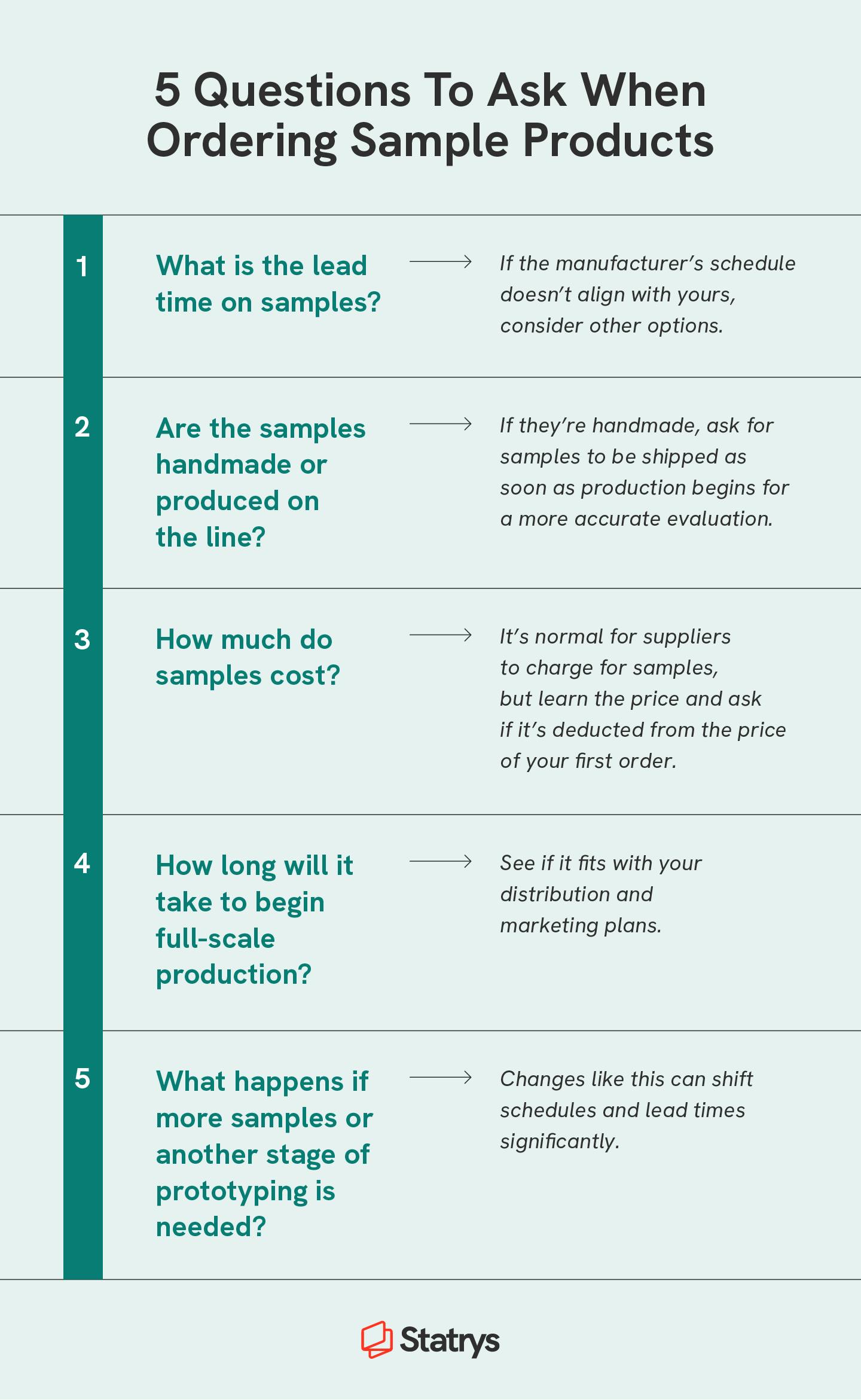 After you've considered the quotes from prospective suppliers, choose the ones that seem like the best fit and request samples from them. Many manufacturers will require you to pay for samples, but they may subtract the price from your first purchase. 
Once you receive the samples, dive deep to make sure everything is how you want it. Check that they look and feel right and that they function appropriately. Comparing them directly to your plans and prototypes can help you distinguish between manufacturing issues and problems with the design. 
If you need to make changes, be as specific as possible when communicating with the manufacturer. If you have to update components or a part of the overall design, send them the new plans and prototypes so there is no mistaking which version of your product they are going to produce.
If you're satisfied with the quality of the samples, keep them safe so you can use them as the baseline for the full production run. Any major differences should be dealt with as soon as possible and in accordance with the process you agree to with the supplier when you're finalizing contracts. 
5. Sign a Contract and Place an Order
Working with a manufacturer is a collaboration, so try to compromise where you can without affecting your vision or standards. If you get to this stage and the supplier won't budge on contract terms, you can always go somewhere else. 
Whether you're writing a contract or the manufacturer has sent a contract, it's a good idea to work with an attorney who has experience in your industry or with manufacturing. An attorney can help make sure your IP and investment are protected. 
Some key items to include in a contract are:
Order Quantity
Materials
Cost per unit
Confidentiality
Overrun/underrun 
Setup and tooling fees
Freight fees
Delivery deadlines
Defect policy
Payment schedule
Reorder process
Once both parties agree and sign the contract, manufacturing can begin.
6. Monitor Progress and Evaluate Finished Products 
As production goes into full swing, stay in touch with your manufacturing partner for progress updates. Find out how the supplier wants to communicate during this time so you aren't causing delays. If you planned a site visit, arrive ready to evaluate products. Keep the lines of communication open with your team members in case you need their expertise while you're on a site visit. 
If early production samples were part of your contract, check them as soon as they arrive for any problems that need to be corrected before the entire run is completed. If there is a problem, follow the process laid out in the contract for correcting them. 
When you receive the full order, perform an evaluation of each item or a random sampling of products for any issues. 
How To Choose Between Domestic vs. Overseas Manufacturers
Where you source your products is a big decision, and it starts with choosing a domestic or international supplier. Both options have their pros and cons, so you'll need to dig deep to find a supplier that will help you strike a balance between low per-unit prices and high product quality. 
| | |
| --- | --- |
| Domestic Manufacturer Pros | Domestic Manufacturer Cons |
| High manufacturing standards | More expensive than overseas manufacturing |
| Easy to communicate and visit manufacturing site | Limited options compared to overseas manufacturers |
| Fast shipping | Limited production capacity |
| IP protection is stronger  |   |
| | |
| --- | --- |
| Overseas Manufacturer Pros | Overseas Manufacturer Cons |
| Less expensive than domestic manufacturing | Lower manufacturing standards |
| Many manufacturers to choose from | Longer lead times |
| Directories and services like Alibaba make finding suppliers easier | More expensive freight |
| High production capacity | Possible language barriers |
|   | Risk of currency exchange problems |
|   | Higher risk of IP theft |
|   | You may need a manufacturing manager |
In some cases, producing some goods domestically and others internationally can help you keep costs down while keeping quality high. While this does require more careful planning, the benefits could make it worthwhile. For example, importing components from China to be assembled in the United States gives you more oversight over the quality of the finalized product for a much lower price than having your goods produced solely in the US.
Now that you know how to find manufacturers, whether you're starting a clothing brand or you'll be selling B2B products online, your company might benefit from opening a small business bank account in Hong Kong to make paying suppliers faster and easier.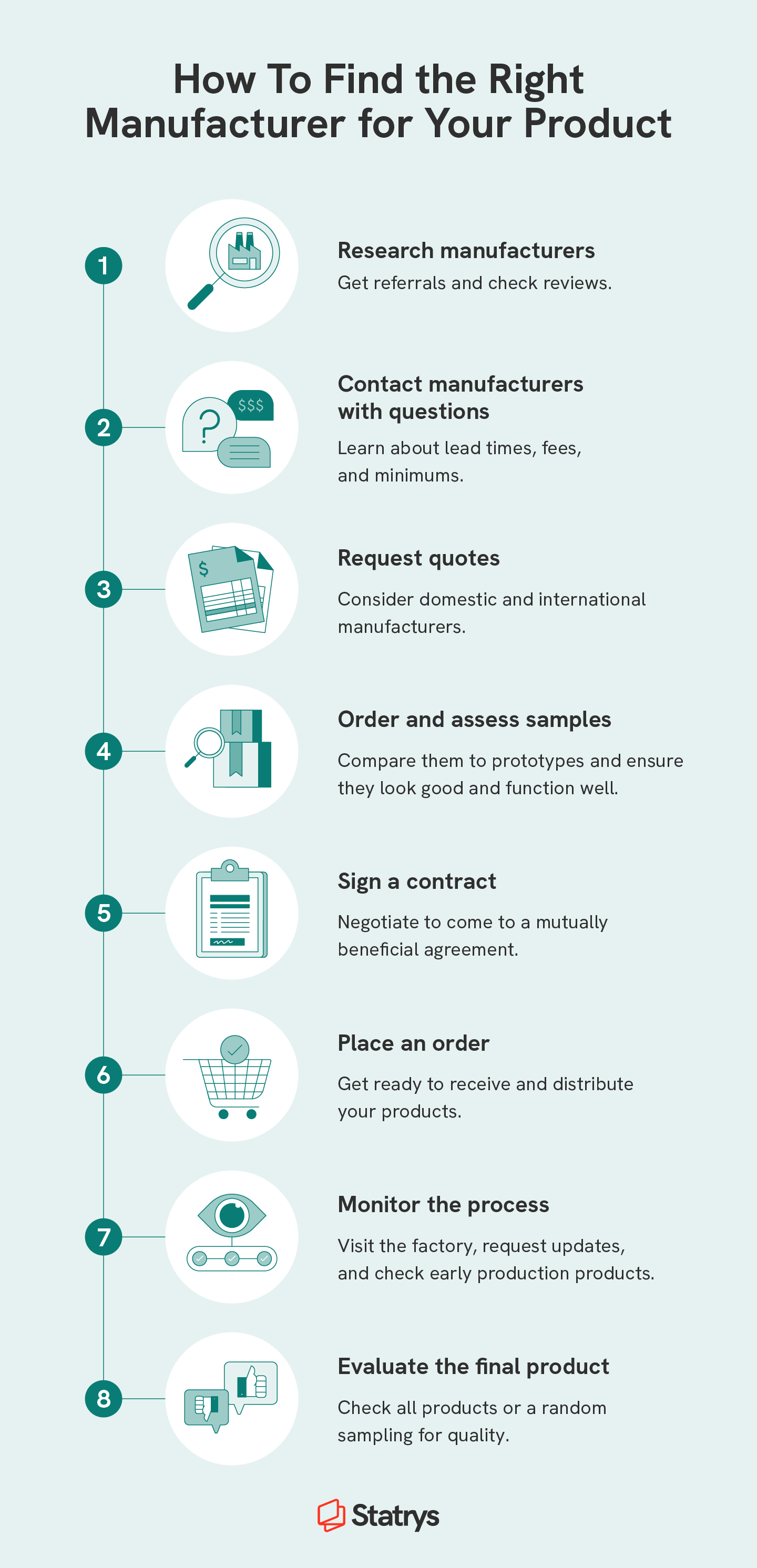 FAQs
What are the types of manufacturing?
There are six main types of manufacturing: • 3D printing • Repetitive • Discrete • Job shop • Continuous process • Batch process Each type is particularly suited to certain types of products and industries.
What is the difference between a supplier and a manufacturer?
How do I make my business look like a good partner for manufacturers?
Is quality or price more important to consumers?
How much does it cost to get your product manufactured?