Volopay is a Singapore fintech offering SMEs an expense management platform with a decent track record. But is it the right option for your business' international money transfers? 
To help you answer that question, we take a closer look at Volopay's business account, payment cards, other services, and fees. We also compare Volopay to Statrys' offering to give you a clearer idea of your options.
Background
Volopay was founded in 2019 in Singapore with the goal of challenging traditional banks, similar to other fintech. 
Founders Rajith Shaji and Rajesh Raikwar wanted to offer SMEs a digital control center to manage their payments. They opened and are headquartered in Singapore and then opened in Australia, and more recently, have entered the Indian and Indonesian markets. They now have over 150 staff helping serve more than 700 customers, including Zipmex, SmartMoney, and Smartkarma.
Recent investments from Y Combinator and Winklevoss Capital Management in Volopay are expected to fuel Volopay's global ambitions to expand across the Asia Pacific and target Middle East and North African countries like the UAE, Egypt, and Saudi Arabia.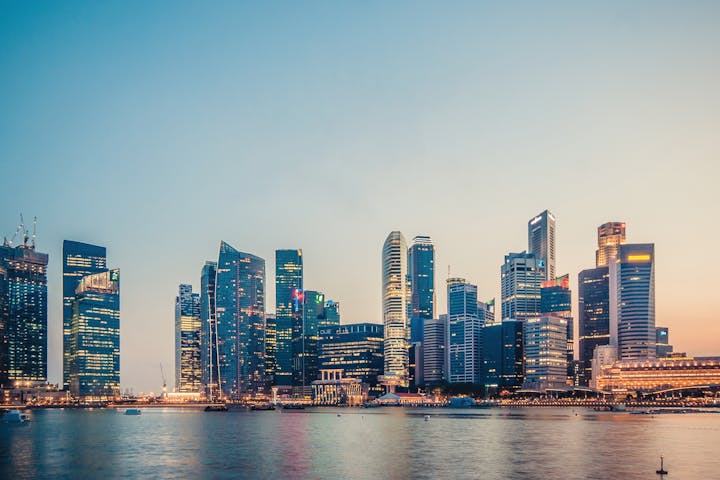 What does Volopay offer?
Volopay combines business payments into one easy-to-use platform, including a multi-currency business account and invoice management, accounting automation, employee reimbursements, and vendor payouts. The platform reduces the need to switch between multiple business accounts and tools, reducing admin time and improving spending visibility.
Volopay is not technically a bank, it is a payment service. Payment services in Singapore are regulated under the Payment Services Act 2019 (PSA). In Australia, Volopay has an Australian Financial Services license to operate. [*]
To help provide its business account to customers, Volopay has partnered with Wallex Technologies. As a customer of Volopay, you will be required to register for an electronic wallet with Wallex Technologies. Wallex Technologies is also licensed under the PSA.
Requirements for opening a business account
Volopay is for business purposes only. To open an account you must be an individual over 18 years of age. 
At the time of this review, businesses registered in Singapore, Australia, the Philippines, India, and Indonesia are eligible to open an account. If your company is applying to open an account, it must have the full legal capacity to accept Volopay's terms and conditions. 
How to apply for a business account
The application process can be done entirely online. 
You will need the following documents to apply: 
Copy of a valid ID.
Copy of proof of address.
Valid ID and proof of address of anyone directly or indirectly owning or controlling more than 25% of the shares of the company or valid ID and proof of address of all individuals who are considered to exercise control over the management of the company.
Authorization letter to be e-signed by the director of the company.
Business incorporation document (identification number etc.).
Latest Memorandum and Article of Association. 
Depending on the country of incorporation of your company, further documentation may also be required.
For Singaporean entities, you will need an official government-approved incumbency and incorporation document of the parent company if the parent company has a shareholding of more than 25% in the company.
For Australian entities, you will need a partnership agreement or trust deed, where applicable.
For Indonesian entities, you will need any business-specific licenses.
Steps to apply
Step 1
Fill out the online 'sign up' form.
Step 2
Receive an invite email from Volopay. Accept the invite and set your password.
Step 3
Log in to Volopay using your email and password.
Step 4
Fill in your personal details and click 'Continue'. You will then receive an OTP on the phone number you have supplied.
Step 5
Enter the OTP and provide proof of identity. If your nationality is not Singaporean and you are not a permanent resident of Singapore, you will need to provide a 'Foreign identification number' or passport details.
Step 6
Click 'Submit For KYC' and your application will be submitted to a Volopay compliance officer for verification. Approval can take 1 to 2 working days. In some cases, compliance officers may request a video call for verification.
Step 7
Volopay will send you an email when your application is approved and you can start using your Volopay account.
Volopay products
Business account
The business account is based in Singapore or in Australia. Your money will be physically held with Volopay's partner banks. In Singapore this is DBS Bank, in Australia, it is ANZ Bank. Both banks are highly rated. 
There are two types of business accounts: a Volopay Wallet and a Global Account. 
Volopay Wallet
Volopay Wallet is Volopay's main offering for companies registered in Singapore and Australia.
The wallet enables you to access funds and receive payments in SGD, AUD, and USD. You can accept payments via SWIFT in addition to non-SWIFT incoming transfers, but you may need to check which currencies are supported. 
You can send payments or make bill payments in 180 currencies across more than 130 countries. For over 40 of those countries, you can send payments in the local currency using a non-SWIFT method, which is cheaper and generally faster. For payments in a currency different from the local currency, you use SWIFT, the most expensive payment method.
With a Wallet account, Singaporean clients can convert from SGD and USD to other currencies, and Australian clients can convert from AUD and USD to other currencies.
Global Account
Global Accounts are only for companies registered in Australia. With a Global Account, you can hold, receive and send money in 11 currencies: AUD, CAD, CHF, CNY, EUR, GBP, HKD, JPY, NZD, SGD, and USD.
You can receive funds in the local currency of the account with a non-SWIFT method, and you can receive other foreign currencies via SWIFT. Similarly, you can send funds in the local currency with a non-SWIFT option, and in another currency using SWIFT. Check with Volopay for a full list of currencies supported, as this information is not currently available on their website. 
There is no daily user limit or monthly transaction limit with the Global Account, but there are spending limits with payment cards (see below). 
Cards
Volopay offers physical cards and virtual corporate cards through Visa. There is no limit on the number of cards you can hold - no need to combine corporate credit cards, you can assign a card for each vendor or expense item - and cards are compatible with Apple Pay and Google Pay.
There is however a monthly limit on spending with a business card. For each corporate credit card user, the limit is SGD100,000 per month. Volopay lists other standard card features on its website, including the ability to configure cards, set budgets to control payments, and track expenses to manage fuel expense items, for example, all through Volopay's intuitive app [*]. 
Foreign exchange
FX transactions are available when making a payment [*]. Volopay says they offer the 'lowest FX rates' but this is difficult to verify as Volopay does not provide further detail. Also, Volopay does not offer spot or forward contract rates. 
You can however receive up to 5% cash back on every FX transaction when you use a virtual card to make a payment. 
Additional services
The Volopay platform offers the following additional services in one single platform.
Live tracking: watch your payments progress in real-time.
Credit facility: up to SGD500,000 with nominal fees. A number of factors will determine the amount of credit you can access, such as cash flow, bank balances, and repayment history [*].
Budget: Track how funds are being utilized by employees for things like fuel expense management. You can create a one-time budget that does not reset or a recurring budget that typically refreshes on the 1st of every month to your set budget limit and expires on a specified date.
Volopay accounting: comprises a ledger, transactions (including card expenses), and an account integration feature where you can link your Volopay account to accounting software such as Xero, Quickbooks, Netsuite, MYOB, and Deskera for expense and receipts management.
Invoice automation: for complete control over the issuing of invoices.
Automatic expense reimbursements: The application sends and notifies different levels of approvers and you can collect expense information and relevant receipts as proof and for updating reimbursement details. 
Fees charged
Fees
Account opening
Free
Monthly maintenance fee*
Singapore companies
From SGD0
Australia companies
From AUD50
*Note: these are starting rates. The actual monthly charge could be higher depending on your account plan.
Transfer fees
For domestic transfers, there is no fee.
Whereas for international transfer fees, Volopay mentions 'low' fees so you should confirm the fees with them.
Card fees
You can use a Volopay card at any location that accepts Visa. Bank charges are applicable for transactions in a foreign currency other than SGD [*] [*]
Card fees
Physical card fee
SGD5
Virtual card fee
Free
Monthly fee
Free
Cross-border fee
1.6%
Foreign currency conversion fee
3.1%
Withdrawing cash from the ATM5 network*
SGD7
*ATM5 network banks include Citibank, Maybank, HSBC, State Bank of India, Standard Chartered Bank, and Bank of China.
FX fees
Volopay says they charge conversion fees and FX fees, but they are still 'lesser than bank charges by 2-4%". Volopay also offers up to 5% cash back on every FX transaction if you use a Volopay virtual card for the payment.
Getting in touch
Volopay has offices in Singapore and Bengaluru, India. For customer support, you can contact them on their website live chat, by email (hello@volopay.co), or by phone (+65 9364 7511). They also have Facebook, Twitter, and LinkedIn pages.
Our recommendation
So is Volopay a good option for your business? To give you the bigger picture, we compare it to Statrys' offering below. 
Please note, this comparison is a guide only. Make sure you read the fine print for each offer before applying for an account. 
Product
Volopay and Statrys have similar product offerings. Both offer:
An 11-currency business accounts for collections and payments (provided your company is registered in Australia if you are a Volopay customer)
Payment cards
FX conversion services.
Where they differ is around additional services. Volopay offers credit, budgeting functions, accounting integration, and invoice and reimbursement automation. Statrys offers a company registration service for Hong Kong if you do business in Europe. The right fit depends on what you and your business are looking for.
Cards
Card offerings are also similar, except Volopay is partnered with Visa, and Statrys is partnered with Mastercard.
A physical card with Volopay costs SGD5 but the first physical card with Statrys is free. Volopay's cross-border fee is 1.6%, its FX conversion fee is 3.1%, and you could end up paying SGD7 to withdraw money from an ATM.
Statrys' ATM withdrawal fees are 1.99% and its FX conversion rate is 1.5%. 
The right option depends on where businesses spend money. If your business is regularly using payment cards in foreign countries, Statrys might have the edge. 
Pricing
The two are a little hard to compare in pricing because of Volopay's lack of transparency in its online advertising. But let's assume you are based in Australia and can access Volopay's Global Account (remember Singapore companies can only get a Wallet account). 
Global Account monthly fees with Volopay are AUD50, more than double Statrys' fee which is HKD88. Volopay charges for international payments but does not say how much. Statrys charges flat fees of HKD55 for receiving international payments and HKD75 for sending them.
For FX conversions, again Volopay doesn't disclose much about its pricing. Statrys, which prides itself on price transparency, offers FX fees as low as 0.1%.
Without further disclosure from Volopay, it is hard to say which provider has the more attractive offering. Again, the better offer will depend on the nature of your business.
Customer service
Volopay has a limited FAQ page and a live chat box. We had to dig into the press page to find an email address and phone number, but they quickly responded on the live chat.
Statrys offers a range of channels for communication, including a human website chat, Whatsapp, WeChat, hotline, and email. Response times are in minutes, not hours or days. Statrys also provides a dedicated account manager for every client to help you navigate the complex and sometimes frustrating world of international payments. 
Final note
We do our best to source all of the information and data we can find and present it succinctly in our reviews, to save you the leg work. If we missed anything about Volopay, please send us a message and we will endeavor to make this review even more comprehensive.
This review is based on information available on the Volopay website as of January 2023
FAQs
Volopay is a business payments platform that allows you to combine your business payments and invoicing into one simple-to-use solution. The platform includes a multi-currency business account, invoice management, accounting automation, employee reimbursements, and vendor payouts.
Where is the headquarters of Volopay located?
Sources
Disclaimer
This publication is provided for general information purposes only and is not intended to cover every aspect of the topics with which it deals. It is not intended to amount to advice on which you should rely. You must obtain professional or specialist advice before taking, or refraining from, any action on the basis of the content in this publication. The information in this publication does not constitute legal, tax, or other professional advice from Statrys Limited or its affiliates. Prior results do not guarantee a similar outcome. We make no representations, warranties, or guarantees, whether express or implied, that the content in the publication is accurate, complete, or up to date.