Aspire is not a bank, but they are a payment service provider in Singapore. They provide financial solutions to businesses, including business accounts, corporate cards, and other business services.
Only businesses incorporated in one of the 18 countries listed in this article can open an Aspire business account
The Aspire team will contact you within 3 days to let you know if your application is successful or if additional documents are required.
Choosing the right business account is a crucial decision for your business. By partnering with the right payment service provider, you can minimize payment-related issues, such as high fees, transfer delays, and inadequate support, and focus on growing your business instead.
This review will examine Aspire, one of the fintech companies based in Singapore. We will cover Aspire's products, eligibility criteria, account opening process, and fees to help you make an informed decision.
In addition, we will introduce you to another noteworthy alternative to consider. Let's explore whether Aspire is the right fit for your business needs.
Disclaimer

Statrys competes directly with Aspire in the payment industry. However, we're committed to providing an unbiased, thorough review to help you make an informed choice.

Our insights are derived from industry experience and discussions with clients who have also used our competitors' services. While we'd love for you to choose us, what's most important is that you make the decision that's right for you.

If you have any feedback regarding this review, please contact us at marketing@statrys.com.
Aspire Pros and Cons

Why Aspire May Be a Good Option
100% online account application
Offer incorporation service (through their partner) and business account–all at once.
Free local payments in SGD, USD, and IDR
Obtain multiple virtual and physical corporate cards
Earn 1% cashback from eligible transactions

Why Aspire May Not Be a Good Option
Have limited multi-currency account features compared to other fintech firms
Does not provide FX spot or forward contract service
The FAQs section is not well-organized, making it time-consuming to get an answer.
What Is Aspire?
Aspire is not technically a bank. It operates as a payment services provider. Similar to banks, they provide financial products such as multi-currency accounts, credit cards, and international payment services.
Aspire is exempted from holding a license by the Monetary Authority of Singapore to provide payment services. Therefore, Aspire collaborates with licensed partners regulated by the relevant Singaporean authorities to provide its services.
Specifically, Aspire states that its funds are held in a trust account with a Tier 1 Singaporean bank. A Tier 1 category means the bank has strong capital reserves in case anything goes wrong.
Requirements for Opening an Aspire Account
Aspire offers accounts for businesses incorporated in the countries listed below. This means that Aspire does not provide personal accounts.
The List of Eligible Countries:
Australia
China
Cook Islands
Hong Kong
India
Indonesia
Japan
Malaysia
Maldives
Mongolia
New Zealand
Philippines
Singapore
South Korea
Sri Lanka
Taiwan
Thailand
Vietnam
In addition, businesses shall not engage in prohibited and restricted activities listed in their Acceptable Use Policy, including charities, political campaigns, and cryptocurrency services.
It's worth noting that charities and non-governmental organizations in Singapore can open SGD accounts only if registered by the Accounting and Corporate Regulatory Authority under 2 entities: Public company limited by guarantee and Society. Moreover, these accounts are restricted to operational use and cannot be used for donations.
For businesses wanting to incorporate in Singapore, Aspire teams up with various partners, offering an incorporation service and business account–all at once. There are 4 types of business structures you can choose from for incorporation, which are:
After setting up your businesses, you can receive:
Access to over SGD50,000 worth of exclusive rewards from Aspire's partners.
Access to a community of entrepreneurs and networking events.
How to Apply for an Account?
You can apply for an Aspire account on the registration page.
Account application takes less than 10 minutes and follows a few steps:
Personal information (full name, work email, and mobile number)
4-digit email OTP to verify your email address
Set up your password
Business details (company name, country of registration, company size, annual revenue, industry, business registration number)
Verify your identity with a Selfie or with the MyInfo platform.
To complete the process, you will need to upload the required documents. These documents include:
Valid Personal IDs of Directors and Ultimate beneficial ownership(s) (UBOs) with more than 10% shares: driving licenses are not accepted.
Business Constitution: all businesses are applied except for Partnerships and Sole Proprietorships.
Letter of Authorization: If non-authorized users complete the account opening process, they must fill out the Letter of Authorization.
Shareholding of Corporate Shareholders: for any shareholders that hold more than 25% shares.
License: If applicable
Proof of Address: Only for businesses in Singapore and Indonesia.
Please note that all documents must meet these criteria:
Less than 6 months old (except for IDs)
Not expired
Be in accepted languages (certified translations are also accepted.)
Aspire only accepts documents in the languages below.
English
Bahasa
Dutch
French
Italian
Mandarin
Spanish
Thai
Vietnamese
The documentation required for Singapore businesses may differ, especially those with a MyInfo account. Refer to the FAQ page for more information.
Once registered, the next step is the account verification process. Typically, the Aspire team will contact you within 3 business days to let you know the result or if additional documents are needed.
However, this process may vary depending on the nature of your business. In some cases, Aspire could take up to 5 business days to review and process your documentation.
For international SWIFT payments, there is no limit to the transaction amount. Clients can send money to any country except those on a prohibited list, which includes:
Aspire Products
1. Business Account
Aspire offers business accounts that function like traditional bank accounts, where you can hold 3 currencies: SGD, USD, and IDR. Customers can also apply for one business account per business only.
Aspire calls their business accounts– the multi-currency account. It is actually three separate accounts. Each currency has its own local account number and SWIFT code.
SGD Account
The SGD Account is located in Singapore. It supports over 30 currencies for receiving payments and up to 53 currencies for sending payments.
Receiving Money
The SGD Account can receive money locally from Singaporean banks via FAST, GIRO, and MEPS. Also, the SGD Account can receive international payments via SWIFT in 32 currencies. The amount received will be automatically converted into SGD in your account.
Sending Money
To make a payment from the SDG account, you use FAST for local payments to Singaporean accounts and WISE for international payments to overseas accounts. 
The FAST system allows users to transfer funds instantly within Singapore. Please note that you can only send local transfers to recipients under the FAST Network.
When using WISE to make payments to a business or person overseas, you can choose the currency in which the beneficiary receives the money. Aspire makes the foreign exchange calculation based on interbank rates, the midpoint between the buy and sell prices of the two currencies. Funds can be sent in EUR, for example, to an entity in the European Union.
Payments can also be scheduled for a future date, which can be handy when managing a large flow of payments.
USD Account
The USD Account is based in the USA. It supports receiving and making payments in over 30 currencies.
Receiving Money
With a USD Account, you can receive money via local payment networks, which are ACH and ABA transfers from a US payer, and also receive international payments via SWIFT. It's important to note that you cannot receive local funds of more than USD 1 million per transfer.
For Stripe users, you cannot link Aspire's USD Account to the Stripe platform. This is because Stripe requires a USD Account to be based in Singapore, while Aspire's USD Account is based in the US.
However, you still have an option. If your Stripe account is registered in Singapore, you can connect your SGD Account with Stripe and receive payment in SGD.
Sending Money
Similar to the SGD Account, you can make local payments within the US and international payments using local payouts or SWIFT with the USD Account.
For SWIFT payments, there is no limit to the transaction amount. Clients can send money to any country except those on a prohibited list, which includes:
Belarus
Crimea
Cuba
Donetsk region of Ukraine
Kherson region of Ukraine
Luhansk region of Ukraine
Zaporizhzhia region of Ukraine
Iran
Libya
Myanmar
North Korea
Russia
South Sudan
Syria
Venezuela
Please refer to CurrencyClound, Aspire's partner, for the latest list of restricted countries.
Local payouts enable users to send local currency payments through the local payment system. Hence this solution helps businesses save more from foreign currency and transaction costs. However, there are transfer limits to consider when sending local payouts with the Aspire USD Account.
| | |
| --- | --- |
| Currency | Maximum Amount per Local Transfer |
| CAD | CAD 100,000 |
| CZK | CZK 1 million |
| GBP | GBP 100,000 |
| HKD | HKD 500,000 |
| HRK | HRK 1 million |
| HUF | HUF 10 million |
| IDR | IDR 350 million |
| INR | INR 1.5 million per beneficiary per day |
| MYR | MYR 100,000 |
| NOK | NOK 25 million |
| PHP | PHP 1.3 million |
| PLN | PLN 150,000 |
| RON | RON 200,000 |
| USD | USD 100,000 |
| SGD | SGD 200,000 |
Finally, USD payments cannot be scheduled for a later date.
EUR Account
The EUR Account is based in Europe. It supports receiving and making payments in over 30 currencies.
Receiving Money
Similarly, there are 2 methods to receive funds with EUR Accounts: the local payment network and the SWIFT payment
Clients can receive EUR funds through the SEPA payment system, and the expected processing time is 1-2 business days. In addition, they can collect international payments via SWIFT in 31 currencies from 180+ countries.
Sending Money
Sending EUR payments will be processed through the SEPA system, and EUR funds can be sent to SEPA countries only. Normally, the process will take up to 2 business days to be completed.
For international transfers, clients are allowed to send funds with local payouts or via SWIFT. The expected processing time is 1-2 business days and 3-5 business days, respectively. Similarly, local payouts with EUR account has a transfer limit. Please refer to the above table when sending international funds via local payouts from Aspire's EUR account.
IDR Account
The IDR Account is located in Indonesia. It supports over 30 currencies for receiving and sending payments.
Receiving Money
There are 3 payment systems, which are RTOL, SKN, and RTGS, available for clients to receive local payments. To receive an instant payment, ensure your sender chooses the RTOL network when making transfers.
In addition, clients can receive international payments via SWIFT. The processing time could take up to 5 business days, depending on the sender's platform. On top of that, your incoming funds will be converted into IDR to credit to your IDR Account.
Sending Money
You can send local funds through the local transfer network systems, which are RTOL, SKN, RTGS, and BI-FAST.
Please note that:
The minimum transfer amount is IDR 10,000.00.
Instant transfers have a limit of IDR 50,000,000.00
For transfers over IDR 50,000,000.00. Funds will arrive within one working day, depending on the recipient bank. The estimated time will be calculated when you enter the amount.
International transfers will be processed through their payment partners. The minimum amount to make transfers is IDR 150,000,000 (or around USD 10,000) However, you cannot make transfers directly on Aspire's platform. Instead, you must fill out the FX transfer request form. The Aspire team will get in touch with you after you submit the form.
Here's the list of supported currencies when sending payments from an IDR Account:
AUD
CNH
EUR
GBP
INR
MYR
PHP
SGD
THB
USD
VND
It's important to note that the in-app FX transfers are currently in the beta phase. Please visit the Aspire page for updated information.
2. Cards
Aspire offers account holders Visa cards, which they call corporate cards. Corporate cards are available in 2 types: virtual and physical cards. However, only businesses registered in Singapore and Indonesia are eligible to apply for payment cards. Also, physical cards are available to Singaporean businesses, and the expected delivery period is up to 5 business days.
The cards can be linked to your SGD, USD, or IDR Account, which will determine the currency of your cards. Still, you can make purchases in other currencies, but they will be converted to the currency you assigned.
Moreover, you can have multiple cards for directors, employees, and even external individuals such as your accountant in both physical and virtual card form. In addition, Aspire's cards come with the usual features offered in today's generation of cards, including monitoring payments in real-time, managing spending limits, recording transactions, and freezing or locking cards.
Aspire cards can be used to withdraw cash from ATMs, and credit limits can be set for each card. Clients also can earn 1% cashback on certain purchases. Lastly, these cards are compatible with Apple Pay and Google Pay.
It's important to note that there is a maximum limit on spending Aspire's corporate cards.
| | | |
| --- | --- | --- |
| | Virtual Card | Physical Card |
| Maximum amount per card transaction | SGD100,000 | SGD25,000 |
| Account overall daily spending limit | SGD250,000 | SGD250,000 |
| Card Limit | Depends on the assigned card limit by the Admin | Depends on the assigned card limit by the Admin |
| ATM Withdrawal | | ATM withdrawal limit (outside SG only) - 500 USD per day |
💡 Tip: Your maximum spending per card can be increased by contacting the Support Team through the chat function on your account and sharing the reason for higher limits.
3. Foreign Exchange
In your Aspire business account, you can convert between SGD and USD using their 'Convert Money' feature. This converts SGD in the SGD Account to USD in the USD Account and vice versa. The transfers will arrive in 1-3 business days.
Currently, Aspire does not provide spot or forward trade for clients.
4. Other Services
Aspire aims to be an all-in-one business finance solution for companies. Other services provided include: 
Integration services with accounting software, such as Xero and Quickbooks
Bulk payments
Expenses management
Payables Management
Receivables Management
Fees Charged By Aspire
Like other fintech companies, Aspire remunerates its services by charging transaction fees for payments and foreign exchange commissions for currency conversion. 
Please refer to their pricing page to confirm the current prices.
Account Pricing Plan

Account Opening Fee
Free
Lite Plan
Free
Pro Plan
SGD 29 per month
Custom Plan
Custom pricing
Expenses Management Add-on
SGD 9.9 per user per month

SGD Account Payments

Receive Local Payments
Free
Receive SWIFT Payments
Best rates with zero fees up to 3x cheaper than banks
Send Local Payments
Free
Send International Payments With Wise
Mid-market rates, low, transparent fee

USD Account Payments

Receive Local Payments
Free
Receive SWIFT Payments in USD
USD 8
Receive SWIFT Payments With Conversion
Best rates with USD 8 fee up to 3x cheaper than banks
Send Local Payments
Free
Send SWIFT Payments With Conversion
Best rates with USD 15+ fee up to 3x cheaper than banks

EUR Account Payments

Receive Local Payments
Free
Receive SWIFT Payments
EUR 10
Send Local Payments
Free
Send International Payments
EUR 20

IDR Account Payments

Receive Local Payments
Free for up to 100 transactions per month.
Online Transfer
Rp 4,000
Transfer via SKN or LLG
Rp 4,000

Cards

Card FX Fee
Competitive rate, with no additional fees
Create a Virtual Card
Free
The First Physical Card per User
Free
Extra Physical Cards per User
SGD 15 per card
ATM Withdrawal Fee
SGD 5 per withdrawal
Please note that commissions Aspire charges on foreign currency conversions vary depending on the converted amounts. This is standard in the financial services industry.
Customer Reviews
To give you a complete picture of Aspire, we checked what customers say about them from App Store and Google Play Store reviews.
| | |
| --- | --- |
| | Reviews |
| | A score of 3.5/5, based on 13 reviews |
| | A score of 3.6/5, based on 262 reviews |
Getting in Touch with Aspire
To know more about Aspire, you can reach out to the Aspire team through these channels:
Alternative Solution: Statrys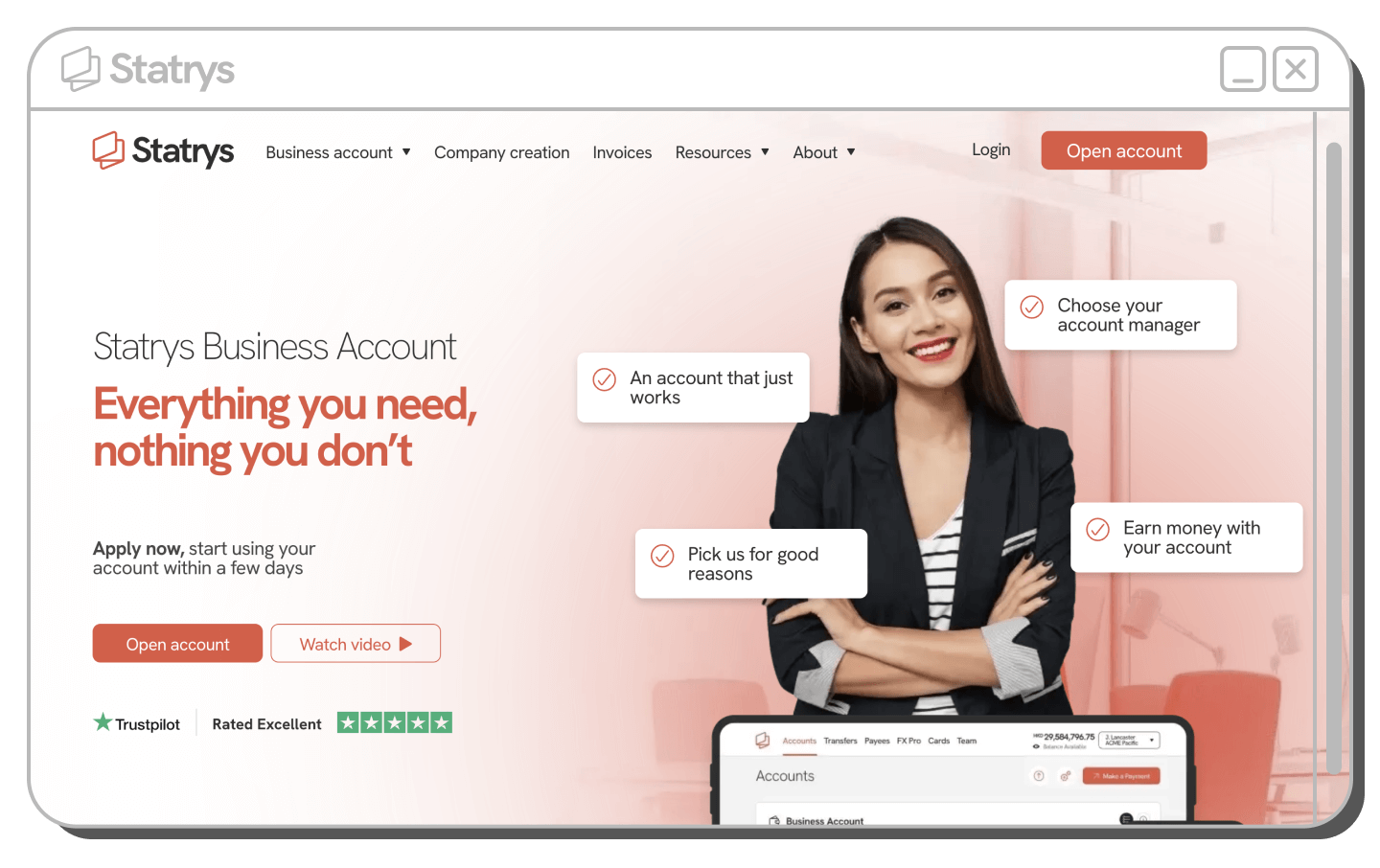 In this section, we will briefly review an alternative option for you to consider, Statrys. 
Statrys is a fintech firm that provides business accounts for businesses registered in Hong Kong, Singapore, and the British Virgin Islands (BVI). 
What Sets Statrys Apart?
Statrys provides multi-currency accounts with 11 supported currencies in one account number, including USD, HKD, CNY, AUD, EUR, GBP, SGF, JPY, CHF, NZD, and CAD. The account can receive and make payments internationally, offering businesses greater flexibility and control over their finances. In addition, the account supports local payments in 17 different currencies.
Pricing Considerations
Statrys pricing structure is transparent and straightforward. Despite charging a small fee for incoming SWIFT payments, they use interbank rates to ensure a competitive exchange rate for clients. This helps businesses save more on transaction fees.
Customer Support
Statrys takes customer support to heart, providing a dedicated account manager to each business account holder. Clients can reach Statrys through various platforms, including phone, email, live chat, WhatsApp, and WeChat. They commit to responding to customer inquiries within 15 minutes during business hours, depending on the time zone.
Get Multiple Business Bank Accounts
There are several reasons why businesses should have multiple business bank accounts. 
Funds Management: Separate accounts for different purposes, such as revenue, expenses, and taxes, can help you manage and track finances better.
Keep Business Going: When your account is frozen due to compliance concerns or suspected fraud, having an additional account ensures uninterrupted business operations.
Protect Your Assets: Distributing funds across multiple accounts can protect against fraud or bank failures.
However, more accounts might mean more fees to maintain multiple accounts. Be sure to check fees and requirements before opening multiple business accounts.
🔍 Tips: If you're still unsure, we also offer an in-depth comparison between Aspire and Statrys to help you make an informed decision based on your business priorities.
Final Note
Aspire is a good payment provider for businesses based in Asia. With their payment network, businesses can receive and send funds in over 30 currencies. In addition, Aspire enables businesses to access, manage, and track their funds easily with corporate cards and accounting software integration.
For businesses operating in Hong Kong and across Asia, Statrys is a viable alternative that could serve as a primary or secondary business account. Statrys offer business accounts that can hold 11 different currencies to support SMEs with their businesses.
If you own a growing business with clients and partners in Asia, check out our business account to see how Statrys can support you with payment.
This review is based on information available on the Aspire website as of September 2023.
FAQs
Aspire is a Singapore-based all-in-one finance operating system for businesses. The fintech company provides business accounts, payment services, corporate cards, and other business-related features such as batch payments and expense management.
What type of bank is Aspire?
Disclaimer
This publication is provided for general information purposes only and is not intended to cover every aspect of the topics with which it deals. It is not intended to amount to advice on which you should rely. You must obtain professional or specialist advice before taking, or refraining from, any action on the basis of the content in this publication. The information in this publication does not constitute legal, tax, or other professional advice from Statrys Limited or its affiliates. Prior results do not guarantee a similar outcome. We make no representations, warranties, or guarantees, whether express or implied, that the content in the publication is accurate, complete, or up to date.