Rapyd is a global payments, payouts & integrated fintech company. They simplify cross-border payment processes and money management to help businesses manage their funds. 
With Rapyd, businesses can accept payments from customers in over 100 countries, and send payouts to over 190 countries.
Rapyd also offers a variety of local payment methods, including cards, banks, eWallets, and cash.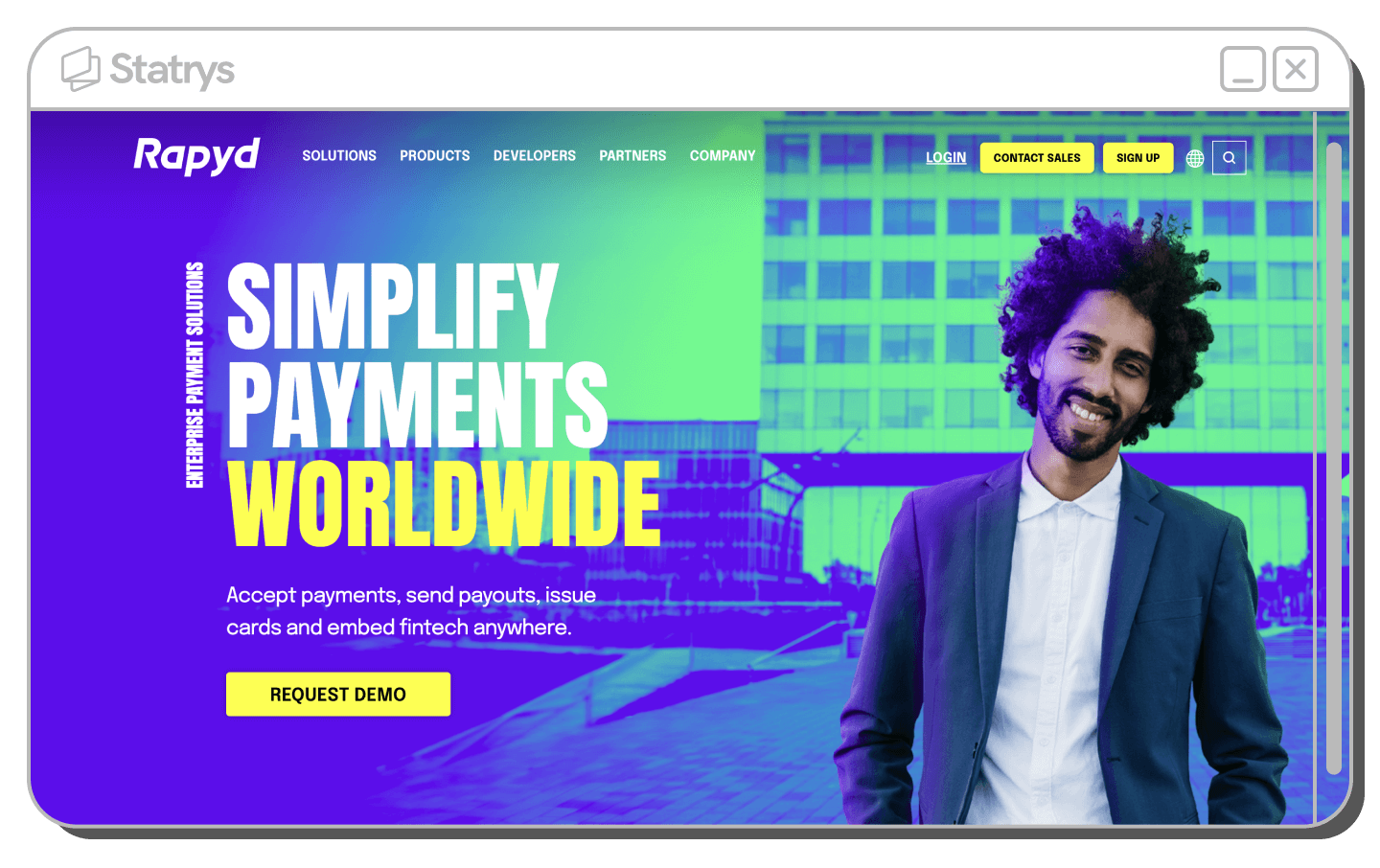 Choosing the right payment service provider is one of the most important decisions when starting or expanding your business.
To help you make an informed decision, we've created a comprehensive review of one potential option: Rapyd.
Our review covers everything about Rapyd's virtual accounts, from features and benefits to fees. We'll also compare Rapyd to an alternative provider, Statrys, to help you determine whether it's the best choice for your business. 
Without further ado, let's get started with this Rapyd review.
What is Rapyd?
Rapyd is a global payments platform that allows businesses to integrate local payment methods and financial services into their applications through APIs. Their platform simplifies complex cross-border payment processes, which is crucial for companies looking to engage on a global scale.
It was founded in 2015 by Arkady Karpman, Arik Shtilman, and Omer Priel. As of 2022, Rapyd is valued at $15 billion, making it Israel's highest-valued unicorn.
Rapyd is headquartered in London, UK, and has offices across the globe, including:
Hong Kong
Singapore
Dubai
Israel
Netherlands
Iceland
Mexico
The United States
📝 Insight: Neat Commerce, a Hong Kong-based fintech company, was acquired by Rapyd in 2022.
Requirements for Opening a Virtual Account with Rapyd
To open a virtual account with Rapyd, your business needs legal entities in one or more of the countries below:
Americas
Brazil
Canada
Colombia
Mexico
United States
Virgin Islands
Asia Pacific
Australia
Hong Kong
Indonesia
Japan
Malaysia
New Zealand
Philippines
Singapore
South Korea
Taiwan
Thailand
Vietnam
Europe, the Middle East, and Africa
Albania
Andorra
Armenia
Austria
Belgium
Bosnia and Herzegovina
Bulgaria
Channel Islands
Croatia
Cyprus
Czech Republic
Denmark
Estonia
Faeroe Islands
Finland
France
Georgia
Germany
Gibraltar
Greece
Greenland
Hungary
Iceland
Ireland
Isle of Man
Italy
Latvia
Liechtenstein
Lithuania
Luxembourg
Malta
Moldova
Monaco
Montenegro
Netherlands
North Macedonia
Norway
Poland
Portugal
Romania
San Marino
Serbia
Slovakia
Slovenia
South Africa
Spain
Sweden
Switzerland
Israel
United Arab Emirates
Turkey
Ukraine
United Kingdom
You may refer to their page for a complete list of eligible countries.
How to Open a Rapyd Account
To open a Rapyd account, you need to complete the following steps:
Sign Up for a Rapyd Account
On their website, click on 'SIGN UP.'
Provide your information, including your full name and company email address.
Enter the country where your business is registered.
Set up a password for your account.
Agree to the terms and conditions.
Click the Sign-Up button.
Activate Your Account
Access the Client Portal and navigate to the Get Started tab.
Click the "Verify my account" button.
The "Activate Your Account" page appears.
Enter your country and company information.
Complete the "Know Your Business" (KYB) process.
Add your bank account information for payouts.
Rapyd will review your application before your account can be activated.
Depending on your country, The KYB approval process may take up to 30 days. If you do not receive a response within 30 days, contact Rapyd's Support.
It's important to note that if your business operates in restricted industries such as weapons, adult entertainment, counterfeit, or gambling, your application may be rejected. We recommend visiting their website for detailed information.
Rapyd Products
Now, let's look at Rapyd's product offering for businesses as advertised on their website.
The information provided below is dated 8 August 2023. 
Solutions
Services
Availability

Rapyd Business Account

Rapyd Wallet, Rapyd Disburse, Rapyd Virtual Accounts, and Rapyd Card Issuing

the United Kingdom (excluding Disburse),

Hong Kong (excluding Card Acquiring)

Rapyd Collect (Card Acquiring only)

Rapyd Collect

Iceland

Rapyd Incorporation

Rapyd Incorporation

Hong Kong

Additional offerings

Rapyd Collect, Disburse, and Issuing

Various locations
⚠️ Important: Some Services / Solutions are currently unavailable or only partially available in certain regions. We recommend reviewing the section Schedule 2 - Solutions for the latest information.
Rapyd Business Account
The Rapyd Business Account is a package of services offered to business clients. These services are categorized into Rapyd Wallet, Rapyd Disburse, Rapyd Virtual Accounts, and Rapyd Card Issuing. In-depth information on these products can be found in their product guide overview.
Virtual Accounts
Rapyd Virtual Accounts are virtual bank accounts with an account number, similar to virtual IBAN accounts. They are linked to your Rapyd Wallet and connected to a specific country, functioning as local bank accounts.
Account holders can receive local bank transfers from over 40 countries and over 25 currencies. Their virtual multi-currency accounts are available to eligible Rapyd clients worldwide. However, clients must meet certain risk conditions and operate a permitted business in non-sanctioned countries.
💡 Tip: Read our article to learn more about virtual accounts and their benefits.
Rapyd Disburse
Rapyd Disburse is a global payout platform available through an API integration and client portal. This allows you to make payments to over 190 countries with reduced foreign exchange fees for each transaction.
In addition, it permits payments to any bank account globally and payout to one or multiple recipients across countries and currencies.
If your business employs short or long-term contractors, operates in multiple countries, or needs to send remittances and funds to vendors or workers worldwide, Rapyd Disburse is the great solution for your business.
Rapyd Wallet
Rapyd Wallet is a ledger system and payment infrastructure that enables users to hold and transfer funds between various wallets and sub-wallets securely.
This product allows clients to easily manage and transfer funds in over 70 currencies across different countries and payment methods.
Moreover, Rapyd Wallet assures compliance with fully certified PCI-Level 1 compliant, PSD2 in the EU, and SOC 2 compliant standards for security and safety.
Rapyd Incorporation
At the time of review, Rapyd only offers company formation services in Hong Kong. And it's important to note that the service excludes:
Corporate secretarial
Accounting
Tax
Audit
Legal
Financial
Nominee directorship
Corporate administration
Bank account opening
Statutory filing services.
💡 Tip: Want to set up a business in Hong Kong or Singapore? Read our guides to learn how to open a business in Hong Kong and Singapore.
Receiving Payments
The payment methods available to clients vary depending on the location.
With this service, clients can:
Receive payments in over 100 countries and collect cash in over 500,000 locations.
Send payouts in local methods to over 190 countries
Get paid into the account from over 40 countries.
Payment Limits
The limits are based on submitted information about expected trading volume, business activities, and other factors.
There are three types of payment limits:
Daily aggregate payment limit: The maximum total payment value
Monthly aggregate payment limit
Per individual payment limit.
The daily and monthly payment limits are the maximum total payment value that Rapyd will process for the clients. Plus, the per-individual payment limit is the maximum value that Rapyd will process for clients for each payment they submit.
Plugins
Rapyd integrates with popular ecommerce and invoice solutions such as WooCommerce, Shopify, Wix, Xero, and more. These partnerships aim to make accepting international payments easy.
However, some third-party companies have their limitations for certain countries they allow clients to be located in and may limit the number of locations they can accept payments from.
You can also check out their plugins page to view supported countries.
Cards Provided by Rapyd
Rapyd's Visa debit cards are exclusively available to eligible customers in the UK and can be utilized globally. They provide physical and virtual cards for businesses. With Rapyd's card, business clients can choose between two authorization models: remote and direct authorization.
Rapyd examines every transaction via its fraud filters for remote authorization and then forwards it to the business. This allows the business to use its rules and logic to regulate authorizations.
But if you seek a more straightforward approach, direct authorization is your better choice. Rapyd will authorize payments in real-time, saving you from the trouble of managing authorizations.
Features include:
Combine issuing with Rapyd Wallet, Collect, and Disburse solutions, enabling transactions with reduced fees.
Control of approvals and expenses by setting spending limits, declining ATM withdrawals, or restricting purchases from specific merchants.
Push-to-card payments
Customized loyalty programs
Fees Charged by Rapyd
Rapyd provides pricing plans specific to various regions such as Asia Pacific, the Americas, Europe, the United Kingdom, Iceland, Africa, and the Middle East, catering to businesses in these areas.
Unfortunately, the pricing details are not available publicly on their website. The information provided below applies only to clients in Hong Kong.
📝 Note: For specific pricing information, please get in touch with Rapyd directly.
Fees for Hong Kong Business Clients

Monthly Subscription (No minimum balance, fall-below fees, or hidden charges)

USD99/month

Offboarding

USD75

Payments

Receive local payments

FPS payments - Free

Non-FPS payments - USD5 or HKD38

Send and receive SWIFT payments

HKD115

Foreign Merchant Fee

1.5%
Card Fees

Transaction currency denomination is different than the Base Currency of your Rapyd Card (the Visa exchange rate will apply)

Free

Overseas Transactions

2%

ATM withdrawal (No minimum amount)

2%
Getting in Touch with Rapyd
Users can reach out to Rapyd for help via these channels:
For Rapyd customers:

Rapyd's Customer Support Portal

Rapyd Europe Point-of-Sale Card Machine Customers (Formerly Valitor)
Customer Support Hotline
UK:  0808 204 0349
Ireland: (+44) 808 204 0349
For transactions, settlements, and account queries, the business hours are between Monday to Friday (9 a.m. to 5 p.m.)
Technical Support Hotline
UK: 0808 204 0347
Ireland: (+44) 01653 3901
For terminal and online payments issues, support advisors are available Monday to Saturday, 8 a.m. to 11 p.m
Rapyd vs Statrys
To help you make an informed decision, we provide a comparison with Statrys, one of the alternative solutions for business bank accounts in the market.
💡 Tip: You could also review some other alternatives to Rapyd in our article.
Products
If your business needs a broader range of payment options and global coverage, Rapyd may be your best bet. At the time of review, Rapyd's virtual business account supports 25 currencies, while Statrys allows clients to make payments in 17 currencies.
It's important to note that to open a business bank account with Starys, your business must be incorporated in Hong Kong, Singapore, or the BVI. However, if your business is legally based in one or more of the 41 countries listed by Rapyd (including the 3 provided by Statrys), you can open a Rapyd's business account.
Rapyd and Statrys offer physical or virtual cards for clients, but only Rapyd's UK clients can utilize this service. With these cards, clients can make payments and withdraw cash from ATMs with additional fees. In addition, Rapyd offers clients 2 options for authorizing their card transactions, allowing clients to customize their control of authorization.
Finally, if you strive to have APIs that seamlessly integrate with your organization's workflow, Rapyd is the way to go.
Pricing
In terms of pricing, to see Rapyd's pricing, you must visit their pricing page and contact their support. How it works is you must choose a region, provide your information and wait for a response to know about the price. 
Statrys provides transparent pricing information on its pricing page. This gives users information about the costs without any hassle.
Plus, Starys does not charge an "offboarding" fee and charges a monthly fee of HKD 88, which is much lower than Rapyd.
Customer Support
Rapyd clients can easily contact Rapyd via their hotline or customer support portal. However, Rapyd has not provided WhatsApp or a live chat option yet.
On the other hand, Statrys offers every business account holder with a dedicated account manager who can be reached by phone, email, live chat, WhatsApp, and WeChat.
Statrys will respond to customer inquiries within 15 minutes during business hours (depending on your time zone), not hours or days.
Final Note
In short, Rapyd is a solid option for business owners, particularly those with a larger scale of business and frequent international payments. Rapyd's payment card offerings and additional services make it an attractive choice for big companies seeking APIs linked to their payment solutions.
For businesses operating in Hong Kong and across Asia, Statrys is a viable alternative that could serve as a primary or secondary business account. Statrys offer business accounts that can hold 11 different currencies to support SMEs with their businesses.
If you own a growing business and have clients and partners in Asia, check out our business account to see how Statrys can support you with payment.
This review is based on information on the Rapyd website as of 24th August 2023.
FAQs
Rapyd is a fintech company that offers a wide range of financial services, including payment solutions, mobile wallets, and money transfers. These services are available through an easy-to-use API, allowing businesses to quickly integrate them into their own processes.
Is Rapyd a payment gateway?