N26 is one of the top three most searched fintechs in Europe behind Revolut and Wise. It is also the highest valued fintech in Germany. But does popularity mean N26 is the best way for you to minimize business expenses? The payments world is rarely straightforward. 
To help you decide, this article takes a look at N26's bank account offering, its payment cards, FX services, and the fees it charges, and concludes with our recommendation. 
Is N26 a trustworthy bank?
Founded in Munich in 2013, N26 is a 100% digital fintech offering personal accounts and business accounts to customers.
N26 is headquartered in Berlin, Germany. Since 2016, the fintech has been operating as a fully licensed European bank under regulations from the European Central Bank (ECB) and German Federal Financial Supervisory Authority (BaFin).
As a bank, N26 is supervised by the financial markets regulator and must satisfy all European regulatory requirements. This means customer deposits up to EUR100,000 are covered under the German Deposit Protection Scheme.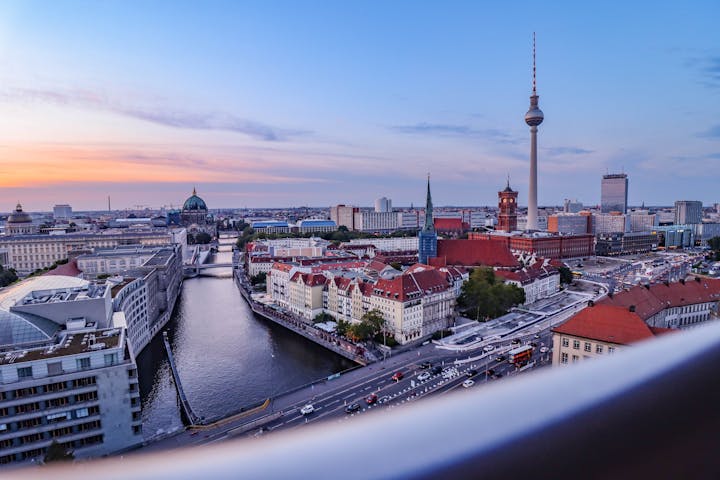 Requirements for opening a business account
Individuals and businesses can open an N26 account. For the purposes of this article, we will focus on the business bank account.
To be eligible for an N26 bank account you must be:
A freelancer enrolled in a profession, such as architects, lawyers, pharmacists, and nurses
A self-employed freelancer or individual entrepreneur with a VAT number, such as designers, photographers, electricians, or owners of B&Bs and holiday homes
A sole proprietorship registered in the Business Register of the Chamber of Commerce
Based in a European country.

[*]
If you are a partnership, company, or another type of entity, you cannot open a bank account with N26.
Other bank account requirements:
You must be over 18 and hold a valid form of ID
The account must be registered in your name 
The account must be primarily used for business purposes
You cannot already be an N26 user
You must own a compatible smartphone (iOS 12.0 and above or Android 6.0 and above) 
You need to be able to verify yourself in English, German, Spanish, Italian, or French 
If you open your account in Spain, you need to provide a valid Tax ID.

[*]

 
How to apply for a business account
The application process is 100% online through N26's online registration form and should take about 10 minutes to complete.
If you are applying for a free account, you will need to use your personal name to open a bank account as the account is designed for freelancers and small business owners who conduct business operations under their own name. This means that your business name cannot appear as the name on the account or on the N26 payment card.
Application steps
Step 1
After confirming your email, personal details, and shipping address, select the type of account you want. 
Step 2
Prove your identity and connect your smartphone to your new account.
Step 3
You can then top up your account via bank transfer, or with the CASH26 deposit platform for participating countries. [*]
Step 4
After a few days (and up to 15 business days), you'll receive your N26 card by post.
Because it is a bank, N26 will then ask for further information to meet its legal and regulatory requirements.
For example, if you have opted for an Italian IBAN with N26, you will need to provide:
A document certifying your residence (e.g. certificate of residence, visa documentation)
A document that certifies your home address if different from that of a residence (e.g. an electricity bill issued in the last 90 days and in your name)
Any document that can certify the main source of income (e.g. balance sheet and income statement, or bank statement)
Any document that can certify the primary source of your funds, whether additional to or different from your source of income (such as information on sales of financial assets or capital gains)
Proof of your VAT number. 
Once N26 has verified everything, your business bank account will be ready to use. N26 doesn't say how long the verification process can take.
N26 products
N26 is a digital bank offering mobile banking services through its app. 
Business accounts
N26 offers the following four plans: 
N26 Business Standard account (Free)
N26 Business Smart account
N26 Business You account
N26 Business Metal account
The bank account will be physically based in Germany, Italy or Spain. Each bank account offers different features and services.
For example, with the free business bank account, you cannot get a physical payment card or travel or lifestyle insurance, and free ATM withdrawals are limited to three per month provided they are local withdrawals.
On the other hand, with a more premium account, such as You or Metal, you can get cards, and insurance, and the limits on ATM withdrawals are higher.
N26 does not offer an in-house international transfer service. International payments are carried out by its partner, Wise.
Receiving funds
You can receive transfers in Euros in your bank account via the SEPA, MoneyBeam, and SWIFT systems. Payments from other N26 customers are instant with the MoneyBeam and SEPA Instant options.
Receiving funds from within the SEPA zone is free. Funds that come from outside of the SEPA zone will incur a fee.
N26 says that incoming transfers in foreign currencies are also supported, but with Wise.
Sending funds
You can pay bills with direct debit and transfer money using the MoneyBeam, SEPA or SWIFT systems. You can also make free instant bank transfers when paying fellow N26 customers. 
Free payments are possible via direct debit or direct transfer to countries within the SEPA zone, provided they are not instant credit transfers. SEPA instant credit transfers come with a fee but they are instantaneous.
If you want to transfer funds and a foreign currency conversion is required, you cannot do this in the N26 app. N26 will direct you to Wise to carry out the payment, provided the currencies involved are supported by Wise [*]. N26 does not offer an in-house foreign currency conversion service.
Be aware that Wise charges its own foreign transaction fees and only transfers a country's primary currency.
For example, you can only make Danish Krone (DKK) payments within Denmark. Wise's list of supported currencies changes from time to time, so be sure to check the Wise website for the latest.
Limits to payments
There are a few limits to making payments with an N26 account that you should be aware of:
Business-to-business (B2B) payments are not supported
The maximum daily limits (within 24 hours) for bank transfers are:
a) MoneyBeam to N26 customers: EUR1,000
b) SEPA instant transfers: EUR100,000
Incoming regular SEPA transfers arrive within a maximum of 2 working days. 
Incoming SWIFT transfers take up to 4 working days to arrive.
Outgoing regular SEPA transfers take up to 2 working days. 
Outgoing foreign currency transfers with Wise take up to 4 working days.
Payment cards
N26 offers payment cards from Mastercard, and Maestro if you are based in Germany, Austria, or the Netherlands. 
A debit Mastercard can be used to pay in stores, online, and in-app worldwide, and you receive 0.1% cashback every month on all payments made using the card. N26 says you can make free card payments worldwide with your Mastercard with no foreign transaction fees or extra charges.
You can make free ATM withdrawals but there are monthly limits that depend on the type of N26 account you choose. And the card can easily be integrated into Apple Pay and Google Pay. 
Foreign exchange services
N26 does not provide in-house foreign exchange services. It has partnered with Wise for foreign currency transfers instead.
Additional services
N26 offers some additional services worth highlighting. 
CASH26 lets you deposit money and withdraw money at thousands of retail stores by generating a scannable barcode in your N26 app, provided your business is based in an eligible country [4]. You can withdraw up to EUR200 and deposit a minimum of EUR50 per transaction for free. There is a daily limit of EUR999 on both withdrawals and deposits combined.
Overdraft facility. N26 also offers customers an overdraft facility at an interest rate of 8.9% for your business spending needs. Interest is charged on a quarterly basis and debited from your N26 account.
Pay from a Spaces account. You can use your N26 card to make purchases directly from one of your N26 Spaces sub accounts. A Space sub account is a virtual piggy bank service N26 offers to help you save. [*] 
Insurance. N26 offers travel insurance and lifestyle insurance at what it says are attractive rates. You can sign up for an insurance package through the N26 app.
Fees
The mentioned prices are relevant for most European countries [*]. Account offerings and services differ slightly for Germany [*], France [*], and Austria. [*] 
Free
Smart
You
Metal
Application Fee
Free
Monthly Fee
-
EUR4.90
EUR9.90
EUR16.90
Deposit fee for balances over EUR50,000
0.5% per year
Free
Smart
You
Metal
Incoming transfers

EUR transfers within EEA States

Free
SWIFT transfers
EUR12.50 + 0.1% of transaction amoount*
MoneyBeam transfers
Free
MoneyBeam daily limit
EUR1,000
Outgoing transfers

EUR transfers within EEA States

Free

SEPA Instant Credit Transfers

EUR0.99 per transaction

SEPA Instant Credit Transfers daily limit

EUR100,000

Direct debit

Free

MoneyBeam

Free

Foreign currency transfers (SWIFT)

Wise Fees
*Maximum fee of EUR100. The fee will be charged separately from the amount of the transaction. Transactions below EUR150 are free. 
Card fees
Free
Smart
You
Metal

First virtual payment card

Free
Extra physical card
EUR10
Free
Free
Free
Cashless payments
Free
Maximum daily limits

ATM Withdrawal

EUR2,500

In-store/online payments

EUR5,000

Monthly limit

EUR20,000
Fees on withdrawals and payments beyond plan limits

Mastercard withdrawal at local ATMs in EURO

EUR2 per withdrawal

Mastercard withdrawal at local ATMs in foreign currency

1.7%
Free

Maestro card withdrawals at ATMs worldwide in EURO

EUR2 per withdrawal

Maestro card withdrawals at ATMs worldwide in foreign currency

EUR2 per withdrawal + 1.7%
For currency conversion, Wise has its own transfer and currency conversion fees. [*]
Getting in touch
N26 has a help center offering detailed FAQ content [*], but not many options through the website. There is no contact number, email address or chatbox. Customers can also access the chat once logged in.
You can call N26 support, but only if you are subscribed to a premium account. It appears that the provided Help Center on their website is their only source of support for non-premium customers.
Our recommendation 
Running a freelance or small business, you want a bank or fintech that can help you minimize costs. Traditional banks used to be your only option for receiving and making payments. They would slug you with a transaction fee and earn a commission on any foreign currency conversions. Payment periods were also lengthy.  
Fintechs, like N26, have emerged to make things cheaper and faster. Generally, they charge lower fees, use more reasonable FX rates (usually based on the mid-market rate, which is the midpoint between buy and sell prices), and transactions are faster. 
N26 only offers business accounts to freelancers and sole traders. If this is you, and you do business mainly in EU countries, N26 has some attractive features.
For one, you can transact in EUR for free most of the time. You only pay for instant SEPA transfers. You can also get insurance and their Spaces accounts can help you save for specific financial goals. The only downside is the absence of direct customer support, but maybe you won't need it.
If you regularly do business outside of the EU or SEPA zones, things could become costly with N26 and another fintech might be a better option. Based in Hong Kong, the Statrys business account supports 11 currencies for a flat monthly fee of HKD88. You can also get an IBAN account to handle EU payments, send and receive international payments at flat rates (HKD55 to receive, HKD75 to send), and link your account to online marketplaces. FX fees start at 0.1% and every customer gets a dedicated account manager who can be reached within minutes via phone, WhatsApp, website chat, and email.
Final note
We do our best to provide all of the information we can find and present it succinctly in our articles, to save you the leg work. If you think we missed something about N26, send us a message and we will endeavor to make this article even more comprehensive.
This review is based on information available on the N26 website as of January 2023.
FAQs
What is the difference between N26 business and personal?
N26 provides accounts for both personal and business use. If you are eligible, you can apply for an N26 business account. You must be a Europe-based freelancer, solo entrepreneur, or a sole proprietorship
Is N26 business account free?
Can I use N26 business account for personal use?
Sources
Disclaimer
This publication is provided for general information purposes only and is not intended to cover every aspect of the topics with which it deals. It is not intended to amount to advice on which you should rely. You must obtain professional or specialist advice before taking, or refraining from, any action on the basis of the content in this publication. The information in this publication does not constitute legal, tax, or other professional advice from Statrys Limited or its affiliates. Prior results do not guarantee a similar outcome. We make no representations, warranties, or guarantees, whether express or implied, that the content in the publication is accurate, complete, or up to date.