TranSwap is a fintech firm based in Singapore, holding payment service licenses in Singapore, Hong Kong, Indonesia, and the UK.
Their main services include global accounts, local and international transfers, and payment cards.
With TranSwap, users can make payments in 34 currencies to over 180 countries.
In today's business environment, the need for effective cross-border payment solutions has never been greater. By partnering with the right payment service provider, you can minimise payment-related issues, such as high fees, fluctuated conversion rates, and transfer delays, and focus on growing your business instead.
This review will examine TranSwap–a fintech company headquartered in Singapore. We will uncover its core services, fees, eligibility criteria, and account opening process to help you make an informed decision.
Additionally, we will introduce you to another alternative worth considering. First, let's take a look at what we think are the pros and cons of Transwap to give you a brief overview. 
TranSwap Pros and Cons

Why TranSwap may be a good option
100% online account application
Multi-currency account with unique local account details to send and receive like a local in various currencies such as SGD, GBP, HKD, and IDR
Can obtain multiple virtual business cards to help you and your team access funds 24/7 anywhere in the world.

Why TranSwap may not be a good option
TranSwap does not provide a pricing structure on its website.
The FAQ page doesn't provide detailed information. So, if you need to learn more about their services and fees, you must email the support team.
What is TranSwap?
Launched in 2015, TranSwap is a Singapore-based fintech offering cross-border payment services for individuals and businesses. They aim to make cross-border payments easier to manage and more cost-effective.
With TranSwap, you can obtain local and global accounts, credit cards, and credit lines (if you're based in Singapore). And you can get local support from their offices in Singapore, the UK, Hong Kong, and Indonesia.
Like other fintechs, TranSwap is not a licensed bank. However, it is a legally-approved financial institution in Singapore, the UK, Hong Kong, Indonesia, and Macau.
Requirements for Opening a TranSwap Business Account
TranSwap offers business accounts to businesses incorporated in Singapore, Hong Kong, Indonesia, and the UK. The business entities that are eligible to open a TranSwap account are:
Private limited companies
Sole proprietorships
Partnerships (LP or LLP).
Moreover, you will need to submit the following documents to comply with regulatory requirements in the respective countries.
Required Documents for Singapore Businesses
Company name
Business registration number
Business profile or annual return showing all directors and shareholders
Certificate of incorporation or registration
Memorandum and Articles of Association or Constitution or Partnership Agreement
Mobile number or email address of the contact person
Contact details of all authorised users and key contact person(s)
Required Documents for Hong Kong Businesses
Documents to identify customer
Annual Return (NAR1) or Incorporation Form (NNC1) for newly incorporated entities
Other documents filed after NAR1 or NNC1 (e.g. NR1, ND2A)
Memorandum and Articles of Association or Constitution
Other notarised or certified documents to identify the ultimate beneficial owners (UOB) of the customer if the customer is owned by another entity
Board Resolution signed by at least 2 directors
Required Documents for Indonesian Businesses
Deed of Incorporation + receipt from Ministry of Law and Human Rights (MoLHR)
Latest Complete adjusted Articles of Association according to UUPT 2007 + MoLHR
Business Registration (OSS NIB RBA) + Business License (Izin Usaha)
Letter of Domicile (for business license #2)
Tax Registration Card (NPWP)
Business Certification (if any)
Required Documents for UK Businesses
Proof of ID of the UBOs who hold(s) the company over 25%
Proof of address dated within 3 months of the ultimate beneficial owners who hold(s) the company over 25%
Other supplementary documents may be needed upon request
It is possible for businesses to open multiple accounts. To create more than one account, you can either sign up with a different email address or link it to your existing one. The account manager will assist you with the process of opening an additional account.
How to Apply for a TranSwap Business Account
An application for a Transwap business account can be made entirely online. Here are the steps to apply for an account.
Click the registration page or tap Sign-up through a mobile application.
Provide your name and email address
Create your password
Check your confirmation email
Login to your account
Click Complete verification
Select the country where your business is registered
Enter your personal and contact information
Verify your identification
Submit required documents
Confirm your application.
TranSwap typically takes 1-2 business days to review and approve applications. However, the onboarding team may contact you if additional documentation is required.
TranSwap Products
1. Global Account
The global account is an aggregation of multiple virtual accounts with a unique local account detail. Customers can open global accounts in Singapore, Hong Kong, Indonesia, and the UK. Although TranSwap mentions that other countries are also possible, the specific countries are not specified.
You can hold 34 currencies in a global account, receive payments, convert foreign currencies, and make global payments to over 180 countries. TranSwap uses SWIFT for global payments, and there is no mention of restricted countries or prohibited industries. These payments are completed within 4 days, but it can be the same day depending on the country and currencies involved.
In addition, receiving or making payments in the currency of the global account is classified as a local payment by TranSwap. This means transactions will be processed through the local payment system of the recipient's country. For example, if you pay your UK suppliers in GBP from your GBP account, this payment will be sent through the UK payment system–helping you save more on conversion and transaction fees.
📌 Note: You can access this service by applying for a Global Account through your profile, and your account will be activated within 2 business days.
2. Cards
Virtual and physical debit cards are available for individuals and business customers, and you can get as many virtual cards as you would like.
TranSwap uses the Mastercard® platform for its cards. TranSwap's debit cards are connected to your global accounts, and you can pay with these cards in any currency with real-time exchange rates. Also, you can effectively manage your expenses with features such as real-time expense tracking, categorising transactions, and customised daily and monthly spending limits, innovation on par with today's card offerings.
Moreover, there is no minimum balance requirement and monthly fee charged for using TranSwap payment cards.
3. Foreign Exchange
As mentioned, TranSwap enables clients to hold up to 34 different currencies across their global accounts.
TranSwap offers competitive exchange rates for currency conversions without any hidden fees. However, be aware that your bank or your recipient's bank may charge additional fees to send or receive payments.
4. Credit Line
Lastly, TranSwap offers a credit line in over 30 currencies, including USD, EUR, SGD, JPY, and GBP, exclusively for sole proprietorship, partnership, or companies based in Singapore.
Business clients can easily apply for a loan online at no cost by submitting their business bank account statements from the last 3 months.
Fee Charged By TranSwap
TranSwap does not have a pricing page outlining the fees associated with their services and solutions.
The only exception appears to be for cards, where TranSwap states that there are no monthly fees and no minimum balance requirement.
Customer Reviews
To give you a complete picture of Aspire, we checked what customers say about them from their website. Based on 232 reviews, TranSwap received a score of 4.5.
We cannot find customer reviews on other platforms such as Trustpilot, Google Play, and Apple Store.
Getting in Touch with TranSwap
TranSwap has a help centre on its website with limited information. For detailed information, you can contact their customer service via support@transwap.com.
Alternative Solution: Statrys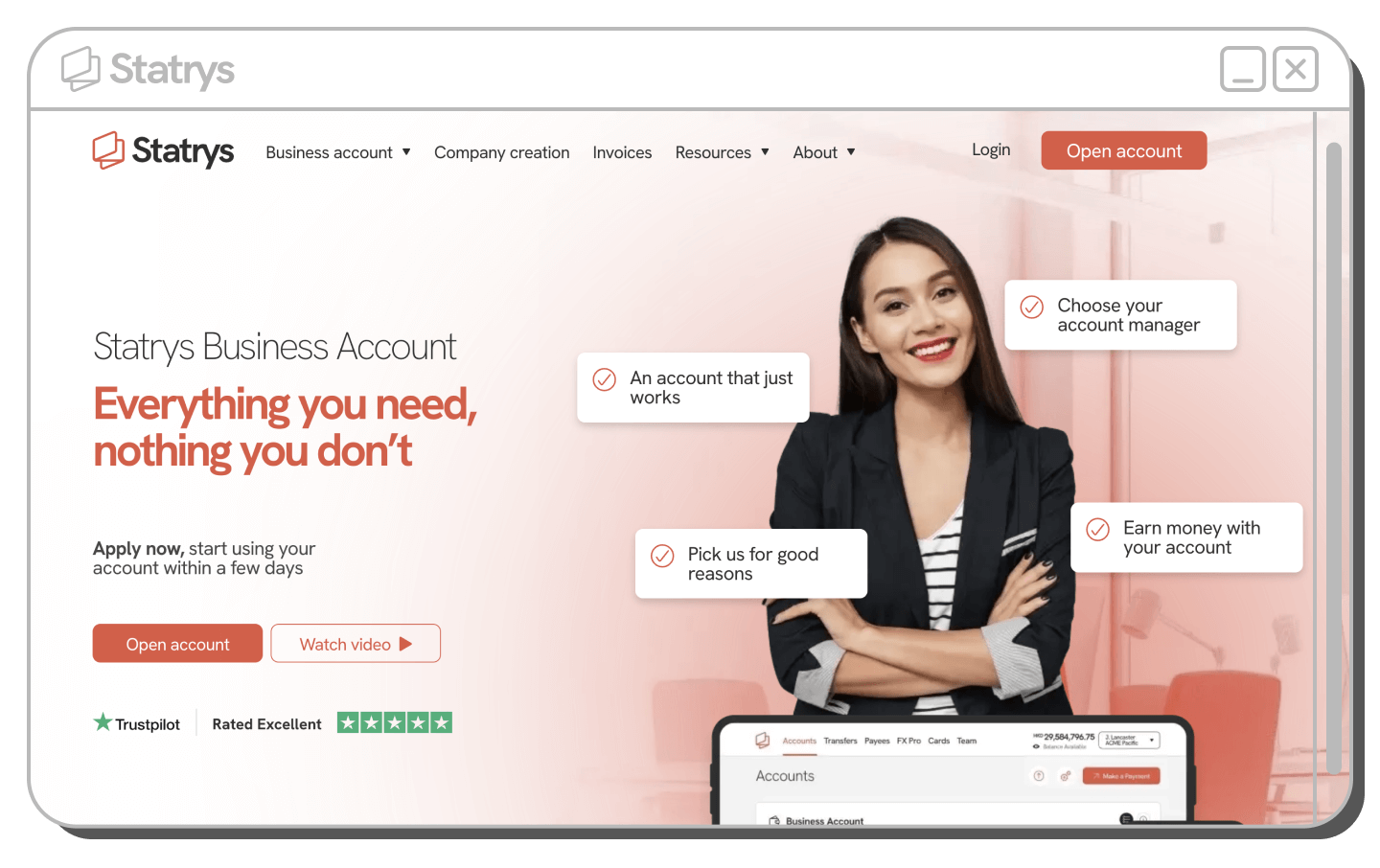 In this section, we will introduce an alternative option for you to consider, Statrys. 
What is Statrys?
Statrys is a licensed payment services provider in Hong Kong that offers virtual business accounts to businesses registered in Hong Kong, Singapore, or the BVI. Some of their core services include:
A multi-currency business account that can hold 11 different currencies in a single account number.
Local payout in 14 different currencies
Virtual and physical business cards that have built-in controls to manage expenses and can withdraw cash from ATMs.
FX services with competitive exchange rates (spot and forward contracts)
Xero integration to save time and resources using automated accounting.
A dedicated account manager for every account holder who can be reached through phone, email, live chat, WhatsApp, and WeChat.
By taking customer service to heart, Statrys has received a score of 4.6/5 from over 200 reviews on Trustpilot.
Currently, Statrys supports over 4,000 clients on its platform, with 85% of users opening their account in less than 3 business days.
Statrys' Fees 
Statrys' pricing structure is straightforward, and all prices can be found on the pricing page. There is a small fee for incoming SWIFT payments. However, Statrys utilise interbank rates to ensure a competitive exchange rate for clients. This helps businesses save more on transaction fees.
💡 Tip: It is advisable that businesses should have more than one business account to help them manage funds, protect their assets, and ensure business continuity.
Final Note
TranSwap is a good payment service solution for businesses based in Singapore, Hong Kong, Indonesia, and the UK. With its business accounts, clients are able to hold, receive, and send payments in over 30 currencies to over 180 countries.
For businesses operating in Hong Kong and across Asia, Statrys is a viable alternative that could serve as a primary or secondary business account. Statrys offers business accounts that can hold 11 different currencies to support SMEs with their businesses.
If you own a growing business with clients and partners in Asia, check out our business account to see how Statrys can support you with payment.
This review is based on information available on the TranSwap website as of November 2023.
Disclaimer

Statrys competes directly with TranSwap in the payment industry. However, we're committed to providing an unbiased, thorough review to help you make an informed choice.

Our insights are derived from industry experience and discussions with clients who have also used our competitors' services. While we'd love for you to choose us, what's most important is that you make the decision that's right for you.

If you have any feedback regarding this review, please contact us at marketing@statrys.com.
FAQs
TranSwap is a Singapore-based fintech company holding a payment provider license from a government body in Singapore, Hong Kong, Indonesia, and the UK.