Affiliate marketing is a strategy where ecommerce businesses pay individuals or other websites a commission for directing and promoting sales through referral links.
There is a wide variety of available ecommerce affiliate programs. Our recommendation is not to confine yourself into one program, but to explore the different options and their advantages.
The programs available make it easy to start affiliate marketing. However, the outcome will not only be dependent on your program of choice, but a list of other factors and efforts.
As many as 8 out of 10 brands have joined the affiliate marketing bandwagon, into which they're collectively injecting more than 19 billion dollars every year. 
We've spent hours of research into finding the best affiliate programs & networks, so you don't have to. Find out what they are in this article. 
What is Ecommerce Affiliate Marketing?
Affiliate marketing is a collaboration between ecommerce brands and external promoters – who could be online publishers, influencers, or entrepreneurs. The promoters recommend the brand's products to their audiences, and then subsequently earn commissions from the sales they generate as affiliate partners. 
Ecommerce brands create affiliate programs, after which they invite affiliate marketers to participate. 
Each partner who gets into such affiliate relationships receives their own unique affiliate link, which is then monitored by affiliate tracking software throughout the campaign period. 
Affiliate marketers can go on and publish referral links on their blogs, social media, and ecommerce sites. Whichever method they choose, affiliate tracking software will keep tabs on all the website traffic coming in from the affiliate links. 
Affiliate marketers earn a commission based on the actions taken by their referrals. Some ecommerce affiliate programs pay for each click, while others pay either a one-time commission or recurring commissions for customer purchases. 
The commission rate itself varies from one affiliate program to another. Going by the ecommerce trends today, you could earn an affiliate income of anything from 1% to as much as 100% on a sale.
And with that said, here is a breakdown of the 5 best affiliate programs and the 5 best affiliate networks. 
Best Ecommerce Affiliate Programs
Ecommerce affiliate programs are those that are created and administered directly by online brands. They are brand-specific and do not necessarily rely on intermediaries to manage their affiliate relationships. 
A good example is the Shopify Affiliate Program, which is meant to promote the ecommerce platform to entrepreneurs who are perhaps seeking to build an ecommerce website. Other prominent brands with ecommerce affiliate marketing programs include Sendinblue, AWeber, ConvertKit, GetResponse, BigCommerce, Thinkific, etc. 
Without further ado, let us share the top 10 ecommerce affiliate and network programs!
1. Amazon Associates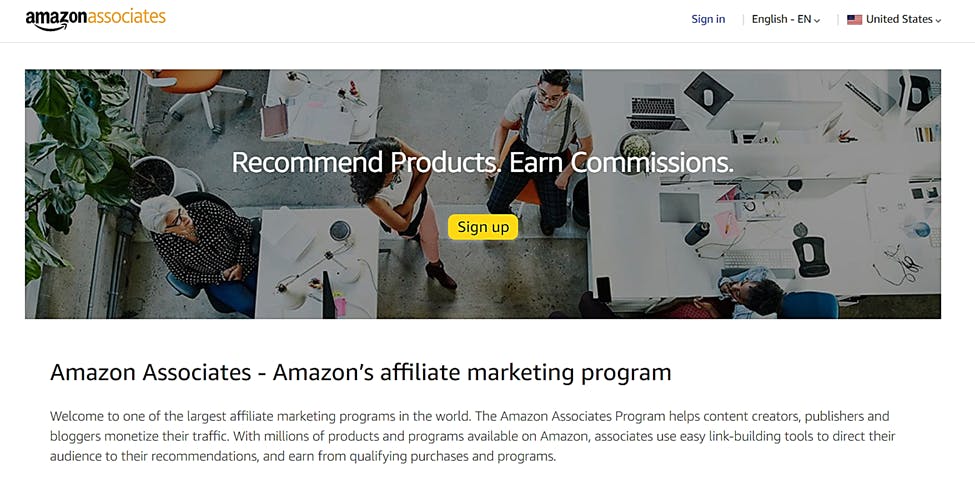 Amazon Associates is an expansive ecommerce affiliate program that could easily be mistaken for an affiliate marketing network. 
While it provides access to a wide range of products, the affiliate marketing platform is entirely managed by Amazon. This makes you an affiliate partner of Amazon – not of any other product brands sold on the Amazon Marketplace. 
And with that clarified, Amazon Associates would be just the perfect referral program for anyone operating a multi-commodity online business. 
You get to choose from over 3 billion listings of physical and digital products, which are distributed across a multitude of categories. They all come without any volume restrictions – as Amazon Associates allows its ecommerce affiliate marketers to earn affiliate commissions from as many items as they want. 
This flexibility has made Amazon Associates the top choice for affiliate marketers, and it now dominates about 47% of the affiliate program market. 
✅ Cookie duration: 24 hours. 
✅ Commission: Previously, Amazon Associates calculated its commission rates according to your affiliate sales numbers. That has since changed, and affiliate marketing work now attracts a flat percentage commission rate based on the product sold. You can expect to make anything from 1% to 20% on each sale. 
✅ Payments: The minimum payout amount for an ecommerce affiliate marketer is $10, and it's all processed through checks, direct deposit, or Amazon gift cards. As for the payment period, you'll have to wait for at least 60 days after the end of the month.

Pros
Millions of physical and digital products.
Affiliate marketing commission rates of 1% - 20%
Pays commissions even when referrals purchase non-linked products.
Provides affiliate support systems, digital marketing tools, and affiliate tracking software.
Amazon is good at converting referrals.
Low payout threshold amount.

Cons
Policies can be confusing. 
Complex schedule of commission rates. 
You can't partner up directly with the product brands. 
Payouts take more than 8 weeks.
2. eBay Partner Network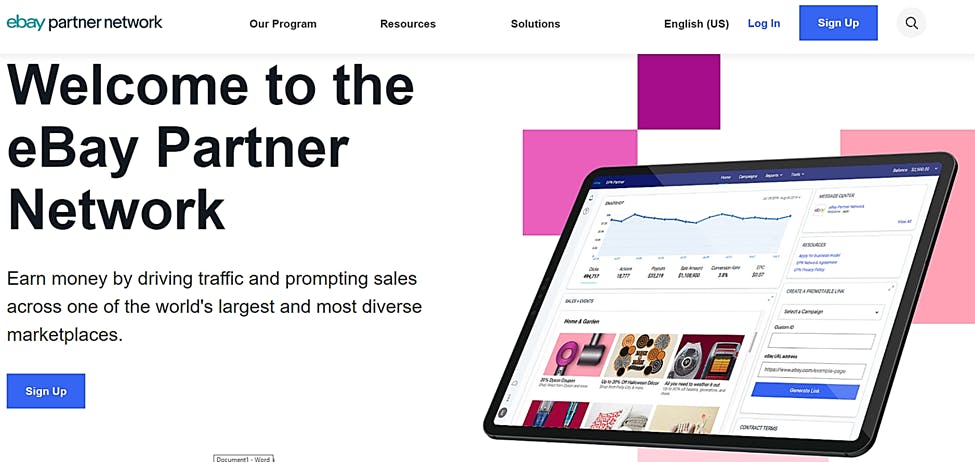 The eBay Partner Network is structured a lot like Amazon Associates. 
Developed and managed by eBay, it's an ecommerce affiliate program that gives you the opportunity to promote, leverage, and earn commissions from all sorts of products available on the eBay marketplace. 
There are over 1.1 billion product listings spread out across numerous categories. You're bound to find something for each of your affiliate landing pages. 
Another thing you'll appreciate about the eBay Partner Network is its neat collection of ecommerce affiliate marketing tools. They'll help you in managing and tracking all the affiliate links published online. 
✅ Cookie duration: 24 hours.
✅ Commission: The eBay Partner Network pays a percentage commission rate of between 1% and 6%. What you end up earning depends on the type of product sold.
✅ Payments: Affiliate payouts are processed once a month via PayPal or direct deposit. You just need to surpass ten units of your country's currency – e.g 10 pounds, 10 euros, 10 dollars, etc. 

Pros
Over 1.1 billion product listings. 
Monthly payouts. 
Cross-device tracking of affiliate customers. 
No restrictions on where to share your ecommerce affiliate marketing links.
Affiliate support and digital marketing tools. 
Supports electronic funds transfer.
Low payout threshold.

Cons
Low affiliate commission rates of 1% to 6%. 
Sales earnings are not uniform across the products. 
Cookie duration of up to 24 hours.
3. Etsy Affiliates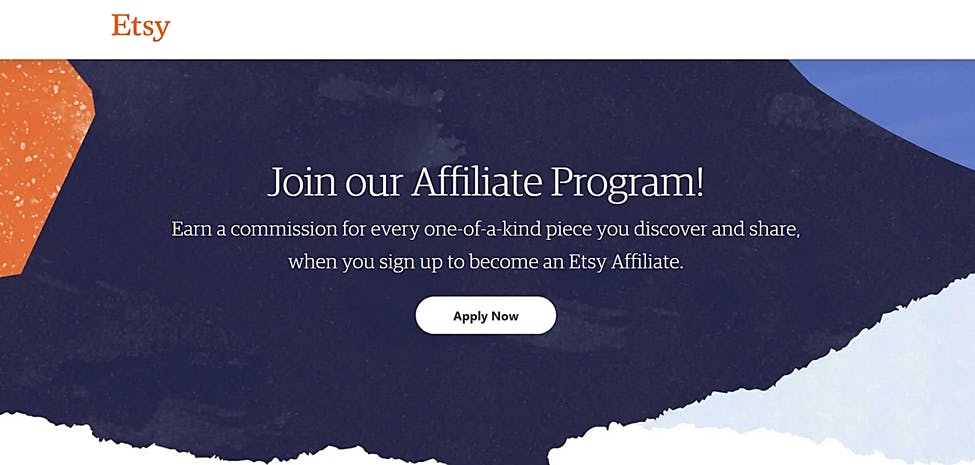 Third on our list of the best ecommerce affiliate programs is Etsy Affiliates, which is yet another referral program developed by an all-inclusive marketplace. 
Unlike Amazon and eBay, Etsy specializes in craft supplies, vintage items, and handmade goods. This makes Etsy Affiliates a top contender for any creative, designer, or craftsperson interested in establishing an additional revenue stream. 
You'll find all sorts of interesting product listings for art and collectibles, home and living, clothing, paper and party supplies, accessories, wedding items, jewelry, etc. They come from over 7.5 million ecommerce sellers, who collectively generate about 5 billion in sales every year. 
From that alone, you can tell that Etsy Affiliates is a potentially high-converting affiliate marketing program. 
💡 Tip: If you're a seller on the Etsy marketplace, this affiliate program allows you to become an affiliate marketer for your products. That means you can distribute your own affiliate links and earn affiliate commissions for all the referral sales made. 
✅ Cookie duration: The cookies for this top ecommerce affiliate program remain active for 30 days. 
✅ Commission: While the commission rates are standard across all online store products, you can expect variations based on where you choose to publish your affiliate marketing links. Sales from affiliate links shared on your site will attract a commission of 4%, which is double the corresponding social media rate. 
✅ Payments: The Etsy Affiliates program doesn't have a regular payout schedule. You can initiate the process manually at any time, as long as your account balance has surpassed $20. All remittances are then completed via check or ACH bank deposit, both of which should attract a base fee of 3% + $0.25 from Etsy Payments. 

Pros
Wide range of handmade items, vintage products, and craft supplies. 
Cookie duration of 30 hours. 
You can earn affiliate commissions from the sale of your products. 
Payouts can be requested at any time. 
Affiliate marketing links can be published on websites and social media.
Affiliate support.
Affiliate commission of up to 4% on each sale.
Suitable for creatives.

Cons
Social media affiliate links earn half as much as website links.
Restricts where you can publish ecommerce affiliate marketing links. 
No electronic funds transfer option. 
Product options are not as diverse as Amazon's or eBay's. 
Etsy Payments charges a base fee on all payouts.
4. HubSpot Affiliate Program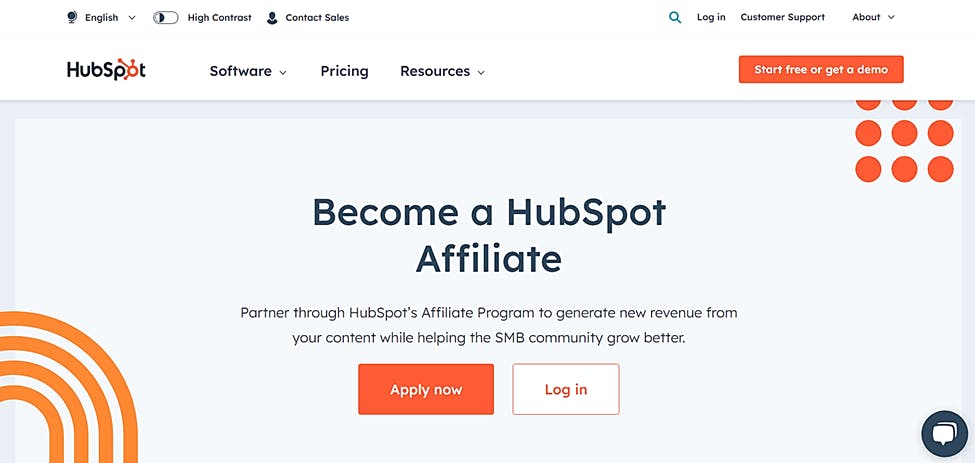 As for publishers who engage B2B audiences, one of the best affiliate programs would be the HubSpot Affiliate Program. 
Such audiences are always looking for solutions to automate their business processes, streamline operations, and improve productivity. 
HubSpot happens to have a suite of tools that cover all these business pain points. You'll be recommending:
Marketing Hub to ecommerce businesses that need marketing automation.
Sales Hub to companies that could use an automated customer relationship management (CRM) system. 
Services Hub to online businesses seeking to supercharge their customer support operations. 
CMS Hub to content marketing teams. 
Operations Hub to multi-platform ecommerce sites that need to sync customer data across their app ecosystems. 
Other than that, HubSpot itself has built quite a solid reputation in the business automation space. Combine that with the creative inventory that comes with its affiliate marketing platform, and you'll have yourself a blend of perfect conditions for generating affiliate sales. 
✅ Cookie duration: 90 days.
✅ Commission: Affiliate partners here are required to choose between two highly rewarding commission models. You could have HubSpot paying you 100% of the first month's subscription purchase, or a 15% recurring rate on one year's worth of subscription payments. 
✅ Payments: To get paid, your affiliate referral has to remain active on the HubSpot platform for at least 30 days. You should then be able to cash out when your account hits a minimum threshold of $10 – upon which the funds will be remitted via PayPal or bank wire transfer. 

Pros
Some of the best software solutions for ecommerce audiences. 
Provides marketing materials. 
Supports deep linking on your website. 
90-day cookie duration. 
HubSpot is a trusted brand. 
You can publish links across multiple platforms. 
Affiliate commission rates of up to 100%.
Ideal for B2B businesses.

Cons
No more earnings after your referral's first year of service. 
No commission on returning referrals.
Referrals must use HubSpot for at least one month.
5. Fiverr Affiliates Program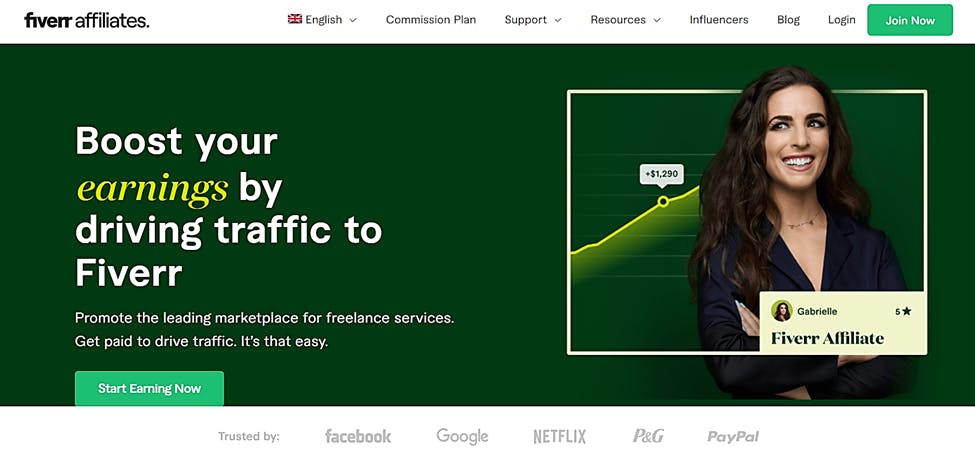 Fiverr has made a name for itself as a freelance services marketplace that connects businesses with service providers. The Fiverr Affiliates Program allows you to promote over 400 digital services that are in high demand across the business world. 
The program even offers affiliate tools to help you target just the right group of online businesses, whose problems could be sorted out cost-effectively by the professionals on Fiverr. 
What's more, you'll find marketing materials like ebooks, videos, sidebar images, and banners – all of which should help you in building affiliate landing pages that convert. 
You also get to set up additional revenue streams in the form of affiliate links to four other Fiverr solutions – Fiverr Business, Fiverr Logo Maker, Fiver Learn, and Fiverr Affiliates. 
✅ Cookie duration: Fiverr's affiliate cookies remain active for 30 days after the first click.
✅ Commission: You could choose to earn a $15 - $150 fixed commission based on the service category purchased, or $10 plus 10% of the total online revenue generated over 12 months. Otherwise, for Fiverr Business purchases, you get to make $100 plus 10% of the 12-month revenue, while Fiverr Learn offers a whopping 30% commission on every course order. 
✅ Payments: Payouts are done on a monthly basis. But, you'll need at least $100 in your account to proceed. Amounts below $1,000 are then processed via PayPal, while higher amounts are remitted via wire transfer.

Pros
Over 400 professional service categories. 
Supplemented by four more affiliate programs from Fiverr. 
Comes with various marketing materials. 
Supports deep linking. 
Dynamic affiliate commission system. 
Commission rates of up to 30% per sale.

Cons
You only earn commissions from first-time buyers.
Commission schedules can be difficult to follow. 
Minimum payout threshold of $100. 
Wire transfers have a minimum threshold of $1,000.
Best Ecommerce Affiliate Marketing Networks
An affiliate network, on the other hand, is more of a marketplace for ecommerce affiliate programs. You can think of it as the middleman between ecommerce brands and affiliate marketers.
Once brands sign up here as affiliate advertisers, they get an array of affiliate tools for setting up, controlling, and tracking ecommerce affiliate programs. One affiliate network has the capacity to host, facilitate, and power multiple affiliate programs at once. 
As an affiliate marketer, you just need to choose your preferred brands from the list of options. The referral programs that you'll find on affiliate networks come from different advertisers, and each has its own rules, commissions, focus niche, and products. 
Otherwise, if you're looking to make the most of your affiliate marketing work, we'd especially recommend that you try out any of these five best affiliate networks:
6. Awin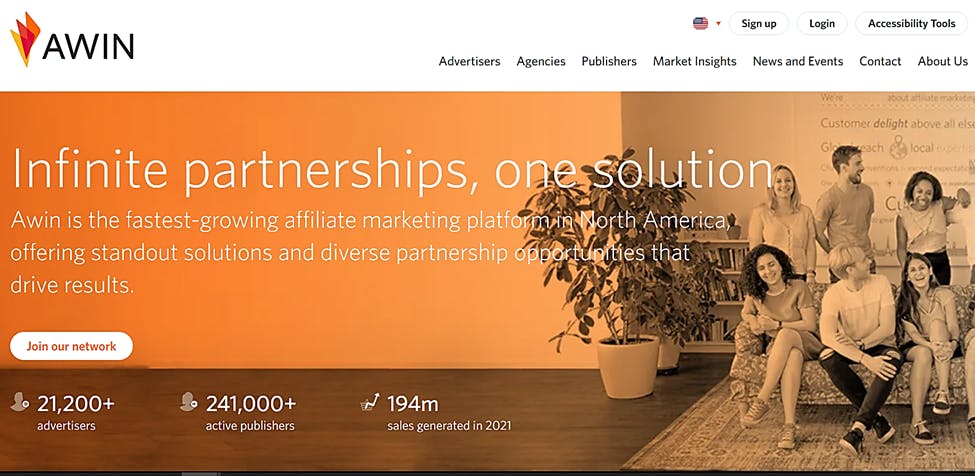 As one of the earliest affiliate networks in the ecommerce industry, Awin has managed to build quite a reputation among the affiliate advertising community.
This affiliate marketing now hosts affiliate programs from over 21,000 ecommerce brands, which collectively generate close to 200 million online sales per year. 
We're talking of ecommerce affiliate programs across a wide variety of business categories – fashion, insurance, finance, technology, travel, you name it. They come from global brands such as UnderArmour, AliExpress, Hyatt, StubHub, etc. 
Awin is particularly popular with British businesses, which consequently makes it one of the best affiliate networks for UK-focused publishers. 
To gain access to the Awin affiliate marketing platform, you just need to sign up with your website or social media handles, and then pay a refundable fee of $5. 
✅ Cookie duration: Up to 999 days. 
✅ Commission: Depends on the ecommerce affiliate program you select.
✅ Payments: Affiliate income is withdrawn on the 1st and 15th of every month via ACH, international wire transfer, or BACS. This is only open to affiliate marketing accounts that meet Awins's minimum payment threshold of $20. 

Pros
Grants access to ecommerce affiliate programs from over 21,000 brands.
Has referral programs for products across every popular niche and business category. 
Comes with various helpful tools and widgets, including affiliate tracking software and a link conversion plugin. 
Ideal for both site owners and influencer marketers. 
Cookie duration can stretch up to 999 days.

Cons
You'll be up against over 240,000 other ecommerce affiliate marketers. 
Affiliate earnings can only be withdrawn once you meet a minimum threshold of $20. 
New signups are required to deposit $5 to their accounts. 
Limited payout options. 
7. CJ Affiliate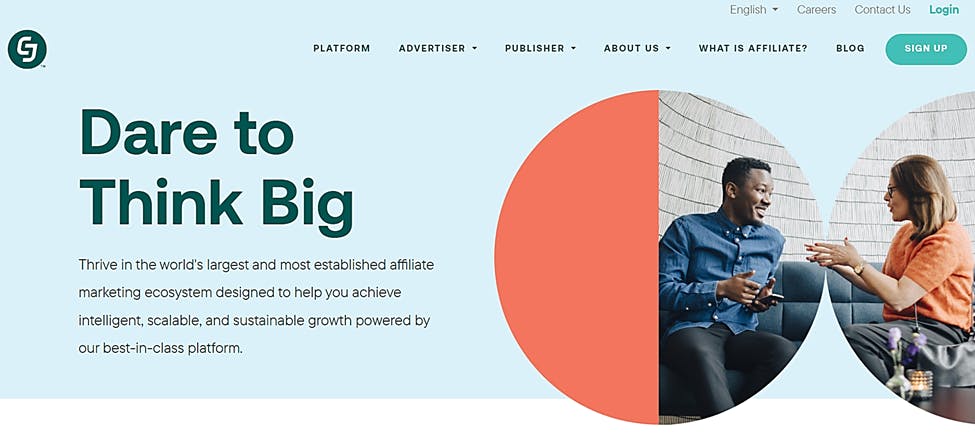 CJ Affiliate is another industry veteran that boasts one of the best affiliate marketing networks in both size and capacity. 
They account for about 8.15% of the affiliate network market. Over 4.5 million affiliate relationships are formed here every year – and from the resultant multi-channel campaigns, affiliate partners usually make more than $1.8 billion in annual commissions. 
You can join them by signing up in six easy steps. CJ Affiliate further accepts both website and social media publishers. 
Once your application sails through, you get to work with all sorts of brands – including big names like Overstock, Office Depot, Barnes & Noble, and Priceline. 
Then to help you with the marketing campaigns, CJ Affiliate further provides customer journey analytics, omnichannel affiliate tracking, interactive onboarding, and affiliate link conversion. 
✅ Cookie duration: Up to 120 days.
✅ Commission: Varies from one affiliate program to another. 
✅ Payments: Payouts are normally processed on the 20th or 28th of every month via Payoneer, check, or direct deposit. The minimum threshold for direct deposit is $50, while checks are only issued to ecommerce affiliate marketing accounts above $100.

Pros
One of the most established and trusted affiliate networks. 
Facilitates omnichannel affiliate link tracking. 
Comes with an affiliate link converter. 
Offers in-depth sales and customer analytics. 
Up to 120 days cookie duration
Variety of payout options. 
You get marketing advice from a team of expert affiliate managers.

Cons
Your account could be deactivated if you fail to generate sales in 180 days. 
Direct deposit and check payouts are not open to everyone. 
Lots of new competitors joining every year.
8. Rakuten Advertising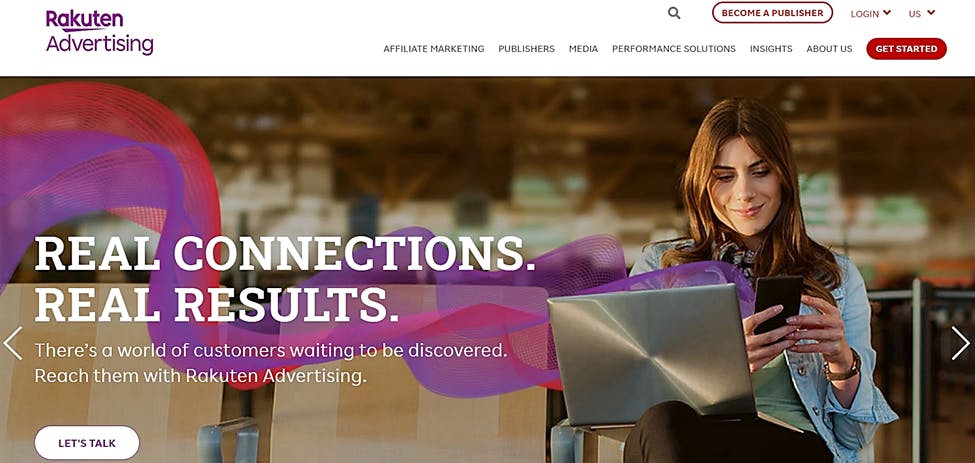 Third on our roundup of the best affiliate marketing networks is Rakuten Advertising, a platform that has grown remarkably from a Japan-based venture to a global performance marketing solutions provider. 
What sets Rakuten apart from other affiliate networks is, it prioritizes quality over quantity. 
You see, instead of taking in a multitude of ecommerce brands, this affiliate marketing platform works with only about 1,000. This allows it to focus all its resources on building super-strong affiliate relationships between advertisers and publishers. 
The signup process itself is pretty simple and straightforward. It should only take you a couple of minutes, after which you'll be ushered into a marketplace of ecommerce affiliate programs from big brands such as Udemy, Sephora, Microsoft, and Virgin Holidays. 
Now, to help them implement smart marketing, Rakuten Advertising gives each brand a dedicated account manager. That professional guidance sees the businesses develop agile affiliate campaigns, in which affiliate marketers are rewarded via multi-touch commissioning, dynamic commissioning, and linkless code tracking. 
Multi-touch is great for brand awareness campaigns like influencer marketing, linkless tracking drives affiliate sales through coupon codes, whereas dynamic commissioning allows businesses to concurrently set up multiple reward formulas in their affiliate programs. 
✅ Cookie duration: No set cookie duration.
✅ Commission: Affiliate earnings are set at different rates, and the parameters are defined by the three commissioning strategies. 
✅ Payments: Once you meet Rakuten's minimum payment threshold of $50, your payout is processed via PayPal, check, or direct deposit. The cycle itself takes more than 30 days to complete the transfer of funds from the advertiser to the marketer's account. 

Pros
Focuses on strengthening affiliate relationships. 
Offers affiliate programs that run on smart commissioning strategies. 
Each brand gets a dedicated account manager. 
Tracks affiliate sales made through coupon codes. 
Payouts are made via direct deposit, check, and PayPal. 
Can reward all forms of affiliate campaigns, including influencer marketing.
Supports omnichannel affiliate link tracking.

Cons
Limited selection of affiliate advertisers. 
Long waiting time to receive your affiliate payment. 
There's a minimum payout threshold of $50. 
Dynamic commissioning strategies can be confusing to beginners.
9. ClickBank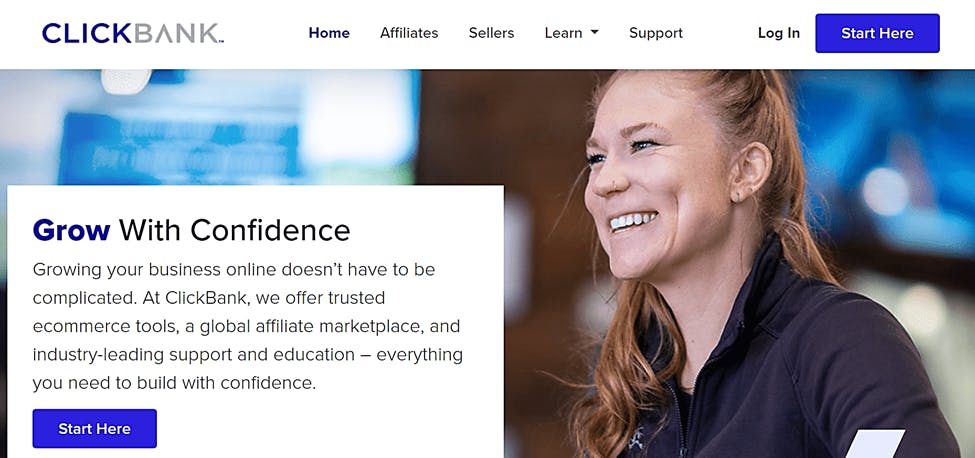 When it comes to simplicity and ease of use, ClickBank is, without a doubt, the best affiliate network for both publishers and online entrepreneurs. 
All you need to get started here is just your contact information. ClickBank won't even ask you for your website domain or social media accounts. 
The marketplace here features over 4,000 types of products, all of which add up to 21,000 plus product listings that cover more than 270 ecommerce categories. 
ClickBank also hosts more digital products than physical items. This makes it the perfect place to monetize your content with affiliate links to games, books, videos, etc.
They also have various affiliate marketing tools to help you with the campaigns. You can track affiliate links, as well as keep tabs on your affiliate revenue per sale, gravity, and conversion rates, among other affiliate KPIs.
Unlike most other affiliate programs, ClickBank's product sellers are left to manage their referral programs and the accompanying commission models.
✅ Cookie duration: 60 days. 
✅ Commission: The commission rates vary across the products being sold. But, overall, ClickBank tends to have pretty generous performance affiliate marketing rewards – with many products paying between 70% and 90%. 
✅ Payments: Affiliate commissions are paid out on a weekly basis via direct deposit, check, wire transfer, and Payoneer. But, only for accounts that meet the default minimum threshold of $100. 

Pros
User-friendly ecommerce affiliate networks. 
Publishers can proceed without a website or social media account. 
Connects affiliate marketers directly with product sellers. 
Offers referral programs that feature over 4,000 types of products. 
Pays out affiliate commissions every week. 
The affiliate marketing commissions can go as high as 90% per sale. 
Affiliate earnings are paid out via wire transfer, check, direct deposit, and Payoneer. 
Specializes in affiliate programs for digital products. 
Comes with affiliate tracking capabilities.

Cons
Short cookie duration 
High payout threshold. 
Prioritizes digital items over physical products. 
The affiliate program management tools are very limited, consequently making the platform unsuitable for large brands.
10. ShareASale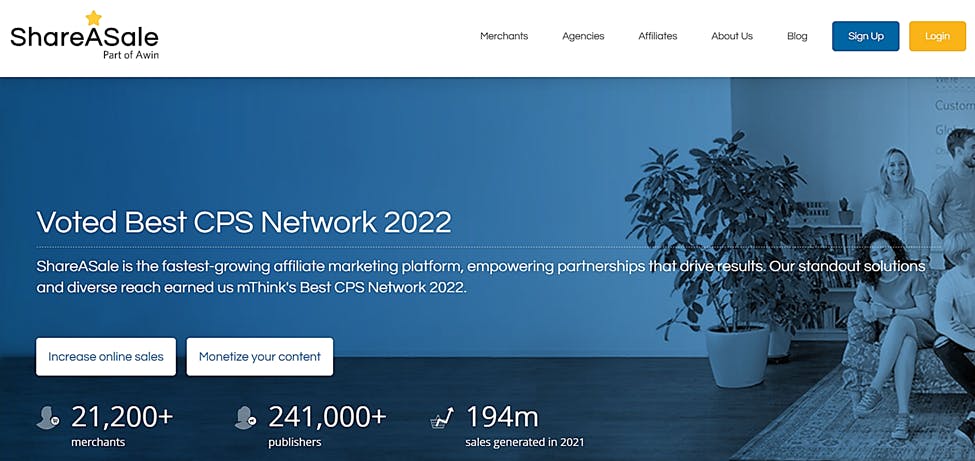 Established over two decades ago, ShareASale has made a name for itself as one of the top affiliate networks for small businesses. It was later acquired by the Awin group in 2017, and has since served as an associate of the larger Awin affiliate marketing platform. 
Whereas Awin is one of the best ecommerce affiliate networks for brand-marketer partnerships, ShareASale caters to merchants and their affiliate partners. 
You can think of it as the Awin equivalent for small businesses, startups, solopreneurs, as well as traders who are perhaps trying to grow after buying an existing ecommerce website. 
The platform is now home to about 16,000 ecommerce merchants, who deal in all sorts of products. 
They use its simple tools to create over 260 custom referral programs every day, which go on to link them up with affiliate partners from all walks of life. 
You could also use filters to discover the right merchants to partner with, the most profitable niche products, and the best-performing sellers. 
Then when you're done, ShareASale will hand you tools for creating affiliate marketing campaigns, tracking links, monitoring sales, and growing your affiliate income. 
✅ Cookie durations: Differs from one affiliate program to another. 
✅ Commission: Merchants offer varying affiliate commission rates. But, overall, you can expect about 10% to 25% on most of the products. 
✅ Payments: Affiliate commissions are paid out monthly via Payoneer, wire transfer, direct deposit, plus check. And to qualify, you must have an account balance of at least $50. 

Pros
Accommodates all types of content creators. 
Offers affiliate marketing tools. 
Comes with affiliate tracking software. 
Processes payouts via direct deposit, wire transfer, check, and Payoneer. 
Supports both Pay-Per-Lead and Pay-Per-Sale commission models. 
Long cookie duration
Hosts about 16,000 ecommerce merchants. 
Free signup

Cons
Has a minimum payout threshold of $50. 
Payouts are only processed once a month. 
The user interface might feel a bit outdated. 
The knowledge base lacks adequate technical information about the platform.
How to Choose the Best Affiliate Network / Program for You
To choose the best ecommerce affiliate program or network, we'd advise you to evaluate each prospective platform as follows:
Target audience: Who will you be targeting in your affiliate marketing campaigns? What are their main product interests and pain points? 
Area of specialization: Which industry do you specialize in? What type of products can you seamlessly integrate into your website? 
Marketing strategies: How do you intend to promote the affiliate products? Where will you be publishing the affiliate links? 
Registration criteria: What are the requirements for new signups? Do you need an online store, blog, or social media account? What are the cost implications? 
Credibility: Has the affiliate marketing platform hosted any reputable global brands? What are current and past users saying about it? What are its ratings across reputable user review sites? Does it seem like a legit platform?
Cookie duration: Is the cookie length aligned with your target audience's customer journey? 
Commission: What customer actions will you be earning affiliate revenue from? How much commission do you stand to earn in each instance? Is the rate fixed or variable? Do you still earn a commission on the subsequent actions taken by referrals? What requirements must your referrals meet to be qualified as commissionable customers?
Affiliate marketing resources: What complementary affiliate tools do you get with the ecommerce affiliate marketing program? Can the affiliate platform accurately track your links, clicks, and sales progress? What type of technical affiliate support is available on the platform? How responsive is the affiliate support team? 
Key Things Affiliate Marketers Should Avoid
Affiliate marketing is pretty rewarding if you play your cards right, but also easily fallible if you overlook the common pitfalls. 
Try to avoid the following:
❌ Promoting any product that you don't adequately understand. 
❌ Prioritizing the commission rates over product relevance and quality.
❌ Not focusing on providing value with quality content and warming the audience to the affiliate products. 
❌ Disregarding the terms and conditions of the ecommerce affiliate program. 
❌ Using search affiliates that bid against your own organic search terms. 
❌ Overpopulating your content pages with affiliate links.
Summary
There's no such thing as the overall best ecommerce affiliate program. 
Our recommendation is don't restrict yourself to one affiliate network or program. Try to test out different options from the exhaustive list that we've given you. 
Another thing to keep in mind is, the outcome of your affiliate marketing efforts depends on so much more than just your affiliate program choice. 
Securing the best ecommerce affiliate programs is only the beginning and you still need to make sure you can promote and convert the products. It's all an intricate web of interdependent ecommerce factors. 
FAQs
What is an ecommerce affiliate program?
An affiliate program is an online marketing strategy in which an online retailer pays commissions to external websites or individuals for driving sales by posting referral links.
Which ecommerce platform is best for affiliate marketing?
Which affiliate program pays the highest?