Picking how you want to sell your products online isn't as simple as it used to be. With many different platforms and online marketplaces, it's easy to feel you might be missing out.
Two of the most popular places to sell online are through Amazon or a Shopify webstore.
Shopify is one of the world's most widely used ecommerce platforms with more than 4 million online stores, and Amazon is the biggest marketplace on the internet with 2.2 billion visitors in April 2023.
If you're weighing the pros and cons of Shopify vs. Amazon, this comparison guide will help you weigh the cost of building an ecommerce store in order to determine the best choice for your business. 
Learn more about the differences between Amazon and Shopify when it comes to:
Fees
POS and Ecommerce options
Website features
Security
Customer Service
Let's get started.
 
Fees
❌

Shopify fees can add up, especially if you have lots of third-party apps

❌

Amazon's per-item fees for individual plans are high, and so are some category fees

Processing and payout
✅

Three days

❌

Amazon pays sellers every two weeks + three to five days for funds to be available

Website features
✅

Free templates, blogging, and email marketing

❌

Almost no design flexibility for product or store pages; no blogging

Ecommerce features
✅

Unlimited products, better shipping options, and more robust inventory management and integration

✅

Large customer base; Fulfillment By Amazon means less overhead

Security
✅

PCI-compliant, SSL

✅

PCI-compliant, SSL

Integration and setup
✅

Thousands of apps and more native integrations

✅

Integrates with many platforms

Customer service
✅

24/7 live rep support

❌

Limited
| | |
| --- | --- |
| Pros | Cons |
| No contracts | Limited product page customization |
| Fulfillment By Amazon takes care of warehousing and shipping products | Fees for each item sold on the Individual plan are high compared to other marketplaces |
| Large customer base | Lots of competition from other sellers  |
| Easy to start selling | Fees are highly variable |
|   | Some category fees are as high as 45% |
Founded in 1994 as an online bookstore, Amazon has grown into one of the largest companies (and online marketplaces) in the world.
Companies that want to tap into Amazon's large customer base can sell on Amazon and handle the logistics themselves, or they can use Fulfillment By Amazon to have an Amazon warehouse and ship their items.
Shopify Overview
| | |
| --- | --- |
| Pros | Cons |
| No contracts | Limited number of free templates |
| Exclusive shipping rates and features | Editing templates can be time-consuming |
| Thousands of apps available | Shopify Payments is only available in 23 countries |
| Comes with built-in integrations with other marketplaces | No built-in members areas |
| Accept payments in 132 currencies | No native scheduling or appointment booking |
| Ecommerce stores can be used in 175 countries | Membership fees are higher than some other platforms |
Shopify is one of the world's most popular ecommerce platforms. Shopify offers store owners many features that help them sell, including payment processing through its own PayPal alternative called Shopify Payments, POS systems, hardware, and websites. 
In addition to the platform's built-in features, thousands of apps integrate with Shopify.
They're useful for customizing the look of online stores, integrating shipment systems, and more. 
Shopify vs. Amazon Cost Comparison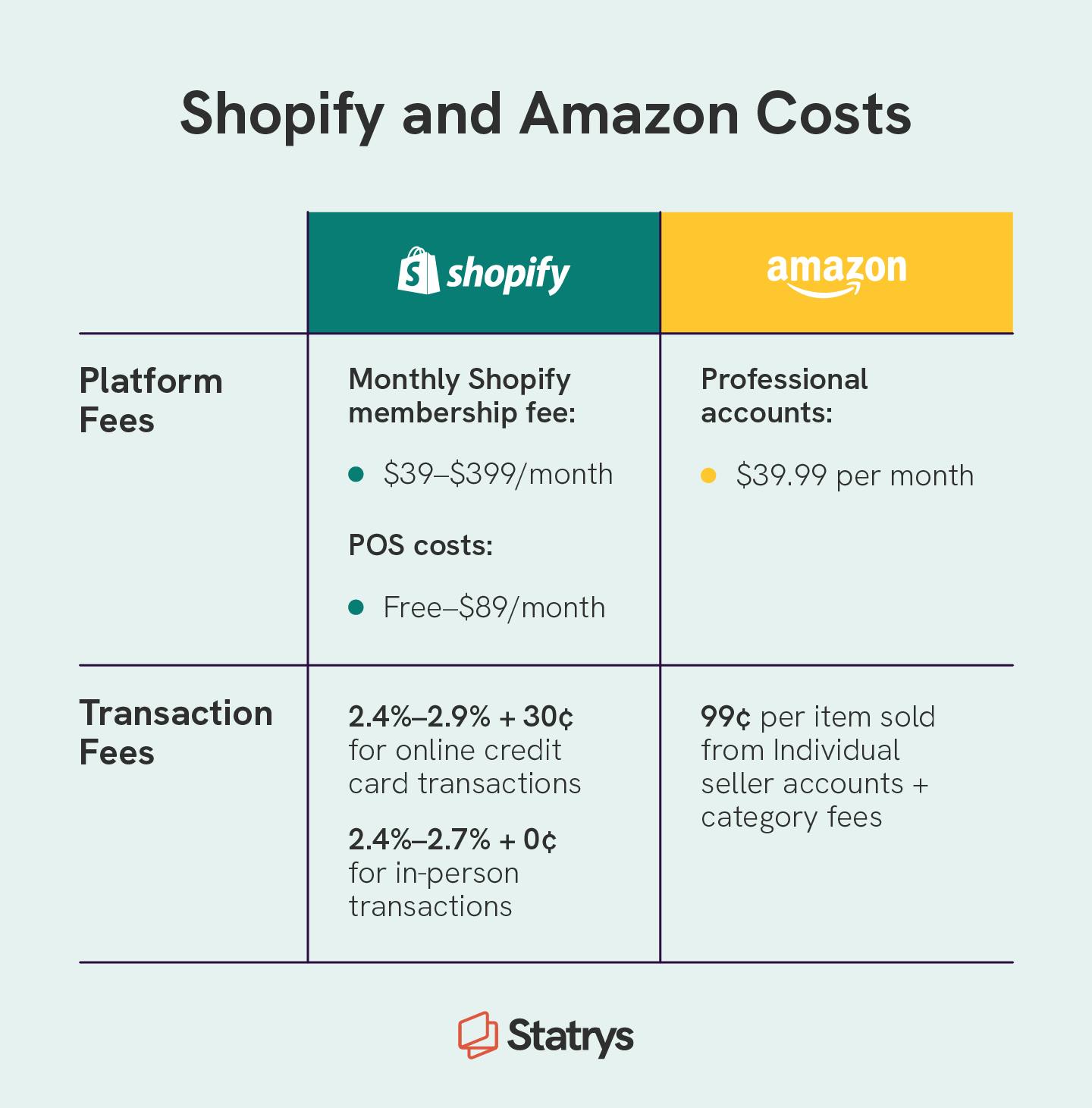 When you create a Shopify account, you can choose from three different memberships that range in price from $39 to $399 per month: Basic, Shopify, and Advanced.
The higher-cost plans provide more features for your store, a larger number of user accounts, and lower rates on transaction fees.
Amazon's monthly fees are determined by the plan you sign up for — Individual or Professional — and run from $0.99 per item sold (plus other fees) on the Individual Plan to $39.99 per month for the Professional Plan.
The highly variable nature of Amazon's fees can make it difficult to nail down your exact monthly costs.
In addition to the monthly account charges, Amazon and Shopify each have other fees, including transaction fees.
Transaction Fees
∙ 2.4%-2.9% + 30¢ (online credit card rates)



∙ 2.4%-2.7% + 0¢ (in-person credit/debit card rates)

∙ 99¢ per item sold on Individual plan 
Shopify Payments is included in the price of a membership. Higher-tier plans also come with reduced credit card fees.
If needed, you can add other payment methods to your store. However, Shopify charges a transaction fee if you choose not to use Shopify Payments. 
Foreign Currency Exchange Fees
It may be worthwhile to accept other currencies because it allows you to expand your reach into other countries.
Accepting local and international payments is possible with both Shopify and Amazon, but you'll pay for foreign currency exchanges. 
The foreign exchange fees from Shopify Payments are 1.5% in the U.S. and 2% in all other countries.
Sellers can use the Amazon Currency Converter for Sellers to send currencies from multiple stores across the globe to a single account.
Fees vary based on the revenue your company makes through Amazon each year.
Other Fees
In addition to the membership fees you pay to Shopify, you may have to pay for the apps you integrate into your online store.
Some apps charge a subscription fee, while others are available for a one-time fee.
Amazon charges category referral fees for every item sold. These fees range from a flat fee of $0.30 per item to 45%, depending on the product category.
There are also fees for storing inventory in Amazon's warehouses, fees for high volumes of items that haven't sold in 12 months or more, and costs for Fulfillment By Amazon services vary in price but sellers can use Amazon's calculator to get an estimate.
Processing and Payout
When you use Shopify Payments or another integrated processor, your customers can check out quickly and securely. Shop Pay (a customer-facing product) allows people to create accounts for faster checkouts (which could help improve conversions). 
Payouts from Shopify Payments are usually available within three business days. 
Amazon sends payments to sellers every two weeks.
Once they send the payment, it can take another three to five days to hit your bank account. Express Payout allows for faster payment if your bank is within the network. 
Chargebacks and Disputes
In the event of a chargeback, Shopify will charge the store owner a $15 fee, which is refunded if the store wins the dispute.
Once a dispute is filed, the customer and the store must submit documentation to Shopify's dispute resolution department.
It can take up to 75 days for Shopify to make its ruling. If a store has a large number of disputes or chargebacks, Shopify has the right to shut that store down and cancel the owner's account.
If a customer returns an item sold through Amazon, Amazon will decide whether or not to refund the customer. This process can take a few days, which is one reason Amazon delays payouts to sellers.
If you accept Amazon Pay on your website, chargebacks cost $20, require you to submit relevant documents within 11 days, and will be decided within 90 days. 
Shopify vs. Amazon Website Features Comparison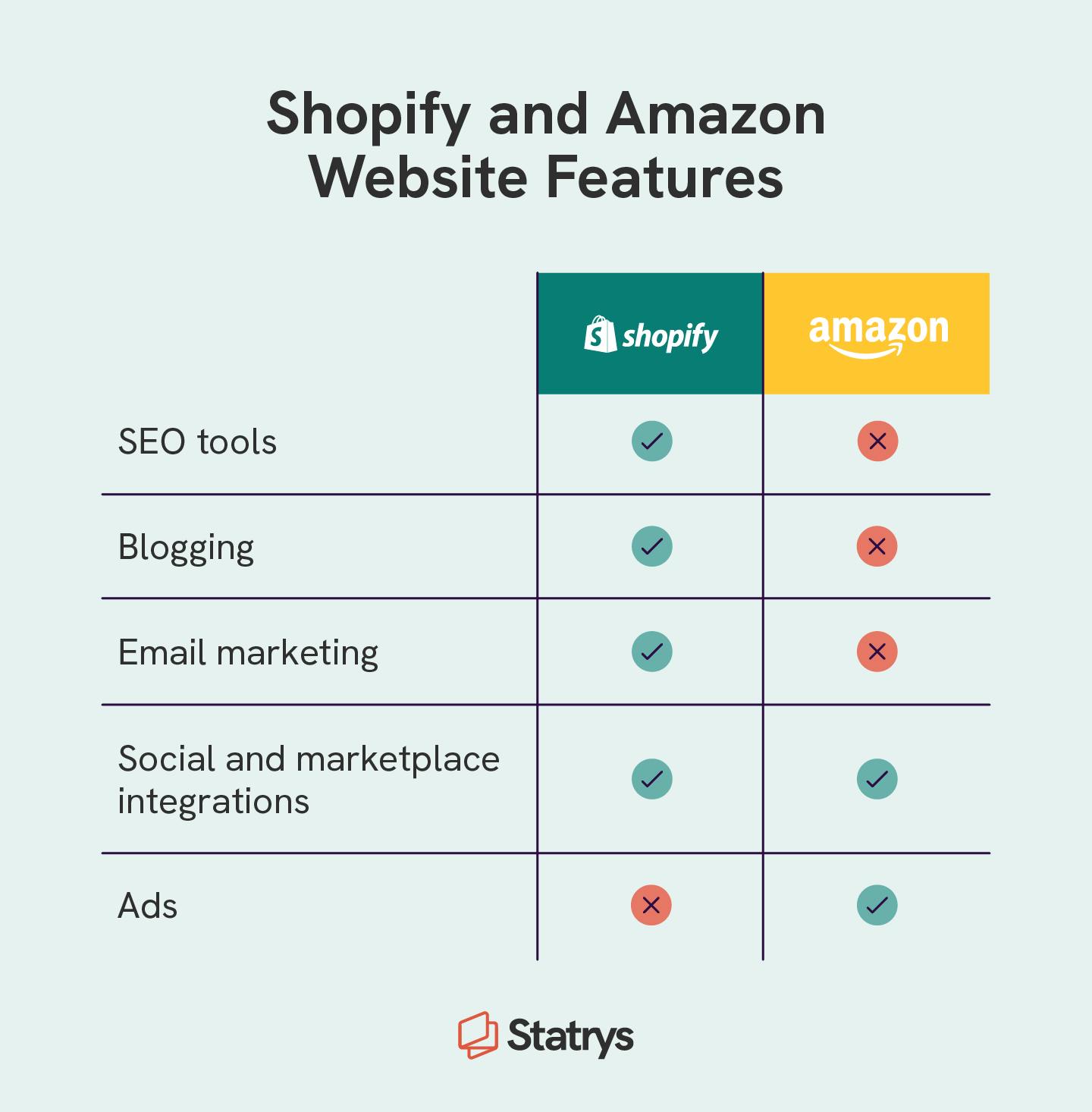 There aren't many platforms with the reach or power of Shopify, but that doesn't mean it's the easiest platform for creating and running an ecommerce store.
If you want to create custom pages or change existing templates, you'll probably have to download and pay for several other apps.
Some of these apps aren't exactly user-friendly, either, meaning you might have to get help from a professional developer or designer.  
Where Shopify excels is in product management. The platform lets you edit and upload products in bulk, integrate directly with your dropshipping partners, clone stores, and create nearly limitless variations of products.
Other notable features of Shopify's platform include:
Thousands of third-party apps: If you need a functionality that isn't native to Shopify, someone has likely built an app that can solve your problem. From layout and design changes to adding review and social media functionality, the available apps cover almost everything your business could need to sell and interact with customers online. But many apps aren't free and could increase how much you pay for the platform each month. 
Easy store updates: One of Shopify's biggest selling points is that it lets you start selling your products fast. The basic templates available for free allow you to add product photos and descriptions easily, but if you make a lot of changes using apps, it could make the process more difficult. 
Email marketing: Shopify email marketing is built into the platform and connects to your store with little effort. Its system provides reporting features and templates you can customize with your branding. If you use another email marketing software, check the Shopify app store to see if it integrates with your ecommerce store.
Blogging capabilities: Shopify has built-in blogging with tagging and SEO features. 
Integrations with other programs and platforms: With Shopify, there are many ways to integrate other systems to better manage customer records, inventory, and even shipping.
Shopify Websites
| | |
| --- | --- |
| Pros | Cons |
| Launching a store is easy and fast | Customization can be expensive and time-consuming  |
| Shopify allows you to customize many site elements | Many Shopify templates are not free |
| Most plans allow for almost unlimited products | App costs can add up |
| Connect with social networks and online marketplaces with ease | Blogging capabilities are limited compared to other platforms |
| Integrate other systems like CRM |   |
| Ecommerce stores can be used in 175 countries | Membership fees are higher than some other platforms |
Where Shopify excels is where Amazon doesn't. Because Amazon is a marketplace and not a platform for sellers to create their own ecommerce stores, it tightly controls the style and layout of product listings. It also doesn't offer blogging or email marketing. 
You can, however, run ads using Amazon. Given the size of its customer base, that can mean a great deal of exposure for your business — but competition is stiff.
Amazon Product Pages
| | |
| --- | --- |
| Pros | Cons |
| Familiar and recognizable | Limited product page layouts |
| Relatively easy to set up products | No blogging features |
|   | No email marketing |
Amazon vs. Shopify Security Feature Comparison
Amazon and Shopify provide security features for your customers and your business, including:
SSL certificates: These digital certificates create an encrypted connection to a site. They show search engines and web browsers that your website is authentic.
Fraud detection: Designed to stop fraudulent orders from even being placed, Fraud Filter can limit the number of chargebacks and disputes your ecommerce store has to deal with.
PCI compliance: The Shopify platform meets or exceeds standards set by the Payment Card Industry Data Security Standard (PCI DSS), which was created to help protect financial data and reduce fraud.
Both Amazon and Shopify actively monitor their security and follow data privacy laws like the ​​General Data Protection Regulation.
Security Features
| | | |
| --- | --- | --- |
|   | | |
| SSL Certificates | | |
| PCI Compliance | | |
| Fraud Protection | | |
Amazon and Shopify Customer Service Feature Comparison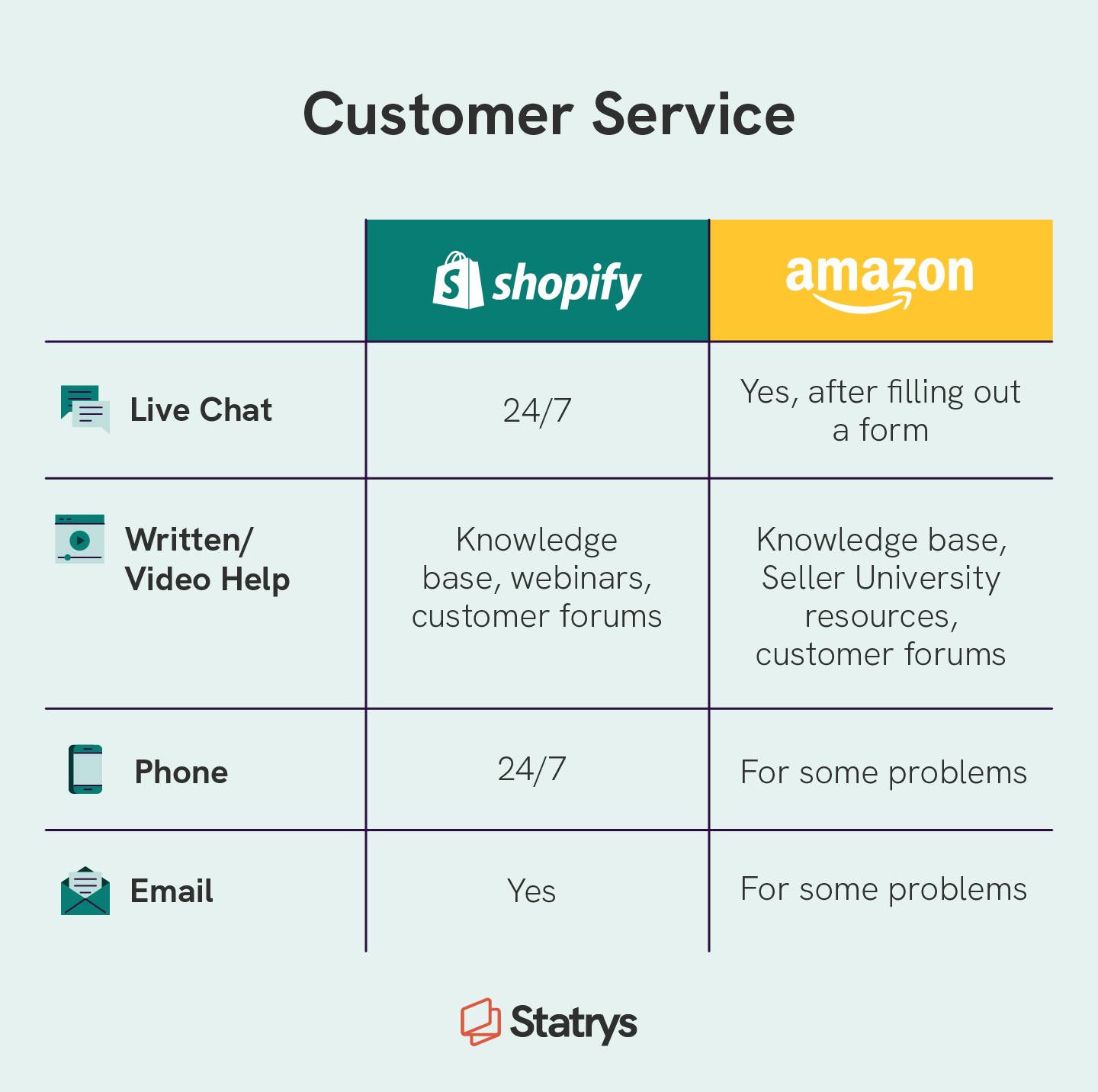 Shopify offers 24/7 support through phone and live chat. It also has customer forums, webinars, and a knowledge base to help you familiarize yourself with the platform. Billing support is only available through email.
Amazon has a range of support options, including a thorough knowledge base, a collection of resources called Seller University, and forums.
If you need further help, phone support is available, but finding the proper number to call can be challenging.
You can instead fill out a form in your Seller Account, and a member of Amazon's Seller Support team will contact you by email within a day. If you request urgent phone support, they will usually reach out within a day.  
With knowledge about the differences between Shopify vs. Amazon, weigh the pros and cons of building your own online store (which may have more costs than you think) and selling through Amazon's marketplace (with its limitations on how you present your products).
You might even consider doing both — selling on your own store and through Amazon is one way to maximize sales potential and increase brand reach.  
FAQs
What's the difference between Shopify and Amazon?
Shopify is a platform that lets you create a customizable ecommerce store. Amazon is an online marketplace that allows third parties to sell their products. 
Is Amazon or Shopify better?
Can I sell the same product on Amazon and Shopify?