5 Best Payment Gateways in China in 2023
In 2022, the total value of China's ecommerce transactions surpassed 43.83 trillion yuan, which is roughly 6 billion dollars. 
China is the second-largest economy globally based on GDP. Most importantly, McKinsey's report points out that its consumption continued after the pandemic thanks to the growing upper-middle to high-income classes.
Notably, China is a cashless economy, and central to its commerce is mobile payment, with 85% of Chinese mobile shoppers preferring mobile payment. 
This article will list all the top payment gateways with the preferred payment methods among online shoppers in China.  
What Is a Payment Gateway? 
A payment gateway is an interface that links ecommerce platforms to payment services, ensuring secure financial transactions.
In essence, when a customer enters their payment details on a site to make a purchase, the gateway validates the provided information and checks for available funds. 
If the information is validated, the funds go to the merchant. If declined, the customer retains their money. This process protects both sides by only transferring funds upon verification. 
📖 Tip: Read our payment gateway guide for more details about what it is, its types, and how it works.
 
Supported Countries
Mobile Payment
Service Hours
 

50 countries

9:00-18:00

UTC+8
Monday to Sunday
(Business support)

24/7 Technical support
 

69 countries

9:00-18:00

GMT+8


Monday to Friday 

174 countries and regions

24/7 Hotline

N/A

24/7 Hotline

N/A

8:00 – 22:00
Monday to Sunday (Beijing time)
🔎 Note: All information provided is dated 7 September 2023 and may have been updated since. Please check each payment gateway's website for the latest information.
1. Alipay Plus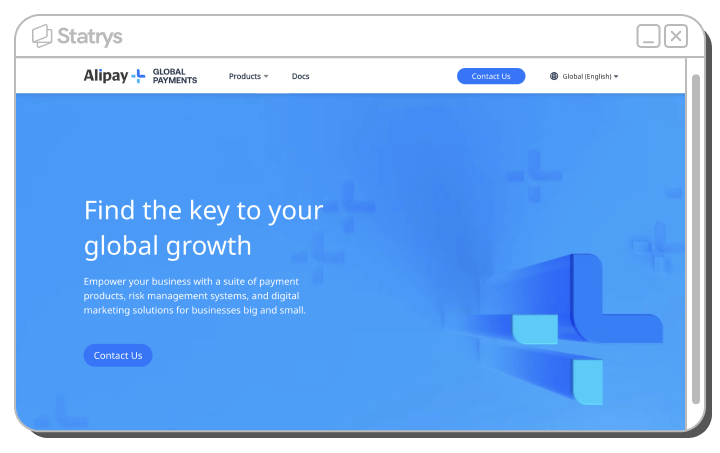 Leading China's top digital payment service is Alipay e-wallet, owned by Jack Ma's Ant Group and labeled as China's super-app (alongside WeChat), thanks to its comprehensive capabilities. 
It has worked with over 200 financial institutions since 2004 to offer convenient payment solutions. Nowadays, 93% of Chinese customers are using Alipay.
Initially establishing dominance within mainland China and then a localized "Alipay HK" tailored to Hong Kong, it is now launching "Alipay for Global Business" and "Alipay Plus Global Payments." 
Alipay Plus provides a payment platform for businesses, accepting Alipay e-wallet, major credit card providers, and other popular payment methods worldwide. 
Alipay Plus Top Features
Checkout payment with coverage for worldwide customers
"Easy Pay" checkout page flow, which eliminates redirections
"Auto Debit" which is a payment pre-authorization feature that drives repeated purchases 
Combined payment feature available 
Payment marketing and Alipay+ Rewards to boost customer satisfaction
Compatible with various devices, such as mobile PC and TV 
API and SDK available 
Alipay accepts the following currencies for its cross-border and in-store payment solutions: GBP, HKD, USD, SGD, JPY, CAD, AUD, EUR, NZD, KRW, THB, CHF, SEK, DKK, NOK, MYR, IDR, PHP, MUR, ILS, LKR, RUB, AED, CZK, ZAR, CNY.
Alipay Plus Accepted Payment Methods 
Alipay Plus Global Payment lists over 60 payment methods, which cover Asia Pacific, Europe, and Latin America preferred channels.
For example:
Digital wallet: Alipay, AlipayHK, Kakao Pay, Gcash, etc. 
Credit cards: UnionPay, Visa, Mastercard®, American Express, Discover, Diners Club
QR Codes
Bank transfer 
Online banking 
Alipay Plus Key Usage Fees
Alipay and Alipay Plus have different service rates depending on how and where users access their services.
Pricing and fees can be viewed through your Alipay Merchant Account in the Merchant Portal, according to Alipay Documentation.. 
However, for cross-border payment products, the standard fees for website and app access to Alipay's payment services are as follows:
| | |
| --- | --- |
| Transaction value (RMB) | Applicable rate per transaction (current calendar month) |
| Less than 1 million yuan | 2.2% |
| Between 1 million and 3 million yuan | 2%  |
| Between 3 million and 10 million yuan | 1.8% |
| Greater than or equal to 10 million yuan | 1.6% |
This outlines standard pricing to use as a reference. However, actual costs for your offline and online business may include additional applicable fees (such as merchant processing fees and more) and could differ from these numbers. 
You will be quoted after you successfully register a merchant account with Alipay. 
Alipay Plus Pros and Cons

Accepts popular payment options, both domestic and international
Detailed developer resources are available online in both Chinese and English

Alipay requires Chinese residents' authentication for overseas in-store payments. Passport-only users will encounter errors.
2. WeChat Pay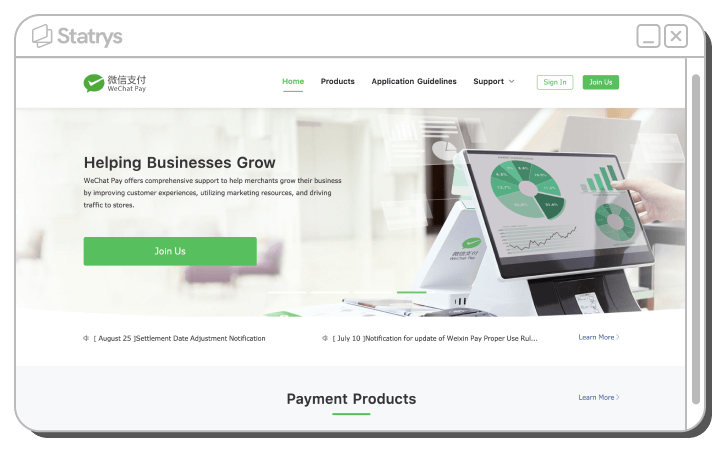 WeChat is a multi-functional app that combines messaging, social media sharing, and mobile commerce capabilities. It was developed by the Chinese tech giant Tencent.
WeChat Pay is a payment feature within the app with hundreds of millions of daily active users, establishing it as one of the country's most popular payment methods, used by 86% of customers in China. 
It supports various payment options, including quick pay, QR code scanning, web-based payments within apps, and native in-app payments. 
WeChat Pay also facilitates international transactions by allowing settlement in major foreign currencies, even when payments are made in Chinese yuan. 
WeChat Pay Top Features 
Integration with the WeChat platform
A popular method of payment in China using a QR code
A custom clearance product available in addition to payment products
16 currencies supported for quick pay, QR code, and in-app payment. This includes GBP, HKD, USD, JPY, CAD, AUD, EUR, NZD, KRW, THB, SGD, RUB, DKK, SEK, CHF, NOK
26 settlement currencies: USD,HKD, EUR, GBP, JPY, THB, CAD, KRW, AUD, SGD, NZD, RUB, CHF, SEK, DKK, NOK, AED, TRY, MOP, TWD, CZK, MYR, PHP, IDR, MNT, QAR
WeChat Pay Accepted Payment Methods
Quick Pay
QR Code Payment
In-App Web-based Payment
In-App Payment
Mini Program Payment
WeChat Pay Key Usage Fees
No information is available online. Please contact WeChat via WeChat Pay Contact Us page
WeChat Pay Pros and Cons

Widely used by Chinese consumers
Support domestic and international business
A unique customs clearance product 

WeChat Pay supports overseas merchants via direct agreements for fund settlement, but this "Direct Merchant" service currently only supports merchants registered in Hong Kong.
3. UnionPay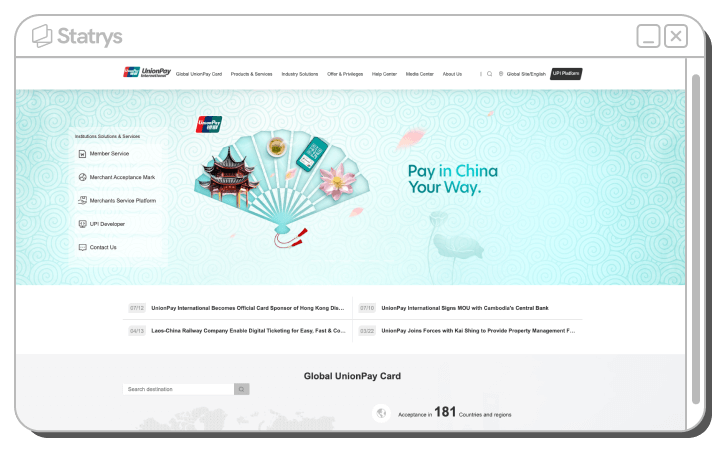 UnionPay, or China Union Pay, is a financial services corporation owned by the Chinese government. Hence, all the biggest banks in China have an association with it. It is the leading card payment in China, surpassing providers like Visa and Mastercard®. 
UnionPay also has UnionPay International (UPI), a subsidiary that focuses on the growth and support of UnionPay globally. 
UnionPay International is accepted in 181 countries and regions and supports mobile payment in 99 countries and regions. 
For business, UnionPay provides the UnionPay Merchants Service Platform and UnionPay International Developer, which offers payment products and API solutions. 
UnionPay Top Features
Wide acceptance domestically and internationally
All ATMs within mainland China accept UnionPay cards
UnionPay QR code payments can be made at over 30 million merchant locations across mainland China. It is also accepted in 44 other countries and regions
App users enjoy tap-and-go contactless payments at more than 7 million point-of-sale terminals across 82 different countries and regions
UnionPay Accepted Payment Methods
UnionPay Card
UnionPay QR Code
UnionPay Key Usage Fees
For merchant services, UnionPay charges a percentage of the commission fee subject to categories. Please inquire UnionPay Help Center for merchant more information. 
UnionPay Pros and Cons

Wide acceptance domestically and internationally
Extensive product choices for developers

Merchant support is only available in Chinese
4. PayEase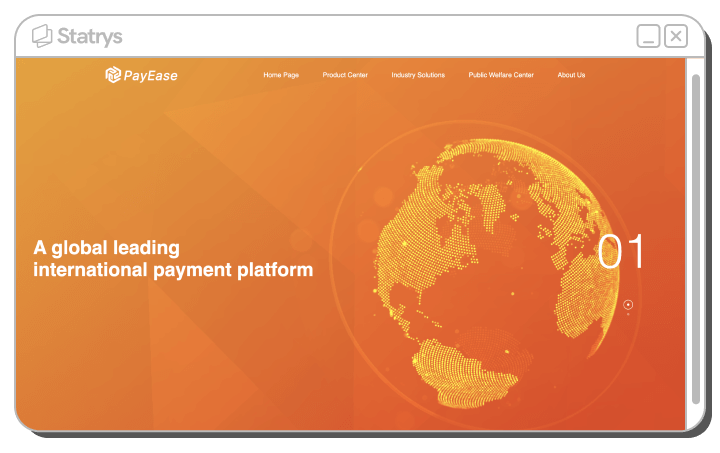 PayEase provides third-party payment services in China and abroad, with the main products being internet payment, mobile payment, and cross-border payment.
It partners with corporate banks like China UnionPay, China Construction Bank, and Bank of China. 
Moreover, PayEase has developed industry-focused solutions tailored for niches like education and training, aviation tourism, and cross-border ecommerce and collections. 
It has 300 billion transactions annually, with 24000 merchants using its services. 
PayEase Top Features
Internet payment catering to both B2C and B2B payment
Mobile payment
Customized services according to client's needs with technical support
Supports quick access via app, HTML5, WAP, desktop, and SDK interfaces
PayEase Accepted Payment Methods
Credit and debit cards
International cards, including Visa, Mastercard®, American Express, JCB, Discover, Diners Club
Mainstream mobile payment, including Alipay and WeChat Pay 
QR Code
PayEase Key Usage Fees
No information is available; please contact PayEase directly through the contact listed on the PayEase About Us page or through its email cs@payeasenet.com 
PayEase Pros and Cons

Customized solutions and industry-specific solutions available

Limited online resources in English
5. 99Bill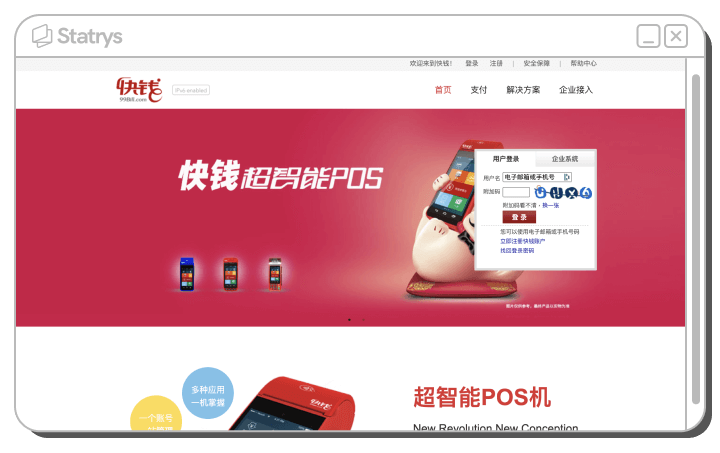 99Bill is another leading third-party payment service provider in China, with e-payment licenses from the central bank and strategic partnerships with 50+ financial institutions.
Its services support internet, mobile, and POS terminals, as well as electronic payments through various bank cards and major international cards, totaling around 3 billion domestic and international bank cards.
99Bill has over 103 million registered users and over 2 million registered merchants.
99Bill Top Features
Cross-border mobile payment feature, enabling Chinese customers to make purchases from overseas retailers and proceed through mobile payment
Gives international online merchants the ability to accept payments in Chinese renminbi (RMB)
Reseller and merchant mode designed for ecommerce business owners
Express checkout, allowing customers to securely pay with their 99Bill account password without re-entering credit card details, cutting the process short and encouraging repeated purchase
99Bill Accepted Payment Methods
RMB currency-based payment methods 
Bank cards and international cards 
QR codes
99Bill Fees
No information is available online. Please contact 99Bill via the 99Bill Contact Us page or via 99sale@99bill.com for more information.
99Bill Pros and Cons

It focuses on helping the cross-border ecommerce market

Limited online resources in English
Criteria for Selecting the Best Payment Gateways 
To clarify how we arrived at these five solutions as the best payment gateways in China, here is a breakdown of what to look for when picking a payment gateway. 
Security Measures
Any data breach risks disrupting operations, compliance, and reputation. Most critically, it jeopardizes customer trust.
Look for robust protections, including the following:
Encryption of all data during transmission and storage with strong algorithms like AES and RSA.
Authentication of customers and merchants through passwords, PINs, biometrics, or other verification methods.
Fraud detection using monitoring of transactions and real-time alerts.
PCI DSS (Payment Card Industry Data Security Standard), a security standard for businesses that handle credit card information.
Regulatory compliance with relevant Chinese laws and regulations, particularly Chinese anti-money laundering law.
💡 Tip: Want to learn more? Check out this list of best security services for ecommerce websites.
Ease of Use
70% of shopping carts are abandoned, and one of the common cart abandonment reasons is a complicated checkout process.
Therefore, ease of use should be on your list of considerations. 
A clean, intuitive interface that supports popular payment methods, currencies, and languages can improve customer experience and increase checkout conversion rates.
Similarly, a well-designed dashboard can help you to implement payment processing efficiently.
Customer Support
Many potential issues can come up when using a payment gateway service, like disputes, refunds, and operational issues. Just imagine if your checkout page crashed during a sale.
Reliable customer support is a must.
The payment gateway provider should offer extensive support via multiple phone, email, and live chat channels. It'd be ideal if support is available in your language as well. 
Integration Capabilities
Lastly, when choosing a payment gateway in China, consider its integration capabilities with your platform. 
Look for a gateway that provides
API support: An application programming interface (API) used to connect and exchange data between your platform and the payment gateway provider's system.  
SDK: A software development kit (SDK) helpful for customizing the gateway functions.
Documentation: Documentation is a set of guides that explains steps to use each of the provider's products, including the API and SDK. 
Technical support: In case of specific issues, a technical support team should be ready to assist you. 
Final Thoughts
That's everything from our lineup of highlights! 
In summary, if you want to attract customers and drive sales in China, set up a payment gateway that supports mainstream mobile banking options, specifically Alipay and WeChat Pay. 
If you wish to cater to a more traditional payment method like a card, then your first choice should be a gateway that accepts the UnionPay card, which is the most used card among Chinese consumers. 
FAQs
What payment method is the most popular in China?
Mobile banking is the most popular payment method in China. Most Chinese people pay by scanning QR codes or in-app payments via Alipay and WeChat Pay.
What is the most popular payment gateway in China?
How can I integrate China's payment gateway into my ecommerce website or app?
What is the benefit of using Chinese payment gateways?
What is the challenge of using Chinese payment gateways?