10 Best Payment Gateways for Hong Kong Businesses
6. Octopus App for Business
What is a payment gateway?
A payment gateway records and transfers payment data entered from a customer onto the website from which they are making a purchase.
Using the technology involved, the customer is then notified whether their payment has been accepted or declined.
If the payment is declined, the funds are transferred back to the customer. 
The function of a payment gateway is to securely validate and authenticate the financial information a customer provides to ensure that the right amount of funds is available for the merchant to successfully receive a payment.
In doing so, payment portals act as an interface between a merchant's website and its acquirer.
All payment details and personal information are passed securely from the customer to the acquiring bank via a merchant account.
Many merchants and e-commerce business owners prefer to use a payment gateway as it allows them to increase their sales, boost their level of innovation and drive business growth.
Having a variety of payment methods available for customers to choose from your website gives them more flexibility and convenience, encouraging them to make a purchase.
📖 Want to learn more? Discover the different types of payment gateways with our comprehensive guide.
What are the best payment gateways for Hong Kong Businesses?
1. Stripe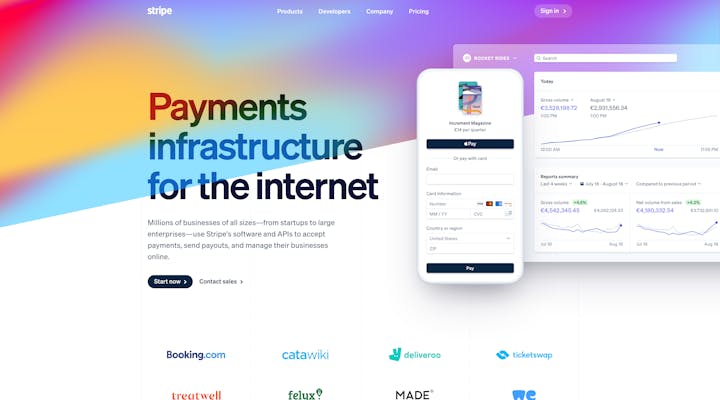 Stripe is a leading payment gateway in Hong Kong, mainly due to its customizable nature.
Through Stripe, you can tailor the payment gateway provided so it is in line with your website.
This is a huge selling point compared to other payment gateways that usually have a structured checkout template or end up sending customers to another website to make their payment and complete the order.
Stripe allows you to build a payment gateway that is easy to navigate and also fits the aesthetic and branding of your website.
Other benefits of using Stripe include its subscription management and recurring payment processing features.
Stripe also assists companies in tackling fraud, sending invoices, getting finance, and managing business spending.
Get started with Stripe integration by following our comprehensive guide!
💡 Did you Know? As of 2020, Stripe has over 1500 merchants in Hong Kong using their payment solutions ranging from SMEs to large corporations.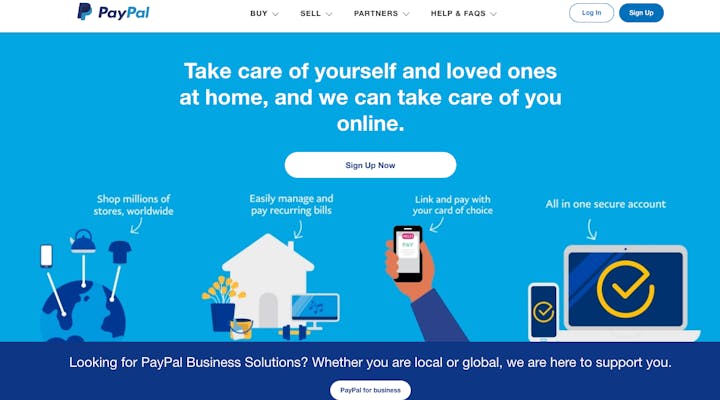 PayPal Commerce Platform is used to process payments for e-commerce businesses for millions of companies.
A major advantage of using Paypal is that regardless of the size of your business, the PayPal Commerce Platform can be used and integrated into your website.
Over the past few years, PayPal has also developed a reputation for being a trusted payment processing company.
Therefore, companies are encouraged to use PayPal and benefit from it being free to join.
Additionally, using PayPal as a payment gateway gives customers the confidence that they are entering their personal and financial information onto a secure payment platform.
Learn about the fees and requirements for Paypal Business Accounts in Hong Kong with our blog.
💡 Did you Know? According to Statista, PayPal has over 8.2 million active accounts in Hong Kong as of 2021.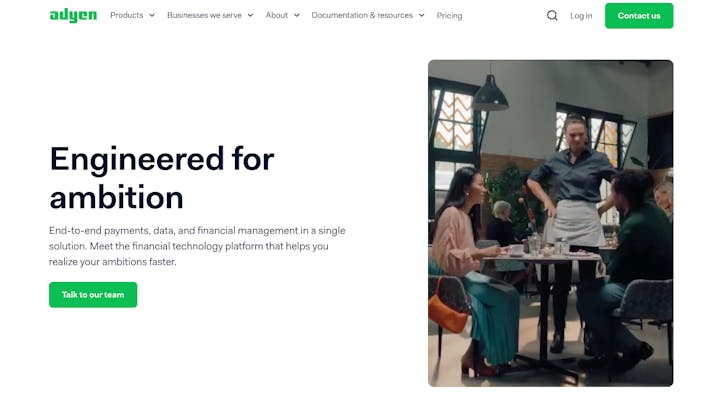 Adyen is a global payment gateway that offers a unique service.
Through Adyen, international merchants can use domestic payment methods without having to be a company set up domestically.
This is extremely beneficial for more prominent merchants that have an international brand and customers from all over the world.
Adyen has also built a reputation for being a secure payment gateway.
If a business is ever sent an unauthorized payment or a buyer claims that they never received an item, Adyen's Seller Protection covers the business from the full amount of the eligible payment.
Adyen is argued to be similar to PayPal, reviews suggest that what sets Ayden apart is its exceptional customer support compared to other payment gateways.
4. AliPay
Alipay is a digital payment platform founded in 2004 by Alibaba Group, created to facilitate online transactions and enable people to make payments virtually.
They are currently the world's largest mobile payment app with users ranging from more than one billion worldwide.
Alipay is popular in Hong Kong as it allows businesses to conveniently integrate with the mass Chinese consumer market.
Alipay has a simple and user-friendly interface, allowing users to have a stress-free experience when making purchases.
On top of that, they offer competitive transaction fees, which can be more affordable than other payment gateways.
💡 Did you Know? Alipay is a preferred payment choice for many Chinese consumers allowing for an easier purchase method for many Chinese consumers
5. WeChat Pay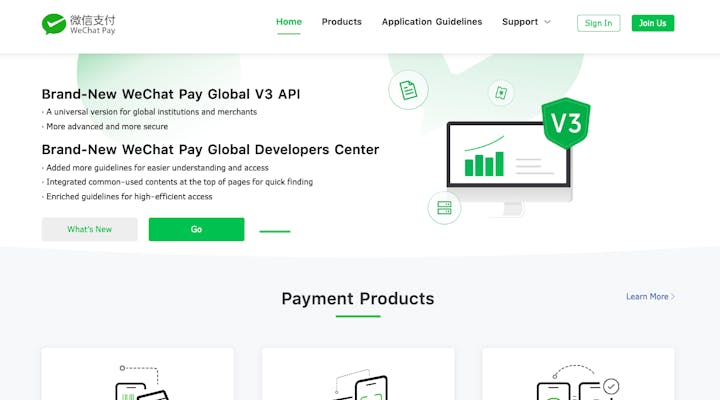 WeChat Pay is another single, global platform that accepts multi-currency payments from anywhere in the world and on any device.
It allows users to make direct payments from their WeChat Account using a linked bank card, it has significantly become more popular in China and nowadays has been a household payment gateway in Hong Kong.
Through WeChat Pay, users can easily make payments on mobile and enjoy a cashless experience.
Not only does this simplify a business' payment tools stacks but offers more flexibility for potential customers.
WeChat Pay also has excellent security features such as facial recognition, fingerprint authentication, and real-time transaction monitoring.
One of WeChat Pay's unique features for payments is users can make payments by scanning a QR code using the WeChat app, which deducts the payment amount from their linked bank account.
QR code payments are also a popular payment method in Hong Kong and are widely accepted by most merchants.
💡 Did you Know? WeChat Pay is the first choice for Hong Kongers to spend in China, accounting for 69% in terms of transaction volume and 76% in terms of transactions.
6. Octopus App for Business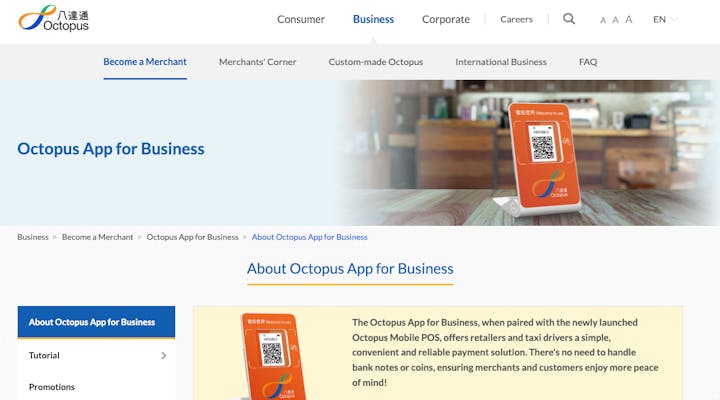 Octopus for Business is another popular payment platform in Hong Kong. First introduced in 1997 as a contactless smart card used for public transportation.
Today it has now expanded to include various range of payment options such as online B2B payments, retail purchases, Faster Payment Service (FPS), QR code payments, Octopus card payments, and even donations.
Over the years, Octopus payments have been widely used through public transportation, convenience stores, and fast food franchises, which allowed businesses to reach greater users and provide a better customer experience.
Octopus offers flexibility and provides special features which allow customers to benefit from a better experience.
Value-added services such as loyalty programs, promotions, and data analytics help businesses increase customer engagement and loyalty.
💡 Did you Know? There are over 7 million registered Octopus users in Hong Kong.
7. Checkout.com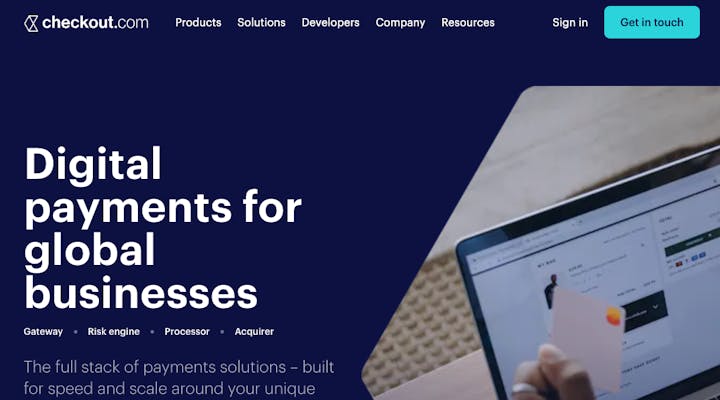 Checkout.com has become a popular payment gateway recently as the company has raised $380 million within a year and reached an extremely impressive valuation of $5.5 billion.
This payment gateway provides a one-stop shop for all things payment related ranging from accepting and processing transactions to detecting fraud and processing refunds.
So what makes Checkout different compared to other payment gateways?
Checkout only engages in enterprise and works with big merchants and operates solely online.
Since Checkout only works with a small number of big companies, it allows bigger enterprises to benefit from specialized customer service and tailored payment solutions.
8. AsiaPay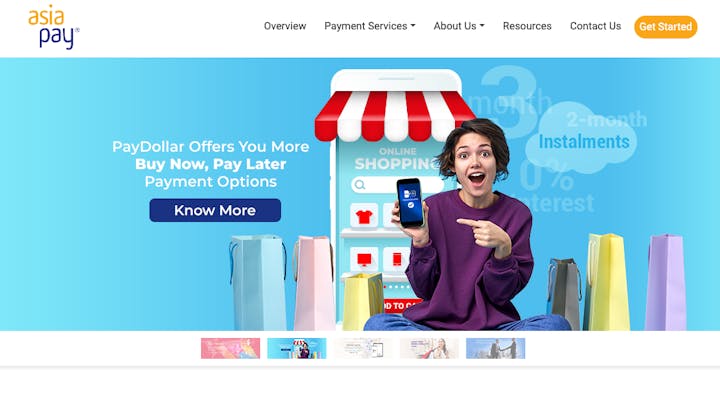 AsiaPay is a leading payment processor based in Hong Kong that mainly offers services to businesses operating within the country.
This makes AsiaPay a great choice for businesses that primarily sell to locals in Hong Kong.
AsiaPay uses Paydollar as its e-commerce payment processing service which accepts payments from up to 126 currencies.
Additionally, the payment processing service also accepts regular payment methods including credit and debit card payments from local banking services like China UnionPay and AliPay.
Since payments from China are widely accepted, AsiaPay is a good choice for businesses that sell within China.
💡 Did you Know? According to Statista, AsiaPay is one of the top three payment gateway providers in Hong Kong.
9. eWay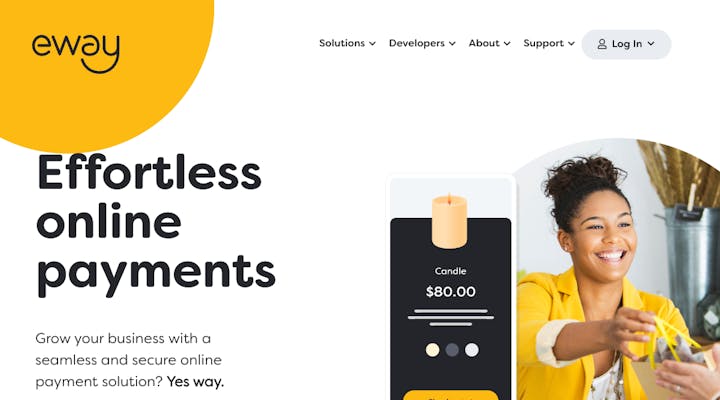 eWay is another payment gateway that has been operating in Hong Kong since 2009.
Originally, an Australian company serving primarily local businesses, they have now expanded to Hong Kong.
The process to register for eWay is extremely quick, allowing you to start taking payments within the next couple of days.
eWay offers multiple payment plans including a fee per transaction or an all-in-one plan with no monthly fee and both come with endless free online customer support.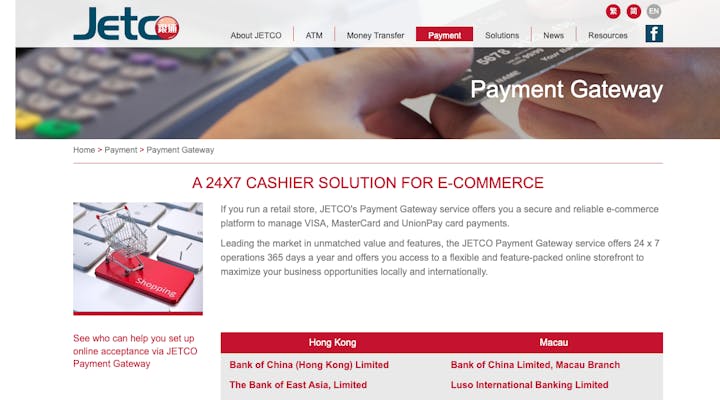 JETCO Pay is another popular gateway in Hong Kong that is supported by JETCO, a cooperation of banks in Hong Kong that provides payment services as well as infrastructure.
JETCO Pay provides a safe and convenient solution for users to make payments using their mobile devices, with an easy-to-use user interface.
To safeguard user data and prevent fraudulent transactions, JETCO Pay has strict and advanced security measures.
Widely accepted by merchants in Hong Kong including transportation providers, restaurants, and retailers.
JETCO Pay is also compatible with other payment gateways such as Octopus, Alipay, and WeChat Pay.
💡 Did you Know? As of 2021, JETCO Pay has over 2.5 million registered users and is accepted at over 40,000 merchant locations in Hong Kong.
Final Words
We hope this list has given you some insight into the possibilities for payment gateways in Hong Kong.
Hong Kong businesses have a lot of options when it comes to choosing a payment gateway.
The best option for you will depend on your specific needs and the type of business you run. There are many different factors to consider when choosing a payment gateway, and it's important to make sure you choose one that meets all of your requirements.
FAQs
What is a payment gateway?
A payment gateway is a digital software or system that instructs payments from a customer to a merchant's bank account.
What are the types of payment gateways?
What is the most common payment gateway?
What is payment gateway example?
Is PayPal a payment gateway?