How to make an invoice using the invoice generator
To create an invoice, get started with our 
blank invoice template.
Add your 
company logo, contact details,
and company details (legal name, address, etc.).
The date will be automatically added as of the current day. It is always good to include a due date in a professional invoice, so the client knows when the invoice shall be paid, given a certain period agreed upon with the client.
Next are your
client's details
to whom the invoice is addressed.
The invoice number is created automatically, but you can customize it to your country's needs or preferences. Remember that different countries have different requirements regarding invoice numeration and/or naming conventions.
Now, it is time to move on to filling up the items sold, or the services provided that you want to charge for.
With our custom invoice generator, you can fill out your invoice by
tasks or items.
If you are charging an hourly rate for tasks or services:
Get started by adding the title of the service or task along with a short description. Those must be clear and easy to remember for your client to understand quickly. Next is the hourly rate you wish to apply and the number of hours you dedicate to it.
If you are charging by items or products,
 you will find a section below.
Add a title and/or a description to clarify what you are billing. Fill up the quantity field with the number of products/items sold and the price field to reflect the price of these products/items.
We recommend you add one item per line.
In both cases, the total value of each row will appear on the
 Total
 field on the right.
Once all the products or services have been added, all the essential elements are there. The remaining step is to fill up 
any discount or tax rate applicable
 to your business.
Additionally, you can add a note on payment information, clarifying the payment methods you require. It is always easier to add information for online payments, so the client has options to pay quickly.
It's done.
The next step is to click "finalize" to save the invoice and generate the PDF invoice.
How to make an invoice step-by-step
Brand your invoice, adding your logo
Fill up your company information, address, and contact details.
Add the client's information, name, and address as well.
Fill up the invoice number and date.
Add the description of any goods or services provided.
Include any tax details and discounts together with the total amount due.
Include any terms for payment: period, payment method, or link if available.
Add explanatory notes with terms and conditions.
How to use the online invoice generator?
Using an invoice generator is a quick way of generating a custom invoice without the hassle. Just fill in the blanks as you would with a normal invoice, and then save it to generate your online PDF invoice.
How to send an invoice?
When you have filled up and completed an invoice, you can hit the 'finalize' button to download a PDF file. With this file, you can open your email program of choice and send your client the invoice directly.
What to put on an invoice?
Generally, an invoice must include the company information, the client information, the concepts with prices, and any tax rate or discount, if applicable. Adding a preferred payment method is always wise to make it easier for the client to pay.
Why is it important to add a due date on the invoice?
A due date helps clarify for the clients that the invoice shall be paid in a specific time.
Invoice generator alternatives
The classic alternative, and the old way, would be using an invoice template in Excel or Word. Still, once you do invoices regularly, you will realize it can be time-consuming and, therefore, worth automating:
You will need to duplicate the file every time.
Search for, and paste the customer data every time or save each one on a different template.
You will need to be very neat in naming your files to access them in the future.
If you want to know the amount combined of certain invoices, you need to open each to access the information manually.
Each minute you spend doing these manual tasks is a minute you could spend doing something to increase business!
What to write as payment instructions?
Make sure you add all information necessary to pay your invoice. The more information you provide, the easier it will be for the client to pay on time. Online payments are the quickest, and it is usually a good idea to include a link, if available, as a way to accept payments.
What are payment terms?
Generally, the payment terms refer to the information on how, when, and by which method clients shall pay the invoice you send. Sometimes they can include any penalties if the payment is delayed.
Why use an invoice generator?
A key aspect of business success is getting paid on time for the services or goods provided. Professional-looking invoices, using a suitable template and including all information, make it easier and quicker for clients to pay you.
Do you have a sample invoice?
Below you will find a sample invoice created with our free invoice generator. You can refer to it when making yours.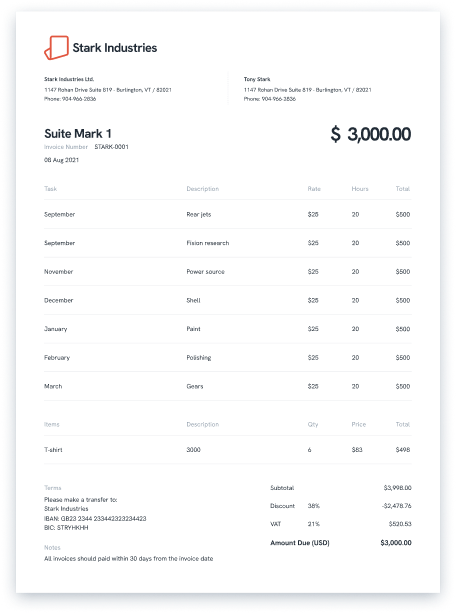 Can I put my logo on the invoice templates?
Yes, very easily. You will see a field at the top of the Statrys invoice generator for uploading your company logo. You can either browse within your files or drag and drop it into place. The Statrys invoice generator accepts both JPEG and PNG images.
Easy to use - fast and efficient
Statrys delivers all I have been hoping for
85% of our customers open their account in less than 3 days