If you are going through the process of opening a business bank account, then it is very likely that you have been asked to supply an organizational chart.
An organizational chart can be drawn up in several formats and each bank will have its own set of requirements when it comes to the information it wants to be displayed in the chart. Understanding what is expected and how to deliver the information is crucial in ensuring your bank account application is a success.
Below, we define what an organizational chart is and why it is a significant part of the process of opening a business bank account that should not be undermined.
1. What is an organizational chart?
Organizational charts, which are otherwise known as company structure charts, present the internal structures amongst the different departments, teams, and individuals within a business. They are used to give a clear insight and understanding of the chain of authority and communication that flows through an organization.
These charts are graphical representations detailing each employee's information, such as their name, designation, position, and their relationship with other individuals within the firm. They can be used to display a company-wide view of a business or give a narrower look into a specific unit within a business.
Most organizational charts adopt a hierarchical model: they position the highest-ranking individuals (executive level) at the top of the chart and then show the lower-ranking employees beneath them.
This type of organizational charts is usually not required by banks in relation to business account application. Still, creating one may prove a good idea. Most banks will indeed request the business plan of your company. Submitting an organizational chart along with your business plan will be valuable information to convince the bank that you have a clear idea of how you intend to develop your business.

2. Organizational chart in the context of bank account application
For the purpose of bank account application, an organizational chart actually refers to an ownership structure chart detailing all the parties involved in your business and what their role is.
Over the last 20 years, banks have been mandated by governments to fight money laundering and terrorism in accordance with very strict regulations. Any bank which fails to comply is exposed to big penalties. This has led banks to becoming more anxious and sensitive towards their banking services, such as opening a bank account.
As a result, in order to protect their businesses, banks have deployed very comprehensive compliance procedures aiming at decreasing the risk of illegal activity going on undetected.
In this respect, when applying for a business bank account, banks will require information on all the individuals and companies involved with your company. This will enable them to assess the risk attached to each component in your company structure.
More specifically, it will help the banks to identify all ultimate beneficial owners of the company. These are the individuals who directly or indirectly own or control the company.
3. What information should be shown in an organizational chart when applying for a business bank account?
Organizational charts will typically include comprehensive data about each individual or entity that possesses a direct or indirect share in the company submitting an application for a business bank account.
The information normally listed for an individual in an organizational chart is as follows:
Full name
Nationality
Passport number
Residence address
If an entity is listed in the chart, the following information will typically be used:
Full name
Place of incorporation
Date of incorporation
Incorporation number
Registered address
Name, nationality, and passport number of the directors
Having said that, different banks will have different requirements regarding the information that should appear in your organizational chart. The recommended course of action is to inquire with the bank with which you are applying for a business bank account to know what sort of organizational chart they require.
4. Template for reference
This template can be used as a reference to consolidate your organizational chart: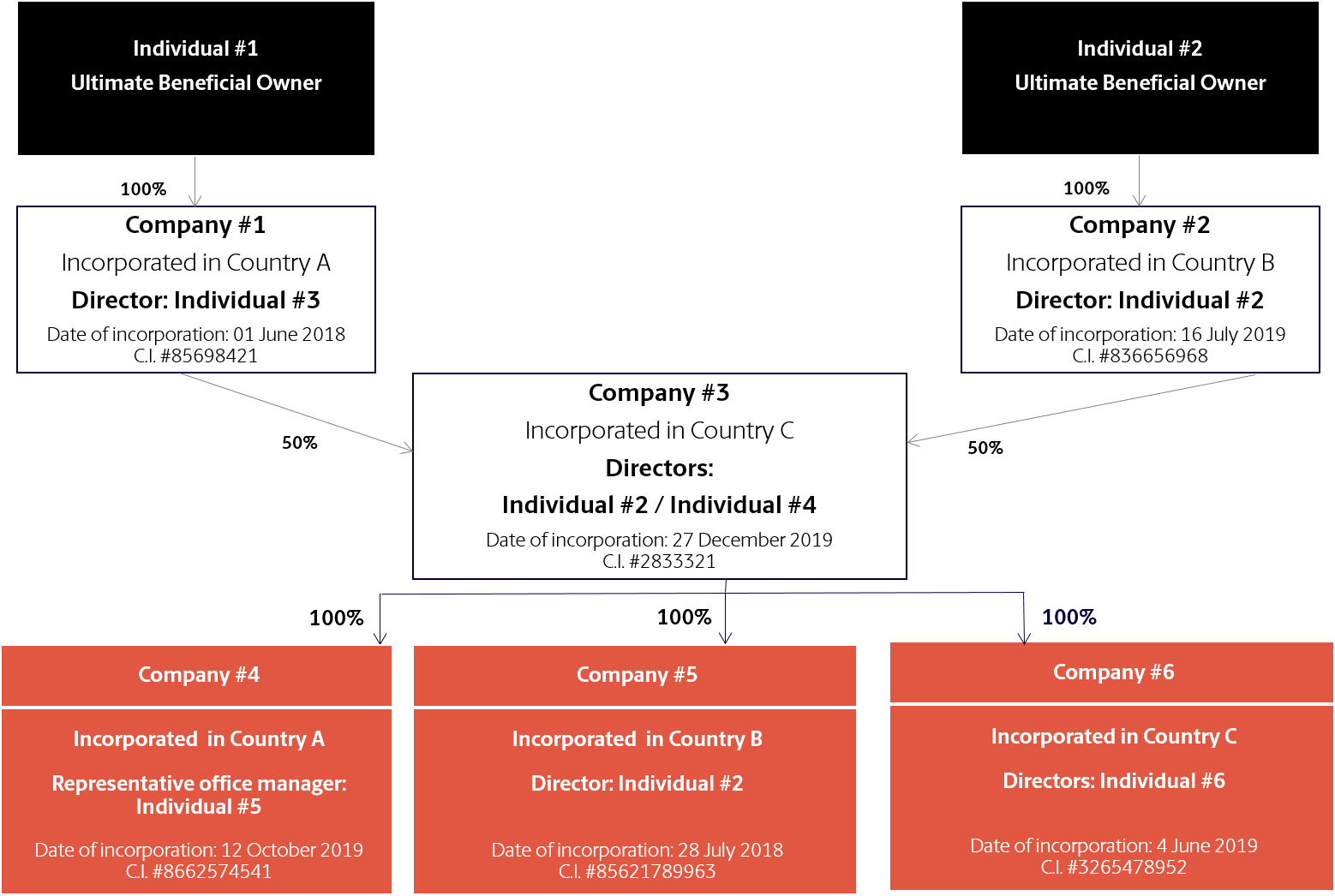 There are a number of useful tools and templates available online to help you develop your organizational chart:
An organizational chart is one of many steps you will fulfill when putting together your application to your selected bank. For more tips on how to facilitate this process, check out our guide on how to open a business bank account in Hong Kong.