Standard Chartered is a British banking and financial services company headquartered in London with a presence in over 50 countries. 
In Hong Kong, Standard Chartered offers products and services to individuals and businesses. To keep things simple, we will focus this review on their business account, the core operation for any company.
We will look in detail at SC's business account offering, their payment cards, and their foreign exchange services. We will also briefly compare them to fintech, Statrys, to help you get a broader picture of the options available for your business.  
How to open an account
As with other traditional banks, opening an account with Standard Chartered HK requires you to visit the bank in person. 
These are the basic steps you need to take:
1) Download and fill in the Account Opening form that can be found on the website
2) Prepare all the necessary documents
3) Bring the application form and documents to one of Standard Chartered Hong Kong's business banking branches to commence your application.
Once all the necessary documents have been vetted and submitted, your application will be reviewed. Be aware, approval can take anywhere from weeks to months.
Visiting a branch
Standard Chartered provides its account application form online, but you still need to visit a branch in person to apply for an account.
For the necessary documents to bring, you can refer to the checklist provided online. They will most likely include: 
Company history, including sources of capital, relevant business experience, and the reason for setting up the business
Company ownership structure
Information about the company's operating nature, including:
Principal place of operation and information about any branches or subsidiaries in other countries
Key products and services
Number of employees
Anticipated annual sales turnover and net profit
Major import and export countries
Major suppliers and buyers
Source of funds and income
Anticipated banking activities
Information on direct or indirect dealings or ownership interests in Cuba, Iran, North Korea, Sudan, Syria, Crimea, or Sevastopol.
Additional information may be required depending on the nature of your company.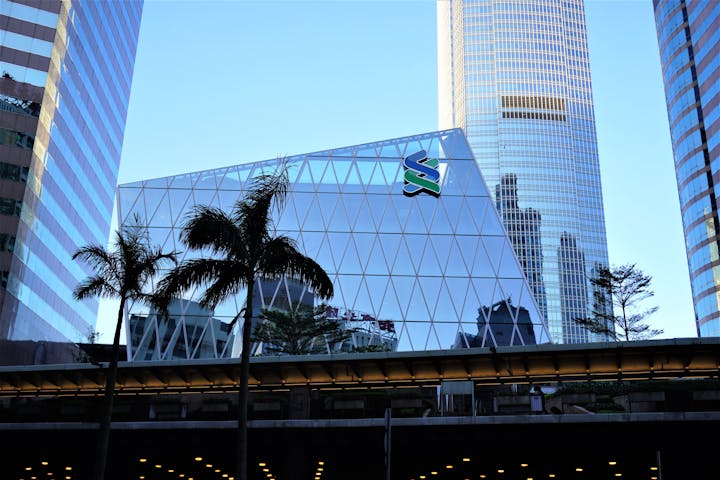 Requirements and eligibility 
To open a business account with Standard Chartered HK, your business should be registered as one of the following:
Sole proprietorship
Partnership
Limited company
Society or association
Owners incorporation.
Standard Chartered HK does not provide a clear list of registration requirements. 
For example, businesses incorporated in the British Virgin Islands, Cayman Islands, Samoa, Bermuda, Seychelles, Belize, Taiwan, and Hong Kong can open an account. 
But if your business is incorporated elsewhere, it is not clear if it will be eligible. They provide a checklist for companies incorporated in other countries, but it looks like the checklist would be subject to review by Standard Chartered HK before you can find out if your company is eligible. 
You definitely cannot open an account if your business is incorporated in a sanctioned country or operates in a prohibited industry. Sanctioned countries include Cuba, Iran, North Korea, Sudan, Syria, Crimea, and Sevastopol. Prohibited industries include mining, fossil fuels, and oil and gas. The complete list of prohibited industries can be found on their website.
There may also be restrictions on the place of residence or nationality of directors and shareholders. If this could be your company, contact Standard Chartered HK before applying to save yourself time and understand the additional documents you might need for your application. 
For more detailed information and requirements on opening a business account with Standard Chartered, you can read this article.
Standard Chartered products in Hong Kong
Business Account
Standard Chartered HK offers an array of banking solutions for business, which is what you would expect from a traditional bank.
Services include lending solutions, cash management solutions, investment and insurance, and market insights. For this review, we will focus on cash management, as this is the core operation for companies.
The cash management feature gives you access to a business account supporting 11 major currencies: AUD, CAD, CHF, EUR, GBP, HKD, JPY, NZD, SGD, USD, and RMB. You can receive and pay in these currencies locally and internationally using SWIFT. Locally, you can make FPS bank transfers in Hong Kong in HKD and CNY.
You can also make overseas remittances to Greater China at the last minute and with later cut-off times. The bank offers additional services to help companies manage their payroll, tax, and MPF contributions. 
Standard Chartered HK appears to offer two types of business accounts: business and priority banking. This information is not on their website, but we did find it in their service charges document. Usually, the higher your average bank balance, the more features you get access to. Check with Standard Chartered for more information. 
Cards
Standard Chartered doesn't give complete information regarding payment cards, but according to the service charges document, they provide two types of cards:
1. Corporate credit card, or Visa signature business card
2. Priority Banking credit card, for Priority Banking clients only.
These cards are catered towards business users with benefits that include airport lounge privileges, travel insurance, and bookings for hotels and travel. Priority Banking customers can also apply for additional cards.
Not much is mentioned in the service charges document about currencies and transaction fees when using the cards. If you plan to use a payment card regularly, contact Standard Chartered to clarify. 
Foreign exchange
Standard Chartered HK offers FX services to business account customers. The currencies supported include AUD, CAD, CHF, EUR, GBP, JPY, NZD, SGD, USD, and RMB. 
They offer spot and forward contracts, as well as exchange rates at pre-set rates, so when your desired rate is reached, the funds will be automatically converted.
Standard Chartered may support more currencies than those listed above. It's worth asking them if your business regularly transacts in another currency.
Additional services
As mentioned above, Standard Chartered Hong Kong offers an array of banking solutions for business customers. In addition to cash management solutions, they offer:
Lending solutions
Investments and insurance
Market Insights
Support service with a dedicated Relationship Manager
You can only access a Relationship Manager once your account is approved. Then your Relationship Manager can help fill in any gaps in the information you might be experiencing. 
Fees
We have provided a summary of fees associated with the business account. You can refer to Standard Chartered's fee chart for more detailed information.
| | |
| --- | --- |
| Overseas company account set up | HKD5,000 per company |
| Business account maintenance fee | HKD300/month (waived if the average 6-month balance is greater than HKD200,000) |
| Premium business account maintenance fee | HKD200 |
| Overseas company account | HKD500 (waived if the average 1-month balance is greater than HKD500,000) |
| Account closure fee (if within 3 months from opening date) | HKD200 |
Receiving funds

Local transfers (in HKD, USD, EUR, CNY using RTGS)

HKD15

Telegraphic Transfers

HKD55

Sending funds

Demand draft

HKD100

Local transfer to other local banks (in HKD/CNY non-RTGS)

Free

Local transfer in (HKD, USD, EUR, CNY using RTGS)

HKD170

Outward Telegraphic Transfer

From HKD200 (with additional HKD100 for non-domicile currency + minimum HKD 250 for correspondent bank charges)
FX fees
No fees are charged if the amount exchanged is within the following daily limit
| | |
| --- | --- |
| Currency | Amount |
| AUD | AUD1,500 |
| CAD | CAD1,500 |
| CHF | CHF1,500 |
| EUR | EUR1,500 |
| GBP | GBP1,500 |
| JPY | JPY150,000 |
| NZD | NZD1,500 |
| SGD | SGD1,500 |
| USD | USD2,500 |
There is a charge of 0.25% of the total amount when the limit is exceeded. Limits are higher for Priority Banking customers.
Card fees
Annual Fees


Corporate Credit Card/ Visa Signature Business Card

HKD1,800 per annum

Priority Banking Credit Card

HKD2,400 per annum

Cash withdrawal fees

JETCO network (local)

Free

JETCO network (overseas)

HKD28

Visa/PLUS Network

HKD28

Mastercard/Cirrus Network

HKD28

UnionPay Network (local)

HKD15

UnionPay Network (overseas)

HKD15 + 0.5%
Note that overseas cash withdrawals may also be subject to fees and charges imposed by the overseas local bank which provides the ATM service.
How much should you pay for international transfers?
If you are running an international business out of HK, receiving and making international payments will be core to your operations. 
The fee structures for cross-border transactions are often complex, particularly with traditional banks. It's worth doing due diligence on your options, so you can get a clear idea of how much you're actually going to pay.
Typically, international transfers incur a standard transfer fee and a commission added on top of the exchange rate the bank or the payment provider uses to convert currency. 
For example, you're looking to exchange HKD10,000 to USD, the bank may have an exchange rate of 0.12 while the market rate is at 0.13. The difference between the two rates is the bank's commission on the conversion. Plus you will have to pay an administration fee on top.
In the case of Standard Chartered, they have their own exchange rates when you make a transfer and an additional 0.25% fee when you exceed the amount limits.
As you can see, it is worth doing your homework to get the complete picture of the fees you will be liable to pay for every cross-border payment.
Fintechs offers a simpler alternative 
The complexities and costs involved in making international payments with banks are why fintechs, like Statrys, have emerged and become so popular. Fintechs offer a simpler and more cost-effective platform for international payments.
For example, with Statrys, exchange rate conversions are made based on the real-time mid-market rate, which is the midpoint between the buy and sell prices for the two currencies. Statrys' FX fee is as low as 0.1%, and they charge a flat fee of HKD55 for receiving payments and HKD75 for sending them. 
This simpler fee structure benefits companies making regular international payments. It also makes the task of calculating your payment costs more straightforward. 
Now you know what Statrys charges, you have something to compare with Standard Chartered's rates.
Getting in touch 
You can contact Standard Chartered Hong Kong via AI-chatbot, by phone at 2886 6988, or by simply visiting a branch to talk in person. They don't offer email enquiry services unless you are already a customer, and unfortunately, a live chat function is not available to business banking customers.
But when your account is opened, you will be assigned a relationship manager who can answer all of your enquiries.
Final note
If anything is missing in this Standard Chartered Hong Kong review, drop us a message and we will do our best to make the review even more comprehensive.
Review based on information available on the Standard Chartered Hong Kong website as of January 2023.
FAQs
How do I apply for a Standard Chartered business account?
To apply for a Standard Chartered business account, you need to prepare all the documents listed on their provided checklist and bring the documents together with the completed application form to a business banking branch of Standard Chartered.
How long does the application process take?
How do I contact Standard Chartered Hong Kong?