The UK is awash with payment providers and Tide is another fintech in the mix. But how does it measure up? 
We should flag upfront that Tide only offers single currency GBP accounts to new customers. If you need a multi currency account, a Tide e-money account is not likely to fulfill your business banking needs.
If you are a UK business or do most of your business in GBP, read on. We look at the Tide business banking account, payment card, monthly fees, and other services to help you understand if Tide is a match for your payment needs.
Is Tide a legitimate bank?
Founded in 2015, Tide is a UK-based fintech offering a wide range of bank account services to small and medium-sized businesses. It is headquartered in London and has offices in Sofia, Bulgaria, and Hyderabad, India.
Tide provides digital business banking services in the UK but it is not legally a bank and does not accept cash deposits. It is however regulated by the UK's Financial Conduct Authority (FCA) as an e-money institution and must comply with requirements that aim to protect customer funds. [*]
Account funds are held with Tide's partner bank, ClearBank. ClearBank accounts are protected by the Financial Services Compensation Scheme (FSCS) up to GBP85,000 per person.
Tide does offer e-money accounts provided by PrePay Solutions, but it is in the process of transferring these to ClearBank accounts backed by the UK's deposit guarantee scheme.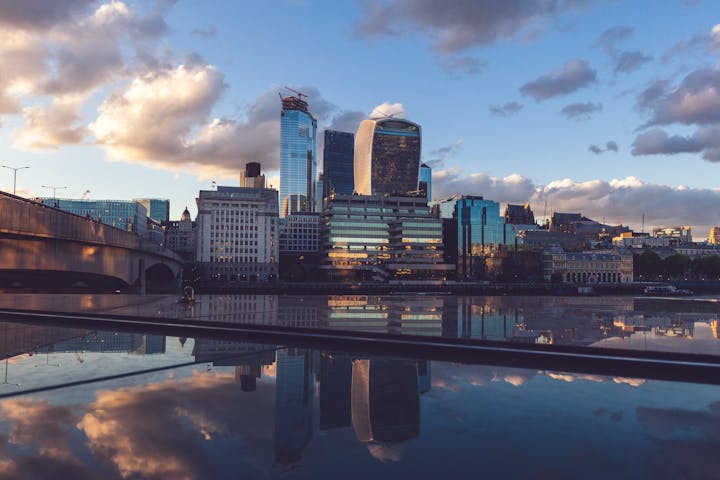 Requirements for opening a business account
You must be an established limited company, freelancer, or sole trader to open a Tide business bank account.
Small businesses and medium-sized businesses (limited companies) that are registered with UK Companies House are eligible for a registered business account. 
Freelancers and sole traders with valid UK residential addresses and who are registered with the UK tax authority (HMRC) are eligible for a Sole Trader account. Individuals not based in the UK but with European ID documents can apply for an account, as long as the company is registered with UK Companies House. [*]
For both account types, you need to be aged 18 or above, provide a valid UK phone number, and hold a device that enables you to download the Tide mobile app. The app is required in the application process.
Tide does not offer business bank accounts to businesses operating in prohibited industries, which is a common practice among money institutions. The industries are:
Third-party funds
Insurance companies, including brokers
Cryptocurrency
The wholesale of precious metals and stones
Investments 
Casinos, prize draws, and other betting or gambling activities
Sale of unlicensed pharmaceuticals
Sale or trade of cannabidiol (CBD) products
Trading of weapons, explosives, or armaments
Unlicensed trading and processing of scrap metal
Unlicensed waste management
Sale, import, and export of used vehicles or heavy machinery
Escort services and other services in the adult industry
Bidding fee auctions
Non-profit organizations, including charities and community interest companies.
How to apply for a business account
You can apply for an account online. But you will need the mobile app for identity verification. 
Tide does not provide a clear list of documents required for the application process, but we expect you will need to provide the following:
Identification documents: including your name, address, and contact information (a selfie is required to prove your identity), as well as information about your business 
Proof of address: such as driving license, or council or local authority tax bill from the current tax year 
Proof of business: such as your business's website or social media profile 
Nature of your business: basic information about your business activity, location, and the company's financials
Information about shareholders and directors: including dates of birth and addresses. Make sure the address is a UK residential address that has been lived in for more than 3 months by the individual. If the person has been at the address for less than 3 months, Tide will need their Biometric Residence Permit for the UK and proof of a foreign address. If Tide is unable to digitally verify an address, they will need to see a proof of address and a valid ID. 
Tide may verify the information you provide by carrying out a soft credit check with one or more credit reference agencies. Agencies include Experian, Equifax, and TransUnion.
Application steps
Applying for a Tide account is relatively simple. Be aware, you will need to have the Tide app on an iOS or Android phone to apply, for identity verification purposes.
Step 1
Choose the company or sole trader account. Then choose between a free or a paid account. You can change that later on. 
Step 2
Provide Tide with the required information and documents. You will need to upload IDs, such as your passport or driving license, and a selfie to prove your identity. Depending on the circumstances, you may need to provide proof of address or proof of business. 
Step 3
If everything goes smoothly, you should have your account opened in around 10 minutes. It may take longer, especially if you were asked to submit further documentation. 
Onboarding times can vary. Tide says more than half of their new members in 2022 opened their bank account in less than 10 minutes. To be exact, 53% opened their account in under 10 minutes, 70% in under 60 minutes, and 81% within 48 hours. [*]
Tide products
Business account
Tide offers a business account, which is similar to a business current account offered by the High Street banks. 
You can select from four Tide accounts depending on how much you are willing to pay. They are:
Free account
Plus account
Pro account
Cashback account
The accounts differ on limits, fees, and dedicated services. The more you pay, the more services you get. 
Specifically for limits, it will depend on whether you're a sole trader or a registered company. You can tap "Accounts" from your in-app menu to see your full account limits, or to request a limit increase. [*]
Each account is based in the UK, can only hold GBP, and has a UK sort code and account number. And Tide members can create up to 5 accounts.
Receiving funds
A Tide business account only supports GBP. Transfers in GBP can be made using the Faster Payments, BACS, and CHAPS systems.
Tide used to offer multi currency accounts, and existing customers may still hold them, but they are no longer offered to new customers.
Tide Payment Link 
With a Tide account, you can receive card payments with a Tide Payment Link. You simply send the payer a link via SMS, email, social media, or invoice. As long as the card is a Visa card, Mastercard debit card or credit card, and the amount is above GBP, you will receive your payment. 
But there are some limits to the payment link:
Although payments can be made with cards issued outside of the UK, payments can only be made in GBP
Payments made with international cards may incur higher charges
There is only one link per customer
Link fees are deducted from the payment amount
It's not available to certain types of companies.

[*]
Sending funds
New customers can only send payments in GBP using FPS and direct debits. You can make one-off transfers or schedule payments for a future date or standing order. 
Transfers and future-dated payments are sent as Faster Payments. The payment should arrive in your payee's account within minutes. Some banks can take two hours or more to process Faster Payments, so it could take up to four hours for the payment to be delivered.
Cards
The Tide business card is a Mastercard prepaid debit card. It comes in physical form only and can be delivered within 2-4 days of your account being approved. You can link the card to Apple Pay, and account holders can apply for additional cards if needed.
The card will be in GBP but you can use it to make transactions internationally in most countries, except for prohibited countries [*]. Tide does not say if you can withdraw cash with a Tide card.
You can order up to 50 cards per account and set spending limits on each card. Team members can view accounts and transactions, and you can freeze, unfreeze and cancel cards through the Tide app.
Foreign exchange 
Currency exchange services are only available to existing clients with access to an international currency account.
Additional services
While new members can only access a GBP-denominated account, Tide offers some handy services that might appeal if you are running a business primarily in GBP. 
Most of these services are available directly from the Tide app, but some depend on which account plan you choose.
Company registration service. To help you open an account, Tide can facilitate your business registering as a limited company with the UK Companies House for a GBP12 incorporation fee.
Business loans. You can access a range of loans up to GBP25,000 per business owner and GBP100,000 per business. This includes startup loans, business cash advances, invoice finance, and loans from the Recovery Loan Scheme (RLS). 
Cashflow insights. Real-time business forecasts and up-to-date cash flow forecasts for 30 days ahead.
API linking. The ability to link third-party financial tools directly to the Tide app using Open Banking services. You'll be able to make payments and see your account balance.
Auto-categorization of items. Label and categorize your income and expenditure.
Invoicing. Create and send invoices.
Integration with accounting software. Integrate your Tide account with Xero, Sage, FreeAgent, Coconut, Kashflow, QuickBooks, Crunch, and Reckon.
Integration with PayPal, Stripe, GoCardless, and iZettle.
Benefits. They include a free business phone number and discounts on various sites and services, including 10% off freelance services on Fiverr.
Fees charged
With a Tide account, there are no account opening or closing fees. The monthly fee depends on the Tide plan you choose.
You also have free monthly transfers depending on your account plan, after which, each transfer is 20p. [*]
Free
Plus
Pro
Cashback
Monthly fee
-
GBP9.99
GBP18.99
GBP49.99
Transfers - 20p after exceeding monthly free allocation
20p
20 free
Unlimited
150 free
Transfers between Tide accounts
Free
Tide business card
Free
ATM Withdrawal
GBP1
Expense Cards for your team
GBP5/month
1 free card
2 free cards
3 free cards
Getting in touch
Tide revolves its service delivery around its app. It's no surprise then that the app is the best way Tide members can request support. 
The app has a support message function you can select, requiring you to enter your message. Tide says they will respond as soon as possible.
You can also email, head to the Tide FAQ page, fill out a feedback form, and get phone support for lost or stolen cards.
Cashback customers are assigned a dedicated account manager who would be the first point of contact for support and enquiries.
Our recommendation 
If you are running an international business or intend to run one, you are probably wondering about how business accounts work for multiple currencies and the fees for making payments across borders. 
Historically, banks used to be your only option. They would give you access to one currency, charge you fees for making international transfers, and charge a commission for foreign currency conversions built into the FX rate used, sometimes without telling you.
Luckily, fintechs have emerged to challenge the banks and offer cheaper services to businesses. Generally, they offer access to multiple currency accounts, lower fees on international transfers, and a fairer FX conversion rate (usually the midpoint between buy and sell rates for two currencies). Some, like us here at Statrys, are completely upfront about fees, so you know what kind of fees you will be paying.
Tide is a unique fintech as it only offers a one-currency account (GBP) to new customers. If your business is based in the UK or does most of its business in GBP, it would make sense to partner with Tide. They have gone all in on the domestic market offering great additional services like fast loans, cash flow insights, and API links.
If your business deals in multiple currencies regularly, or has plans to expand into new markets like Asia, there are some attractive alternatives to Tide.
Based in Hong Kong, Statrys supports 11 currencies in its business account for a flat monthly fee of HKD88. You can send and receive international payments at flat rates (HKD55 to receive, HKD75 to send) and you can link your account to online marketplaces. Our FX fees are as low as 0.1%, with rates based on real-time mid-market rates for currency conversions, and you can choose a spot or forward FX rate.
You also get physical and virtual payment cards with Statrys, and every customer gets a dedicated account manager for support who will respond in minutes, not days. We pride ourselves on our customer support and our transparent pricing. 
Final note
We do our best to provide all of the information we can find and present it succinctly in our articles, to save you the leg work. If you think we missed something about Tide, send us a message and we will endeavor to make this article even more comprehensive.
This review is based on information available on the Tide UK website as of January 2023.
FAQs
Is Tide a good business account?
Tide provides digital business banking services in the UK but it's not exactly a bank and does not accept cash deposits. Tide is regulated by the UK's Financial Conduct Authority (FCA) as an e-money institution and complies with regulations to protect customers' funds.
What is Tide business account like?
Are there limits to the Tide account?
Sources
Disclaimer
This publication is provided for general information purposes only and is not intended to cover every aspect of the topics with which it deals. It is not intended to amount to advice on which you should rely. You must obtain professional or specialist advice before taking, or refraining from, any action on the basis of the content in this publication. The information in this publication does not constitute legal, tax, or other professional advice from Statrys Limited or its affiliates. Prior results do not guarantee a similar outcome. We make no representations, warranties, or guarantees, whether express or implied, that the content in the publication is accurate, complete, or up to date.