Mox is a Hong Kong virtual bank backed by Standard Chartered, providing a free personal account that can be opened via mobile app in minutes.
To open a Mox Bank account, you must be at least 18 years old and have a valid HKID (permanent or non-permanent) and proof of address in Hong Kong.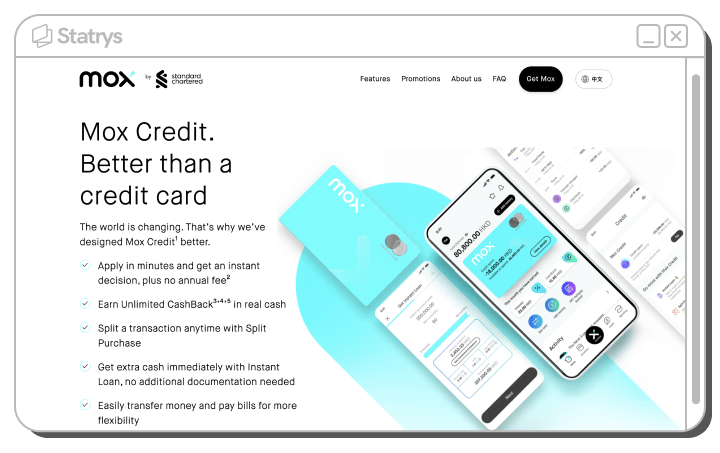 Mox Bank was launched in 2020 and is one of Hong Kong's 8 virtual banks. 
It is owned and operated by some of the industry giants in Hong Kong, including:
Standard Chartered Group (a leading international banking institution).
HKT (Hong Kong's leading telecom).
PCCW (multimedia, entertainment, property development, and investment group).
Trip.com (largest online travel agency in Asia).
Unlike traditional banks, Mox operates solely as a mobile app, offering a range of retail banking services accompanied by lifestyle benefits, investment opportunities, and robust financial security.
If you are interested in opening a Mox Bank account, this article will guide you through the eligibility requirements and step-by-step process to open your Mox account. We will also give you an overview of the benefits you can expect from having a Mox account.
💡 Tip: Visit our comprehensive Mox Bank review for more information about their features and fees
Before You Proceed

Statrys does not directly compete with Mox Bank because Statrys does not provide personal bank accounts. However, we're still committed to providing an unbiased, thorough review to help you make an informed choice.

Our insights are derived from industry experience and discussions with clients who have also used our competitors' services.

If you have any feedback regarding this review, please contact us at marketing@statrys.com
Requirements for Opening a Mox Account
To open a new Mox account, you have to meet some criteria.
You need a valid Hong Kong Identity Card for either a permanent or non-permanent resident. Foreigners who work in Hong Kong or visit the city frequently can get a valid non-permanent residence card.
If you don't reside in Hong Kong for any period of time, then you can't open a Mox account. 
Provide proof of address in Hong Kong that's in your name.
You must be 18 years or older to open a Mox account.
Required Documentation
Moreover, you will need to prepare some documentation to complete the application process.
Here's the list of required information:
Personal Documents: Identification documents such as a passport, Hong Kong ID, or Real ID. Additionally, you'll need to provide your nationality, place of birth, and preferred name.
Contact Information: Your phone number, mailing address, and email address.
Tax Documents: Your tax ID from your country and city
Occupational Details: You must provide your occupation and your annual income.
Preferences for Receiving Marketing Information: You will need to indicate to Mox Bank whether you consent to receive any marketing materials.
Purpose of the Account: Lastly, you will need to provide Mox with the purpose of your bank account.
How to Open a Mox Bank Account
Opening a Mox Bank account is quick and easy, provided you meet eligibility requirements and have all the necessary documents.
Here are the steps to open a Mox Bank account:
Step 1 - Download the Mox Bank App
Step 2 - Tap "Open an account."
Step 3 - Enter your name, mobile number, and email address
Step 4 - Enable push notifications (optional)
Step 5 - Scan the front and back of your HKID
Step 6 - Take a selfie for verification
Step 7 - Choose how your name is displayed on the card
Step 8 - Fill in your tax and other personal information
Step 9 - Create a 6-digit passcode
Step 10 - Set up facial/fingerprint recognition (optional)
Step 11 - Answer additional questions
Step 12 - Confirm all details
Setting up a Mox account is straightforward. Most qualified users can create an account in a few minutes.
Benefits of Mox Bank Accounts
There are several perks available to Mox account holders, including
High-Interest Savings 
Mox Bank provides a good saving opportunity with high-interest rates. Clients can deposit money and earn up to 4% interest with a 12-month tenor. It's important to note that you can withdraw your funds early for free. However, you will not receive any interest.
Built-in Savings Goals
Mox Bank makes saving easy. You can create a Goal account to set a savings target and use spending rules to control your expenses. The money you allocate stays untouched, enabling you to save as much as possible.
Rewards
Clients can earn 0.5% cashback for all transactions made with their Mox debit card. 
In addition, clients can earn unlimited 1% cashback for all eligible transactions when using the Mox credit card. On top of that, clients can earn 3% cashback when making purchases with selected merchants.
Please note that these perks are subject to change. Visit the Mox CashBack Table page for up-to-date information.
Is Mox Bank Safe?
Yes, Mox Bank is safe.
Mox Bank is a virtual bank regulated by the Hong Kong Monetary Authority (HKMA) and is a member of the Deposit Protection Scheme in Hong Kong, which protects eligible deposits up to HKD500,000.
Mox Bank is also backed by Standard Chartered, a well-trusted international bank.
Moreover, Mox Bank uses multi-level security procedures, including tools and techniques for encryption, identity verification, and fraud prevention, to protect their customers' accounts, transactions, and personal information. Hence, your account and personal information are in safe hands.
This review is based on information on the Mox Bank website as of September 2023.
FAQs
Who can open a Mox Bank account?
Anyone older than 18 with a Hong Kong ID and a Hong Kong proof of address can open a Mox Bank account.
Can I open a Mox Bank account online?
Does Mox Bank have business bank accounts?
Is my money safe with Mox?