In the past few years, fintech companies have been taking over the financial industry. Most of the time, these companies offer online platforms such as virtual bank accounts and mobile apps that make it easier to manage your money.
One such company is Revolut. Founded in 2015 by Nikolay Storonsky and Vlad Yatenskow, Revolut has become a reputable challenger bank in the UK and the EU, for its ease of use between countries in the EU and competitive pricing.
Revolut for Business is an extension of their existing service, designed for companies working with multiple currencies.
In this article, we'll discuss the process of opening Revolut business accounts and their benefits.
Note that this article is for Revolut Business accounts in the UK. Revolut operates in other countries - like Australia, the EU, and Japan - where features, terms, and conditions may differ.
If you are interested in Revolut Business Accounts in a specific country that is not the UK, check Revolut's website in that country for more information. 
📱 Looking for a personal account? Explore the options and see how you can open a Revolut account online.
What is Revolut Business?
Revolut Business is an online business account that allows users to access business features like managing, making, and receiving payments online, saving on transfers, or acquiring the best fx rates worldwide for your business.
Revolut launched business banking services to tackle the high charges associated with traditional banks when making international payments.
Today Revolut offers a range of business accounts designed for all sizes of businesses. 
They offer two types of Revolut Business accounts: Freelancer accounts and company accounts. 
A Freelancer account means you open an account under your name, while a Company account is for an account under your registered business name. 
A few things worth noting
You'll need a registration number to get a Company account.
If you're self-employed and don't plan on hiring employees, then a Freelancer account could be your best option, but you won't be able to use your company's trading name in your account details. You will need to use your personal name. You can find more detail on Revolut's website.

[*]

 
What are Revolut's Business Accounts Plans?
Apart from the Standard free accounts, most Revolut business accounts come with a monthly fee which will be deducted from your business account balance.
The more premium business accounts you choose, the more management tools and customized features you'll get access to, like the number of free allowances for local and international payments, physical and virtual cards, insurance, etc... 
Depending on your business's size, the number of employees, how fast the company is growing, and how often your business looks to transfer money abroad, this can be handy.
For companies, Revolut offers four Company plans.
1. The Free account
No monthly account fee
A company card (physical and virtual)
5 fee-free UK bank transfers per month
Can receive payments locally in EUR and GBP
Multi-user access, a minor fee for each "active" user
Easily integrate with tools (Slack, QuickBooks, Xero...). 
2. The Grow account
The Grow account costs £25/mth and includes additional features like:
Possibility of getting a metal card
£3,000 per day (or the equivalent in other currencies)
100 fee-free UK bank transfers per month
10 free international payments per month
£10,000 free FX allowance
A lower crypto exchange fee
Access to rewards
24/7 support.
3. The Scale account
The Scale account costs £100/mth, and includes all of the above plus:
Possibility of getting 2 metal cards
1,000 fee-free UK bank transfers per month
50 free international payments per month
£50,000 free FX allowance
4. The Enterprise account
The Enterprise account is tailored for big corporates with the ability to customize features. You'll have access to all of the features mentioned in the Scale account, and you can customize the number of local and international payments. To find out about pricing, you'll need to contact the Revolut team.
For Freelancer accounts, there are three options to choose from:
1. Free
No monthly account fee
Unlimited free payments to other Revolut accounts
5 fee-free UK bank transfers per month then a £0.20 fee applies outside of the free allowance
Multi-user access, a minor fee for each "active" user
Accepts payments online and in-person
2. Pro
Monthly fee of £7/mth
20 fee-free UK bank transfers per month then a £0.20 fee applies outside of the free allowance
5 free international transfers per month
Free FX allowance for the first £5k
3. Ultimate
Monthly fee of £25/mth
10 fee-free UK bank transfers per month, then a £0.20 fee applies outside of the free allowance
100 free local transfers per month
Free FX allowance for the first £10k, and much more.
A quick note about Revolut Active users
It's worth noting that for Freelancer and Companies accounts most of the plans have multi-user access and Revolut will only charge you for the team members who are actively using a product or feature.
For example, if your team uses the Expenses app, it costs £5 per active user. If they use the Payroll app instead, the price is £3 per active user.
A few words on the Revolut card
Revolut offers two types of cards: physical (plastic or metal) and virtual cards.
The company name on cards can be up to 25 characters.
As a business customer, you can use Revolut anywhere in the world, and withdraw cash in over 140 different currencies [*]. 
All transactions are processed by the Mastercard or Visa network and are protected by Mastercard or Visa rules.
Eligibility requirements for business accounts
A Revolut business account is available for:
Private Limited Company
Public Limited Company
Limited Liability Partnership
Limited Partnership
Partnership
Freelancer or sole trader.
Revolut is not available to the following categories of business: public sector (including charities), private foundation or trust, or cooperative.
You can find more information on their website here [*].
What is the Revolut business account application process?
Opening a Revolut Business account is pretty simple and straightforward.
To open a Revolut business account, head to their website to the section 'Business', then click to 'sign up'. Add your phone number and you will be sent a link to download the app OR you can directly download the app and click to 'sign up'.
The mobile app is Revolut Business and not the regular Revolut Mobile App which is for personal accounts usage.
Once you're on the Revolut Business Mobile app, add your address mail, create a 4-digit password, then enable or not the Face ID.
From this, your access to the app will be created.
Then you'll need to fill out the application form and provide information about your business. This includes the incorporation details of your company, business activity, and where you do business.
You'll need to write a description (min 50 characters) and provide your website or social profile
After this, you'll need to choose your plan.
Depending on the information you provided regarding your business, you'll be able to choose between Freelance or Company plans.
Finally, you'll need to scan your ID (passport or national ID card) to verify your identity.
Revolut may request more information from you if they cannot verify everything provided [*]. 
Account approval can take anywhere from a few hours up to a week.
Once you open an account with Revolut, you should receive a GBP account with a unique sort code and account number, plus a EUR account with unique IBAN and BIC details.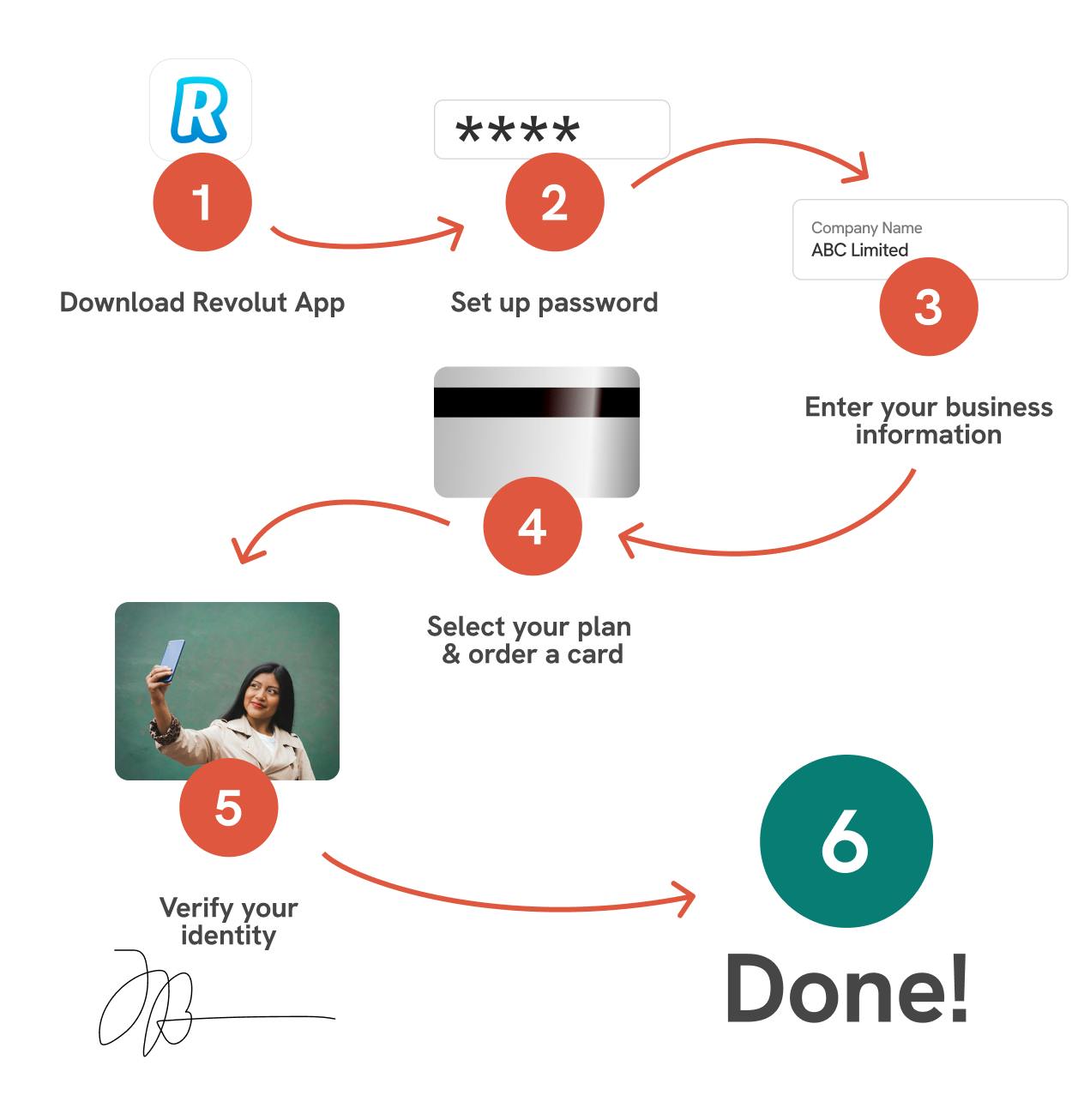 Is Revolut a bank?
Revolut is not a bank. Revolut is licensed as an electronic money institution authorized by the Financial Conduct (FCA) in the United Kingdom.
To comply with these regulations, Revolut has partnered with traditional banks to hold customers' funds on Revolut's behalf in actual bank accounts. If Revolut becomes insolvent, the funds credited to its accounts will be returned to you and other Revolut users before Revolut pays out its other creditors.
Also, with that current license, remember that Revolut accounts are electronic money accounts instead of bank accounts. This means deposits are not guaranteed under the UK Financial Services Compensation Scheme (FSCS). 
Final Note
That's it for our guide! Hopefully, this article clarifies how to open a Revolut Business account. If you're ready to get started, head over to their website and sign up. If anything is missing, please feel free to reach out!
FAQs
How do I set up a Revolut Business account?
To start setting up your Revolut Business account, you'll need to 1. Download the Revolut Business app and provide your phone number. 2. Fill in a short online application form, and provide information about your business. 3. Verify your identity.
How much does Revolut Business cost?
How long does it take to set up a Revolut Business account?
Can you have a Revolut personal and business account?
Is my business eligible for a Revolut business account?
Sources