The 5 Best Free Invoicing Software
Are unpaid invoices piling up and troubling your cash flow management? 
Manually creating, sending, and tracking dozens of invoices is a time-sucking process that all too often results in errors and late payments. 
Notably, 87% of businesses paid late, and 61% of delayed payments are attributed to inaccurate invoices. 
Free invoicing software can offer a cost-effective solution. These tools simplify and automate the billing process, enabling you to reduce the time spent on paperwork, create accurate invoices, and send them instantly.
In this article, we will explore the best free invoicing software that can help you invoice in less time and get paid faster. 
Let's get into it. 
Invoicing Software
Best For
Key Features in the Free Plan
Other Pricing Plans

SMEs and Freelancers

• Create, duplicate, and edit branded invoices easily
• Support multiple currencies
• Offer PayPal links, QR codes, and PayMe
• Share invoices via email and WhatsApp
• Notifications when clients access invoices
• Automate payment reminders
• Store supplier invoices securely
• Extract invoice details with OCR
• Set up approval workflows for supplier invoices
•

Track vendor payments in real-time

Reports

Free

Any small businesses

• Prepare invoices, estimates, and credit notes
• Accept payments via cash, cheques, & bank transfers
• Automate payment reminders
• Customer self-service portal
•

Reports

Zoho Billing Plan

: USD 15 - USD 239 per month, billed annually

Freelancers and entrepreneurs in the US and Canada

• Create, customize, and send invoices
• Automate payment reminders
• Income and expense tracking
•

Reports

Add-on services

Payroll: USD 20 - USD 40 per month + USD 6 per active employee or contractor

Advisor

: USD 159

- USD 379




*Card and bank payment processing fees applied

Those seeking both online and in-person solution

• Generate invoices, estimates, and contracts
• Unlimited number of users and customers
• Send via email, SMS, or link sharing
•

Accept payments around the clock

Plus Plan: USD 20 per month



*Card payment processing fees applied

SMBs and those seeking self-hosting options

• Unlimited invoices to 20 clients
• Billing, recurring invoices, deposits, and partial payments feature
• Receive alerts for viewed and paid invoices
• Offer a client portal
• Configure credit card gateway fees
• Manage vendor accounts and track expenses
•

Project management features

Ninja Pro: USD 10 per month

Ninja Enterprise:

USD 14 - USD 44 per month
1. Statrys Invoicing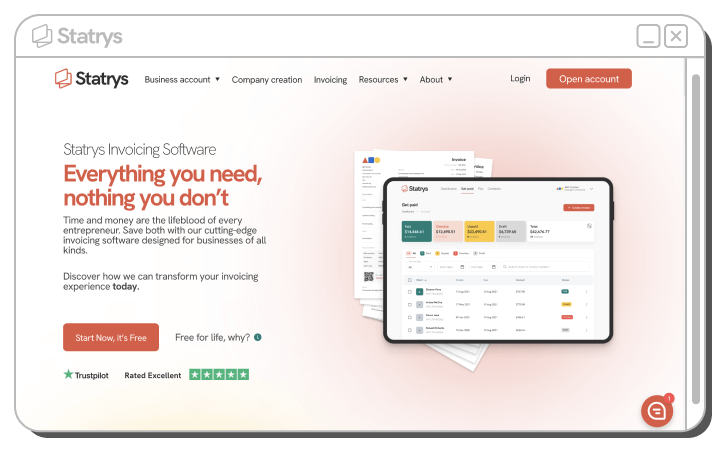 Statrys Invoicing is a user-friendly and effective online tool that allows anyone to create, send, track, and manage their invoices in multiple currencies, as well as manage and settle invoices from vendors. 
The signup process is simple and fast, and no credit card is required because the service is available for free.
Statys Invoicing Key Features
Create branded invoices easily
Duplicate and edit invoices
Offer various payment options, including PayPal links, QR codes, and PayMe
Download PDF files
Share invoices via email and WhatsApp
Get notified when clients view invoices
Automate payment reminders
Upload and store supplier invoices
Capture invoice details with invoice OCR technology
Define approval workflows for supplier invoices
Real-time payment tracking to vendors
Statys Invoicing Pricing 
Statrys Invoicing is entirely free with no paid plans.
Statys Invoicing Pros and Cons 
| | |
| --- | --- |
| Statrys Invoicing Pros | Statrys Invoicing Cons |
| Simplicity with essential features | Currently lacks inbuilt card payment options |
| Specialized support for multiple currencies | Currently has limited integration options |
| Serve customers worldwide | |
2. Zoho Invoice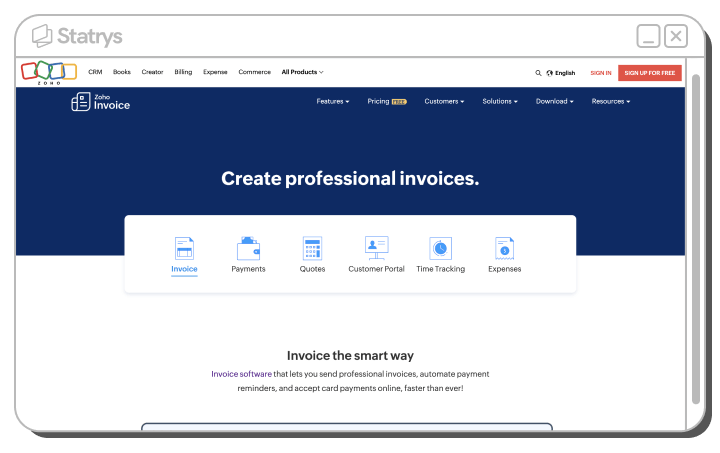 Zoho is a software company that offers a wide range of business products with over 55 offerings in areas like sales, CRM, finance, and office tools. They serve a wide customer base of over 100 million users.
One of their notable products is Zoho Invoice, an invoicing software solution that includes features like invoicing, payment processing, quotes, a customer portal, time tracking, and expense management.
Zoho has catered to various industries, including professional services, startups, house maintenance services, estate Consultants, and trust and nonprofit entities.
Zoho Invoice Key Features
Invoice templates
Recurring invoice
Scheduled invoice
Digital signature  
Print or email a copy of an invoice
Real-time report 
Payment collection via credit card, cash, checks, and ACH.
Integration with payment gateways
Create quotes and turn quotes into invoices 
Customer portal where customers can monitor their transactions 
Request customer feedback
Track expenses from invoice analysis 
🔎 Tip: Read our detailed Zoho invoice review for more information
Zoho Invoice Pricing
Zoho Invoice
Plan
Features
Pricing
Zoho Invoice

• Invoice, quote, and credit note creation with multilingual and tax compliance




•

Payment reminders
• Multiple payment options
•

Reports

Time and expense tracking


• Customer self-service portal

Free
Plan
Features
Pricing
Zoho Billing Standard

For automated billing operations

USD 15 per month,

billed yearly

Zoho Billing Professional

For subscription management

USD 39 per month,

billed yearly

Zoho Billing Premium

For medium to large businesses needing advanced end-to-end billing solutions

USD 79 per month,

billed yearly

Zoho Billing Elite

For enterprises requiring a custom and scalable solution

USD 239 per month,

billed yearly
Zoho Invoice Pros and Cons 
| | |
| --- | --- |
| Zoho Invoice Pros | Zoho Invoice Cons |
| Accepting various payment options, including credit card, cash, checks, and ACH | Limited customization in free version |
| A wealth of other features | |
3. Wave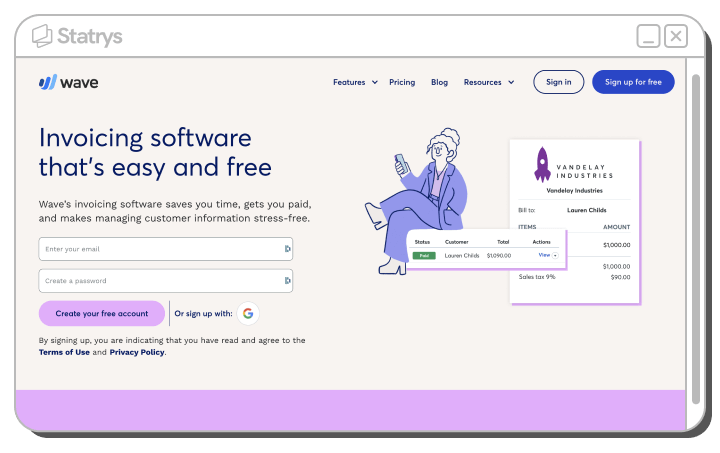 Wave invoicing software, headquartered in Toronto, Canada's East Bayfront neighborhood, offers financial services and software tailored for small business owners, freelancers, self-employed entrepreneurs, consultants, and contractors. 
Wave covers invoicing, payment, payroll, accounting, mobile receipt, and advisor features. They are trusted by more than 300,000 small business owners in North America.
Wave Key Features
Quickly create and send invoices
Set up recurring billing
Manage accounts receivable
Access a dashboard
Enjoy automated bookkeeping
Accept all major credit cards 
Accept card payments over the phone, online, and in person
Accept Apple Pay
Receive notifications when invoices are viewed, become due, or are paid
Access bookkeeping and accounting support as an add-on service
🔎 Tip: Want to know more about Wave? Read our Wave Invoicing Review
Wave Pricing 
Service
Fees
Invoicing

Free

Accounting

Free

Payments

Credit cards 2.9% + USD 0.60 or

3.4% + USD 0.60 for Amex



Bank payment 1%

Mobile receipt

USD 8 monthly or USD 72 annually

Payroll
Tax service state USD 40 monthly + USD 6 per active employee or independent contractor paid



Self-service state USD 20 monthly + USD 6 per active employee or independent contractor paid

Advisor
Bookkeeping support USD 159



Accounting support USD 379
| | |
| --- | --- |
| Wave Pros | Wave Cons |
| Accept all major credit cards | Mainly serves US and Canadian business owners; some products are not supported outside these regions. |
| Unique add-on consulting services | |
4. Square Invoice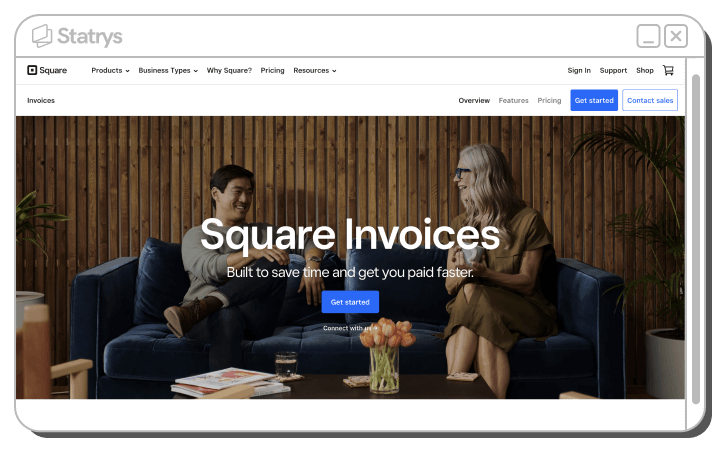 Square is a versatile company that provides comprehensive commerce solutions to businesses of all sizes. Initially established as a payment service, they have since diversified into software, financial services, and omnichannel solutions.
Among its array of products is Square Invoice, a free invoicing software that streamlines invoice, estimate, and payment management for businesses, facilitating both online and in-person payments.
Square has catered to freelancers, professionals, field service providers, retailers, health and wellness establishments, food and beverage businesses, as well as various organizations.
Square Invoice Key Features
Unlimited invoicing
Recurring invoice feature
Automatic payment reminder
Status tracking
Digital receipts 
Request payments via email, SMS, and shareable links
Offer Afterpay Buy Now Pay Later option
Accept swipe, dip, or tap payments with the Square Invoices app and Square Hardware
Store customer details
Reports
🔎 Tip: Explore our Square Invoice Review for more details.
Square Invoice Pricing 
The Free Plan offers the software for free. However, card processing fees are applicable when customers opt to pay their invoices with a card. 
Note that card processing fees differ between the Free Plan and the Pro Plan as well.
Square Invoice Free Plan Features
Unlimited invoicing, estimates, and contracts
Unlimited users and customers
Send through email, SMS, or by manually sharing a link 
24/7 payment acceptance
| | |
| --- | --- |
| Service | Fee |
| Monthly fee | Free |
| Online card payment | 3.3% + 30¢ |
| In-person card payment | 2.6% + 10¢ |
| Per card on file payment | 3.5% + 15¢ |
| Per manually keyed in payment | 3.5% + 15¢ |
| Online ACH payment | 1% with minimum fee of USD 1 |
| Per invoice with Cash App Pay | 2.9% + 30¢ |
| Per card payment with Afterpay | 6% + 30¢ |
Square Invoice Plus Plan
Everything in the free plan plus 
Multi-package estimates
Auto-conversion of accepted estimates to invoices
Milestone-based payment schedules
Customizable and reusable invoice templates
Project workspaces
Project tracking
Client-accessible project files and updates
| | |
| --- | --- |
| Service | Fee |
| Monthly fee | USD 20 |
| Online card payment | 2.9% + 30¢ |
| In-person card payment | 2.6% + 10¢ |
| Per card on file payment | 3.5% + 15¢ |
| Per manually keyed in payment | 3.5% + 15¢ |
| Online ACH payment | 1% with a minimum fee of USD 1 |
| Per invoice with Cash App Pay | 2.9% + 30¢ |
| Per card payment with Afterpay | 6% + 30¢ |
Square Invoice Pros and Cons
| | |
| --- | --- |
| Square Invoice Pros | Square Invoice Cons |
| Provide both online and in-person solutions | When using Square Invoice, Square is your automatic payment processor, entailing Square processing fees. |
| Offer a Buy Now Pay Later option | |
5. Invoice Ninja 
Invoice Ninja is another invoicing solution that you can use to generate invoices, accept online payments, monitor expenses, billable tasks, and more.
Invoice Ninja also comes with open-source development with a self-hosting option, REST-based API, and documentation. 
They have served freelancers, coaches, consultants, business services, tradespersons, gig-economy providers, and other small and medium-sized businesses (SMBs). 
Invoice Ninja Key Features
Invoice templates
Recurring invoices features
Multiple payment options
Dashboard and reports
Inventory management 
Client and vendor portals
Support for quotes and purchase orders
Task and project management tools
Integration with Gmail, MSN, Zapier, and other API compatibility
Invoice Ninja Pricing
Plan
Fee
Free

USD 0 per month

Ninja Pro

USD 10 per month

Enterprise
USD 14 per month for 1-2 users
USD 26 per month for 3-5 users
USD 36 per month for 6-10 users


USD 44 per month for 11-20 users
Free Plan Features
20 clients with unlimited invoicing
4 invoice templates
Automate billing and recurring invoices
Generate real-time invoice PDFs
Accept online payment
Accept deposits and partial payments
Set up vendor accounts and track expenses
Access to product item library and inventory
Project management using Kanban boards
Apply taxes on a per-line item or invoice total basis
Receive alerts when invoices are viewed and paid
Client Portal
Configure credit card gateway fees
Monitor invoice email delivery statistics
Automatically handle currency conversions
Ninja Pro Features
Everything in the Free plan, plus
Unlimited clients and invoices
10 invoice templates
Remove "Powered by Invoice Ninja"
Email invoices via Gmail and MSN
Use a branded URL 
Customize invoice designs
Automate recurring invoices
Integrate with third-party apps via API
Password-protect the client portal
Set up auto-reminder emails
Auto-attach invoice PDFs to emails
Display client e-signatures on invoices
Include an 'Approve Terms' checkbox
Access various reports
Bulk email invoices, quotes, and credits
Manage 10 companies with one login
Configure unique "Client Group" settings
Enterprise Plan Features
Everything in the Ninja Pro plan, plus
Add up to 20 users with tailored access
Attach diverse file types to emails and client portal
Get a fully branded client portal
Integrate financial accounts and sync bank transactions
Invoice Ninja Pros and Cons
| | |
| --- | --- |
| Plan | Fee |
| Project management add-ons | The free plan is limited to 20 clients |
| Self-hosting option available | |
Why Use Invoicing Software?
Businesses have been creating invoices and managing invoice payments in spreadsheets for ages,  so why switch to software? 
There are several important reasons to make the move:
Efficiency, Accuracy, and Time-Effectiveness
Almost 40% of invoices contain mistakes, including incorrect billing addresses, overbilling, or duplicate payments. These errors result in delayed payments, lost revenue, and extra administrative work and time to correct mistakes.
Invoicing software can help eliminate those errors. You only need to enter details like customer information, company addresses, product codes, pricing, and more once, and the next time, they can be retrieved from the company's existing records, eliminating the potential for typos and incorrect values.
Storing all invoice data in one place also minimizes duplications and ensures consistency across documents. 
Additionally, these invoice templates can be easily duplicated and customized for returning customers, saving a significant amount of time. 
Tasks like sending invoices can also be automated—they can be emailed immediately after placing an order. This frees up employees to focus on more strategic work that is less repetitive. 
Since our team no longer has to manually create and send out invoices, the number of errors in our invoices has dropped from about 20 errors in every 10 invoices sent to less than 1 error in every batch of 10 invoices. 
Faster Payment Collection
Late payments are a significant challenge for businesses today, with 87% of them facing delayed payments.
Invoicing software can help address this issue by offering a more convenient and user-friendly invoicing and payment process for clients, thereby encouraging quicker payments. 
To elaborate,
Software can be automated - Invoices can be automatically sent as soon as an order is received, and you can configure automatic reminders to keep clients informed about due dates and overdue payments. This not only saves time but also reduces the effort spent on chasing outstanding invoices. 
Software can provide convenient payment options - Many software allows you to generate payment links, add a "Pay Now" button, and integrate various payment gateways to your invoices, enabling clients to make prompt online payments.
With software, invoices are now sent automatically upon completion of an order, which has resulted in quicker payments, increasing cash flow, and ultimately allowing us to reinvest profits back into the business more rapidly.
Simplified Tax Management
If you rely on paper invoices, emails, and spreadsheets for bookkeeping, then you need to manually filter, fill out forms, and track expenses.
On the other hand, efficient invoicing software includes a comprehensive expense tracking feature and organized reporting. This simplifies the process and ultimately reduces the workload during tax season. 
You can effortlessly filter and view precise financial data in customizable reports. 
The software makes it simple to stay on top of pending business transactions as well. 
In many cases, automatic application of tax rates to invoices adds an extra layer of convenience. This leads to even more seamless reporting and financial management over the course of a fiscal year.  
Integration Capabilities 
Invoicing software can integrate with your other business-related software, such as accounting, project management, CRM, and inventory management. You can also sync your data across different devices and platforms, helping you streamline your workflow and avoid data duplication.  
Professionalism 
Visual appeal that represents your brand and usability that ensures clients can easily find the payment information are equally important.
A well-designed template in invoicing software can achieve both, saving you time compared to manually designing invoices in programs like Word or Excel.  
Templates and software can handle formatting and alignment intuitively; no more squinting at crooked lines or spending extra minutes dragging elements into place. 
How to Choose the Right Invoicing Software? 
These are some of the main factors that you should consider when choosing the right invoicing software for your business. 
Understand Your Business Needs
Start by taking inventory of your actual payment processing needs, and focus on the core features that will benefit your business.  
For instance, consider:
How many invoices do you send per month?
What kind of payment methods do you accept?
Do you need to send invoices in multiple currencies or languages?
Do you need to track time, expenses, or inventory?
What software integration do you need? 
What kind of reports or analytics do you need?
Select software with the exact features you need. An excess of features can lead to complexity, a steeper learning curve, and potentially higher costs.
💡 Tip: Always start with the free plan or trial to determine if the software truly suits your needs.
Set A Budget
Invoicing software prices are typically determined by the functionality and support they offer. 
Factors influencing the cost include
The number of allowed users, clients, and invoices
The level of customization or branding options
Availability of customer service or technical support
To make the best choice, it's a good idea to have a budget in mind and compare various plans and pricing options.
Take into account the pricing models as well, as there are options like subscription plans and some pay-as-you-go services to choose from. A subscription may work best if you process payments regularly, while pay-as-you-go could save money if volumes fluctuate.   
At the end of the day, the goal is to find a payment processing solution that facilitates payments without hurting your bottom line.
Evaluate Integration Capabilities
Assess if you need to integrate your invoicing software with other existing tools or apps that you use for your business, such as accounting software, CRM system, project management tool, or payment gateway. 
If you do, it's best to check not only what integrations are available but also how easy they are to set up and use.
Explore Customization Options
Effective invoicing software should allow you to create professional-looking invoices that reflect your brand identity. 
Specifically, it should allow customization of layout, design, colors, fonts, logos, and signatures. You should also be able to add custom fields, terms, discounts, taxes, or notes. 
Assess User-Friendliness
Invoicing software should be easy to navigate for both you and your clients.
Look for invoicing software with a user-friendly interface, fast performance, and responsive customer support. It should let you create and send invoices from various devices, track payments, and notify you of any overdue or disputed invoices. 
Your clients should also find it easy to view and pay their bills with a few clicks.
Free plans or free trials can help you grasp how user-friendly the platform is for you.
Final Thoughts  
To wrap up the list, we recommend Statrys for handling different currencies, Zoho Invoice for its large user base, Wave for North American small businesses, Square Invoice for both online and in-person solutions, and Invoice Ninja for its unique self-hosted invoicing system offering. 
When selecting invoicing software, align it with your business requirements and budget. Prioritize user-friendliness, customization, and integration capabilities. Lastly, testing free versions is the best approach to determine the best fit. 
With the right fit, invoicing software can streamline billing, save time, and speed up your payments!
FAQs
What is invoicing software?
Invoicing software is software designed to help businesses create, send, and manage invoices. Most software automates the process and can also help manage billing, track payments, and generate financial reports. 
What are the best free invoicing software options?
What is the simplest invoicing software available?