What Is an Electronic Invoice?
Electronic invoices, aka e-invoices, are structured digital documents sent by a supplier to a customer that includes billing information.
When was the last time you examined your business's invoicing? If it's been a while, you might want to think about using electronic invoices. E-invoicing makes it easier to automate the process while reducing costs and saving you time. 
Ready to learn more about electronic invoicing and why your company should embrace it? Keep reading.  
What Is an Electronic Invoice Used For?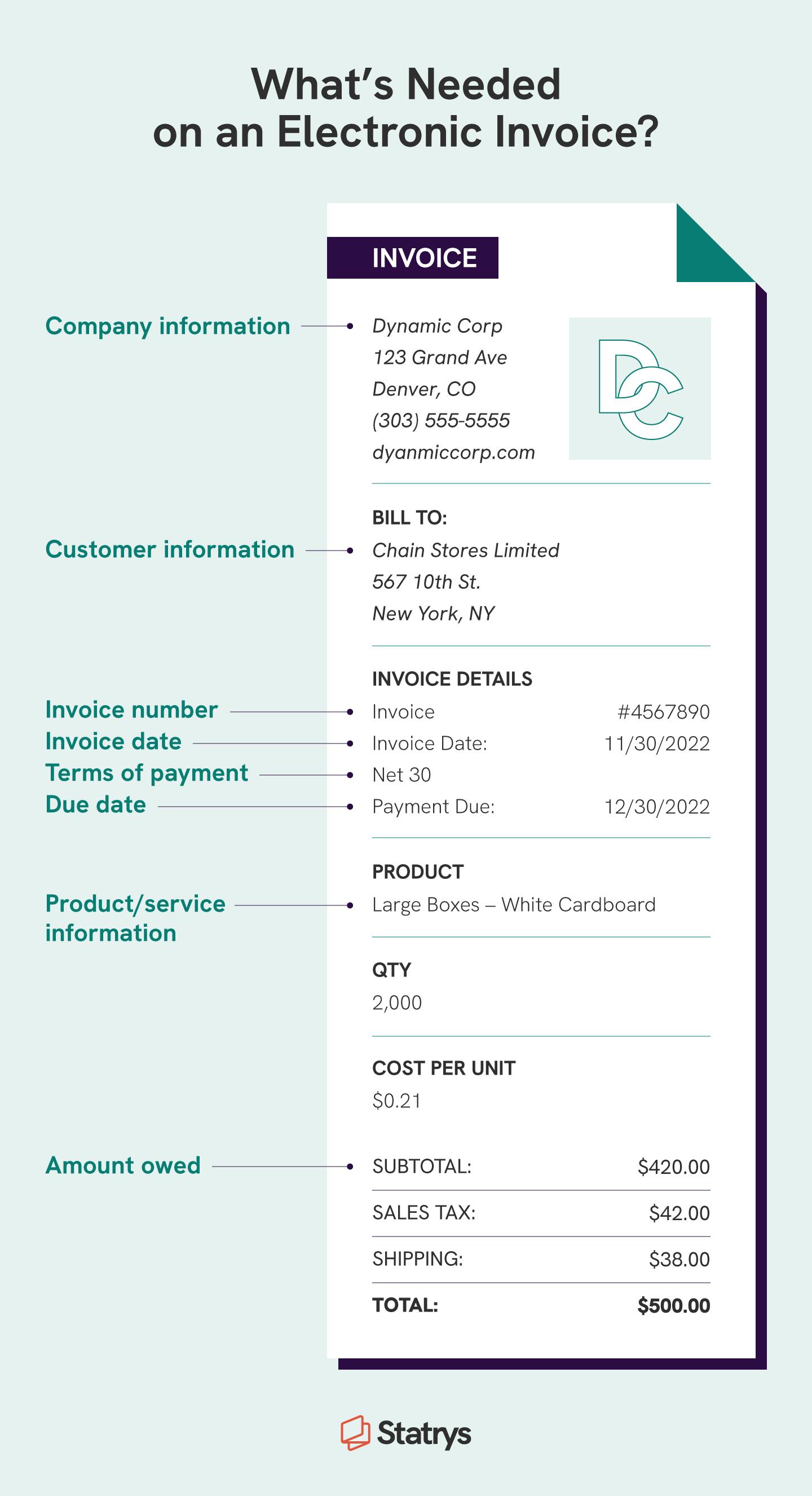 Electronic invoicing is used for transmitting payment information from a business to a buyer. The information is structured in a standard format so that the electronic invoicing system of the seller and buyer can recognize and share the information.
E-invoicing takes the place of traditional paper invoicing, which is slower and requires more time and effort to match the invoice to the appropriate order and then pay the amount due.
Electronic Invoice Types 
There are a few different types of electronic invoices you should know about. Each of them is structured differently but are readable by most invoicing systems.
| | |
| --- | --- |
| Type of Electronic Invoice | Content column right |
| Sales invoice | Requesting payment from a customer for services performed or items purchased |
| Commercial invoice | Getting clearance at customs and for calculating tariffs, duties, and other taxes; required for some international business transactions |
| Pro forma invoice | Providing an estimate to customers |
| Credit memo/invoice | Sending discounts or refunds |
| Debit memo/invoice | Requesting a larger amount of money from the customer (commonly sent after completion of a project that had an estimate) |
| Mixed invoice | Combining credit and debit invoices |
| Recurring invoice | Requesting payment for services that repeat at regular intervals |
| Interim/progress invoice | Requesting partial payments during large or long-term projects based on predetermined milestones |
| Timesheet invoice | Requesting payment based on services that are charged by the hour or day |
| Overdue invoice | Requesting payment for past-due invoices |
| Consolidated invoice | Requesting payment for multiple services or recurring products through one invoice |
| Retainer invoice | Requesting payment for services that have yet to be rendered based on an earlier agreement |
Now that you know what kinds of electronic invoices there are, let's take a look at how you make and send an electronic invoice. 
How to Create an Electronic Invoice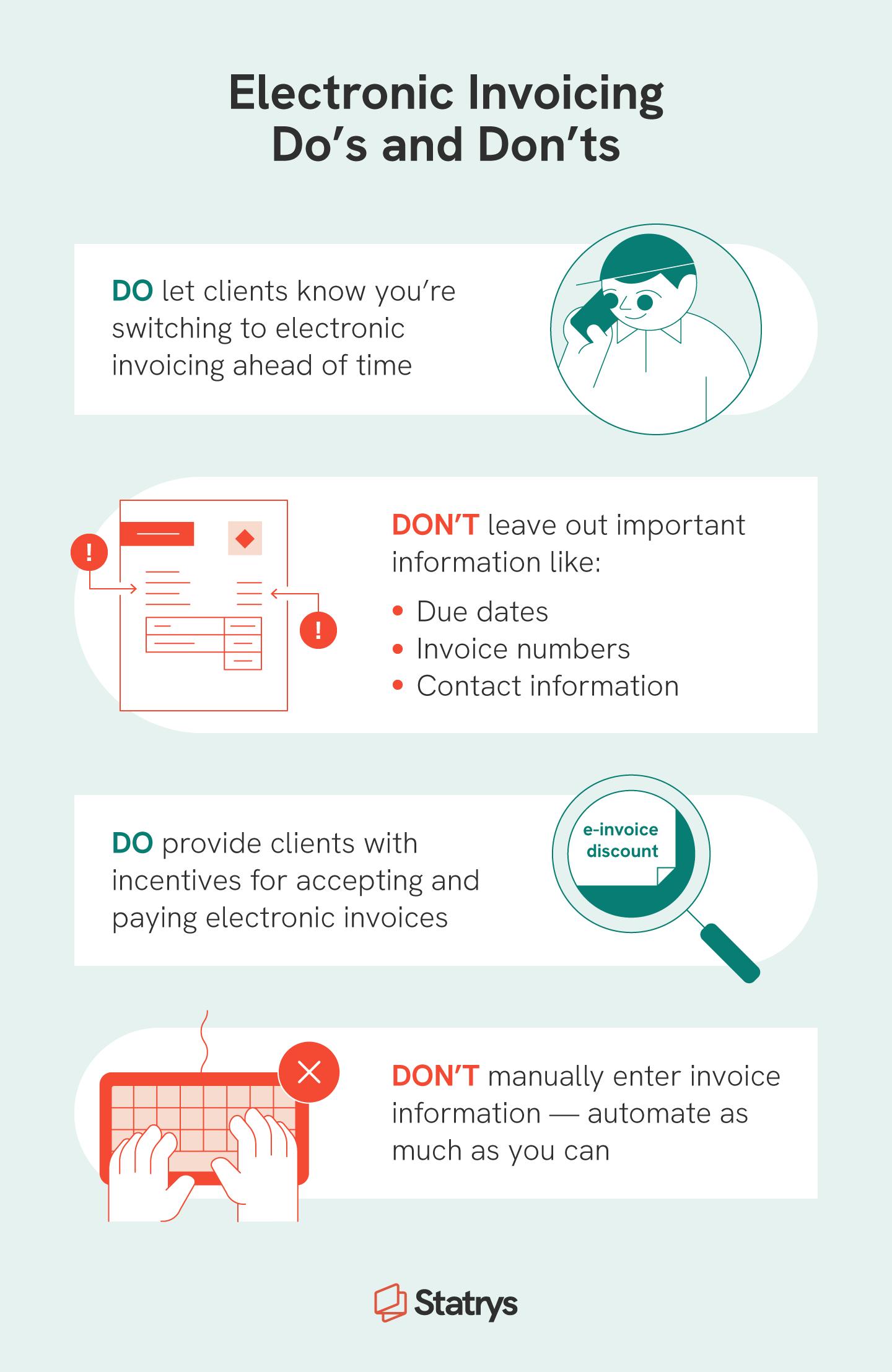 Making an electronic invoice isn't as simple as sending a photo of a paper invoice — but it isn't too difficult even if you've never created one before. There are a couple of different methods of creating an invoice, including:
Regardless of how you make an electronic invoice, there is certain information that needs to be on it and formatted so it can be read by a customer's invoicing system. An e-invoice should include information like:
Dates
Contact information
Invoice number
An itemized list of work performed or items sold
Total amount owed
Finally, here are the basic steps for creating an electronic invoice:
1. Add your company information along with an invoice number
2. Add customer information, including contact information and tax ID number
3. Include a table with an itemized list of all services and goods provided along with prices for each
4. Add payment details so the customer knows how and when you want to receive payment
When you're getting ready to implement e-invoicing, make sure to talk to your customers about electronic invoicing. They'll let you know how they can (or can't) receive electronic invoices. If they accept them, find out how they want to receive them.  
Now that you know how to create and implement an electronic invoice, let's look at the options for e-invoicing systems. 
How to Choose an E-invoicing System
When you're looking for an e-invoicing system, five of the most important factors to consider are:
Compatibility: Because there is more than one kind of invoice format, it's good to have a system that can read many of the most common types.
Security and legal compliance: Keeping financial data safe isn't just a good idea — it may be required by law. Look for systems with security features that meet or exceed legal minimums. 
Integration: Electronic invoicing is most powerful when it integrates with everything from your accounting software to your procurement system.
Tax compliance: Some areas require you to collect and track taxes on purchases at the point of sale. Good e-invoicing systems make that simple.
Payment support: When you're doing business internationally, you want an invoicing system that can handle multiple currencies and multiple payment methods. 
The most common e-invoicing systems are found within accounting software, either as a native component or as an integration. Because accounting software is designed to make tracking and managing your business's finances easier, invoicing is an important feature of these systems. Within your accounting software, you should be able to create invoices in conjunction with orders. Creating an electronic invoice within the system should also accurately update accounts receivable. 
If your business isn't big enough to need dedicated accounting software at the moment, online invoicing generators can save you some money. Unfortunately, many don't allow you to connect them to your spreadsheets or orders, so you'll need to input the information manually. 
Benefits of E-Invoicing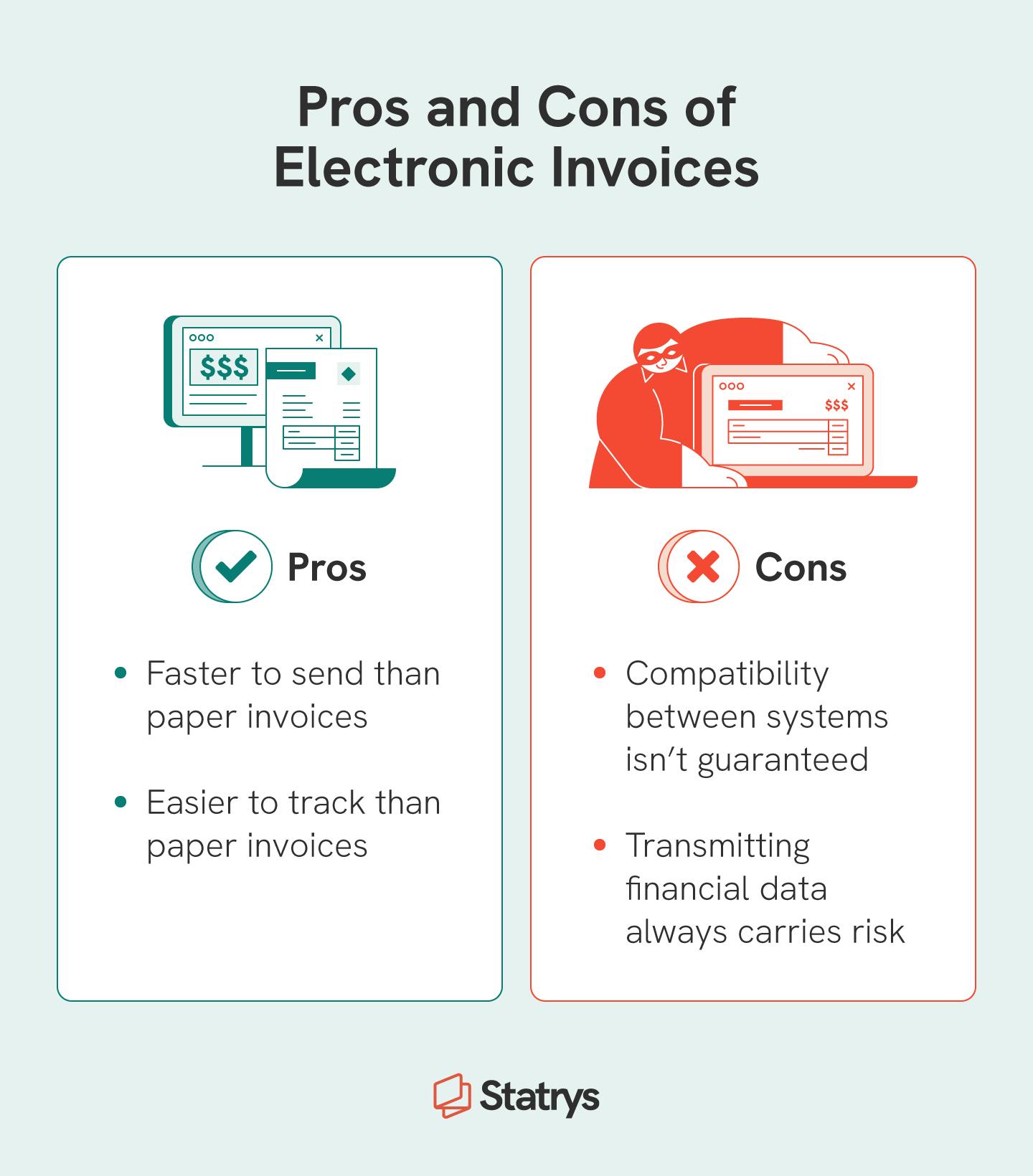 The benefits of e-invoicing are so big that they might convince you to stop creating manual invoices altogether.
Speed: Automated invoicing means less time spent manually entering information, sending, and tracking invoice status. 
Reduced waste: E-invoicing means no paper waste and automated invoicing means less time wasted, too.
Easier tracking: Once an e-invoice is sent, there is only one place for it to go — directly to the client's invoicing system. There's no worry about it getting lost in the mail.
Faster payments: The sooner you send an invoice, the sooner you can receive invoice payments.
Better relationships: Customers appreciate timely invoicing so they can quickly pay their bills on the expected timetable. 
However, there are some disadvantages of electronic invoicing that you need to be aware of before you start using them.
Drawbacks of E-Invoicing
While the downsides of e-invoicing are usually outweighed by the benefits, it's important to understand where you might run into problems.
Implementation: Not everyone has a system to accept electronic invoices. That means you should be prepared to send paper or other kinds of invoices, too.
Security concerns: Transmitting any kind of financial data opens you and your customers up to the potential for security problems. Using encrypted systems helps reduce those risks.
Spam filters: E-invoices can be filtered incorrectly, so check with your customers to ensure they receive your invoice the first time you send one electronically.
E-Invoicing Best Practices
Excited to get started with electronic invoices? Here are a few tips to make sure you're taking full advantage of the best features of e-invoices and avoiding some common pitfalls.
Comply with government regulations and standards: Different countries around the world have different laws and regulations regarding if and when electronic invoices are used. Check your local laws, as well as the laws in any country where you're doing business, to avoid problems. 
Request electronic payment information from suppliers and customers: In order to take full advantage of e-invoices, you'll need to make sure your suppliers and customers are set up to use them, too. Getting this information ahead of time can save you a lot of time and frustration. 
Inform clients ahead of time: If you've been sending paper invoices for years, let clients know that you're switching to electronic invoicing before you start sending invoices. This can help ensure clients are expecting them (and are able to receive them).
Incentivize customers by paying electronically: One of the best ways to get customers to pay electronically is to provide them with a special benefit for doing so, like a discount or a payment deadline extension.  
Automate as much of the system as possible: Time is money, and manual invoicing can be a time-consuming process. Make sure to automate as much of the process as possible to maximize efficiency and time savings.
Sending an electronic invoice makes doing business around the world much faster and easier than sending invoices back and forth through the mail. If you're getting ready to expand your business overseas, it's a good idea to learn about when you might need to create and send a commercial invoice. If part of the plan to grow your business includes sourcing goods from China, you may want to consider registering your company in Hong Kong.  
FAQs
Are electronic invoices legal?
In most countries, yes. Some countries have specific legal requirements for using electronic invoices, like requiring the customer to sign a document agreeing to them. Other countries may have certain legal standards for how they are transmitted, so make sure to research the laws where you live and where you do business. 
When should I create an electronic invoice?
What is the difference between an electronic invoice and a digital invoice?
What is the difference between EDI and e-invoicing?