An invoice payment is a payment that the customers make to a business once the purchased goods or services are fulfilled. 
Some common invoice payment methods include cash or check, credit or debit card, bank or wire transfer, online payment, and automated bill payment.
Your business can avoid payment delays by following best practices such as reviewing your invoice template and managing your invoices with automated software.
Invoice payment is one of the ways that businesses could use to collect payments from their customers. But believe it or not, even with the advancement in online payment technology and invoice automation software, there are still issues that affect many businesses globally.
Those issues, such as delayed payment, could be avoided with an organized invoice management system.
If you've just started a new business, this article will guide you through all there is to know about invoice payment, including tips on how to make your invoice payment on time.
What Is an Invoice Payment?
An invoice payment is a transaction where a customer settles the balance owed for goods or services rendered, playing a pivotal role in maintaining healthy business operations. Properly managing this process helps in addressing issues like delayed payments, as highlighted earlier. Invoices are formal documents detailing the transaction, including descriptions of the goods or services, the amount payable, and the payment terms. Understanding these elements is crucial for both issuing and paying invoices effectively.
The use of electronic invoicing and accounting software has become increasingly prevalent, offering efficient ways to manage this process. By ensuring accurate and timely invoicing, businesses can foster good customer and vendor relationships, maintain cash flow, and uphold a professional image.
While understanding invoices is crucial, it's equally important to distinguish them from other financial documents, such as a bill. Next, we'll explore how invoices differ from bills, another commonly used but distinct document.
What Are the Differences Between Bills and Invoices?
In short, bills usually require immediate payment, while invoices allow a period within which the client has to pay.
| | |
| --- | --- |
| Bills | Invoices |
| Focuses on the amount due | Includes an invoice number and details of the purchased goods/services, the vendors, and other transactional information |
| Requests immediate payment | Allows time for the payment to be made (e.g., in 30 days) |
The key difference between a bill and an invoice is in their purpose and context. An invoice, which we often issue at Statrys, is a detailed document sent to customers before payment. It lists the services or products provided, the total cost, and the terms for payment, serving both as a request for payment and a record for accounting.
A bill, on the other hand, is typically presented after a service or product is delivered, showing the amount that's immediately due. While invoices are more common in business-to-business transactions, bills are often seen in everyday consumer transactions.
⚠️ Caution: An invoice is not a receipt. A seller will send an invoice to collect payment for the services or goods sold. Once the payment is completed, the seller could send a receipt as proof of the transaction.
What Should Be on an Invoice?
To avoid unpleasant disruptions such as late payment or having to chase an unpaid invoice, it is very important that your invoice is prepared carefully. Here's some essential information that should be included in your invoice to ensure a smooth payment from your customers:
Your company name
Your trading address
Methods or channels of contact
Description of the purchased goods or services
An invoice number
The date of purchase
Your preferred payment method (to receive payment)
Payment terms (e.g., agreement for the payment date)
The amount for customers to pay
Bank details to receive payment
These are the essential components that you should include in your invoice. Apart from these, you may have other details, such as early payment discounts or whether VAT is applicable, depending on the agreement made upon the purchase.
💡 Tip: Use consistent invoice numbers to prevent accounting errors, missed payments, and duplicate transactions, ensuring an organized invoicing system
Invoice Example
Let's take a look at an example of an invoice that would make your customer process the payment easily: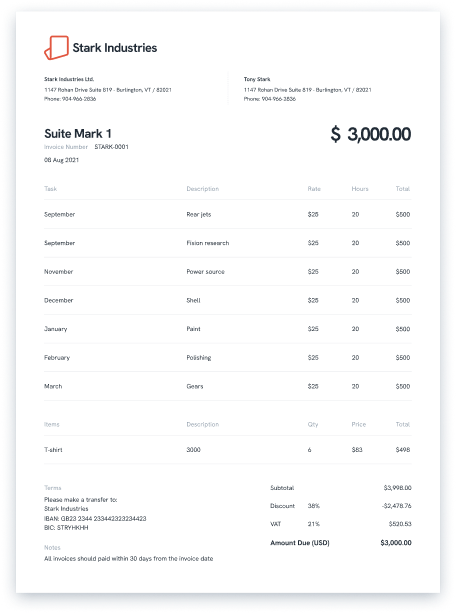 You can see how the components we mentioned are structured in this sample invoice. Always review your invoice each time before sending it to your customer to prevent any miscommunications.
In my role, I've seen firsthand how crucial it is to choose the right payment method. While digital options like bank transfers and online platforms provide fast, trackable transactions, you must watch out for fees, especially when dealing with international payments.
It's all about finding that sweet spot between convenience, cost, and security, tailored to your specific business needs.
🔍Tip: Here is a guide for the best free invoicing software in 2024, where we analyzed their key features and who they're best for.
6 Safest Payment Methods to Pay an Invoice
After receiving an invoice, the next step is to pay before the due date. The seller should state the payment method and payment terms in the invoice. Each payment method has different setup processes, and some can incur extra fees from either side of the transaction. It is essential to consider these factors before choosing a payment method for your business. 
Here are some common payment types you may come across:
1. Cash Payment
A cash request for payment involves action by both parties involved in the transaction. Cash can be handed over by an organized in-person meeting or mail.
With the advancements in digital payment, fewer businesses prefer cash payment due to the risk of loss or theft.
2. Pay by Check
Paying by check can also involve a scheduled meeting or sending mail to the recipient.
Like cash payment, this method is also becoming less used as it is more time-consuming than new digital payment methods. Check payment also has risks of cancellation or forgery.
3. Credit or Debit Card
Paying with a credit or debit card is more convenient and secure. Usually, the seller will provide the details on how to pay with your cards. A common way is through a link that directs you to a secure payment gateway that keeps your personal data secure.
One key disadvantage of requesting credit card payments is the extra fees incurred by the card provider.
4. Bank Transfer or Wire Transfer
Sometimes, the seller might request the buyer to pay directly to a bank account. The bank account details should be included in the invoice if this is the preferred payment method.
Wire transfer is commonly used for domestic payments. There is usually a local banking system that facilitates this type of payment. However, an additional fee might be charged on cross-border payments because of currency conversions and international transfer handling costs.
5. Online Payment
Online payment is usually facilitated by third-party providers such as PayPal, Apple Pay, Google Pay, Statrys, Venmo (USA), WeChat Pay (China, Hong Kong), and Payoneer.
There are usually third-party fees involved in transactions of this type of payment.
6. Automatic Bill Payment 
Another way to pay an invoice is by setting up an automated payment.
This type of payment request requires both the buyer and seller to agree on the amount due and the interval of each payment.  
The vendor can arrange this payment type by breaking up a large transaction amount into more manageable chunks for the customer. It is also a convenient way for businesses that have customers with recurring orders.
An automatic bill payment can be set up as a direct debit or a recurring payment arrangement to pay invoices.
Recurring payments can be set as a fixed or a variable amount. A payment receipt should be sent to the customer after each payment has been cleared.
What Are Payment Terms?
Invoice payment terms are instructions that customers must follow. They are varied depending on the vendors. Most of the time, the terms concern the payment date.
The payment terms section of an invoice is where you will find all the instructions you are requested to follow to pay for the goods or service provider, including the payment method, when it is due, and if there are early payment discounts.
📑 Facts: If the due date is not specified on the invoice, then it is most likely that you need to pay within 30 days, and businesses can claim overdue compensation after this period.
What To Do If Payment Terms Are Not Followed?
If the invoice payment terms are not followed, it could cause the payment to be delayed.
Here are some reasons why an invoice payment can be delayed on both sides - the business and the customer - after an invoice has been received.
The common causes for the delayed payment from the customer's side are:
Issues with organization or accounting processes
Lack of funds to pay the invoice
Not understanding or not following the payment terms
On the other hand, payment delays can also be the fault of the business providing the invoice: 
Missing necessary information on the invoice
Unclear payment terms and instructions
Incorrect/inaccurate information
However, other factors, such as the bank or technical issues, could disrupt the payment process. Still, it is always a good idea for businesses to ensure the invoice is straightforward and easy to understand to avoid frustrating delays. 
5 Things You Can Do To Pay Your Invoices on Time
No one likes to be the cause of a payment delay or to pay late payment fees.
If you're a business owner, there's a chance that you'll have to make invoice payments to your suppliers, too. Follow our top 5 tips to avoid delays and pay the invoices on time, every time. 
1. Review Your Invoices
It is very important to review your invoices the moment you receive them.
Pay extra attention to the following details:
Invoice due date: Take a look at the due date to ensure that you will make your payment on time.
Payment terms: Check the terms stated on the invoice and make sure that you have a clear understanding of them.
Review & check the total cost: Confirm that the invoice requests a correct amount that is aligned with the goods or services that you've purchased.
2. Set a Reminder
If you have competing priorities when you open an invoice requesting payment, don't only take a mental note to return to it later and risk a chance of forgetting about it.
Instead, set a reminder for yourself or your team. Write a quick note to pay the invoice quickly after reviewing it. If you have an accounting team available, forward the invoice straight away.  
3. Make a Dedicated Schedule for Invoicing Purposes
Make a schedule dedicated to opening, reviewing, and paying invoices. This can also include creating a payment schedule if you find you have multiple invoices coming in at the same time.
4. Tackle Invoicing Issues Head-on
This tip is helpful for both the invoice sender and receiver.
If you are a business that consistently faces payment delays from your client, it may be time to review your invoice template. You can check out our article on how to create an invoice to see if you're missing any critical details or if your invoice has a clear structure.
If your business regularly misses payment due dates, make it a priority to investigate the cause. You could start by reviewing your invoice management system.
5. Implement Automated Invoicing Software
Automated invoicing software can save your business time and money in the long run. This type of software can help you create, sort, manage, pay, and store invoices so that you can manage and organize your invoices efficiently.
Make Sure You're Using the Correct Invoice Type 
To avoid mistakes that would cause a late payment or other disruptions, ensure you're using the correct type of invoice.
Our invoice generator can help you create professional invoices and save you time from having to create invoices manually. Try it today for free!
FAQs
What is an invoice payment?
An invoice payment is a payment made by a customer for any goods or services provided by a business.
Does an invoice mean the service is paid?
What are the ways to pay an invoice?
What should be included in an invoice?